Baby car seats are mandatory in Malaysia, effective from January 2020 onwards. The Ministry of Transport has declared that drivers will be given a grace period of 6 months to ensure full compliance.
Records show that properly secure your baby in the car seat helps to reduce as much as 70% of death and casualties in road accidents. Figure don't lie. So, investing in a good, sturdy and reliable car seat is of topmost priority.
As a father of two children, I think I am more than qualified to talk about this an chip in my opinions on how to choose a good baby car seat.
The 3best baby car seats in Malaysia:
How we choose a good baby car seat?
Baby car seats can range from few hundred ringgit to few thousand ringgit. It is impossible for normal users like us to actually test which one is the best and safest. For this reason, we have to relay on brand reputation, MIROS (Malaysian Institute of Road Safety Research) ceritification and any other international institue approval.
Safety – Safety is the no.1 factor we need to look into when choosing a baby car seat. We recommend getting only the baby car seat screened by MIROS (Malaysian Institute of Road Safety Research). And you can counter check the crash test rating on https://www.childcarseats.com.au/.
Easy to install– A good car seat must be easy to install. It should be easily handled and secured, especially by the mother who most likely will be fetching the babies and kids most of the time.
Weight and size – Make sure the car seat fits into your car. We know many of us, Malaysians drive Perodua Myvi which has slightly more limited passenger seat space. Don't buy car seat which is too bulky for your car.
ISOFIX – It is no doubt safer than baby car seat which secured only with car seat belt. But it generally more costly too and not all cars comes with ISOFIX fittings.
Also, a quick important note here, I personally don't recommend getting convertible baby car seats because they are usually very bulky and cumbersome to use. You don't need a jack of all trade but master of none.
When your children eventually outgrow an infant car seat, buying a new toddler or booster car seat will be a wiser choice and more comfortable for your children.
Which type of baby car seats I should buy?
There are rear-facing baby car seat, front-facing car seat and booster car seat for toddler. Many new parents will confuse which type of baby car seat to buy.
Check out the great table below prepared by MIROS recommending the suitable types of car seats for children of different age, height, and weight.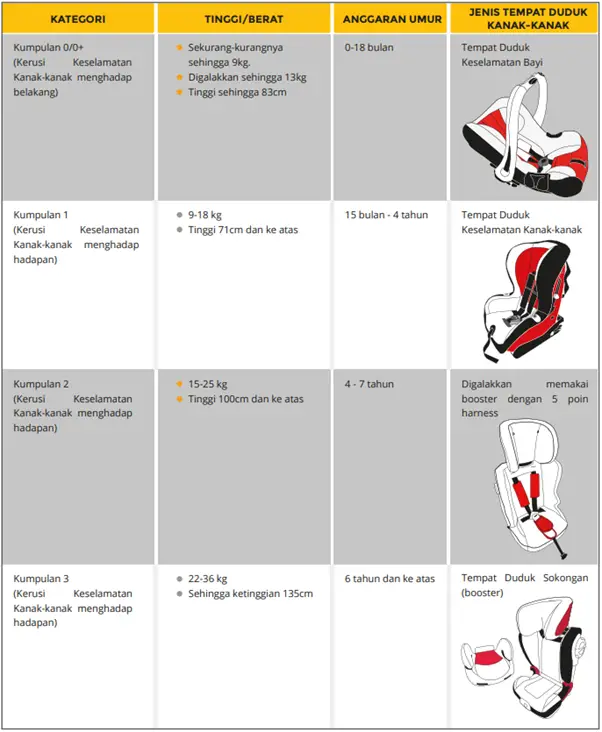 Best Infant Car Seat
Chicco KeyFit 30 is the best newborn car seat you can buy in Malaysia. Outstanding crash test performance
✔ Side impact protection
✔ Car seat base
✔ 5-point harness
✔ Excellent crash test rating
✔ Smooth underside protects vehicle seats
✖ Slightly heavy, 4++ kg
The Chicco KeyFit 30 is the best infant car seat with a topnotch safety feature and proven track record. It is also consistently rated as the top three baby car seat on consumerreport.org.
It is a compact rear-facing car seat meant for newborn and infant up to 13KG or 30lbs hence the name KeyFit 30. The usual KeyFit is suitable for babies up to only 22lbs. KeyFit 30 comes with a car seat base which makes it stand out from competitions. Because it makes installation so much easier and secure.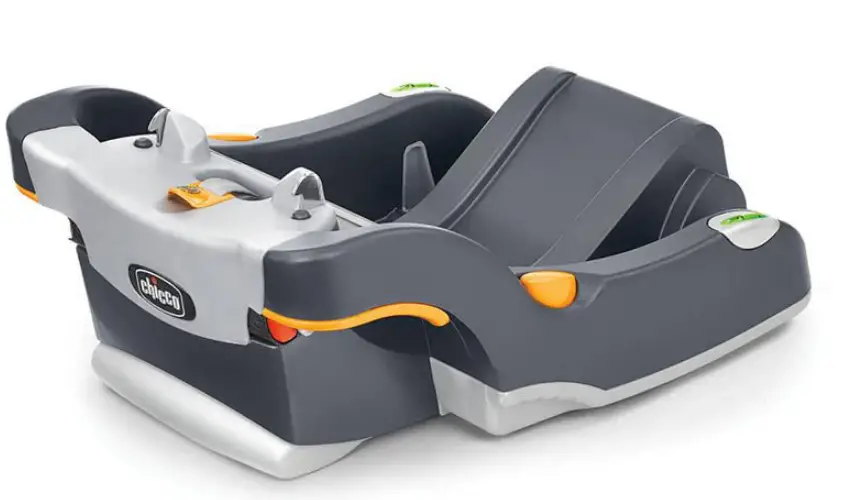 Users can easily pop the car seat in and out of its base. The spring-loaded levelling foot helps achieve proper base angle during installation. It even has a storage compartment where you can store diapers or anything at all.
Users can opt to install it using the seat belts instead of the base, so it is flexible especially when you wish to switch cars and that car does not have ISOFIX fittings.
Chicco KeyFit 30 is crash tested and has extra side-impact protection. The design is sturdy and has good head and body support. The seat itself is filed with energy-absorbing foam. Furthermore, it has a 5-point harness which can be tightened with a single pull.
There is a newborn cushion insert. When your baby is small, this insert gives that extra support and thus keeps your baby safe. When your baby has grown, you can easily remove the insert.
The seat cover can be removed (although it is not easy) to be washed in the washing machine. Unfortunately, the cushions are not that breathable, so best not to put your baby in for too long. The canopy does provide some shade from rain and direct sunlight.
Chicco KeyFit 30 is MIROS approved and comes with a one-year warranty.
Best lightweight baby car seat
Maxi-Cosi Cabriofix is our runner up choice for baby car seat. It is lightweight and easy to install.
✔ Lightweight
✔ Side impact protection
✔ Easily removable cover
✔ One-pull strap adjustment
✖ Base sold separately and expensive.
Maxi-Cosi CabrioFix is a great award-winning car seat. It is for group 0+ and able to hold up to 13kg (approximately 12 months). It is lightweight at only 3.5kg. So, it is easy to carry and move in/out from the car.
The CabrioFix has great side impact protection and a 3-point harness. Although it is not a 5-point-harness, it is extremely safe and approved in accordance with the European safety standard ECE R44/04. There is a head hugger that provides the much-needed support to your baby's neck and head.
Maxi Cosi CabrioFix is superior in its ease of installation. You can install CabrioFix with a car seat belt or purchase the additional ISOFIX base.
It is also compatible with a wide range of stroller brands, most notably the Quinny and Babyzen stroller.
The covers are removable and easy to remove with no hassles, and they are machine washable. There is also a hidden compartment, that can be used to store small item.
Maxi-Cosi CabrioFix comes with a 2-years warranty period.
Best cheap baby car seat 
Joie Gemm car seat may not be the safest car seat compared to its competitions. But it is affordable and functional.
✔ Good design and shape resembles CabrioFix
✔ Removable and machine washable covers
✔ Affordable price
✖ Mediocre crash test result
✖ Base is sold separately
A good budget pick fell to Joie Gemm, a Group 0+ car seat, suitable from birth to 13 kg. Joie claims to use only top of the line components 100% manufactured in their state-of-the-art UK factory.
Its design closely resembles the Maxi-Cosi Cabriofix. It also has its own ISOFIX base – Joie clickFIT™ base (sold separately) or it can be installed with only car's seatbelt. Unfortunately, it is slightly heavier than the CabrioFix with 4kg weight.
The car seat feel was comfortable for babies and most of  the parts are machine washable, another thumbs up.
The biggest downside of Gemm car seat is its slightly average crash test result, at only 3.2 out of 5 on childcarseats.com.
Joie Gemm comes with a 1-year local warranrty.
Competitions
Premium baby car seat brand
Britax vs Graco vs Chicco
All three brands Britax, Graco and Chicco are well-known for selling quality baby car seats. Britax and Graco are equally capable in comparison to Chicco. Chicco, in general, has a better reputation and lab crash test results overall. So, it boils down to your personal preference.
Britax B-Safe 35 and Britax Baby Safe. Britax has crash rating similar to Chicco KeyFit 30 and is also easy to install. It is suitable for baby up to 35 pounds (higher than Keyfit). However, in Malaysia market, Britax car seat is "very very" pricey compared to equivalent Chicco car seat.
Graco SnugRide Click Connect 30 is lighter than Chicco KeyFit. And it has 4 reclined position. However, it does not really "pass" the side-impact crash test carried out by wirecutter.com.
Budget baby car seat brand
Sweet Cherry cs Mamakiddies vs Joie
Sweet Cherry is local home grown baby product brand. Mamakiddies claims that they are born in UK, brought up in Australia and currently living in Malaysia. And Joie is UK budget baby product brand.
Sweet Cherry baby products areusually cheaper than other imported brands. Their car seats are approved by MIROS too and features packed. But the products built quality may feel slightly poorer. It is also very hard to find any Sweet Cherry car seats crash test result and rating. But it is a good choice if your budget is tight and wish to support local brand.
Mamakiddies claims to be UK brand and using the UK title heavily on their promotional material. But they don't really sell in UK and i doubt it is designed or manufactured in UK. To put it simply, they are just a Malaysian brand. The marketing tactics itself is questionable which make me doubt on the product quality. Regardless, it has also obtained the MIROS QS label. But there is also lack of third party crash test report for its product.
Conclusion
A baby car seat is one of the very few baby product I think we should really spend money to buy a reliable one. Safety is the utmost priority. There's no chance for us to go trial and error with a baby car seat. It is already too late to upgrade your baby car seat when an accident happens.
If you can't afford the best one, it is not wrong to buy a budget one. Just be reminded to always drive responsibly.