Malaysians are no strangers to road accidents, road bullies, and ever-rising crime rates in the city. Most Malaysians prefer to commute by their own vehicle instead of using public transport. Thus, it is wise for you to have a dash cam a.k.a car camera in the car to protect the interest of both yourself and your car.
Road accidents happen so regularly in Malaysia that you almost going to stumble into road accidents every week. If you encounter car accident, or worse, hit and run accident, you will be glad that the dash cam recorded the whole event of an accident.
The footage can be very helpful to provide evidence to police when lodging report and insurance company to prevent any possible dispute among all parties involved.
After going through all the dash cam model listed on online shopping websites, I have chosen these 3 best dash cam for users of different needs backed by solid reviews from all around the web.
How I picked
Video quality: A good car camera recorder should capable of record at 1080p. Some models able to capture at a higher definition of 1296p. However, higher definition recording is not necessarily a good feature as it will consume more data storage and also drain battery faster (if the model has one). 1080p is the minimum resolution we are looking at, lower than that may capture blurry video
Field of view (FOV): A wider field of view captures a bigger scene. FOV itself is a double edge sword. In order to provide a wider FOV, video quality will be compromised because 180 degrees FOV video image is more distorted compared to 120 degrees FOV.
Below is an interesting chart I got from zhihu.com(China's version of Quora) shows the distance between dash cam and car plate where 720p, 1080p and 1296p camera able to capture the car plate clearly.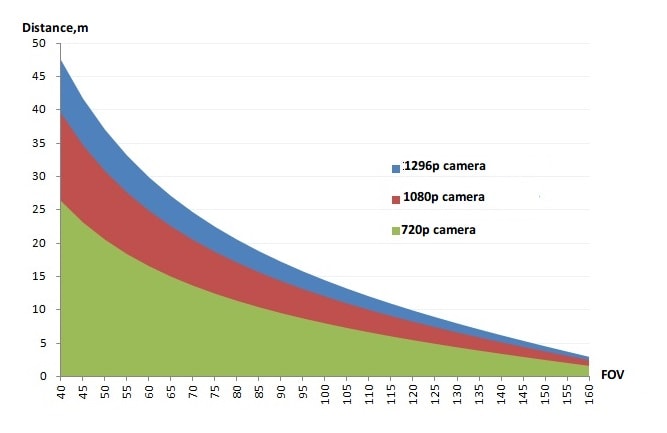 From the chart, 1296p gives you furthest clear sight distance. The wider FOV it goes, the shorter clear sight distance you have. At 160 degrees FOV, 720p camera can only capture a clear image of car plate at a distance of fewer than 5 meters.
Display screen: Personally I prefer dash cam comes with a display screen. It makes setting up of dash cam easier and you always have a clear idea of whether the dash cam is recording properly or any changes on the camera angle. However, the screen may damage if it exposed under hot temperature for long hours and this type of dash cam also bigger in size.
Low light performance: Dash cam video recording quality should be acceptable to view whether it is daytime or nighttime or under low light condition. Infrared LED feature is a plus point for dash cam.
Impact sensing: All model should be able to detect any impacts and automatically record the footage of the incident. It should also protect the recorded video from being overwritten for your proof of accident
Working temperature: Dash cam should be able to function properly under hot sun especially important in Malaysia which is hot and sunny throughout 365 days in a year. Cheap dash cam will cut off itself when it experiences high temperature and it is practically useless.
Battery vs capacitor: There are mix opinions for this feature on the internet. Many experts say lithium-ion battery powered dash cam is bad because the battery easily swells or dies after long hours exposure under hot temperature. Alternatively, some models use a capacitor which can withstand heats or cold better.
Wifi connectivity: It is important to have easy wifi connection in order for you to retrieve any videos you wanted on the go.
How I research
First, I search online marketplaces like lazada, shopee and 11street to see car camera models which are readily available and tabulate them for easy comparison. Then, I look for consistent complaints on each model and collect reviews from various sources.
local references: lazada reviews, shopee reviews, lowyat forums, jwtechreviews.com,
international references: dashcamtalk.com, trustedreviews.com, techradar.com, consumerreport.com, thewirecutter.com, Reddit /dashcam, blackboxmycar.com, bestreviews.com, youtube reviews,
I also referred to many other sources for reviews that are not included in the above. Spending over 40 hours to crunch all the data and information to come up with the most budget-friendly pick which suits most Malaysian.
Best budget dash cam: Blueskysea B1W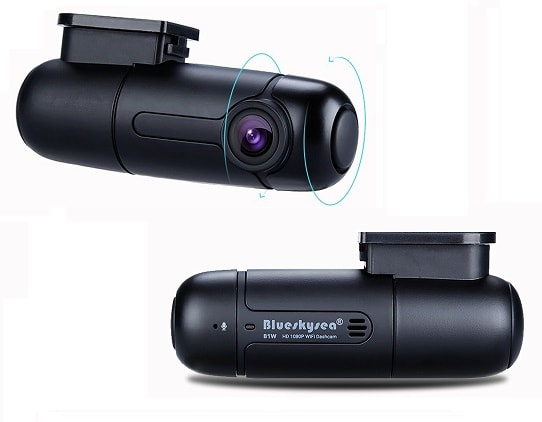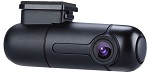 Best bang for buck budget dash cam with supercapacitor and 1080p video recording
RM165 on Lazada Check price on Shopee
The BlueSkySea B1W is one of the best bang for your buck car camera because it is small, good day and night video quality, easy to setup,using capacitor battery and cheap.
In the box
The standard package comes with the car camera, car charger, micro USB cable, extra 3M adhesive tape x2 and microfiber cloth.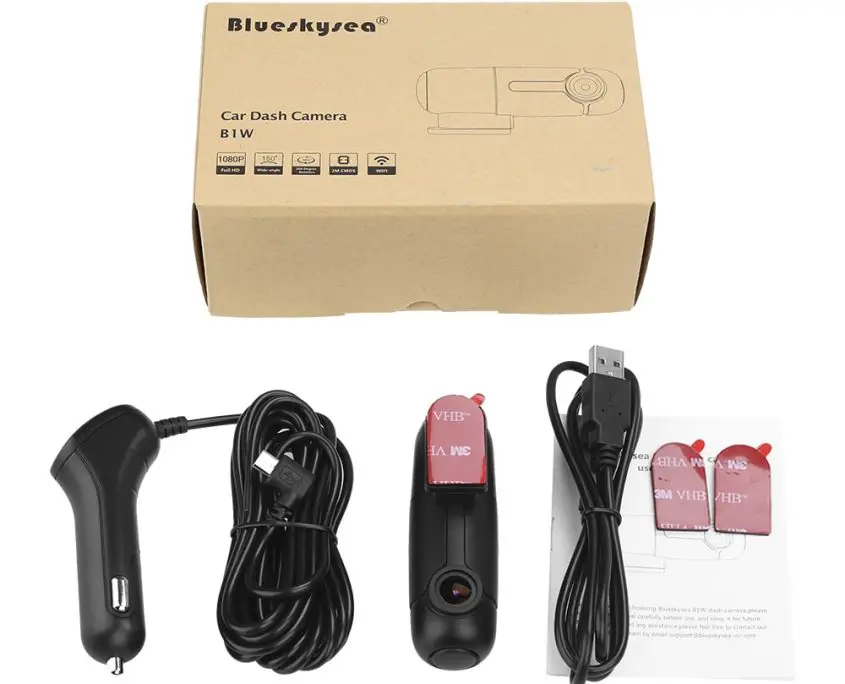 Personally, I prefer the idea of permanent mounting using 3M adhesive tape compared to a suction cup which may fall off over time. However, the adhesive stain will remain on your car windscreen when you remove the camera. All manufacturers should follow Xiaomi by giving a small sheet of electrostatic film for mounting to protect your windscreen.
The dash cam is compact and discreet with only 90mm x 29mm x 38mm, as big as your thumb. It comes in black colour and blend well with your rearview mirror. There is no LCD screen which makes it stealthy and reduces the chance of smash-and-grab car theft.
The camera support 360-degree rotation allows you to easily adjust the angle of video recording. It also has FOV as wide as 150 degree which is not the widest among other competitions but suffices for most conditions.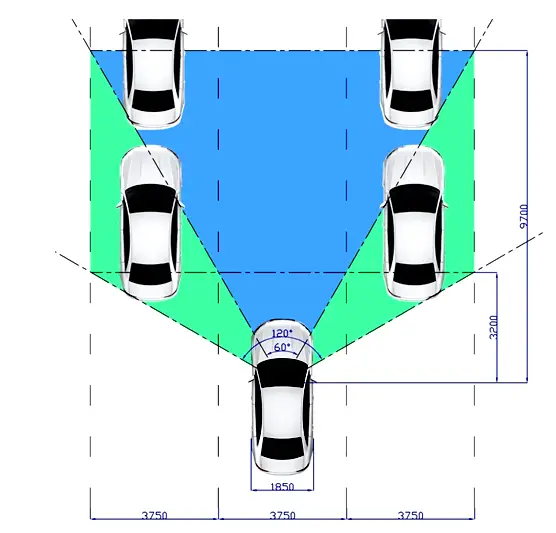 It uses Sony IMX323 CMOS high sensitivity image sensor that allows good quality video recording at 1080p resolution with 30 frames per second (fps). In order to ensure good recording quality and safe storage of the video, a good micro SD card is very crucial for a dash cam.
B1W only supports up to maximum 64GB of SD card disk size. The good news is that it is compatible with the renown Samsung Evo+ SD card which is one of the most popular choices among picky and smart consumer like you and me who research before making any purchase.
However, according to in-depth research by carcamcentral.com, Samsung does not encourage their SD or micro SD card to be used for surveillance purpose because constant reading and writing may break the cards. Instead, it is recommended to use Sandisk High Endurance Series which developed specifically for dash cam and video monitoring device..
Based on various sources, B1W's daytime video quality is clear and crisp and I would highly recommend checking out our very own Malaysian Jeremy Wong's JWtechreview.com recorded footage.
Night time performance is slightly poorer where you need to be nearer to other vehicles in order to get a clear view of the car plates.
Even though B1W does not have a screen, it has a built-in Wifi feature and dedicated phone apps for setting up the camera. If you don't have a phone to set it up, there is also no problem to boot it with the default setting.
Based on the led light indicator on the dash cam, you are able to check the camera status.
Red light always on indicates camera in standby mode with Wifi off.
Red light blink indicates camera in recording mode with Wifi off.
Green light always on indicates camera in standby mode with Wifi on.
Green light blink indicates camera in recording mode with Wifi on.
This dash camera also complete with G-sensor to detect a collision which the current video being recorded will be stored in an 'Emergency Videos' folder in case of an accident. That particular video clips will not be overwritten to serve as proof of accident or collision.
In fact, B1W comes with parking guard function which triggered by G-sensor. When an impact is detected, the camera starts video recording for 30 seconds automatically. However, this feature will require additional hardware kit to tape onto your car battery so that the camera can still keep running when your car engine is turned off.
One of the last and most distinct features which make Blueskysea B1W dwarfing the competitions like Xiaomi dashcam, Xiaomi 70 Mai, Xiaoyi dashcam is its capacitor battery. While other budget dashcams are using lithium-ion battery due to lower cost, B1W is using super capacitor that is more heat tolerant and has no risk of thermal expansion.
It helps the camera to last longer in Malaysia hot climate and perform consistently under high temperature. It can operate in temperature from -20 degree Celsius to 70 degree Celsius whereas other lithium-ion cameras normally only operate upwards to 60 degree Celsius.
Verdict
Blueskysea B1W is the best car dash cam in the budget category for buyers who want a simple plug and play device. At such low price point, it has Sony IMX 323 CMOS sensor, wifi-ready, G-sensor, dedicated app and super capacitor.
The biggest drawbacks of this car camera in Malaysia is that currently there is no local distributor or reseller. While you can still easily purchase it through Lazada Malaysia, warranty claim may be an issue for some users.
For users who need a budget dash cam with local warranty, Xiaomi 70 Mai is a great alternative with similar features except it is using a lithium-ion battery that may not be lasting under Malaysia hot weather. Xiaomi 70 Mai comes with voice command for you to easily take a snapshot and toggle wifi.
Best budget dual camera dash cam: Mini 0906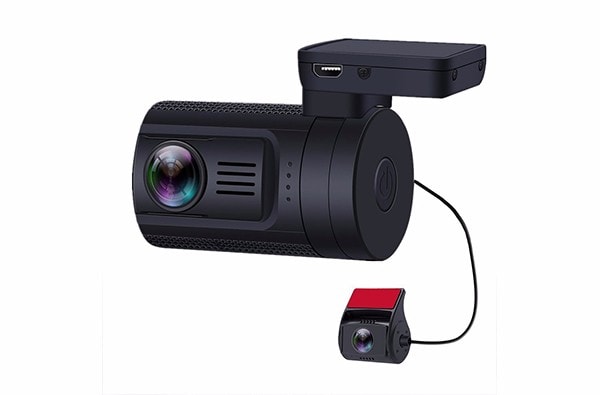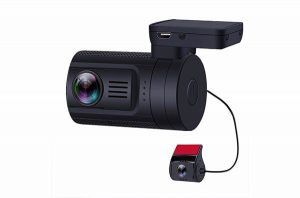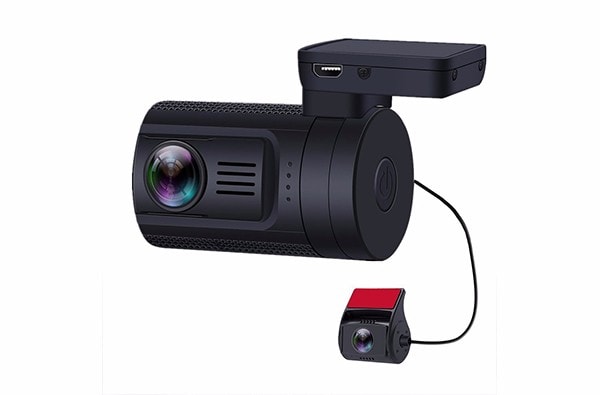 Mini 0906 dual channel car camera record 1080p video both front and rear at reasonable price point. Cheap hardwire kit is a big plus.
RM450 on Lazada Check price on Shopee
In the box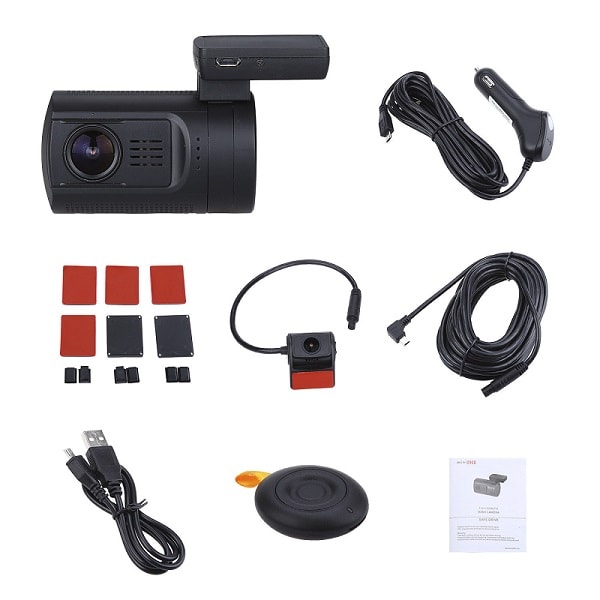 We have front & rear camera, rear camera mount, 4 adhesives tape, power adapter, rear camera cable, mini USB cable, microfiber cloth and wire clip.
In Malaysia, we have all sorts of awkward road condition and situations where some drivers simply ignore road signages and regulations. One front-facing car camera may not be enough to protect your safety for good.
Dual camera dash cam which covers both the front and rear of your car can safeguard your car from all angles to give you peace of mind.
The Mini 0906 front camera is in a small tubular shape measuring only 70mm x 40mm x 47mm and comes with 1.5 inches LCD screen which is very handy for setting up the camera.
It uses Sony sensor IMX291 at the front camera and IMX322 at the rear camera which enables it to record video at both channels at 1080p 30 fps. Viewing angle is only as wide as 130 degrees, slightly less than Blueskysea B1w.
Both front and rear camera video quality are great for daytime recording and acceptable at night time. Do check out Mini 0906 videos by jwtechreviews.com.
Similar to any capable dash cam, Mini 0906 has built-in G-sensor to protect collision video not to be overwritten. In addition, it has GPS integrated which is a great extra feature but not critical for average users.
Mini 0906 is also using super capacitor instead of a battery allows it to withstand hot temperature better. It can operate up to 70°C. Temperature protection function will kick in to turn off the camera if it is overheated.
Apart from all the must-have features for a good dash cam, Mini 0906 offers some unique features as below:
3 meters motion detection to record automatically when it senses motion which offers more security for your car
Convenient remote control to trigger protection for recorded video or take a snapshot.
Time-lapse parking mode can be enabled with relatively cheap hardwire kits (readily available with Malaysia vendor)
Verdict
Mini0906 is not the cheapest dashcam in the market with a RM450 price tag but it is the best value dual channel/dual camera dash cam you can buy in Malaysia from a local reseller on Lazada. It has a super capacitor, built-in G sensor and GPS function, and capable of recording excellent video.
The only downsides I can see with this camera is lacking of Wifi feature and dedicated phone app to let users configure the camera and download videos on the go.
Best interior-facing dash cam for Grab drivers: Vantrue N2 Pro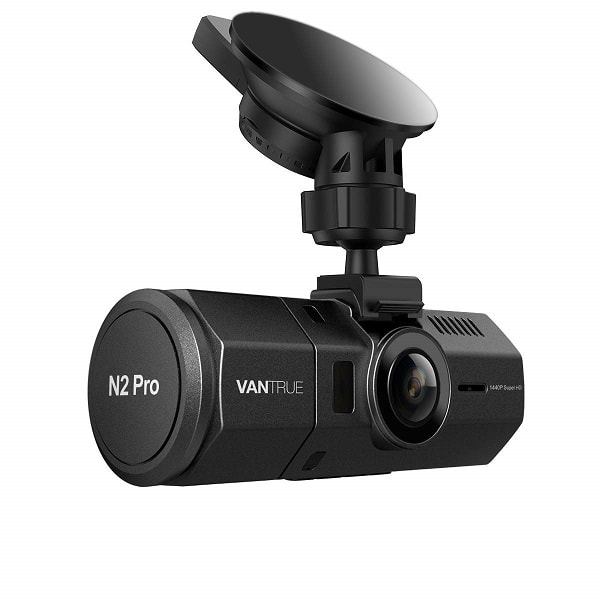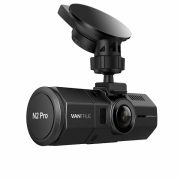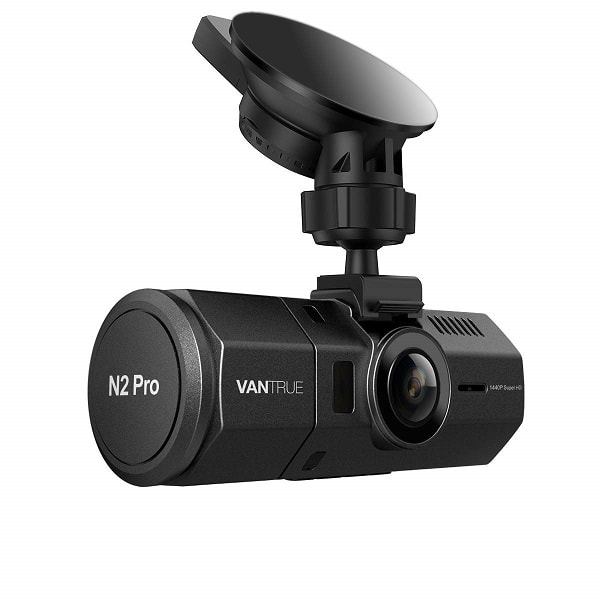 Vantrue N2 Pro is pricey yet the best front and interior facing dash cam. It records dual 1080p video and comes with infrared LED that is essential for night time Grab drivers.
RM1140 on Lazada Check price on Shopee
Interior dash cam is important for ride-sharing drivers because it offers protection for both drivers and passengers. It discourages potential bad behaviours and any false accusation from passengers. At the same time, it gives assurance to passengers that the drivers are serious with their safety because everything is being recorded.
Vantrue N2 pro is the best car interiors dash cam that you can buy on Lazada. But this model has to be shipped from Korea and may not be ideal with its high price point.
The N2 Pro fitted 2 cameras into a single unit that allows simultaneous 1080p video recording for both front view and car cabin view. Front camera has a massive 170 degree field of view and 140 degree interior facing camera.
The rear camera comes with 4 infrared LED that turns on automatically when the surrounding is dark. This feature is especially for Grab drivers who operate at night time.
This car camera supports up to 256GB micro SD card. It also comes with parking monitoring feature which requires external battery pack or hardwire it.
The competition
Single channel dash cam
Xiaoyi 70 mai is another ideal single channel dash cam which captures video at 1080p, built-in wifi, dedicated smartphone app and offer eeverything similar to Blueskysea B1w. The design and built quality is excellent. It even comes with voice command feature for you to take photos.
The downsides? This camera only comes with lithium ion battery which almost certain that will swell or die under Malaysia hot weather. It also lacks parking monitoring feature. If parking mode is your priority, you should skip this model.
Dual channel dash cam
Thinkware F800 pro is one of the most widely endorsed and recommended premium dual channel dash cam on the internet. At a quick glance, F800 pro sleek modern design and whopping RM2000 price tag will first catch your attention.
It features 140° Wide angle for front and rear camera, Sony Exmor R STARVIS sensor, 1080p full HD and 30 fps dual channel recording G-sensor to detect impact and accident, built-in GPS and Wifi, as well as cloud connectivity. However, cloud connectivity feature is fluff and a gimmicky feature that provide no significant improvement at current stage because it relies on external wifi hotspot either from your smartphone or mobile hotspot device.
Thinkware F800 pro safety features like front collision warning and lane departure warning system can never be as inconsistent and may be triggered as a false alarm. So, leave those features to the car manufacturer.
F800 pro also does not provide any significant video quality improvement compared to Mini 0906 series as shown in video below.
At nearly 4 times the price of Mini 0906, the only feature that set F800 pro apart is its versatile and low power consumption parking mode. You can check out more details on Thinkware official website.
I find rather hard to justify a rational purchase with F800 pro unless you are an owner of luxury continental car and want to have the maximum security for your car regardless of what it costs. Until Thinkware able to offer distinct feature or lower their price point, i would not recommend it to average users.