Malaysians are no strangers to road accidents and road bullies. To protect both you and your car, it is important to install a dash cam or car camera in the car.
If you happen to be involved in a car accident, or worse, a hit-and-run accident, you will be glad that the car dash cam recorded the whole incident.
Last year, MIROS have published a safety scorecard for dashcams called CamScore.
The top brands on the lists are 70mai, Thinkware, DDPai, IROAD and AZDOME. But it does not explain how it scores.
In this review, I will explain each of the pros and cons of the dashcams that I have chosen and why they are the best.
What are the best dash cams in Malaysia?
The best dash cam for most Malaysians is 70mai A500S because of its high-resolution 1944p video recording and great low-light image quality.
The best capacitor dash cam is DDPai Z40 which uses a supercapacitor that is more durable than a lithium battery dash cam. It is ideal for people who need to frequently park their cars under the hot sun.
Generally, a good dash cam should record video that is clear and able to see the car licence plate, clear night recording, impact sensing, and wide field of view.
Check out the full list of top 7 dash cam in Malaysia:
---
1. 70mai A500S
Best Dashcam Malaysia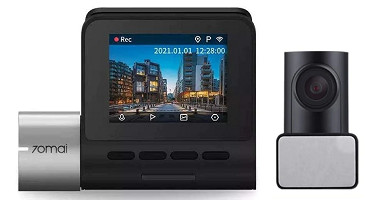 Best deal on Lazada Best deal on Shopee
70mai A500s also known as 70mai Dash Cam Pro Plus+ is the best dual-channel dash cam for most Malaysians.
70mai A500s specifications:
Video resolution: 2592 x 1944
Field of view: 140 degrees
Display screen: 2"
Image sensor: Sony IMX 335
Battery: Li-ion 500mAh
Others: Parking mode, built-in GPS, ADAS, 3D DNR
The 70mai A500s is a dual-channel dashcam that can be used together with a rear camera, the 70mai RC6. The RC06 is the same rear camera used for 70mai A800s and 70mai A400. 
Both front and back recording is available, so you can drive with peace of mind knowing any accidents will be captured.
The 70mai A500S uses a front camera with an NT96580 processor and Sony IMX 335 CMOS sensor. It can record 1944p video at 30fps with very good daytime video quality.
The camera can capture clear images of car license plates, road signs and other important details on the road. 
At the same time, the Sony IMX 335 is also known for its great performance in nighttime recording. In addition, 70mai A500S uses 3D Dynamic Noise Reduction and wide dynamic range technology to improve video recording in low-light conditions.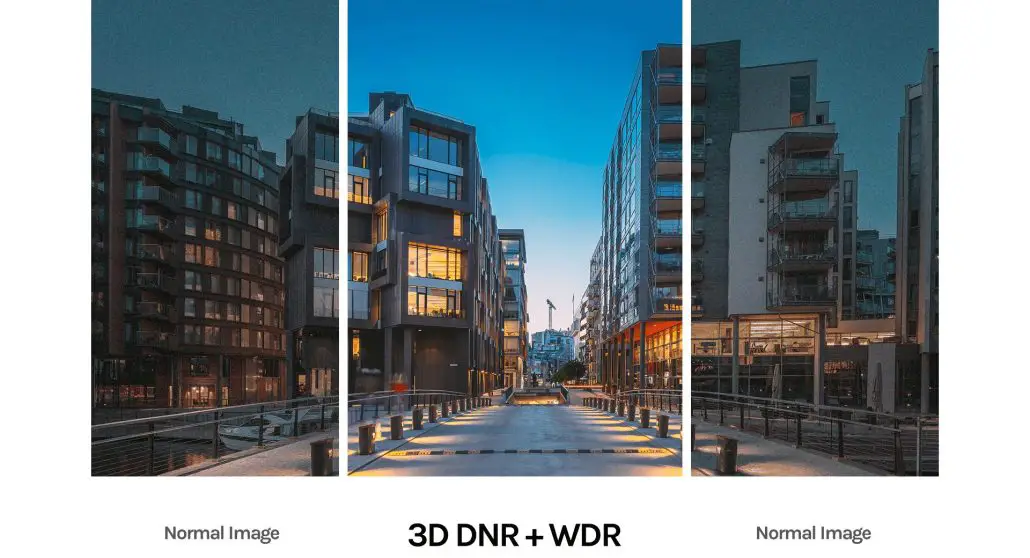 You can see that it is able to capture a lot of details at night. And the image colour at night will appear to be more vibrant than non-processed images.
Besides that, the 70mai A500S has many extra safety features such as 24-hour parking surveillance, advanced driver-assistance systems (ADAS), and built-in GPS.
Another thing I like about the 70mai dash cam is its app control. Since 70mai is part of the Xiaomi ecosystem company, the 70mai app sports a design language that resembles the Mi Home App. And it is very user-friendly and easy to connect to your smartphone.
The main disadvantage of 70mai A500S (and other 70mai dash cams) is the use of a Li-ion battery instead of a supercapacitor. Li-ion batteries have a generally lower life span in comparison to supercapacitors when exposed to extreme temperatures.
And the rear camera video quality is not the best either. Well, this is typical for most dual-channel dash cams because the priority is on the front camera.
Overall, the 70mai A500S is a feature-packed dash cam with an affordable price and impressive video quality. The regular firmware updates are a great added bonus too.
---
2. DDPai Z40 
Best Capacitor Dash Cam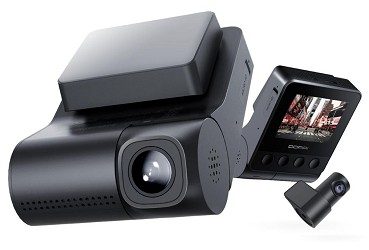 Best deal on Lazada Best deal on Shopee
DDPai Z40 is the best supercapacitor dash cam with dual-channel recording in Malaysia. It is being sold for only RM339, which is really a good deal considering that other supercapacitor dash cams, like Thinkware, and Blackvue, are selling for around RM500 to RM1000.
DDPai Z40 specifications:
Video resolution: 2592 x 1944
Field of view: 140 degrees
Display screen: 2"
Image sensor: Sony IMX 335
Battery: Supercapacitor
Others: Realcube Image Technology, D²save storage, GPS, parking surveillance, loop recording
When you look at the features of the DDPai Z40, you can see that this dash cam is a direct competitor to the 70mai A500s. Both are selling for the same price, have the same video resolution of 1944p, and have the same Sony IMX 335 sensor.
In terms of video recording quality, there's little difference between DDPai Z40 and 70mai A500S. DDPai Z40 uses its proprietary Realcube Image Technology to enhance the image's colour accuracy and brightness.
But if you look further and deeper, you will discover that 70mai has a few features that stand out and are better than 70mai A500S.
First thing, it uses a supercapacitor instead of a lithium-ion battery. The advantage of a supercapacitor is it can last and work in extreme weather conditions, regardless of whether it's hot or cold. It can operate from -20ºC to 70ºC.
But its disadvantage is it will immediately cut off and stop recording when you stop your car engine. You must hardwire the dash cam to a power supply in order to use the 24 hours parking surveillance mode. The power supply will provide the required electricity for the dash cam.
Another unique feature of DDPai Z40 is the D²save storage technology. In the event that the microSD card fails, it can save the recorded footage temporarily to its built-in NAND flash drive.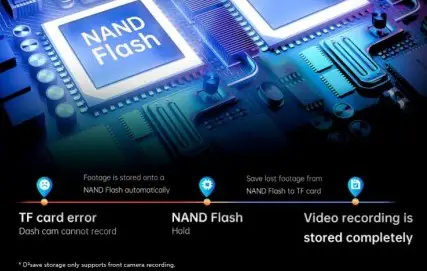 There's one issue with the DDPai Z40 dash cam which is its ADAS feature is not yet available. I don't think this is a deal-breaker because the ADAS feature on the dashcam is never accurate nor reliable enough.
In conclusion, I think DDPai Z40 is a better dash cam for those who want the most durable dashcam. And it gives you peace of mind with its D²save storage technology.
On the other hand, 70mai A500S is a more complete package with better-optimized software/firmware. It also has a 500mAh battery which allows it to work for a short period even after the car is shut down.
---
3. 70mai A800S
Best 4K Dash Cam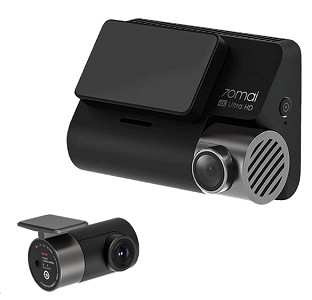 Best deal on Lazada Best deal on Shopee
70mai A800S is the best 4K dashcam in Malaysia. It features a very high-definition 4K video recording and a 3" display screen.
70mai A800s specifications:
Video resolution: 3840 x 2160
Field of view: 140 degrees
Display screen: 3"
Image sensor: Sony IMX415
Battery: Li-ion 500mAh
Others: Parking mode, built-in GPS, ADAS, 3D DNR
Specifications of 70mai A800S and A500S dash cam are totally similar except that A800S has a bigger 3" display and a Sony IMX415 sensor.
Before you get your hands on a 4K dashcam, you must ask yourself do you really need 4K video recording quality? Personally, I don't think it is necessary, not like this is a 4K monitor or something. 
A 4K recording requires significantly more storage than a 1080p or 2K recording. You would exhaust your SD card at a faster rate than an FHD or 2K dash cam. 
And the 2K resolution on 70mai A500s should be sufficient in most situations.
The 70mai A800S uses a Sony IMX415 sensor which has a slightly poorer performance under low-light conditions.
Under an extremely low-light environment, the image on 70mai A800S will be slightly darker while 70mai A500S will still be able to capture plenty of details.
Nevertheless, the 70mai A800s performs exceptionally well for daytime recording. The image recorded during daytime with 4K resolution is evidently sharper and crisper.
So, if your priority is daytime video recording quality and clear image distance, then you should buy the 70mai A800S. Otherwise, 70mai A500s are better valued for your money and capture great video at night.
---
4. 70mai A400
Best Budget Dash Cam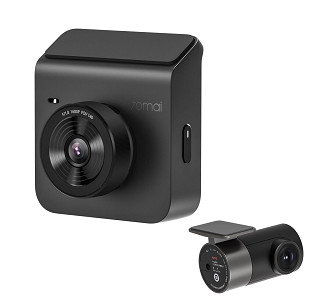 Best deal on Lazada Best deal on Shopee
70mai A400 is the best budget dash cam in Malaysia. It is currently sold for only RM211. It has over 4,000 reviews and is rated 5 out of 5.
70mai A400 specifications:
Video resolution: 2560 x 1440
Field of view: 145 degrees
Display screen: 2"
Image sensor: GC4653
Battery: Li-ion 500mAh
Others: Parking mode, 3D DNR
The 70mai A400 is a mid-tier dashcam priced between 70mai M300 and 70mai A500s. Although it is a budget dashcam, it supports dual-channel, front and rear video recording.
70mai A400 uses a 3.6-megapixel camera with an aperture of 2.0.
Its video recording resolution is 1440p.  And it has the widest field of view among all 70mai dash cams, as much as  145 degrees. 
This car camera can cover at least three lanes of traffic and can capture any incident that occurs in front of your vehicle.
The 70mai A400 uses a different image sensor than other 70mai dash cams. It uses the Galaxy Core GC4653 sensor. 
Although this sensor is less popular than the Sony IMX sensor, it still records great day and night video quality. And it has better performance than 70mai M300 and 70mai 1S.
70mai A400 supports 3D DNR and parking mode. But it lacks built-in GPS and ADAS. Honestly, I think GPS and ADAS features are good-to-have but not a critical feature.
As with all 70mai dash cams, the 70mai A400 uses a 500mAh lithium battery but not the supercapacitor. The battery may be less durable in hot regions like Malaysia.
Despite the various small downsides,  the 70mai A400 is still the best budget dashcam to buy in Malaysia right now given its fair price and crispy video recording quality.
---
5. 70mai M300
Best Cheap Dash Cam Malaysia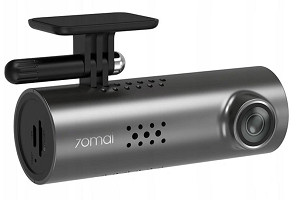 Best deal on Lazada Best deal on Shopee
70mai M300 is the best cheap dash cam in Malaysia. It is the most popular and best-selling dash cam on Shopee because of its affordable price of only RM165.
70mai M300 specifications:
Video resolution: 2304 x 1296
Field of view: 140 degrees
Display screen: No screen
Image sensor: SC3335
Battery: Li-ion 240mAh
Others: Parking mode, 3D DNR, loop recording
The 70mai M300 looks similar to the 70mai 1S, but it has been upgraded considerably.
The first difference is that it captures video in a higher resolution than the 70mai 1S: 1296p vs 1080p. It also now has a wider field of view of 140 degrees.
It also supports various additional features that are absent in 70mai 1S, such as:
3D noise reduction in low light environments and night recording
Parking surveillance
Time-lapse recording
The discreet size of the 70mai M300 will definitely appeal to those who do not like bulky dash cams. This stick-shaped car camera is small and barely noticeable on your windscreen.
The biggest drawback you will notice on 70mai M300 is its poorer night recording. Night video recording appears to be a bit noisier than that of a more expensive 70mai dash cam.
If you have a small budget, then the 70mai M300 is a great choice. You shouldn't buy the 70mai 1S as it lacks many new features of the 70mai M300 and the price difference is only RM15.
---
6. SIPII SP400
Best 3 Channel Dash Cam
Best deal on Lazada Best deal on Shopee
SIPII SP400 is the best 3-channel dash cam that is able to record front, rear and cabin views at the same time.
SIPII SP400 specifications:
Video resolution: 3840 x 2160P
Field of view: 140 degrees
Display screen: 2.45"
Image sensor: Sony Stravis IMX335 
Battery: Supercapacitor
Others: Collision alert, motion detection, auto recording, loop recording, 
The SIPII SP400 has received 135 ratings and has been rated 5 stars out of 5, which is incredible!
I would like to start by mentioning the main disadvantage of the SIPII SP400 dashcam. Due to the lack of WiFi support, you cannot use a smartphone to view the recorded video or retrieve the recordings. 
To transfer the video, you will have to remove the microSD card from the dash cam and transfer it to your PC/laptop.
If you're fine with this issue, then the SIPII SP400 is a great dash cam that truly gives you all-around protection. It records crystal clear video for the front, rear and cabin simultaneously.
The video quality is 3830 x 2160p for the front camera and 1080p FHD for the cabin and rear camera. The cabin camera comes with infrared night vision that can capture black-and-white video when there's no light.
It also uses a supercapacitor instead of a lithium-ion battery.
The seller offers a 15 months warranty with 1 to 1 exchange for the SIPII SP400 so you can buy with confidence.
With its 3-channel video recording feature, the SIPII SP400 is the best dash cam for Grab Car drivers wanting the best protection for themselves and their passengers.
---
7. Blueskysea DV988
Best Motorcycle Dash Cam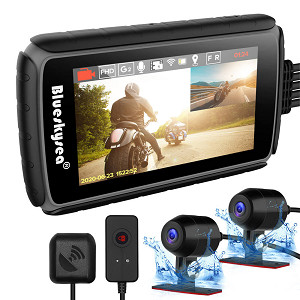 Best deal on Lazada Best deal on Shopee
Blueskysea DV988 is the best motorcycle dash cam for Malaysian riders. One of the main differences between a motorcycle dash cam and a car dash cam is that the motorcycle dash cam is waterproof.
Blueskysea DV988 specifications:
Video resolution: 1080p
Field of view: 140 degrees
Display screen: 4"
Image sensor: GC2053
Battery: Super capacitor
Others: WiFi 2.4gHz, GPS, loop recording, collision detection, smart parking monitoring, and safe driving mode.
The Blueskysea DV988 comes with many parts including a touchscreen host recorder (IP66), front and rear camera (IP67) and remote control (fully waterproof).
Both the front and rear camera captures video in 1080p at 30fps. And it supports microSD cards up to 256GB.
The camera automatically starts recording when the motorcycle is turned on. In the event of a collision, the recorded footage will be automatically locked so that it cannot be overwritten.
The Blueskysea DV988 also has a safety riding reminder function. If you exceed the preset running speed, it will send out reminders to prompt users to ride slower.
In parking mode, it will automatically turn on and record 25 seconds of video when a collision is detected. However, parking monitoring could drain your battery too low to start your bike.
Therefore, if you need this feature, you should set it to automatically shut off parking surveillance when it detects the battery voltage falls below a preset limit.
The Blueskysea DV988 is a must-have motorcycle dash cam in Malaysia. Motorcyclists in Malaysia always hold a much higher risk than car drivers. A motorcycle dash cam will protect you against false accident accusations and protect your motor when you are away.
---
Previous Pick
Blueskysea B1W review
Blueskysea B1W is the previous pick for the best budget dash cam. However, I no longer recommend getting it as the price of 70mai and DDPai dash cam are getting more affordable.
The performance and durability of the 70mai and DDPai dash cam are also satisfactory for most people. 
And there are very few sellers for this model. So, it is better to buy a 70mai or DDPai dash cam.
Mini 0906 review
Similarly, the Mini 0906 is no longer a recommended dual-camera dash cam because it only records 1080p video. But it is selling in the range of RM450 to RM550. It also lacks WiFi support.
It is outdated and certainly isn't the best value anymore.
Vantrue N2 Pro review
Vantrue N2 Pro was previously recommended as the best interior-facing dash cam. But the SIPII SP400 is cheaper than Vantrue and features a three-channel, all-around video recording solution.
Thus, Vantrue N2 Pro is no longer recommended.
---
Competitions
Thinkware F800 Pro/F200 Pro/Q800 Pro Review (vs 70mai A800S)
Thinkware dash cam is one of the most widely endorsed and recommended dash cam brands. Their build quality is top notch and the video recording quality is great too. 
But Thinkware dash cams normally cost 2 to 4 times if compared to affordable dash cam brands like 70mai and DDPai. And its dual-channel dash cam can easily exceed a few thousand Ringgit in Malaysia.
Viofo A129 Plus Duo Dash Cam Review (vs 70mai A500S)
Viofo A129 Plus Duo is a great dual-channel dash cam with a reasonable price. If you don't mind using a slightly outdated image sensor of Sony IMX317 on Viofo A129, then you can consider this dash cam. 
The video recording quality is great but will be slightly poorer than dash cams that use IMX415 and IMX335.
The pros of the Viofo dash cam are they continuously update their firmware to keep the dash cam up-to-date.
BLACKVUE DR900X-2CH Review (vs 70mai A800S)
BLACKVUE DR900X-2CH has a price tag of RM2,699. It is one of the most feature-packed and sophisticated 4K car cameras in the market.
You won't notice any significant difference in video quality between BLACKVUE DR900X-2CH vs 70mai A800S.
I don't find those added features of BLACKVUE DR900X-2CH worth spending over RM2,000 on it.
GoPro Review
If you already own a GoPro and it is way under-utilised, then GoPro is a great alternative to a dash cam.
Otherwise, it is not good to use a GoPro as a dashcam, as it doesn't turn on automatically when you start the car. It also doesn't automatically lock the recorded footage when detected impact/collision.
Continuously running the GoPro could greatly shorten its battery life. Excessive temperatures can also cause it to malfunction. 
---
Dash Cam FAQ
Which dash cam brand is the best in Malaysia?
The best dash cam brand for most Malaysians is 70mai for its affordable pricing and great video recording quality. And if you prefer a dash cam with better durability, then you can choose the DDPai dash cam that uses a supercapacitor.
Should you buy a dash cam?
Yes, everyone should buy a dash cam, especially in Malaysia where many drivers and riders are ruthless and irresponsible. It can safeguard your interest during a car accident and protect you from road bullies.
How do you buy a good dash cam?
For average users, we recommend getting at least 1440p dash cam, WiFi connectivity, 140 degrees field of view and good low-light video recording quality. You can read further in our dash cam buying guide