Electric toothbrushes were first introduced in the United States in the 1960s. It used to cost hundreds of Ringgit and was primarily used by well-off families. Today, a low-cost electric toothbrush can now be purchased for less than RM30 due to technological advancement.
At the same time, there are also electric toothbrushes that cost more than RM1,000 right now. After gone through multiple expert reviews, I found that it is totally unnecessary to spend more than RM300 on an electric toothbrush. 
In most cases, the higher price tag does not translate into any extra benefits in terms of cleaning teeth other than gimmicks.
Here are the top 7 electric toothbrushes in Malaysia:
The 7 best electric toothbrushes in Malaysia
| Model | Brush Motion | Speed Per Minute | Battery Life |
| --- | --- | --- | --- |
| Oral B Pro 2000 | Vibration+Oscillation | 40,000 and 8,800 | 14 days |
| Philips ProtectiveClean 4100 | Vibration | 62,000 | 14 days |
| Xiaomi T100 | Vibration | 16,500 | 30 days |
| realme N1 | Vibration | 20,000 | 130 days |
| Xiaomi T500 | Vibration | 31,000 | 18 days |
| Oral-B Vitality Kids | Rotation | - | 5 days |
| Oclean X Pro | Vibration | 42,000 | 40 days |
---
Best Electric Toothbrush for Whitening Teeth
Oral B Pro 2000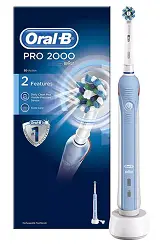 Best deal on Lazada Best deal on Shopee 
Oral B Pro 2000 features:
Rotation plus pulsation cleaning
40,000 pulsation/min
8,800 oscillations/min
Cleaning and massage gum mode
Built-in 2 minutes timer
Alert indicator for pressure control
Reasons to buy:
Optimum cleaning performance
Cross action brush head
Reasons to avoid:
Only 2 brushing modes available
China plug
Oversea warranty
Oral-B Pro 2000 is the upgraded version of the Oral-B Pro 600 electric toothbrush. The Oral-B Pro 600 is equivalent to Oral B Pro 1000 which sold in the US.
And just to let you know that Oral B Pro-1000 is selected by both wirecutter.com and the strategist as the best electric toothbrush as well.
It is currently being sold at a very competitive price at only RM200+ on Shopee. But, do note that this Oral-B Pro 2000 is sold by a China Seller.
I selected the Oral-B Pro 2000 as the best overall electric toothbrush because it comprises all the essential features of a good battery powered toothbrush.
This toothbrush uses not only rotational motion to brush teeth but also comes with vibration to ensure your teeth can be brushed in all directions.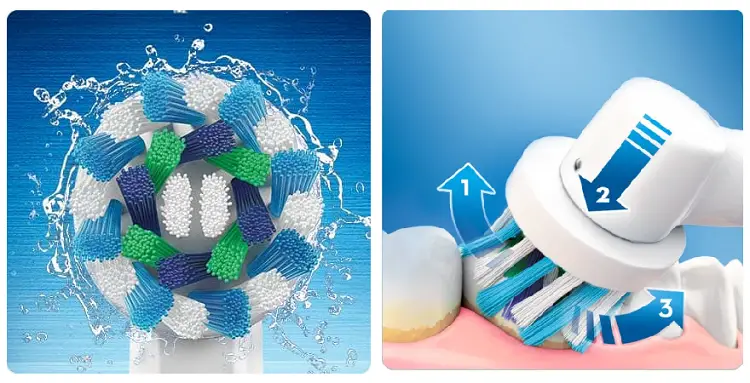 The Oral-B Pro 2 2000 is very efficient in removing plaque and stains from your teeth. According to a study done by Germany Researcher, the rotational toothbrush head is proven to be more efficient in removing plaque compared to a sonic toothbrush.
I have cross-checked the results on a few toothbrush test videos which show similar results. You can check out the test here, video 1 and video 2. Both of the videos show similar results where rotational clean dental plaque better. Unfortunately, both videos are only available in Chinese.
However, due to personal brushing habits and preferences, there are some users prefer to stick with a sonic electric toothbrush that has a conventional oval brush head rather than a circular brush head.
Besides that, it has a built-in timer of 2 minutes which is the minimum brushing time recommended by the dentist. It also has a pressure alert indicator which will blink in red colour if you're brushing too hard. It protects your gum and reduces the chances of bleeding.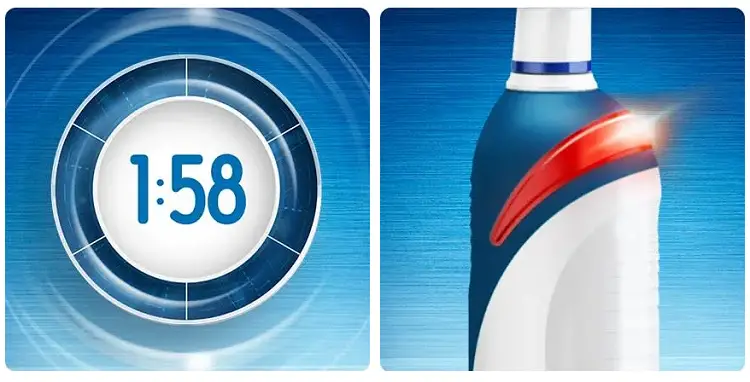 Oral-B Pro 2000 comes with a built-in lithium-ion battery that can last for 2 weeks for a single charge.
The best part of the Oral-B electric toothbrush is its wide range of replacement brush heads. There are 8 different types of brush heads, namely iO Ultimate Clean, iO Gentle Clean, Charcoal, Crossaction, Sensitive Clean, Precision Clean, Pro Gumcare and 3D White.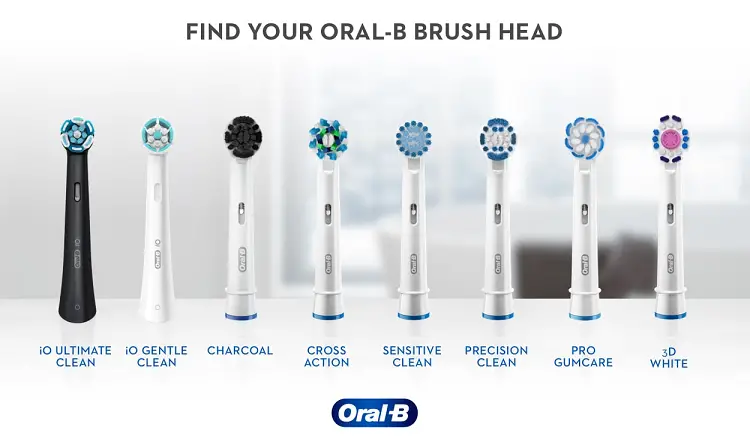 As you can see above, you can share this Oral B Pro 2000 electric toothbrush with your partner/wife by purchasing an additional brush head. So, the cost is not that high if you consider that it can be shared.
The Shopee seller gives a 12 months warranty with replacement of the product if the toothbrush is faulty.
---
Best Sonic Toothbrush For Sensitive Tooth
Philips Sonicare ProtectiveClean 4100

Best deal on Lazada Best deal on Shopee 
Philips Sonicare ProtectiveClean 4100 features:
Philips Sonicare's advanced sonic technology
62000 brush movement/min
Pressure sensor with pulsing sound alert
Quadpacer and SmarTimer (2 minutes reminder)
Smart brush head replacement reminder
2 weeks battery life
Battery indicator
Reasons to buy:
Philips entry-level electric toothbrush
Conventional-shaped
2 years local warranty
Smart pressure sensor and brush head replacement reminder
Reasons to avoid:
Only 1 brushing mode
Expensive at RM289
Expensive replacement brush head
For users who prefer the conventional-shaped toothbrush, Philips Sonicare ProtectiveClean 4100 is your best choice. It is considered as the best value Philips electric toothbrush in terms of performance and price.
The advantage of using a conventional-shaped electric toothbrush is that we are more used to this shape and its brushing pattern. Personally, I also feel that it is easier to clean the tiny gap in between our teeth with this toothbrush. Do check out the demonstration on how to properly use this type of electric toothbrush.
The Philips Sonicare ProtectiveClean 4100 uses Sonic technology which is a rapidly vibrating brush head that moves up and down to clean your teeth. This model sports an astounding 62,000 brush movements per minute. Philips claims that it removes up to 7 times more plaque compared to manual brushing.
This toothbrush has a very good ergonomic design. It does not feel heavy when used. Also, the brush head is slim and pointed, so you can easily reach the back of your teeth.
Other than that, it comes with smart sensor technology that alerts users with a sound if they brush too hard in order to prevent gum injury. 
Different from Oral-B's 2 minutes timers, Philips' timer is known as Quadpacer. It basically divides your mouth into 4 portions: upper-left,upper-right, lower-left, and lower-right. The timer reminds you to switch to a different section every 30 seconds to make sure you brush your teeth evenly and thoroughly.
Also included is a smart BrushSync Replacement Reminder that alerts users when it's time to change the brush head.
The Philips Sonicare ProtectiveClean 4100 electric toothbrush is powered by a Li-ion battery that can last up to 2 weeks for a full charge. There is a light indicator showing the battery status to remind you to charge it when the battery is low.
Philips Sonicare ProtectiveClean 4100 is a no-gimmick sonic electric toothbrush that definitely can improve your oral hygiene and gum health.
---
Best Cheap Electric Toothbrush
Xiaomi Mijia T100

Best deal on Lazada Best deal on Shopee 
Xiaomi Mijia T100 features:
 IPX7 body waterproof
16,500 vibrations/min
Soft bristle brush head
2 brushing modes: Standard and Gentle
30 seconds reminder timer
30 days battery life
46g lightweight
Reasons to buy:
Cheap
Reputable brand
Lightweight and ergonomic design
Dual cleaning mode
Reasons to avoid:
Micro USB charging port
Oversea warranty
Xiaomi T100 is the best cheap electric toothbrush under RM30. If you're thinking to buy some unknown China brands, my advice is just to buy the Xiaomi T100 because Xiaomi product quality is at least somewhat guaranteed.
The design and finish of the Xiaomi T100 toothbrush are unmatched at this price point. The body of the toothbrush is slim and weighs only 46 grams.
 There're a seamless power button and three indicator light on it. These indicator lights are representing the Standard Mode, Gentle Mode and the last one is the battery status indicator.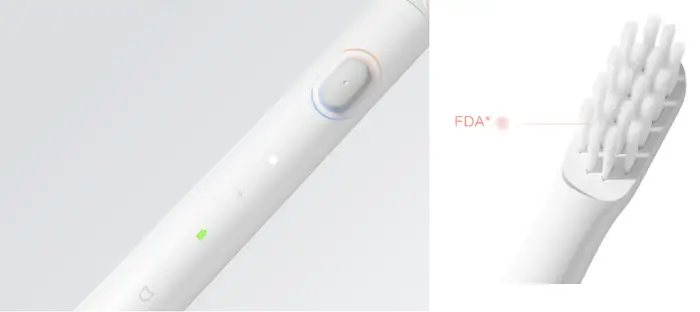 This Xiaomi brush head is slightly more rounded and not as pointed as Philip's one. The bristle and the brush head is soft, dense and has gotten FDA approval.
The Xiaomi T100 vibrates at a speed of 16,500 RPM. Although this is a very cheap electric toothbrush , it comes with two-speed modes, the Standard and Gentle modes. It even has a 30-second reminder similar to Philips Sonicare ProtectiveClean 4100. This toothbrush can last for 30 days for a single charge.
The only downside to this toothbrush is the micro USB charging port, since most charging ports are USB-C now.
---
Best Budget Electric Toothbrush
Realme N1 Sonic Electric Toothbrush
Best deal on Lazada Best deal on Shopee 
Realme N1 Sonic Electric Toothbrush features:
20,000 vibration/min
DuPont Antibacterial Bristles
USB-C charging port
130 days battery life
3 modes: Soft, Clean, Polish
30 seconds reminder
Reasons to buy:
Three-speed modes
130 days battery life
Reasons to avoid:
Much more expernsive than Xiaomi T100
The realme N1 Sonic electric toothbrush is another great alternative to Xiaomi T100 electric toothbrush. 
But, the price of realme N1 is a huge problem. Its norma price is RM99, which is four times more expensive than Xiaomi T100 ,RM25. Also note that the toothbrush is only being sold at ₹799 in India, about RM45.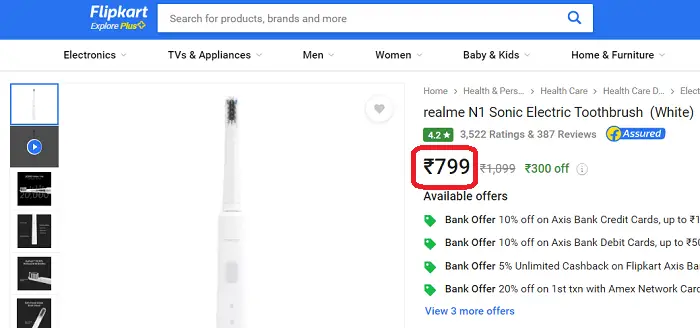 Other than the price issue, every aspect of the realme N1 is an upgrade from Xiaomi T100. Both of them have similar handle and brush head designs.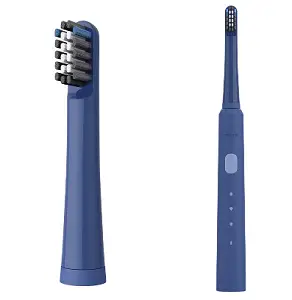 The realme N1 has a faster and stronger vibration speed at 20,000 RPM. Furthermore, it has 3 cleaning modes: Soft, Clean and Polish mode. It also has a longer 130 days battery life and a more convenient USB-C charging port.
With 130 days battery life, you only need to charge the toothbrush three times each year.
However, Realme N1 electric toothbrush is still a good buy whenever there's a promotion. So, like my Facebook page and I will update any good deals from time to time.
---
Best Value Smart Electric Toothbrush
Xiaomi T500 Electric Toothbrush

Best deal on Lazada Best deal on Shopee 
Xiaomi T500 Electric Toothbrush features:
31,000 vibrations per minute
Normal-shaped brush head
Over-pressure alert
Anti-splash protection
Various cleaning mode
Can connect to a smartphone
Reasons to buy:
31,000 vibrations per minnute
Normal-shaped brush head
Value for money
App connected
Reasons to avoid:
Need to set Mi Home app to China region
The Xiaomi T500 electric toothbrush is very similar to Xiaomi T100. Comparing these two toothbrushes side-by-side, the most obvious difference is the brush head of Xiaomi T500, which is similar to our usual toothbrush. The diameter of the handle of Xiaomi T500 is also slightly bigger than T100.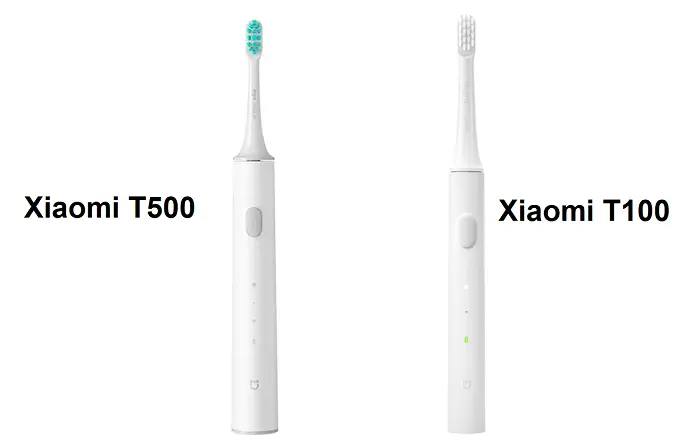 The magnetic levitation motor on Xiaomi T500 is a huge upgrade from Xiaomi T100. It can vibrate at the frequency of 31,000 vibrations per minute which is almost 3 times more than Xiaomi T100. This high-speed vibration ensures deep cleaning, removing stubborn plaque on your teeth and improves dental hygiene.
Users can switch to three different speed modes on Xiaomi T500, namely the Standard mode for routine cleaning, Soft mode for sensitive gums and a Personalized mode which can be customized through the Mi App. The personalization feature makes it ideal as electric toothbrush for those wearing brace.
One of the main selling points of the Xiaomi T500 is it can be connected to a smartphone. It can generate oral health reports that analyse the duration and coverage of your tooth-brushing sessions. This function, however, I think is a bit gimmicky because there is no electric toothbrush on the market that can do an accurate analysis and report.
The smartphone app connectivity is a nice tough but don't put high expectation on it. Nonetheless, Xiaomi T500 is a solid electric toothbrush that comes with 18 days battery life.
---
Best Electric Toothbrush for Kids
Oral-B Vitality Kids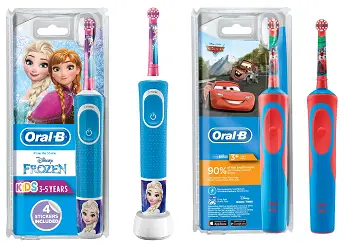 Best deal on Lazada Best deal on Shopee 
Oral-B Vitality Kids Electric Toothbrush features:
2D rotational brushing motion
Battery last for 5 days
2-minute timer
For age 3 and above
Reasons to buy:
Kids-friendly design
Comfortable handle for kids
Sold by official P&G store
Reasons to avoid:
Not the best value for money
Poor customer service
Few reported problems with battery
The Oral-B Kids Electric Toothbrush Cars and Frozen Editions are the best choices for kids. They are actually Oral-B Vitality Plus models with kids-themed designs.
Personally, I don't recommend getting this toothbrush because it has really poor battery life that only last for about 5 days. There are many negative customer feedbacks on battery issue as well.
In terms of performance, the toothbrush sure spins fast enough but there's also no official specification on how many rotations per minute. It is a bit disappointing that there isn't really much information given by Oral-B.
There are also many customers who complain about the seller's sales support being unresponsive.
BUT… We all know the designs and colours of a product makes a huge difference for kids. The design is colourful and the rubberized grips are great for kids.
If your kids really like Frozen and Cars cartoon, and end up brushing teeth more diligently with these electric toothbrushes. Then, this Oral-B Vitality Kids electric toothbrush could be a worthwhile small investment that prevent potential tooth decay and other dental problems.
---
Best Smart Electric Toothbrush
Oclean X Pro

Best deal on Lazada Best deal on Shopee 
Oral-B Vitality Plus Electric Toothbrush features:
42,000 vibrations per minute
32 intensity level adjustment
Multiple built-in sensors and gyroscope
40 days battery life
Dedicated smartphone app
LCD touch screen display
Reasons to buy:
High cleaning efficiency
LCD touch screen control
Long battery life
Reasons to avoid:
Mediocre smartphone app
Chinese language interface
Oclean X Pro is the best smart sonic electric toothbrush you can buy at a reasonable price. The Oclean brand is part of the Xiaomi smart home appliances ecosystem. So, there's little to worry about its quality or the company will suddenly go vanish.
The toothbrush looks polished and feels premium in the hand. The device weighs 99 grams and comes with a wall holder and a charging pad. One of the most eye-catching aspects of the toothbrush is its touch-sensitive LCD display panel.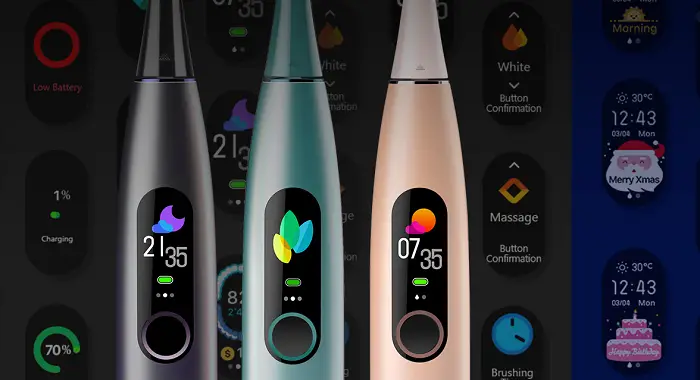 It is the first toothbrush in the world to put all the information you need within the toothbrush itself. You can control the settings from the LCD display panel. Users can set the clock, timer, brush strength as well as check battery life and brushing score, all within the touch screen LCD.
The toothbrush is also very powerful that it vibrates at a maximum of 42,000 times per minute. However, it maintains relatively low noise at only 45dB. It is pre-programmed with intelligent AI Frequency Reduction technology that reduces the frequency of vibrations when over-brushing is detected. It reduces gum discomfort and bleeding risks.
There are dedicated iOS and Android Oclean smartphone app for Oclean toothbrushes. In the app, users can check the history and record of your brushing session. You can see total brushing times, blind zone overview, brush head lifetime, brush date.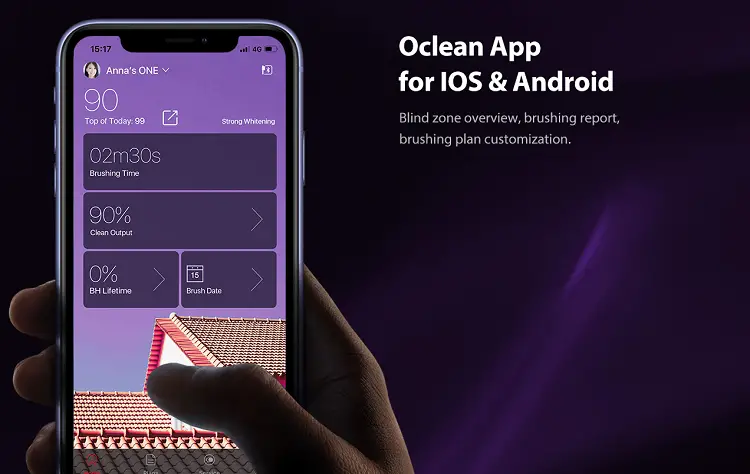 Users also can set up customized brushing plans with the smartphone app. You can fine tune the the brushing time and strength with the app.
Oclean X Pro Smart Electric Toothbrush has an 800mAh built-in battery. It can last for 40 days on level-1 intensity and up to 20 days on level-32 intensity. It is advisable to buy from the Shopee Mall vendors as it gives a one-year local warranty.
---
Competitions
Realme M1 Electric Toothbrush Review
Realme M1 main problem is its high price. Despite its solid build quality, I can't really recommend realme M1 over Xiaomi T500. Xiaomi T500 has a higher vibration frequency, cheaper and able to connect to smartphones.
Zenyum Sonic Electric Toothbrush Review
Zenyum is a Singapore start-up brand that is selling invisible braces. The electric toothbrush is a good complementary product to their service but the price of RM174.90 is a bit on the high side. The toothbrush is beautifully designed with a modern and minimalist vibe. But the features are pretty basic. You can get Xiaomi or Oral-B electric toothbrushes at the same price point. And Xiaomi and Oral-B brush heads are easily available too.
Xiaomi INFLY T03S Review
INFLY T03S is not really part of the Xiaomi brand but they are cooperating strategically, which I suspect they could be the manufacturer for Xiaomi toothbrushes. INFLY T03S is something between the Xiaomi T100 and T500 in terms of performance and pricing. If you don't need the Xiaomi T500's smart feature, you can consider getting the INFLY T03S. However, I still prefer Xiaomi as the brush head is more widely available.
Usmile Y1 Review
Another China's brand electric toothbrush targets the premium market with its distinctive design. Its packaging is outstanding and feels exclusive. The electric toothbrush vibrates at 38,000 strokes per minute and has 3 brushing modes. A full-charged can last for 180 days (which I highly doubt). With the price of RM179, you can go for Philips, Oral-B, and Xiaomi.
Philips Sonicare DiamondClean Review
The Philips Sonicare DiamondClean electric toothbrush has a more premium design than the ProtectiveClean series. It has more intensity options and cleaning modes. It also has a stylish travel case and a more premium brush head. And all these features come with a hefty price tag. But they don't necessary improve the brushing and cleaning results. If you have the budget, you can consider it. Otherwise, just buy the Philips Sonicare ProtectiveClean 4100.
---
Electric Toothbrush FAQ
Is an electric toothbrush better than a manual toothbrush?
Yes, it is clinically proven that an electric toothbrush is more efficient in removing plaque and potentially reducing gum disease
There was an 11% reduction in plaque at one to three months of use, and a 21% reduction in plaque when assessed after three months of use. For gingivitis, there was a 6% reduction at one to three months of use and an 11% reduction when assessed after three months of use. (source: cochrone.org)
What are the pros and cons of electric toothbrushes?
Pros: effective at removing plaque, easier for people with limited dexterity, helpful timer
Cons: requires charging, less portable and costly
Do I still need to floss my teeth if I use an electric toothbrush?
Yes, flossing serves a different purpose than brushing teeth. Flossing in between the teeth is important to prevent cavities, bleeding, gum disease, and infection. You can try alternatives like a water flosser
Is Oral-B or Sonicare better?
Oral-B circular brush head cleans better but also more moisy. Sonicare is more user-friendly and more silent but cleans slightly poorer.
Is realme N1 electric toothbrush good?
Realme N1 is good in terms of its cleaning performance but the normal price is abit high. It is recommended to buy it during promotion period.
Is realme M1 electric toothbrush good?
Realme M1 is too expensive for the features it offers. For the same price, you can choose established brand like Oral-B and Philips.