Maintaining a clean and tidy garden takes a lot of time and energy. Grass cutters or lawn mowers are great tools for trimming overgrown grass quickly and effectively.
Today, there are a variety of grass cutters available. For example, there are string trimmers, brush cutters, lawnmowers and riding lawnmowers. But what type of lawn mower is right for you?
What is the best grass cutter machine in Malaysia?
The best grass cutter in Malaysia is WORX WD163 cordless grass trimmer. In Malaysia, most people have a small to medium-sized garden, so this WORX string trimmer should be sufficient.
The WORX WD163 grass trimmer is much lighter than the bulky petrol trimmer. Furthermore, it can be easily converted into an edger and a mini mower to give the grass a nice, clean cut.
Here is a list of the top 6 best grass cutter machines in Malaysia:
---
1. WORX WD163 Professional Grass Cutter
Best Grass Cutter Machines Malaysia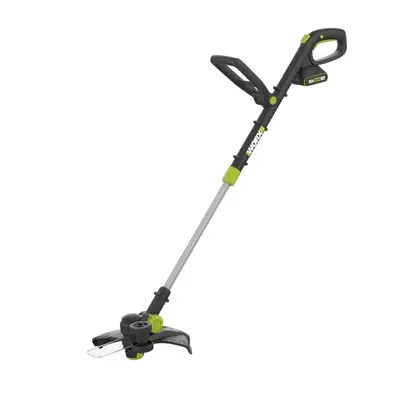 Best deal on Lazada Best deal on Shopee
The WORX WD163 Cordless Electric Grass Trimmer is way better than other grass cutter machines available in the market. It is lightweight, flexible, powerful and very easy to handle.
WORX WD163 features:
3-in-1 tools: trimmer, edger and mini mower
Wheel for edging
Dedicated "command" button for spool line
Head can be pivoted 90 degrees
Adjustable handle and shaft
Flower guard
20V Max Li-Ion battery
7600/min speed
Charging time 1 hour
2.5kg
The WORX WD163 is a 3-in-1 cordless grass cutter that replaces the older WG163E model. It is primarily a grass trimmer but can be converted into an edger and even a mini-mower.  
First, the cutter weighs only 2.5kg, making it easy to handle even by women. This WORX grass cutter works quietly as well.
Secondly, the WORX WD163 is extremely flexible. The length of the handle can be adjusted to suit your height and workspace. You can adjust the head to multiple angles and it can reach 90 degrees, so it can be used in very narrow spaces.
It is a string grass trimmer, the same type of grass trimmer used by government grass cutters. Compared to grass cutters that use metal blades, it is relatively safer.
Moreover, the machine includes a "command" button that automatically dispenses cutting string so you do not have to replace it manually.
To conclude, WORX WD163 is the best grass cutter in Malaysia because it is clean, silent, lightweight, and requires little to no maintenance. There is no need to mess with petrol, check 2T oil, or deal with smelly exhaust fumes.
---
2. OGAWA Brush Cutter BG430DT 
Best Heavy Duty Grass Cutter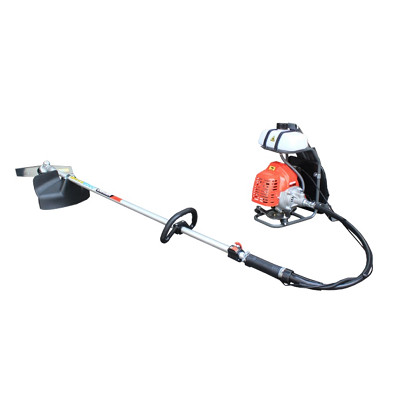 Best deal on Lazada Best deal on Shopee
If you have a large garden and need to deal with thick weeds, then I think OGAWA Brush Cutter BG430DT is a better choice.
OGAWA Brush Cutter BG430DT features:
Backpack grass cutter
Mitsubishi air-cooled 2-stroke Gasoline Engine
42.7CC, 1200W power
Easy Start
Safety Guard
Can use both trimmer line and brush cutter blade
The OGAWA Brush Cutter BG430D is a petrol grass cutter. It is using a Mitsubishi air-cooled 2-stroke, Piston Valve Method Gasoline Engine.
A petrol grass cutter is usually more powerful than an electric grass cutter. And you can work on a big lawn without having to worry about running out of battery.
The OGAWA Brush Cutter BG430DT has received many positive reviews from customers. It is said that it is very powerful yet more silent than other petrol brush cutters.
But bear in mind that the petrol brush cutter is quite heavy. Using it requires a lot of caution. To prevent engine damage, you need to mix 2T oil with petrol according to the instructions.
Additionally, you should periodically check the fuel level to ensure the engine doesn't run out of fuel, which can cause it to malfunction.
Although OGAWA Brush Cutter BG430DT is a very powerful grass cutter, it is not recommended for everyone. A brush cutter is good for covering uneven terrain over a large area. If you really have a big flat lawn, you can buy a lawn mower instead. 
---
3. TANEKA/OKAZAWA Brush Cutter
Best Cheap Grass Cutter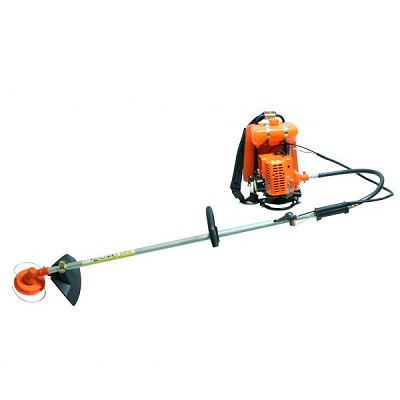 Best deal on Lazada Best deal on Shopee
TANEKA or OKAZAWA Brush Cutter is the cheapest grass cutter in Malaysia. It is also the best-selling model on Shopee.
TANEKA Brush Cutter features:
2-stroke engine
30.5cc, 6000rpm, 810W
1.2 litres fuel tank capacity
Spare parts are easily available
TANEKA Brush Cutter is very affordable, selling at less than RM200. This grass cutter can use both brush cutter blade and trimmer string.
This machine is similar to the OGAWA grass cutter but it is less powerful. It is a 30.5cc engine and the max output is 810W, slightly less than the 1200W of OGAWA's engine.
The main advantage of the TANEKA Brush Cutter is its very cheap price. And most of its spare parts are easily available and cheap. If the machine breaks down or fails, you can still repair it.
The TANEKA Brush Cutter is a great brush cutter for those with a tight budget.
---
4. Bosch AHM38G Manual Lawn Mower
Best Manual Lawn Mower
Best deal on Lazada Best deal on Shopee
The Bosch AHM38G Manual Lawn Mower is a good and reliable grass cutter for those who have small to medium-sized lawns.
Bosch AHM38G Lawn Mower features:
Hand-powered push mower
38 cm cutting width
25 litres grass collecting box
5-blade cylinder cutting system
Adjustable cutting height
Compared to a scissor cut, the Bosch AHM38G cylinder cutting system is easier and faster. The tool itself weighs 7.5kg.
The good thing about this manual lawn mower is it doesn't require fuel and has zero maintenance. 
But, on the other hand, a manual push mower like this can be very labour-intensive.
Users must push quickly enough to ensure that the cylinder-cutting system is working. If pushed too slowly, it will just roll over the grass but not cut it. It can be very tiring to push it back and forth to mow your lawn.
The Bosch AHM38G lawn mower also has the disadvantage of not being able to cut very long weeds. 
Overall, the Bosch AHM38G lawn mower is a good manual lawn mower despite its various downsides and slightly expensive price tag. However, there will be no need for routine maintenance or breakdowns, which is a huge benefit.
---
5. OGAWA 18″ Lawn Mower
Best Petrol Lawn Mower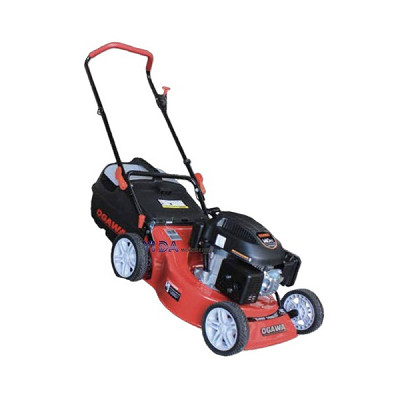 Best deal on Lazada Best deal on Shopee
The OGAWA 18″ Lawn Mower is a powerful petrol lawn mower that can mow a huge lawn in no time. It uses a powerful 4-stroke, 166CC engine.
OGAWA XT18LH Lawn Mower features:
166CC engine
Cutting width 46cm
Straight blades
Cutting height 25-80mm
8 cutting positions
32kg
You can save a lot of time and energy by using the OGAWA 18″ Lawn Mower instead of a manual lawn mower like the Bosch AHM38G.
OGAWA 18″ Lawn Mower has a huge grass collector that collects and stores all the grass that has been cut. After you mow your lawn, it will remain clean and tidy.
In the same way as a petrol brush cutter, this engine requires regular maintenance such as replacing the engine oil and spark plugs. The good thing is it uses petrol only and does not need to mix with 2T oil since it is a 4-stroke engine.
---
6. WORX WG779E.2 Cordless Lawn Mower
Best Electric Lawn Mower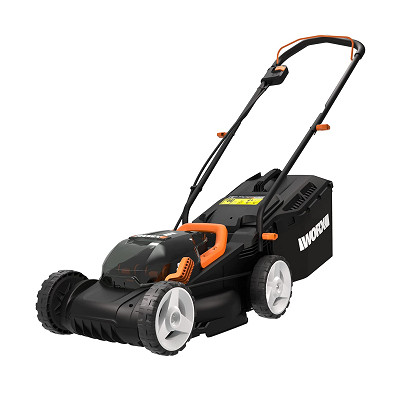 Best deal on Lazada Best deal on Shopee
The WORX WG779E.2 is an electric, cordless lawn mower that can last more than 30 minutes on a single battery charge.
WORX WG779E.2 features:
Smart mulching lawn mower
Cutting width 33cm
Cutting height 20 to 60mm
Grass storage capacity 30L
Dual port charger
2 Removable WORX 20V batteries
Cutting area up to 250m2 per charge
Compare to a petrol lawn mower, the WORX WG779E.2 is hassle-free, smoke-free and doesn't need to store petrol at home. It is a hazard to store petrol at home because it is highly flammable.
Although the WORX WG779E.2 is less powerful in comparison to the OGAWA XT18LH Lawn Mower, it can mow effectively without much trouble. For overgrown and tall grass, moving slowly and making more trips is necessary to cut it properly.
With WORX's "Intellicut technology", it automatically adjusts speed according to the grass condition, resulting in consistent cutting efficiency even in dense grass.
In my opinion, the WORX WG779E.2 Cordless Lawn Mower is the best lawn mower for average homeowners. There is no need to worry about petrol, noise, or emissions, which is great for both elders and children.
---
Competitions
BOSCH ROTAK 32-12 Lawn Mower Review
Bosch Rotak 32-12 Lawn Mower is an affordable electric lawn mower. There are many good reviews about this grass cutter that it mows grass well and is easy to handle. But there are some reviews that say this machine is not worth it and its durability is questionable. Thus, I think it is only suitable for small lawns.
MAKITA DUR181 String Trimmer/Weed Eater Review
Makita DUR181 is a highly rated and powerful cordless string grass trimmer. It is more powerful than the WORX WD163. In contrast, it is less flexible and lacks the small castor wheels of the WORX WD163. Its price is much higher too, so I recommend WORX WD163 instead of this machine.
HUSQVARNA 531RB Backpack Brush Cutter Review
HUSQVARNA is a very popular outdoor power tools brand in the US market. It is originally from Sweden. So it has a very high price in Malaysia. I don't recommend anyone buying it despite it being many reviewers' favourites. Due to the fact that spare parts in Malaysia are mostly made in China and Malaysia, repairing it will be more difficult.
K-ONE and Keelat Grass Cutter Review
Both K-One and Keelat grass cutters are the hot-selling grass cutters on Shopee. Most likely, they are the same OEM Chinese grass cutter with a different brand name. There are many complaints about the grass cutter motor overheating. And there is also an issue with the battery life which is inconsistent. I don't recommend anyone buying it because it has serious product quality control issues. Get the WORX cordless grass cutter instead.
BLACK & DECKER GL5530 Grass Trimmer Review
If you want an affordable electric grass trimmer, the BLACK & DECKER GL5530 has great cutting power and comes with a lightweight wheeled base. With its wheeled base, you can use it as a lawn mower and cut the grass at a consistent height. Since this is a wired model, you do not need to worry about running out of battery too.
---
Grass Cutter FAQ
Which type of grass cutter machine should I buy?
For normal home users, I recommend getting a cordless electric grass cutter. For bungalows lot with large gardens, then you should buy a lawn mower.
How much is a grass cutter machine?
A good grass cutter machine starts at around RM200 to RM500. A powerful one can cost between RM1000 and RM2000.
What is the difference between a 2-stroke and 4-stroke brush cutter?
Four-stroke brush cutters are better than two-stroke brush cutters because they are quieter, emit fewer emissions, vibrate less, require less lubrication, and last longer.