Our list of the best smart TVs in Malaysia will put an end to your search for your dream TV! TV technology is constantly advancing, making it difficult to pick the perfect television. 
Nowadays, almost all new TVs are smart TVs. Some smart TVs use proprietary smart platforms, while many are using Android TV and Google TV.
Other than that, you also need to decide on whether to buy an LED TV, OLED TV, QLED TV, 4K or an 8K TV.
Quality smart TVs are becoming more affordable these days, thanks to competition from China's top brands such as TCL and Xiaomi.
What are the best smart TVs in Malaysia?
The LG C1 OLED is the best smart TV in Malaysia because the OLED panel has a nearly infinite contrast ratio and deep inky black colours. It is great for watching movies and playing games.
In addition, LG webOS is very easy to use, and you do not even need to log in to install additional apps. The Magic Remote allows users to select options by pointing at them.
Find out which are the top 6 smart TVs in Malaysia.
---
1. Best Smart TV Malaysia
LG C1 TV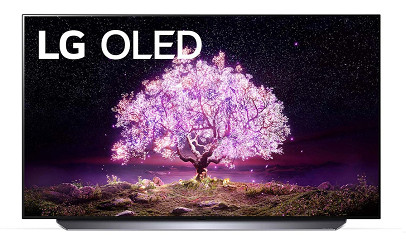 Best deal on Lazada Best deal on Shopee
The best smart TV in Malaysia is the LG C1 OLED. 
The picture quality is stunning in dark rooms, and it's good enough for well-lit rooms as well. The built-in LG webOS is user-friendly and compatible with all popular video streaming apps in Malaysia.
LG C1 TV specifications:
Perfect black OLED display
Refresh rate 100Hz
α9 Gen4 AI Processor 4K
AI Picture Pro, AI Sound Pro, AI Upscaling
AI ThinQ
Dolby Vision IQ, Dolby Atmos
Nvidia G-Sync compatible
Can be used as a PC monitor
The LG C1 OLED is highly regarded as the best value OLED television. The picture quality is great for its price. It has true black colour and an infinite contrast ratio.
Watching movies and sports on this TV is smooth due to its near-immediate response time.
The new LG WebOS 6.0 is clean and easy to use. It is easy for users to access their favourite apps and TV shows.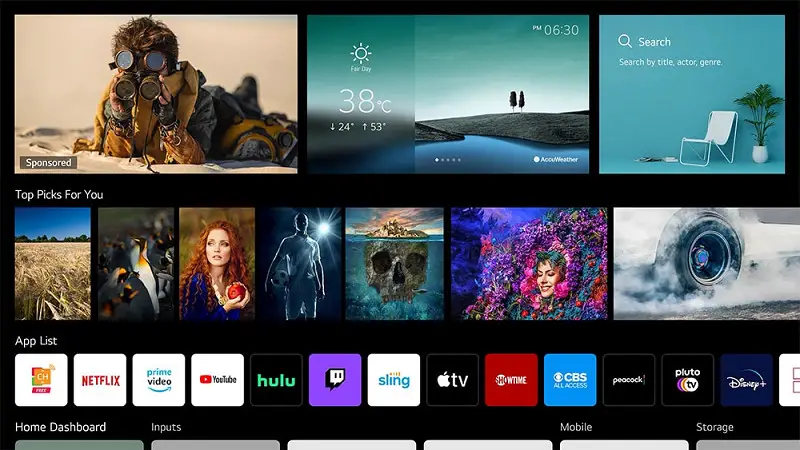 The LG C1 comes with a Magic Remote. It has a point and scroll feature that allows easier navigation and control when using LG smart TVs. Instead of a typical TV remote, it feels like using a wireless mouse.
Other than that, it supports FreeSync, G-Sync, HDR Movies and HDR Gaming. You can connect it to PS5, XBox One, or even use it as a PC monitor.
There are newer LG TV models like LG C2 and higher-end models LG G1. However, those models are significantly more expensive and offer only marginally better user experiences.
In conclusion, LG's C1 OLED is one of the best smart TVs for the money. It's a great TV for almost any use, with excellent picture quality, great gaming performance, and excellent motion handling.
---
2. Best Samsung Smart TV
Samsung QN90B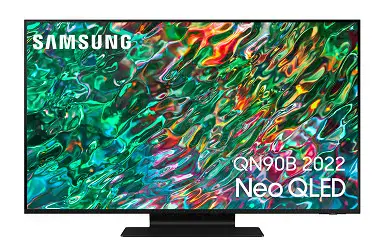 Best deal on Lazada Best deal on Shopee
Samsung QN90B Smart TV uses QLED technology that has higher brightness than LG C1 OLED. The colours on the screen are vivid and vibrant even in bright rooms. This makes it the best smart TV for streaming TV shows. 
Samsung QN90B specifications:
4K QLED TV
Neo Quantum Processor 4K
Certified HDR10+
AI Upscale
Quantum Matrix Technology for contrast
Dolby Digital Plus, Dolby 5.1, Adaptive Sound+, HDMI 2.1, eARC
Compatible with FreeSync Premium
Tizen OS
Samsung's QN90B is a top-of-the-line 4K QLED TV with a sleek, modern design and a multitude of features.
A QN90B panel can sustain 600 nits compared to an OLED panel's 200 nits, which is needed to cope with bright ambient light. For HDR content, Samsung QN90B has a peak brightness of 3000 nits, compared to LG C1, which tops out at 700 nits. 
Other than that, the QN90B's picture quality is excellent, with very deep black levels, and great colour reproduction. 
The Samsung QN90B is also a very capable gaming TV, with low input lag and excellent response times. It has a native 120Hz refresh rate
Samsung QN90B uses the Tizen OS platform.  It is designed specifically for Samsung's TVs. The user interface is very user-friendly and comes with a "Universal Guide" that helps users to find TV shows, movies and sports all in one centralised interface.
With the Tizen OS, you can access Samsung SmartThing right on your TV, which connects to other smart home appliances. It supports popular voice assistants including Samsung Bixby, Google Assistant and Amazon Alexa.
In short, this Samsung QN90B guarantees an enjoyable TV watching experience for years to come.
---
3. Best Budget Smart TV
Xiaomi TV P1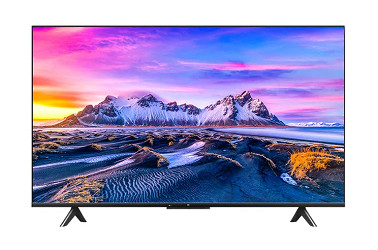 Best deal on Lazada Best deal on Shopee
Xiaomi P1 Smart TV is a great choice for those who are looking for an affordable yet feature-packed smart TV. One of its biggest selling points is its low price compared with other big brands such as LG and Samsung.
Xiaomi TV P1 specifications:
4K resolution @ 60Hz
Support HDR10+, Dolby Vision
MEMC frame interpolation technology
1x HDMI 2.1, eARC
Android TV with Google Assistant and Chromecast built-in
The Xiaomi P1 Smart TV has a full 4K resolution of 3840 x 2160p and comes with built-in Wi-Fi, 2.4GHz and Bluetooth 4.2 connectivity.
The colours on the Xiaomi P1 TV are vivid and lively, but they are not as vibrant as on OLED or QLED TVs. The black colour is very dark and does not appear grey. This Xiaomi TV will be more than sufficient for making great television viewing experiences for most users.
Xiaomi TV is running on Android TV 10 OS. This TV is perfect for those who only want the Google TV experience. The interface is clean and easy to navigate.
The number of apps available on Android TV is higher than those on Samsung Tizen and LG webOS. Users can download various Android TV apps that can expand the functionality of this Xiaomi Smart TV.
Xiaomi P1 Smart TV's main downside is its very slight response time delay while gaming. As a result, it is not an ideal TV for gaming.
Overall, the Xiaomi P1 is the perfect smart TV for those who need a great 4K for streaming Netflix and Youtube all day long.
---
4. Best 55 inch Android TV
Sony X90J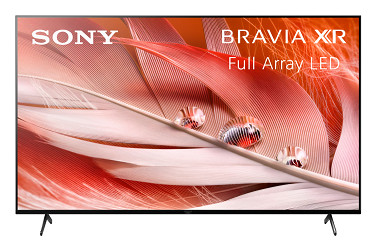 Best deal on Lazada Best deal on Shopee
Sony X90J is the best 55" SmartTV for Malaysian households. No matter how bright or dark the room is, the picture quality on this LED TV always looks great.
Sony X90J 4K TV specifications:
Cognitive Processor XR
XR Picture, XR Sound and XR Upscaling
HDR10, Dolby Vision
Dolby Atmos, DTS Digital Surround, 3D Surround Upscaling
Android TV
Perfect for PS5
Apple AirPlay and built-in Chromecast
Sony's X90J is an excellent 4K Smart TV with excellent picture quality, deep blacks, and a wide colour gamut. It also has great HDR performance.
It supports Dolby Vision HDR, HDR10 and HLG HDR formats. There is no doubt that this Sony TV can deliver an enjoyable movie-watching experience.
The Sony X90J uses the Google TV platform, which is the successor to the Android TV platform. The Google TV platform is more modern, intuitive and fluid. Setting up and logging in to the app is made easier than ever through the Google Home app.
Sony X90J is the best 55" Smart TV in Malaysia that doesn't break the bank. It has an amazing picture quality, and excellent sound quality, and is equipped with the latest version of Google TV. 
---
5. Best 65 inch Smart TV
TCL C725 QLED TV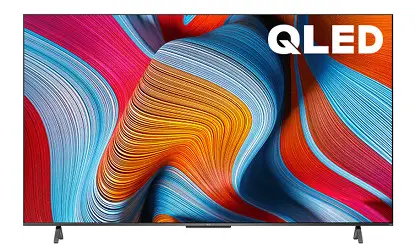 Best deal on Lazada Best deal on Shopee
If you're looking for a big 65" smart TV, then you should check out the TCL C725 QLED TV. 
TCL C725 QLED TV specifications:
4K QLED
Dolby Vision, HDR10+
Android 11 Google TV
ONKYO Speaker
Dolby Atmos Support
MEMC, AiPQ Engine
Google Duo
Google Assistant support
Dual-band WiFi 2.4G, 5Ghz
For only RM3,999, you can get the 65-inch TCL C725 Smart TV. This TV is great for watching TV shows, movies and sports.
This TCL TV has many amazing features such as MEMC, AiPQ Engine, Dolby Vision, HDR10+, and Dolby Atmos support, and is compatible with WiFi 2.4GHz and 5GHz.
Furthermore, it is running on Android TV 11 OS. You can install any Android TV apps and customize the favourite content list to your liking.
The TCL C725 is a great choice for those who enjoy watching on a big screen. It is easily one of the cheapest 65" 4K Smart TVs that comes with QLED technology. 
---
6. Best Cheap Smart TV
Gell Smart TV 50 inch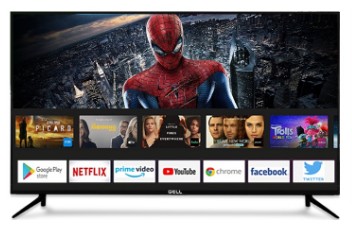 Best deal on Lazada Best deal on Shopee
The Gell Smart TV is the cheapest smart TV you can buy in Malaysia. The 50" model is selling at only RM1100+. There are more than 2600 units sold and received a rating of 4.8 out of 5 stars. However, I do not recommend buying i
Gell Smart TV 50-inch specifications:
Full HD 1920 x 1080 pixels
Brightness 250 nits
Refresh Rate 60Hz
Android OS
WiFi 2.4GHz only
In fact, I don't recommend buying any cheap smart TV at all, whether they are from Gell, SAMView, Megra, etc. The only budget smart TV I would recommend is Xiaomi Smart TV. Find out why.
Most budget smart TV selling on Shopee and Lazada has common complaints as below:
Dishonest claim by a vendor
False specifications
High chance of receiving damaged TV
All these issues happen on Gell TV 50". Many customers reported that they receive a TV with a 47" screen instead of a full 50". And some customers received TVs with cracked screens.
Another problem with this Gell Smart TV is its outdated Android TV 7. The Android version of this device cannot be updated, and the Netflix app cannot be installed on it. The only thing it's good for is streaming YouTube videos.
I chose the Gell Smart TV as the best cheap smart TV because it is slightly better than other cheap smart brands like Megra and SAMView. Again, I don't recommend buying it. On the other hand, if you're on a tight budget and want to stream YouTube on TV, this might be your best option.
---
Competition
LG CX OLED Smart 4K TV 
LG CX is our previous top pick. It has been replaced by the updated LG C1. LG C1 is better and cheaper right now.
SAMView Smart Android TV Review
The SAMView TV range includes 32, 40, 50, 55 and 60-inch models. The 32 and 40-inch TV are its best sellers but they are not smart TVs. 
They also sell TVs with grade B screens at really low prices. But, it is not worth getting one because there is a high risk of defects.
On the other hand, they do sell big-sized smart TVs with grade A+ screens. But its price is higher too. Hence, it is better to buy a Xiaomi P1 instead.
MEGRA Smart LED TV Review
MEGRA Smart TV 50-inch is one of the best selling smart TVs on Shopee, with more than 1700+ units sold. Its price and specifications are similar to SAMView 50" smart TV.
Since the price is not significantly cheaper than the Xiaomi P1. I recommend buying the Xiaomi P1 because it has a bigger 55-inch screen, higher contrast, sharper details, newer Android TV OS, and smoother experiences.
Philips 50PUT6604 Smart TV Review
The Philips 50PUT6604 is Philips entry-level 4K TV. This TV has no built-in Google Play Store but it has YouTube and Netflix pre-installed.
Philips 50PUT6604 has a smaller screen and is more expensive than Xiaomi and Hisense 4K TVs.
---
Malaysia Smart TV FAQs
What are the best smart TV brands in Malaysia?
In my opinion, the best smart tv brands in Malaysia are LG Smart TVs. LG OLED Smart TV has an OLED screen that provides the best viewing experience. And its LG webOS is sleek and convenient to browse for your favourite TV shows and movies.
How much does smart TV cost in Malaysia?
Budget smart TVs range from RM1,000 to RM2,000; Mid-range smart TVs cost about RM4,000 to RM7,000; High-end smart TV can cost more than RM8,000 to RM 15,000.
Which is better: Smart TV vs Android TV Box?
Smart TV is better and more convenient because users can control everything with a single remote control and there are no additional devices, TV Box needed.u003cbru003eThe Android TV box is great for streaming video on older TV which does not come with the Smart TV platform.
QLED or OLED smart TV better?
The OLED TV is better than the QLED TV because it has better colour and a wider view angle. But it has a lower brightness level and suffers from the risk of screen burn-in issues. On the other hand, QLED TV has a brighter display panel and no burn-in issue. The viewing experience is great even in bright ambient lighting.
Sources: