End your search of best smart TV in Malaysia right here!
We know it is difficult to pick the "perfect television" when TV technology is continuously advancing. Today, we have LED TV, OLED TV, QLED and even the impressive 8K TV.
The good news is quality smart TV are becoming more affordable these days, thanks to various China brands like TCL and XiaoMi.
It can be intimidating when there are so many features to look at when buying a TV.
Don't fret as we have done all the hard work by shortlisting the top 6 Smart TVs in Malaysia.
1. LG CX OLED Smart 4K TV
Best OLED Smart TV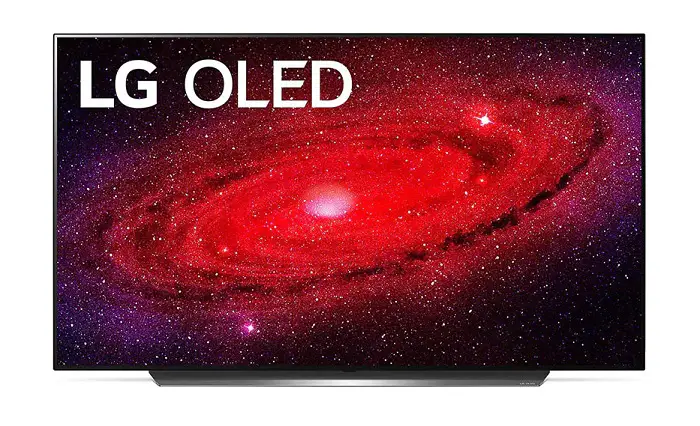 If you're looking for the best smart TV with true white and true black colour, LG CX OLED TV hands down have the best picture quality.
OLED TV works similarly to the AMOLED display on smartphones. The picture quality and colour accuracy is impeccable. Plus, it supports wide colour gamut too.
LG OLED55CX Feature Highlights:
Self-Lit LG OLED
α9 Gen3 AI Processor 4K
AI ThinQ feature
True Cinematic Experience via Dolby Vision™ IQ , Dolby Atmos®
Compatible with Netflix, Apple TV, G-Sync/HGiG/VRR, Sports Alert
Energy Saving Mode
Customer's Positive Review:
EXCEPTIONAL 4K OLED TV the sound and display quality of the LG CX to me is immense, family compare the AI sound pro to that of a soundbar (their opinion) and say it's great!
The Web OS software built into the CX is broad and includes all the popular apps, super fast and responsive OS compared to friends and families 4K TV's. My first purchase for a 4K TV is this one and I have no regrets, I've seen many 4K TVS in action and this one just stood out above the rest to me."
Customer's Negative Review:
Do some research on how to take care of your OLED before purchasing, OLED TVs are susceptible to something called "banding" which can appear either vertically or horizontally and look like lines that can be seen during a movie by either looking into the sky and you'll see a shadow-like line or will appear during grey shadowing scenes, believe me, you cannot miss it.
This LG CX has a sleek super narrow bezel. And its panel is astonishingly thin, only 6mm thick. The stand is rather low though, which could be an issue if you plan to place a soundbar in front of it. So, it is advisable to mount it on the wall.
There are 4 HDMIs (HDMI 2.1 certified), 3 USBs, an aerial, satellite, ethernet connections, a headphone socket and also optical audio output.
Moreover, this TV could be your next PC monitor choice. Because it is compatible with Nvidia RTX 30 series graphic cards, supporting G-Sync.
This model also supports eARC (Enhanced Audio Return Channel), HFR (High Frame Rate), ALLM (Auto Low Latency Mode) and VRR (Variable Refresh Rate). The last 2 features are essential especially for gamers who play games a lot.
In terms of picture quality, LG CX uses the 2020 version of LG's Alpha 9 processor. This Gen 3 chip brings with it a bunch of awesome features, one of them being AI Picture Pro, which enhances the resolution and sharpness of the content via an algorithm learned through an LG Deep Learning technique.
The viewing angle of this OLED panel is also much superior to most equal-level LED/LCD panel. It is definitely suitable for home with large living room.
Unfortunately, HDR10+ isn't supported but the standard HDR10, HLG and Dolby Vision are supported.
However, it supports the new Dolby Vision IQ format which customizes the Dolby Vision performance to suit the ambient light in the room.
In terms of sound quality, this OLED55CX sound system comes from the 2.2-channel, 40W system, sounds slightly fuller balance. The overall audio performance was pretty good; it was punchy and dynamic enough.
The built in Apps are aplenty; Netflix, Amazon Prime Video, Apple TV, Disney, complete with Dolby Vision and Dolby Atmos. Google Play Movies and TV are available too. Spotify and Deezer are also in.
Since Bluetooth 5.0 and AirPlay 2 are supported, you are able to send music and videos to the TV from your smartphones.
We would like to touch on the two downsides of this TV, banding and burn-in issues. Burn-in issues are common in all OLED panel, just make sure you watch different contents and don't let a same screen stay too long.
Regarding the banding issue, just check out the video below, which shows running pixel refresh functions could remove them. If not, you have to file for warranty claim.
The overall performance of OLED55CX is nothing less than amazing. You get a brilliantly sharp and detailed picture with a rich and cinematic colour balance. LG CX is definitely the best value smart OLED TV you should get.
It comes with 2 Years Local Manufacturer Warranty.
Best deal on Lazada Best deal on Shopee
---
2. Sony KD-55X9000H 4K LED TV
Best 4K Smart TV for Gaming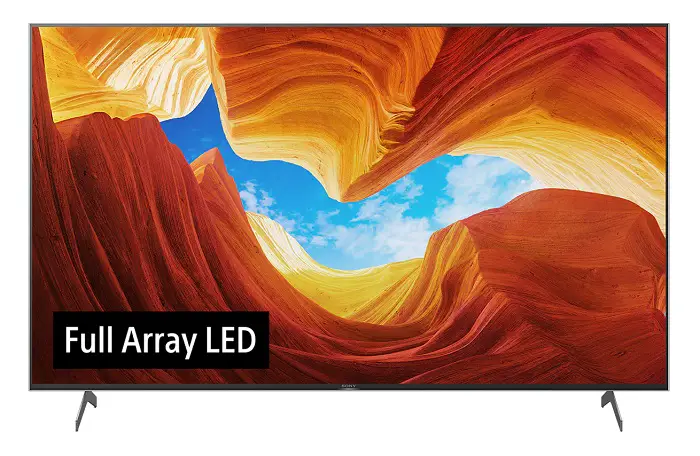 If you're an avid gamer who is looking for the best Smart LED TV for gaming with your new PS5 or Xbox series X, you've come to the right section.
Sony X9000H series is Sony's first HDMI 2.1 4K TV. It supports120Hz refresh rate and 4K resolution. And it is available in multiple screen sizes, from 55, 65, 75 and up to 85 inches.
Sony 55X9000H Feature Highlights:
4K UHD powered by X1™ 4K HDR Processor
HDR 10, Dolby Vision
Netflix Calibrated Mode
Acoustic Multi-Audio, X-Balanced Speaker
Studio quality entertainment experience at home
Customer's Positive Review:
Love the non-glaring display and beautiful color. Casting and downloading apps are a breeze on this android tv
Customer's Negative Review:
Power cord too short after mounted on wall as my feature wall cable hole too high. So now tv off center a bit
In terms of design, this smart TV delivers. It looks great and feels premium. Thanks to its slim aluminium frame with silver edges which gives a sophisticated and elegant looking TV.
In terms of input and output ports, there are 4x HDMI ports, 2x USB ports, one Ethernet port, a composite video input socket, one headphone output socket and a TOSLINK digital audio output port.
Both Wi-Fi and Bluetooth connectivity are present, with HDMI ARC and CEC also supported.
Sony X9000H TV is officially endorsed with the tagline of "Ready for PS5". It boasts a 4K LED screen with 3840×2160 pixels resolution. Normal HD contents are automatically upscaled close to 4K resolution by 4K X-Reality™ PRO using a unique 4K database.
It features full-array local dimming, support for HDR10, Dolby Atmos Audio and most importantly 120Hz refresh rate.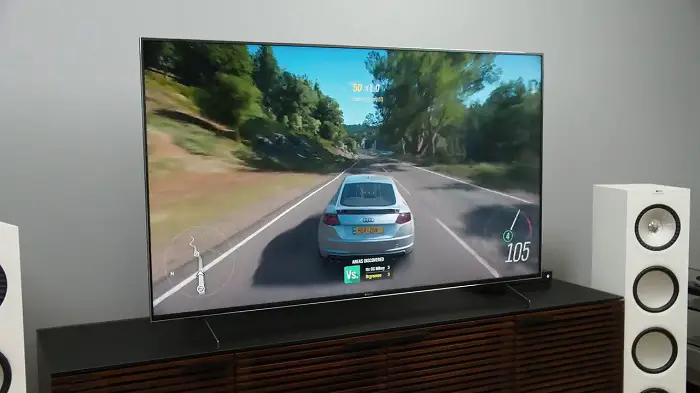 This is made possible by one of the most powerful Sony's chipset, the SoC X1 4K HDR picture processor. It may not be as capable as the X1 Ultimate chipsets in the Sony A9G OLED TV (more expensive model), but it is still great in performance.
The images produced are vibrant, detailed, and pleasing that were visibly and considerably better than most others. The colours are realistic and vibrant too.
Other than upscaling picture quality, Sony X9000H uses X-Motion Clarity™ technology to interpolate lower frame rate content up to 120fps so that fast motion video looks smoother, less blur.
In terms of sound quality, it boasts of the standard two bottom-firing full-range speakers, totalling up to a total output of 20W; Dolby Audio, Dolby Atmos and DTS Digital Surround formats are supported as well.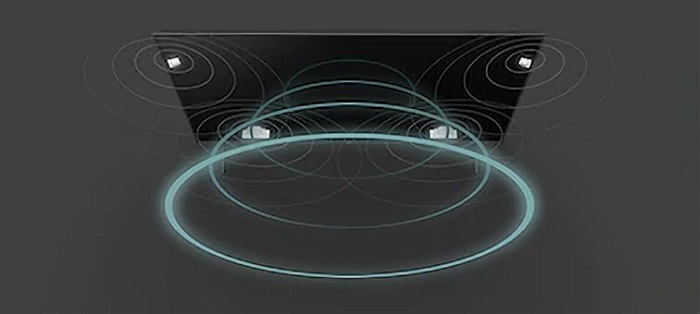 Sony has always been an early proponent of Android TV OS, offering the complete experience with no limitations. This results in the Android TV experience on the Sony 55X9000H being good as ever.
This Smart TV runs on Android Pie (9.0). It comes with Netflix and YouTube preinstalled.
It is one of the few Smart TVs that supports Netflix Calibrated Mode, which automatically adjusts the TV's picture settings to the recommended levels when watching specific titles on Netflix, based on the content creator's inputs.
The Sony 55X9000H also has built-in Chromecast Ultra functionality. You can cast at up to Ultra HD resolution and it also works with Apple AirPlay and HomeKit.
The Google Assistant functionality worked well as connecting to smart appliances and gadgets were fine.
Albeit the slightly higher price tag of a Sony TV, the Sony X9000H series makes up for these with excellent picture quality, features, software and ease of use.
All Sony X9000H comes with 2 Years Local Manufacturer Warranty.
Best deal on Lazada Best deal on Shopee
---
3. Samsung QA65Q60TAKXXM QLED TV
Best Budget QLED Smart TV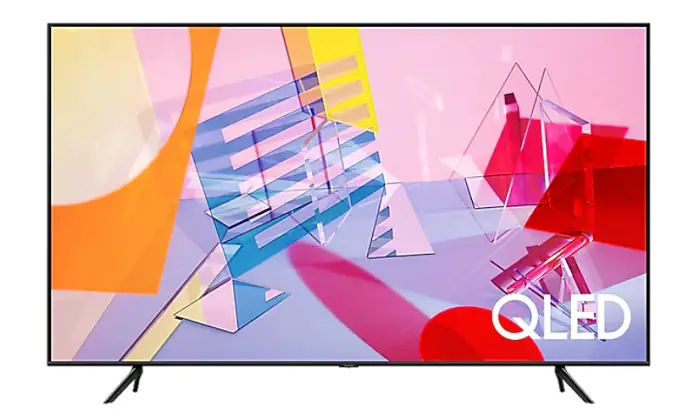 Samsung Q60T is easily the best budget QLED TV, from Samsung, the most popular TV-maker in recent years.
QLED stands for quantum dot LED TV. Its main advantages are brigther screen, more saturated colour and no screen burn-in issues like premium OLED panel.
Samsung 65" QA65Q60TAKXXM Feature Highlights:
100% Color Volume with Quantum Dot LED
Quantum HDR10+
3-Side Boundless Design
Samsung Quantum Processor Lite
Magic Screen to showcase your favourite photo when idling
Powered by Tizen (Samsung Customized Android OS)
Smart Hub to connect various IoT
Multi View function for splitting the screen into two
Customer's positive review:
-None

Customer's negative review:
-None
*Note: There is no relevant customer reviews found on Lazada or Shopee Malaysia.
This Samsung Q60T QLED TV comes with minimal bezel at all sides, which Samsung names The Boundless Design. It is crafted with an effortless minimalistic style in mind. Giving it a sleek and elegant appearance.
It boasts of a 100% Color Volume with Quantum Dot technology where the most accurate, finest and vibrant images are presented. This technology takes light and changes it into a lifelike and breathtaking color that stays true at all brightness levels.
The innovative Dual LED backlighting technology can adjust the colour tone to suit your content so that you'll be able to watch the content in the way it was meant to be in the first place.
Its Quantum HDR brings out the details and contrast well, so you can experience the full image. The dynamic tone mapping of HDR10+ analyzes and corrects color and contrast, scene by scene.
This creates deeper blacks, more vibrant imagery and tiny details that shine through.
Also, its Quantum Processor Lite chip processes amazing colours with optimized high contrast ratio and masters HDR well. In short, it delivers amazing picture quality.
The Magic Screen feature allows you to project your photos onto the TV screen and you can lay out multiple photos in a beautiful collage or place them in a slide show. The choice is yours.
It also serves as a smart hub where you can control multiple content all from a place.
The sleek One Remote Control is easy to use, allowing you to quickly search all your favorite content from your set-top box to game console, apps, and even live TV.
Also, you can use the Multi View function to split your TV screen into two, putting the content you're watching on one side and mirroring your mobile screen on the other. This simply means you can watch your TV and phone content at the same time!
In terms of Smart TV features, Samsung QA65Q60TAKXXM uses Tizen OS. To be honest, Samsung Tizen is among the "least smart" Android TV system because it has a limited number of compatible apps compared to native Android Pie TV OS.
The SmartThings Dashboard on this TV allows users to control other smart home gadgets. It connects to IoT devices, so you can easily turn on the lights and even run the robot vacuum cleaner all from the comfort of your couch.
Samsung QA65Q60TAKXXM TV comes with 2 Years Local Manufacturer Warranty
Best deal on Lazada Best deal on Shopee
---
4. TCL 65P8S 4K LED Android Smart TV
Best Value 4K LED Smart TV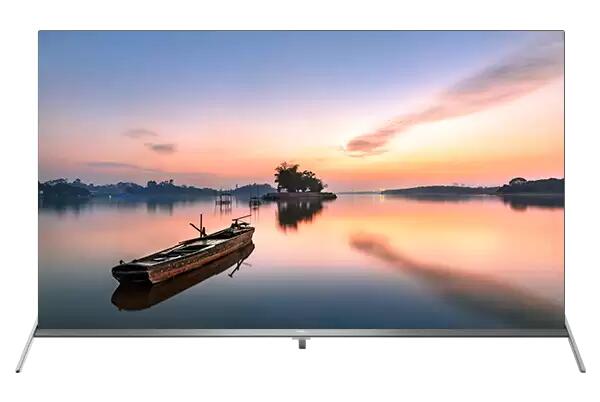 Known as one of the best value 4K LED TV available, this TCL 65 P8S 4K Smart Android UHD LED TV runs on Android Pie (9.0).
TCL 65″ P8S 4K Smart TV Feature Highlights:
Slim design with 65″ screen size
HDR 10+ technology
Micro Dimming that adjusts the brightness accordingly
4K UHD resolution with 3840 x 2160 pixels
5.1 surround sound with Dolby Audio
Chromecast feature built-in
Google Play Movies & TV, Netflix pre-installed
T-Cast (control TV via smartphone)
Customer's Positive Review:
Good build quality, sharp picture quality, vivid color, good contrast and sound quality
Customer's Negative Review:
TV processor is not powerful enough, navigation is not snappy like Shield TV, WiFi only 2.4Ghz, instead 5Ghz or AX standard, Wired network port only running 100Mbps instead 1Gbps.
This TCL smart TV features Mali 470×3 GPU with A55 CPU 1.1Ghz. It is equipped with 2GB RAM and 16GB built-in memory.
This flagship Smart TV provides you with Wi-Fi 2.4Ghz, Bluetooth, 2x USB 2.0 ports, 1x headphone port, A/V In, 3x HDMI ports, SPDIF and MHL support.
The screen panel has thin bezels encapsulated by a metal frame. The body is extremely slim yet functional with all necessary ports.
The 4K panel gives you a solid 3840 x 2160 pixels (UHD quality) and supports HDR10 content playback. It also comes with a micro dimming feature, that automatically adjusts the backlight based on the TV content to improve picture quality.
It has a contrast ratio of 5000:1 and peak brightness level of 300 nits.
Again, this is not a low-end smart TV, it is actually Android TV. It has pre-installed Google Play Store, Google Play Games and Google Music. So, it means you can even play Android games on it (but limited due to CPU, GPU and RAM specifications)
Also, this Smart TV supports Youtube, Netflix, Hotstar, YuppTV, AltBalaji, Voot and Chromecast. However, Amazon Prime is yet to be ready.
It also comes built-in Google Assistant, which you can easily command and control the TV through voice command.
So, if you fancy a budget Smart TV with a big sharp 65″ LED screen, this TCL's LED TV is indeed value for money.
TCL 65″ P8S 4K LED Android Smart TV comes with 2 Years Local Manufacturer Warranty.
5. Hisense 40A5600PW 40" Full HD TV
Best Cheap Smart HD TV under RM1000
For those who don't wanna burn a hole in your pocket, this Hisense 40" 40B6000PW is the best budget-friendly smart TV.
Hisense 40" 40B6000PW Full HD TV Features:
Dolby audio

Motion Picture Enhancer
1,920 x 1,080 Full HD LCD LED screen
Natural Colour Enhancer
VIDAA Smart TV OS
Customer's Positive Review:
Good smart tv with valuable price.
Customer's Negative Review:
Warna kurang cantik.
This very affordable option from Hi-Sense offers full HD 1080P resolutions and crisp colors.
Hisense FHD feature brings about twice the clarity of HD TV by working to reduce image distortion, giving you richer colours, better contrast and vivid and clearer motion picture. Its natural colour enhancer feature also maximises colour reproduction which brings you more lifelike images.
The TV's high contrast panel pulls out the real depth of pictures making whites look brighter and blacks look deeper along with colours, creating an end result that looks stronger and more lifelike.
The overall picture quaility is okay but not awesome compared to more expensive TV models.
It houses a dual 7W speaker, compatible with Dolby Audio provides easy-to-hear dialogue along with realistic surround sound effects.
Their Smart TV OS is called VIDAA U that has a simplified user interface which makes it super easy for you to use.
The remote comes with a Netflix button and gives you that one-touch access function too. There are 2 speakers with audio enhancement type DBX.
Also, it comes with composite connection, 2x HDMI 1.4 and 2x USB 2.0. It supports Wi-Fi connectivity and also Mobile Screen Mirroring.
Unfortunately, this model does not support HDR, it has no Bluetooth and does not have 4K resolution.
However, for the exceptional price, it has many built-in Apps and supports many more – YouTube and Netflix, still a good deal.
This model comes with 3 Years Local Manufacturer Warranty.
Best deal on Lazada Best deal on Shopee
---
6. Xiaomi Mi 4S Smart LED TV
Best Cheap 4K Smart Android TV
Xiaomi's Mi 4S TV is one word, "impressive" at the given price point. It is 55 inches wide, featuring 4K screen and smart Android OS.
There's hardly any competition that offers a true 4K Android TV at this price range.
Xiaomi 4S LED TV Feature Highlights:
Supports 4K HDR10
Metal body framing
AI assistant voice control
Dedicated CPU and GPU
2GB ram memory and 8GB built-in storage
Customer Positive Review:
Value for money. Image quality is good vs the amount paid. Could easily link phone google account to that of T
Customer Negative Review:
MI patchwork is a joke, the video player is rubbish, not even can play SRT file (subtitle)
Different from other TV which uses plastic framing, this Xiaomi TV 4S uses metal frame which makes it stand out.
The screen is 4K UHD 3840 x 2160 resolution, supporting HDR10. Colour is more vibrant and images are more detailed.
The sounds are great coming from two 8W speaker with Dolby Audio.
This TV connectivity is certainly impressive. There are 3x HDMI, 2x USB, Ethernet connections, Composite, Bluetooth 4.2, Wireless LAN and Chromecast feature too.
It supports 2.4GHz & 5GHz WiFi and 100Mbps Ethernet so there's no worries on lagging issue while streaming internet TV.
Xiaomi TV 4S is powered64-bit quad-core processor CA55 x 4 GPU, Mali-450 MP3 up to 750MHz. It has 2GB RAM memory and 8GB internal storage. The TV android OS feels snappy thanks to this processor.
There are plenty of pre-installed apps – Google Play Store, YouTube, Netflix, Android TV, Google Assistant etc. So, there should be more than enough movie and drama for you to watch.
Xiaomi TV is as minimalistic as it gets, which seems to be the ongoing trend for modern TV remotes.
There is a voice command button which linked with A.I assistant that helps you to search for video and music contents. It also lets you control other Xiaomi smart home appliances like the Xiaomi robot vacuum and air purifier too.
You can also control your TV with your Android phone when you lazy to get the TV remote.
For the movie lovers, this Xiaomi TV has pre-installed apps for Google, Netflix, Youtube, Amazon Prime and more.
Buying Mi TV 4S from Mobile 2 Go or Dasher has 1 Year Local Supplier Warranty.
Best deal on Lazada Best deal on Shopee
---
Conclusion:
My top pick for the best smart television with best picture quality is LG CX series because OLED panel is really awesome and stunning.
If you're a gamer with slightly lower budget, Sony KD-55X9000H is a great deal with 4K resolution @ 120Hz.
And lastly, TCL 65P8S is definitely my favourite choice of value for money smart TV among these TVs that I handpicked. It is a well-balanced TV in terms of price, video and audio quality.
---
Competitions
Panasonic Smart TV Quick Review
Not recommended. As much as I want to love the Panasonic home appliances, I can't recommend Panasonic TV. Panasonic once a leader in producing top-notch TV, has lost its ground after they betting big on Plasma TV and failed.
They are now sourcing TV panel from LG and only manage the assembly, similar to Xiaomi. Yet, they will not be able to sell as cheap as Xiaomi.
Sharp Smart TV Quick Review.
Not recommended. Another market leader in display manufcaturing which slowly lost its charm over time. The quality is just not as good as the likes of LG, Samsung or Sony.
Skyworth Smart TV Quick Review
Neutral. Value for money China TV brands, similar to Hisense and TCL. For the same price, I would recommend going for TCL and Hisense.
Haier Smart TV Quick Review
Neutral. Yet another value for money China TV brands, similar to Hisense and TCL. Similar reason as above.
Toshiba Smart TV Quick Review
Not recommended. TV production is no the focus of Toshiba. So don't bother to spend your money with it.
---
Malaysia Smart TV FAQ
What are the top brands of smart TV in Malaysia?
In my opinion, the best smart tv brands in Malaysia are LG, Samsung, Sony and TCL. Hisense is popular for its affordable pricing. Sad to say that brands like Panasonic and Sharp are lagging behind in recent years.
How much does smart TV cost in Malaysia?
Budget smart TVs range between RM1,000 to RM2,000; Mid-range smart TVs cost about RM4,000 to RM7,000; High-end smart TV can cost more than RM8,000 to RM 15,000.
Which is better Smart TV vs Android TV Box?
First, not all smart TVs are Android TV. So, basic smart TV usually has limited pre-installed video app and users cannot expand your app library. High-end smart TVs are usually running on Android TV OS which lets you install additional apps.
Pros of smart TV: native video apps supports 4K streaming, no required additional device, no messy power chord
Android TV Box has a bigger app library and dedicated resources to stream the video contents. So, the browsing experience could be smoother
Pros of Android TV Box: Dedicated resources for streaming, more app choices, bigger storage space
QLED or OLED smart TV better?
OLED TV has better colour, better view angle but less bright and has risk of burn-in issue. QLED TV has brighter display panel, thicker body, no burn in issue but less accurate colour.
QLED is usually a bit cheaper than OLED of equivalent spec. So, go for QLED if you don't have a big budget
---
Sources: