A modern home entertainment system feels incomplete without a sleek-looking soundbar. Soundbars are becoming increasingly popular because they offer several advantages over traditional home theatre speaker setups.
Their lower cost, smaller size, ease of installation, and quick set-up make them an excellent option. Rather than paying a premium for a complete speaker system, most average consumers can get by with a high-quality soundbar. 
However, not all soundbars are created equal. We combed through more than ten different expert reviews and references in order to compile the following list of the 8 best soundbars in Malaysia.
Also check out the comparison table for these soundbars:
| Model | Format support | Connections | Room correction |
| --- | --- | --- | --- |
| Samsung HW-Q950T | Dolby, Dolby Atmos, DTS | HDMI eARC, Bluetooth, WiFi | No |
| Sonos Arc 5.1 | Dolby, Dolby Atmos | HDMI eARC, WiFi | Yes |
| Bose Soundbar 700 | Dolby | HDMI eARC, Bluetooth, WiFi | Yes |
| Sonos Beam | Dolby | HDMI ARC, WiFi | Yes |
| Yamaha YAS-209 | Dolby, DTS | HDMI ARC, Bluetooth | No |
| JBL Bar 2.1 Deep Bass | Dolby | HDMI ARC, Bluetooth | No |
| Creative Stage 2.1 | – | HDMI ARC, Bluetooth | No |
| Creative Stage Air V2 | – | USB-C, AUX, Bluetooth | No |
| TaoTronics SK018 | – | AUX, Bluetooth | No |
---
Best Overall Soundbar
Samsung HW-Q950T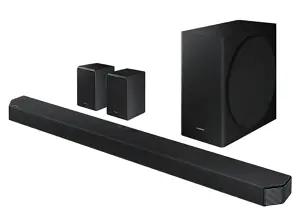 Samsung Soundbar Q950T is the perfect companion for not only Samsung TV but every TV. Featuring a full 9.1.4 sound system, it delivers a high level of acoustic immersion. The best part is it doesn't cost you an arm and a leg like premium brands, Sonos or Bose.
Best deal on Lazada Best deal on Shopee
Samsung HW-Q950T Features Highlight:
True 9.1.4 sound system
A neutral, well-balanced amazing sound quality overall
Dialogue enhancement feature
Supports Dolby Atmos and DTS content
Bluetooth and Wi-Fi compatible
 Q-Symphony
Samsung HW-Q950T's Positive Review:
Very happy with the purchase. THIS thing can go super-duper loud with the bass. All my neighbours have been visiting me since I got this thing idk for what reason. No more social distancing LOL. Music quality is VERY GOOD. Bluetooth/WIFI connectivity to the laptop a little hassle as it doesn't sync automatically. But could be a product feature issue.
Samsung HW-Q950T's Negative Review:
-Nil-
Samsung's HW-Q950T is really impressive in terms of audio quality and price point. It is the best soundbar for under RM5,000. The whole package comes at 130.3 x 62.1 x 27.7cm and comes with a long bar, a wireless subwoofer, and two satellite speakers. 
It looks compact and robust with a huge subwoofer and Samsung has added Kvadrat cloth to cover each speaker's drivers, which adds a premium feel. You can connect with HDMI eARC, Bluetooth, and Wi-Fi.
This Samsung soundbar system delivers a true 9.1.4 sound system, where all audio encapsulates you from all directions including 4 upfiring speakers, delivering the full and immersive audio experience. 
The sound mix is equally balanced with the right number of layers even for the complex sounds in movies. It supports both Dolby Atmos and DTS content. 
At max volume, there isn't much compression detected. Its surround and height performances are way better than the usual home theatre setup. 
Additionally, the neutral and balanced sound profile along with a good soundstage make for a great music listening experience. There is always the right amount of bass depth, mid-range, and treble without any distortion. It's thanks to the up-firing rear speakers. 
As far as dialogue-heavy content is concerned, only the highest quality signals are filtered through, resulting in crisp and clear dialogue. The dialogue enhancement feature makes HW-Q950T great for audiobooks and TV shows.
Bear in mind that you can also adjust the sounds to your liking via its graphic EQ and presets. Another noteworthy feature is the Q-Symphony; a feature where it can synchronize with Samsung TV to combine the sounds together, creating a larger soundstage. 
It has Alexa built-in and so this is a smart soundbar that can be controlled with voice command as well.
Compared to its rivals' usual 1-year warranty, Samsung HW-Q950T comes with a generous 2 years local manufacturer warranty.
---
Best 5.1 Soundbar under RM10,000  
Sonos Arc with Subwoofer & One SL Speakers
Sonos Arc with subwoofer and One SL speakers system gives you a complete 5.1 soundbar combo. With Dolby Atmos output, you can enjoy a cinema-like experience at home. Although its high price may scare away average users, audiophiles won't be put off by it.
Best deal on Lazada Best deal on Shopee
Sonos Arc with Subwoofer & One SL Speakers Features Highlight:
No Bluetooth connection
Supports Wi-Fi connection
Supports Dolby Atmos content 
Room correction feature
A neutral and well-balanced sound profile  
Best for content with dialogue
Sonos Arc's Positive Review:
Wow. The sound on this is AMAZing. We had the Beam for a few days but it was buggy with our setup for some reason. Caused delays and then fast forwarding of audio and video before it caught up. Returned it and put a soundbar on the back burner for half a year or more.

Saw this bad boy was coming out and took a chance on it and am SO much more impressed than the Beam. Bass is gorgeous. Center channel makes voice clarity so much, well, clearer. Music sounds gorgeous.
Sonos Arc's Negative Review:
I got a brand new Sonos arc white and sub but the app and system is super buggy. I've already wasted 2 hours and it still doesn't work properly! 

The app is clearly very buggy. Don't waste your time or money. Mine still doesn't work…
Sonos Arc with subwoofer and One SL are the best home theatre 5.1 soundbar combo. This comes with an elegantly designed Sonos Arc at 8.7 x 114.17 x 11.57cm along with the subwoofer (38.9 x 40.2 x 15.8cm) and a speaker (16.15 x 11.97 x 11.97cm). 
This soundbar looks very impressive at first glance. The premium feels and build give off an upper-class vibe. Sonos Arc can connect to TVs with eARC, ARC(Audio Return Channel), or optical outputs. Do note that with optical output, you lost Atmos sound support.
Having a neutral tone with a well-balanced tone, the sound profile is suitable for all sorts of audio content and music genres. You can adjust the bass and treble tones to suit your taste. This combination has been praised for its wide soundstage, which allows you to truly immerse yourself in the music.
It's truly a pleasure to listen to the surround sound. This is the result of satellite speakers. Its upfiring speakers can simulate height, which complements Dolby Atmos content. It is a movie lover's dream come true. However, this soundbar does not support DTS content and the bass could be slightly suppressed at maximum volume.
The dedicated centre channel is capable of reproducing vocals clearly and accurately. Therefore, it is highly suitable for TV shows and movies that feature lots of dialogue. 
There's also an enhancement feature to make voices clearer. The room correction feature automatically optimizes audio reproduction, depending on the acoustic characteristics of the room you're in.
Considering the price tag on this, it's unfortunate that there's no full graphic EQ for customization. 
Additionally, your podcasts or audiobooks cannot be streamed via Bluetooth, although you can do so via a Wi-Fi connection. 
Having said this, Sonos Arc with Subwoofer & One SL Speakers is still a very solid Dolby Atmos soundbar that can please a wide variety of picky listeners.
---
Best Standalone Soundbar for Music
Bose Soundbar 700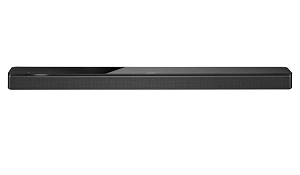 It's very nice to listen to music on Bose Soundbar 700. The sound profile on it is well-balanced so it is suitable to use for listening to a wide range of different styles of music. However, it lacks some low-bass unless you get a separate subwoofer.
Best deal on Lazada Best deal on Shopee
Bose Soundbar 700 Features Highlight:
Well-balanced and neutral sound profile
Dialogue enhancement feature
Room correction feature
Supports eARC, Apple AirPlay2
Supports Alexa and Google Assistant
Supports Wi-Fi

No Support for Atmos
Bose Soundbar 700's Positive Review:
I am so loving this soundbar. The sound quality is as expected from Bose. One time while watching a movie, my wife and I were amazed by the 3D surround sound effects produced by the soundbar. However, I had to admit that ARC connection does not work per its manual, which is Bose's recommendation. I had to resort to optical connection.
Bose Soundbar 700's Negative Review:
-Nil-
At 5.7 x 97.8 x 10.8cm, the Bose Soundbar 700 is a significant upgrade from its predecessor. Its build quality is solid with a sleek and stylish design. There's a perforated wraparound aluminium grille combined with a tempered glass top which contributes to its classiness. 
It comes in a choice of glossy black or arctic white. Unfortunately, some have commented that the glass top reflects the TV screen which they find annoying. 
Despite not having HDMI inputs, the Bose Soundbar 700 supports EARC and Apple AirPlay 2. It comes with a redesigned universal remote and has the Bose Music app to complement it all. It's very convenient to be able to wirelessly stream music and songs by using a smartphone.
In terms of sound quality, it boasts a well-balanced and neutral sound profile. It also has a wide soundstage, much helped by the side-firing speakers. This is exceptionally awesome for a wide spectrum of music genre and voice-oriented content such as podcasts. 
There's also a dialogue enhancement feature to enhance dialogue, especially at a lower volume. 
Unfortunately, its sub bass is somewhat weak but this can be resolved by adding a separate subwoofer (if you want to).
The room correction feature, which automatically adjusts the sound profile depending on the acoustics of the room helps to improve the audio performance too.
When it comes to movies, since it doesn't support Dolby Atmos, there's no obvious good surround sound experience. While it supports Alexa and Google Assistant making this a smart soundbar.
The good thing with Bose Soundbar 700 is that it can be easily upgraded at anytime. You can add on Bose subwoofer and its satellie speakers to turn it into a true surround home theatre sound system.
---
Best Standalone Soundbar for TV
Sonos Beam

Sonos beam is great for TV shows and movies. It can be pretty loud and the dialogue enhancement feature can enhance the clarity of your audio. As always, some prefer Sonos sound profile, while some prefer Bose. It is totally up to personal preference. 
Best deal on Lazada Best deal on Shopee
Sonos Beam Features Highlight:
Compact
IPX7 waterproof
Far-field microphones
Neutral sound profile
No support for Atmos content
Room correction feature
Sonos Beam's Positive Review:
The beam has sufficient bass by itself for a mid size room. Impressive sound and functions overall for its size even compared to bigger soundbars even though it doesn't support newer codecs like Dolby Atmos. You will need the newest Sonos Arc for that which is much more expensive and bigger.
Sonos Beam's Negative Review:
Nice clear sound but Google Assistant cannot be used because it is not supported in Malaysia yet on Sonos side.
Measuring at 6.85 x 65.1 x 10cm, this is a compact lil' device that is the Best Standalone Soundbar you can get.
Deemed as a smaller and cheaper version of a Sonos Arc, this has an HDMI connection and voice control assistant, from Amazon Alexa, Google Assistant to Apple Siri.
The touch controls are on the top and it is available in black and white finishing. Because it is light and compact, it can easily fit into most places. You can stream music from your mobile devices over Wi-Fi.
There are total of 5 far-field microphones built-in, which ensures that the Beam can hear you for easier voice control.
It has a rather bright sound profile albeit still balanced. Like the Bose Soundbar 700, its low bass is somewhat diminished, again you can add a separate subwoofer to help with this. 
The Sonos Beam does exceptionally well for TV shows, thanks to its neutral sound profile and the dialogue enhancement feature. Unfortunately, as you listen more intently, you'll find that the trebles are unwholesomely overemphasized. Some of you may not mind this though.
Since it suffers at the low-bass end and there's no support for the height channels, you may find its surround sound performance to be the poor side.
However, the side-firing speakers manage to create a wider soundstage for better and more immersive listening experience. 
If you're a hard-core music fan, you may seriously need to consider getting a separate subwoofer for that improved deep bass and rumble quality. 
As it has a room correction feature as well as bass and treble adjustments, you can fine tune it to the best audio experience that suits your.  
Unfortunately, the Sonos Beam doesn't support Atmos content (only 1 soundbar).
Nonetheless, the Sonos Beam is small enough to easily fit into many places and comes with enough features to impress.  
---
Best Soundbar with Subwoofer under RM2000
Yamaha YAS-209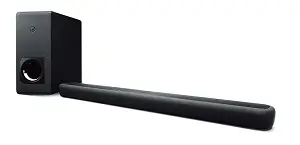 The 2.1-channel Yamaha YAS-209 delivers a big, balanced sound in a fairly compact form, and it includes Bluetooth and HDMI video switching (with 4K HDR pass-through). The subwoofer helps create good bass too.
Best deal on Lazada Best deal on Shopee
Yamaha YAS-209 Features Highlight:
Balanced sound profile
Good stereo performance
Supports HDMI ARC, optical digital and Bluetooth connection
Supports Dolby and DTS.
Supports 4K HDMI Video pass-through resolution.
Lack of surround sound
Yamaha YAS-209's Positive Review:
Awesome sound quality with perfect clarity! This is one of the best sound bars out there in the market! 
Yamaha YAS-209 's Negative Review:
-Nil-
Yamaha YAS-209 measures at  6.2 × 93 × 10.9cm. It has superior build quality and comes with a convenient remote control. 
The soundbar is good for TV shows and movies. As a 2.1 system, the soundbar is capable of reproducing voices and dialogue well, and it has a feature that enhances dialogue clarity. 
This soundbar supports Dolby but not Dolby Atmos audio as it does not have a dedicated satellite speaker. However, it uses DTS:X to simulate surround effects. Overall, it is still an enjoyable experience when watching movies with it.
On a side note, YAS-209 supports 4K video pass-through. This feature could be confusing for some, as the soundbar should be irrelevant to a video output. But it is a super convenient feature that allows you to connect your media player directly to the soundbar. And the soundbar could output the video to TV maintaining at 4K resolution.
One good example is that you can connect your gaming console, eg: PS5 to the soundbar then the soundbar will connect it to the TV (instead of having to connect to the TV directly). Some soundbar only support 1080P video pass-through, which if you use it to output video content, the video resolution will be reduced to 1080P.
It's very decent for music too. Its sound profile is well balanced, and its dedicated subwoofer produces a good amount of bass, which works well with bass-driven music. On the upside, there's little compression at the maximum volume, so the sound quality doesn't diminish with volume.
YAS-2009 supports Alexa voice control but not Google voice.
In short, Yamaha's YAS-209 is a complete package soundbar that ensures a clear projection of movie dialogue, as well as delivering a great music experience.
---
Best 2.1 Soundbar with Strong Bass Under RM2,000
JBL Bar 2.1 Deep Bass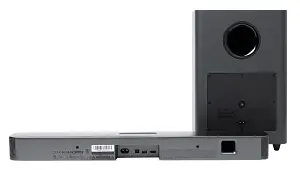 JBL Bar 2.1 soundbar comes with a wireless sub. It's a head-to-head match to Yamaha YAS-209. The speakers are powerful, produce plenty of bass, and sound exceptionally clear without much adjustment required.
   Best deal on Lazada Best deal on Shopee
JBL Bar 2.1 Deep Bass Features Highlight:
Value for money
Supports HDMI ARC, HDMI, optical digital audio input and Bluetooth
Overall great sound signature
Lack of surround sound
JBL Bar 2.1's Positive Review:
It is easy to set up, you need two ac outlet plugs to power the bar and subwoofer. They are paired wirelessly together. It has a small led indicator such as volume level, bass level and connections made.

The sound quality is pretty good, the bass is very bassy too. It has three level settings for the bass, but make sure to EQ it from your tv too.

Overall it is 100% better than what I had before. It sounds great for tv, movies, music. It is also 3.1 audio, I believe, so you get a left-centre-right stereo sound plus the subwoofer.
JBL Bar 2.1's Negative Review:
The soundbar and subwoofer appear to be built well, but the sound quality is lacking. The soundbar has tiny speakers that provide plenty of highs, but no mids or lows at all. The subwoofer provides very lows, but mostly only with music. There's a huge gap of audio missing in the middle.
JBL Bar 2.1 is pretty awesome for its price. It is a great alternative to Yamaha YAS-209 if you prefer a heavier bass.
It comes with a powerful soundbar (96.5 x 5.8 x 8.5cm) as well as a pretty cool wireless  subwoofer (24 x 24 x 27.9cm). 
The top and the front of the soundbar are covered in a metallic grille and can be mounted on the wall or placed on a surface on its rubber feet. The controls are on the top. 
The subwoofer rests on its rubber feet and pairs automatically with the soundbar upon powering up. It supports HDMI ARC, HDMI, optical digital audio input and Bluetooth.
The sound quality is pretty impressive. The bass was solid with loud thumps coupled with intelligible and engaging sound effects, without sacrificing much on the trebles. 
Dialogue was delivered clearly despite being surrounded by heavy bass audio. 
However, once the volume maxes out, the bass will experience some distortion but at lower volumes, the bass turns out to be powerful and clean. 
Generally speaking, the overall sound signature is great with a varied sound profile from crisp to the lower mid and base well focused.
Sadly, there's a lack of surround sound but this is much helped by the subwoofer. 
If you want a fuss sound system free set up with Bluetooth connectivity, the JBL Bar 2.1 is a good choice.
---
Best Budget Soundbar With Subwoofer Under RM500
Creative Stage V2 2.1 Soundbar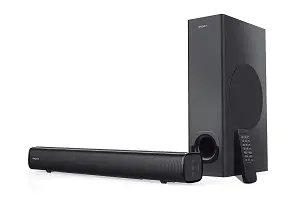 For less than RM500, the Creative Stage 2.1 soundbar gives you a soundbar and separate subwoofer. The subwoofer makes it stand out from other budget standalone soundbars. The size is rather small so it does not fit in a big room.
Best deal on Lazada Best deal on Shopee
Creative Stage 2.1 Soundbar Features Highlight:
Compact
No Wi-Fi
Best for desktop gaming
Supports Bluetooth,
Supports HDMI output with Audio Return Channel (ARC)
Overall solid audio performance
Creative Stage 2.1's Positive Review:
This little guy is perfect. It mounted easily under the TV with space to spare and the sub is slim enough to fit next to the dresser without being in the way.

I haven't messed with the EQ much at all on this bar and you can hear every word without blowing your ears out with the background noises.

The biggest surprise was how well it carried. We had it connected via Bluetooth playing music upstairs. Throughout the whole house, you could feel the bass and hear the music CLEAR. Not everything vibrating or the distortion you get when you turn the volume up too loud…it sounded amazing.

Honestly, I never expected so much out of this cheap little bar. Easy to mount, great clean sound, and affordable. Highly recommended!
Creative Stage 2.1's Negative Review:
So I've been noticing weird issues with sound out of this soundbar. For one, if you leave the volume at the max of what you would ever listen to and then turn the source volume down for quieter listening, sometimes it thinks there is no audio to play and simply goes silent until a louder sound is played. So it basically falls asleep.

Another issue I just realized when trying to play a game is that the freaking left and right channels are backwards. This is on every input I plug in, optical, bluetooth, any input device, phone computer, whatever. I literally think the left and right speakers are wired backwards inside the unit. Double checked by adjusting the left and right balance adjustments and sure enough the sound is backwards. This doesn't bode well to the quality of this unit.

Sound quality otherwise is only OK. Nothing to write home about.
Creative Stage 2.1 Soundbar package comes with a soundbar (7.62 x 55.25 x 8.9cm) and a subwoofer (42 x 12.07 x 25.4cm). This is deemed to be the best soundbar under the RM500 range. On the whole, they are rather stylish.
Due to the small size, this is best suited for smaller TV or room. That said, it's actually suitable for a PC desktop too. The system comes with responsive remote control, which includes an independent volume control for the subwoofer.
It has no Wi-Fi connectivity, but it supports Bluetooth, HDMI output with Audio Return Channel (ARC) capability and has a USB port.
For such a compact size, you might feel surprised when you get blown away by its solid audio performance. 
The vocals are clearly delivered with a good bass kick from the subwoofer. The sound is produced with clear trebles and mids as well. 
Unfortunately, the bass depletes somewhat at lower volumes, leaving a rather thin overall audio quality. 
When tested during gaming, it was found that the audio kept up really well with the gunfire, explosions without much distortion. Another great feature is that you can control the EQ, bass and treble levels via the remote.
The Creative Stage 2.1 is a good budget soundbar for a small room or desktop pc.
---
Best Under Monitor Soundbar
Creative Stage Air V2
The Creative Stage Air V2 is the best compact soundbar under RM200. It is an improved version of the first-generation Creative Stage Air. This versatile soundbar supports three types of audio output: AUX, USB-C, and Bluetooth.
 Best deal on Lazada Best deal on Shopee
Creative Stage Air V2 features highlight:
Compact size
Can connect to PC, laptop, PS5, TV, Smartphone and Nintendo Switch
Great connectivity choice
Good bass for its size
With dimensions of 410 x 94 x 75 mm, Creative Stage Air V2 fits perfectly under your PC monitor and plays audio clear and loud right in front of your face.
It is very easy to set up the Creative Stage Air V2. You can connect it using an AUX-in cable, USB-C cable, or Bluetooth 5.3. Bluetooth is the easiest option in my opinion. There is no delay or instability in the Bluetooth connection, so thumbs up!
The model, however, does not come with a USB port for playing MP3 from USB drives (a feature that the original Creative Stage Air has). The good news is that it can connect directly to the PS5 and Nintendo Switch docks thanks to the USB-C port.
The Stage Air V2 comes with a 2200mAh battery. With this, it can play continuously for up to 6 hours
This Creative Stage Air V2 comes with a pair of custom-tuned 5W full-range drivers. The peak output is 20W and the frequency response is 80 to 20,000Hz. Compared to your standard laptop or PC monitor speaker, it gives a very good boost in the sound range and bass.
One thing to note is that the sound volume varies greatly when connecting through different mediums. USB-C provides the best experience and is the loudest. Bluetooth is less loud and more balanced. With the AUX-in cable, the output was softest and lowest in volume
In short, for less than RM200, the Creative Stage Air V2 is a no-brainer deal for those who are looking for a budget PC soundbar with good bass. It will surely enhance your gaming and movie experiences.
---
Best Budget Soundbar for PC
TaoTronics SK018 Stereo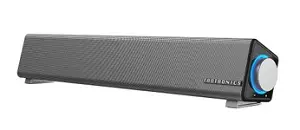 TaoTronics SK018 is easily the best soundbar under RM100 that you can buy. It is a mini soundbar with only 40cm in width. It is easy to install and has a large sound stage, ideal for your desktop computer
 Best deal on Lazada Best deal on Shopee
TaoTronics SK018 Stereo Features Highlight:
Compact
Best for pc gaming
Supports Bluetooth
Overall good audio performance
TaoTronics SK018's Positive Review:
Fast delivery with ok packaging. Very good value soundbar. Sound quality is actually pretty good including bass at this price as long as you don't ask for too much. Volume knob is a bit loose for my liking, but does not affect use.
TaoTronics SK018's Negative Review:
delivery speed is superb.. but there is some crackling or static sound… is this manufacturing defect ?
TaoTronics SK018 is the best soundbar for budget PC gamer. Measuring at 40.64 x 6.35 x 7.11cm, it comes with a 3.5mm headphone jack and a microphone output as well. 
Spotting a gamer-ish design, the TaoTronics TT SK018 is available in black and silver finishing. The volume knob is located at the right side of the soundbar and has a USB port as well. You can make use of its Bluetooth capability for wireless setup.
It offers quite a massive sound stage for an overall great listening experience. The stereo sounds are decent. 
However, the bass levels are less than satisfactory. So, for those of you who are picky, this may fall short of your expectations. 
Nonetheless, the TaoTronics TT SK018 performs way better than most others that are of the same price range. 
---
Other Soundbar that I Like
LG SN11R soundbar review
The LG SN11RG soundbar is great for music. It features a neutral sound profile well-suited for music of many genres. There are also a few EQ presets available for different usage. It supports DTS:X, Dolby Atmos, Dolby Surround for movies.
Furthermore, it has HDMI eARC(Enhanced Audio Return Channel), allowing lossless transmission of both 5.1 ch and 7.1 ch audio, as well as HBR(High Bit Rate) audio, such as Dolby Atmos® and DTS: X®.
This impressive 7.1.4ch 770W soundbar can perform great even at high volume. It is loud enough to fill a large or crowded room.
JBL Bar 9.1 review
JBL 9.1 820w soundbar is another strong candidate. This device sounds fantastic. The vocal clarity was impressive, and its 10-inch subwoofer provided ample bass that mixed well with the soundbar's midrange and treble. 
JBL 9.1 It supports Dolby Atmos and DTS:X 3D sound. It has HDMI and HDMI eARC ports. It is also compatible with Bluetooth playing, Chromecast, AirPlay2 and USB connection.
However, the battery life of 3 hours for its wireless surround speakers is a huge pain to be taken care of.
Redmi soundbar review
At only RM100+, Redmi soundbar proves to be a favourite among many users. It is basically a downgraded version of the original first-generation Xiaomi soundbar. This soundbar is a bit heavy in the bass. The sound clarity and high-frequency performance are okay.
Given its low price point, the exterior of the soundbar is mostly made of plastic/ABS material. It supports only coaxial (SPIDF) physical connection. For wireless connection, users can use Bluetooth to connect.
Overall, Redmi is probably the best cheap TV soundbar for your money.
---
Competitions
Xiaomi TV SoundBar MDZ-35-DA Cinema edition review
The latest cinema edition Xiaomi soundbar added a 6.5" subwoofer and 2 tweeters, with a total output of 100W. The sound quality is considered satisfactory for its price range. 
It only supports optical and coaxial connection which is a huge letdown at this price point. Optical and coaxial don't have enough bandwidth for the lossless audio format An optical connection also can't support more than two channels of uncompressed PCM audio.
Despite that, Xiaomi soundbar allows connection to all kinds of smart device through Bluetooth.
Creative stage V2 soundbar with HDMI output and better sound quality outperforms Xiaomi Soundbar MDZ-35-DA.
Sony HT-Z9F soundbar review
Sony's HT-Z9F is an excellent soundbar for mixed-use. This 3.1 soundbar does a great job with dialogue, so you shouldn't have a problem hearing speech from movies and dramas. It also has a decent level of bass thanks to its dedicated wireless subwoofer. 
However, Sony HT-Z9F is slightly underperform when it comes to playing music.
While this soundbar supports Atmos, but its lack of satellites or upward-firing speakers means the soundstage isn't very open, and all objects sound as if they're coming from in front of you.
---
Soundbar FAQ
What is the best soundbar to buy?
For most Malaysians, we recommend getting the Samsung HW-Q950T as it offers a full 9.1.4 sound system at a reasonable price. The sound quality will definitely exceed the expectations of average users.
Which is the best soundbar brand in 2021?
Sonos and Bose are the top premium soundbar brands to buy in 2021. For affordable range, you can check out Samsung and JBL.
Is Sonos better than Bose?
The Bose Soundbar 700 is a slightly better soundbar than the Sonos Arc. But Sonos Arct supports Atmos, which can output better and more immersive audio. Bose, however, it lacks support for Dolby Digital Plus, Dolby Atmos, TrueHD, and DTS:X, which makes it less ideal for a complete home theatre system
What does the numbering mean for a soundbar?
Normally soundbar specification shows two and three numbers, eg: 2.1, 2.0, 5.1, 9.1.4, and so on. Here's the explanation: First number: Number of channels the soundbar has; Second number: Number of subwoofers; Third number: Number of dedicated drivers firing upwards toward the ceiling
---
Reference:
What Do Soundbar Channels Mean – thehometheaterdiy.com