Webcams are selling like hotcakes due to pandemics and lockdown. Everyone wants the best webcam, so popular companies like Logitech are facing a shortage of stock and sellers are charging double what it would normally cost. 
It does not mean you should pick up no-name alternatives on Shopee and Lazada
Here is my list of the top 10 best webcams to buy in Malaysia, including models from Logitech, Razer, Ausdom, and Rapoo:
10 Best Webcams in Malaysia 2021
| Model | Resolution | FPS | Microphone | View Angle | Autofocus |
| --- | --- | --- | --- | --- | --- |
| Logitech C920 | 1080p | 30fps | Dual stereo microphone | 78 | Yes |
| Razer Kiyo | 1080p | 30fps | Omnidirectional | 81.6 | Yes |
| Aukey FHD Webcam | 1080p | 30fps | Dual microphone | - | Yes |
| Ausdom AF640 | 1080p* | 30fps | Omnidirectional | 90 | Yes |
| Poly Studio P5 | 1080p | 30fps | Single directional | 80 | Yes |
| Logitech C615 | 1080p | 30fps | Mono microphone | 78 | Yes |
| Rapoo C260 | 1080p* | 30fps | Omnidirectional | 80 | Yes |
| Logitech C310 | 720p | 30fps | Mono microphone | 60 | No |
| Ausdom AW651 | 2K,1080p | 60fps,30fps | Double omnidirectional | 90 | Yes |
| Logitech Brio 4K | 4K | 90fps,60fps,30fps | Dual stereo microphone | 90 | Yes |
---
Best Overall Webcam
Logitech C920 Webcam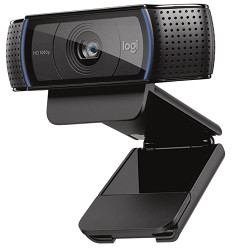 Best deal on Lazada Best deal on Shopee 
Logitech C920 Webcam Specifications:
1080p at 30fps
720p at 30fps
RightLight 2 technology
78 degrees view angle
Stereo microphone
Auto focus
Logitech G Hub software customization
Logitech C920 Webcam's Positive Review:
Nice, affordable, high quality webcam from Logitech. Easy to setup, just plug and play. Can also install Logitech G HUB software to fine tune the webcam setting. The webcam also performs well during my Webex and Microsoft Team online meeting. Highly recommended to all
Logitech C920 Webcam's Negative Review:
-Nil-
The Logitech C920, C920s and C922 have always been touted as the best webcam for most people. It "was" affordable and the video image quality is great.
The sellers are currently marking up the price massively, so it's not a good value buy right now. The current price tag of C920 goes from RM290 (shipped from China) to RM400+ (Malaysia set). It costs almost two times its normal price if you were to buy a Malaysia set.
However, this does not change the fact that it is one of the most capable webcams on the market. 
You can do video calling at full HD 1080p at 30fps. It has an automatic HD light correction (Rightlight 2) and autofocus feature to ensure the image is sharp and looks natural. The field of view is as wide as 78 degrees. 
Check out the videos below for comparison for Logitech C920 vs. C310 vs. C270.
The C920 webcam uses dual microphones for stereo sound. It can record your voice at a wider angle. It includes a noise reduction feature. The microphone is indeed better than most cheap or no-brand webcams in the market. 
Your voice can be heard clearly but it comes with a bit of echo and background noise. I would say it is not impressive, any dedicated microphone under RM100 will make you sound ten times better.
The Logitech G Hub software is the best feature of the Logitech C920. This program lets you adjust the white balance, brightness, zoom, focus and exposure level.
The Logitech C920 webcam is great for beginners because it is plug-and-play and video quality is great out of the box. It is also suitable for professional streamers thanks to the easy to use Logitech G Hub software. If you need to stream with 720p resolution at 60fps, get the Logitech C922 instead. 
---
Best Webcam For Streaming Video Game
Razer Kiyo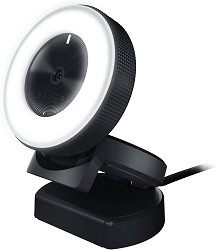 Best deal on Lazada Best deal on Shopee 
Razer Kiyo Specifications:
1080p at 30fps
720p at 60fps
FOV 81.6 °
Ring light – 12 steps
Autofocus
Razer Synapse 3 camera controls
4 Megapixel camera
Razer Kiyo's Positive Review:
Good packaging with box and bubble wrap. Camera quality is amazing! So worth paying for. I love it. Definitely recommend even for low light, its really good.
Razer Kiyo's Negative Review:
-Nil-
The Razer Kiyo webcam is unique and in a class of its own. This is the only webcam on this list that features a built-in ring light.
Lighting is of utmost importance when recording a video or image. Razer Kiyo guarantees better video quality than Logitech C920 thanks to its adjustable ring light. 
You can argue that you can buy lighting accessories separately for C920. This is true, but the KIYO set-up is simpler and keeps your desk clutter-free. You can grab the KIYO and go when you're travelling.
Other than that, the Razer Kiyo can output video resolution at 720 with 60 frames per second. It gives a smoother experience for viewers. If you prefer a sharper image, you can also stream in 1080p at 30fps.
The Razer Synapse 3 is similar to Logitech G Hub which gives users tons of control on customization. Users can toggle autofocus, auto white balance, adjusting contrast, brightness, gain, zoom and more.
Razer Kiyo is the best webcam for streaming video games for its great video quality and convenient 12 steps ring light. And it is not being marked up as crazy as the Logitech C920.
---
Best Wide Angle Webcam For Laptop
Aukey FHD Webcam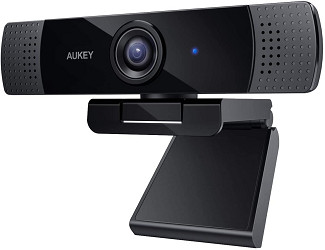 Best deal on Lazada Best deal on Shopee 
Aukey FHD Webcam Specifications:
1080p at 30fps
Noise cancelling dual microphone
24 months warranty
Aukey FHD Webcam's Positive Review:
Am very happy with the quality of the product, though I wish the wire was detachable. The video is pretty clear and it does a relatively good job of keeping things in focus and white balance. Would say it can hold its own against the Logitech C922 pro
Good alternative to all the Logitechs. Maybe even better. Impressed by the built quality. Video can be tweaked to look much better than Logitech.
Aukey FHD Webcam's Negative Review:
-Nil-
Aukey FHD webcam is a plug-and-play full HD webcam that can stream with 1080p resolution at 30fps. There are no gimmicks about it, it simply works. Its dual microphones sound good too.
Official specifications do not mention the field of view for this Aukey FHD Webcam. However, based on the real user review, it is much wider than the Logitech C920. Below is a comparison of the Aukey FHD webcam with the Logitech C920.
Teachers and educators who use Zoom/Google Meet for presentations will benefit from the wide angle camera. However, the lack of customization software makes it a bit technical for beginners who want to tweak the video quality.
Unfortunately, the Aukey FHD Webcam is being marked up significantly in Malaysia as well. This model is only going for 30 to 50 USD on Amazon. Perhaps you should wait for a promotion if you're interested in getting one.
---
Best Value FHD Webcam
Ausdom AF640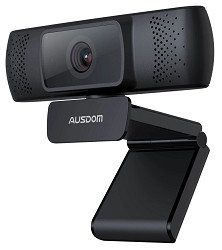 Best deal on Lazada Best deal on Shopee 
Ausdom AF640 Specifications:
1080p* at 30 fps
2 Megapixels camera
Privacy shutter
Auto focus
Built-in beautify feature
Ausdom AF640's Positive Review:
This is a wonderful web camera. It works very well even in a room that is not so bright. I am glad with this purchase.
I checked the quality. It's so good. Can fight with logitech C920. it has a beautify effect as well so that u look decent even when you're not wearing any makeup
Ausdom AF640's Negative Review:
tipu.. iklan 1080hd.. bila test 720 je.. gamba boleh le.. gelap cikit.. baik beli yg harga 70 ke 80 je.. rasa sama je kualiti gambar die..
Ausdom AF640 is the best webcam under RM150. The cheapest seller on Shopee are from China and the product is shipped from China.
The AF640 offers great video quality at its price. Its camera has autofocus and a built-in beautify feature. The video quality is almost on par if not better than Logitech C920.

Check out the comparison video below by local tech reviewer, klgadgetguy.
There are few caveats with the Ausdom AF640. I notice that the product description says the default resolution is 720p but the highest resolution is 1080p. So, it is good to double-check with sellers before placing an order.
Secondly, its field of view might be too wide for some people. A wide-angle is perfect for online classes, presentations and consultations. It might not be the best choice for game streamers who are getting a webcam for Facecam purposes.
In case you want something more premium and of higher video quality at a reasonable price, you may want to check out the AUSDOM AW651, which is also listed in this top 10 list.
---
Best Webcam For Business Conference
Poly Studio P5
Best deal on Lazada Best deal on Shopee 
Poly Studio P5 Specifications:
1080p at 30fps
360 degree swivel
80° DFOV
Poly Len camera control app
Additional USB A slot for microphones/lighting
Single directional microphone
Poly Studio is a premium webcam coming from Plantronics. It comes with a price tag of RM598. 
The design of Poly P5 studio is non-typical and different from the standard webcam appearance. It is modern and professional. It can mount nicely on monitors and laptops. The camera is easily detachable from clips as it uses a magnetic socket.
This webcam comes with a physical shutter and LED indicator. The LED indicator turns red when the privacy shutter is in place.
The video and audio quality of the Poly Studio P5 are great. And you can fine-tune the video setting with its Poly Lens app. You can see the video quality compared to the Logitech C930e shown below.
It is the only webcam on this list with an additional USB-A port. This is great for laptops and ultrabooks that lack USB ports. You can connect a microphone, headphones, lighting accessories to the back of the Poly P5 webcam. So, it is very convenient.
While the Poly P5 Studio is not cheap, it might be worth the money for business users who do a lot of conference calls. It is officially certified for both Microsoft Teams and Zoom.
---
Best Budget Logitech Full HD Webcam
Logitech HD Webcam C615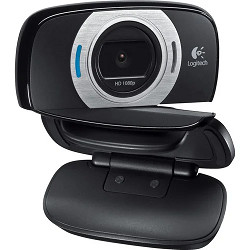 Best deal on Lazada Best deal on Shopee 
Logitech HD Webcam C615 Specifications:
1080p at 30fps
Autofocus
FOV 78 degrees
Logitech HD Webcam C615's Positive Review:
Good midrange camera. Nothing fancy. Good for online meetings. Camera usb wire is very short (1 m), and my Windows 10 didn't recognize the camera until I had to download the driver from logitech. 
Logitech HD Webcam C615's Negative Review:
-Nil-
In case you prefer Logitech products and are on a budget, the C615 is the best budget full HD Logitech webcam you can buy. It's been around for many years and, according to Logitech's official website, the model has been discontinued.
The design of Logitech C615 is a bit outdated and not as sleek as Logitech's newer webcam model. However, the video quality is quite good and the autofocus is very responsive too. The audio quality is not bad either.
Here's a video comparison of the Logitech C615 vs C922.
Therefore, I recommend you to buy the Logitech C615 webcam if you meet the purchasing criterion below:
Budget below RM200
Must be Logitech brand
Must be 1080p FHD video quality
Doesn't mind on warranty issue with discontinued product
C615 is the best Logitech 1080p webcam you can get for about RM200. Just bear in mind that warranty claims involving discontinued products sometimes could be good or bad. Some companies just replace a newer model for you. On the other hand, some may just revert that it can't be repaired.
---
Best Cheap 1080p Webcam
Rapoo C260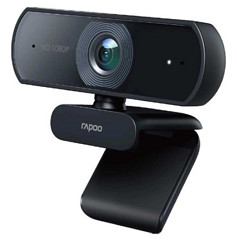 Best deal on Lazada Best deal on Shopee 
Rapoo C260 Specifications:
1080p*
FOV 80 degrees
360° horizontal rotation
2 Megapixel camera
Rapoo C260's Positive Review:
Camera berfungsi dengan baik & wide angle jenis camera. Untuk lebih umph quality video, gabung dengan Ring Light. Superb dia punya quality gambar/video. Sesuai untuk sapa yang nak cari budget webcam tapi quality padu. Quality build padu dan kemas seperti premium
Rapoo C260's Negative Review:
Colours are desaturated, have green hue and do not seem to be 1080p. For the price, would recommend getting a different option
Rapoo C260 is definitely the best cheap webcam under RM100. The video quality is actually quite good. 
The image is pretty sharp and the colour is slightly more saturated in comparison to the Logitech C920. 
But its autofocus is not as powerful as the C920 webcam. It is not able to focus in close range. You can see the detailed comparison of C260 vs. C920 in the video below.
While the official specifications state that the video quality is 1080p, customer feedback indicates that it is actually 720p.
For game streamers, 720p works well because gamers usually use webcams for their face cam. Facecams are usually so small that 720p and 1080p barely matter.
Based on various Youtube and real customer reviews, the Rapoo C260 is overall a positive buy for most people. If the 720p resolution bothers you, then you should consider the Logitech C615.
---
Best HD Webcam
Logitech C310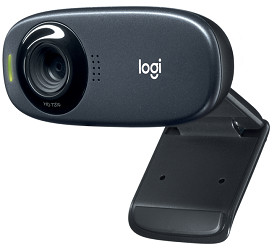 Best deal on Lazada Best deal on Shopee 
Logitech C310 Specifications:
720p at 30fps
Auto light correction
Mono noise-reducing mic
Logitech C310's Positive Review:
I'm amused by the quality of the image and audio produced by this camera. Works well with GMeet, Whatsapp etc. It's authentic.
Logitech C310's Negative Review:
-Nil-
The Logitech C310 is one of the cheapest webcams from Logitech. I would recommend C310 over C270, despite C270 being cheaper.
Out of the box, C310 has better colours than C270. The camera is also performing a bit better under low light conditions. Under a well-lit environment, both webcams produce almost similar video quality.
There are downsides to this Logitech webcam, such as it can only be tilted vertically and incapability to rotate horizontally. There is also no autofocus feature and it uses a fixed focus.
Nonetheless, the Logitech C310 is an excellent budget option for those with a tight budget. 
---
Best 2K Webcam
Ausdom AW651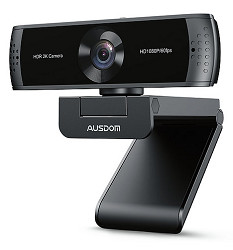 Best deal on KLGG Best deal on Shopee 
Ausdom AW651 Specifications:
2K at 30fps
1080p at 60fps
FOV 60-90°
Privacy shutter
Built-in beautify feature
There are not many 2K webcams in the market. Ausdom appears to be one of the most affordable options out there.
The video quality is excellent and sharp. There is a built-in beautify filter that makes your face look smooth, so you always look good when doing a video conference or streaming. Unfortunately, there's no way to disable it if you dislike this feature.
In comparison to the Logitech C922 which costs RM489, the AW651 video quality is comparable, if not better. The colour of AW651 is slightly warmer, whereas C922 is more natural. Again, you can check the review from klgadgetguy.com.
Also, the Ausdom AW651 can be turned in the horizontal axis whereas the C922 Pro cannot. So, it is easier to get your most ideal Nagle with the AW651.
Overall, Ausdom AW651 is a budget-friendly 2K webcam with great performance for professionals. The C922 Pro already cost RM489 but can't even stream at 1080p/60fps.
In order to stream at 1080p at 60fps, you need to get the Logitech Streamcam which costs a whopping RM788 for local sets.
---
Best 4K Webcam
Logitech Brio 4K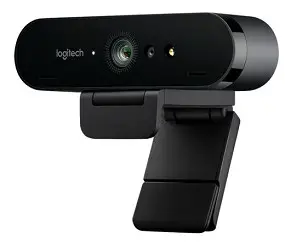 Best deal on Lazada Best deal on Shopee 
Logitech Brio 4K Specifications:
4K at 30fps, 1080p at 60/30 fps, 720p at 90fps
13 Megapixel camera
Rightlight 3 technology with HDR
FOV up to 90 degrees
5x HD zoom
Dual omnidirectional mic
Compatible to Windows Hello security login
Logitech Brio 4K's Positive Review:
Memang the ultimate webcam la Brio ni. Function windows hello ada. Webcam lawa. Before this pakai Fantech Lominous. Fantech pun dah ok.. Tapi kalau ada bajet lebih, go for this one. Skip Logitech 920 or 922. Rugi. Ini memang puas hati
Logitech Brio 4K's Negative Review:
-Nil-
If you are serious in live streaming, the Logitech Brio 4K is the only webcam you will ever need. The beastly webcam is priced at RM898 for Malaysia sets 
It has the best performance in both video and audio quality. It can stream at a resolution of 4K at 30fps, 1080p at 60 fps and 720p at 90 fps. This will certainly give your viewer a more immersive experience. If you want better quality than this, you have to go for a DSLR plus Camlink option for super professional live stream quality.
This video gives a nice comparison for Logitech Brio 4K vs Streamcam vs Kiyo vs Kiyo Pro.
In most situations, whether it's natural light or studio lighting, or even no light, the Brio 4K shows the best and most presentable video quality.
Furthermore, the Brio 4K comes with an infrared sensor. Connect it to your desktop monitor and you can use it for Windows Hello's facial recognition login.
In my opinion, the Logitech Brio is too expensive for average users. You can split the budget to invest in quality lighting accessories as well as microphones. Lighting and audio quality are equivalently important to improve live stream quality.
The good thing with the Brio 4K is it actually gives a 3 years warranty.
---
Webcam FAQ
What should I look for in a webcam?
When choosing a webcam, the most important factors are video resolution and frame speed. Then, followed by field of view, angle adjustment and autofocus feature. Audio quality is not a priority because any cheap dedicated microphone will perform significantly better than a built-in microphone on a webcam.
Is 720p good enough for a webcam?
Most of the time, 720p is not good enough for video conferences and online classes. Video game streamers are usually happy with 720p because gaming content is the primary focus while the camera showing users is secondary. Moreover, facecam usually is just a very small window, so their resolution is less important.
Is there much difference between 720p and 1080p webcam?
Yes and no, the difference lies in the screen you're watching the video on. If your audience is watching it on a phone, the difference is very small. If your audience is watching it on a full-size monitor, 1080p makes a lot of difference. I would recommend getting the 1080p webcam.