Everyone has owned or purchased a power bank at some point. In Malaysia, buying the right power bank can be full of traps. There are way too many irresponsible sellers which sell power banks with incorrect capacity and power output.
This buying guide aims to educate and help the average consumers to find the best power bank for themselves.
Here are the top 5 factors to consider when buying a power bank:
---
1. Capacity
The capacity of a power bank is the most important feature when it comes to selecting a power bank. 
The unit of measure for capacity is mAh, which stands for milliampere-hour. It measures how much electric charge a battery can supply
Power banks with high mAh are usually more favourable but that also equals a bigger power bank size.
Hence, you need to identify the device you intend to charge with the power bank and how many charge cycles you need.  Generally, the capacity required is as shown in the table below.
| <3000 mAh | 5000 – 10000 mAh | > 15000 mAh |
| --- | --- | --- |
| 1 charge for smartphone | 2-3 charges for smartphone | >4 charges for smartphone |
| Not suitable for tablet | 1 charge for tablet | 1-2 charges for tablet |
| – | – | Partial charge for laptop or Switch |
For example, you don't want to carry a brick-sized power bank with 15000 mAh when you only need to charge your iPhone 12 mini once throughout the day. Because iPhone 12 mini battery is only rated 2227 mAh.
For this case, you only need a power bank ranges from 2500 to 3000. Don't go for exactly 2000 mAh though. Because there's always power loss during the charging process. A good power bank should deliver charging above 90% of its claimed mAh.
So, pick the power bank capacity that matches your needs. It is not always bigger is better.
And don't be tricked by false claims of unreasonably high mAh capacity too. Many sellers overstated the power bank capacity. Common sense will you that there is no way a small power bank has 50,000 mAh. Right?
The last thing to take note of power bank capacity is compliance with airline power bank regulation. The current airline regulations only allow not more than two power banks that are rated below 100Wh or 20000mAh to be taken on flights.
2. Portability
When it comes to portability, there are mainly three categories of sizes available, which are ultra-slim, normal and large size. Each of these sizes fulfils different charging needs and users' habit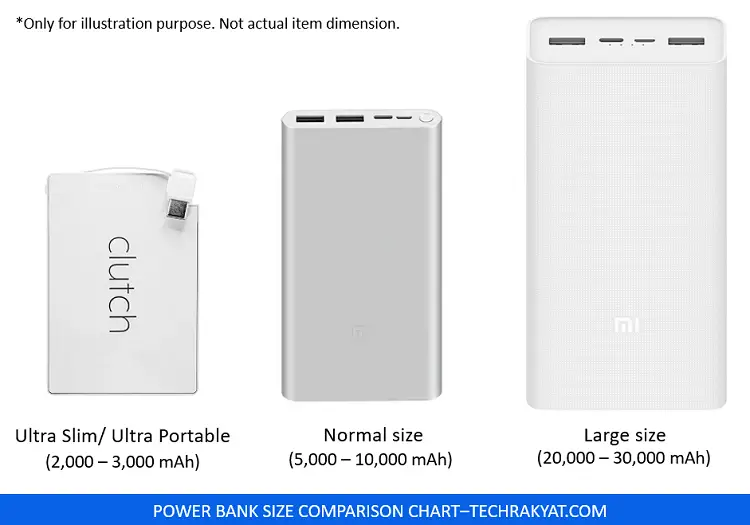 In my opinion, a good power bank should be easily fit into pockets. A power bank is meant to be mobile and carried around to charge our phone, whenever and wherever we need it. My recommendation of power bank size is shown below.
Ultra-slim power bank – suitable for light users to charge the mobile phones. use the smartphone for communication, web browsing, watch videos and check social media.
Normal size power bank – suitable for mobile gamers. 10,000 mAh can charge iPhone about 3 times. It can last for few good rounds Mobile Legends and PUBG Mobile throughout the day.
Large size power bank – suitable to charge multiple devices, eg: smartphone, Nintendo Switch, and even laptops with USB-C charging port.
3. Power Output 
The power output is measured in watts (W). The formula of watts is equal to (V)*(A), which is Volt times Ampere.
You may notice that some power banks stated the port output is 5V/3A, which means it is 15W output. Today many smartphones come with super-fast charging, it usually requires 45W and above power output to achieve the maximum charging speed.
And also, if you need quick-charge for multiple devices, make sure you check for the single port output and combined output.
Cheap power banks usually only have one fast-charge port while the rest of the ports can only charge at normal speed.
4. Ports
Next, you have to determine the number of ports and the required port types. Do you need one, two or three output ports? And what types of ports do you need?
Typically, power banks have USB-C, USB-A for power output, and micro USB ports for power input/recharging.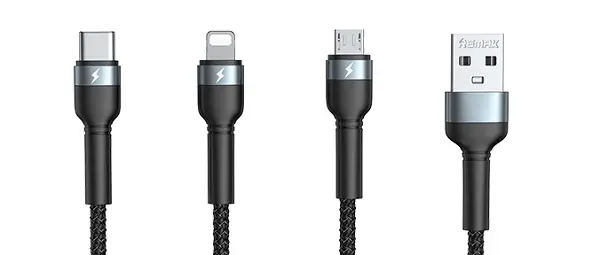 Today, USB-C is the most commonly used connection port. The majority of smartphone brands are also providing USB type A to type C charging cables. 
However, many budget power banks are still using the micro USB port for recharging. To make charging more convenient, I recommend buying power banks with a USB-C charging input port.
To make it even better, you should get a power bank that comes with a quick charge USB type C port so that you don't need to wait for long hours for the power bank to be fully recharged.
If you want to charge Nintendo Switch, make sure you get the power banks with a USB type C Power Delivery port (USB PD). For charging Macbook Pro you will need a USB PD which is rated 100W.
5. Brands and Warranty
Brands matter when it comes to picking a power bank. I recommend to stick with reputable brands like Anker, Xiaomi, Tronsmart, Aukey, ZMI and Pineng. 

This is because there are too many brands that falsely marketing their power bank capacity, eg: stating the power bank as 30,000 mAh while it only has 5,000 mAH. But that's an obvious example that can be easily spotted. 
Since we have no way to verify the actual capacity before buying one, it is better to stick with brands that have reputable track records. Stay away from knock-off or unknown power bank brands.
In terms of warranty, it is preferable to buy from local sellers who give local warranty. There is no doubt that the longer warranty period is better.
Additional Features
Below are some of the useful additional features which you may want to take into consideration when choosing a power bank.
Wireless charging – power bank with wireless charging is cool and convenient as you don't need to bring along any cables. But wireless charging is relatively inefficient and slow as compared to charging through cable.
LCD/LED screen – some power banks have clear and easy to read battery status on the LCD screen. It's good to be able to read the exact balance percentage of power bank.
Water-resistance  – if you're using the power bank for outdoor activities, you should consider getting a power bank that is water-resistant. You can check out RAVPower water-resistant power banks.
Flashlight – a feature which I never find it to be useful but some people may actually like it.