After days of in-depth research, Pineng PN-952 is my choice of best power bank that fits in your pocket size for its ultra-lightweight, compact size and built-in cable.
For everyday use power bank, I will highly recommend Pineng PN-961 which is slightly bigger, sporting insanely fast 18W quick charge with 10000mAh capacity and it is compatible with a wide range of everyday devices like smartphone, Bluetooth earphone, and camera.
For larger capacity power brick, I will definitely recommend XiaoMi Mi 20000mAh 2c for its competitive price and two-way quick charge technology.
PN-952 is the slimmest and lightest 5000mAH power bank you can get in the market now. The built-in micro-usb/lightning cable makes it stand out among the other choices. It is also the only pocket-size power bank with 2 USB output.
PN-961 supports two way fast charging. Reasonable size with only 14.3mm thickness and weighs 220gram. It comes with 10000mAh capacity, USB-C input and Qualcomm Quick Charge 3.0 ready, support a wide range of everyday devices.
Mi 20000mAh 2c is the real powerhouse. Two-way 18W quick charge, 2 USB A ports and capacity enough to charge your iPhone 8 for 7 times.
Why you should trust me
I am a frequent power bank user who has tried out many different brands of power bank, range from no-name product, company door gift, china low end & higher end brand to the international big name. I am just an average user like you, experience the frustration with slow charging power bank and capacity fall short from supplier's claim.
Are all power banks built the same? Although they may show the same capacity, output, port, the performance varies largely across different brand and model.
Thus, I have spent hours and days to research the best power bank which is readily available in Malaysia.  I have gone through countless review available on the internet whether it is in Chinese or English, blog post or Youtube videos, and end up with these top picks. Based on all the information and factual data available, let me walk you through the pros and cons of my top picks.
How I picked
Charging speed – New release smartphones are adopting Qualcomm quick charge 3.0, soon it will become a market norm for mid to high-end range smartphone support the quick charge 3.0. This is the priority feature which helps me differentiate a good power bank from an average power bank. Life is just too short to be wasted on waiting for your devices to be charged.
Capacity – 5000, 10000, 20000 or 30000 mAH, which one is enough? It depends on your usage pattern. If you are a salesperson who travels a lot and zipping around the cities, 20000 mAH will serve you well. For the user with light usage, 20000 mAH is overkill.
Form factor – Power bank should not be too large or thick. Trust me that you will wanna ditch your old school brick size power bank once you tried these ultra slim power bank. Pocket size power bank can easily fit in your pockets and pleasant to carry around.
For the non-tech head, I would like to give a quick run on all the acronyms you frequently see in power bank advertisement: milliamp-hours (mAh), volt (v), Ampere (A), watt (W). Milliamp-hours stands for electric charge the battery can provide, higher mAh means higher capacity. Says one smartphone with 2500mAH, you will assume to get 4 full charges from 10000mAh power bank.
But, this is not true, because power bank and smartphone use a different voltage, the conversion of voltage in between devices leads to some loss of power and some loss also goes to the heat generated in the charging process. Thus, a good power bank should perform above 90% of its claimed mAh. Thus, you can see 10000mAh power bank advertise their minimum actual output is 6500mAH above.
While Watt, W = V x A,  normal charge power bank has an output of 5.0v 2.1a which equals 10.5w. A quick charge 3.0 power bank can generate output as high as 12.0v 1.5a equals 18w which can push for more electricity into your phone in the same amount of time. Higher watt output equivalent to faster charging rate, so higher W is better.
How I research:
Let me break down my research process:
1. Data collection of available models from online marketplaces: Lazada/Shopee/11street
2. Online marketplaces user reviews
3. Respectable website reviews
4. Youtube reviews
To sum up the process above, I believe this is what a savvy and smart consumer can do before purchasing any items online. My job here is to make your life easier by sum up all the information in one place and present you the best product with my own opinion. I will check all the brands and model available in our market. Then go through the comments for each product, especially on the bad comments. Because it is just too many easily satisfied and kind-hearted 5-star user review for products. Those who take the time to comment and rate 1 star on a product usually with valid reason.
After shortlisting the product, I will search for products reviews on various websites and youtube videos to get opinions of influencer, power user and the average user.  Combine with my personal experience in using a power bank, I have selected these top picks for the best value for your money.
Our pick for your pocket 5000mAh: Pineng PN-952

I have summed up the models which qualify for our pocket-size power bank in above table. As you can see, there is only a handful of models which fits into this category, sub-par models/brands are ruled out. Pineng PN-952 clearly offers the most complete package.

PN-952 is the slimmest and lightest 5000mAH power bank you can get in the market now. The built-in micro-usb/lightning cable makes it stand out among the other choices. It is also the only pocket-size power bank with 2 USB output.
Pineng PN-952 is only 127x69x9mm thick and weighs 118 gram. It has a built-in micro USB cable with lightning port adapter which essentially makes it the ideal travel companion without having to worry on additional cable. It is smaller than your iPhone 8 plus but just a bit thicker, so it can fit your pocket well and always ready to go.
However, it only capable for output rate of 10.5W and no quick charge feature in exchange for its thin body and lightweight. Quick charge feature will require additional chip which will take up more space.
The downsides of Pineng PN-952 is their mediocre built quality and chic design which may not be appealing to the executive user. There are also user's feedbacks that the cable can be spoilt quite easily, so do handle the cable with care. After all, I can forgo all these shortcomings considering it packs so many features with such a low price point.
At a similar price range, the lipstick-shaped Tronsmart Bolt is a good choice. It is still pretty easy to carry around but the drawback is no built-in cable which makes it less ideal as your pocket power bank.
Our pick for overall best power bank 10000mAh: Pineng PN-961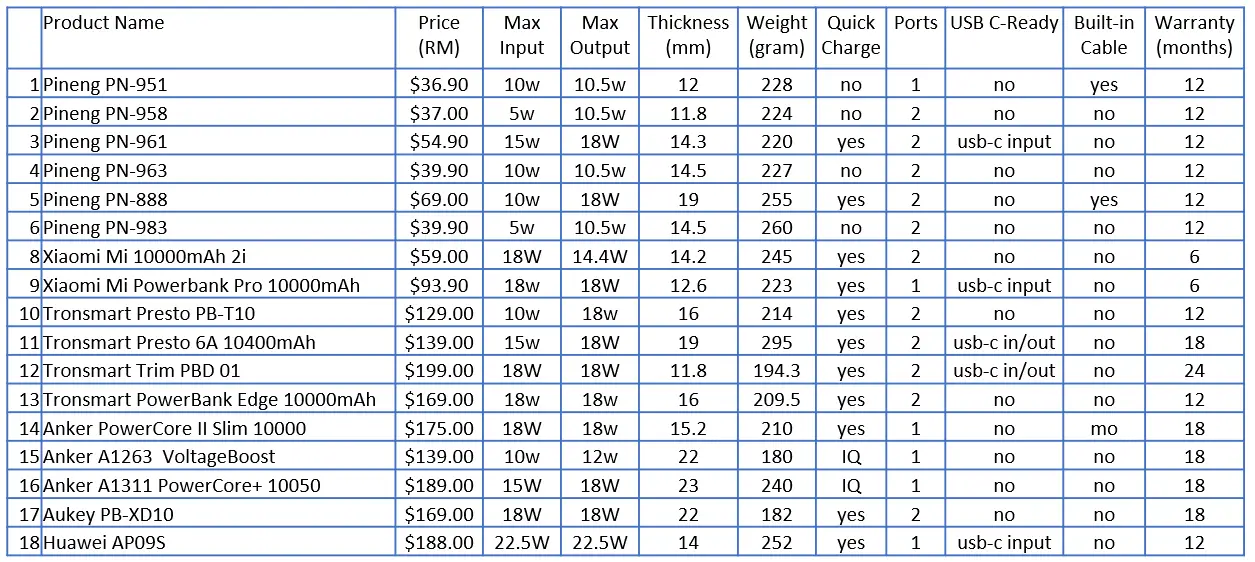 The table shows total of 18 most widely available models and PN-961 is the only under RM 90.00 model complete with USB-C input and quich charge 3.0 makes it an offer which hard to resist.
PN-961 supports two way fast charging. Reasonable size with only 14.3mm thickness and weighs 220gram. It comes with 10000mAh capacity, USB-C input and Qualcomm Quick Charge 3.0 ready, support a wide range of everyday devices.
Pineng PN-961 is ideal for people who carry bags daily or one who comfortable to bring a slightly bulky device in the pocket.
If you are only using it for charging a smartphone. It has enough capacity which can last you for a few days without a recharge. This is one thing that I find appreciate because I have an issue before that too many devices to charge but too little charger or available port. It frees me from the endless charging cycle and dilemma of whether to charge the power bank first or my phone first.
Equipped with two-way 18W fast charging, USB-C input and Qualcomm 3.0 ready make PN 961 a clear winner in this category. Once you experience fast charging, you will never look back again.  USB C input will be handy because newer android phones are adopting USB C port. Less cable management issue for you.
Qualcomm 3.0 can easily charge any compatible device in the market from 0 to 50% in 30 minutes which significantly reduce your device downtime.
Please see video below for clear comparison:
[av_video src='https://youtu.be/Xikk_oKq_Ew?t=1m41s' format='16-9′ width='16' height='9′]
Quick charge iPhone 8 from 0 to 100% takes roughly 2 hours, normal charge takes 4 hours. Cut down your charging time by 50%
It saves you 2 hours times. Frankly, using a phone while connecting to a power bank is certainly not an enjoyable experience. You will be bothered by the extra weight and cable.
Similarly to PN-952, the downside of this power is its mediocre plastic built casing and somewhat non-professional looks. It also does not provide any quick charge cable. So, you might wanna consider making bundle purchase with quick charge cable if you do not have one. Apart from the above, this power bank is a very decent deal for RM59.
For those who prefer sturdy built quality and professional looks, you can choose XiaoMi 10000mAh Power Bank 2i. Anyone familiar with XiaoMi product should know that xiaomi product is cheap but they are pretty well-built. It has full body anodised aluminium casing, giving 14.4W max output and can be recharged by18W power. It has 2 USB-A ports which are good for charging multiple device and support microcurrent charges for small devices. Compared to PN-961, it has less outputpower yet more expensive which resulted it cannot be the top pick.

Upgrade Pick
Tronsmart Trim PBD-01 is the lightest and slimmest among all 10000mAh power bank. It supports two way fast charging and also USB PD 3.0 to charge MacBook/ultrabook. USB-C input and output make this power bank future proof.
If you have plenty of extra money to splurge on gadgets, the Tronsmart Trim PBD-01 is our ultimate pick in this category. It is only 11.8mm thick and weighs 194.3 gram. It is only 2mm thicker than pocket-sized Pineng PN-951 but gives you double of the capacity. Tronsmart Trim PBD-01 casing is a combination of aluminium and plastic. Aluminium gives you premium look while plastic back protects your phone from scratching with the power bank when you put them in the pocket.
This power bank is a complete package which will not let you down: Two-way 18W quick charge, USB-C input and output, Qualcomm 3.0 and USB PD 3.0 (power delivery) for you to charge Macbook or any laptop with USB-C charging port. USB-C input and output make this power bank future proof. It is definitely a great investment of money.
Our pick for power user: XiaoMi  Mi 20000mAh 2c
Mi 20000mAh 2c is the real power house. Two-way 18W quick charge, 2 USB A ports and capacity enough to charge your iPhone 8 for 7 times.
This power bank is 150x70x24mm and weighs 358g similar to old-school brick size power bank. It has capacity of 20000mAh and gives you a minimum actual output of 13000mAh which conveniently charge your iPhone 8 for 7 times. A full charge over the weekend can last you for a week.
The casing is made of plastic which makes it less likely to damage other expensive devices. The surface is textured makes it comfortable to hold and anti-slip.
Mi 20000mAh 2c is no doubt the best in class power bank as it supports two way 18W quick charge which there is only a handful of power bank brand provide such a feature in this category. Choosing this power bank is a no-brainer given XiaoMi competitive pricing and sturdy built-quality. No other brands can come close to it.
Pineng PN-962 is not preferred due to its extremely big size 197X94X14.3mm which Pineng decided to go for the wide and thin body instead of a thicker body. It is almost the size of an iPad mini. Slightly heavier at 415gram and has a lower minimum actual output of 12580mAh. But, it has 3 output port and 3 input port, also support Qualcomm 3.0 quick charge. Comparing the form factor, built quality, and actual output of these two power bank, I will choose XiaoMi on any given day.

Upgrade Pick
ZMI10-QB820 is a premium quick charge 3.0 power bank which at the same time function as a USB hub. Fantastic choice for ultrabook user.
ZMI10-QB820 20000mAh is the most versatile premium power bank you can get right now. For your knowledge, ZMI is a subsidiary brand under XiaoMi umbrella which focus on the product development of power bank, charger and cable.
The power bank is 160x81x21mm and weighs 405g, made of aluminium housing to ensure good cooling performance and combine with ABS material back gives it an executive look.
It supports two USB-A and one USB-C output and can be used for charging 3 devices simultaneously. USB-C port can provide a maximum 45W output which is sufficient for you to charge MacBook Pro. Both USB-A ports support quick charge 3.0 of 18W output.
The USB-A port can be used for connecting mouse or flash drive which is super convenient for MacBook/MacBook Air user who constantly battling with the insufficient port issue. With this power bank, you can charge your MacBook and still has access to your file stored in flash drive/camera or even printers. ZMI is a beast with all the premium features you always wish a best power bank could have.
The competition:
For your pocket
XiaoMi 5000mAh power bank is outdated. It is thicker, heavier and has a shorter warranty period of 6 months compared to my top pick. Yet, it offers no extra feature. Hope that XiaoMi able to update this model soon to make it stay relevant to the market needs. Aukey PB-XN5 comes with USB-C port and support 15W input/out charging rate but the 15mm thickness is a deal breaker for 5000mAh category. You can get 10000mAh power bank at a similar form factor.
For your everyday use
Anker and Aukey are two other strong competitors in this range. However, their performance also comes with a hefty price tag. The price is easily double or triple of our top pick PN-961. Their high-end range product is worth looking into but not their low and mid-range product due to the price difference compared to other brands. Anker Power Core 2 Slim 10000 is the closest competition to my top premium pick, Tronsmart Trim. Anker is also a China brand but it has garnered a very good reputation in the US and Singapore market for being reliable and consistent in performance. However, their products still fall short in USB-C port availability as well as thickness and weight. If you are willing to spend that much money in the first place, just top up the small difference in price and get the Tronsmart Trim.
For your power user
In 20000mAh category, Anker A1371 PowerCore+ and Aukey PB-XD20  are interesting choices if you have the extra money to spend. Both of them are equipped with quick charge 3.0, USB-C compatible and Nintendo Switch compatible. Their price premium makes them less appeal to me as they only offer near equivalent feature to Mi 20000mAh 2c.
Tips
Good power bank should always pair with a good USB charging cable to deliver the best performance.