Choosing a gaming monitor is not rocket science, but it can be very confusing and tedious for beginners. There are at least more than 10 factors that you need to consider.
When I wrote the best gaming monitors review, I faced the same challenge. I found so many new technical terms that I had no idea what they meant. So, I compile my findings through the research process into this comprehensive gaming monitor buying guide.
When shopping for a gaming monitor, these are the most important to the least important factors as written below:
---
1. Panel Types
There are mainly three panel types in the market, which are known as TN, VA and IPS. 
TN Panel stands for twisted nematic. It is the cheapest panel, worst colour and viewing angle but it has the fastest response time and refresh rate.
VA Panel stands for vertical alignment panel. It is the middle-ground between TN and IPS panel in terms of price and performance. It has very good colour contrast and deeper black but the response time is slowest.
IPS Panel stands for in-plane switching panel. It has the best viewing angle and great colour. Its response time is faster than VA panel but slower than TN panel.
Below is a simple chart explains their characteristics of each types of panels:
Panel Type
TN
VA
IPS
Image quality
Poorest colourPoorest view angle
Good colour
Good view angle
Best colour
Best view angle
Response time
Fastest
Slowest
Good
TN panel is already out of the question for gaming monitors in 2021. Most brands don't focus on TN gaming monitors anymore. So, we're down to the VA and IPS panels.
The battle between the VA and IPS panels is very complicated and hard to explain through words. It is best to see the comparison video below to understand the strength and weaknesses between them.
In order for you to choose between these two types of panel is not about the strength but more importantly, the weaknesses of each type of panel.
VA panels typically have ghosting, black smearing issues and a slow GTG response time. If you can't accept these two issues, then get the IPS panel.
IPS panels typically have backlight bleeding issues, poorer contrast and poor performance in dark. If you can't bear these issues or have no control over the lighting of your surroundings, you should get the VA panels.
Personally, I am more inclined towards IPS panels despite them being more expensive because VA panels' ghosting issue is very annoying to me.
But everyone perceives the ghosting effect differently, there are people who don't see it. And everyone uses the monitor for different purposes so you may not get into this issue at all. The fact is many are comfortable with VA panels too.
2. Screen Size
Screen size is simple and straightforward. You have to determine how big of a screen you want.
Typical modern monitors use an aspect ratio of 16:9 and are available in 22", 24", 27" and 32".
For most users, 22" to 32" should satisfy most normal and gaming needs. 27″ is considered as the most optimum monitors size which human vision can cover and the screen doesn't feel over extended.
However, there are people who want a better and more immersive gaming experience. Then, we have the ultrawide and super-wide gaming monitor models. Check out the monitor size chart below.
| Common name | Aspect ratio | Sizes |
| --- | --- | --- |
| FHD | 16:9 | 22" to 32" |
| QHD/WQHD | 16:9 | 22" to 32" |
| UWQHD | 21:9 | 34" |
| DQHD | 32:9 | 49" |
There are also people who prefer to go for a multi-monitor setup instead of going ultrawide screen route.
And lately, there are people who directly use 4K Smart TV as their gaming monitor too, the most popular model is the LG CX OLED TV.
3. Screen Resolution
Third, on the list is screen resolution. We all love seeing more details in games, photos, and movies. So, a higher resolution is always favourable. We have HD 720P, Ful HD 1080P, QHD, 4K and even an 8K gaming monitor now.
The minimum requirement for a gaming monitor should be at least 1080P.
| Common name | Shortname | Resolution |
| --- | --- | --- |
| FHD (Full HD) | 1080P | 1920 x 1080 |
| QHD/WQHD (Quad HD) | 1440P | 2560 x 1440 |
| UWQHD ( Ultrawide Quad HD) | UW 1440P | 3440 x 1440 |
| DQHD ( Dual Quad HD) | Dual 1440P | 5210 x 1440 |
| UHD (Ultra HD) | 4K (2160P) | 3840 x 2160 |
For most gamers, 1440P is the most ideal screen resolution because it is optimum in terms of price and resolution. Plus, you will need equivalent hardware to deliver such image quality.  This resolution is suitable for mid to high-end computer hardware.
To match up with 4K monitors, you need the best PC hardware and graphics card to unleash its maximum performance in games. So, you need to make sure your hardware can support it before buying one.
4. Refresh Rate
After you have determined screen size and resolution, refresh rate is considered the most important factor when it comes to competitive gaming.
The refresh rate of your monitor refers to how many times per second a new image is drawn on screen. It is measured in Hertz (Hz). 
For example, if your gaming monitor has a refresh rate of 75 Hz, it is refreshing the image 75 times per second.
Normal monitors come in standard 60hz. Gaming monitors start from 75 Hz, 144 Hz, 165 Hz, 240 Hz, 280 Hz to 360 Hz. While it is hard to describe the benefits of having a high refresh rate monitor, here's a video from Nvidia that discuss and present it concisely.
The most significant improvement of refresh rate is the jump from 60 Hz to 144 Hz. The in-game animation will look smoother and provide the best gaming experience.
For e-sport and professional first-person shooter (FPS) gamers, a 240 Hz or higher gaming monitor provides them with every competitive advantage.
5. Response time
Monitor response time is the time taken for a pixel to shift from one colour to another. So, shorter response time is better. Typically, monitors with high refresh rate will come with a lower response time.
The two main methods of measurement are GTG (grey-to-grey) and MPRT (moving picture response time). Low response time will reduce ghosting and overshoot (inverse ghosting) issues.
The question is what response time is considered good? How low should it be? 1ms, 4ms, 5ms?
The TRUTH is there's no standard guideline for measuring monitor response time. 
Every manufacturer uses their own set of rules to measure it and, hence, you see almost each and every gaming monitor advertise themselves as 1ms response time. Because they did achieve 1ms response time under their own standard. 
They achieve it by using two techniques called ultra-low motion blur (ULMB) and Overdrive. If you understand Chinese, I highly recommend you to watch this Chinese explanation video which is very detailed and concise on monitor response time. For English readers, check out the explanation video by Mobhouse production below.
Another hard truth is that there's no actual 1ms response time monitor in the market right now. 
So, you just take the official specifications with a pinch of salt. If you are more particular with response time, always counter check the monitor's actual performance on established third party testing websites like rtings.com.
6. FreeSync or G-Sync
First, FreeSync and G-Sync is a feature used to synchronize the frame rate between monitor and graphics card. They use variable refresh rate (VRR) to eliminate screen tearing when playing games. 
A screen tearing happens when the graphics card and monitor are out of sync. It leads to one portion of the screen ahead of the second portion of the screen that makes the image looks jagged.
FreeSync is developed by AMD and G-Sync is developed by Nvidia. Both of them are fundamentally similar. 
In 2021, most gaming monitors are compatible with both types of sync technology. 
However, if you own an Nvidia Geforce graphics card, you should check out whether a gaming monitor is compatible with G-Sync and G-Sync Ultimate. Because the Nvidia graphics card works best with a G-Sync monitor. Same principle for AMD Radeon with FreeSync.
7. Flat or Curved
The next thing on the list is whether you need a curved monitor. If you're not into hardcore gaming, I recommend getting a flat-screen gaming monitor since it is more versatile and suitable for productivity works too.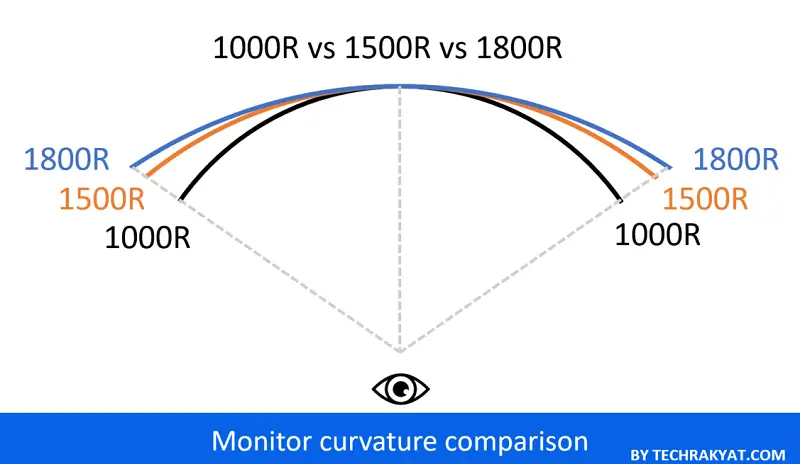 If you're professional gamers, twitch streamer, or live streamer who spend a large portion of time on gaming, then you may consider getting a 1500R curved screen. Or even a 1000R curved screen.
8. Colour Gamut
The colour gamut is defined as the range of recognizable colours within the colour spectrum. It is often measured in NTSC, sRGB, Adobe RGB and DCI-P3.
A higher colour gamut equals a wider colour range and higher colour accuracy. A search in Google always returns you to figures like below. It shows how well is the coverage of colour in comparison to human vision.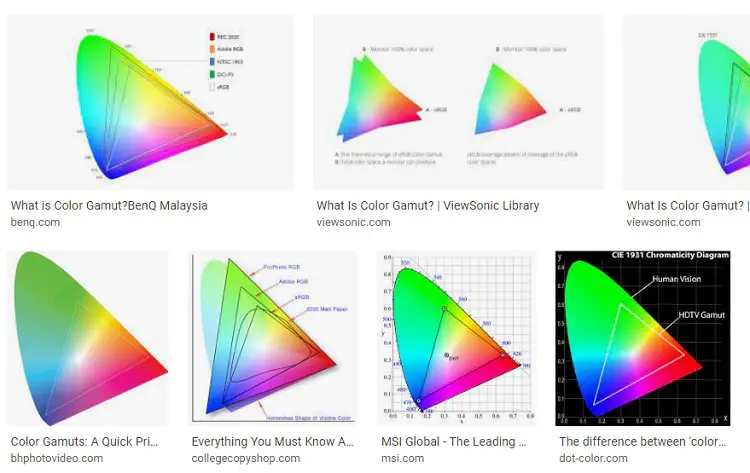 No matter you're using it for gaming or multimedia works, I advise that the minimum colour gamut should exceed 90% sRGB.
9. HDR Support
HDR refers to high dynamic range. High dynamic range gives you a better contrast level so you get brighter white and deeper black. HDR image and video will appear to be more vivid and lively.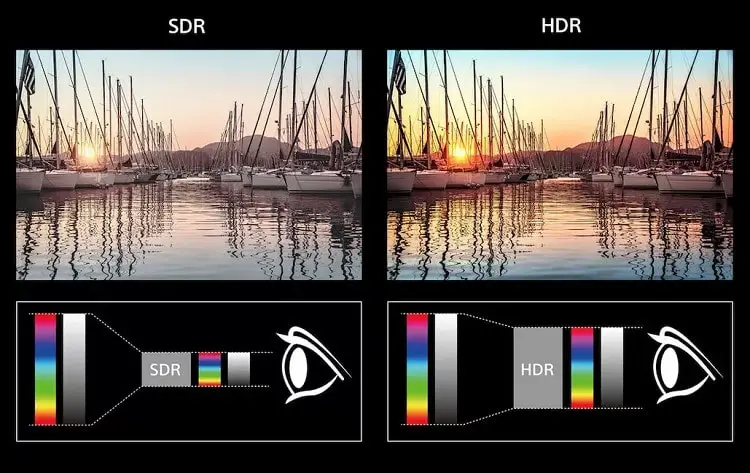 It is good to have HDR support especially if you're using it for both gaming and movies.
The common terms used here are HDR 10 and HDR 400. There is no real difference between HDR10 and HDR 400, except that the "400" in HDR 400 represents the display's brightness.
10. Viewing Angle
Viewing angles affects how accurate an image is when watching it from different angles. Monitors with poor viewing angle will get severe colour washout and brightness loss when viewed from the side.
Viewing angle is largely affected by panel tyle. IPS panel monitors usually have better viewing angles than VA panels.
11. Ergonomics
Ergonomics refers to the components on a monitor that can be adjusted to provide the user with the most comfortable and best viewing experience possible.
A gaming monitor with excellent ergonomics should allow adjustment for height, vertical tilt angle, horizontal swivel and portrait mode. These 4 levels of adjustment give users total control of how they can position the monitors.
Due to the fact that most of us use a fixed-height table and office chair with limited adjustment, height adjustment of the monitor is vital to obtaining a comfortable viewing position.  
12. Compatible Mount
If the as-is stand adjustment on a gaming monitor cannot satisfy you, then you should check on its compatible mounting. You can install a multi-axis monitor arms on the table or on the wall that gives you more flexiblity to place the monitor however you want.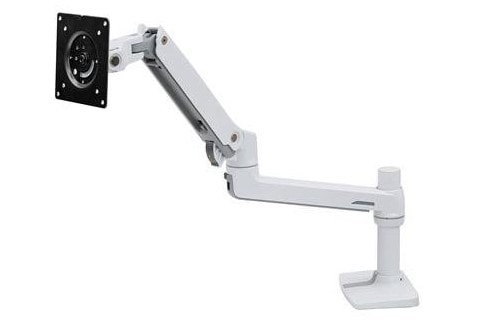 VESA is the most widely used mounting standard for monitors and TV. Common VESA sizes for PC monitors are 75 x 75 mm and 100 x 100 mm.
13. Ports
Ports or I/O are important if you have many devices that you wish to connect to a single monitor. There are gamers who use the gaming monitor to play PC games, PS5, Nintendo Switch and even connect an additional laptop for productivity work. 
So, make sure you get sufficient DisplayPort and HDMI ports for your needs. Some of the most important and common ports are DisplayPort 1.2, DisplayPort 1.4, HDMI 1.4, HDMI 2.0 and HDMI 2.1. Check out the chart below.
| Port Type | MaxTransmission | Max Video Output |
| --- | --- | --- |
| DisplayPort 1.2 | 21.6 Gbps | 1080p at 240 Hz |
| DisplayPort 1.4 | 32.4 Gbps | 4K at 120 Hz  |
| HDMI 1.4 | 10.2 Gbps | 1080p at 120Hz |
| HDMI 2.0  | 18.0 Gbps | 4K at 60Hz |
| HDMI 2.1 | 48.0 Gbps | 10K at 120Hz |
14. Built-in Speakers
If you don't like to have speakers on your desks that clutter up your space, it is best to buy gaming monitors with built-in speakers.
Many gaming monitors actually do not come with built-in speakers as audio performance is not their main focus. So, just take note of it if you wish to have built-in speakers
15. Monitors Borders
Monitor borders are important only if you wish to have a dual or multi-monitor setup. If you're not using a multi-monitor setup, you can ignore this criterion. Because most of the time border will not distract or affect your user experience.
On the other hand, you should get an ultra-thin bezel (bezel-less) gaming monitor ranging from 0.5 to 0.7 cm bezel if you want to have a multi-monitor setup.
---
Other Terms You Should Know
What is ELMB Sync?
ELMB Sync stands for Extreme Low Motion Blur Sync. It is ASUS' proprietary technology that uses backlight strobing to try and improve motion clarity.
What is MBR?
MBR stands for Motion Blur Reduction. It is used by LG's monitor which it strobes backlight to improve motion clarity
What is VRB?
VRB stands for Visual Response Boost. It is used by Acer's monitor to decreases blur in fast moving images.
What is Nano IPS?
Nano IPS is created by LG and introduced in 2019. It involves nanoparticles that are applied to a LED backlight of an IPS-panel display. It gives the screen a more vivid and vibrant colour range, which improves HDR experience 
What is Overdrive on monitors?
Overdrive, OD is a feature in monitors which forcefully pushes the monitor's response time to reduce ghosting. However, overdrive resulted in another side effect. It can cause pixel overshoot also known as inverse ghosting.