The pandemic is far from over. Many of us may still be working from home. Be it from home or at the office, you'll need a comfortable and reliable office chair to give your back and neck the support they need. 
If you don't, it could potentially lead to back sores and neck strains that will not only impact your work performance, but also your health in general.
Despite the rising popularity of gaming chairs, I insist that office chairs are still the better investment because office chairs are usually cheaper and give equivalent support. 
How do we choose a good office chair then? Not everyone can afford a Herman Miller, I have researched through dozens of office chairs and reviews to find the answer for you. In selecting a great office chair, I look for ergonomics, lumbar support, and adjustability.
Here are the 6 best office chairs for Malaysians:
Compare the top 7 office chairs in table below.
Model
Adjustable
Lumbar support
Alterseat CG-07
Seat height
3D arm
Headrest
Tilt tension
Tilt lock
Lumbar support
Yes
Ergohuman chair
Seat height
Seat in-out
Tilt tension
Tilt lock
3D arm
Lumbar support
Backrest
Headrest
Yes
Xiaomi Hbada Xiao-Y
Seat height
Tilt tension
Tilt lock
Flip up arm
Lumbar support
Yes
Ikea Renberget
Seat height
Tilt tension
No
Alterseat REVO-101
Seat height
Tilt tension
Headrest
Yes
Ikea Markus
Seat height
Tilt tension
Yes
AM Office AM1921
Seat height
Headrest
Tilt tension
Yes
---
Best Overall Ergonomic Office Chair
Alterseat CG-07 Ergonomic High-back Computer Chair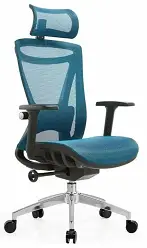 Alterseat CG-07 Features Highlight:
Class 4 Heavy-duty Gas Lift with SGS and BIFMA certified.
High Density Polythene Moulded Foam 65p/m3
High Density Polythene Moulded Foam Cushioning
Adjustable height and angle headrest
Adjustable height of cushioned lumbar support with rolling mechanic
Adjustable 3D armrest
Reclining lock
10 years seat warranty
CG-07's Positive Review:
Very solid chair. Easy to assemble.
CG-07's Negative Review:
-Nil-
Alterseat CG-07 is a meticulously designed ergonomic office chair that priced reasonably. Not only does it have a curved backrest, but it also has an adjustable cushioned lumbar support for maximum comfort and back relief. The lumbar support can be adjusted upwards and downward to suit your body curvature.
The CG-07 office chair has a wide backrest and seatings. It is wide enough to let you sit on top with crossing legs.
Different from the more affordable REVO-101, CG-07 comes with finer control and adjustment. The armrest can be adjusted in all three dimensions. And it can be tilted and locked in a recline position when you want to take a short nap.
In terms of comfort, the backrest is made of a breathable Nylon mesh which is strong and durable. The seat is covered with a 50mm thick high-density polyethylene moulded foam. Alterseat is so confident that it will not deform and offers 10 years of seat warranty.
Other than that, the CG-07 assures the highest level of safety by utilizing a certified class 4 gas lift. It can support up to a maximum of 350kg, giving you peace of mind.
Despite being an executive chair, the Alterseat CG-07 comprises many adjustments and fine-tunes that even rivals some of the best gaming chairs in the market, while maintaining an elegant executive design. It is certainly a good investment for anyone who works long hours on the desk and prevents a potential back pain problem.
It comes with an 18-month full chair warranty.
---
Most Adjustable Ergonomic Office Chair
AM Office Ergohuman Mesh Chair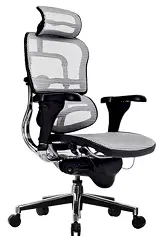 AM Office Ergohuman Mesh Chair Features Highlight:
Breathable backrest
97% post-use recyclable – no dangerous VOCes
Comfortable for seriously long hours of sitting
Adjustable seat (in-out, height)
Backrest adjustment
Adjustable lumbar support, back tilt & height adjustment
Headrest adjustment
3D adjustable arms
Customer's Positive Review:
This chair can support your back spine, can adjust based on your height and it's really comfortable for long sit working. The material is very cooling due to mesh quality and it's really comfortable. A very heavy chair. Very good quality. Thank you, Sue and AM Office for suggesting this chair.
Customer's Negative Review:
the seat is too high off the ground at the lowest setting meaning your feet are suspended in the air and I have long legs

extremely overpriced for the non-ergonomic nature of it

I'm confident chairs at a fraction of the cost of this one are more comfortable.
Today's busy and hectic working styles have caused health problems such as hunched postures and backaches from insufficient lumbar support. This is bad for everyone's general well-being.
This is where this premium office chair comes in. The Ergohuman Office Chair was designed according to the human engineering body concept. The chair has excellent full-body support and is easily adjustable.
Each of us has different body curvature and needs. This chair literally allows almost everything to be adjustable; lumbar support, armrests, seat depth and height, backrest, tilt angle and resistance, among others. This enables just about anyone to be able to comfortably use this chair all day long. You can lean forward, backwards or even recline too.
The lumbar support mechanism creates an automatic curvature that pushes out further than the upper portion of the backrest, giving users the optimum support. Measuring 72cm wide with a maximum height of 118.5cm, this chair is made of 97% post-use recyclable materials and meets a few rigorous and comprehensive standards for low emissions of volatile organic compounds (VOCs) into indoor air.
The mesh backrest is highly breathable which helps to keep you cool. The frame is made of chrome with the base made of chromed aluminium. And it is using a mesh seat too so that your bottom will not get hot and sweaty.
Another good thing about this chair is that the seat width is pretty big at 52.5cm, and the seat depth can adjust from 46-50cm.
Similar to any top-tier ergonomic chairs, there are lots of complaints with the Ergohuman chair as well. With such a price tag, people expect a lot from it. But the truth is that an ergonomic chair tends to require some time to get used because it forces users to sit with correct posture. So, I highly recommend actually try it first before buying such a high price tag chair.
That said, this chair is superbly designed for extraordinary long-term comfort. With over 800,000 units sold worldwide, this Ergonomic Chair is a serious contender.
The AM Office Ergohuman Mesh Chair comes with a 2 years local supplier warranty.
---
Best Value Office Chair
Xiaomi Hbada Ergonomic Office Chair Xiao-Y series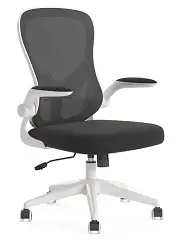 Best deal on Lazada Best deal on Shopee    
Xiaomi Hbada Ergonomic Office Chair Xiao-Y series Features Highlight:
360° Swivel
8cm Adjustable Height
Dual-Lumbar Support Design
90° Adjustable Armrest
Breathable Mesh
Y-Shape Support
High-Density Sponge
SGS Safety Gas Lift
Low Noise PU Casters
Customer's Positive Review:
Very comfortable chair and easy to install for someone who's used to assembling DIY stuff. High quality for the price paid. Highly recommended.
Customer's Negative Review:
The lumbar feature doesn't really work for me and the connection to the gas strut is a bit wobbly though.
Hailing from the ever-versatile Xiaomi, here we have the Xiaomi Hbada Ergonomic Office Chair Xiao-Y series, a sleek and simple designed mid-back chair. 
Measuring at 102 x 64 x 64cm, this is a smart dual lumbar support chair with adjustable armrests that can be flipped up when you don't need them. This enables you to easily slide the chair under the desk when not in use. The armrest is covered with fabrics so it feels comfortable when resting your arm on it.
This chair has an 8cm height adjustment, so you can adjust it to your preferred height and sitting position. You can push the tilt lever inwards to lock an upright position or pull it to activate the rocking motion.
The new Y-shape lumbar support design mimics two huge hands supporting both sides of your spine, distributing the pressure outwards and evenly on your back. The lumbar support has a 5cm distance adjustment for you to finetune to your back.
Also, the adaptive movement rail fits your waist, adjusting to your body movement. Whereas the S-shaped curve backrest protects the spine and helps relieve more pressure, creating very comfortable seating for long hours. This office chair's ergonomic design promotes a natural sitting posture for longer periods of time, thus relieving our spine from overstraining.
Xiaomi Hbada Xiao Y's backrest has a breathable mesh that has high elasticity, durability and support. The seat itself is made of a whole piece of high-density sponge. The base is heavy duty and thus is stable and durable, along with quiet rolling casters. This chair was reported to support up to 113kg.
---
Best Basic Lowback Office Chair
Ikea Renberget
Best deal on Lazada Best deal on Shopee    
Ikea Renberget Features Highlight:
Seat height adjustable
Adjustable tilt tension
Safety castors with pressure-sensitive brake mechanism
Seat – polyurethane foam 35 kg/m3
Customer's Positive Review:
I like this chair. Received in good condition, cheap, nice and thank you seller. It is really worth it and convenient.
Customer's Negative Review:
Easy to assemble but not very comfortable.
If you're looking for a traditional office chair that is reasonably priced, you can consider an Ikea Renberget office chair. Measuring at 59 x 65 x 108cm (max height), this is a simple yet solid choice for anyone looking for comfortable enough seating for longer hours. 
You can adjust the chair's height and also the seat's height too (45 – 57cm). This office chair has adjustable tilt tension that enables you to adjust the resistance to suit your movements and your weight.
The safety castors have a pressure-sensitive brake mechanism that helps keep the chair tightly in place when you stand up and when you sit down, they will release automatically. The mechanism prevents users from accidentally pushing the chair away and fall down when they're about to sit down.
The seat is measured at 49cm wide and 42cm deep. Its seat cushion is made of polyurethane foam (density 35 kg/m3) and polyester wadding. And it is wrapped with faux leather
You'd be glad to know that the coated fabric is actually made of polyester cotton and PU, which makes this more durable. The castors and armrests are made of polypropylene plastic with the former specially designed to cater for softer floors. The back frame is made of steel, epoxy/polyester powder coating. Take note that this chair has been tested for 110kg. 
Admittedly, the Ikea Renberget is not the fanciest nor the cheapest choice around. But it still manages to provide a good enough seating with a palatable level of quality. Ikea provides 10-a year warranty on all of their chair products.
---
Best Budget Office Chair
Alterseat REVO-101 office chair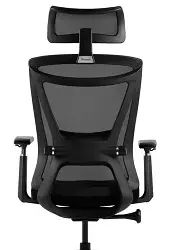 Alterseat REVO-101 Features Highlight:
Class 2 Heavy-duty gas lift
High Density Polythene Moulded Foam Cushioning
Adjustable height and angle headrest
Adjustable back-rest recline tension
10 years seat warranty
REVO-101's Positive Review:
Since I work long hours in front of a computer in a sitting position. By using this chair, it enables me to have long hours of sitting comfortably and in the correct position. At this price point, this chair is affordable, ergonomic enough yet with a simple design. The cushion's foam is comfortable to sit on. The product is a solid build
REVO-101's Negative Review:
Not as comfortable as expected…I requested a return but the seller never responded.  Better buy from a store where you can test the seat first.  Advertisements by sellers are really misleading.  Regret buying.
The REVO-101 has a wide backrest and curve design to promote proper sitting posture. The lumbar support further strengthens the back to provide rigid support.
There're not many adjustment options available with this chair. It has the standard seat height adjustment, 360-degree swivel, and backrest tension control. But it doesn't support recline angle lock.
There are two options available for this chair. Customers can choose between the one with a headrest or without a headrest. Headrest height and angle can be adjusted. Please note that the armrest and backrest are not adjustable.
Alterseat REVO-101 backrest breathable mesh is made of nylon instead of PP material. And the most impressive part is the 10 years warranty for its high-density polyethylene moulded foam. The chair comes with an 18-months full-chair warranty. 
---
Best Highback Chair Under RM500
Ikea Markus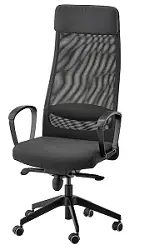 Best deal on Lazada Best deal on Shopee    
Ikea Markus Features Highlight:
Breathable mesh back
Impressive 10-year warranty
Meets durability and stability requirements of EN 1335 and ANSI/BIFMA x5.1 standard
Good support for lumbar, back, neck and hips
Safety castors with pressure-sensitive brakes
Customer's Positive Review:
Product as advertised. Fast response by seller, fast delivery too. The chair itself is easy to assemble and very comfortable. Worth the price
Customer's Negative Review:
The chair, however, is made for tall westerners. I am 174cm,68 kg and my head touch the bottom of the headrest when I'm not sitting 100% straight. The armrest is also very very hard, making my elbow sore and I have to put my own cushion on it.
The Ikea Markus office chair has been around for some time and is still popularly liked by many. This is of no surprise at all, as this is a chair that is approved for office use with high requirements on ergonomics, stability, strength and durability. 
Measuring at 62 x 60 x 140cm (max height), this chair is a sturdy seat that is made to meet the durability and stability requirements of EN 1335 and ANSI/BIFMA x5.1 standard. The purpose is to ensure comfort, as well as to be stable and durable enough to withstand long term usage.
As compared to other fancier ergonomic office chairs, the Markus does not allow you many adjustments. It has a fixed back. And the back and headrest are one piece so you cannot adjust the headrest. And there's no adjustable armrest.
Don't get me wrong, you can still adjust the seat height, tilt stiffness and the back can be locked in place or it can be reclined.
It offers a comfortable upright sitting position, with a long back and integrated headrest. This gives you the support you need for your back, neck and hips. The back is wide and broade with built-in lumbar support that gives you that much-needed relief on your back, especially during prolonged sittings.
The safety castors come with pressure-sensitive brakes, so you'll have no worries about getting up from the chair and sitting back down safely. The seat's height is adjustable from 46-57cm. 
The seat itself measures 53cm wide and 47cm deep, using polyurethane foam 35 kg/cu.m. While the seat frame is made of layer-glued wood veneer, the back frame, armrest frame and back bar are made of steel, epoxy/polyester powder coating. 
The fabric parts are made of cotton, polyester and PU which are long-lasting. This has been tested for 110kg.
One of the most common complaints on Ikea Markus is that the headrest is too high for most Asians. But the experiences vary for every different person. Some short users are praising how comfortable it is, and surprisingly, there are taller users who find Markus uncomfortable as well.
All in all, Ikea Markus is an ergonomically and practically designed office chair that does have a rather hefty price tag to it but it's best to try it out first at the Ikea store.
---
Best Cheap Highback Office Chair
AM Office AM1921 Mesh Highback Chair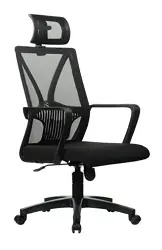 AM Office AM1921 Mesh Highback Chair Features Highlight:
Lightweight
Upright locking mechanism
Adjustable headrest
Lumbar support design
Moulded PP 5-star Prong Base
Customer's Positive Review:
Comfortable 👌🏿 Easy for online classes 👌🏿 Can sit for long hours 👌🏿 Good lumbar support 👌🏿 Worthy for this money 👌🏿 The staff will assemble the chair for us 👌🏿
Customer's Negative Review:
The description says it can be tilted, without explaining in detail. Found out that the product can't be tilted at all. misleading product description. Not sure if I can get a refund if I were to return the product.
The AM1921 is an affordable and comfortable high back chair from AM Office. The upholstery is available in several colours, namely red, grey and black. 
Measuring at 66 x 133cm (max height), this versatile chair has an upright locking mechanism. Although it does allow you to tilt backwards, you can only do so minimally. Bear in mind that tilting works alongside your weight. So if you're a lighter weight person, you may find it is difficult to tilt the chair.
AM Office AM1921 has dedicated lumbar support that pushes forward to support your support, relieve strain and pressure from your back. The headrest is adjustable to suit your preference. 
---
Other Office Chairs That I Like
There are so many top-tier office chair brands that are more suitable for the ones with a big budget. I do not recommend them simply because their prices are simply out of reach for most users. As recommended by expert review site, BTOD.com, here are some of the interesting premium office chair models you might be interested:
Herman Miller Aeron
Steelcase Leap
Steelcase Gesture
Haworth Fern
Herman Miller Embody
Humanscale Freedom
---
Office Chairs FAQ
Are expensive office chairs worth it?
It depends. For average users, expensive chair (cost over RM1,000) may not be worth it since many expensive chairs receive plenty of complaints too. The best office chair is the one that you have tried it and find it suitable to you.
On the other hand, an expensive chair that solves backpain which could save you money from visiting doctors and increase productivity. Then it is totally worth it. Expensive chairs with proven track record that last decades are cheaper than average one that you have to replace it every 2-3 years.
Should I buy an office chair or gaming chair?
I would advise to get an ergonomic office chair if you prefer to sit in correct posture. If you prefer a "body hugging" design, then you should get a gaming chair.
Are mesh office chairs better?
Mesh office chairs are better in terms of breathability and they feel harder to sit on compared to a cushioned chair. If you tend to sweat a lot, it is better to get the mesh office chair.