Buying a mattress is challenging but I guarantee that you can find your perfect mattress after you have gone through my easy 4-step process.
As a Malaysian, I completely understand what is the main concern for most Malaysians when buying a mattress. The decision is ultimately about budget, and then about comfort.
The truth is, there is no such thing as a great mattress with cheap pricing. However, there are some best mattresses that are being sold at a reasonable and fair price.
To get the most suitable mattress, we need to strike a balance between price, quality, comfort, material, and durability.
Important Mattress Questions 
Here's a super simplified decision flow chart of my 4-step process when picking the right mattress.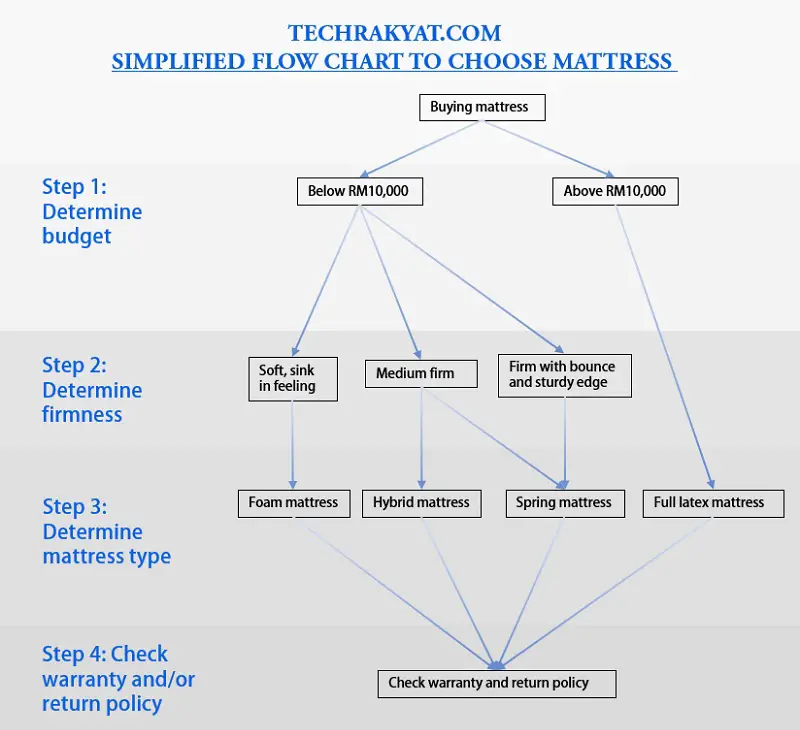 ---
What is your budget?
Before anything else, the most important question would be: What is your budget? You have to think it through before you shop since everyone has a different budget.
Choosing the right mattress is directly tied to your budget. As an example, if you only have RM2,000 to spare, you can completely forget about getting the Getha full latex king-size mattress
However, no worries; there's still plenty of comfortable mattress options available across different price ranges. 
As you should be aware that mattresses in Malaysia can stretch from RM500 to RM20,000 depending on quality, brand, mattress size and mattress type. 
So, let's check out the average king size bed price in Malaysia in the table below:
| | | |
| --- | --- | --- |
| Mattress Type | Average Price Range(King Size) | Mattress Brands |
| Foam mattress | RM500 – RM4,000 | Spinarez, MLILY |
| InnerSpring mattress | RM700 – RM8,000 | Goodnite, Slumberland |
| Hybrid mattress | RM1,000 – RM6,000 | Origin mattress |
| Latex mattress | RM8,000 – RM 18,000 | Getha |
Let's take myself as an example.
Considering that we will spent so many hours on the bed(sleeping), I am willing to spend between RM2,000 and RM6,000 on it so that I can sleep soundly for years to come.
According to the table above, I should be getting a high-end innerspring mattress or a quality hybrid mattress. In the same way, I think these two types of mattresses are also the best mattress choices for most Malaysians.
For anyone who can spend above RM10,000, a premium full latex mattress definitely worth the money.
---
What firmness do you need?
A mattress firmness refers to how soft or hard it feels. Your body type, weight, size, sleep posture directly affect the feel of firmness of the mattress.
A larger, heavier body will need a firmer mattress since the self-weight of a person will push the mattress down. 
Also, how firm something feels is very subjective. 
When two people of similar body weight and size try the same mattress, one may think it's too firm while the other may think it's too soft. Because everyone has a different habit and past experience with what mattress firmness they used to.
If you want to know how "firm" or "soft" a mattress is, how suitable it is, there's no other way than to try and lie down on the mattress in person.
Typically, we can classify mattresses into three categories: soft, medium, and firm. I don't really recommend anyone getting an extra soft or soft mattress because they provide very little support to your back. It can lead to serious back pain problem over a long period.
Let's check out the firmness level vs bodyweight diagram below: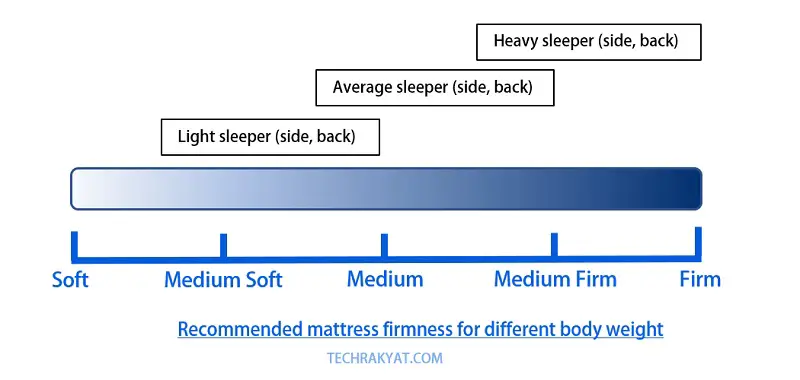 Light sleeper (below 60 KG) – suitable with medium-soft to medium-firm
Average sleeper (60 – 100 KG) – suitable with medium to medium-firm
Heavy sleeper ( above 100 KG) – suitable with medium-firm to extra-firm
For reference, most hotels use medium and medium-firm mattress, which are the most popular options. So if you're unsure, or buying a mattress online where you can't test it, just go for the medium and medium firm.
Aside from firmness, there are a couple of other things to consider when it comes to the structure of a mattress.
Do you prefer sturdy edges?
Usually, innerspring mattresses have coils and rigid framing along the edges. As a result, they usually have a more sturdy perimeter than other types of mattresses.
Do you prefer some bounce in your mattress?
If the answer is yes, then again conventional inner mattress has the most bounces.
---
What types of mattress do you need?
Great! We have narrowed down the mattress choices you based on your budget and the suitable firmness. 
Next, you should learn the characteristics of different types of mattresses.
Foam mattress
These mattresses are made entirely with foam and no coils. It is usually memory foam or a mix of memory with the latex mattress topper. They tend to provide excellent pressure relief, body contouring, and motion isolation, ideal for couples that move a lot when sleeping.
The off-gassing smell does happen to new mattress that made from foam. They may not be harmful but could be unpleasant
Pros and cons of foam mattress:
| | |
| --- | --- |
| Pros | Cons |
| Mould according to body shape and pressure | Lack support |
| Stress relief | Tends to feel hotter |
| Motion isolation | No bounce |
| | Less Durable |
| | Not eco-friendly |
Innerspring mattresses
Innerspring mattresses use a sheet of metal springs to provide support for your body. There are Bonnel springs and pocket springs system.  
The spring frame is then covered with a top layer of soft padding that provides cushioning and contouring. Because it has spring support, it won't sink like a foam mattress.
In general, a quality innerspring mattress offers good edge support and good support of weight to relieve back pain. Motion transfer issue is common with spring mattress.
Pros and cons of a spring mattress:
| | |
| --- | --- |
| Pros | Cons |
| Support the weight of your body | No motion isolation |
| More breathable, colder | Cheap spring mattress wear out fast |
| More durable than foam only | No contouring to the body |
| Backache relief | |
Hybrid mattresses
Different brands and models of hybrid mattresses use different proportions of coils and foam, which can produce a very different feel. 
In general, a hybrid mattress with pocket springs offer a good balance of bounce, support yet it has a minimal cuddle feeling because of the foam layer.
I recommend this type of mattress to most people.
Pros and cons of a hybrid mattress:
| | |
| --- | --- |
| Pros | Cons |
| Better back support than a foam mattress | Edge is not as sturdy as a spring mattress |
| Not as hot as a full foam mattress | More expensive than foam mattress |
| Provide some pressure relief | Many variations of foam and spring system, hard to choose |
| Good motion isolation | |
Full Latex Mattress
Latex mattresses are made from natural rubber latex. They're bouncy and durable, with moderate contouring. A true latex mattress is also considered an organic mattress as they don't use any synthetic foam.
Rubber's natural properties make them resistant to mites and allergen-free. Latex mattresses can last between 10 and 20 years, which is extremely durable compared to other types of mattresses.
Pros and cons of latex mattress:
| | |
| --- | --- |
| ProsConsVery comfortableVery expensiveProvide sufficient back supportVery heavy, hard to move aroundProvide some pressure reliefNatural, eco-friendlyResistant to mites naturallyAllergen-freeDurableGood motion isolation | |
---
What's the warranty and return policy?
Now, you have nailed down which bed to buy. The last thing will be the warranty period and return policy of a mattress.
Many mattresses claim to have a warranty of 10 years or more. Yet what exactly do they cover. Before making a purchase, it is best to speak with the customer service or salesperson thoroughly.
It is also important to note the return policy; most online bed-in-a-box mattresses offer a 100-day free trial period. The return policy of some brands, however, is stricter than that of others. Make sure you check with the brands regarding the timeframe for collecting the mattress and how many days the refund will take.