Waking up from a bad sleep is the sign of a bad day. In the long run, it is detrimental to your health and life. Having the best mattress that suits us is very important, especially when we spend one-third of our lives sleeping.
There are so many mattress brands in Malaysia and it can be overwhelming to select the right one to buy. Today, we will focus on the mattresses which you can buy online, particularly on Lazada. 
Best Mattresses in Malaysia for different types of sleeper.
How to choose the best mattress
Material is the most important factor in choosing the right mattress. There are mattresses made of memory foam, synthetic foam, synthetic latex, coconut fibre, gel and latex (expensive). Each of them has its pros and cons. There are mattresses made of hybrid material too and they are usually very expensive.
Firmness is the most tricky part when it comes to buying a mattress online. Because everyone including manufacturers perceives firmness differently. But still, you have to at least figure out your preference for a soft or hard mattress. Even when you try in a physical store, a comfortable 5 minutes trial not always translate to a comfortable all-night sleep.
Coolness. In general, latex, gel and coconut fibre are cooler. Memory foam follows. And the warmest one will be synthetic foam.
Thickness/Depth is not as important as most would think.  It is a gimmicky feature promoted by mattress vendors to jack up the mattress price. Unless you are seriously overweight, 8-10 inches mattresses are actually good for many.
Common types of mattress material:
Synthetic foam and latex – They are inexpensive. However, they are less durable compared to other materials. Some low density synthetic foam has very poor support too.
Memory Foam – The material will shape and conform to your body as you sleep more on it.  Awesome for side-sleepers, due to the fact that the mattress balances out well between your hips and shoulders.
Gel – Has similar properties to memory foam ones except for the fact that this mattress is able to dissipate heat and thus offering a more comfortable cooler sleep.
Coconut fibres – They are really firm and can be uncomfortable for many. They are usually very well ventilated. And those who like the firmness really  
Natural latex – Akin to memory foam mattress except that this uses latex instead. Memory foam is synthetic whereas latex is natural. Latex feels denser and is less warm as compared to memory foam.
Standard size of mattress in Malaysia
Common sizes (length x width) of bedding and mattresses are as below:
King size- 190 x 182cm, 6.5 x 6 ft
Queen size- 190 x 152cm, 6.5 x 5ft
Super single – 190 x 107cm, 6.5 x 3.5ft
Single – 190 x 90cm, 6.5 x 3ft
Do note that for IKEA bed frame, their sizes can be different from Malaysia size.
1. SpinaRez Spinal 1 Mattress
Best user rated mattress on Lazada
SpinaRez Spinal 1 is the most beloved mattress on Lazada with thousand of rave reviews.
✔ Great value for money
✔ Anti-dust mite, antibacterial and antifungal
✔Breathable mesh design at side

The most popular budget mattress in Malaysia is the SpinaRez Spinal 1 Mattress. With 10" thickness, it has aloe vera fibre fabric that is breathable, anti-dust mite, antibacterial and antifungal.
It has a 2" highly resilient foam euro top padding, coupled with a layer of durable and supportive eco-friendly coconut fibre that is non-toxic, odourless and soft to enhance support. 
This mattress utilizes a 6-turn Bonnell Spring System that provides optimum support to the human body. 
Just on Lazada alone, it has accumulated more than 2000 reviews and ratings, with a solid amount of positive feedback. Most of them praised the mattress, low price and comfortable.
Here are some of the SpinaRez Spinal 1 mattress reviews:
The product is excellent. I have been using it for almost a year now.. very satisfied. The only complaint is the selection of courier. The SkyNet courier was pathetic. First, they delivered very late. Second, they tore the mattress plastic. I received the mattress in a greasy plastic cover.
The mattress quality is great and excellent to the seller because arrange the fast delivery to me. I received the mattress in just 4 days. Thanks and will repeat to buy or recommend to friends.
Most of the 1 and 2-star reviews are actually complaining about the delivery service and not on the product itself. And there are a few who complain the mattress for being too stiff and resulting in back pain. But my guess would be they were used to a soft mattress and can't adapt to the firm mattress.
Set your expectation right for this mattress. It has coconut fibres in it so it's gonna be pretty firm. And in fact, a firm mattress is generally better for those experiencing lower back pain. Because bones will absorb most of the pressure and less stress on muscle & veins.
SpinaRez Spinal 1 mattress comes with a 10 years local warranty.
2. Goodnite SpinaHealth Sleep Health Mattress
Best cheap hotel grade mattress
Goodnite SpinaHealth Sleep Health mattress is an affordable hotel-grade mattress that provides great back support.
✔ 11 inches thickness
✔ Cool knitted fabric
✔ Anti dustmite & anti-bacterial
✔ Do not need to turn the bed periodically
The best cheap hotel grade mattress, falls to Goodnite SpinaHealth Sleep Health Posture Spring Mattress. 
The top padding is made of high- density foam that provides pressure relief, enables ease and freedom of movement at a comfortable sleeping temperature. 
Its spring system utilizes a 7-turns posture spring system that is specially designed for better back support with a firmer feel. This mattress is designed to minimize disturbance to partner. Featuring a 360° 4D Supreme Air-Ventilation Cooling System, you'll experience a cooling and comfortable sleep. The firmness is of level 7, which is said to be not overly firm and not soft either. 
Featurings Italian embroidery design, imported cool fabric, anti-dustmite, anti-bacteria, this mattress is best for users who wanna enjoy that great hotel bed at a cheap price.
It is rated 4.9/5 on with more than 300 reviews on Lazada. And only less than 10 reviews which are below 3 stars!
Here are some Goodnite SpinaHealth mattress reviews:
Pros: affordable, quality, brand-name mattress Cons: too soft for my liking, even though the listing said it was a Firm mattress. I ended up topping up extra for a firmer GoodNite mattress. Still an affordable price.
Very good quality product. After buy 1 test. Now buy few more units for my homestay. Comfortable mattress and totally worth it. Delivery fast and genuine original product. Product come with dealer invoice and warranty card. Will recommend my friend buy here. Thank you
Totally worth the price. Been using it for 3 days and everything seems good. The mattress is firm but the top layer is plush and it does help in giving the comfort. My back no longer hurts when I wake up in the morning. Thank you so much! I hope those who are still thinking of buying this, just buy lah. No regret.
As with all mattresses, some will find it too soft and others might find it too firm. Based on users reviews, we can expect the spring support of the mattress to be firm enough and just its top-padding could be a bit cushy.
Goodnite Spinahealth Sleep Health mattress has a 10 years local warranty.
3.  NeckPro Rollen Pocket Spring Mattress
Best cheap pocket spring mattress Malaysia
NeckPro Rollen series is a mattress in a box. It is pocket spring yet reasonably priced.
✔ Pocket spring
✔ Soft, sinking and cuddly feel for young users
✔ Anti dustmite, antibacterial and antifungal.
Neckpro Rollen is one of those mattresses that compressed,rolled and packed into a box similar to Sonno & Joey mattress. 
This mattress is designed to be soft for younger users who enjoy a sinking and cuddly feel. 
Featuring a pocket spring system, each pocket coil acts individually to support the contour of your body as well as to relieve the pressure points throughout your body. Because they are individually encased, they each respond independently to pressure, so any movement on your part will have minimal disturbance to your partner. Just a side note, pocket spring mattresses used to cost thousands of Ringgit.
This mattress has a thickness of 8 inches and made from a layer of high-density foam with breathable knitted fabric and excellent quilting support. It is anti dustmite, antibacterial and antifungal. 
Lazada users simply loved this mattress, most of them were happy with it and delivery was fine too. They gave a 4.9 stars rating.
Here are some Neckpro Rollen mattress reviews:
If you need an affordable mattress with comfort. This is the mattress for you. Recommended!
Used for 4 months now, no issue, still having good sleep.
I hesitated a bit before purchasing it but omg this is so comfortable and softness just right for me!
Neckpro Rollen mattress comes with 10 years warranty as well.
4. ECOlux Zucca 10-inches Mattress
Best medium soft mattress
ECOlux Zucca 10-inches mattress is made to be medium firm by using a combination of coconut fibre layer with Bonnel spring system.
✔ Satin fabric
✔ Coconut fibre layer for firmer support
✔ Anti-dustmite, anti-bacterial, anti-hypoallergenic

If you are the type that prefers a medium firm mattress then ECOlux Zucca 10" mattress may be the one for you. 
This mattress has a stretch knit design with high breathable satin fabric. It provides optimal spinal and body support during sleep. The top consists of ECOFoam (compressed, reinforced and highly durable) followed by its Bonnell Spring system with Helix Coil reinforcement. In between these 2 layers, there is a high-quality thick coconut fibre layer that provides the right balance of natural firmness.
This mattress is anti-dustmite, anti-bacterial, anti-hypoallergenic with enhanced airflow for extra comfort. Definitely value for money for those who want .
Most of the Lazada users were overall happy with this mattress, they gave an average of 4.8 stars rating. Some were not too happy with the delivery service though.
Here are some ECOlux Zucca mattress reviews:
Saya membeli 2 tilam Zucca dan Belva, penghantaran ke Johor Bahru dengan skynet mengambil masa beberapa hari sahaja. Penjual juga sangat ramah dan sangat membantu. Saya syorkan Kepada sesiapa yang ingin membeli jenama ini, anda tidak akan menyesal!. Macamana gambar, begitulah tilam yang saya dapat, sangat memuaskan hati dan berbaloi dengan harga. Saya telah banyak cari tilam2 jenama lain, tapi akhirnya, saya memilih jenama ini dan saya amat sukakannya. Sekarang saya boleh tidur lena, tilam agak berat juga! hahaha.. Terima kasih!
Very very nice. Safely delivered by dispatch. Quality is also very very good. No more back pain after buying this mattress. Sleeping well. Tq so much ecolux. Will be repeat order again coming soon.
ECOlux Zucca mattress has a 10 years local manufacturer warranty.
5. Furinno Memory Foam Mattress
Best cheap memory foam mattress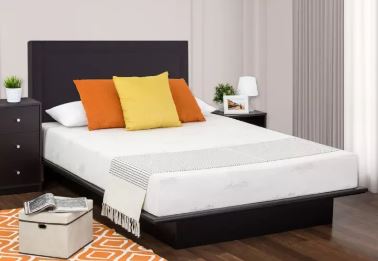 Furinno memory foam mattress is an affordable gel memory foam mattress. It is also a mattress in a box.
✔ CertiPur-US certified memory foam
✔ Hypoallergenic
✔ Removable and washable cover
✖ 6 inches thick only
"Why pay more when you enjoy maximum comfort in your sleep with less money?" The official tagline for this mattress.
Furinno memory foam mattress is made of 2 inches top memory foam plus 4 inches base of premium polyurethane foam. It is yet another mattress in a box.
It is made of CertiPur-US certified foam which is free of PBDE flame retardants, heavy metals, formaldehyde, and phthalates. The mattress consists of 4" high-density premium polyurethane foam base layer and 2" luxurious gel-infused memory foam. The open cell memory foam helps with ventilation and enables a cooling sleep. 
It provides an exclusive pressure point relief function that conforms to head, neck, shoulder, hips and back, providing excellent spinal alignment for a great night sleep (7-zones body support). The cover is made of knitted fabric with added softness and comfort in contact with your body and is removable and machine washable. 
It is also hypoallergenic and meets Federal flammability standard CFR1633. 
Lazada users praised this mattress quality.here was a 4.8 stars rating.
One particular review read as below:
This is more comfortable than my previous RM2500 spring mattress. You don't sink too much into this memory foam mattress cause it's not thick enough. But the 10in version was twice as expensive (when this one was on sale) and for personal reasons I need my bed to be very low to the ground. Highly recommended!
Furinno mattress comes with 10 years local warranty. Just be reminded that this mattress has only 6 inches total thickness. It is not usually a problem for Asian as most of us have small body frames and light. However, 6 inches thickness may not be sufficient for someone who is very heavy.
6.  NeckPro Pasithea Pocket Spring Mattress
Best latex topper mattress
If you are a latex fan, this NeckPro Pasithea Pocket Spring with Twin Talalay Latex Layer Mattress (18 inches thickness!) could be the one for you. 
This mattress is unique as in it is a hybrid mattress with all the best material for a mattress.
A 260mm-high parallel pocket spring system which reduces motion transfer.
Encapsulated with layers of high resilience foam and polyurethane foam, that provides an optimal supporting force
A layer of coconut fibre provides the right balance of the firmness of the mattress
The topper which is made of Talalay latex is the ultimate healthy choice for its natural properties thus keeping your sleep environment hypoallergenic and hygienic
NeckPro Pasithea mattress is anti dust mites, anti-bacteria and fungus, and has 10 years local warranty. It is a good deal whenever there's a promotion for this mattress.
p/s:-If you have the money to spare and prefer a full latex mattress, Getha mattress is the one and only best choice, which we recommend you to buy in a physical store instead of online.
7. Slumberland TempSmart Duke Mattress
Best mattress (branded) on Lazada
Slumberland, the well-known mattress brand with more than 100 years of good reputation. It is indeed a great mattress. But we don't recommend buying a mattress which cost more than RM5,000 online.
✔ 100-year old mattress brand
✔ Tempsmart fabric
✔ Pocket Spring
✔ 15 years warranty
✖ Expensive
The best branded mattress goes to the Slumberland TempSmart Series mattress. 
"Tempsmart fabric is capable of detecting body temperature and adapting the evaporation of humidity accordingly!", as quoted from their Slumberland official statement.
But, don't buy into this gimmicky marketing jargon. We do believe it has a certain degree of cooling effect but it is definitely as magical as that claim.
We recommend Slumberland Tempsmart because of its brand reputation (>100 years old), a wholesome package of the mattress, and being somewhat "affordable". We all know many branded mattresses can easily cost half of a price of Proton Bezza.
This mattress uses comfortable Pocketed Posture Spring System, with a spring count of 616 for Queen size and 728 for King size. The quilted top layer is filled with pure lambswool and gel memory foam.
The buyer through Lazada was very happy with this and gave a 5-star rating. 
One buyer was very happy and left a review stated: 
Awesome product. After an extensive survey, decided to go for slumberland for a long term usage. I would like to thank Ordinary Kind for their excellent customer service. Loved their honest reviews and assistance on choosing the right mattress for us. It's very hard to get honest sellers, glad I found one and I will make repeat purchase with them in future.
Slumberland TempSmart DUKE Mattress comes with 15 years local warranty.
8. Dr.Alstone 10 inches Chiropractic Mattress
Best mattress for back pain
Dr.Alstone 10″ Chiropractic Mattress is the second most reviewed and rated mattress on Lazada. Many customers praise it is good value for money.
✔ 4″ foam top layer
✔ Knitted fabric with good air ventilation design
✔ Provides good support for body
For those who suffer from back pain, this Dr.Alstone 10" Chiropractic Mattress could be your choice. 
This mattress is filled with 4" synthetic foam layer with chiropractic spring. The top layer is made of knitted fabric with high-density quilting that deploys 360° air ventilation technology design. 
The synthetic latex layer provides good comfort and relief for your body pressure points. The support that this mattress provides is just right with natural spinal alignment, optimal body pressure distribution, excellent body support throughout and thus helps with blood circulation too. 
Most Lazada users complimented the bed that it was of great quality for its price but many expressed their disappointment with the delivery service. It has na average 4.6 stars rating.
Here are some Dr.Alstone 10" Chiropractic Mattress reviews:
The top layer of the foam is thick, not too soft or too hard, good for sleeping. However all the side are wrapped with a very thin layer only (like 1mm only). You can feel the spring when touch it. If they not cut cost and wrap with thick form, it will be a 5-star product 
Worth the money. The mattress is almost firm. I enjoy it. Not really soft. Delivery is superb as well. They call me 1 day before to arrange and on the day itself for the specific time they will be at my house.
Fantastic product with great value for money, it is so comfortable to sleep on, not too soft or hard but in medium pressure feel, guess it is a great deal after all, and the delivering personnel was wonderful to deliver it to the doorstep of my house of 4 storey flat without lift facilities, and only for that I believe I can't thank them enough for the effort, even LEX delivery guy was too lazy to climb up to deliver a small package to my doorstep, well done and thank you very much for them, really appreciated it, good job seller….!!👍❤👏
Dr.Alstone 10" Chiropractic mattress comes with 10 years warranty. Just keep in mind that the mattress firmness/durability would deteriorate much faster than any other premium-grade mattress. You pay what you get when we're well aware that this mattress cost only a fraction of branded mattress.
Conclusion
When it comes to mattresses, the saying 'One man's food is another man's poison' is so true. In fact, there is really no best mattress but only the mattress which is best suited for ourself.
A good mattress could level up your health and possibly wealth (because you're more energetic to work). Don't skimp on yourself with mattress.
If you're concern of your indoor wellness, do check out our article on the best air purifier and best water filter.