There are three types of outdoor water filters in Malaysia: Cloth, Sand and Membrane. 
Please allow me to guide you through the advantages and disadvantages of each type of outdoor water filter.
---
Cloth Water Filter
Cloth type water filter is the most basic outdoor water filter. Some call it the sediment water filter.
The filter cartridge is made of Polypropylene Filter Cloth, which can filter only large particles and not small ones.
Popular PP water filters that you can find online are Instar-Life Water Filter, SAEMMUL Water Filter, and many more without a brand name.
Pros:
Cheapest
No need for routine maintenance
Easy to install and replace
Cons:
Many different grades of PP cartridge

Limited filtering capability
Water can still be muddy
Short service life
Sand Water Filter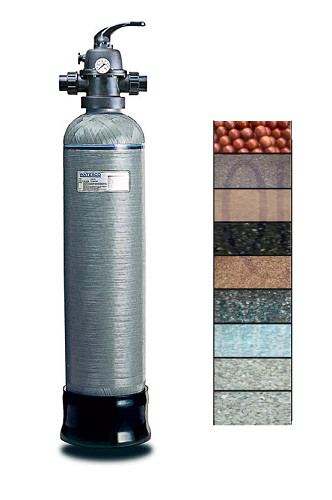 Sand Water Filters mainly used sand to filter water. Water is purified through different types, and sizes of filtering media to remove rust, dirt and contaminants as well as reduce chlorine and heavy metal.
There are many brands of sand water filters, such as Amway, Waterman, Bacfree, WaterBorn, Aquaco, Waterco, and many more.
Different brands use different numbers and combinations of filtering layers.
There are some brands that use only 4 to 5 layers of filters, while others can have up to 9 layers.
Among all types of outdoor water filters, the sand water filter is considered the most durable. This is because the filtering media can last between 5 to 10 years without needing a replacement.
Let's check out the pros and cons of sand water filters:
Pros:
Durable
Affordable
Reasonably Clean Water
Cons:
Required to do backwash weekly
Size is bigger and bulkier than others
Replacement of filtering media is difficult
Membrane Water Filter
Membrane water filter is also known as an ultrafiltration membrane water filter. Popular UF membrane water filter brands are Coway, Cuckoo, Nesh etc.
An ultrafiltration water filter can remove particles as small as 0.01 microns in the water. It is the cleanest outdoor water filter one can buy.
However, it comes at the price of sacrificing a lot of water pressure. As a result, there will be a big drop in water pressure throughout the house, leading to an unpleasant and unsatisfactory user experience. 
Some users are okay with that setback if the incoming water pressure is already huge enough. But this is not the case for most Malaysians' homes.
In my opinion, we don't really need such clean water for showers, laundry and washing dishes. For drinking water, we will still have an indoor water filter in our kitchen. 
The membrane water filter has another disadvantage in that it needs frequent backwashing to ensure the membrane doesn't get clogged. Some brands recommend flushing it daily. Even with an automatic flushing timer, this would waste a lot of water.
Let's see a summary of the pros and cons of membrane water filters.
Pros:
Cleanest water
The size is more compact than the sand water filter
Cons:
Reduce water pressure
More expensive
Less durable compared to the sand water filter
Frequent backwash
---
Cloth vs Sand vs Membrane Outdoor Water Filter
Among these 3 types of water filters, I recommend most get the sand water filter because it is the most balanced type of water filter in terms of filtration quality, price and ease of maintenance.
The cloth water filter will not be able to clean the water sufficiently resulting in the filtered water still appearing to be slightly yellowish. Still, it is a good choice for those who can't afford sand or membrane outdoor water filters.
Next, a sand water filter that can filter 5 to 15 microns particles is good enough to give you clean water for laundry, dishwashing, and showering. Most importantly, it does not reduce water pressure.
Lastly, we have the membrane water filter that produces the cleanest water filter. But, I think the disadvantages of having low-pressure water outweigh its advantages.
End of the day, most of us will still install indoor water filters for drinking purposes. Therefore, I believe using membrane water filters outdoors is overkill.
---
How Many Microns Should Your Outdoor Water Filter Be?
The ideal microns should be 1 to 5 microns for outdoor water filters. Thus, I recommend most to get a sand water filter for outdoors.
Watch the video below for a full explanation.
---
FAQ
How much is 5 Micron?
5 microns is 0.005mm. It is hardly visible to the naked eye.
Is a 5 Micron water filter good enough?
A 5-micron water filter will filter and remove most particles that you can see with the naked eye so the filtered water will appear clear. But invisible particles will still pass through
How much is 15 Micron?
15 microns is 0.015mm. It is the size of flour powder and dust.
How much is 0.01 Micron?
0.01 micron is 0.00001mm. It can filter bacteria, sediment, cysts and more which can only be seen using electron microscope scanning.