Water filter is one of the must-have home appliances in Malaysia.
Although our water supply has already been treated in the plant, water quality in Malaysia varies across regions.   Some people still get brownish and murky water. And some may even get tap water with an unpleasant smell.

Clean water and good air quality are both crucial for our health. Consuming dirty or contaminated water for a long period can be harmful to health. Therefore, this begs the urgent need to have a good water filter.
Notes: It is always good to install a reliable outdoor water filter so that the whole home water supply is cleaner. It helps to prolong the indoor water filter lifespan.
We have reviewed across different top water filter brands like Cuckoo, Coway, 3M, Panasonic, Diamond, Nesh, Panasonic, Amway, and Aquasana to find the best water filters for Malaysians.
Best indoor water filters in Malaysia as below:
1.Aquasana AQ-5300+
Best water filter for home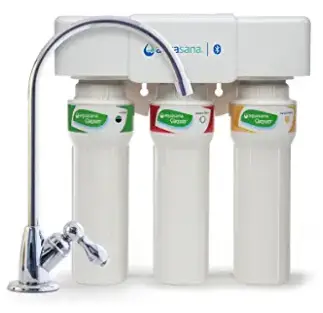 Aqusana AQ-5300+ is reasonably priced. It has multiple NSF certification and also selected as the best under sink water filter by wirecutter.com
RM969 on Lazada RM988 on Shopee
We have chosen Aquasana AQ-5300+ as the best water filter for most people. This water filter is very flexible because it can be installed under the sink or put it on top of the counter.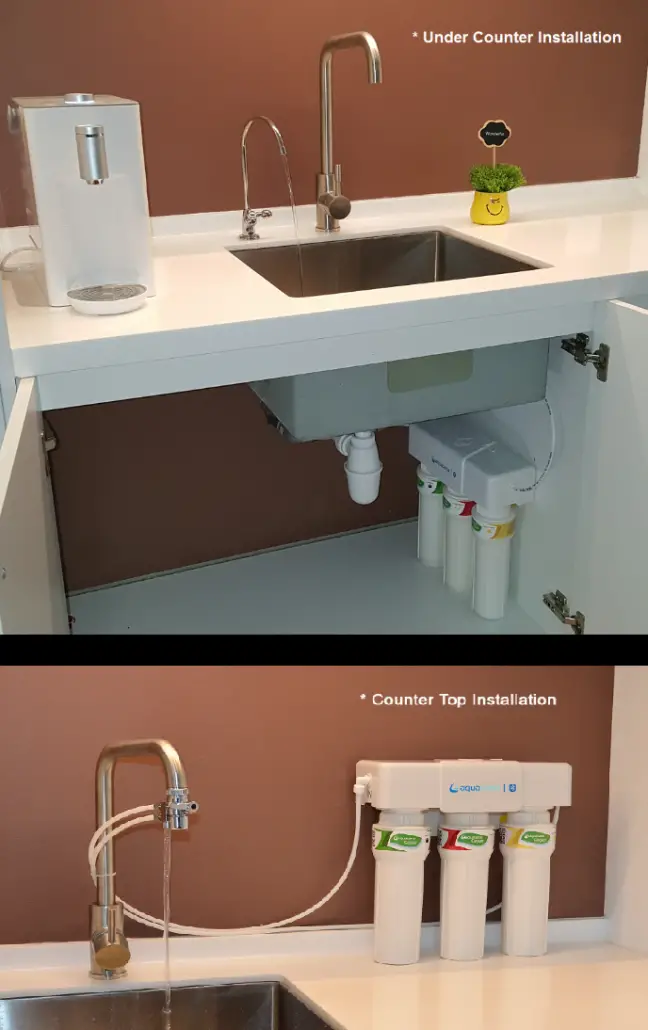 It comes with fitting accessories for users to install whichever place users prefer. It also comes with a faucet with brushed nickel finishing.
Filtration quality
AQ-5300+ utilizes a 3-stage Claryum filtration system. Incoming water supply will undergo filtration as illustrate below:
Activated Carbon – filters lead, mercury, removes synthetic chemicals (pharmaceuticals, herbicides, pesticides), with a sub-micron (0.5M) mechanical filtration. It also removes cysts, reduces VOCs too.
Ion-Exchange – filters heavy metals (lead, mercury).
Catalytic Carbon – filters sediments, reduces microscopic particles, reduces odour significantly, removes chlorine and chloramines (oh, this is crucial as no one, seriously NO ONE would want to drink swimming pool water every day!).
20M sediment filter – remove rust, sediment, sand.
So, it improves the water quality, better pH, reduced contaminants and still retains the healthy minerals that are good for your body. Good minerals like Calcium, Potassium and Magnesium are retained.
What sets Aquasana apart from its competitor and win us over is that they back up their claim with real certification from the regulators (NSF/ANSI/WHO)
NSF stands for National Sanitation Foundation, a non-profit independent organization founded in the United States since 1944 . It aims to establish standards for food safety and sanitation.
It has obtained as much as 4 NSF Standard Certification which is quite a feat. 
NSF 42 – certify on claim to reduce aesthetic impurities like taste and odor, nominal particulate, chloramine and chemicals that harmful to health.
NSF 53 – certify on claim to reduce specific health-related contaminants: lead, pesticides, cysts which cause diarrhea, cramps, nausea, fever, and potentially fatal
NSF 401 – certify on claim to remove 15 emerging contaminant from drinking water such as drugs, herbicides, pesticide compounds
NSF P473 – certify on claim to remove PFOA and PFOS from drinking water
Still not convinced?
Fortune 500 company, 3M Aqua Pure APDWS1000 water filter has only NSF 42 & 53 certification. Cuckoo only has NSF 42 certification.
While Coway has NSF, 42, 58 and P477 thanks to its reverse osmosis (RO) filter which we will touch on this topic later.
Cost and availability of refill aka cartridge
It has a battery-operated indicator that reminds you of when a replacement is required. You only need to take note when the next scheduled maintenance is though. 
Aquasana's filter is only good for about 3000litres of water, translates to about RM0.08 per litres on average. Whenever possible, you should buy the 4-box sets which cut down your replacement cost by half.
It is estimated that a normal household needs to replace the cartridge every 6 months so it is about 17 litres of clean drinking water per day.
Actual lifetime of cartridges depends on user's consumption rate and incoming water quality. It may only last 3 months to 6 months for a big family. So, beware…
But this same issue applies to all of the water filter brands in the market too. Some other brands refill may be slightly cheaper and claimed to be last longer but the water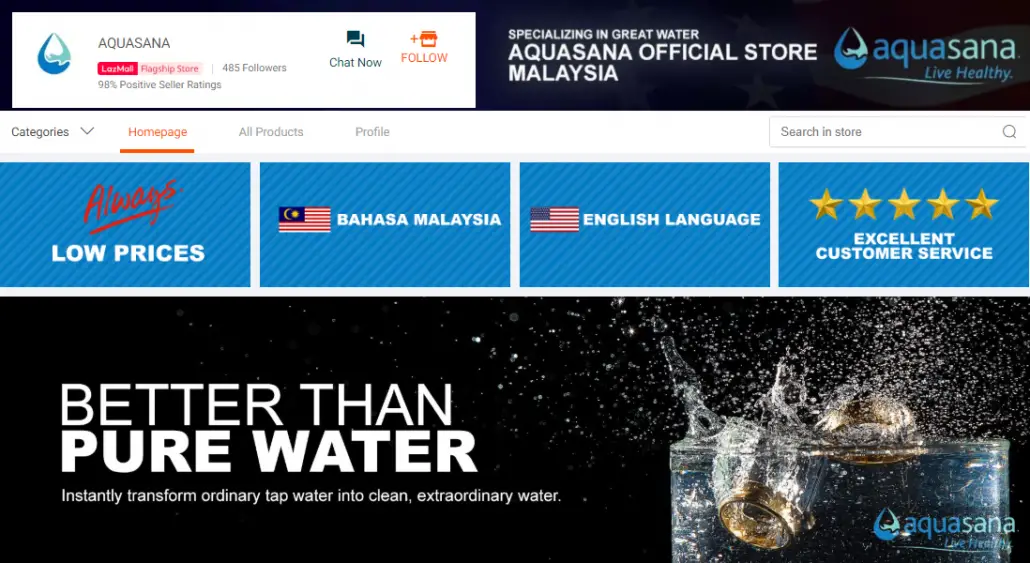 Another strong point of Aquasana is its official LazMall which available on Lazada. So it is always easily available.
Aquasana AQ-5300+ is still the best overall water filter as it provides amazing filter capability, rewarding users with awesome quality water at a very reasonable price indeed.
Pros:
Most NSF certified water filter in the market
Clean water and improve water taste
99% contaminants removal
Easy maintenance.
Flexible to be installed under sink or on counter top.
Value for money.
Cons:
Water filter capacity is mediocre. May need frequent filter replacement for a big family.
2.Aquasana AQ-4000W
Best cheap water filter for home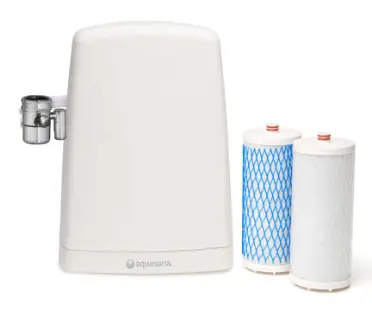 Aqusana AQ-4000W is a great and compact countertop water filter. It's not too expensive, nor too cheap, Just the right price and right quality for the budget-conscious buyer. It's als very easy to install and maintain.
RM569 on Lazada RM588 on Shopee
This is our budget pick – Aquasana AQ-4000, which is only suitable to install over the counter.
Aquasana has built a good reputation for being the emerging leader in water filters in the US and their presence has been growing immensely here in Asia as well.
And like their other water filters, this is also NSF-certified. Being a budget pick, it does not have any indicator, which means you need to work some brain muscles and take note of when the filters should be changed.
Filtration quality
AQ 4000 is NSF certified for able to:
Remove a maximum of 97% chlorine
Reduce heavy metals (lead, mercury)
Reduce organic chemicals.
Remove chlorine-resistant cysts.
Remove estrone and ibuprofen.     
It deploys a 2-stage Claryum filtration method instead of 3 stage filtration. However, the 2 stage filtration is already clean enough for many users.
There are actually four sections in this 2-stage filter:
Activated Carbon – reduces organic chemicals (herbicides, pesticides and VOCs)
Catalytic Carbon – removes maximum of 97% chlorine and chloramines.
Ion-Exchange – filters out lead and mercury.
Sub-Micron Mechanical Filtration – Filters asbestos and chlorine resistant cysts.
The best part is that it still retain the necessary and essential healthy minerals for you to reap their benefits.
There are some drawbacks though.
Please take note that not all faucets will fit the Aquasana AQ 4000. Although you can use a faucets adaptors to fit in your water tap, it is still possible that you may cant find one.
So please do check your faucet type and size before putting out the cash for this.
Cost and availability of refill aka cartridge
As compared to AQ 5300+, it is recommended to change the filter cartridge every 1700L of water consumed instead of 3000L. The cartridge replacement cost adds up quickly. So, if you have many family members, it is better to use AQ 5300+ model.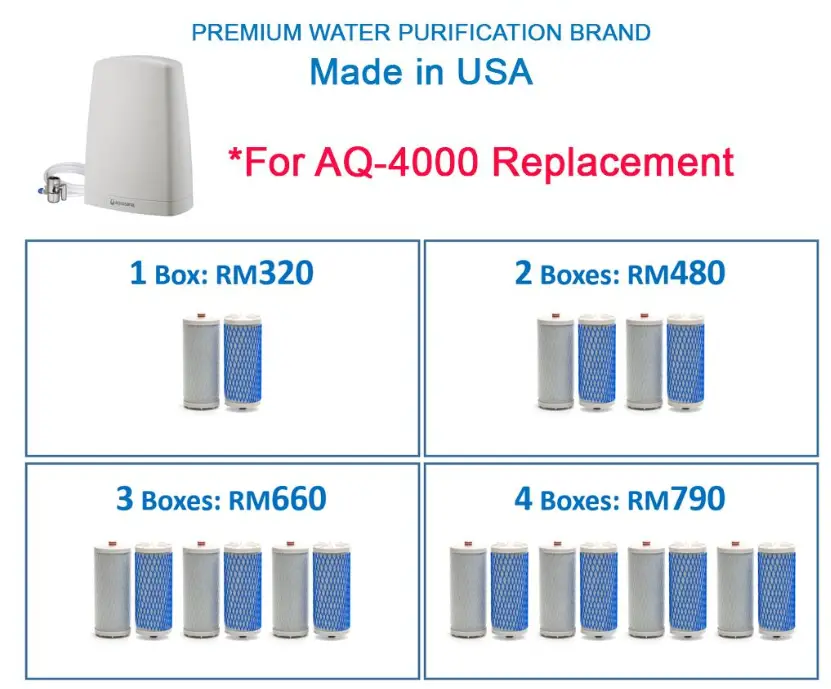 Otherwise, you should always take the 4-box sets which helps you cut down your replacement cost by almost half.
Despite being a bit pricey for its replacement filter, Aquasana AQ4000 is still the best cheap water filter for a small household for its superior filtering capabilities.
Pros:
NSF certified
Significantly improved water quality while retaining the essential minerals.
Cons:
Small filter capacity of 1700 litres, only suitable for small household
No indicator.
The competitions
Retail water filters
Panasonic Water Filter TK-CS20 is selling at less than RM150 and it is good for removing molds, sediments and chlorine. It is the very minimum cheapest water filter that you can go forfor those with a limited budget and at the same time the original water supply should be reasonably clean. 
This water filter cartridge has an astonishing life span of 12,500 litres capacity.
Because this water filter is not able to remove iron compounds or heavy metal that dissolves in water.
Joven JP200 Water Purifier is at similar price point to Panasonic TK-CS20. I can't find a good reason to pick it over Panasonic because their filtration capability is largely the same.
And its cartridge capacity is only 5,000 litres compared to 12,500 of TK-CS20.
3M Aqua Pure AP DWS1000 Indoor Water Filter is the trustable brand for water filter. They are good and NSF certified. The filtering capabilities are equivalent or slightly less performant than Aquasana.
But at the same time, they are a bit pricey. The water filter itself is more expensive than our recommended best water filter, Aquasana. Its cartridge also cost more than Aquasana's cartridge.
So, 3M Aqua-Pure water filter is only recommended for those who prefer to use a familiar brand.
Bacfree Watero-UF All-in-One Smart Water Filter/Dispenser. Bacfree is a homegrown Malaysian brand. They may not be as famous as their competitors. But they have genuinely invested themselves in the water filter business in Malaysia for more than 30 years.
This is one of the cheaper water filter dispenser systems in the market. It has 5 water temperature settings but no cold water available. On top of the multi-stage filtration, it also has UV disinfection which is one of the most sought after feature of young mothers with a newborn.
Apparently, this water filter is not NSF-certified since it only targets local and South East Asia market. If you're all for the water dispenser system and wanna support local brands, this is not a bad choice. 

Direct sales/MLM water filters
Personally, I don't like direct sales products because I always have a perception that great value products would definitely go for the mass market in retails.
If direct sales actually drive down the selling price, I still can accept it. But most of the time in Malaysia, direct sales products actually bump up their prices and cost more than retail products which left me puzzled.
Cuckoo water filter series. The cheapest Cuckoo water filter starts at RM3200 and upwards of almost RM5000. And there is no replacement cartridge available. After your "sewa beli" contract ended, you're required to pay RM400-600 service fee per year for changing of the cartridge.
Coway water purifier series. Coway also cost thousands of Ringgit to own one. The distinctive difference between Coway and Cuckoo is that Coway is using reverse osmosis filtration (RO). 
To be honest, there's no need to drink RO water unless you live in an area where heavily contaminated water is being supplied to you.
Personally, I am against RO water because wastewater generated due to the reverse osmosis process goes down into the drain most of the time. Most users don't bother to collect and re-use the water.
Diamond water filter series. The once king of direct sales water filter. Somehow it pioneered the PREMIUM water filter market and lured the general public into using it. 
And soon everyone realized how huge and profitable that water filter market is in Malaysia.
Nowadays it has lost much of its ground. Paying the same price, you could get better service from Coway and Cuckoo because both of them have more service agents now.

FAQ
How many types of filtration methods available?
Sediment Filtration-most commonly used (residential, commercial, even industrial water treatment) to remove physical sediments (sand, dust, heavy metals, rust, other large particles). It is cheap but not able to remove chemicals and smaller contaminants.
Activated Carbon Block Filtration-fine carbon powder bound together by a binding agent. Targets to remove chlorine, odour, chemicals, lead. It is not able to remove viruses, minerals and dissolved solids though.
Granular Activated Carbon (GAC) Filtration-Similar to activated carbon block in removing odour, chemical, chlorine etc. Instead of having fine carbon powder, this has loose carbon granules which provides stronger water filtration rate.
Reverse Osmosis Filtration (RO)-Utilizes a RO membrane to differentiate inorganic pollutants from water. In a way, this produces the purest of water – removing everything even minerals from water, except for some chemicals, chlorine and VOCs (volatile organic compounds). This type of filtration is of course pricey and produces much waste water during the process.
Ultraviolet (UV) Disinfection-Used to kill microorganisms like viruses and bacteria. 
Ultrafiltration (UF)-Utilizes a submicron semipermeable UF membrane where water is pushed through at high force by a hydrostatic method, to assist in filtering out most of the contaminants. 
Alkaline/Water Ionizers-Utilizes electrolysis, whereby the water is charged over plates and is segregated into alkaline and acidic. 
Filtration Method & Quality – If you stay in an area where the water supply is reasonably clean. A basic Panasonic Water Filter TK-CS20 would be sufficient.
Sadly, this is not the case for most areas in Malaysia. That's why I recommend taking the water filter with at least NSF 42 & 53 certification or equivalent.
Certification is important because every brand can claim whatever they want. End of the day these claims could be groundless scientifically. And the certificate is the only way for end-users to verify their claims
Filter replacement/cartridge availability – Cartridge should be easily available and sell at a reasonable price.
Price – Anything more than RM2,000 for a water filter is an unnecessary luxury. 
Hot & Cold Water Dispenser Feature – Personally, I think it is not necessary and a waste of electricity to keep water hot/cold all the time. Just grab ice cubes from the fridge and get a good thermos to store hot water. 
If you're lacking electric point in your kitchen, this type of water dispenser is really not suitable for you.
Countertop or under sink – Under sink water filter is better than countertop water filter because it frees up your kitchen counter. You have more kitchen workspace for cooking.
Should I buy reverse osmosis (RO) water filter?
My personal recommendation is NO! You are wasting both electricity and water to get that "pure water". 
I will not go into the debate about health benefits or disadvantages of drinking RO water. 
The wastage of electricity and water alone enough to turn me away from getting an RO water filter.
Cuckoo vs Coway vs Other brands?
Cuckoo and Coway are the two market leaders in water filter now. They may look good, feel good and really convenient to use.
The question is how do they justify the high price of water filter? 
Do they perform 2 times better than ordinary water filters? 
How can they price at 3 to 4 times of a retail water filter?
The worst of all, they don't sell their replacement filter cartridge, users must pay for their yearly maintenance in order to get a replacement filter.
The rental plan, low monthly commitment may sound great at first. But it adds up quickly over time and become yet another monthly financial burden for users.
In short, my advice is to stay away from it. I may discuss this issue in a greater length in the future post. If money is not an issue and you really like the convenience, no one stopping you from getting one.
Conclusion
Having a reliable, quality and good water filter in your home is important. So, understand your needs and incoming water supply quality then go through our selection criteria. It will definitely help to determine your personal best water filter. 
And finally, if you like this article and wish to see more similar content. Remember to support me by clicking any of the lazada/shopee link listed on the site before you make any purchase. And like our Facebook page too.