In Malaysia, water filters are a must-have home appliance. Although our water supply has already been treated in the plant, water quality in Malaysia varies greatly across regions.   
The water in some houses is still brownish and murky. Others may even experience unpleasant odours in their tap water.
Good air quality and clean water are important to our health. Drinking dirty or contaminated water for an extended period can be harmful to your health. 
NOTE: It is always a good idea to install a reliable outdoor water filter to keep the whole home water supply clean. In addition, it prolongs the life of the indoor water filter.
To find the best water filters in Malaysia, we reviewed water filter brands such as Cuckoo, Coway, 3M, Panasonic, Diamond, Nesh, Panasonic, Amway, and Aquasana.
What is the best water filter for home in Malaysia?
The best water filter in Malaysia is the Aquasana AQ-5300+ because it has a reasonable price, is certified and can maintain a very high flow rate.
Most importantly, there's no need to pay any monthly rental. The replacement filter can also be purchased on Shopee and Lazada easily, so you can change the cartridge yourself.
Let's check out the top 5 best water filters in Malaysia:
---
1. Aquasana AQ5300+
Best Water Filter Malaysia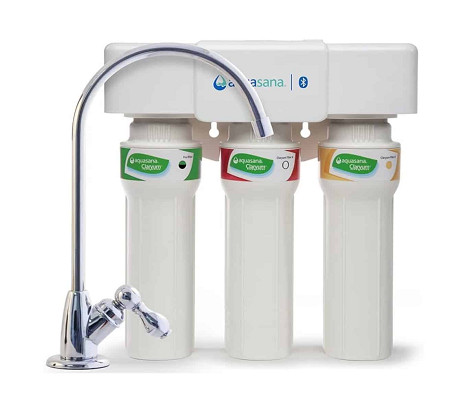 Best deal on Lazada Best deal on Shopee
We have chosen Aquasana AQ-5300+ as the best water filter for most Malaysians because it is one of the few water filters which received certification from NSF. This is the main reason that set Aquasana apart from its competitor 
It has obtained as many as 4 NSF Standard Certifications which is quite a feat, including NSF 42, NSF 53, NSF 401 and NSF P473. You can learn more details on the various NSF stand on the official NSF website.
In order to achieve such a high standard of filtration performance, the AQ-5300+ utilizes a three-stage Claryum filter system as follows:
Activated Carbon –filters lead, and mercury, and removes synthetic chemicals (pharmaceuticals, herbicides, pesticides), with a sub-micron (0.5M) mechanical filtration. It also removes cysts and reduces VOCs too.
Ion-Exchange – filters heavy metals (lead, mercury).
Catalytic Carbon – filters sediments, reduces microscopic particles, reduces odour significantly, removes chlorine and chloramines (oh, this is crucial as no one, seriously NO ONE would want to drink swimming pool water every day!).
20M sediment filter – remove rust, sediment, and sand.
As a result of filtering, the water is cleaner, the pH is better, contaminants are reduced, and healthy minerals, eg:  Calcium, Potassium and Magnesium are still retained.
Also, it is very flexible that you can install this water filter under the sink or put it on top of the counter. It comes with a standalone water dispensing faucet for users to install wherever they like. 
Unlike Coway and Cuckoo, the good thing about using Aquasana is that users can service and replace their own filter cartridge. Normally, households need to replace their cartridges every 6 months, which translates to only RM0.08 per litre.
Overall, the water filter Aquasana AQ-5300+ is the very best option because it provides great drinking water filtration at a very reasonable price.
Pros:
NSF-certified water filter
Cleaner water and improved taste of water
99% contaminants removal
Easy maintenance.
Flexible to be installed under a sink or on a countertop.
Value for money.
Cons:
Water filter capacity is mediocre. 
---
2. BACFREE Watero
Best Water Filter with Hot Water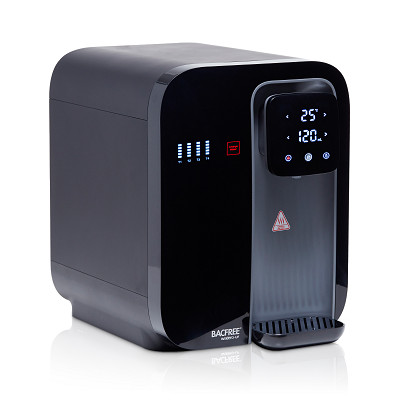 Best deal on Lazada Best deal on Shopee
Bacfree Watero-UF All-in-One Smart Water Filter/Dispenser. Bacfree is a homegrown Malaysian brand. 
They may not be as famous as their competitors. Their commitment to the water filter business in Malaysia spans more than 30 years and is currently one of the market leaders in commercial outdoor water filters.
This is one of the cheapest water filter dispensers with a hot water feature in Malaysia. It is selling for only RM1000.
Bacfree Watero is a multi-stage ultrafiltration water filter. There are five temperature settings: 25, 45, 60, 85, and 100 degrees Celsius, but there is no cold water option. It is very convenient to make drinks like coffee and baby formula at home.
Aside from the multi-stage filtration, it also comes with UV disinfection
Apparently, this water filter is not NSF-certified since it only targets the local and South East Asia market. 
If you prefer a water purifier system with a hot water feature, then you can support this local brand. 
Pros:
Reasonable price
Ultrafiltration system
Halal-certified
UV disinfection
5 hot water temperature
Cons:
---
3. Xiaomi RO Water Purifier MRH112
Best RO Water Filter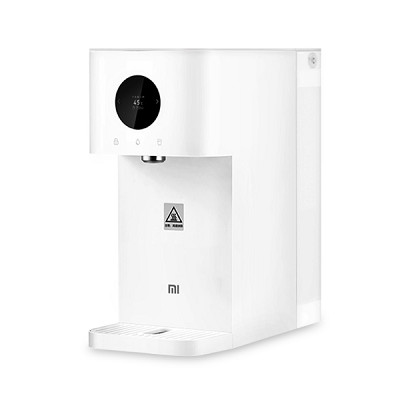 Best deal on Lazada Best deal on Shopee
Xiaomi MRH112 Water Purifier is another water filter with hot water dispensing feature, similar to the Bacfree Watero. However, the water is filtered via reverse osmosis.
In comparison to other multi-stage water filters, reverse osmosis is the cleanest filtration system.
The Xiaomi MRH112 uses a 5L water tank and does not have a direct water connection. It could be troublesome as users need to refill manually. But the good thing is no installation is required and you can move it to a new place easily.
And there's one cool feature of this Xiaomi water purifier that can be controlled using a smartphone. Using a smartphone, you can choose the desired temperature range from 40 to 95 degrees Celsius. 
In addition, it will automatically notify users when the filters need to be replaced.
Pros:
Very affordable RO water filter
Good quality
Can connect to WiFi
Can customize temperature and volume
No installation required
Cons:
Need to manually refill water
China plug
Chinese language menu
No warranty support
---
4. Midea MC122-2
Cheap Faucet Water Purifier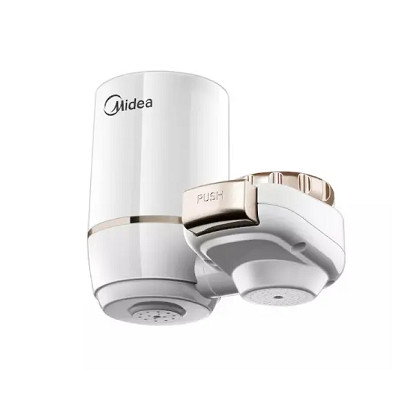 Best deal on Lazada Best deal on Shopee
The Midea Faucet Water Purifier MC122-2 is the best-selling water filter on Shopee. There have been thousands of units sold and many customers are satisfied.
The cheap price is the main selling point of this Midea Water Purifier. At only RM50, it can purify as much as 1200L of drinking water.
Do note that this is a rather basic water filter. It uses a simple 4-stage water filtration. The water will pass through a SUS304 stainless steel screen, pp filter, carbon fibre filter then lastly another PP filter.
Although it can reduce chlorine, silt, rust, and dirt, it cannot filter microparticles like contaminants.
---
5. Xiaomi Water Faucet Purifier
Best Faucet Water Purifier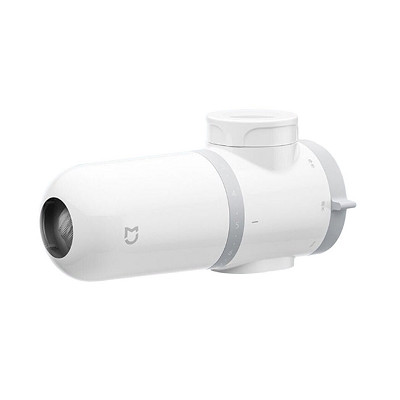 Best deal on Lazada Best deal on Shopee
The Xiaomi Mijia Faucet Water Purifier is a compact water filter that can be easily installed on any faucet. It comes with four different types of thread adapters. 
This Xiaomi faucet water purifier features 4-layer filtration, including a thin membrane filter with activated carbon, a non-woven filter and an ultrafiltration membrane.
It is said to be able to capture impurities as small as 0.1 micrometres, a lot better than the Midea MC122 water filter.
Two of the unique feature of the Xiaomi faucet water purifier is it has three water outlet modes and has transparent glass on the side of the device showing the cleanliness of the filter and indicating when it needs to be replaced. 
---
6. Aquasana AQ4000
Best Table Top Water Filter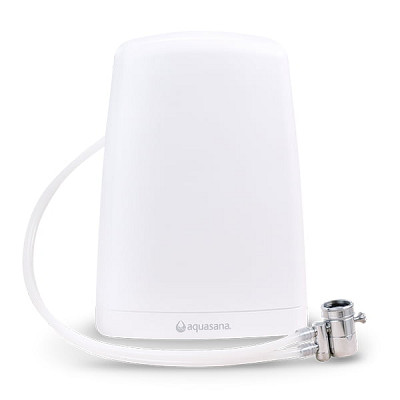 Best deal on Lazada Best deal on Shopee
The Aquasana AQ-4000 is a budget water filter suitable for small households. It is NSF-certified as well. 
It uses a 2-stage Claryum filtration system to remove chlorine, reduce heavy metals, and organic chemicals, and remove chlorine-resistant cysts and estrone and ibuprofen. 
It still retains the necessary and essential healthy minerals for our human body.
Also, it has a cost-effective 4-box set for filter replacement. 
However, it has a small filter capacity of 1700L, is only suitable for countertop installation and has no indicator for filter replacement.
Compared to AQ 5300+, it is recommended to change the filter cartridge every 1700L of water consumed instead of 3000L. The cartridge replacement cost adds up quickly. 
So, if you have many family members, it is better to use AQ 5300+ model.
Despite being a bit pricey for its replacement filter, Aquasana AQ4000 is still the best cheap water filter for a small household for its superior filtering performance.
Pros:
NSF certified
Significantly improved water quality while retaining the essential minerals.
Cons:
Small capacity, only suitable for small household
No indicator for cartridge replacement
---
7. Panasonic TK-CS20
Cheap Table Top Water Filter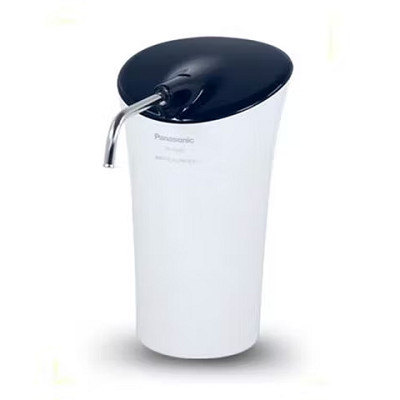 Best deal on Lazada Best deal on Shopee
Panasonic Water Filter TK-CS20 is selling for less than RM250, which is quite affordable. It is good for removing moulds, sediments and chlorine. 
This filtration system is made of a non-woven fabric that contains powdered activated carbon. 
This water filter cartridge has a great life span of 12,500 litres capacity. There is a cartridge life checker that will turn red to let users know it's time to replace it.
Furthermore, replacement cartridges are easily available on Shopee and Lazada.
Although this Panasonic water filter is quite good, it is important to remember that filter quality is not comparable to a full filtration system like the Aquasana AQ5300+.
---
There are 5 important factors one should consider when choosing a water filter for your home in Malaysia. Please read further:
Filtration Method & Quality – If you stay in an area where the water supply is reasonably clean. A basic Panasonic Water Filter TK-CS20 would be sufficient.
Certification is important because every brand can claim whatever they want. End of the day these claims could be groundless scientifically. And the certificate is the only way for users like us to verify their claims
Filter replacement/cartridge availability – The cartridge should be easily available and sell at a reasonable price.
Price – Anything more than RM2,000 for a water filter is an unnecessary luxury. 
Hot & Cold Water Dispenser Feature – Personally, I think it is not necessary and a waste of electricity to keep water hot/cold all the time. Just grab ice cubes from the fridge and get a good thermos to store hot water. 
If you're lacking an electric point in your kitchen, this type of water dispenser is really not suitable for you.
Countertop or under sink – Under sink water filter is better than a countertop water filter because it frees up your kitchen counter. You have more kitchen workspace for cooking.
---
The competition
Joven JP200 Water Purifier Review
Joven JP200 Water Purifier is a budget water filter that sells for less than RM150. In the past, Panasonic TK-CS20 was about the same price as it. But now Panasonic TK-CS20 is more expensive, making it a good budget option now.
Similar to Panasonic TK-CS20, it utilizes a non-woven fabric along with powdered activated carbon.
But its cartridge filtering capacity is only 5,000 litres compared to 12,500 of TK-CS20.
Its price is half that of Panasonic, so users with limited budgets can consider it.
Cuckoo Water Filter Review
Cuckoo has many different types of water filters. The cheapest Cuckoo water filter starts at RM3200 and is upwards of almost RM5000. 
Unfortunately, users are unable to service or replace the cartridge themselves since there are no replacement cartridges available. Third-party cartridges are available on Shopee and Lazada, but they may not work properly.
As a result, when your "rent and buy" contract ends, you have to pay RM400-600 for every cartridge change.
I don't recommend buying a Cuckoo Water Filter.
Coway Water Purifier Review
Coway water filters are very similar to Cuckoo. To buy one, you need to pay thousands of Ringgit or sign a contract that requires monthly payments for five to seven years. 
A distinguishing feature of Coway over Cuckoo is that it uses reverse osmosis filtration (RO). 
In truth, RO water isn't necessary unless you live in an area with heavily contaminated water.
3M Table Top Water Filter CTM-02 Review
3M offers two tabletop water filters, the CTM-01 and the CTM-02. In my opinion, CTM02 is a better choice than CTM-01.
Instead of being attached to your water tap faucet, it comes with a dedicated faucet for filtered water.
The 3M CTM-02 can filter up to 0.5 microns of impurities. The filter removes 99.5% of filterable cysts, chlorine taste, lead, asbestos, mercury, and many types of VOCs.
It is tested & Certified by NSF International with NSF/ANSI Standards 42 and 53
Its price is also slightly cheaper than the Aquasana AQ5300+ but it has less certification. It's up to you to decide which option is best for you.
Diamond Water Filter Review
The once king of direct sales water filter. It pioneered the Premium water filter market and introduced the general public to the importance of using a water filter.
Several vendors like Cuckoo, Coway and SK Magic soon enter the lucrative Malaysian water filter market.
Today, it has lost much of its ground. For the same price, you can get better service from Coway and Cuckoo since they both are now more active and have more agents.
---
FAQ
How many types of filtration methods are available?
There are at least seven common types of water filtration methods that can be found in water purifiers, including sediment filtration, activated carbon filtration, granular activated carbon filtration, reverse osmosis, ultraviolet disinfection, and ultrafiltration.
Should I buy reverse osmosis (RO) water filter?
No, it is not necessary to buy an RO water filter. Because there's no additional advantage for drinking very clean and pure water. Furthermore, you will be wasting both electricity and water to get that "pure water".
Is it worth buying Cuckoo and Coway water filters?
Cuckoo and Coway are modern, good and convenient to use. However, they are much more expensive than the water filter recommended above. And it is a long-term monthly commitment. As a result, it completely depends on one's budget.
---
Conclusion
Having a reliable, quality and good water filter in your home is important. 
To make sure you choose the best one for your needs, assess the quality of your incoming water supply and follow our selection criteria. This will definitely help to determine your perfect water filter. 
In conclusion, Aquasana AQ5300+ is a very good choice for most Malaysian households due to its reasonable price and excellent filtering performance.