When choosing the best air conditioner for their house, homeowners should take into consideration a few main factors. 
Among the most important factors for Malaysian homeowners are energy efficiency rating, horsepower, and warranty.
Acson, Daikin, and Panasonic are three very popular air conditioner brands in Malaysia. These air cond brands have great track records, but which is the right choice for you?
To help you make a decision, we've put together a comparison of Acson, Daikin and Panasonic air conditioners. 
We'll take a look at the features of each brand, their prices, and what customers have to say about them.
Overview
| | | | |
| --- | --- | --- | --- |
| | Acson | Daikin | Panasonic |
| Horsepower | 1.0HP to 2.5HP | 1.0HP to 2.5HP | 1.0HP to 3.0HP |
| Price | RM1200 to RM3975 | RM1300 to RM3740 | RM1000 to RM4950 |
| Unique feature | FILTRONZ+ Anti Virus, PLUSMA | Econo, Gin-ion blue filter | Econavi, Nanoe X, Nanoe-G |
| Energy Efficiency | Up to 5 stars | Up to 5 stars | Up to 5 stars |
| Warranty | 2+5 years | 2+5 years | 1+5 years |
Introduction
Acson was originally a Malaysian brand but was later acquired by Daikin Malaysia in 2006. Daikin is known for its quality and durability. Since these two air conditioners come from the same factory, their features and performance should be very similar.
Panasonic is a well-known Japanese home appliance brand. From budget-friendly to premium models, Panasonic Malaysia offers an extensive selection of air conditioners.
All three brands manufacture s air conditioners that come with a range of features that make them ideal for use in Malaysian homes.
Features
Acson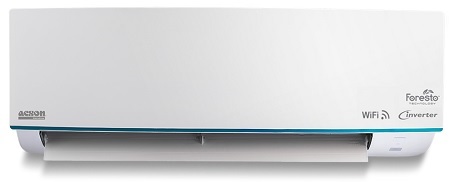 Acson Avory Premium Inverter Air conditioner has 5 stars energy rating. It uses cold plasma technology as well as Filtronz and HEPA filters to improve indoor air quality.
Other features included are iSenz+, iTurbo+, iSave, self-diagnosis system, silent mode and sleep mode.
Daikin

Daikin Smarto Premium Inverter is a 5 stars energy rating air conditioner. It features Smart Sense that detects the presence of humans and adjusts cooling accordingly.
It also comes with additional features like Smart Powerful+, Smart Breeze+, Smart Sleep+, Smart Ecomax, Gin-ion blue filter and PM2.5 dust filter.
Panasonic

Panasonic X-Premium Inverter R32 series is a 5 stars energy-efficient air conditioner. It has built-in WiFi, 24 hours of purification with nanoe X and a humidity sensor to control the best humidity level for sleep.
Price
When it comes to price, all three air conditioners are in the mid-upper range. These companies offer a variety of air conditioners to suit different budgets and horsepower.
Non-inverter air conditioners are starting at RM1,000 and inverter air conditioners start at RM1,500+.
According to the price list on Shopee and Lazada official malls, Panasonic has the lowest barrier of entry at only RM1000+.
Customer Reviews
Acson, Daikin and Panasonic air conditioners have received positive feedback from customers.
According to customers' reviews, Daikin and Acson air conditioners are quiet and cook quickly
On the other hand, customers love the energy-saving features of Panasonic and its reliability.
Customers appreciate the energy-saving features of both brands, as well as the quiet operation of Daikin air conditioners.
Overall, all three brands are highly rated and produce high-quality air conditioners. 
If you want an air conditioner with innovative features, Panasonic inverter air conditioners are a great choice.
Conclusion
The technology used in air conditioners has already matured over the years. There is no significant difference between brands. 
It is more important to choose the right air conditioner size for your room. Ensure that it is professionally installed and service the air conditioner regularly.