Most Malaysian households have air conditioners. Sometimes, using an air cooler or portable air conditioner alone just doesn't cut it. 
The best way to achieve maximum air cooling in a room is with an air conditioner.
There are many air-cond brands in Malaysia, just to name a few, Daikin, York, Panasonic, Hitachi, Sharp, Electrolux, Acson, Midea, Gree, Trane, Mitsubishi and many more. 
What are the best air conditioners in Malaysia?
The best air conditioner in Malaysia is Panasonic X-Deluxe Inverter Air Conditioner. It can cool down a room quickly and very energy-efficient. And it comes with built-in air purifier function too.
There are a few common types of air conditioners in Malaysia including non-inverter air conditioners, inverter air conditioners, window-type air conditioners, and ceiling-type (cassette) air conditioners.  
Let's check out the top 6 best air conditioners in Malaysia below:
---
1. Panasonic X-Deluxe Inverter Air Conditioner
Best Air Conditioner Malaysia

Best deal on Lazada Best deal on Shopee
Panasonic X-Deluxe Inverter Air Conditioner is the best inverter air conditioner in Malaysia. Despite the larger initial investment to purchase this inverter model, the savings in electricity can quickly recoup the costs.
Panasonic X-Deluxe Inverter Air Conditioner specifications:
Inverter motor
R32 refrigerant
Panasonic nanoe X technology
Panasonic Comfort Cloud App
Aerowings design
Instant cooling with POWERFUL Mode
Malaysians are very familiar with the Panasonic brand for its ceiling fan, air conditioners, and other home appliances. Both products are known for their durability, quality, features, and functionality.
I prefer Panasonic X-Deluxe Inverter Air Conditioner because it simply ticks every box of a perfect air conditioner.
This aircon model is powered by an inverter motor and has 9680Btu. 
It is no surprise that it also receives a 5-star energy efficiency label from Suruhanjaya Tenaga because this particular model comes with ECO Mode with A.I. that gives optimum energy performance.
Not only that, this Panasonic aircond comes with a Powerful Mode that is able to cool your room faster by 18%. So, users are able to enjoy instant cooling after the aircond start-up.
This Panasonic X-Deluxe inverter air conditioner also uses R32 refrigerant. Using R32 refrigerant also means that it is more environment-friendly,
Many people are unaware that Panasonic air conditioners come with an air purifier function. 
This Panasonic X-Deluxe Aircond features Nanoe-X and Nanoe-G that can purify the air as well as deodorise odour.

This air purification can simply be activated by turning on the Nanoe mode without switching on the air cooling mode. Users can turn it on 24 hours to provide cleaner and better indoor air quality at home.
Panasonic X-Deluxes uses an Aerowing design that is able to deliver cool air across the room further and faster.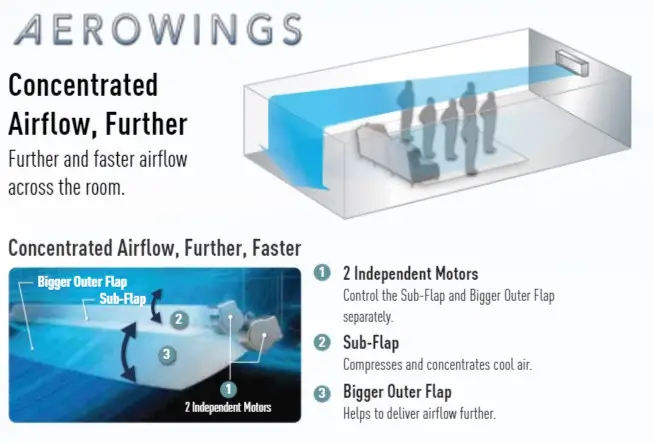 This model also has an extra quiet sleeping mode which can operate as low as 19dB!
On top of all that, this latest Panasonic X-Deluxe Aircond comes with a built-in network adapter. It means that you can control the air cond with your smartphone using Panasonic Comfort Cloud App.
However, there's one small flaw with the Panasonic X-Deluxe Air Conditioner. It only has manual horizontal airflow direction control but not automatic horizontal swing control.
In short, Panasonic X-Deluxe Inverter Air Conditioner is a very attractive package. If you're a heavy aircon user, you should definitely get this reliable inverter air cond.
All Panasonic air conditioners come with a 1-year general warranty and a 5-year compressor warranty.
---
2. Daikin R32 Non Inverter WiFi Air Conditioner
Best Non-Inverter Air Conditioner Malaysia

Best deal on Lazada Best deal on Shopee
Daikin R32 Non-Inverter FTV-P Series Air Conditioner is the best non-inverter air conditioner in Malaysia. It has been sold for thousands of units on Shopee and received stellar reviews from customers.
Daikin Air Conditioner FTV-P series specifications:
Non-inverter motor
R32 refrigerant
Quiet operation
Powerful, Turbo and Sleep Mode
Auto-Restart with surge protection
Built-in WiFi
Gin-Ion Blue Filter
The Daikin brand is synonymous with air conditioners for home use. The company has been in the air conditioning industry for almost a decade.
The FTV-P series is available in 1.0, 1.5, 2.0, 2.5 and 3.0 HP. The 1.0HP is rated 9,500 Btu, slightly lower than the Panasonic X-Deluxe Air Conditioner. 
The average power consumption is 865 watts and it receives a 3-star energy rating.
This new model operates with a reasonably low indoor sound pressure level. It is rated as low as 25dBA in Quiet Mode and only 37 dBA in High Mode.
Daikin offers the FTV-P series with and without WiFi.
For the model with built-in WiFi, users can connect to the aircond using the Go Daikin App on smartphones.
Overall, Daikin FTV-P Non-Inverter Air Conditioner is a reliable air conditioner that is cold and quiet. It comes with a 1-year warranty on general parts and a 5 years warranty on compressors.
---
3. Midea Xtreme Dura R32 Aircond (MSXD-09CRN8)
Best Cheap Air Conditioner Malaysia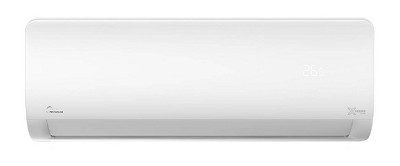 Best deal on Lazada Best deal on Shopee
Midea Xtreme Dura R32 Air Conditioner is the best cheap air conditioner in Malaysia. It is the best value for a money air conditioner in the market, available for less than RM900.
Midea Xtreme Dura R32 Air Conditioner specifications:
R32 refrigerant
Innovative durable design to withstand harsh weather
3-star energy rating
9200 Btu
Power consumption 772W
Golden fin condenser coil
Cold Catalyst filter
Super Ionizer
Stainless steel screw
Midea brand is well known for its affordable pricing and it is getting more popular in Malaysia
Midea's Xtreme Dura Air Conditioner features a number of unique technologies and designs that other companies cannot match at this price.
Firstly, the Midea Xtreme Dura series is designed to withstand hot and humid conditions in Malaysia. The outdoor compressor unit is equipped with Midea's PrimeGuard and Diamond-edge Solid casing that will hardly yield over time.
And the compressor coiling is coated with green epoxy that is 8 times more durable than the blue fins compressor.
It also uses stainless steel bolts resistant to moisture, alkali, and corrosion to ensure no rust on the compressor unit.
The indoor blower unit uses a gold fin condenser coil which is more efficient at transferring heat and defrosting than the blue fins condenser coil.
The Midea Xtreme Dura Aircond has an Air Magic feature which will generate ions to remove airborne bacteria and dust. 
Furthermore, it comes with dual filtration technology. It has a cold catalyst filtration system that filters harmful substances, providing cleaner and more healthy air for users.
The 1.0HP Midea Aircond is rated 9200 Btu, slightly lower than other brands. At the same time, it also consumes less electricity at only 772W. 
The air conditioner even has a LED display to show the temperature so users can easily know the temperature.
Lastly, Midea Aircond provides 2 years general warranty and 5 years compressor warranty which is longer than other brands.
---
4. Haier R32 Inverter Aircond HSU-VTH Series 
Best Cheap Inverter Air Conditioner

Best deal on Lazada Best deal on Shopee
Haier R32 Inverter Aircond is one of the cheapest inverter air conditioners in Malaysia. Its 1.0HP inverter model only cost RM1,000+.
Haier Inverter Aircond HSU-VTH Series specification:
R32 refrigerant
Inverter motor
9,500 Btu
Eco Mode
Smart Clean feature
4-star energy rating
3 years general warranty and 10 years compressor warranty
The first thing that stands out to me is the 4-star energy rating despite using an inverter motor. Because an efficient inverter air conditioner should have a 5-star energy rating.
So, if you're concerned about expensive electric bills then you should skip this Haier Inverter Aircon.
However, if you're comfortable with slightly poorer energy efficiency, the Haier Inverter Aircond HSU-VTH Series offers some unique features
This model has a Smart Clean feature that allows you to clean the condenser coils by just pushing a button on the remote control. Check out the video below.
Other than that, it is equipped with a PM2.5 filter which filters out dust, mites, pollen and other harmful airborne particles.
The main advantage of purchasing Haier Inverter Air Conditioners is they come with a 3 years general warranty and a 10 years compressor warranty. This is the longest warranty available for home air conditioners.
---
5. Hisense 1.5HP Air Conditioner AN12CBG
Best Cheap 1.5HP Air Conditioner

Best deal on Lazada Best deal on Shopee
Hisense R32 Air Conditioner AN12CBG is the cheapest 1.5HP standard air conditioner in Malaysia. The price is only RM1,000+ but you need to pre-order if you want to lock in such a low price.
Hisense Standard Air Conditioner AN12CBG specifications:
R32 refrigerant
Non-inverter motor
12000 Btu
3-star energy rating
Auto-clean function
Smart Mode, Super Quiet Mode
LED temperature
Bluefin cooling coil
Multiple filters
Automatic gas leakage detection
Self-diagnosis
Multi purification system
2+5 warranty
The Hisense R32 1.5HP Air Conditioner AN12CBG is rated as 12000Btu, which is 25% more than a standard 1HP Air Conditioner. It will be able to cool a small room quicker and more efficiently than a 1HP model.
Despite it being a non-inverter AC, it is considered to be quite energy efficient with a 3-star energy rating.
This latest 2022 Hisense R32 Air conditioner comes with a new auto-clean mode that will wash away the dust on its cooling coil automatically.
This Aircond has Smart Mode and Super Quiet Mode. 
Smart Mode regulates the AC to provide the most comfortable and energy-saving cooling performance.
Super Quiet Mode keeps the Aircon operating silently at only 25dB.
Hisense AN12CBG Air Conditioner uses multiple purification systems. It is a combination of high density filter, active carbon filter and anion fresh filter to give you the best indoor air quality while running the aircond.
This Hisense Aircond also has a gas leakage detection sensor, self-diagnosis and automatic protection system that prevent the Aircond overload.
Hisense aircond offers 2 years general warranty and 5 years compressor warranty.
---
6. Daikin SkyAire Inverter FCF-C series
Best Ceiling Type Air Conditioner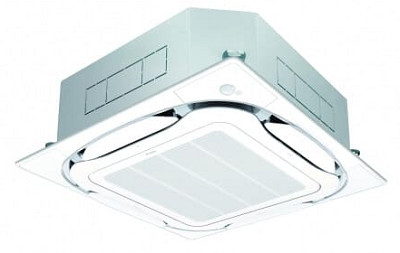 Best deal on Lazada Best deal on Shopee
Daikin SkyAire Inverter FCF-C series is the best cassette type ceiling air conditioner. It has a 360-degree airflow design, uses R32 refrigerant and operates with an inverter motor.
Daikin SkyAir Inverter FCF-F cassette air conditioner specifications:
R32 refrigerant
Inverter motor
Built-in WiFi adapter
Individual airflow control
Anti-bacterial drain pan
Anti-bacterial & anti-mould treatment
As a result of their bulky size, less efficiency and generally higher prices, cassette-type or ceiling-suspended air conditioning systems are unpopular among Malaysian homeowners.
Depending on the brand and model, cassette air conditioners usually require 65 inches of clearance from the ceiling. 
As a result, the ceiling would be much lower after installation. 
Despite that, some owners still prefer it for its aesthetic appeal and also because it can be positioned more strategically in a room. 
For example, ceiling-type air conditioners can be placed at the centre of a big living room to achieve balanced cooling performance in all directions.
The Daikin SkyAire Inverter FCF-C series is available in 2 HP and up to 6 HP models. Depending on the space area you intend to cool down, you can select the necessary horsepower you need.
A cassette air conditioner with an inverter is preferable to a non-inverter one because cassette air conditioners are already less efficient by design. Models without inverters are sure to rack up your electric bill pretty quickly.
Two colour options are available for this model, which are white and black to suit different design themes. It uses R32 instead of R410a, which is an eco-friendly choice.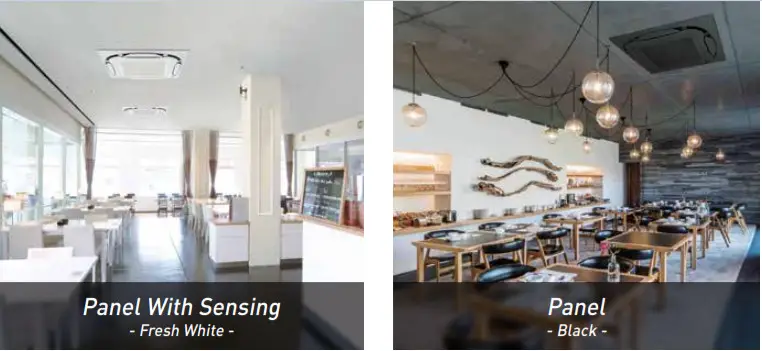 Besides, each of the 4 sides of the air discharge outlet can be controlled individually to ensure optimum airflow control. 
You can direct the airflow to those who prefer direct cool air blowing on them and divert it away from those who do not.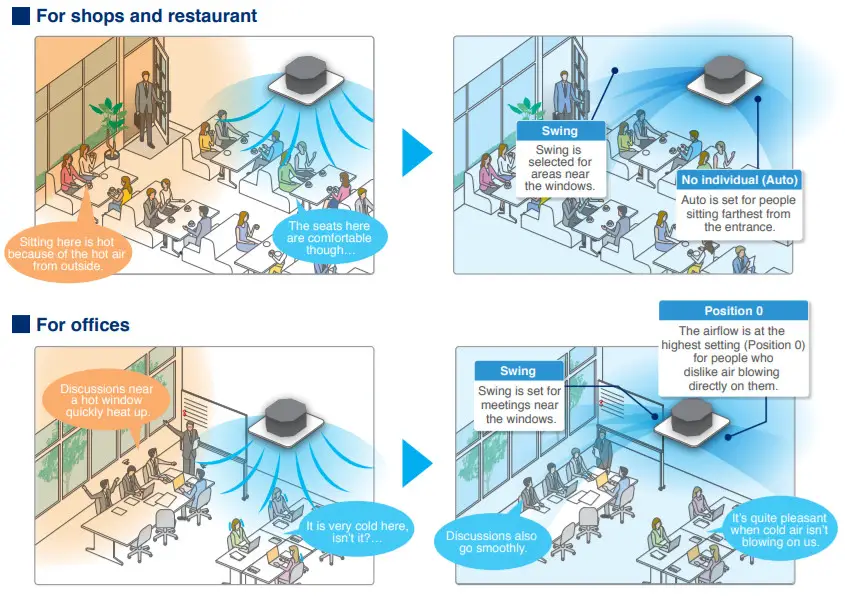 In addition, there is an anti-mould and antibacterial treatment with silver ions to prevent the growth of bacteria, mould, and slime.
It also comes with a quiet operation mode for nighttime.
Daikin pays a lot of attention to its design to cater for easier installation and maintenance. This kind of feature certainly will benefit users in the long run and makes us prefer Daikin cassette air conditioning over other brands.
Daikin SkyAir FCF-C series air conditioner is the best air cassette air conditioner for its solid performance and well-thought features.
Daikin offers a 1-year local manufacturer's warranty and a 5-year compressor warranty.
---
Competitions
Mitsubishi Air Conditioner Review
Mitsubishi Air Conditioners are less popular in Malaysia but they are quite common in Singapore. Mitsubishi has a record of producing aircon with very low noise, as low as 19dB. 
Most of the new Mitsubishi Air Conditioners come with Nano Platinum filters and an easy clean design. They also offer a very long 2+7 years warranty
Acson Air Conditioner Review
Acson Malaysia is a subsidiary of Daikin. So, their performance in terms of cooling and power efficiency are similar. 
If you're buying from Shopee and Lazada, there are more Daikin models available for you to choose from.
Gree Air Conditioner Review
Gree is the leading China Air Conditioner brand. And they are actually OEM for many international air cond brands.
So, you will find that the Gree Air Conditioner is very cheap. 
However, its cheapest model is still using R410a refrigerant which is less efficient.
And there are mixed reviews on Gree Aircond. Some say it is great while others complain about its poor product reliability. 
Sharp Air Conditioner Review
Sharp Air Conditioner is one of my previous top picks. The Sharp J Tech Inverter Air Conditioner comes with Plasmacluster ion, 14 degrees Celcius setting, Quiet Mode, and is rated as a 5-star energy saving
And the best part is it has a 4-way auto swing whereas other brands usually only come up with a vertical auto swing.
Samsung Air Conditioner Review
Samsung Air Conditioners usually come with a modern and sleek design. The Samsung Wind-Free series can disperse cold air through the micro air hole so that no direct cold wind blows onto users.
Unfortunately, many dissatisfied customers post negative reviews about Samsung's air conditioners, claiming that they are unreliable. 
Samsung Air Conditioners are also rather expensive, in general.
CHiQ Air Conditioner Review
ChiQ is a Chinese brand primarily selling in Sydney, Australia, entering international markets.
ChiQ Air Cond in Malaysia is selling for very cheap, at only RM869. They feature a minimalist design and use a golden fin evaporator coil. 
Its 1HP model is rated 9000Btu with an average power input of 845W. So, they are not very energy efficient.
The aircon noise level ranges from 36 to 42dB, which is higher than other brands too.
Hence, if you're looking for a budget air cond, I think Midea should be a better choice.
---
Malaysia Air Conditioner FAQ
How do we pick the best air conditioner in Malaysia?
Understanding what you need for your space is the most essential. Therefore, we break down an air conditioner selection into 5 major criteria: horsepower, energy rating, refrigerant gas, noise level and installation.
Should I buy an inverter AC or non-inverter AC?
I recommend buying an inverter air conditioner. An inverter air conditioner is always a better investment in the long run if you always turn on AC for long hours. Because the electric bill for non-inverter AC is going to be higher than inverter AC.
How much horsepower should I choose for my air-cond?
Based on the estimated room area, you'll be able to find out how much air cond horsepower would suit you best. Below is a non-professional, quick check guideline:
1.0HP for 100 – 350 sqft
1.5HP for 350 – 500 sqft
2.0HP for 700 – 1000 sqft
How often should I service my air conditioner?
Basic cleaning should be done every 3 months. And servicing by experts should be done once a year to guarantee adequate refrigerant levels and free of mould.
Why is my air conditioner not cold?
There are several reasons, such as a low refrigerant, faulty thermostat, dirty filter, or malfunctioning compressor.
---
Conclusion
When it comes to air conditioning, reputable brands such as Sharp, Daikin and Panasonic are always the best choices. Ultimately, it really comes down to personal preference. 
Therefore, pick the type of air conditioner that best fits you.
Last but not least, a good air conditioner is only one-half of the perfect formula, a good installation is what counts the most. Turning on air conditioners 24×7 is too expensive? Then, check out our reviews on the best air coolers, best air purifiers, best portable air conditioners and best air humidifiers.