Air conditioners are "almost" a must-have in all Malaysian households. Sometimes, having an air cooler or portable air conditioner alone just doesn't cut it. When it comes to maximum air cooling performance, an air conditioner is our best bet. (Given that money and installation are not an issue)
There are many air-cond brands in Malaysia, just to name a few, Daikin, York, Panasonic, Hitachi, Sharp, Electrolux, Acson, Midea, Gree, Trane, Mitsubishi and many more.
We have handpicked the best air conditioners as below:
How many types of air conditioners are there in the market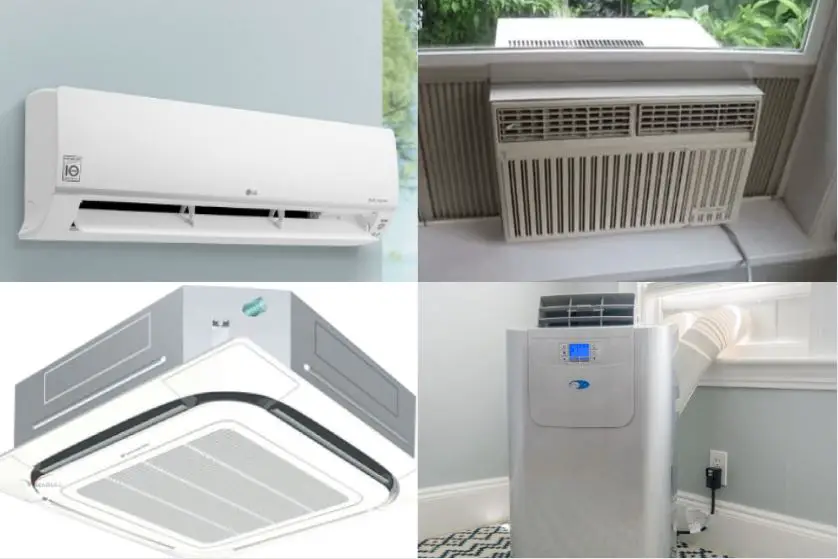 Photos above show 4 of the most commonly available types of A/C in Malaysia, namely:
Wall-mounted split unit air cond
Windows type air cond
Ceiling mounted split unit air cond
Portable air cond unit
How we pick the best air conditioner in Malaysia
Understanding what you need for your space is the most essential. Therefore, we break down an air conditioner selection to 5 major criteria, as below:
Horsepower/BTU – Larger room will need a bigger horsepower air conditioner to make the room cool. There are multiple factors to be considered as well such as floor height, functions of the rooms, and how many heat-generating electrical appliance were used in the same room. So, always consult the seller or salesperson.
Energy efficiency – Suruhanjaya Tenaga test and rate air conditioner independently. Different from a ceiling fan, a higher star rating air-cond model almost always guaranteed that you will save more money in the long run.
Refrigerant gas – R32 is better than R410a because it doesn't contribute to global warming. Both R32 and R410a doesn't cause ozone depletion.
Noise level – I know there are people who were bothered by air conditioner operating noise. You should always check out their product specification sheet for its noise level.
Installation – For online purchase, I will only recommend buying from sellers who provide installation. It is important to reduce and prevent unnecessary complication so that anything happens to the air-cond. You only need to look for one party for the warranty and service.
Any other additional function such as ionizer, dehumidifier or turbo mode are considered as non-essential bonus features.
Should I buy an inverter AC or non-inverter AC?
The core difference between inverter and non-inverter units is that for the former, the compressor can regulate their motor and slow down to stabilize the temperature so that you get a more gradual cooling effect
Whereas for non-inverter ones, it is basically either on or off, thus the temperature change is more drastic.
This explains why Inverter models are getting more and more popular as they are more energy-efficient and durable. An inverter air conditioner is always worth the investment if you always turn on AC for long hours.
How much horsepower should I choose for my air-cond?
Based on the estimated space square footage, you'll be able to find out which air conditioner HP would suit you best. This is a non-professional quick check guideline:
100 – 450 sq ft – 1.0HP
460 – 700 sq ft – 1.5HP
710 – 1500 sq ft – 2.0HP
Best Cheap Air Conditioner
1.Sharp 1.0HP non-inverter air conditioner (AHA9UCD)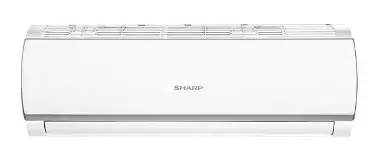 Sharp AHA9WCD is our preferred choice of budget A/C. It is a non-inverter model and uses R32 However, it is still certified with a 3-star energy rating. Its comes with a unique self-cleaning feature which helps to easily maintain the air-cond.
Best deal on Lazada Best deal on Shopee
We understand that everyone has a tight budget in today's condition. We think Sharp 1.0HP non-inverter air conditioner (AHA9WCD) is the best cheap air conditioner among all the brands & models available.
It has a good and powerful enough cooling capacity of 9210 BTU and is sufficient for a smaller sized room. It is certified with 3-star energy efficiency by Suruhan Tenaga Jaya. Well, it is considered very energy efficient for a non-inverter aircon.
The second thing that you should take note of this Sharp air cond is that it uses R32 refrigerant. As mentioned before, R32 will not cause ozone depletion and less effect on global warming. It is one of the very few cheap aircon models that use R32!
This air cond model has a few unique features. One of them is its self-cleaning function which can reduce the growth of mold and fungus.
Other features of this model include LED display for temperature, quiet operation as well as turbo mode that works at maximum speed to cool down the room faster.
And lastly, remember to purchase its air conditioner installation service from the same supplier. This is important to avoid any future dispute and for easy warranty claim as you only deal with a single party.
The sharp air conditioners come with 1-year general warranty and 5-year compressor warranty.
Pros:
Cheap, air conditioner plus installation less than RM1,000
Reliable Japanese brand
Self-cleaning function
R32 refrigerant
Cons:
Best Air Conditioner for Most People
2. Panasonic X-Premium Inverter R32 Aero series

Panasonic X-Premium inverter R32 Aero series is the best aircon for most Malaysian. Although it takes a hefty initial investment, the cost can be recovered fairly quickly through the saving in electricity bill. This Panasonic aircon model packs all the features you would wish for an air conditioner and it works very well.
Best deal on Lazada Best deal on Shopee
For air conditioner, Malaysians are well-acquainted with these 2 household aircon brands-Daikin and Panasonic. Both products are known for their durability, quality, features and functionalities. Pitted against each other it's really difficult to isolate a champion. So, it really comes down to your individual preferences.
For techrakyat.com, we think Panasonic 1.0HP X-Premium inverter R32 Aero series air conditioner is the best air conditioner in Malaysia because it simply ticks every box of an ideal air conditioner.
This aircon model is powered by an inverter motor and has 9550Btu. It is no surprise that it also receives a 5-star energy efficiency label from Suruhanjaya Tenaga because this particular model uses ECONAVI technology.
As previously mentioned in our best ceiling fan article, ECONAVI uses two sensors-human activity sensor and sunlight sensor to monitor the human location and sunlight intensity then will adjust their cooling capacity accordingly.
This Panasonic X-premium inverter air conditioner also uses R32 refrigerant. Using R32 refrigerant also means that it is more environment-friendly, which every one of us should really care about. I really encourage anyone who plan to get a new air cond to use R32 A/C if the budget is allowable.
Many do not realise that the premium Panasonic air conditioners actually come with air purification function. The Nanoe-X and Nanoe-G label are Panasonic's term for its deodorise and dust removal function. And you can just turn on this air purification function solely by turning on only the Nanoe mode (without turning on the air cooling function).
Another unique feature of the Panasonic premium Aerowing air cond series is that they have 2 independent motors to control the air cond flap. These individual flaps allow the air cond to have a more precise control over its airflow. It can tune into a focus and further airflow or wider but shorter airflow depends on the situation.
This model also has an extra quiet sleeping mode which can operate as low as 18dB!

On top of all that, this lazada store also gives the network adaptor for free. So, you can turn this air-cond into a "smart air conditioner". It can be very useful especially when you wanna pre-cool your space if you're about to back to your house or room.
In short, Panasonic X-premium Aero Wings series is a really compelling package. All Panasonic air conditioners come with 1-year general warranty and 5-year compressor warranty.
Pros:
Precise airflow direction control (Dual slab comes with individual motor)
Air purification function (Nanoe-G and Nanoe-X)
Inverter motor
Panasonic ECONAVI sensor
R32 refrigerant which is best for the environment (for the meantime)
5 stars energy-rating
Cons:
Best Cassette Air Conditioner
3. Daikin SkyAire Inverter FCF-C series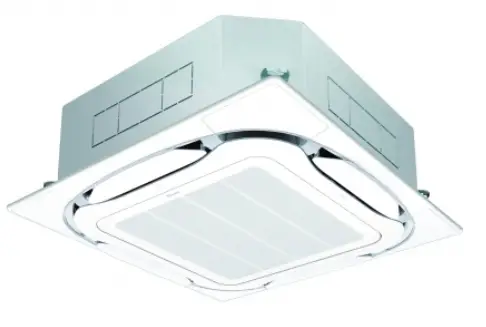 Daikin SkyAire Inverter FCF-C series is the best cassette type ceiling air conditioner. It has a 360-degree airflow design, uses R32 refrigerant and operating with inverter motor.
Best deal on Lazada Best deal on Shopee
Cassette type or ceiling suspended split systems are not popular among Malaysia homeowners due to its bulky size, less efficient and generally more expensive than wall mounted split unit aircon.
Installing a cassette type air conditioner requires a 65 inches height clearance from the ceiling (varies depending on brand & model). Thus, it would render the ceiling much lower after installation. Therefore, this is definitely a factor to consider.
Regardless of that, some owners still prefer it for its aesthetic and also it can be placed more strategically in a room. For example, you can place it at the centre of a big living room so you can get an even cooling effect from the air conditioner.
The Daikin SkyAire Inverter FCF-C series is the best cassette type air conditioner in the market. These Daikin aircon series have 2HP and up to 6HP units. Depending on the space area you intend to cool down, you can select the necessary horsepower you needed.
We think it is better to use an inverter cassette type air conditioner instead of a non-inverter on.e. Because cassette type air conditioner is already less efficient to begin with. Inverter cassette type air conditioner definitely worth the slightly more costly upfront investment.
This model comes in two colour options which are white and black to suit different design themes. It uses R32 instead of R410a, which is a good choice since it is eco-friendly.
Besides, each of the 4 sides of the air discharge outlet can be controlled individually to ensure optimum airflow control. You can direct the airflow to those who like direct cool air blowing on them and divert the airflow away from those who dislike it.
It also comes with an anti-mold and antibacterial treatment with silver ions to prevent the growth of bacteria, mould, even slime. It is advised that the silver ion cartridge should be changed once every 2 to 3 years.
It also comes with quiet operation mode for night time. Its operating sound is measured roughly about 4dB quieter. For information, humans feel twice as quiet for every 10dB reduction. Although 4dB is not much, it should at least reduce the noise by around 20-25% compared to normal operation.
Daikin pays a lot of attention on its design to cater for easier installation and maintenance. However, those features would not be appreciated by average end-users. But these features certainly will benefit the users in the long term which resulted that we prefer Daikin cassette type aircon over other brands in the market.
Daikin SkyAir FCF-C series air conditioner is no doubt the best air cassette type air conditioner for its solid performance and well-thought features.
Daikin provides 1-year local manufacturer general warranty and 5 years warranty on the compressor.
Pros:
360° Airflow
Inverter FCF-C Series (energy saving)
R32 Refrigerant
Cooling Capacity – BTU/hr 17,100 (Min-Max) – (10,900-19,100)
With Wireless Remote Controller
Anti-bacterial & anti-mould treatment
Individual Airflow direction Control
can be installed at the most strategic position rather than mounted to a wall
Cons:
More expensive than wall mounted air conditioner
Generally less efficient
Requires a higher floor height clearance.
Conclusion
You can never really go wrong with either reputable brands like Sharp, Daikin or Panasonic aircon. It really boils down to the individual preferences, So, choose the one that suits you best.
Weigh your pros and cons at hand, check on what your daily cooling needs are, then go for the one that you feel comfortable with.
Just one last remind reminder, a good aircon is only half of the perfect formula, a good installation is what matters the most. So please stick with sellers who provide installation, just to be safe.
Turning on air conditioners 24×7 too expensive? Then, check out our reviews on the best air coolers, best air purifiers, best portable air conditioners and best air humidifiers,