Buying your very first stroller can be very challenging since you have no experience beforehand to travel and commute with a baby.
In this review, I will guide you through different types of baby strollers and their pros and cons so you have a better idea of which baby stroller is the best for your needs.
What are the best baby strollers in Malaysia?
Ideally, the best baby stroller should be useable from birth through toddlerhood. And it should be easy to push, fold, carry and store. 
Also, they should be reasonably lightweight but strong and sturdy to support the child.
Below are the top 9 baby strollers in Malaysia, sorted from the cheapest to the most expensive model.
---
1. Prego Lite 2
Cheap Two Way Facing Stroller for Newborn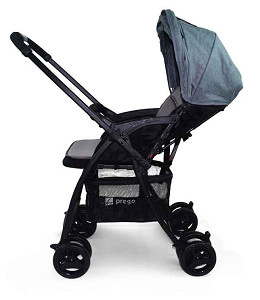 Best deal on Lazada Best deal on Shopee
Prego Lite 2 is a very affordable two-way facing stroller at only RM199. It is suitable for newborns and toddlers up to the age of 4.
Prego Lite 2 Stroller features:
Lightweight, 5.5kg
Suitable for newborn and up to 4 years old
Multiple seating angle, from 80 to 170 degree
Able to sustain up to 18kg
Adjustable 2 way facing
Vision window on top of canopy for parents to check on baby
Adjustable footrest
SPF50 UV protection canopy
Detachable protection bar
Big storage basket
Compatible to Prego Airmax Infant Carrier
3 years warranty
As you can see, the Prego Lite 2 is really feature-packed despite being really affordable.
As it is a two-way facing stroller, it is very convenient and can grow with your baby.
For newborn babies, it is preferred to have them facing rearward so they can see their parents, rather than the front.
When the babies get bigger, we can switch it to a forward-facing stroller so they can see the surroundings.
Prego Lite 2 is also compatible with Prego Airmax Carseat, which is very convenient. Instead of switching your baby from car seat to stroller, you can simply snap on the car seat to the stroller.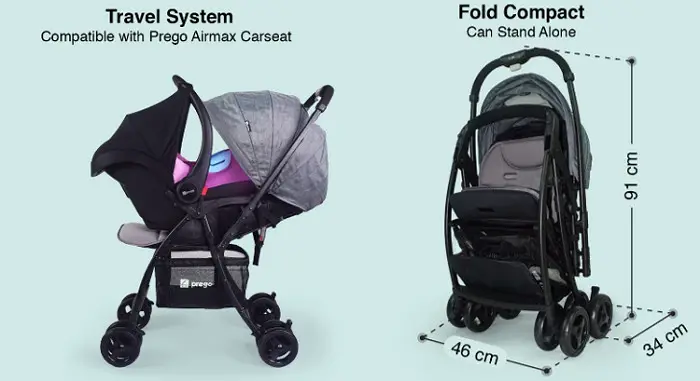 Although it can be folded up, it's not as compact as other ultra-compact travel strollers. When folded up, the stroller is still quite bulky. The good thing is that it can stand on its own, so you don't have to constantly hold it.
The Prego Lite 2 is indeed a budget winner when you consider that it can be used for over four years for less than RM200.
---
2. Baby Throne Advance Baby Stroller
Affordable Travel Stroller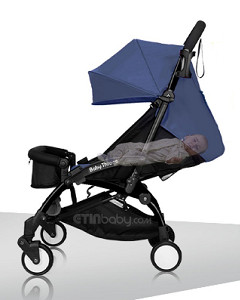 Best deal on Lazada Best deal on Shopee
Baby Throne Advance is the best affordable travel stroller. It is ideal for parents who frequently commute with their babies.
Check out the video below and you can see it can be folded fully into a small package similar to the Babyzen Yoyo 6+.
Baby Throne Advance Baby Stroller features:
Easy one-hand operation – pushing, steering, folding and unfolding
Front-wheel anti-shock system
PU rubber tyres
Detachable accessories: bottle holder, front bar, front cover, mosquito net, shoulder strap
Can lay down to 175 degrees for newborn
Stroller weight 5.8kg
Support up to baby/toddler up to 15kg
Adjustable sunroof
Baby Throne Advance can be folded similarly to BabyZen Yoyo 6+, which is truly amazing, considering Yoyo costs more than RM2,000.
It can be folded into a really small package measuring only 44 x 22 x 50 cm. It even comes with a shoulder strap that lets you carry it like a sling bag.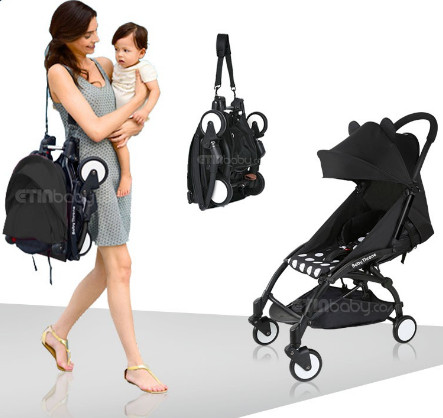 However, the shoulder strap is very basic and does not provide any kind of cushioning. A weight of close to 6kg on your shoulders can be really painful after a while.
The last but most important thing is the sellers only provide a 1-month warranty on manufacturer defects for the stroller. So, make sure you try it out thoroughly after you received it.
Overall, the Baby Throne Advance is really great value for money as other similar strollers could cost thousands of ringgit.
---
3. Mamakiddies Aviant Stroller
Budget Lightweight Foldable Stroller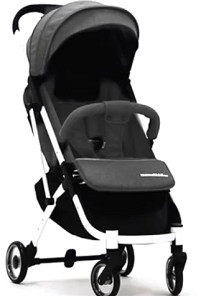 Best deal on Lazada Best deal on Shopee
Mamakiddies Aviant Stroller is another popular model on Shopee. It has sold more than 2600 units and received stellar reviews from customers.
Mamakiddies Aviant Stroller features:
Suitable for newborn and up to 4 years old
Support up to 18kg 
Stroller weight 5.9kg
Easily adjustable back recline angle
5-point safety harness
Padded harness straps
Large storage basket with front and rear access
2 peek-a-boo windows
Free shoulder strap, mosquito net, cover bag,
One-hand folding
The advantage of Mamakiddies Aviant Stroller is it can be folded and carried like a trolley. It features an extractable handle so users can pull it when the stroller isn't in use.
The folded stroller size is 58 x 48 x 20 cm which is considerably larger than Baby Throne Advance. Nonetheless, it is still compact enough to fit into your car cabin and can even be taken to flight.
Compared to Baby Throne Advance shoulder carry style, the Mamakiddies Aviant's trolly style stroller is actually more convenient and less exhaustive.
---
4. Sweet Cherry GL600 Vetro S Travelling System
Best Local 3-in-1 Convertible Baby Stroller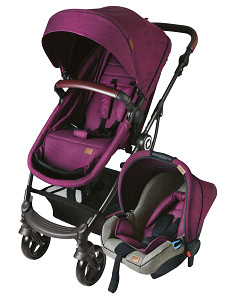 Best deal on Lazada Best deal on Shopee
Malaysian baby product brand Sweet Cherry has been around for over three decades. The Sweet Cherry GL600 Vetro S is a complete travelling companion for your newborn and toddler. 
This stroller is not a compact stroller but was designed to suit all types of needs and road surfaces. A dedicated baby car seat is also included. 
Sweet Cherry GL600 Vetro S Travelling System features:
Suitable for newborn to 36 months
Multiple reclined position
Can be adjusted to lie flat pram mode for newborn
Two-way facing
Big wheel for easy pushing on any surface condition
Mosquito net
Included Vetro S baby carrier car seat
Easy fold and unfold
Automatic lock mechanism upon folded
Canopy with optional large mesh window for viewing and airflow
Adjustable push handle
5-point safety harness
Lockable front swivel wheels
One-step brake
Equipped with a big wheel, the Sweet Cherry is an all-terrain stroller that can ride over rough and uneven surfaces. The stroller is designed to make the ride more comfortable for your baby
Due to this, the stroller can't be folded into a small size. So, it is less suitable for travelling.
The GL600 Vetro S Travelling System is a good option for those who want maximum comfort and safety for their babies. 
This package includes the Vector S baby carrier car seat, so newborns can be put in the car seat while travelling in the car. Upon reaching your destination, just click the car seat onto the GL600 3-in-1 stroller.
Sweet Cherry GL600 Vetro S is very versatile as it can be switched between parent facing and forward facing depending on your needs.
With less than RM600, you can enjoy a complete baby car seat and baby stroller combo, which I think is a good investment. You can use this set-up until your children are 3 years old.
---
5. GB Pockit Plus All Terrain
Best Ultra Compact Stroller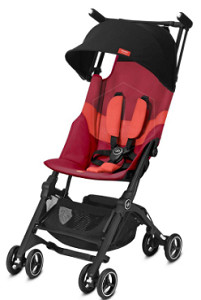 Best deal on Lazada Best deal on Shopee
The GB Pockit Plus is a compact and practical stroller that will make your life easier, so you can enjoy some quality time with your little one.
It is one of the lightest strollers available, weighing less than 5.6kg. 
It also has one of the most compact folding mechanisms I have ever seen. To be exact, the folded size is 20 x 34 x 42 cm.
The ultra-compact folding size allows you to carry Pockit+ on the flight. It is airplane hand luggage compliant.
GB Pockit+ stroller features:
Suitable for 6 months up to 22kg
Can withstand 17kgs of weight
Lightweight
Ultra-compact
Self-standing after folded
Lockable front view
One hand pushing
Due to its lack of 175 degrees of recline, the GB Pockit+ stroller is not suitable for newborns.
Although the stroller can be folded very compactly, the weight of the stroller can be a burden if you are carrying it for a long time. The good news is that it takes up little trunk space in your car.
GB Pockit+ Stroller is a great option for parents who are looking for a travel stroller for their toddler of 2-3 years old. When you travel abroad, you might come across many places that are not stroller-friendly, making this stroller especially useful.
---
6. Chicco Goody Plus
Best Autofold Stroller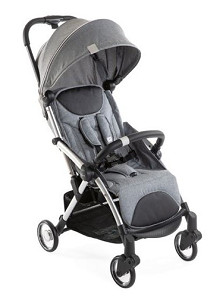 Best deal on Lazada Best deal on Shopee
Chicco brand should be no stranger for all the parents out there. Its Chicco baby car seat is highly regarded as one of the safest baby car seats.
Chicco's baby products are really well-made, premium, and innovative.
The Chicco Goody Plus is a stroller that closes by itself with a push of buttons. It is best for mummies who have problems manually folding strollers on their own.
Check out the cool folding demonstration for Chicco Goody in the video below:
Chicco Goody Plus features:
Stroller weight 6.9kg
Suitable from birth to 22kg
Fully reclined backrest for newborn
Anodize frame
Wide and comfortable seat
Stroller canopy is rated UV 50+ sun protection and water resistant
Rain cover included
Shock absorbers on all wheels
As you can see, the Chicco Goody is really easy and convenient to fold up within seconds. It is hard to find other strollers which fold as smooth it is.
It folded up in a really compact package, measuring 46.5 x 25 x 56 cm. 
The carrying handle is located at the centre of the stroller when it is folded up. The weight is thus evenly distributed making it feel easier to be carried even when it weighs as much as 6.9kg.
Chicco Goody Plus comes with a 1-year warranty for your peace of mind. If budget is an issue and you do really like such auto fold feature, do check out the Beblum Navuto+. It is almost an exact clone of Chicco Goody Plus but at a cheaper price.
---
7. Donna Car Seat Stroller
Best Strollers for New Born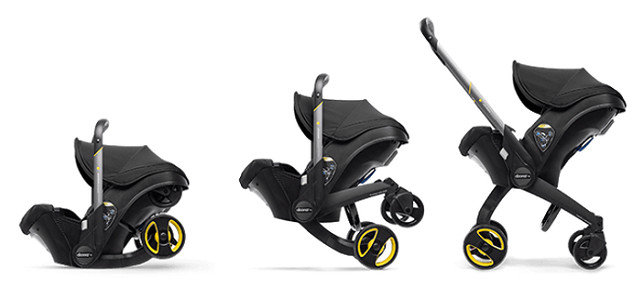 Best deal on Lazada Best deal on Shopee
Donna Car Seat Stroller is very innovative and one of a kind. There has never been a stroller like it before. It is simply the best stroller for 1 year old and below.
With it, parents can seamlessly transition from baby car seat to stroller in no time. If you have a stroller and baby car seat combo, you have to carefully install the baby car seat into the stroller while your baby is inside, which can be quite challenging if no one is around to help.
Donna Car Seat Stroller features:
Product weight 16.5lbs, approximately 7.5kg
One simple motion operation
5-points harness
Adjustable handlebar
Baby Safe material and improved breathable textile
TUV and FAA aircraft approved for travel
Suitable for infants from 4 lbs to 35lbs
Even newborn babies will enjoy using the Donna Car Seat Stroller since it is well-padded and comfortable.
The one-motion operation is extremely convenient and easy for travelling, especially for mummies caring for their babies alone.
The Donna stroller has a few downsides which you may want to pay attention to:
The stroller is only ideal for 1 year old below. Your babies can easily outgrow the stroller. 1 year can go by pretty quickly and you would need to get another stroller.
It is quite bulk even after it is folded. Since it is a baby car seat, there really isn't much folding mechanism that can be integrated.
It has no storage space. A common issue with most baby car seats. 
You may get stains on your car from the dirty stroller wheel.
Overall, Donna is a great infant car seat for parents who travel frequently. There isn't any other car seat like the Donna stroller in Malaysia. 
Although it's a hefty price to pay if you're only using it for a year, you can always lend it to relatives, friends, or family. It will be a great help in the baby's first year.
Do check out a detailed user guide below:
---
8. Babyzen Yoyo 6+
Best Travel Stroller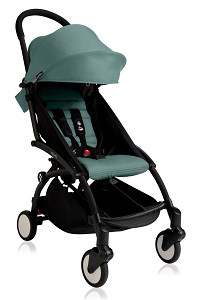 Best deal on Lazada Best deal on Shopee
The Baby Zen Yoyo 6+ is often cited as the best travel stroller by many reviewers. It is lightweight, high quality, compact and really easy to push around.
Baby Zen Yoyo 6+ features:
Lightweight, 6.2kg
Folded into an ultra-compact size
5-point harness
Anti UV (UPF50+) water-repellant canopy
Support child up to a weight of 22kg
Suitable for babies of 6 months above
Padded shoulder strap
Hytrel elastomer suspension
Soft faux leather and tether strap
Basket supports up to 5kg
Head support and foot cover
9 trendy colour options 
People love it as you can take the Yoyo 6+ on board as part of cabin baggage. It is troublesome to wait around for the stroller to be collected. The folded size of the 6+ version is 52 x 44 x 18cm, which is really compact.
The adjustable backrest makes this a great chair for babies and toddlers of all ages.
One last important thing is that the Baby Zen Yoyo 6+ is really strong and durable despite it being a lightweight stroller. You can confidently use this stroller up to 5 years old and it will still be in great shape.
---
9. Bugaboo Ant
Compact Two-Way Facing Stroller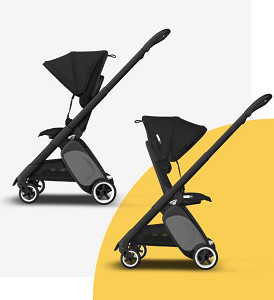 Best deal on Lazada Best deal on Shopee
The Bugaboo Ant is a pushchair stroller that has a cool, modern design that stands out in the crowd. It is not common to find a compact stroller with a reversible seat. 
Bugaboo Ant features:
Suitable for newborns
Suitable for up to 22kg
Stroller weight 7.2kg
Two-way facing, reversible seat
Compact fold
Adjustable seat
Stylish design
Reclinable seat
Adjustable handlebar height, two-position
Comparison between BabyZen Yoyo 2 vs Bugaboo Ant:
The Bugaboo Ant has a few main selling points: it's compact, it has a reversible seat, adjustable handle height, and it can be used with a buggy board accessory, it can be pushed like a suitcase when folded.

However, it has a few setbacks as well. The stroller is relatively small and narrow, which is perfect if you have to manoeuvre it through narrow streets often. But your babies could easily outgrow it.
The biggest paint with Bugaboo Ant is its complex folding mechanism. You need to take 4 steps to fold it which can be tricky for some. There are users who absolutely hate it and don't use it because of this.
The Bugaboo Ant is a very versatile stroller if you don't mind its multi-step folding mechanism. Before deciding whether to make the purchase, you can check out more reviews for this stroller on its official site.
---
Baby Stroller FAQ
Which brand of baby stroller is the best in Malaysia?
The best stroller brands are Chicco, GB Pockit, BabyZen. Good Malaysia local brands are Mamakiddies, Sweet Cheery and Prego.
How many types of strollers are there?
There are mainly five types of strollers: all-purpose strollers, travel systems, compact strollers, convertible strollers, and jogging strollers.
How do I choose a stroller?
The three most important factors when choosing a stroller are lifestyle, cost and long term usage. 
Lifestyle – If you travel a lot, you should definitely get a light and compact stroller. Do you always have a partner to help you out? Can your car fit the stroller easily? And more…
Cost -As a new parent, you need to purchase many baby items. Quality baby products are not cheap. So, budget properly and think long term when you're choosing a baby stroller.
Long term usage – Preferably, you want a stroller that can support a child from birth until 3 to 5 years old. So you won't have to buy a new stroller when your child grows up.