Badminton has always been Malaysia's top favourite sport of all time, maybe second to football. One of the few sports games that Malaysia is competing internationally for the top spot.
All of us love badminton, whether it is a kid who just starts learning the game or veterans uncles who are playing it religiously every weekend. And we all hope for the emergence of "next" Lee Chong Wei.
Well, we need a very long time to hone the skill and accumulate experience to become a great player. However, you can consider using a good racquet which can be a shortcut for improving your game immediately.
Here, we have compiled a list of 9 best badminton rackets to buy in Malaysia according to current top-ranked players and also our beloved Lin Dan and Lee Chong Wei.
Best badminton rackets:
1. Yonex Astrox 99 racquet –  Kento Momota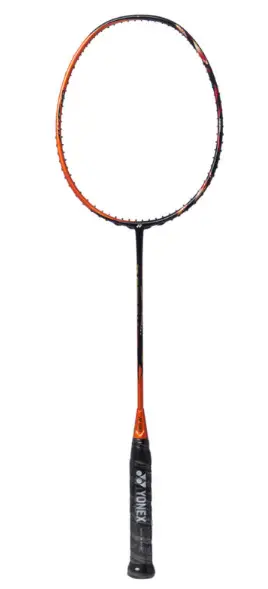 Yonex Astrox 99 wielded by current World No.1 Kento Momota. It is an interesting racket that could be hard to manoeuvre. Definitely, not meant for everyone.
✔ Head heavy balance for powerful shots
✔ Durable, full-body Namd graphite
✔ Weight: 85g to 89g
✔ Grip: G4,5
✖ Very difficult for beginners
Best deal on Lazada Best deal on Shopee
A great racket that its unique feature is upon contact with the shuttle, you can literally feel the head of the racquet buckling in, then holding it in the string-bed, then launched into the opposite court. This increased shuttle hold-in, helps you aim better and more accurately. Therefore, Astrox 99 is excellent to send your shuttles deep into the corners where your opponent may find it more difficult to return. But because of this, the frame is stiff-flex and heavy which means power in your shots can be compromised.
Having said this, drop shots are much smoother and smashing is still good. However, defence not too good though, as the racquet can feel sluggish. But the user can compensate this by exerting more power into the racquet.
The ASTROX 99 isn't meant for quick-paced, 'whack every chance you get' kind of game. Thus, is not suitable for doubles players but is great for singles players. The accuracy is top-notch. You need to have the skilful techniques and sufficient power to handle the shot. This is best suited for more advanced and semi-professional players.
2. Yonex Duora Z Strike racquet – Chou Tien Chen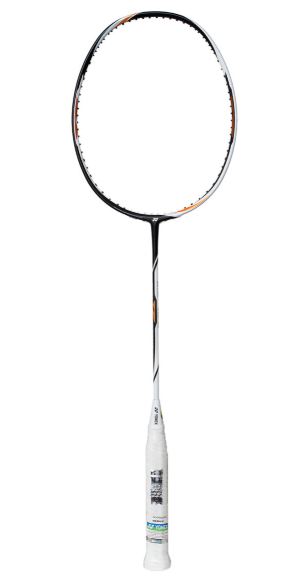 Yonex Duora Z Strike has a very stiff and compact racket head. Designed for best accuracy control
✔ All-rounder racket
✔ Suitable for defensive style players
✔ Neutral balance
✔ Weight: 85g to 89g
✔ Grip: G4,5
✖ Lacks in quick shots
Best deal on Lazada Best deal on Shopee
This racquet has a duo frame – Box and Aero frames. The balance between these 2 frames is crucial to maintain good hits. Each hit with the Box frame, produced a good high clear with fantastic feedback.
This racquet produces drops that are fast and spot on. You will get very solid and powerful shots. Although the feedback of the Aero frame is weaker than the Box frame, the added repulsion given by the Aero frame is exceptionally helpful during fast and snappier rallies.
The Duora Z Strike is designed to help players to balance well between both the Box and Aero frames. The sharp and powerful solid hitting feel of the Box frame and the fast, rebellious nature of the Aero frame balances each other so harmoniously.
This racquet is aimed more for advanced players as the rigid and compact frame specifications of this racquet does not make it easy for beginners or intermediate users. Admittedly, this racquet is great for both doubles and singles players.
3. Yonex Astrox 88D racquet – Anthony Sinisuka Ginting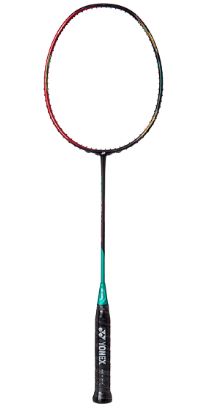 Yonex Astrox 88D was launched with D and S version. D is more for power control.
✔ All-rounder racket
✔ Powerful Smashes
✔ Head heavy balance
✔ Weight: 80g to 84g
✔ Grip: G4,5
✖ slows for fast front court double play
Best deal on Lazada Best deal on Shopee
Considered a good racket for singles players. But, if you are a singles player who thrives better with super stiff and rigid racquets, this may not be the right one for you as this racquet has a lesser stiff feel to it.
Astrox 88D allows more forceful and powerful shots – the smashes are faster, impactful and more dominant.  And the clears are effortlessly done. Back to back court plays become easier with less effort in the swing of the racquet, which allows easy and speedy shots.
Therefore, most players who spend most of the time at the backcourt would favour this racquet. But, what was lacking were the backhand shots as they felt slower but this can be compensated by working on the wrists more to manipulate the shots better.
4. Victor Auraspeed 90K racquet –  Anders Antonsen Victor

Auraspeed 90K is stiffer than its predecessor 90S model.

✔ Maximized rebound performance with its RTC technology
✔ Fast swing speed
✔ Head light balance
✔ Weight: 82g to 86g
✖ no grip size choices
✖ only 90S model available on Lazada Malaysia now
Best deal on Lazada Best deal on Shopee
The Auraspeed 90K racquet is considered a medium-stiff with a medium/head-light. The thing is, even with a comparatively lighter head, the shots were still impactful and powerful. The head feels stable and shots are delivered easily, with power and accuracy. It is safe to say that this is indeed an easy racquet to play with – pick up and play.
With a lighter and more aerodynamic frame, the defence is excellent with more control and accuracy in place. Thus, is great for defensive style players.
Overall, Auraspeed 90K is an awesome all-rounder racquet. Despite the light-head frame, the drives are speedy with more oomph to them and more accurate and faster shots can be delivered with less effort. Good power shots can be achieved from the rear court.
5. Li Ning 3D Calibar 900 – Chen Long

Li Ning 3D Calibar 900 is designed for powerful advanced badminton player in mind.
✔ Suitable for powerful advanced players
✔ Head heavy balance
✔ Weight: 85g to 89g
✔ Grip: S2
✖ need time to get used to, feel hollow when hitting the shuttle
The trapezoidal frame of this racquet makes it look more like having a sword frame, rather than a box frame, which automatically means it is more aerodynamic. Despite the shaft having an extra stiff feel to it, the swing feels quick as the weight of the frame is not that noticeable at all. Speedy shots are easily achieved. But the shaft noticeably flexes more, resulting in a sensation of lack of power and head weight. Therefore, smashes felt hollow and the clears were harder to execute. But drop shots were fine though. Net shots were not easy with this racquet, as the control was not good, so you may need some time getting used to this more aerodynamic frame. Because of its sword frame shape, there is a reduction in the solid feel of the racquet overall and there is a lack of feedback when hitting the shuttle as well.
This racquet is awesome for people who need a racquet that is in between a full box frame and a full sword frame. It is safe to say that this racquet may be more suited for doubles player due to its speed.

6. Li Ning Aeronaut 7000B – Jonatan Christie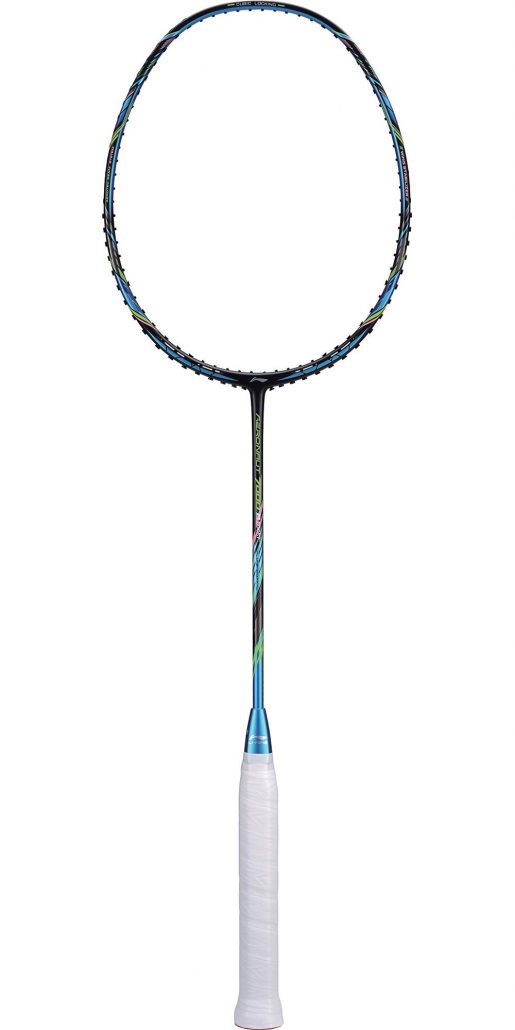 Li Ning Aeronaut 7000B is a balanced racket where you get the best control without sacrificing much in power.

✔ Good at drives shot
✔ Good for defensive style players
✔ Slightly head heavy balance
✔ Weight: 85g to 89g
✔ Grip: S1
✖ many claims that Li Ning Calibar is a better choice for your money
The Aeronaut 7000B badminton racquet is built on the Aeronaut Technology Platform that utilizes a unique air-stream channel that is specifically integrated into the racquet head. This helps to reduce air resistance, thus producing speedier and faster shots.
This racquet is made of military-grade carbon fibre and features a medium shaft with medium flexibility. Deploying a moderate balance throughout, this is best suited for all-rounded and experienced players.
So, if you are looking for a good and solid control, not on the expense of power, this racquet may be the right one for you.
7. Yonex Duora 8XP – Angus Ng Ka Long 

Yonex Duora 8XP is for a great racket for speedy and powerful playstyle.
✔ Maximum string tension of 35 pounds
✔ Even balance
✔ Weight: 85g to 89g
✔ Grip: G4,5
✖ Not suitable for doubles
Best deal on Lazada Best deal on Shopee
This racquet showcases a Dynamic Dual Design, with two different frame shapes, combined into one, alternating between box and aero-shaped structures. With this, you'll have the power delivered by the box frame for the forehand and also the speedy and quick feedback of an aerodynamic frame for the backhand.
Yonex Duora 8XP has a balanced frame and slim shaft that feels stiff. This racquet allows to string at 35 lbs high tension string. Smashes were delivered strong and forceful with accuracy, in time too. As for drop shots, you'll find that they were consistent and within good control.  Backhand clears were good, due to the aero design but clearing from backcourt to backcourt with the box frame side was disappointing as they were not accurate and fell short of expectations.
But the attack and defence drives were powerful and consistent. The net shots were spot on and admirably well done. With powerful forehands and speedy backhands, along with the 35lbs high tension strings, control and accuracy are much enhanced. Yonex Duora 8XP is best suited for players who prefer faster, lighter and stronger play pace.
8. Yonex Voltric LD Force – Lin Dan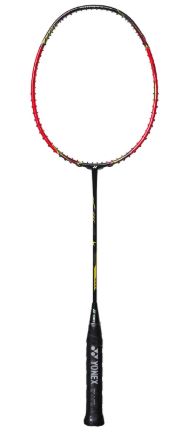 Yonex Voltric LD Force is the Lin Dan series racket. When Yonex names its series after one's name, it's kind of a big deal.
✔ Great for quick smashes
✔ Suitable for advanced offensive playstyle like Lin Dan
✔ Head heavy
✔ Weight: 85g to 89g
✔ Grip: G4,5
✖ Strictly not for beginners
Best deal on Lazada Best deal on Shopee
Yonex Voltric Lin Dan Force is a great looking badminton racquet with a G4 grip size. This racquet's frame is surprisingly more flexible with a medium-heavy feel to it.
Upon holding this, you'll feel that you are well in control of the racquet without feeling it being overly heavy. Despite long playing duration hours, you'll feel no strain in your arm at all. No obvious lag was observed from the more flexible shaft. Drop shots were easy to execute with accurate control. Smashes were forceful and power was aplenty.
Usually, heavier headed racquets would have issues in defence but not for this Voltric Lin Dan Force racquet. It was quick, spot-on in delivering exactly where you want it to go. Lifts, drives and blocks were executed easily, with good accuracy. Playing in the net area was also great. The racquet felt like everything balanced well like yin and yang, making this racket great overall.
9. Yonex Duora 10 – Lee Chong Wei

Yonex Duora 10 is used by our greatest badminton player of all time, Datuk Lee Chong Wei.
✔ Combined framing-box frame and aero frame each side
✔ Suitable for skilful technical playstyles
✔ Even balance
✔ Weight: 85g to 89g
✔ Grip: G4,5
✖ can feel sluggish in defencing
Best deal on Lazada Best deal on Shopee
The Yonex Duora 10 has a rather stiff frame, G4/5 grip size and combination frame system.
The clear shots were found to be sharp and strong. Drop shots were good, accurate too but this depends on the player as to whether there is a need to manoeuvre the grip to decide which side was best suited for the shots.
The head felt slightly weighted along with the frame too, but smashes were still excellently delivered and powerful. Drives and pushes were also easily done with no qualms at all.
Although the racquet played fine and well overall, it was still noticeably slower compared to others. Despite its lack of speed, the Duora 10 defends well enough. Net shots were well executed. Overall, a very good racquet.
Last words
A suitable racket is a great investment for any serious badminton player. Although there is no guarantee of tremendous improvement on your game with these best badminton rackets, it helps to motivate yourself to work harder to master the game. The other important to use a reliable racket is to prevent yourself from getting sports injury.
You might be interested to check out the 10 best badminton shoes worn by the world top badminton players.
Remember to support me by clicking any of the lazada/shopee links listed on the website before you make any purchase. And like our Facebook page too.