For Malaysians, dishwashers are still a relatively new kitchen appliance. These days, they are getting more popular because people realized that it cleans well and is very convenient.
There are mainly three types of dishwashers available in the market, free-standing, countertop and built-in type. 
Freestanding and countertop dishwashers are suitable for most people as they are the easiest to install. You can go for a built-in dishwasher if you want the perfect looks for your kitchen.
So, how do we choose a good dishwasher that suits us? 
When buying a full-size dishwasher, our priorities should be the number of place settings (capacity), noise level and energy efficiency. Cleaning performance usually has nothing to be worried about for a full-size dishwasher.
If you're buying a small dishwasher, then you should always double-check its cleaning performance by checking our real user reviews.
Now, let's check out the 5 best dishwashers in Malaysia.
Comparing the top 5 dishwashers in Malaysia
| Model | Type | Water Usage | Size | Place Settings | Noise |
| --- | --- | --- | --- | --- | --- |
| Bosch Series 4 SMS46GI01P | Free Standing | 9.5L | 60x60x84.5cm | 12 | 46dB |
| Beko DFN05R11W | Free Standing | 11.5L | 59.8x60x85cm | 13 | 49dB |
| Toshiba DW-14F1 | Free Standing | 11L | 59.8x60x84.5cm | 14 | 49dB |
| Toshiba DW-08T1 | Countertop | 8L | 55x50x59.5cm | 8 | 49dB |
| Xiaomi Mijia Dishwasher | Countertop | 5.6L | 44.2x41.9x46.1cm | 4 | ? |
*Xiaomi Mijia Dishwasher does not provide official data on its noise level
---
Best Overall Dishwasher
Bosch Series 4 SMS46GI01P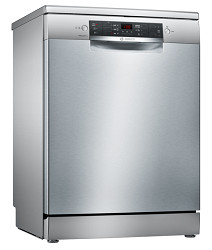 Best deal on Lazada Best deal on Shopee
Bosch Series 4 SMS46GI01P Specifications:
Capacity: 12 place settings
Noise level: 46 dB(A)
6 programmes
Brushless DC (BLDC) motor
Stainless steel interior
Triple Rackmatic System
100% lifetime warranty for water damages guaranteed.
Reasons to buy:
Reputable no.1 brand for dishwashers
Durable stainless steel finish all round
Powerful deep cleaning performance
Less water and electricity required
Bosch dishwashers have always been named as the best dishwashers by many expert reviewers including, the wirecutter and consumer report.
The Bosch Series 4 SMS46GI01P has a size of 600x600x845mm and 48.7kg in weight. Bosch dishwashers are built entirely of stainless steel, both inside and out. So, it feels very premium and is expected to be very long-lasting.
The capacity of the Bosch Series 4 SMS46GI01P is 12 place settings which are equivalent to about 11-12 persons. It is very suitable for small to medium size families. If you have a small family, you can accumulate the dishes and wash them at one go after dinner.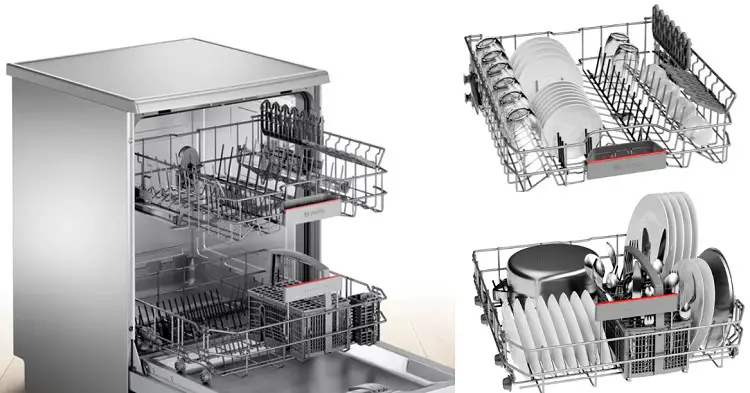 Inside the dishwasher, there are VarioFlex baskets for extra cutlery space. The rack system known as Rackmatic System allows users to adjust the basket height up to 5cm even when it's fully loaded, giving users maximum flexibility.
This dishwasher machine is powered by an EcoSilence Drive motor. It is a brushless DC motor that is exceptionally quiet and power efficient. When the dishwasher is operating, it generates about 46dB of noise.
There are a total of 6 programmes on this dishwasher: IntensivePlus, Auto, Eco, Quick Wash 65°C, Quick Wash 45°Cand Pre-Rinse. Most of the time, you only need to use its Auto mode which provides the best cleaning performance. It automatically adjusts the temperature and water usage to suit the level of soiling.
Also, it features a Vario Speed mode that cuts the wash time in half without compromising cleaning performance.  It's a great feature for a fast-paced city lifestyle.
Bosch Series 4 SMS46GI01P is the best overall dishwasher that comes with a 2-year general warranty, 10-year-rust-through warranty, and a 100% lifetime guarantee against water damage. It shows that Bosch is clearly confident in its products.
---
Best Value Free Standing Dishwasher
Beko Dishwasher DFN05R11W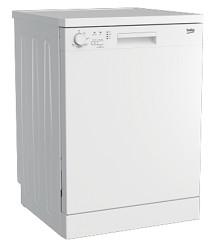 Best deal on Lazada Best deal on Shopee
Beko DFN05R11W Dishwasher Specifications:
13 place settings
A+ energy efficiency
49dBA noise level
5 programmes
Flexible half load washing
Stainless steel tub
Reasons to buy:
Good value for money
Large 13 place settings
Half load dishwashing
A+ energy efficient
Beko is another very reputable brand in making dishwashers. It is frequently compared to Bosch dishwashers.
The Beko Dishwasher DFN05R11W is 60 x 60 x 85cm in size, identical to the Bosch SMS46GI01P. The exterior is in white colour which looks more minimalist but less premium. Its internal tub, however, is made of stainless steel.
This Beko dishwasher can fit a maximum of 13 place settings. With its Sliding Cutlery Basket and Adjustable Plates Support, it provides lots of flexibility for users to configure for washing big cooking wares like pots and pans.

There are a total of 5 different washing programmes available, including Eco 50°C, Intensive 70°C, Clean & Shine, Quick & Shine, and Mini 30°C. In addition, it has a Half Load button for washing small amounts of dishes. You only need to load either one of the upper or lower baskets and it can start washing with less water and duration.
Beko Dishwasher DFN05R11W is my choice for the best value freestanding dishwasher. It comes with 2 years warranty on general parts and labour fee with on-site service. It also has a 12 years warranty on its motor.
---
Best Large Dishwasher
Toshiba DW-14F1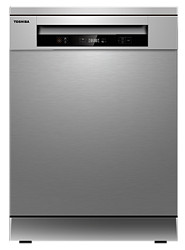 Best deal on Lazada Best deal on Shopee
Toshiba DW-14F1 Specifications:
A++ energy efficiency
49 dBA
14 place settings
UV LED sterilizer
Dual wash zone
Height-adjustable upper rack
6 programmes including Baby Care mode
70°C Hot Water Wash
Reasons to buy:
Very silent
Energy and water efficient
Large 14 place settings
Dual wash zone, half load washing
The Toshiba DW-14F2 is one of the more popular dishwasher models on Lazada/Shopee. Because its pricing is more competitive compared to Beko and Toshiba.
For less than RM2000, the Toshiba DW-14F2 packs lots of awesome features. It has UV LED sterilizer function, dual wash zone, and is rated as A++ energy efficiency.
This Toshiba washing machine has a size of 59.8 x 60 x 84.5 cm. It has the largest capacities of 14 place settings among all the dishwasher models in this review. So, it is ideal for a large-size household.
The dishwasher is very flexible and complete with a cutlery basket, sliding cutlery tray, height-adjustable upper rack and foldable flip tines. The machine will easily accommodate all types of cookware and utensils.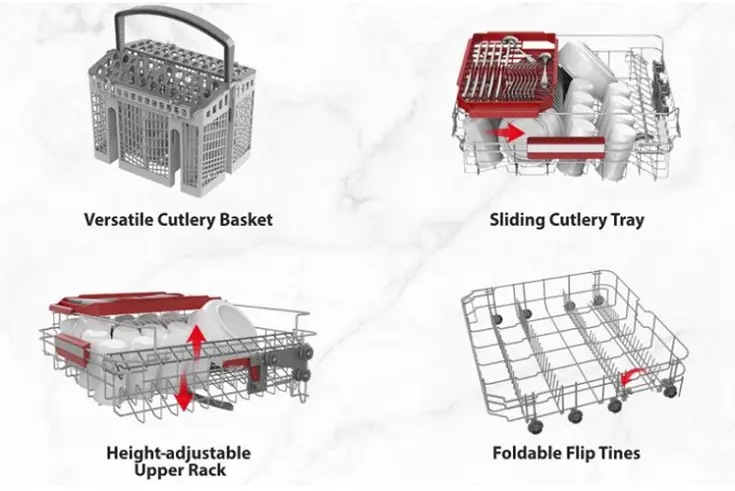 The 6 different washing programmes are Auto Daily, Hygiene, Eco, Glass, 90 Min, and Rapid modes. There are 2 additional options for Extra Drying and Power Wash. All these features ensure you get optimum cleaning out of this dishwasher.
Similar to Beko Dishwasher DFN05R11W, the Toshiba DW-14F1 features dual washing zones. It lets you wash dishes in small batches. You can load the dishes onto the upper or lower rack and choose the specific spray arm to clean them.
Considering all the features that the Toshiba DW-14F1 dishwasher offers, it is almost a steal to be able to buy it for only RM1,899. If you want a more silent model, you can buy the DW-14F2 model that operates at only 44dB. But it is RM1,000 more expensive.
Toshiba dishwashers come with only a 1-year warranty.
---
Best Countertop Dishwasher
Toshiba DW-08T1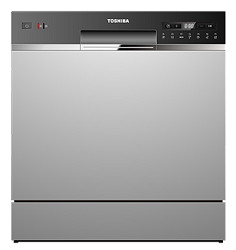 Best deal on Lazada Best deal on Shopee
Toshiba DW-08T1 Dishwasher Specifications:
8 place settings
UV LED Sterilizer
7 programmes
A+ energy efficiency
49dB noise level
Reasons to buy:
Best value for money countertop dishwasher
Big capacity
Energy saving
Toshiba DW-08T1 is the best tabletop dishwasher for your money in terms of features and capabilities. It measures a dimension of 55 x 50 x 59.5cm with 8 place settings. The capacity is suitable for small-medium size households.
Although this is a countertop dishwasher, it is actually quite spacious. On the top rack, you can wash cutlery, cups, and small bowls. On the lower rack, you can wash plates, soup bowls and even small pots.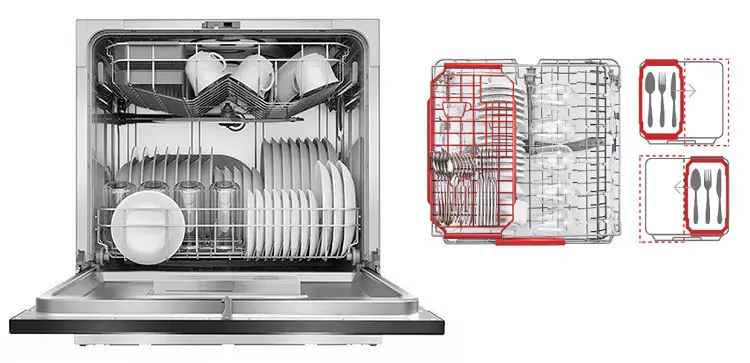 The Toshiba DW-08T1 comes with 7 built-in programmes. It has Hygiene, Normal, Eco, Glass, 90min, Rapid and Self-cleaning modes. Hygiene mode will wash with water up to 70°C to eliminate 99.99% of bacteria. 
The dishwasher also has an anti-bacterial filter in it that prevents microorganism build-up within the dishwasher.
However, this dishwasher can take up quite a lot of your countertop space. Make sure you have allocated a designated space for it. It comes with a 1-year warranty
---
Best Smart Compact Dishwasher
Xiaomi Mijia Dishwasher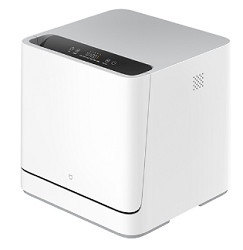 Best deal on Lazada Best deal on Shopee
Xiaomi Mijia Dishwasher Specifications:
4 place setting
75°C hot water cleaning
6 programmes
Supported by Mi Home App
Reasons to buy:
Very compact size
Beautiful design
Xiaomi brand, quality guaranteed (somewhat)
Can control with smartphone app
Reasons to avoid:
Not the best value for money
Chinese version only
If you're looking for a mini or small dishwasher, look no further, I recommend getting the Xiaomi Mijia Dishwasher. Don't bother buying those unknown or no brand dishwashers. Most of those dishwashers are fraudulent and of subpar quality.
Unfortunately, the Xiaomi dishwasher is currently only available in Chinese. So, it is less user-friendly for anyone who can't read Chinese. I think this can be easily overcome after trying it for a few rounds.
The Xiaomi dishwasher sports a size of 44.2 x 41.9 x 46.1 cm with an all-white exterior finish. It can easily fit into any small corner of your countertop. And there're no worries about it obstructed by the wall cabinet.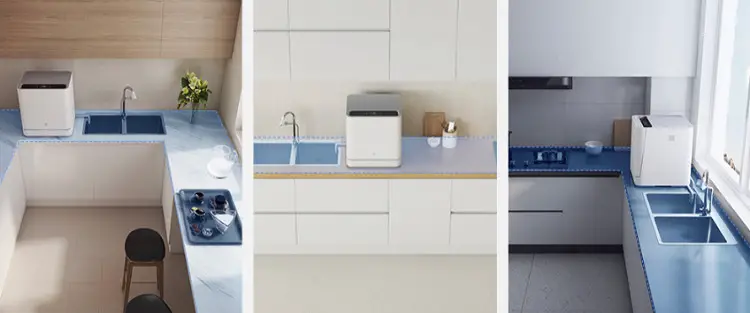 The Xiaomi dishwasher has a capacity of 4 place settings. It has 6 default programmes which include Standard Wash 75°C, Quick Wash 55°C, Power Wash 75°C, Eco Wash, Hygiene Wash, and Care Mode for glasses. With the high-temperature wash, 99.99% of bacteria can be eliminated.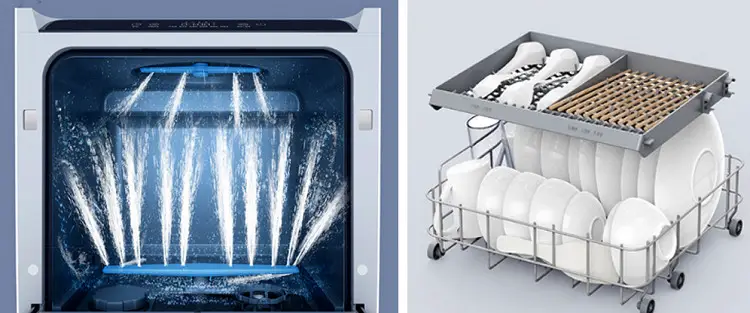 The biggest advantage of using Xiaomi home appliances is that they are all WiFi-connected and can be controlled through the Mi Home App. This Xiaomi dishwasher is no exception. You schedule when to wash the dishes, using which program and also get notification upon completion of dishwashing. So, it is indeed very convenient.
Besides that, the installation of the Xiaomi dishwasher is rather simple and straightforward. It comes with its own water tap connector and wastewater discharge pipe. The whole setup is very neat and tidy.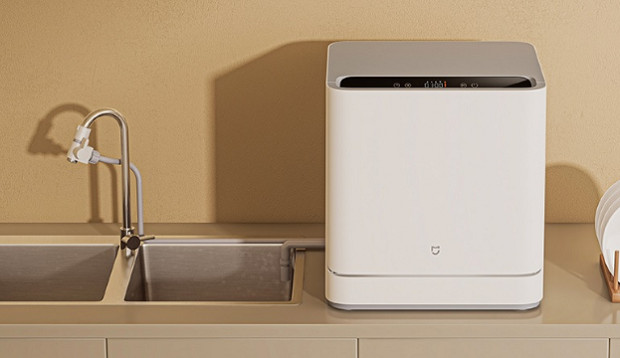 The Xiaomi Mijia Dishwasher is an excellent choice for those with small kitchens. You can buy it for around RM899 on Shopee/Lazada. Please make sure to buy with sellers that provide a 1-year warranty.
---
Competition
Giselle Dishwasher KEA0205 Review
Giselle KEA0205 Dishwasher is quite pricey for what it offers. It cost about RM949 but its features are not better than Xiaomi Mijia Dishwasher. I would advise you to get a Mijia or the Toshiba DW-08T1 dishwasher.
There are also multiple complaints on quality issues such as water leaking and the top sprayer not working. These are major malfunctions that will seriously affect the usability of a dishwasher. So, just be cautious if you really want to buy one.
BORASL/OLONBO/German Automatic Dishwasher Review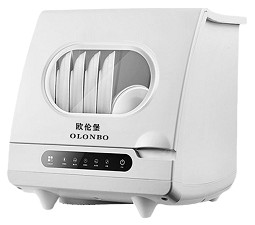 Don't buy this dishwasher under any circumstances. If you check the user reviews, most of them are fake reviews that are directly translated from Chinese. Also, you can read a few genuine reviews which complain about water leakage and sellers being not responsive.
There will be few real customers who are satisfied with the product because they have low expectations. But I don't think it is worth spending as much as RM500 on some non-branded dishwasher.
---
Dishwasher FAQ
What is the place setting for dishwashers?
The place setting is the unit of measurement for dishwasher capacity. A place setting is all the required dishes and cutlery for a meal, including a large plate, small plate, bowl, cup, saucer, spoon and fork. 
Indirectly, it also means that 1 place setting is equal to 1 person. So, a 4 place setting dishwasher is suitable for a 4-person family.
What is the ideal noise level for a dishwasher?
Ideally, a quiet dishwasher should operate at a noise level around 40 to 45 dB. Normal dishwashers usually are around 46 to 50 dB. Noise above 50 dB will be quite obvious and may irritate some sensitive users.
Dishwasher machine or hand-washing is better?
I would say the dishwasher is better. Study shows that dishwasher saves an average of 230 hours each year.
Hand-washing is cheaper and probably faster to complete, but it occupies your time and energy. Using a dishwasher is slightly more expensive and takes a long time to wash, but it frees you up to do other things that matter.
Dishwasher machiner or hand-washing cleaner?
The dishwasher washing is cleaner. The combination of high-temperature water spraying from every angle at high pressure is proven to clean better than hand-wash.
Does the dishwasher use a lot of water?