Everyone wants to eat and drink healthy at all times. Blenders help make nutritious food such as smoothies and detox juices while air fryers cook healthier food without the needs for excessive oil.
When it comes to cooking, the kitchen blender is one of the most important time-saving kitchen appliances.
Blenders speed up cutting and smashing of food. And can be used to prepare hearty soups and puree.
We have gathered reviews from Lazada and Shopee, and come up with a list of the 10 best-selling blenders in Malaysia, as shown below:
---
1. KHIND Multi Blender Chopper BLC129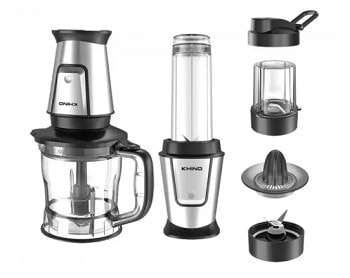 Here is a powerful blender from Khind, a home brand in Malaysia. Khind Multi Blender Chopper BLC129 comes with plenty of accessories at a compact size.
Best deal on Lazada Best deal on Shopee
---
KHIND Multi Blender Chopper BLC129 Specifications:
Power: 500W
RPM: Chopper – 6000rpm 15%+/-, Blender – 23000rpm 15% +/-
Capacity: Blender Jug – 0.57L, Chopper Bowl – 1.2L
Net Weight: 2.1kg
Accessories: Citrus Juicer, Grinder
Customer's Positive Review:
Packing cantik…brg cantik…semua cantik…warranty nk registration online..sgt mudah..I'm done tq
Customer's Negative Review:
-No negative reviews on the product itself. Few complaints on delivery issue-
The double blades are made of SUS304 stainless steel for durability and more effective food processing function. With its 500W motor, it can grind dried food into fine powder.
It has a pulse switch along with a powerful motor to help make your food preparation easier and faster.
The chopper bowl is made of heat resistant plastic and is BPA free. The interchangeable accessories give you flexibility when it comes to your cooking.
To top things off, this blender comes with a safety switch that ensures you can't start the blender before properly securing them in place
This Khind BLC129 blender comes with a 1-year local manufacturer warranty.
---
2. Panasonic Twin Jugs Blender With Dry Mill (MX-M210SSL)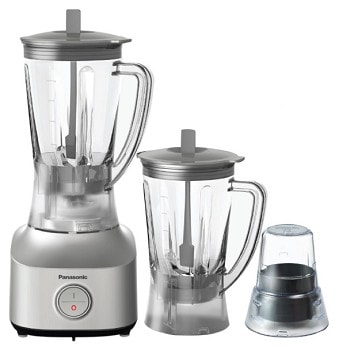 Panasonic Twin Jugs Blender MX-M210SSL is a simple yet solid blender with a durable stainless-steel cutter that blends your food to create a smoother texture.
Best deal on Lazada Best deal on Shopee
---
Panasonic MX-M210SSL Blender Specifications:
Power: 450W
RPM: 11,000 rpm
Capacity: Jug (2 sets) – 1.35L and 1.0L
Net Weight: 3kg
Accessories: Dry Mill
Customer's Positive Review:
Fast delivery. Product is working fine, comes with 2 big jars and a small one for chopping. I used it for blending smoothies for the whole family. Good value for money.
Customer's Negative Review:
Delivery and seller are fine but the product I just realized has only on-off function, no options for high/low/medium etc. very surprised Panasonic didn't think of it!
Panasonic MX-M210SSL blender comes with two jugs and a dry mill. Those who frequently cooks may have run into situations which need to blend different food which not meant to be mix together.
So, normally people have no choice but to wash the jug before blending another type of food. With 2 jugs readily available, it should help to ease the situation a lot.
It also includes a scrapper that helps to mix food more evenly.
There is only a simple ON/OFF button. So, you'll just need to turn on and off anytime you want to. There's no speed adjustment nor pulse feature on this blender.
The plastic jug is lightweight – easy to handle and wash.
As usual, there are also safety features built in, namely the Safety Lock function that ensures the jug must be secured in properly in order to proceed.
Upon experiencing any overload, the circuit breaker will trigger to protect the motor and yourself.
This Panasonic twin jug blender comes with 1 year local manufacturer warranty.
---
3. SAMU GIKEN Multifunction 7-in-1 Blender Set (SG-MFB1400B)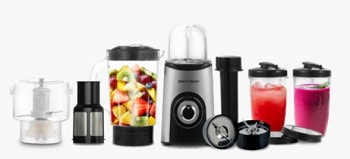 Next on the list, we have this SAMU GIKEN Multifunctional Blender SG-MFB1400B. It is a set of 7 in 1 all-purpose blender which can take care of your blending, grinding and chopping.
Best deal on Lazada Best deal on Shopee
---
Although the brand name itself may sound very Japanese, I have doubt that this is a truly Japanese company or product.
This is a very typical marketing tactic that many Malaysian companies use to sell their product, just like every other Malaysia furniture brand that put italian brand name.
Nonetheless, it is still one of the top favourite blenders on Lazada and Shopee. Let's find out more.
SAMU GIKEN Multifunction 7-in-1 Blender Specifications:
Power: 400W
RPM: -not stated-
Capacity: Jug – 1L
Accessories: Feeding Lid, Jug Cover, Jug, Flat Blade, Flat Cover, Low Cup, Plunger, Cross Blade, Chopper Lid, Shopper Bowl, 'S' Blade, High Cup, Filter, Drinking Cover
Customer's Positive Review:
Barang diterima dlm keadaan baik. Setakat ini blender yg digunakan berfungsi dgn baik. Memang berbaloi harga sebab dapat satu jug besar yg boleh juga digunakan utk blend buah siap penapis.

Satu bekas kecil utk blend bijiran kering atau cili. Dua bekas saiz gelas utk blend buah jus. Dan satu lagi bekas saiz mangkuk utk blend daging dsb. Puashati.
Customer's Negative Review:
DO NOT BUY!!! We used the blender for 2 weeks then it stopped working. The blender cup is stuck on the motor and it will not disconnect. We cannot use the blender and want to return it under warranty. We messaged the seller 1 week ago and still have no reply. We messaged again, but no reply. Now the liquid inside is rotten and stinking, and we can't empty it. The blender is junk, and the seller is irresponsible. Don't waste your money on this blender."
It comes with lots of accessories which are easily interchangeable to make your cooking life easier and also faster.
The blade and nozzle are made of stainless steel. The combination of a cross and flat blade brings about a more efficient blending function.
The chopper is able to grind meat and can turn grains into fine powder.
It offers 2 Speeds with 8 Variable Speed Control functions which is great as this gives you greater flexibility in controlling how fine you want your food to be.
Fitted with a safety switch, this gives you a peace of mind when operating this appliance.
Samu Giken 7-in-1 blender comes with 2 years local supplier warranty.
---
4. Midea MBL-35BK Blender
This Midea MBL-35BK Blender comes with a plastic jug and a grinder cup, with a mediocre 350W motor.
It is a very basic and simple blender that does the job.
Best deal on Lazada Best deal on Shopee
---
Midea MBL-35BK specifications:
Power: 350W
Capacity: Jar – 1.25L, Grinder – 200mL
Net Weight: 1.9kg
Accessories: Grinder cup
Dimensions (Box) : 390 x 182 x 182mm
Customer's Positive Review:
Good value for money.. good product quality
Customer's Negative Review:
Bunyi kuat blh than…blen bwang pun xlumat…
At only RM60, it is great that it offers 2-Speed Control function and also a pulse switch control too.
This allows users to have better control over deciding the exact texture they'd like their food to be.
The blade is made of stainless steel so no worries about durability and rustiness issue.
Also, this blender is equipped with a base security lock to ensure your jar is secured in properly before using.
This Midea blender comes with 1 year local manufacturer warranty.
---
5. Riverside TurboMAX 1500Watt Professional Commercial Kitchen Multipurpose Super Heavy Duty Blender
If you need a larger capacity, heavy-duty commercial-grade blender, this Riverside TurboMAX 1500 watt Professional Blender could be it for you.
Best deal on Lazada Best deal on Shopee
---
Riverside TurboMAX 1500W commercial blender specifications:
Power: 1500W
RPM: 30,000
Capacity: Glass Jar – 2L
Net Weight: 3.5kg
Accessories: Cleaning brush, Stir Stick
Dimensions: 280 x 210 x 370mm
Customer's Positive Review:
Sorry for the late review. I had to test it first haha. Yep this is definetely one good workforce blender. It can crush Ices! That is all that matter for me honestly lol. It has various speed..and a blazingly fast blend too.

I used them to make mostly drinks for now..and I don't have to get or buy Ice blended or smoochies since I can do it myself now with some recipe on google! Woohoo! Product built is good,

Hopefully it last longer than stated on page. I even saw some people using it at Pasar Malam and cafe. Yep same stuff. Thanks Riverside! and Lazada! Great item. Thumbs up!
Customer's Negative Review:
Barang dah sampai tapi baru guna dua tiga kali dah keluar asap dan hangit kemudian tak boleh nak on.
Equipped with a 2L BPA free and heat resistant glass jug, this is a commercial-grade blender/mixer.
It is claimed that the blade is made of Germany stainless steel 3D cyclone 6 blades are sturdily made and can last very long.
Not only is it simple to use, its 1500W energy powerful motor comes with 20 speeds control and can run up to 30,000 rpm!
This appliance operates at a lower temperature and this is great as this helps to retain the nutrients. Multi-functional, this blender can mince meat, dry grains and nuts even ice.
Fitted with an overload/overheat protector function, you'll be rest assured to use this blender with a peace of mind.
And lastly, take note that this blender uses a China plug, take note and if you think it is inconvenient or insecure, get other blenders with a local 3-pin plug.
This Riverside 1500W blender comes with a 1-year international manufacturer warranty.
---
6. Philips Daily Collection Blender with Additional Jug (HR2059/90)
We definitely have to include Philips HR2059/90 blender in the list as it has more than 1500 rating with an average of 4.5 stars out of 5.
It sports a modern and unconventional design.
Best deal on Lazada Best deal on Shopee
---
Philips HR2059 blender specifications:
Power: 450W
Capacity: Plastic Jar – 1L
Net Weight: 3.5kg
Accessories: 2 Jars, 1 Mill
Dimensions: 280 x 210 x 370mm
Customer's Positive Review:
Fast delivery, received in weekend. Very good quality blender indeed. Although the jar look small but actually it's wider and same size as standard jar. Blended quite fast too. Recommended!
Customer's Negative Review:
Not recommended. I tried to blend soft fruit which is dragon fruit with milk the whole machine is shaking with burned smell. I haven even try to put ice yet!
Two rubber on the blender leg not provided. This issue has been highlighted by previous customer but no action taken by philips e-store. Hope philips e-store could furnish the missing parts
First thing, we want to highlight that the negative reviews on this blender are pretty critical.
It could be a few independent cases.
But still, the chances are there that you may get defective units and have to go through the process of claiming a warranty to exchange the product. So, do take into consideration this factor before you decide to buy it.
With its 4 stars stainless steel blade, this Philips blender can blend and crush ice within a minute.
It has a pulse function that serves to crush ice more effectively and dislodge any food stuck under the blade designed for effective blending and mixing.
Unfortunately, it has only one speed setting, so may not be suitable for those who want a finer control with blender
The mill is great to grind spices, nuts and coffee beans. All removable parts are dishwasher safe.
Equipped with motor overheating protection function, this blender motor is protected from overheating and over-current conditions, during use.
The plastic jar is break-resistant with a more ergonomically designed design that comes with a comfortable thumb grip handle.
This Philips HR2059 blender comes with 2 years international manufacturer warranty.
---
7. OKINO Soundproof Blender 1500W (OKINO 8001)
OKINO 8001 blender is a professional multifunctional blender with a soundproof shield.
The soundproof feature is not commonly found in a consumer-grade kitchen blender. So, it is kind of unique.
Best deal on Lazada Best deal on Shopee
---
Okino Soundproof blender specifications:
Power: 1500W
Capacity: Plastic Jug – 1.5L
Accessories: 1 Jar
Customer's Positive Review:
Excellent product as advertised. Silent and well built. Very much recommended.
Customer's Negative Review:
-None-
We all know normal blenders are loud and noisy. It can be quite disturbing at times. And inconvenient to use if you have a baby who is sleeping in the house.
This Okino 8001 blender is specifically pre-equipped with a soundproof shield. It has an integrated but removable quiet shield enclosure that helps dampen the blending noise.
Coupled with variable speed dial control, this blender gives effortless blending control for restaurant-quality results.
It gives you the control of the speed to create different types of food texture.
Its powerful 1500-watt motor efficiently crushes ice and frozen ingredients in seconds. The hardened, stainless steel 6 blades rotate at high speeds to crush even the tougher ingredients.
Unfortunately, this Okino 8001 soundproof blender only comes with only 3 months local manufacturer warranty.
---
8. Pensonic PB3203L 1.0L Blender
This is an affordable Pensonic PB-3203L blender that comes with a durable stainless-steel blade that can crush and cut chunks of food into your desired texture and size.
Best deal on Lazada Best deal on Shopee
---
Pensonic PB3203L Specifications:
Power: 250W
Capacity: Plastic Jar – 1.0L
Accessories: Dry mill set
Customer's Positive Review:
Just got my order today. Kudos for the fast delivery and very responsive seller. Thank you so much!!! Blender works and functioning well. Will definitely recommend to my friends! 💯👏🏻👏🏻👏🏻.
Customer's Negative Review:
tmpt pisau xdigam. bila blend air terkeluar. sebelum anta pada customer blh x uols check dlu. u da menyusahkan pengguna utk anta balik. cuba klu brg ni saya hadiahkan terus pada org.
The transparent plastic jug is detachable for easy cleaning and comes with a stirrer.
You can use the stirrer to blend a better mixture.
The blender has a safety lock in place before you can proceed to use it.
This Pensonic blender is a very normal and conventional blender. In fact, it has the lowest motor power among other blenders in this list.
However, it has over 3000 positive reviews on Shopee which I simply cannot ignore.
If you prefer to support local brands, then this Pensonic is a great budget blender choice.
This Pensonic PB3203L 1.0L blender comes with 1 year local manufacturer warranty.
---
9. TOSHIBA 600W BL-60PHNMY 1.5L Ice Blender
Toshiba BL-60PHNMY Blender, another online users' favourite, with over 500 reviews and 4.4 out of 5 stars on Lazada.
Best deal on Lazada Best deal on Shopee
---
Toshiba BL-60PHNMY specification:
Power: 600W
RPM: 25000
Capacity: Plastic Jar – 1.5L
Net Weight: 1.49kg
Accessories: 50ml measuring cup, 200ml grinder jar, stirring rod
Dimensions: 175 x 195 x 384mm
Customer's Positive Review:
Excellent service. Very good item. Sharp blades and powerful motor. Satisfied!
Customer's Negative Review:
best blender ni sbb 1. blh bakar kalori lepas kena drill lubang sendiri utk guna penutup. 2. bila guna utk blend air, ais tak hncur habis. so ada tekstrur krup krap sikit. sedapp 3. bunyi plg best. bila guna tu, mak terus call "ko senyap sikit blh tak?" dari kampung. first time mak call. happy sgt!
Toshiba claims that the blender has twice the durability, providing a powerful and swift blending function as well.
It has a large capacity 1.5L BPA free plastic jug with improved resistance to solvents and stress cracking.
The two layers 4-point SUS 301 blade is amazing and blend more efficiently. Plus, it is removable for easy cleaning.
There is a simple 2-speeds control knob with pulse function, that gives you the choice to control the exact speed to create the texture you want in your food.
The grinder jar can be used to grind spices, coffee beans and other grains into different textures from fine to coarse.
The interlock safety protection feature ensures your safety when using.
There are also removable anti-slip feet to ensure the blender stays tightly in place especially during usage.
One last note, I have purposely picked the worst user review I can find for this Toshiba blender.
Although the review is incredibly sarcastic and harsh, that is still an honest opinion from other actual users.
For a sub RM100 blender, we really can't expect it to produce smoothies of quality comparable to blender which cost thousands of Ringgit Malaysia.
The motor blending speed of such a budget blender is not capable nor powerful enough to produce a super fine blend.
This Toshiba 600W blender comes with a 1-year local manufacturer warranty.
---
10. Kelen Munoz 7-in-1 Food Blender & Juicer
Kelen Munoz 7-in-1 food blender and juicer has a classic and timeless style. Hundreds of units have been sold on Shopee, and they've got a 4.9 out of 5-star rating from more than 400 user reviews.
Best deal on Lazada Best deal on Shopee
---
Kelen Munoz KMPCB1750 specifications:
Power: 400W
Capacity: 1.5L Blend Jug
Net Weight: 4.5kg
Accessories: Blender jug 1.5L, juicer, grinder cup, food processor with slide & shred blade, filter
Customer's Positive Review:
This juice machine is considered good. 👍👍👍👍. But The glass material is so so ( quite fragile. ) 🤔🤔🤔🤔 overall okay pass 🤗🤗🤗🤗
Customer's Negative Review:
The blender not so powerful as it unable blend the ice till like ice blended.
The powerful pure copper motor along with the stainless steel flat cross blade is able to grind, mix, blend, chop, slice and shred your food easily.
It has a standard 2-speeds button that gives you the control to get the texture you want. There's pulse function too which is handy for getting food unstuck and blend evenly.
It is equipped with safety overheat protection that you don't need to constantly worry about burning your blender motor. It also comes with anti-slip feet.
This blender is good for those who want full package of food processor, juicer and blender without spending a fortune. This is obviously a steal for only less than RM170.
So, we can see that there are some feedbacks that mention it looks fragile. I think this is unavoidable since they need to save cost somewhere else.
So, get this blender if you want functionality. If you want durability, may explore blenders from other brands.
Kelen Munoz 7-in-1 blender comes with a 1-year local manufacturer warranty.
---
Blenders FAQ
What are the best blender brands in Malaysia?
For normal usage, Panasonic, Philips, Khind and Pensonic are among the best blender brands in Malaysia.
How to choose a blender?
Typically, we should look into the power of the motor, container size and speed control.
---
References:
Cosumereports.org – Blender buying guide