Using a food steamer for cooking is more healthy than stir-frying, roasting or boiling. You don't need to use oil and there's no smoke when steaming.
The steam cooking method preserves food's nutrients, flavours, and vitamins the best.
Investing in the best food steamer is one of the best things you can do for your health.
What is the best food steamer in Malaysia?
The best food steamer for Malaysians is the Midea Multifunctional Food Steamer. It has 3 layers of stainless steel trays and a total capacity of 9 litres. It can cook multiple dishes at the same time, best suited for small families. It can even be used as a hot pot
Let's check out the top 8 best food steamers in Malaysia 2022:
---
1. Tefal Stainless Steel Steamer VC1451
Best Stainless Steel Food Steamer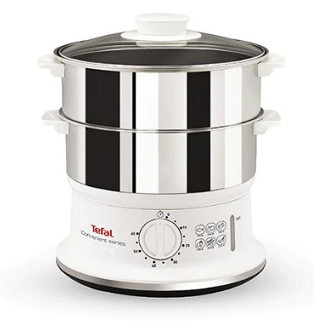 Best deal on Lazada Best deal on Shopee
Tefal Stainless Steel Steamer VC1451 is the best stainless steel food steamer in Malaysia.
This steamer is a round-shaped electric steamer with a total capacity of 6 litres. 
This is a relatively small and compact steamer but it has two tiers. So it can be used to prepare 2 dishes at the same time. 
The Tefal VC1451 electric steamer is distinguished by its food-grade stainless steel steamer bowl. Food-grade stainless steel can stand up to very hot temperatures and it is rust-free so you will not have to worry about any kind of food contamination.
The stainless steamer bowls will not be visible from the sides though. Luckily, the glass lid on top enables users to see the condition of the food without opening the lid.
This Tefal electric steamer comes with a 60-minute mechanical timer and will automatically switch off after cooking. 
Two other nifty features of the Tefal Electric Steamer are its external water filling and water level indicator.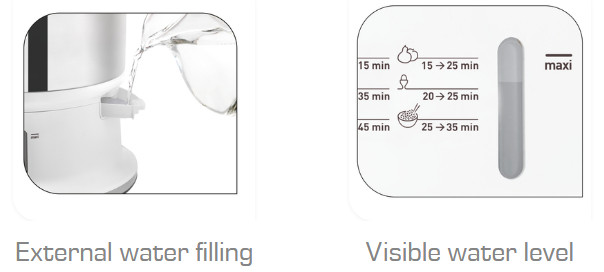 Users can easily refill from the side without lifting the steamer bowl. This protects against accidental burns.
Other than that, the Tefal Stainless Steel Steamer VC1451comes 
All the parts of the Tefal VC1451 electric steamer are dishwasher safe, you can directly put them into a dishwasher for cleaning. This package comes with a rice bowl too.
The Tefal VC1451 food steamer has a great build quality and brand reputation. It is ideal for couples and small families.
---
2. Trio Food Steamer TFS18
Best Rectangular Food Steamer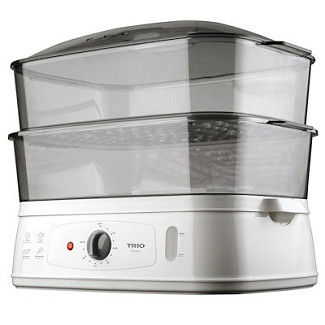 Best deal on Lazada Best deal on Shopee
The Trio Food Steamer TFS-18 is the best rectangular food steamer in Malaysia. There are two tiers, each with a 10-litre capacity. This steamer has a larger capacity than Tefal's round food steamer. 
The steamer trays are made of non-toxic, high-temperature-resistant polycarbonate plastic. 
With a plastic steamer tray, we can check the food's condition easily during cooking. But for those of you who are concerned about food safety, you can buy a food steamer with a glass steamer bowl, or one made of stainless steel.
The Trio Food Steamer can fit one whole chicken without any issue. Due to its spacious design, you can use it to cook vegetables, fish, soup, steam cake and even sterilise baby bottles!
Other features of Trio Food Steamer TFS18 include double heaters, an external water refill system, a water level indicator and a 60-minute timer.
The Trio Food Steamer TFS18 comes with two rice bowls and one water refill cup for free!
---
3. ELBA Food Steamer G1035
Best Compact Food Steamer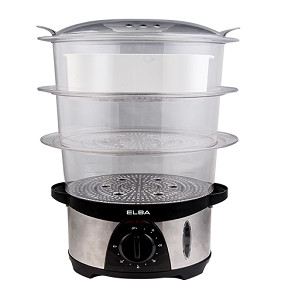 Best deal on Lazada Best deal on Shopee
The Elba Food Steamer ELB-EFSG1035 is a very compact electric food steamer. It has 3-tiers of baskets, giving a total capacity of 10L. But it is the only model that comes with a big rice bowl of 1.5litres.
This Elba food steamer features a 60-minute timer with bell alert, auto cut off function, and anti-dry boiled protection.
Similar to the Trio TFS18 food steamer, the Elba steamer comes with plastic steam trays, a plastic lid, a water gauge and a stainless steel drip tray. 
Overall, the Elba Food Steamer ELB-EFSG1035 is a cheap, small and reliable food steamer. It is great for anyone who has a small kitchen as it doesn't occupy much space on the countertop compared to other food steamers.
---
4. Pensonic Electric Food Steamer PSM-1603
Best Budget Food Steamer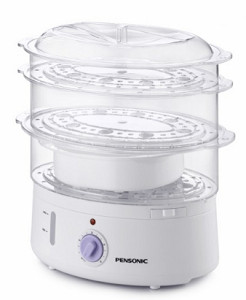 Best deal on Lazada Best deal on Shopee
Pensonic PSM-1603 Food Steamer is the most affordable food steamer under RM100. With close to 800 units sold, it has almost 350 reviews, scoring 4.9 out of 5 stars.
This is yet another 3 tier compact electric food steamer with 9 litres capacity. 
But the Pensonic PSM-1603 sports an oval shape design instead of the usual round or rectangular design. Although it is small, it may not be as convenient as the round-shaped ELBA Food Steamer G1035 as you can put round plates in it.
A rice bowl is included with this steamer, so you can cook rice while preparing other dishes.
---
5. Midea Electric Steamer
Best 3-Layer Steamer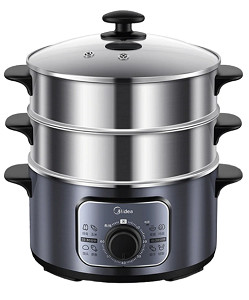 Best deal on Lazada Best deal on Shopee
Midea Multifunctional Food Steamer is the best 3 layers electric steamer in Malaysia. The heating pot for the Midea Electric Steamer can also be used for cooking. It has a capacity of 10 litres.
This Midea Food steamer can be used for boiling soup, steaming meat and vegetables, and even used as a hot pot.
Steamer trays are made of high-quality food-grade 304 stainless steel, offering you peace of mind.
The output power of this Midea steamer is as high as 1300W, it can quickly generate sufficient steam in less than 20 seconds, preserving much of the nutrients of the food.
---
6. Nakada Jumbo Food Steamer
Best Large Food Steamer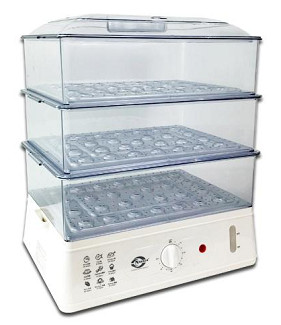 Best deal on Lazada Best deal on Shopee
Nakada Jumbo Food Steamer is the best large food steamer with a whopping capacity of 39 litres. It is a huge, 3 tier rectangular food steamer.
Users can use it to cook multiple, large portions of dishes at the same time, saving time and electricity. The power output of this steamer is 1800W.
The steamer trays are made of heat-resistant and non-toxic polycarbonate plastic.
Similar to other electric steamers, the Nakada Jumbo Food Steamer has a water level indicator, an external water refill inlet,  and a 60 minutes timer. 
The Nakada Jumbo Food Steamer is very versatile as well. You can stack up to three layers of steam trays without inserting the separator. Thus, you can sterilise various kitchen utensils, bottles, jars, and containers with this electric steamer.
Overall, the Nakada Electric Steamer is the perfect choice for huge families who often need to serve a large portion of food.
---
7. Cuisinart Cookfresh Digital Glass Steamer
Best Glass Steamer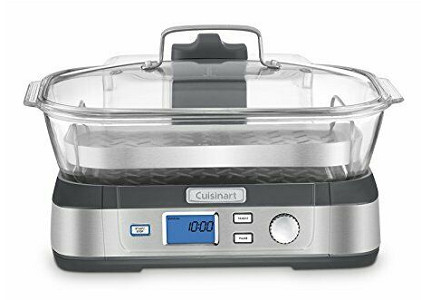 Best deal on Lazada Best deal on Shopee
Cuisinart Cookfresh Glass Steamer is the best high-end food steamer. This is a stylish, one of a kind digital glass steamer.
The capacity of this food steamer is rather small. It uses a single-layer 5 litres steaming container. 
The Cuisinart Cookfresh Glass Steamer has a few unique features. As an example, the glass steaming container can be used independently since it is completely removable. If you have unfinished food, you can directly place the entire container in the refrigerator.
And the water reservoir that is located at the back of the steamer is also removable. This allows you to refill the water much more easily.
It is the only electric steamer on this list that comes with an LCD display and a digital menu. It has five cooking functions, including poultry, seafood, grains, vegetables and keeping warm. It also has a reheat button to quickly reheat food.
The Cuisinart Cookfresh Glass Steamer is very well made and feels premium. Its price tag of RM1,359 means that it isn't for everyone. So, it is only recommended if you can afford it.
---
8. Euro Uno Foldable Food Steamer
Most Unique Electric Steamer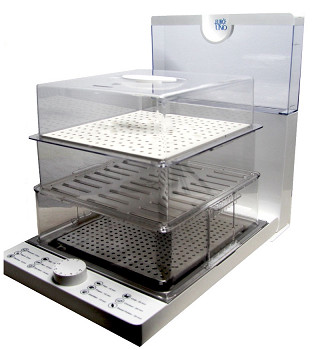 Best deal on Lazada Best deal on Shopee
Euro Uno Foldable Food Steamer is the most unique electric steamer with a foldable design. The steamer can be folded into a compact shape when not in use, making it easy to store.
The Euro Uno Food Steamer has a capacity of 18.8L. It features a square shape design and 3 layers of transparent plastic steam trays. It is easy to monitor the cooking process.
The steamer uses a microtubule dripper system that can generate a steam jet in less than 10 seconds. Food can retain its taste and nutrients very well. 
It also has a safety system in place that prevents burns and fire.
But the quick-heating technology comes with a small downside. The water pump can be quite noisy when it is heating. Users report that it sounds like a motorboat engine.
Overall, the Euro Uno Food Steamer is a very convenient and large electric steamer. If you are looking for a food steamer that can be kept on your kitchen countertop without taking up much space, then you should really buy the Euro Uno Food Steamer.
---
Competition
Morgan Food Steamer MFS-29 Review
Morgan Food Steamer MFS29 has a very large capacity of 28L. It is one of the best selling electric food steamers on Shopee.
It has two layers of electric steamers, each of which holds 14 litres. Many customers love its sizes and design.
For only RM200+, it is a very good value for money food steamer. You can use it to steam pao, dim sum, cake, vegetables, meats and more.
Hesstar Food Steamer Review
Hesstar Food Steamer is a 14-litre,3 layers electric steamer. The capacity is almost similar to the Pensonic PSM1603 food steamer. But Hesstar's model is more expensive.
The Pensonic PSM 1603 is cheaper and comes with a dedicated rice cooking container. Hence, I think it is a better purchase.
However, if you really like the size and capacity of Hesstar, then this could be a good choice too.
Philips Food Steamer Review
Philips Food Steamer HD1904, HD9120, and HD9150 are very expensive compared to other recommended food steamers above. 
Although Philips is an established brand, the food steamer is a simple cooking appliance that doesn't involve much technology. I don't recommend paying the extra premium to buy Philips Food Steamer.
Noxxa Food Steamer Review
Noxxa Food Steamer features include a 3-level stackable steam rack, that can steam up to 2kg of chicken. It uses a digital timer instead of an analogue one like other electric food steamers.
The selling price of close to RM400 makes it difficult to recommend since there are many cheaper alternatives.