Is there any good free VPN? Yes, but the truth is the majority of free VPNs give false promises in an attempt to sell you advertisement, or worse, potentially stealing your personal information if you use some untrusted VPN services.
Free VPN usually have a limited number of server locations and suffer from slow internet speeds and high latency.
For the best VPN experience, I recommend sticking to affordable paid VPN services that have a good reputation.
However, if you are just looking for a VPN for temporary use, I've tested dozens of them in order to eliminate the useless ones.
Here are the 3 best free VPNs which actually work for Malaysian users.
Comparing The Top Free VPNs In Malaysia
| VPN Name | Bandwidth Quota | Average Speed | Latency | Countries |
| --- | --- | --- | --- | --- |
| ProtonVPN | Unlimited | 50 - 75+ Mbps | 200+ ms | 3 |
| AtlasVPN | Unlimited | 50 - 75+ Mbps | 200+ ms | 2 |
| Windscribe | 10GB per month | 20 to 50+ Mbps | 200+ ms | 10 |
| Hotspot Shield | 500MB per day | 2Mbps | 200+ ms | 1 |
| Speedify | 2GB per month | 100+ Mbps | 200+ ms | 30+ |
| Hide.me | Unlimited | 12+ Mb[s | 200+ ms | 1 |
*Note: My normal WiFi speed is about 150-290 Mbps.
---
Best Free VPN In Malaysia
ProtonVPN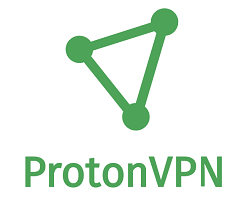 Visit ProtonVPN Best deal on Shopee
ProtonVPN Features:
No data limit
Medium speed
Generous VPN features
Great privacy and anonymity
3 server countries
Available for smartphones and PC/Mac
When I am researching free VPN services, I am not expecting to find a very good one. But ProtonVPN beats my expectations.
To use ProtonVPN for free, follow these steps:
Go to protovpn.com/pricing
Click "get free" on the free plan options
Create new account with a valid email address
Sign in to your account at account.protonvpn.com
In your account dashboard, go to "download"
Download ProtonVPN Windows client and install it.
Run the ProtonVPN and enjoy unlimited free VPN
ProtonVPN offers no limit on how much data you can use each month. Not only that, the VPN speed is very commendable too. During my personal speed test, it averages 50 to 75 Mbps.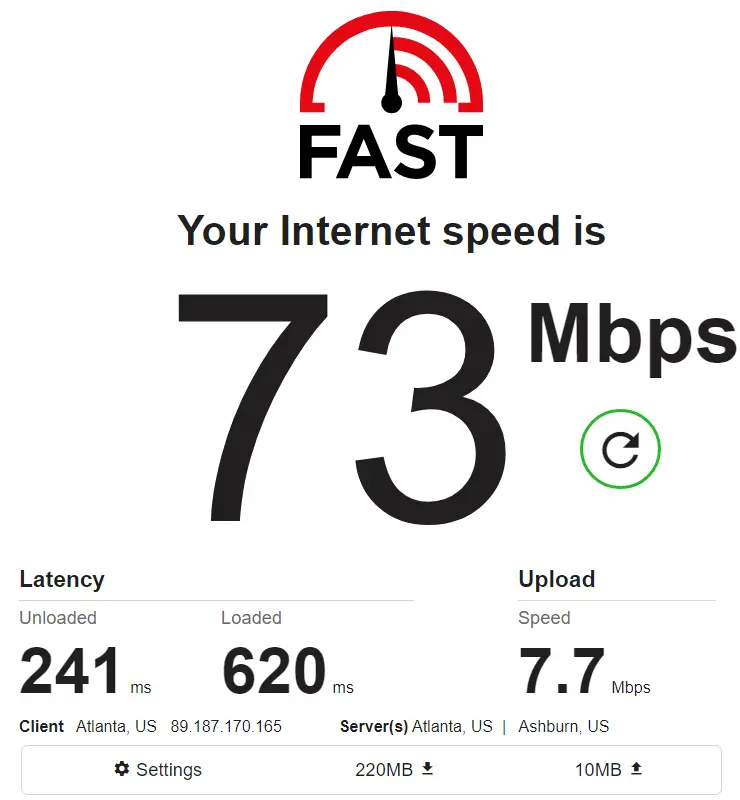 The free version ProtonVPN gives us access to three different countries, a total of 23 servers. The said three countries included are Japan, Netherlands, and United States.
Besides that, you can use ProtonVPN on almost any device and operating system. It has dedicated clients for Android, iOS, Windows, macOS, Linux, Chromebook OS and Android TV.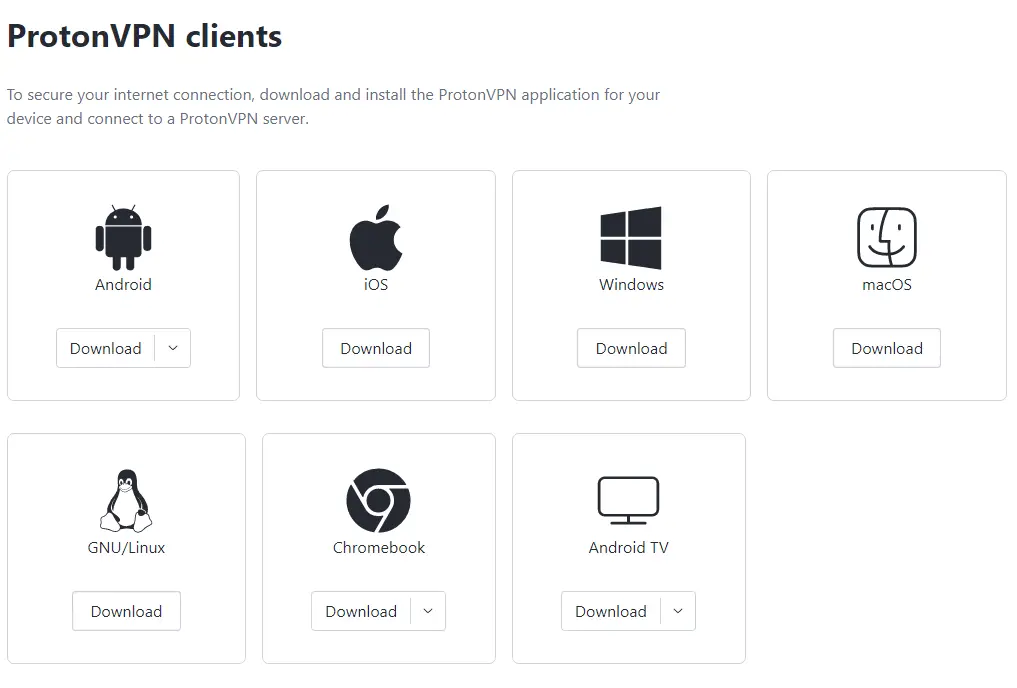 I am testing ProtonVPN using a Windows laptop. And the Windows client is one of the best looking VPN clients I have seen. Everything is clearly laid out, and you can see you're connecting to which VPN server, real-time download and upload speed, quota used, etc.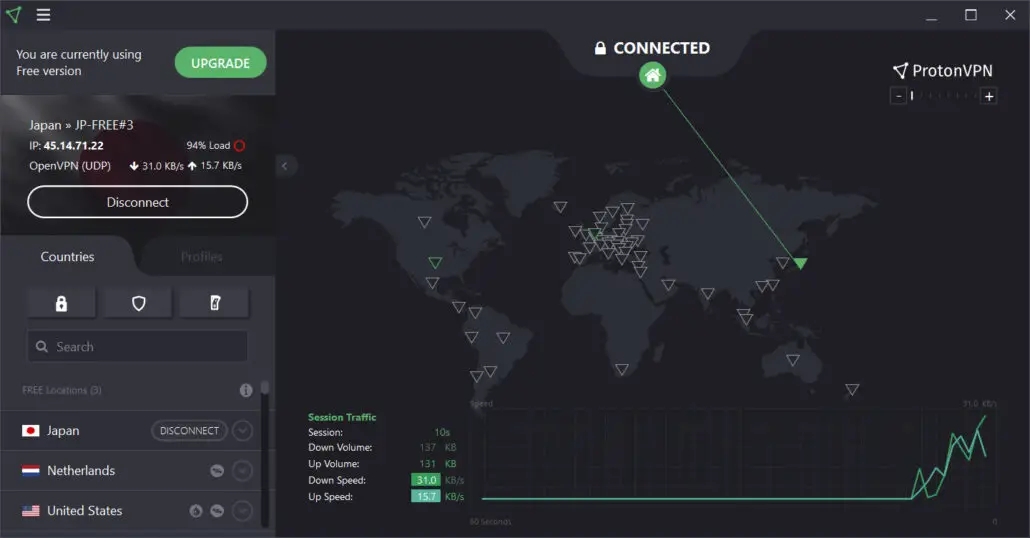 You can use ProtonVPN without any worries as they practise a strict no-log policy. But you do have to register an account before you can start using it. 
It should be able to satisfy the needs of average users like accessing blocked content in Malaysia, whether it is news, websites or geo-specific YouTube content.
ProtonVPN's free tier, however, does not support streaming services or torrenting. Particularly on U.S. streaming services such as Netflix, Hulu, Disney+, Prime Video and others. 
---
Most User-Friendly Free VPN 
AtlasVPN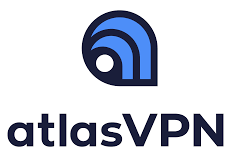 Visit AtlasVPN Best deal on Shopee
AtlasVPN Features:
Unlimited bandwidth
No complicated signup process
Simple app interface
2 countries only
3 servers only
Kill switch
Available for smartphones and PC/Mac
AtlasVPN is a very new VPN service that was launched in 2020. As of September 2021, AtlasVPN still offers a free plan with unlimited data. 
However, the free plan is not clearly displayed on the homepage. You have to click its "login" page to create a new account.
To start using AtlasVPN Free Plan, please follow the steps below:
Key in your email, untick "receive exclusive Atlas VPN offers"
Click "Create account"
Check our email, click the confirmation link.
You're now logged in to the account dashboard.
Download the VPN client needed.
Install and start using AtlasVPN
Again, I'm surprised by the speedy and unlimited free VPN services offered by AtlastVPN. The internet speed averages 50 to 70+ Mbps, with around 200 ms ping.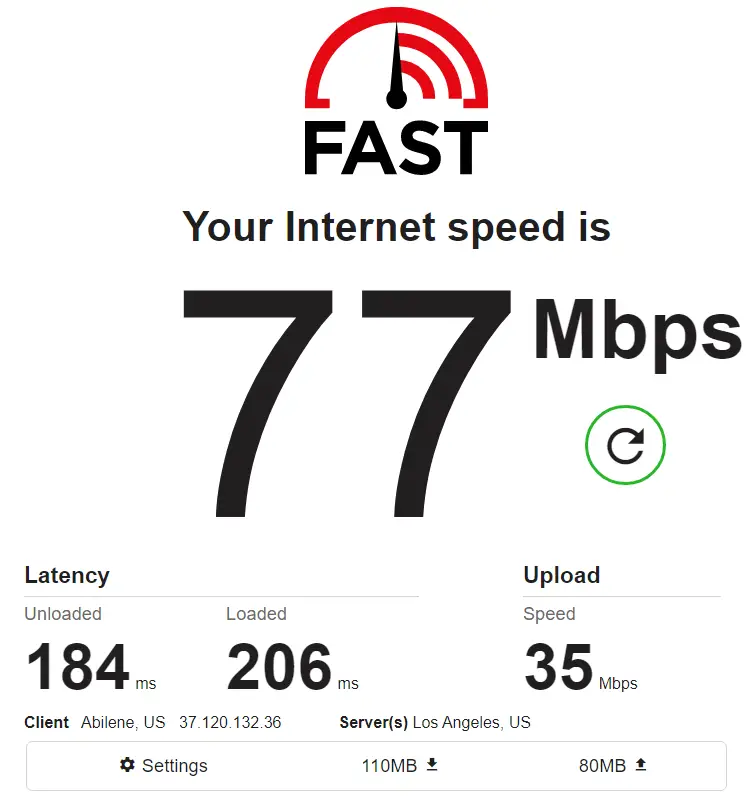 For this kind of free VPN, it is obvious that they are not suitable for gaming but totally fine for normal internet browsing.
AtlasVPN is available on all platforms except for Linux. The atlasVPN's Windows client is very clean and minimalist. There's no additional information or settings for you to choose from.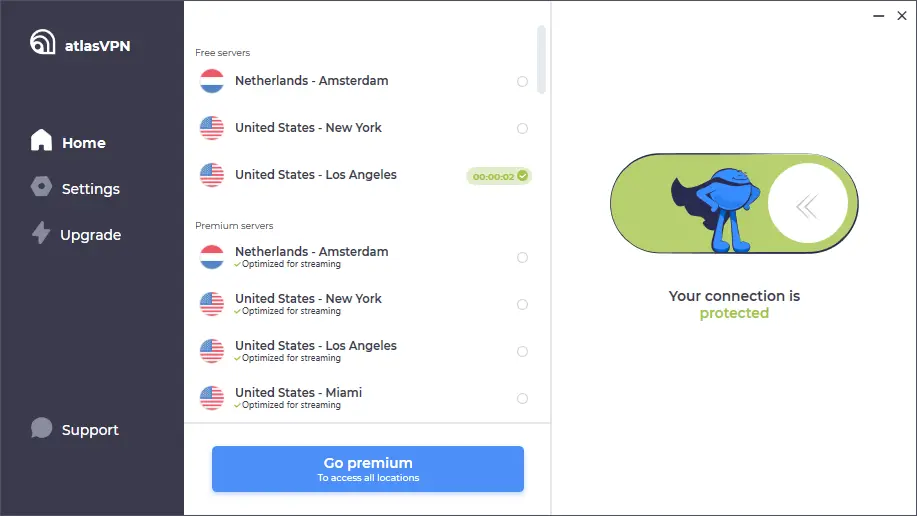 There are only 3 servers available for free users. Although there are 3 servers, there are only 2 country locations: the Netherlands and the United States. So, the server and country choices are extremely limited.
AtlasVPN is a great choice for those who like simple, fuss-free VPN solutions.
---
Best Free VPN With Most Server Locations
Windscribe VPN

Visit Windscribe VPN Best deal on Shopee
Windscribe Features:
10GB data quota
Unstable speed (sometimes good, sometimes poor)
10 countries choices available for free users
Hong Kong server available
Poor software user interface
Free version unblock Netflix
Free version allow torrent
Windscribe offers the most interesting free plan out of all available services out there. It used to be my personal favourite free VPN service.
To use Windscribe free plan, please follow these steps:
Visit windscribe.com
Click on "Download Windscribe"
Install the program and launch it.
Click "get started" to register a new account.
Login to your account and enjoy the free Windscribe VPN.
With Windscribe, you can get 10GB of data with a free plan, whereas competition usually only offers 1GB or 2GB bandwidth. You have to log in with a valid email account in order to get a 10GB quota, otherwise, you will only have 2GB of data.
The speed with Windscribe is rather inconsistent. It can fluctuate between 20 to 50 Mbps with a ping of 200+ ms. It is no longer my preferred VPN due to the inconsistent internet speed.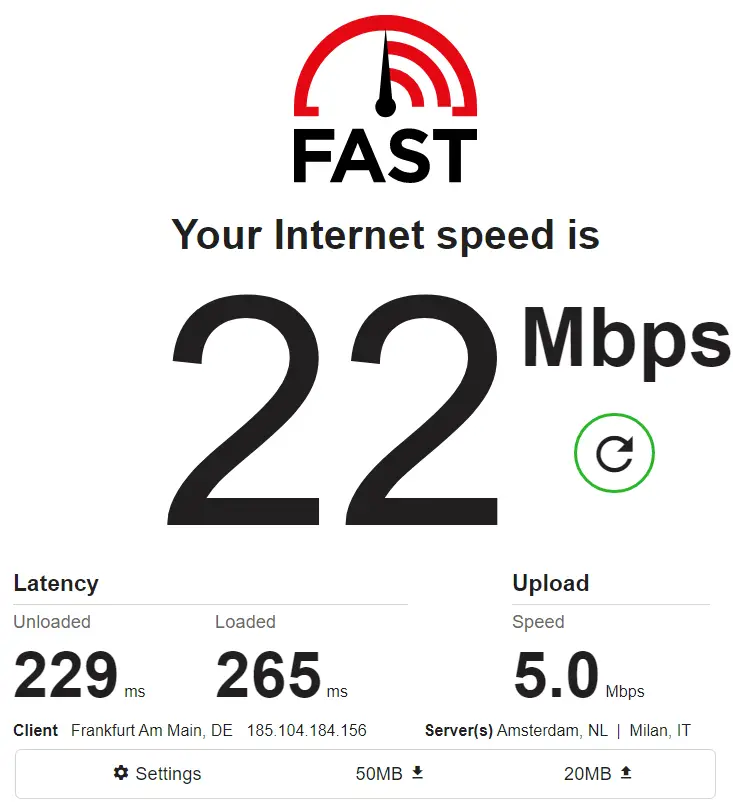 The main advantage of the Windscribe free plan is its multiple server locations.
It gives free users access to 10 different server countries. This includes the U.S, Canada, France, Germany, Netherlands, Norway, Romania, Switzerland, U.K and Hong Kong.
And Windscribe has no limit on how you use its free VPN. You can use it to unblock Netflix country-restriction and torrenting.
However, the Windscribe Windows client has one of the worst user interfaces I've ever used.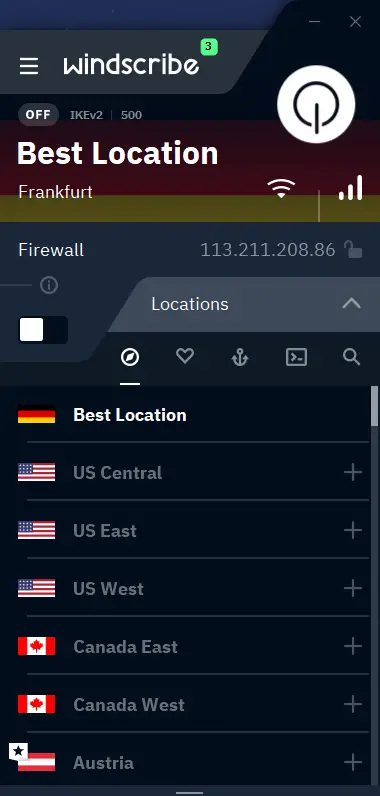 Windscribe's servers mix together all its servers, while other VPNs separate their free and premium servers. 
I find it very inconvenient that I have to scroll through multiple servers to find the one I need.
Despite Windscribe having various shortcomings, it is still a very good free VPN for lightweight users, especially one who needs an Asia IP address like Hong Kong.
---
Competitions
Hotspot Shield Free VPN Review
Hotspot Shield Free VPN – the free plan on Hotspot Shield is very limited. It has only 1 server location and allows for 500MB per day. The speed is capped at 2 Mbps. I don't think it is any good at all. 
In my test, I only can do a simple Google search and often can't reach a website due to poor connection. Strongly not recommended!
Speedify Review
Speedify – During my test with speedify, the Singapore server gives me an extremely fast connection speed of up to 100+ Mbps. And there are more than 30+ servers for free users to choose from. But it has a strict 2GB monthly data limit which I think is too low for any meaningful usage.
Hide.me Review
Hide.me – Although the official knowledge base stated 5 free locations,  my free user plans don't allow me to any server location. I am stuck with a Frankfurt, German server. 
The speed is not impressive, only 10+ Mbps. 
And in my test, it shows my plans as "unlimited free". So, I think they have changed their free plan to unlimited data each month (previously it was 10GB per month).
The good thing is it does not restrict P2P data transfer.
---
Free VPN FAQ
Is Free VPN worth getting?
Yes, a free VPN should be sufficient for casual users who wish to access blocked content. In fact, a DNS change will allow you to bypass simple geo-restriction content.
If you're planning on using a VPN for gaming, streaming, and torrenting and want to keep your internet footprint clean, then a premium VPN service is a must.
Is Free VPN Safe?
Yes, but only limited to trusted and well-established free VPN services like ProtonVPN.
I don't recommend anyone to use the free VPN google chrome plugins because many of those are from unverified developers.
Are there any good free VPNs?
Yes, for example, ProtonVPN is a very generous and fast unlimited free VPN.