What is DNS?
DNS stands for Domain Name System is the GPS of the internet. Each website has its unique internet protocol (IP) address similar to each location has its own GPS coordinate. However, we access websites through domain names, like facebook.com and twitter.com. Thus, DNS helps us to turn the domain names into IP addresses such 198.8.168.8, so that the web browsers can retrieve information from the designated IP address.
DNS servers available in the market.
You may not aware but there are plenty of DNS  servers available in the market. For example, Unifi Malaysia by default will connect to its own TM's DNS server to convert a domain name into an IP address. TM's DNS server is fast and responsive for Malaysia internet users and local websites. This is because it has an upper hand for its physical location being nearest to us.
However, it also means that TM/Unifi has great control over what we can see and find on the internet through. In the past, they have put in place "censorship" over several websites, one of them is s*r*w*kreport.org.
Users who wish to overcome the "censorship" in Malaysia, can simply use an alternative DNS server available in the market. The most popular DNS servers available are namely:
Google DNS: 8.8.8.8 and 8.8.4.4
Cloudflare DNS: 1.1.1.1 and 1.0.0.1
OpenDNS: 208.67.222.123 and 208.67.222.220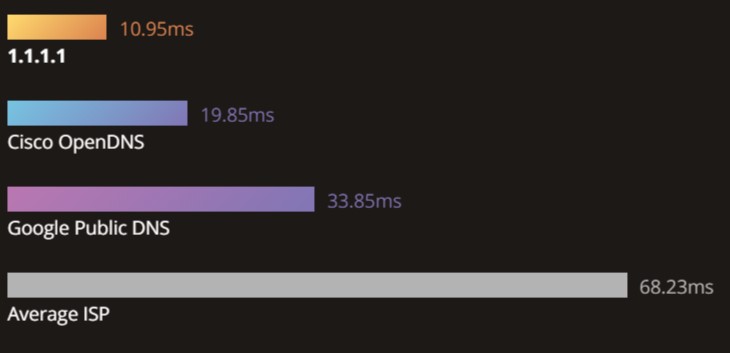 The chart is taken from Cloudflare's DNS
Cloudflare DNS is the newcomer in the scene who claims to be the fastest DNS in the market right now.
Google DNS and OpenDNS have been around for quite some time. Based on my past experience, Google DNS is very fast too but OpenDNS is slightly slower. However, OpenDNS positions itself as a safe for family DNS which comes with pre-configured settings to block adult content. It serves users with different needs such as parental control.
Comparison of different DNS performance in Malaysia
There are many other DNS servers available but today my focus is to find the fastest DNS servers for myself and Malaysia's internet users. My priority is to compare the performance of Google DNS, Cloudflare DNS and TM's DNS. OpenDNS will serve as a control sample.
For your information, TM's DNS is 202.188.18.188 and 1.9.1.9 which I retrieve from the router configuration. I am using Unifi with TP-link Archer C1200 router and retrieve the router information at 192.168.0.1.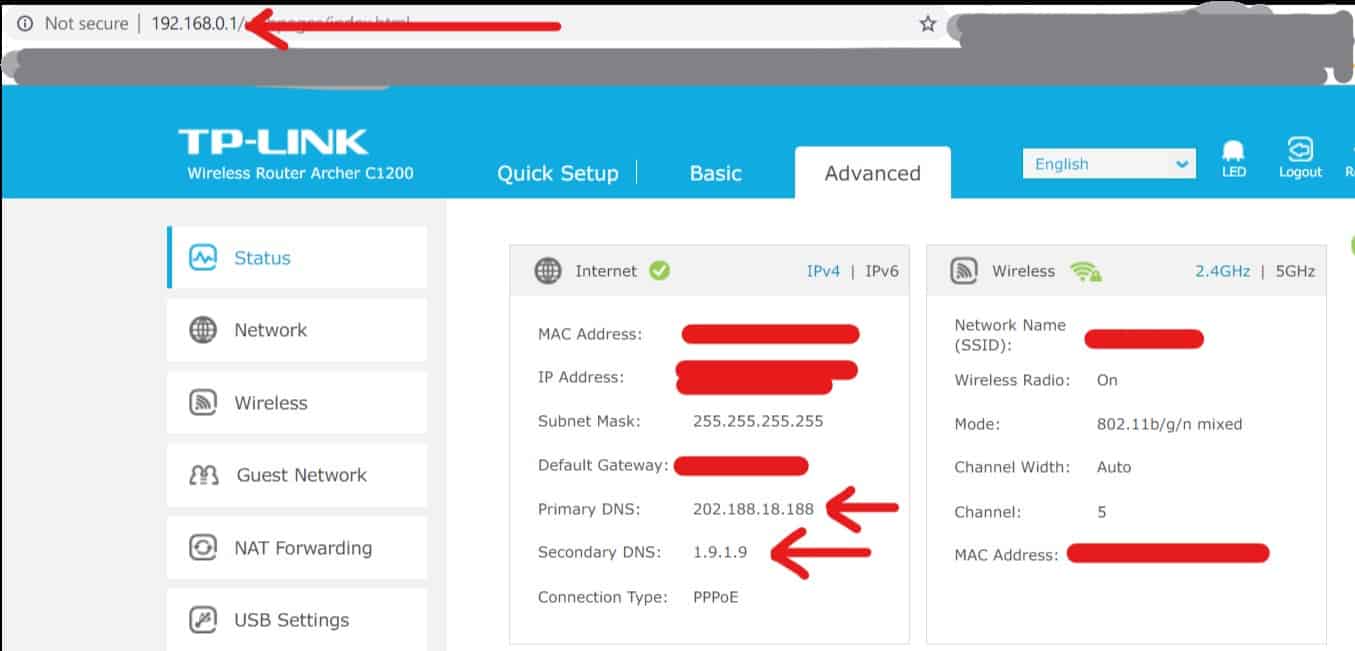 Please see below for 6 consecutive benchmarks performed by using GRC's DNS Benchmark: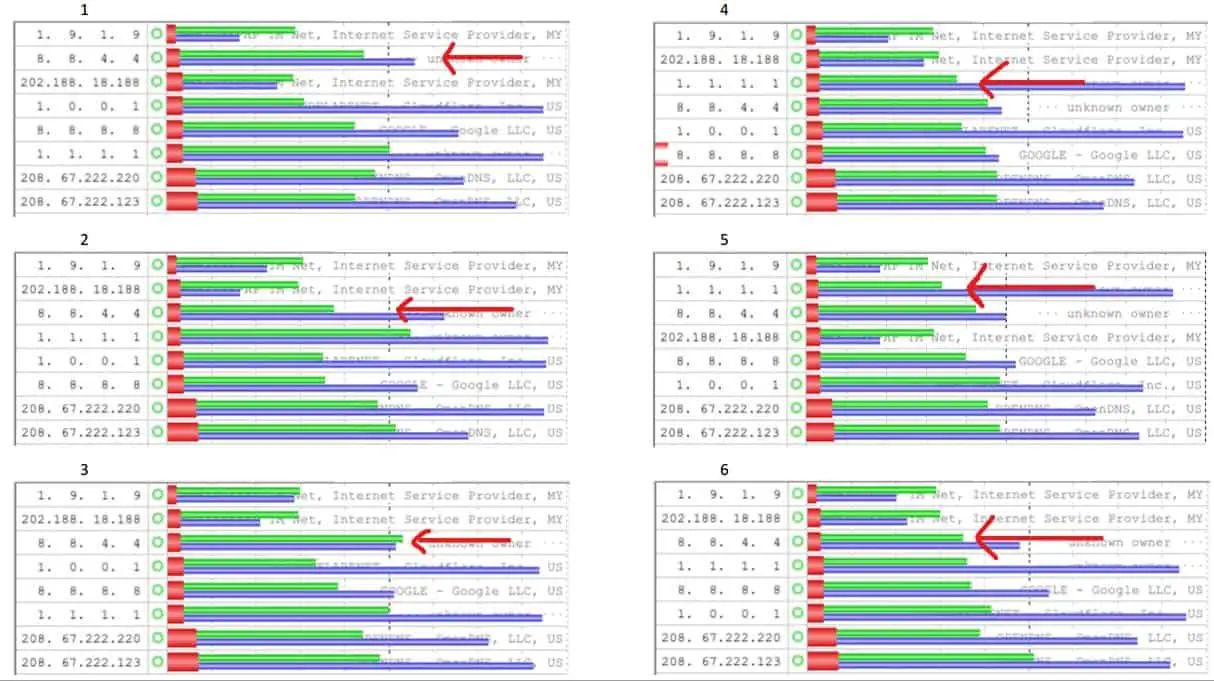 Shorter red colour bar indicates faster performance. The chart is sorted from the fastest to the slowest performer.  We can clearly see that TM Net own DNS server is fastest in all 6 tests. Google DNS, 8.8.4.4 is placed 2nd in 4 out of 6 tests and Cloudflare, 1.1.1.1 is behind TM Net for 2 out of 6 tests. And as what I have expected, OpenDNS is the slowest among all the tested DNS servers.
However, do note that the difference in performance among the top 3 DNS server is merely 10-20 milliseconds which means hardly felt or noticed under normal condition.
TM Net own DNS is fastest for local users due to its physical location advantage. Although Cloudflare claims that they are the fastest, the benchmark results show otherwise for Malaysian internet users.  Google still holds its ground as the fastest alternative DNS for Malaysians.
Besides the 6 tests that I show above, I have personally run another 20 sets of benchmarks and Google's 8.8.4.4 comes out at the 2nd place as much as 16 times. In fact, I am a little bit surprised that Google's secondary DNS 8.8.4.4 is slightly faster than Google's primary DNS 8.8.8.8.
Based on the benchmark results, I would recommend the best DNS settings as below for fastest speed and no censorship:
Fastest performance DNS setting- Primary: 8.8.4.4, Secondary: 1.1.1.1

Peace of mind a.k.a Google DNS setting- Primary: 8.8.8.8, Secondary: 8.8.4.4
How to check the best DNS
I run the DNS benchmark based on my existing internet service provider, Unifi and location at Kuala Lumpur. I believe that my benchmark results should suffice to represent a vast majority of internet users in Malaysia. Nonetheless, DNS server's performance may vary according to your internet service provider and location.
If you're interested to run your own test, please check out GRC'S DNS Benchmark tool. Make sure you're not already using an alternative DNS in your network setting before running the test to get accurate results.
How to set up alternative DNS on your router
It is best to set up the alternative DNS on the router so that every connection made through the router can immediately access the alternative DNS. In my case, I am using a TP-link Archer C1200 router by Unifi and the detail steps as below:
Go to your browser, type 192.168.0.1 in the address bar.
Key in "username" and "password". Usually, it is admin/admin or tmadmin/tmadmin.
Click "Advanced" > "Network" > "DHCP server"
Key in primary DNS 8.8.4.4 and secondary DNS 1.1.1.1
Click Save.
Disconnect your device and connect again. Now you're on Google's and Cloudflare's DNS. Just visit some censored site to verify.
How to set up alternative DNS on your computer and mobile phone
If you prefer to only connect to alternative DNS on certain devices, then check out the step by step guides below:
Set up DNS on Windows 10:
Right-click the "internet access" icon at bottom right of your screen, and click "Open Network & Internet settings"
Click "change adapter options" and it brings you to "Network connections"
On "Network Connections", right-click your working connection, for my case, it is my wifi connection and click "Properties"
Then, click "Internet Protocol Version (TCP/IPv4), and click properties. Select "use the following DNS server addresses" and key in your desired DNS server address. Click OK and done.

Set up DNS on Android:
Go to your smartphone's wifi setting page. (I am using a Samsung S7 Edge and your smartphone wifi setting page may look different.)
Tap and hold on your connected wifi until a setting menu appears. Then, tap on manage network settings.
Key in your desired DNS server in the DNS1 and DNS2 area. Then, tap SAVE and Done.

You're now using alternative DNS on your smartphone.
Last word:
TM Net/ Unifi own DNS server no doubt is the fastest for Malaysians but it has a lot of restrictions. Google's and Cloudflare's DNS both give you better privacy and security. At the same time, they are still lightning fast and will not affect your internet browsing experience
Tweaking DNS may bring marginal benefit to your browsing experience. End of the day, you still need a reliable and fast broadband service to compliment it.