Blow drying your hair may be a simple task. Having the right hair dryer can help to style your hair more easily, save time and protect your hair from heat damage.
There's a lot of hair dryers on the market, but not all are created equal. You can get one useable hair dryer for as low as RM10, while the premium one like Dyson Supersonic costs as much as RM2000.
Based on various online reviews by real users,  we've narrowed down the choices for you, and we've listed the best hair dryer in Malaysia:
---
---
1. Dyson Supersonic Hair Dryer 
Best overall hair dryer in Malaysia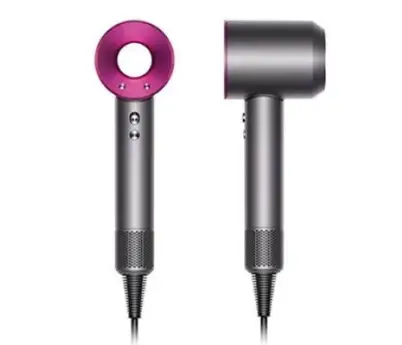 Best deal on Lazada Best deal on Shopee
---
Dyson Supersonic is no doubt a very expensive hairdryer.
As you should know, the Dyson brand is never about value for money, neither price-performance ratio. 
Similar to its cordless vacuum, Dyson focuses on integrating innovative technology solution into home appliances.
Despite the high price tag, this Dyson hair dryer remained to be the most sought-after hairdryer for many women ever since its launch in 2016.
Dyson Supersonic features highlight:
4 professional attachments (connected magnetically)
Powerful motor, spinning up to 110,000 rpm
An airflow of 13L per second
Stream of negative ions
Precise heats settings (4 levels)
Three-speed settings
Intelligent heat control
Customer's positive review:
The hair feels smooth after use the Dyson Supersonic Hair Dryer.! Highly recommend buy this hair dryer and worth it
Customer's negative review:
-Few customers complain about quality control issues like glue can be seen at the joint and received damaged dryer.-
Before getting further into this review, I would like to highlight that there is a lot of counterfeit Dyson Supersonic on Lazada and Shopee Malaysia.
So, it is recommended to only buy from the Dyson flagship store, not any Lazmall or Shopee mall store. 
Dyson basically pioneers this unique design and form factor for the hairdryer. Couple with its amazing motor technology, it puts a lot of pressure on other competitors and many have tried to copy them. 
The Supersonic hair dryer comes with 4 different attachments which are connected magnetically to the hairdryer, making it easy and convenient to change from one to another:
Smoothing Nozzle – a smooth and sleek designed nozzle that produces a well-controlled airflow that helps create a smooth, natural finish.
Styling Concentrator –a re-engineered styling concentrator that comes with a wider yet thinner design that creates a high-velocity blade of air that is great for styling. You can style a section of your hair at a time since the air is focused.
Diffuser – a re-engineered diffuser that helps reduce frizz and create well-defined curls and waves.
Gentle Air Attachment – a new gentle air attachment that is designed to be kinder to fine hair and sensitive scalps. This is achieved via diffusing the air, creating a gentler and cooler airflow.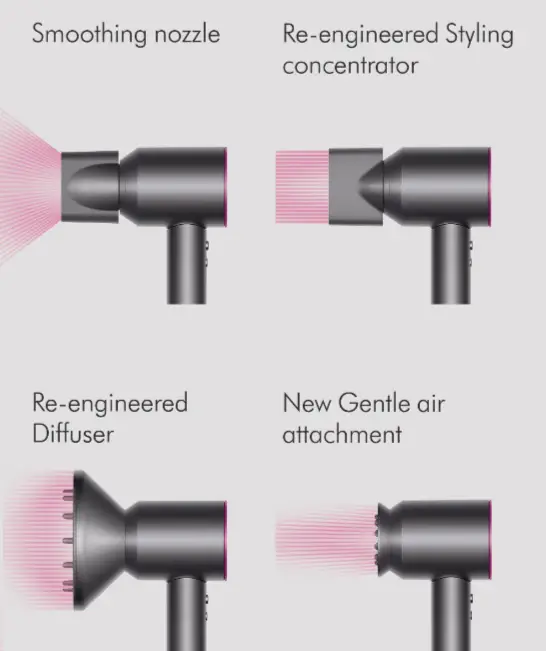 The Dyson proprietary digital V9 motor is powerful, spinning up to 110,000 rpm in a single minute, which is the most cutting-edge advantage of Dyson Supersonic compared to competitors.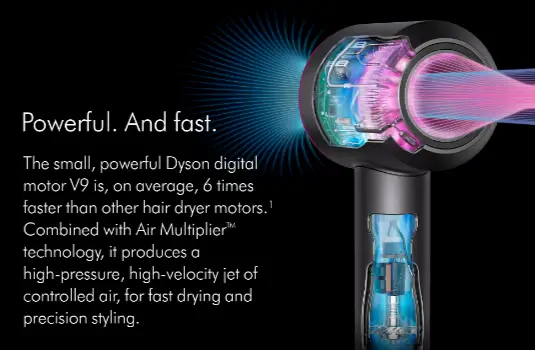 The high-speed motor can generate an abundance of airflow at 13L per second, even at such a slim and compact design.
The Dyson hair dryer is also imbued with a stream of negative ions to reduce static automatically.
They are also using an Air Multiplier technology, which amplified the airflow to produce a controlled, high-velocity jet of air for faster drying.
Dyson Supersonic is great for its precise control for temperature as well as fan speed.
So , there are four heat settings, namely :
100°C for fast drying and styling
80°C for regular drying
60°C for cooler drying and diffusing
28°C for constant cold air
And there are three speed settings:
High for fast drying and styling
Medium for regular drying
Low for diffusing
There is also an intelligent heat control that measures airflow temperature over 40 times per second to prevent heat damage.
The high-level control of temperature and large airflow easily make Dyson Supersonic the best hair dryer for frizzy hair and curly hair. 
Despite being pricey, I am confident that Dyson Supersonic is the perfect dryer every woman will be glad to own. 
Here's one last tip, if you want to squeeze more value out of your hard-earned money, you can consider getting the Dyson Airwrap which doubles as a versatile hair styler as well as a hair dryer.
The hair drying performance is comparable but comes with more styling features.
Dyson Supersonic hair dryer comes with 2 years local manufacturer warranty.
The warranty must be registered with Dyson Malaysia Service Centre. And don't forget to only buy from flagship store if you're buying online
---
2. Panasonic Nanoe & Platinum Ions Hairdryer EH-NA45
Best value for money hair dryer for most Malaysians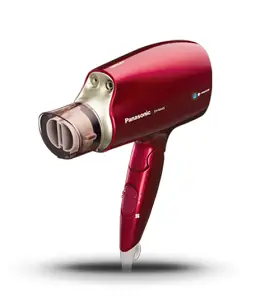 Best deal on Lazada Best deal on Shopee
---
Panasonic has more than 80 years of history in producing hairdryer.
Panasonic Nanoe & Platinum Ions Hairdryer EH-NA45A  is a middle range hair dryer for everyday use,
Panasonic EH-NA45 feature highlights:
Double ions – nanoe ions and platinum ions
Quick-dry nozzle
50°C healthy mode quick dry
6 blow volume and temperature variations
Customer's Positive Review:
Item came with two nozzles. After a few usages of the product, I find that after blow dry my hair was not frizzy. It was smooth. The hairdryer noise was not loud. It was quieter than my old hairdryer. Did not regret buying this product.
Customer's Negative Review:
The hair dryer functions as normal in drying my hair. For the effect of the nanoe and ion, don't think able to see obvious results in such a short period of time, will continue to monitor this. One thing that bothers me is the plastic smell of the hair dryer, hopefully, it will be gone after some time." 
While nanoe ions penetrate the hair cuticles maintaining the moisture balance in your hair, the platinum ions tighten the cuticle and help to prevent hair damage due to UV rays.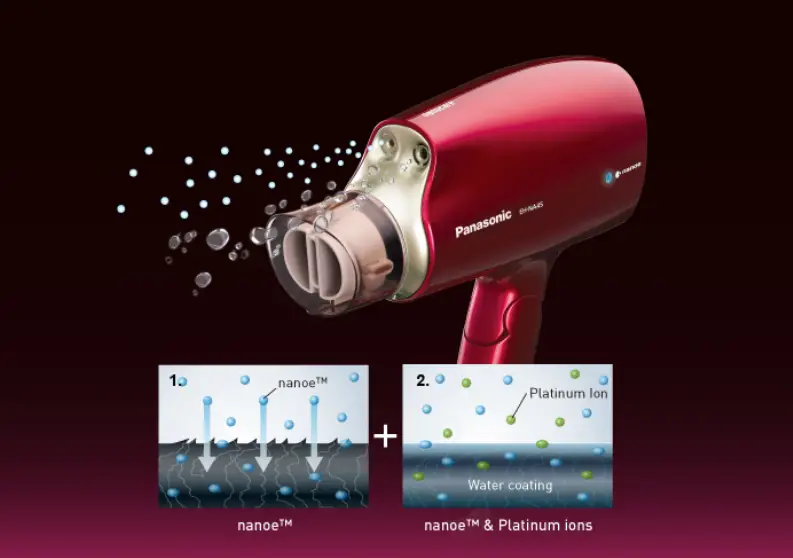 Panasonic claimed that the nanoe ion also helps to moisturize the scalp and prevent it from becoming too dry.
Because the nanoe ions also help the excess oil in your hair to mix with the surrounding water to keep your scalp healthy.
The quick-dry nozzle alternates strong and weak airflows, to help separate the hair strands for more effective drying. 

There is also a 50°C healthy mode quick dry to prevent excessive heat from damaging hair. 
In terms of fans speed and temperatature control, users can only choose 2 fans speed. And there're 3 temperature selection: cool, mild, and hot air.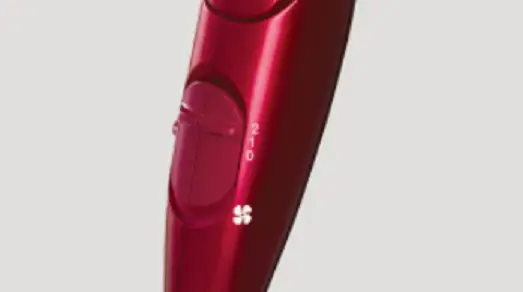 Panasonic EH-NA45 is the best choice for someone who blow-dries their hair daily, and at the same time want to keep healthy hair & scalp.
It may not be suitable for those who need to do much styling because it lacks styling attachment.
Panasonic EH-NA45 hair dryer comes with a 1-year local manufacturer warranty.
---
---
3. Khind Hair Dryer HD1400
Best stylish foldable hair dryer for travelling
Best deal on Lazada Best deal on Shopee
---
At first glance, you may mistake this 1400W Khind HD1400 Hairdryer as the Dyson Supersonic with a similar shape and colour.
However, this hair dryer only cost a fraction of it for less than RM50. Comparatively, Khind HD1400 only comes with a minimal set of features.
 Khind HD1400 hairdryer feature highlights:
Super lightweight and compact
Foldable handle
3 pre-configured Speed/Heat & Cool button
Cold shot function
Customer's Positive Review:
Good product! Worth the penny for something so small and portable but has the power of a professional hairdryer.
Customer's Negative Review:
It's working well although the noise is quite loud.
Well, although this isn't Dyson's hair dryer, it is still a sleek, compact, and foldable hair dryer that is great for travel. (Dyson is not foldable)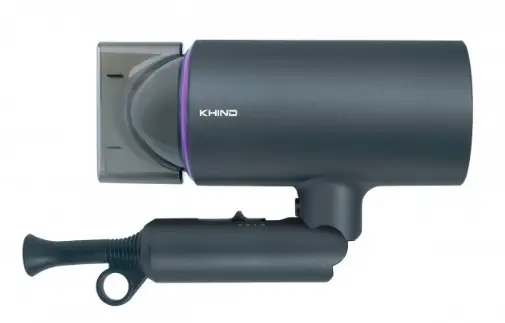 This small hair dryer comes with many little details that make this worthwhile as a budget pick.
Its power cord is as long as 1.8m that makes it very convenient to use on wall power outlets of different height and distance.
In the box, it also comes with a concentrator attachment.
Fitted with a high torque motor of 1400W power, this appliance can dry hair pretty efficiently.
There are three pre-configured speed/heat & cool button combinations to help you achieve the style you want.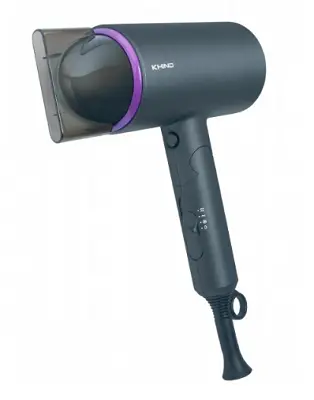 Also, there is a cold shot function. The cold shot function is useful when you're about to finish off drying the hair because the hair is no longer wet enough to be blown constantly with hot air.
So, this is a nice touch on a budget hair dryer.
Furthermore, it is fitted with a safety feature where it cuts off the power when overheated. 
For only RM50, this hair dryer is easily one of the best deals for budget hair dryer.
Khind HD1400 hair dryer comes with a 1-year local manufacturer warranty.
---
4. Philips Essential Care Hairdryer BHC010/13
Best compact hair dryer Malaysia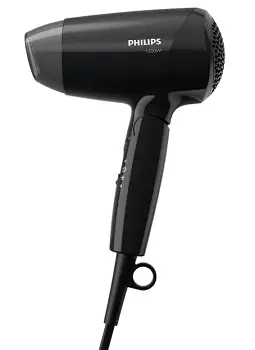 Best deal on Lazada Best deal on Shopee
---
This Philips 1200W BHC010/13 hairdryer is best suited for the lower maintenance women who do not have high requirements for their hair. Another good pick for travel as it is compact and lightweight enough, plus being foldable.  
Philips BHC010/13 hair dryer feature highlights:
ThermoProtect temperature setting
 3 pre-selected heat and speed settings
Compact, lightweight & foldable
Customer's Positive Review:
Highly recommend. Fast delivery, the package sealed very well. About the product itself, it really light-weight, have 3 speed. 1st one is air cool dryer, it's suitable to dry to hair root, 2nd is warm and fast air (you can use up to this speed coz it's still dry your hair quite fast), 3rd one is for hot and fast dryer. To be honest, I don't expect the product is this good. Do buy this if you want hairdryer :)"
Customer's Negative Review:
The cold dryer is not cold..its still warm.. Is tat how it supposed to be? Or should I return and change.
This Philips compact hair dryer provides easy care for your hair which dries your hair gently and quickly.
The concentrator attachment helps to direct and focus the airflow for better control at your end.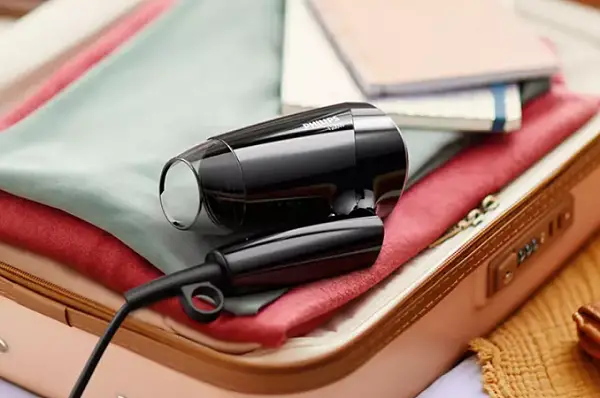 There are only three pre-selected heat and speed settings namely, cool air, thermalprotect, and quick drying.
The ThermoProtect temperature level gives users the optimal drying temperature without damaging your hair while maintaining your hair's natural moisture, for shinier and healthier-looking hair.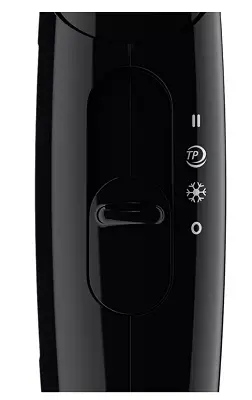 The cool air setting which is great for extra gentle drying, dries your hair at relatively low temperatures to minimize damage.
This is excellent for those with especially fine, dry and damaged hair.
Philips Essential Care Hairdryer BHC010/13 is great if you wan to have a conventional hair dryer that's compact, reliable and do the job right.
This Philips hair dryer comes with 2 years local manufacturer warranty.
---
5. Philips Prestige Hair Dryer BHD628/03
Best hair dryer for thick hair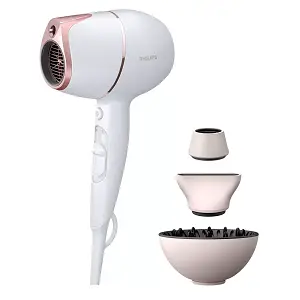 Best deal on Lazada Best deal on Shopee
---
Philips, a household name in Malaysia has continued to impress with their hair drying technology, with this Philips BHD628 1800W hair dryer.
This Philips hair dryer receives nothing but stellar reviews on philips.com.my.
Philips Prestige Hair Dryer  BHD628 feature highlights:
Sense hair temperature
Personalized technology
20% faster powerful drying
3 types of attachment
Ionic conditioning
Customer's Positive Review:
While at first sight being very sceptical, this turned out to be more than great surprise. To start with- The design. It is so modern, light weight, simple, at the same time chick, feminine and elegant – looks absolutely gorgeous in my bathroom and gives pleasant feeling while using it and looking at myself in the mirror while drying my hair. 
To continue- this wide selection of diffusers, nozzles and heat modes definitely makes it an irreplaceable technology for my hair-care and beauty routine. Definitely worth it! The quality of my hair has insanely developed- Even after just 2 weeks of testing, my hair looks much better than before- couldn't imagine that a hairdryer can make such a large difference in such a short term.
Customer's Negative Review:
-None-
First and foremost, the biggest selling point of this hairdryer is its SenseIQ technology. It uses infrared sensors to continuously scan the temperature of your hair.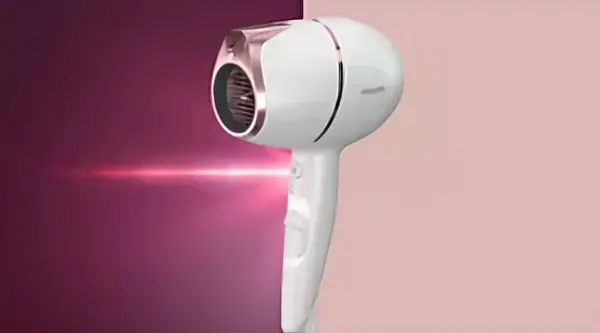 This allows the hair dryer to automatically adjust the temperature in order to protect the hair while drying.
Thanks to this SenseIQ feature, it is claimed to be able to lock in as much as 90% of hair's natural moisture.
This hair dryer comes with 2 speeds variation and 3 drying preset modes as below:
Gentle – Extra care drying performance
Dry – Normal drying for everyday use
Fast – Higher heat for quick drying
SenseIQ is activated automatically when using dry and fast mode.
There are 3 different nozzle for Philips BHD628 prestige hair dryer:
Drying Nozzle – fastest drying results, concentrated but even blowing
Narrow 11mm Nozzle – concentrated airflow for precision styling
Diffuser- Handy for styling and volumizing curly hair
On top of that, this hair dryer has an ionic conditioning feature that releases 2 times more ions for getting more healthy and frizz-free hair.
Actually, there's not much technical specification with actual figures and numbers shown on the official Philips website for Philips Prestige Hair Dryer BHD628/03.
But I highly recommend you to check those good reviews left by the users themselves.
Most users praise this Philips Prestige hairdryer for its performance on how it improves their hair condition and shorten the time taken to dry hair.
The Philips hair dryer comes with 2 years international manufacturer warranty.
6. Xiaomi Mi Ionic Hair Dryer NTC CMJO1LX3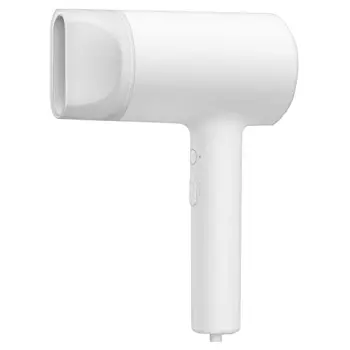 Best deal on Lazada Best deal on Shopee
---
Xiaomi NTC CMJO1LX3 1800W  hair dryer has a simple and minimalist design, which again is heavily borrowed from Dyson Supersonic.
But it uses Xiaomi signature white colour instead of dark grey colour of the Dyson.
Xiaomi Mijia hair dryer feature highlight:
Cold/ hot air with two-speed settings
Built-in overheating protection
Double insulated to reduce burns
Water Ion Technology
1800W powerful motor – spins six air foil blades at up to 20000 rpm
Customer's Positive Review:
Fast delivery. Package arrived on time and secured nicely. Legit, original MI brand. Happy with the product! Took me 5 mins to completely dry my hair. The water ion tech keeps my hair from frizzy. Very good product!
Customer's Negative Review:
Hair dryer is light which is good, hands won't get tired holding it. Just the fan speed of hair dryer is not as strong as I expected.
Like most Xiaomi product, this Xiaomi hair dryer uses a China plug instead of UK/Malaysia plug. So, it can be a bit inconvenient for those who don't like to use an adapter.
Equipped with Water Ion Technology, this little hair dryer emits negative electro-hydraulic ions which add and replenishes moisture to your hair while drying. 
Additionally, this gives your hair a natural gloss and also reduces frizzy hair.
Its powerful motor spins its six airfoil blades at up to 20,000 rpm. This, in turn generates a strong yet steady wind flow that helps dry your hair quickly even at a lower temperature.
It is equipped with NTC technology which automatically cycles hot and cold air to prevent heat damage on hair and protect the scalp.
It is fitted with built-in overheating protection so you can use it with a total peace of mind.
It also comes with a simple magnetic concentrator which you can easily rotate the orientation in 360 degrees.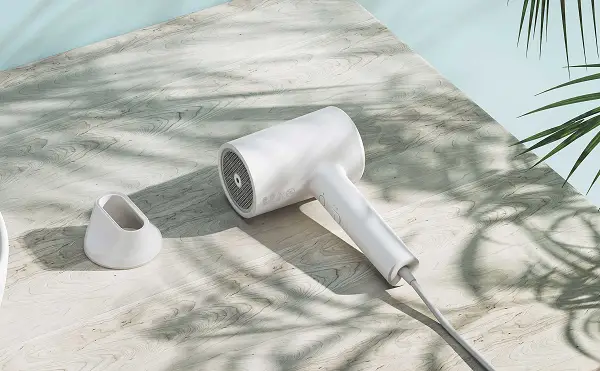 Unfortunately, this Xiaomi hairdryer is not foldable and its manual is only available in Chinese.
Xiaomi Ionic hair dryer is a great addition to the Xiaomi ecological home appliances. Xiaomi fans and supporters will most likely enjoy using it.
---
Competitions
Tineco Moda One Smart Ionic Hair Dryer Review- Not recommended
I think the price of this Tineco hairdryer is a bit on the high side.
When compared to Dyson, it is very affordable at half of the price tag of Dyson Supersonic. But it does not come with all the Dyson cutting edge proprietary technology.
However, when compared to Philips Prestige Hair Dryer BHD628/03, it is two times more expensive but their features are mostly equal. Hence, I think Philips is a better buy.
In short, the extra money paid for the smartphone app feature on Tineco Moda One hair dryer is definitely not worth it.
"No brand" hair dryer – Neutral
There are so many unknown brands that sell hair dryer, range from RM20 to RM100.
These hair dryers are not necessarily bad. Because after all, hair dryer is just a simple device that blows hot air.
The lack of smart technology in these cheap hair dryers should be able to overcome through a better blow-drying technique.
As long as it does the job and fit your budget, there's no need to chase the higher-end hair dryer model.
Counterfeit Dyson hair dryer – Not recommended
Fake Dyson hair dryer like Dyson Supersonic and Dyson Airwrap is running rampant on Shopee.
Taking Dyson Airwrap on Shopee as an example, they are selling fake sets at around RM859, where genuine sets cost more than RM2000+.
These fake Dyson Airwrap only sold for 75USD on AliExpress, which is equivalent to only RM300.
And the production cost is merely RM100+ (According to this news)
Sure, they are useable. I might even recommend them if they were priced fairly and not using the Dyson branding.
In short, this kind of produt is just blatantly cheating consumers. So, please avoid them and don't support it
---
Hair Dryers FAQ
What is the best blow dryer for your hair?
Although some may disagree, we reckon Dyson Supersonic to be the best hair dryer for most women.
What are the best hair dryer brands in Malaysia?
Panasonic, Philips and Dyson are among the best and reliable hair dryer brands in Malaysia.
---
References:
Dyson.com
Philips.com.my
Panasonic.com/my