We all would agree that house chores are tedious. Previously, we have covered the best robot vacuum and the best washing machine which would be a tremendous help if you already buy both of them.
However, a robot vacuum may not be a perfect replacement for manual cleaning. For example, a robot vacuum cannot clean effectively in a complicated house layout. Your next best bet is to get a cordless vacuum cleaner.
We researched for tens of hours and determine these are the best cordless vacuums in Malaysia.
Best cordless vacuum for Most Malaysians – Roidmi-X20 (new version of Roidmi Nex Storm)
Best cheap cordless vacuum Malaysia – Dibea D18
Best premium cordless vacuum Malaysia – Dyson V11 Absolute
Cordless vacuum vs corded vacuum 
Corded vacuum – Traditional vacuum has powerful suction, bulky and powered by an electrical cord. Their biggest downside is being corded, inconvenient to go around the house to do the cleaning works.
Cordless vacuum – Modern vacuum which usually comes in "stick" form, has a mediocre to powerful suction, lightweight, and powered by a battery. Their most obvious advantage is being cordless and convenient to move around in the house.
How to choose the best cordless vacuum:
Battery life – is the most important factor for a cordless vacuum. A good cordless vacuum should work at least 30-40 minutes at low suction mode.
Cleaning efficiency – Unlike Americans and Europeans who are mostly using carpeted floor, suction power actually doesn't matter much for most Malaysian. Because most of our houses are hard surface floors like tiles, timber, marble and laminate flooring. Dirt is mostly picked up by the motorised brush head while vacuuming.
Filtration system – Many do not realise that without a good built-in filter, micro dust particle will leak/escape from the vacuum. The whole room will be covered with micro dust due to the blower of the vacuum. Hepa filter is necessary.
Weight and ease of use – "stick" cordless vacuum is preferred because they are more ergonomic and easier to reach the tight spot in your house.
Best Cordless Vacuum for Most Malaysians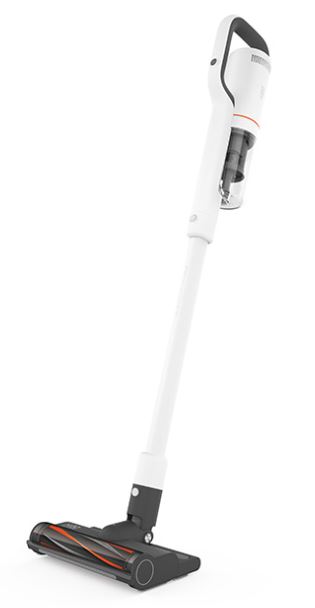 Roidmi X20 is the best cordless vacuum cleaner for most Malaysian. It is as good as Dyson V11 but cost half as much. Furthermore, it comes with a mopping attachment which lets you vacuum and mop at the same time. And it has a magnetic charging dock which makes charging effortless.
Best deal on Lazada Best deal on Shopee
Roidmi X20 is the best cordless vacuum you can buy in Malaysia. It is an amazing 2-in-1 cordless vacuum that comes with mopping attachment. Let's learn about the reasons Roidmi X20 is the best alternative to Dyson cordless vacuums.
Battery life
It packed with 8-cells 2,500 mAh LG/Samsung Li-ion battery with a smart battery management system.  This model boasts a total of 3 power modes. Under low-speed mode, Roidmi X20 which can work for 60 minutes, medium speed for 35 minutes and high speed for 10 minutes.
Knowing that battery lifespan deteriorates over repetitive charge and discharge cycle, Roidmi has adopted an easy battery replacement design. Users can easily buy the replacement battery and replace with new battery on their own. (replacement battery not available at the moment but we trust that Roidmi will be selling it soon because they have purposely designed for it)
It helps to save money for customers and at the same time extend the vacuum lifespan.
Cleaning efficiency
Well, a cheap cordless vacuum can vacuum and clean pretty well too. An efficient brushless motor is one of the main difference between premium cordless vacuum compared to a budget cordless vacuum.
Using a brushless motor resulted in a more powerful and more energy-efficient vacuum. Roidmi X20 can generate as much as 25000Pa which is 3x stronger than Dibea D18, or 145 air watts (air watts is a better representation for vacuum suction power)

Apart from its amazing battery life and suction power, Roidmi X20 has a set of versatile brush heads for different cleaning purpose. It includes a motorised brush, flexible extension, crevice tool, brush tool, extension wand, and an awesome mite cleaning head.
The motorised brush comes with two types of rollers which are soft velvet & carbon fibre for cleaning on all types of floor surface, eg: hardwood floor, floor tiles, carpets and laminate flooring.
The magnetic mop attachment allows users to vacuum and mop at one go. It is particularly useful for wiping very fine dust which the vacuum not able to pick up
Filtration system
Another core feature of a premium cordless vacuum is its sophisticated filtration system.
First, Roidmi X20 uses a HEPA filter at the final air discharge area. So we can be assured that only clean air will be coming out from the vacuum.
You may question that many cordless vacuum brands claim that they use HEPA filter too. They may or may not be using a "real" HEPA filter, some are simply false claim while some are using a genuine HEPA filter. 
Using a HEPA filter alone is not sufficient, the vacuum system needs to be totally sealed so that there is no leakages occur. Otherwise, the dust particle will escape through those gaps every time you're vacuuming. Check out the video explanation by vacuum wars below:

Weight and Ease of use
The design of the looping handle is amazing. You get to hold it at different angles without putting extra pressure on your wrists. And this vacuum only weighs a total of 1.5 kg.
Besides that, Roidmi X20 is using a push-button instead of trigger switch similar to Dyson Vacuum. Dyson vacuum requires constant squeezing on the trigger to keep the vacuum working, which can be tiring after a long period of time. For Roidmi X20, you just push the button once to start.
Roidmi comes with a 2-year warranty and free lifetime customer service.
 Pros:
Excellent vacuum power and long-lasting run time
Lightweight
Complete brush head including mites removal brush head
Push-button switch
Hepa filtration system
Mopping attachment
Value for money
Cons:
Large debris can clog the vacuum tube
Difficult to pick up large debris due to its slim design
Best Budget Cordless Vacuum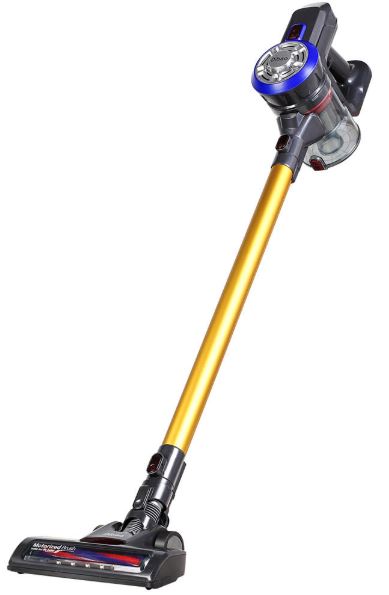 Dibea D18 is the best cheap cordless vacuum. It is recommended for new cordless vacuum buyer that have budget constraint and in doubt of using a cordless vacuum. It works fine for doing general vacuuming works. However, don't expect it to have all the features of premium cordless vacuum models which cost thousands of ringgit.
Best deal on Lazada Best deal on Shopee
Dibea D18 is the best cheap cordless vacuum cleaner. It is lightweight, inexpensive, coupled with a good suction power at 120W and having 2-speeds control –4000Pa at standard mode and up to 8500Pa at max mode.
Battery life
Dibea D18 has great battery life with a battery capacity of 2200mAh. It can run as long as 45 minutes under standard mode. This estimated usage time is quite accurate according to various users' feedback. If you turn on the max mode, it can only last as long as 25 minutes or slightly lesser.
To be honest, general hard surface floor cleaning does not require max mode. Usually, the max mode is only turned on when cleaning on carpet.
Another plus point is that for Dibea battery is easily available on Lazada. So, you don't have to worry about battery failure issue. If you have an extremely large house, you can just buy another battery so that you can vacuum your house at one go.
Cleaning Efficiency
Although Dibea D18 is the cheapest cordless vacuum model, it still comes with 3 essential brush head for your daily cleaning. The most important one will be the motorized brush, an extension wand and a narrow dusting brush.

For the normal hard surface floor, this vacuum is good enough and reliable to do a good job. You can check out its stellar review rating on Lazada. You can see many users are praising it for picking up dust efficiently.
The motorised brush is lit with LED lights that are especially helpful when cleaning dark corners. It is also thin and slim that makes it easy to run through underneath the furniture.
Filtration system
Dibea D18 weakest part is its filtration system, which we have to accept for its cheap pricing. It only uses a high-density sponge filter to filter the dust. 
Without a HEPA filter, we are certain that micro dust particles will end up blowing out to the surrounding again. 
However, these micro dust particles will not be visible to the human eyesight. Well, it is still considered acceptable for some but we advise to go for a cordless vacuum with a sealed filtration system and a HEPA filter like Roidmi X20 or Dyson V11.
Dibea comes with only 6 months local warranty.
Pros:
Sufficient suction power for normal hard surface floor cleaning
Cheap
Large capacity dust bucket design.
Cons:
Poor filtration system
Poor performance on rugs and carpet
Short warranty period
Best Premium Cordless Vacuum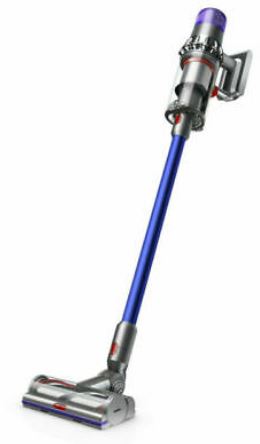 Dyson V11 absolute is the best premium cordless vacuum for those with deep pockets. It is powerful yet silent thanks to its Dyson motor. The vacuum is well-built and well-designed. It feels great to grip on and feel very ergonomic. It makes house chores less dull and more fun.
Best deal on Lazada Best deal on Shopee
Speaking of cordless vacuum, the name Dyson never fails to crop up. The reason is simple. Dyson has single-handedly pioneered and dominated the cordless vacuum market for years 
We choose the Dyson V11 Absolute as the best premium cordless vacuum. But we only advise you to buy a Dyson product if you have spare cash sitting around. Because the product itself is already expensive and all its replacement parts are not cheap either.
Battery life
Dyson V11 uses a 3600mAH battery and has 3 operation modes which are Eco mode, Auto mode and Boost Mode. 
Using Eco mode, you're expected to be able to vacuum continuously for 60 minutes.
Auto mode is an interesting power mode because Dyson integrated a dynamic load sensor system that intelligently detects brush resistance and automatically adapts its suction power for best cleaning results.
Boost mode is the maximum performance mode where it pumps out as much as 185 air watts. This much air flow is actually stronger than a lot of corded vacuum cleaners. Just be reminded that Boost mode can only last about 12 plus minutes.
Recharging of the battery takes an estimated 4.5 hours from zero to full charge.
Dyson V11 also has a built-in LCD screen for display for power mode, remaining run time and maintenance alert. It is very convenient for users to keep updates of the vacuum condition from time to time.
Cleaning efficiency
Dyson's proprietary brushless motor is among the most powerful one in the market. So, suction power and cleaning abilities are never an issue for any Dyson's vacuums.
Dyson V11 absolute packs with 2 cleaner heads and 6 extra tools: high torque cleaner head, soft roller, combination tool crevices tool, mini motorised head, soft dusting brush, and stubborn dirt brush.
With these combinations of brush heads, it basically covers all cleaning needs in a house, including all types of surface, hard or soft, wide space or tight corners. There will be no problem for Dyson V11.
Filtration system
Although Dyson no longer explicitly promoting its HEPA filter in Dyson V11 absolute, this vacuum has one of the best filtration systems exist for vacuum.
The fully-sealed system traps 99.97% of dust particles ensuring only clean air blowing out from the vacuum. Many users claimed that using Dyson V11 actually improve their allergies condition.
Weight and ease of use
The first impression when gripping the V11 is awesome. It feels well balanced and premium.
The vacuum weighs a total of 3.05kg, which is heavier compared to the Roidmi X20. However, the design is very ergonomic and weight distribution is great. So, this weakness is less noticeable.
And one more thing to note for all Dyson cordless vacuum, they all use a trigger switch which requires users to hold/squeeze the switch all the time when vacuuming. Some users did complain that constantly pressing the switch to vacuum put more strain on their hands.
Dyson being attentive to details has added a rubber pad on the battery, which helps to ensure the V11 doesn't fall over when you lean it against a wall.
All Dyson cordless vacuum comes with 2 years local warranty.
Pros:
Sleek design and premium built quality
Strong suction power
LCD display for battery, power mode and maintenance
Versatile brush head combos
Cons:
Expensive. And expensive future maintenance if break down.
Having to hold the trigger switch constantly for vacuuming
Can be heavy for some
Competition
AirBot vs Dibea – Airbot is comparable to Dibea vacuum. Their pricing is similar as well. Dibea has a slight upper hand on the built quality and Dibea has a longer establishment in cordless vacuum market. Neutral
PerySmith vs Dibea – Apparently the cheaper PerySmith cordless vacuum models do not come with a motorised brush and mostly has a poor suction power. You will not be able to experience a true cordless vacuum cleaning efficiency. Not recommended
Russel Taylors vs Dibea – Russel Taylors air fryer & multicooker may be good. But obviously cordless is not their forte. Their cheaper models also do not come with a motorised brush. Not recommended
Xiaomi vs Roidmi – Xiaomi cordless vacuum line up is in fact produced by Roidmi. Xiaomi version is slightly toned down and marketed cheaper to fit Xiaomi branding. Nonetheless, the cordless vacuum is equivalently well-built, stylish and works well. We still prefer Roidmi because it is just better overall. Recommended
Electrolux vs Dibea vs Roidmi – Electrolux cordless vacuum is good with its vacuum power and battery life too. Its biggest disadvantage is they don't adopt a slim stick design. Its design is bulky and not convenient at times. It is hard to reach a tight corner and its brush head rotation is limited in comparison to Dibea and Roidmi. Not recommended
Tineco vs Roidmi vs Dyson – Tineco cordless vacuum is good and performs extremely well. Some users even claim that it is better than Dyson. They are owned and developed in the United States, thus it is more expensive in comparison Roidmi. Its costs something between Roidmi and Dyson. It is recommended for someone who wants a good non-China brand cordless vacuum that cost a bit less than Dyson.
We recommend users to buy either Roidmi or Dyson. Recommended
Conclusion
We recommend getting Roidmi X20 in Malaysia over other brands and model for its solid performance and reasonable pricing. If you're new to cordless vacuum, get Dibea D18 if you just want to explore the world of cordless vacuum. For those who want ultimate performance and luxury, Dyson V11 Absolute is the best cordless vacuum you should buy.
Also, check out our reviews on the best robot vacuum, steam irons and washing machines that going to help you clean better.