Low water pressure is certainly nothing new to many Malaysia households. It is especially common for those who live in old landed terrace houses.
Having low water pressure is very stressful to deal with, especially for a prolonged period of time.
Installing an electric water pump is no doubt the best solutions to immediately boost up your house water supply pressure
Here are our recommended 6 best water pumps that you can find in Malaysia:
---
Foreword:
Most Malaysia terrace houses water supply usually comes from a water storage tank that placed just on the roof truss.
With such configuration, the water pressure is almost certainly insufficient and weak especially at the first floor.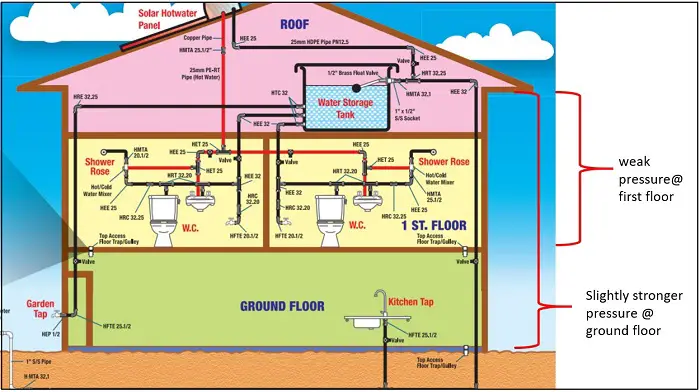 Without an electrical water pump, water pressure is only directly proportional to the difference in height between the water source (i.e.: water tank) and the water discharge outlet (e.g.: rain shower)
So, we will need an electric water pressure booster pump to increase the water pressure!
Now, you may ask "which type of booster pump is suitable for my house?". To be honest, the majority of the water pumps available in the market looks the same and works the same too.
There are two main types of booster pump: basic water booster pump and water booster pump with pressure tank.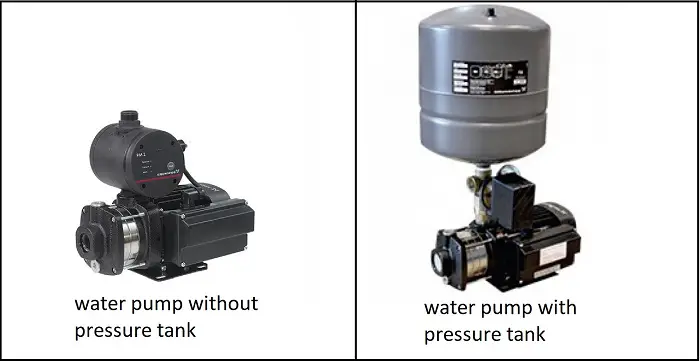 Generally, I recommend getting a water pump with pressure tank. Because it stores the pressure generated in the tank to prevent the water pump from getting start/stop too often. It extends pump life and prevents break down.
Besides that, pressure tank reduces water hammering issue and give you a more pleasant user experience.
Now, let's check out our full review on the best domestic water pumpin Malaysia.
---
1. Grundfos CM3-4PT Automatic Home Pressure Booster Water Pump
Best water pump overall (with pressure tank)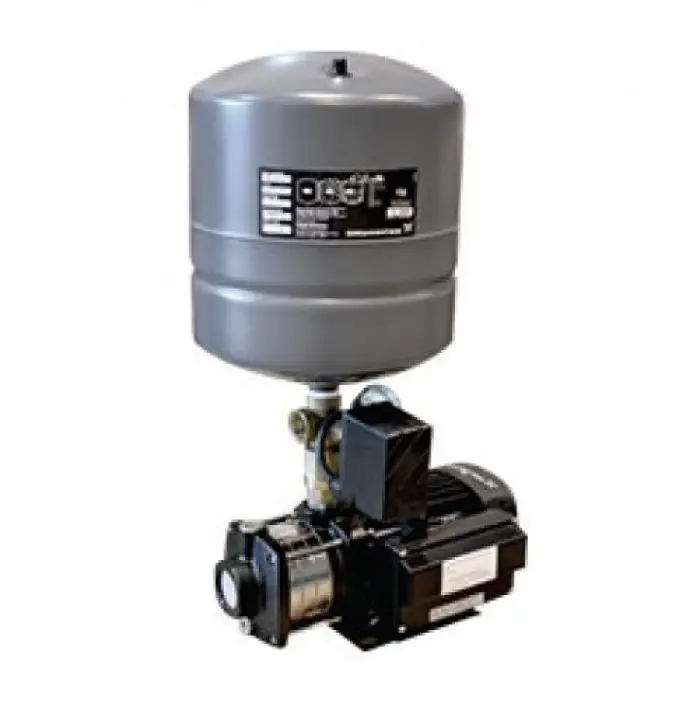 Grundfos is one of the best, if not the best water pump manufacturer in the world. They have been supplying commercial and residential water pumps for more than 5 decades.
Overall, I think Grundfos CM3-4PT is the best water pressure booster pump for Malaysia household because the pump itself is built to last and it comes with a pressure tanks that smoothen the water flow.
Grundfos CM3-4PT Features:
Compact size
Silent operation
Automatic start and stop
Low Noise Operation
Easy installation – almost plug and play
Solidly-built and long lifespan
Customer's positive review:
-None
Customer's negative review:
-None
Unfortunately, I could not find any actual users review for this model. It is most likely due to its high price tag resulted that its sales are not that good.
But don't miss out this electric water pump simply because there is no review available online.
This pump can operate and pressure between 18-38 psi with 500W power.
It will start and stop automatically when it detects pressure differences when you turn on the water tap.
Initially, the pressure tank will release half of its capacity to boost water pressure so that the pump does not need to be switched on.
The advantage here is the pressure tanks allow the water to flow more smoothly instead of a sudden burst of pressure due to the pumps turning on.
The pressure tank effectively reduces pump cycle and preventing wear & tear.
However, Grundfos CM3-4PT does come with some small disadvantages.
First, the pressure tank is recommended to be serviced every 6 months to 1 year time.
Second, this CM3-4PT model does not comes with a dry-run protection. Only higher end Grundfos UNI-E series comes with pressure tank and dry run protection.
All Grundfos water pumps come with 2 year local supplier warranty.
Best deal on Lazada Best deal on Shopee
---
2. Grundfos CM3-5PM1 Water Pump
Best water pressure booster pump without pressure tank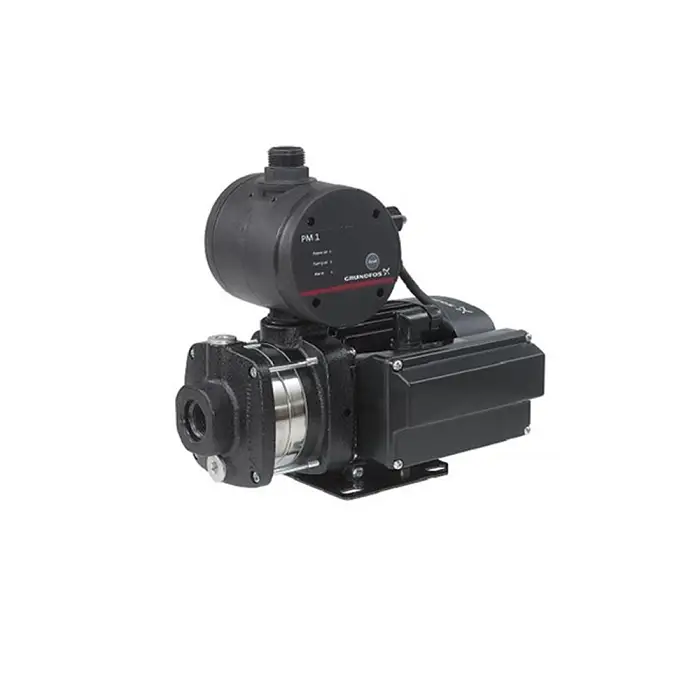 Grundfos CM3-5PM1 is ideal for normal double-storey terrace house with 3 to 4 bathrooms in Malaysia.
It is a 0.8HP high-pressure water pump for house use. And this pump is well known for its quality and are proven to be long lasting.
Grundfos CM3-5PM1 Features Highlight:
Compact – space saving
Automatic start and stop
All-in-one System à plug and pump together
Low Noise Operation
Easy installation – almost plug and play
Built In dry-running and overload protection
Sturdy and long lifespan
Can handle power fluctuations
Customer's positive review:
sebelum ini saya mengambil masa yang lama untuk mengunakan air. tapi sekarang hanya beberapa minit sudah siap. pressure air yang sangat kuat amat memudahkan saya untuk mengunakan air.
High quality product. Really satisfied and recommended utk pengguna lain membeli produk ini. Thank you so much.
Customer's negative review:
-None
The Grundfos CM-PM series is specially designed for domestic applications. Despite the small size, this CM3-5PM1 is very powerful.
It consists of a CM pump and a Pressure Manager PM1. This model starts and stops automatically as and when needed and has dry-run protection.
The CM3-5PM1 is made of high-grade stainless steel and durable materials. So, there's no need to worry about rusting and corrosion.
It also is very quiet with an operation less than 54dB (A) and requires almost zero maintenance.
In short, this is a compact, quiet yet powerful multistage pump with built-in pressure control and maintenance free design.
By installing this pressure booster pump, you don't need to spend extra money to buy instant water heater with pump. So don't think it is expensive to install a pump because you get saving by purchasing basic water heater.
Having said this, this model is not suited for houses with a problematic and low-quality piping system. Since the working pressure is about 4.6 bars, it can cause leaking problems.
This water pump comes with 2 years local supplier warranty.
Best deal on Lazada Best deal on Shopee
---
3. Grundfos Scala 2 Automatic Booster Pump
Best weatherproof outdoor electric water pump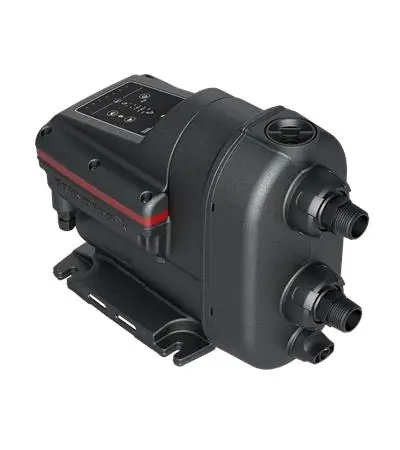 Grundfos Scala 2 is an outdoor inverter water pump that can regulate the water pressure throughout your home.
Grundfos Scala 2 feature highlights:
Inverter pump
Intelligent pump control – adjustable pressure
Quiet operation <47dB (A)
Easy set-up and installation – plug and play
Dry-running operation
Weatherproof design – indoor/outdoor
Long lasting and durable
Customer's positive review:
Good pump i would say. Silent, adjustable pressure, weatherproof, variable speed and many more features. Just nice for my home with 3 bathrooms. my family is now enjoying our shower now then before.
Customer's negative review:
-None
It is a fully integrated water booster pump delivering perfect water pressure to all taps making sure that you get the right water pressure at all parts of your home.
This is achieved via a variable pressure setting that can ensure that pressure is compatible even for old piping system. You also have full control with this pump which gives you the amount of pressure you need.
It has an intelligent pump control – a built-in sensor that constantly measures the discharge pressure. If the pressure drops below the desired level, this water pump will then boost its operation to compensate for the loss of pressure.
Scala 2 is easily one of the quietest water boosters in its class with only less than 47dB, lower than 54dB of CM-PM series.
One more thing, Scala 2 is among the cheapest Grundfos brand inverter water pump.
Similarly, Scala 2 comes with 2 Years Local Supplier Warranty.
Best deal on Lazada Best deal on Shopee
---
4. Tsunami CMH2-30K Water Pump
Best local water pump brand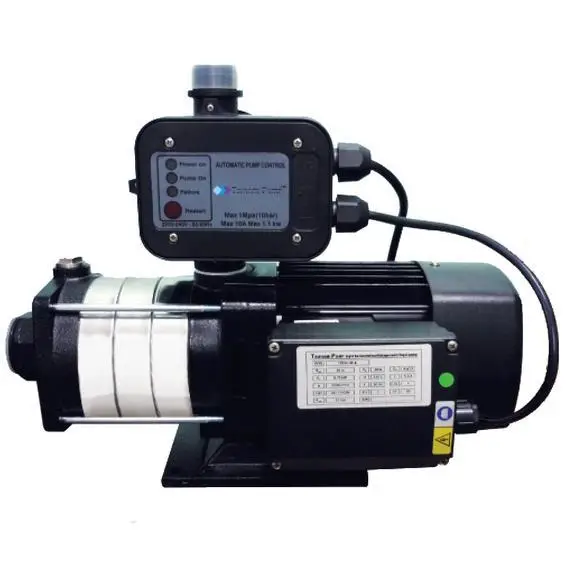 Tsunami is the veteran local water pump manufacturer/supplier. This 0.5HP Tsunami CMH2-30K Water Pump is perfect for home use. It is compact yet stays powerful.
Tsunami CMH2-30K Feature Highlights:
Compact size
Efficient and energy saving
Built in protection system – splash proof and over-heating protection
Maintenance free design
Multi stage pump
Dry-running protection feature
Stainless steel pump
Low noise operation
Customer's positive review:
Perfect water pressure for my house with 3 toilets. Pump quite noisy if on a white rubber pad inside the pump casing but totally silent after putting the black rubber pad by seller.
Customer's negative review:
-None
Constructed with anti-rust stainless steel pump component, the pump spots a long lifespan.
It has cast iron inlet and outlet which expected to be very durable
This water pump promises high safety. It is certified IP55, splash-proof protection and also has an over-heating protection features.
It is was designed to be maintenance-free similar to Grundfos CM-PM series
Tsunami CMH2-30K automatically starts when using water and automatically stops when not using.
It claims to guarantee consistent water pressure even when multiple taps are open at the same time.
It has dry-running protection feature where when there's no water supply. It will automatically shut off the pump to prevent pump overheat.
The pump casing is made of aluminium frame, which is less noise, less vibration, and durable. It also has energy saving feature and is easy to install.
Plus, the Tsunami water pump is usually 10-20% cheaper than equivalent Grundfos water pump.
In such bad economic condition, I think we should uphold the "#kitajagakita" culture by supporting local brand products!
This Trunami water pump comes with 2 Years Local Manufacturer Warranty.
Best deal on Lazada Best deal on Shopee
---
5. JOVEN Automatic Domestic Water Pump JHP2-30
Another local water pump brand
Joven is a household name in Malaysia especially when it comes to electronic products such as instant water heaters and storage water heaters.
This 0.5HP JOVEN JHP 2-30 is claimed to be able to withstand high levels of dynamic stresses.
JOVEN JHP 2-30 Water Pump Features:
Rust and Rupture resistant

Quiet operation
Energy efficient
Dry-running protection
Stainless steel impeller and housing
This Joven pump made from materials of SUS316 Impellers and SUS304 Housing. It uses silicon carbide mechanical seal to ensure long-lasting reliability.
Fitted with safety features such as splash proof protection IP55, motor overheating, fire hazard protection, you don't have to worry when using this water pump.
This pump comes with rubber mounting by designthat reduced vibration when the pump is operating. So, less vibration equals to less noise.
It is also equipped with dry-running protection that cut-off pump power upon detection of dry-run.
Joven water pump only comes with a 1 Year Local Manufacturer Warranty, which is shorter than competitors' 2 years warranty.
Best deal on Lazada Best deal on Shopee
---
6. Panasonic A-130JACK Auto Water Pump
Best cheap water pump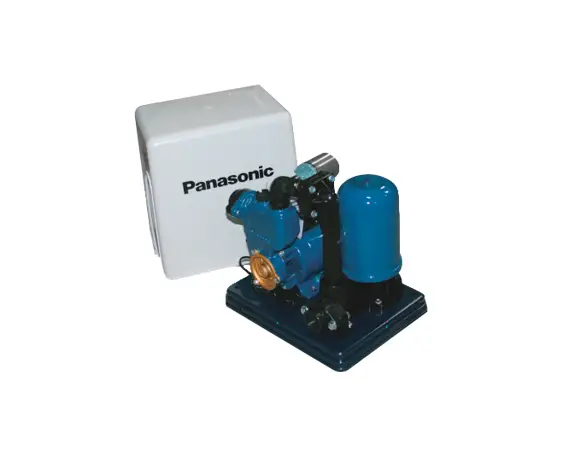 Panasonic A-130JACK electric auto water pump is compact, energy efficient and can operate at max 125W power.
Panasonic A-130JACK Auto Water Pump Features:
Compact
Energy Efficient
Safe – thermal protector feature etc
Customer Positive Review:
pump ok. the pressure is good. it is a pump meant for shallow well. nothing mentioned for pumping water from a higher source. it is to pump water UP from LOWER source. not sure this will damage the pump in long run. it is not waterproof. must be kept dry and away from direct sun, as mentioned in manuals.
Customer Negative Review:
received the product but the pump is leaking! still waiting for seller's response
First thing, this pump is unlike other booster pumps above. It is actually a suction pump, which capable of withdraw water from well as deep as 9 meter below the pump machine.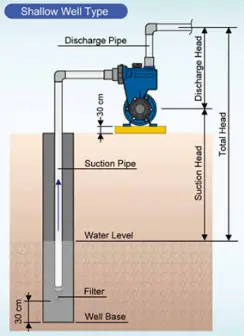 The impeller and casing cover are made of brass and are resistant to friction and high temperatures.
It has an accumulator tank that stored with Nitrogen gas which allows the pump to store its excess energy to be used later. It improves efficiency and provides smoother operation.
This Panasonic water pump is equipped with a thermal protector up to 130 Celcius degree. It will auto turn off the pump to reduce the risk of overheating damage.
However, the pump doesn't comes with dry-run protection feature.
Panasonic pump comes with only 1 Year Local Manufacturer Warranty.
Best deal on Lazada Best deal on Shopee
---
Competitions
KAPRiNO x APACHE automatic pump quick review
Not recommended. This is the no.1 hot-selling water pump model on Lazada. I don't have hands-on experience with it. But it has plenty of complaints about product quality.
Charges of installation of a water pump are not cheap. Unless you're an experienced DIY-er, don't risk buying a water pump which might fail you any time despite it has 2 years warranty.
Bossman auto water booster pump
Nor recommended. Another up-rising water pump/water jet brand on Lazada and Shopee.
Different from a water jet, water pump requires professional installation works.
I am against on the idea of buying new or less-established water pump brand. Otherwise, the repair or installation cost may cost you more than the pump itself.
---
Home water pump FAQ
What types of water pumps suitable for home use?
For domestic usage, we recommend using water pressure booster pump. There are other pump ypes like centrigual pump, submersible which are not commonly used in residential houses.
Which is the best water pump?
Grundfos (International brand) and Tsunami (local brand) both are established leader in water pump industry
How much does a water pump cost?
Water pump machines cost between RM300 to RM2000. And the installation of water pump cost another RM300 to RM600.
---
Source