Nowadays, most people prefer a hot, warm bath instead of a cold, icy one. Therefore, it is essential to install a good and reliable instant water heater in the house. 
When choosing an instant water heater, safety is of the utmost importance. 
What is the best instant water heater in Malaysia?
The best instant water heater is the Panasonic N series Water Heater. It provides a comfortable shower experience with a good water pressure boost and quick heating. It also has the highest safety standards among all water heater brands.
Here are the top 5 instant water heaters for Malaysians:
---
1. Panasonic N Series Water Heater DH-3NP2MSR
Best Rain Shower Water Heater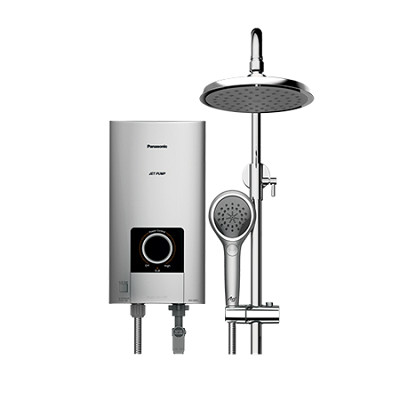 Best deal on Lazada Best deal on Shopee
Panasonic DH-3NP2MSR N Series Jet Pump with Rain Shower Water Heater has the most complete and balanced package compared to other models and brands. 
It has a great design, good heat control, adequate pump pressure, a big rain shower and safe one-push ON/OFF switches.
In comparison to the Panasonic DH-3NP1MSR with a digital display, I prefer the Panasonic DH-3NP2MSR with knob control because it is more convenient and faster, albeit with slightly less accuracy in temperature selection.
This model also has fewer digital components, so it's less likely to break. The disadvantage is it lacks the e-CYCLE feature that DH-3NP1MSR has. e-CYCLE is a feature switching between hot and cold water automatically to enhance blood circulation.
Compared to other water heater brands, the Panasonic N series water heater has few advantages.
Smart Steady Temperature 
built-in sensor to maintain constant shower temperature
Easy Switching Shower Head
easily switch between different shower modes with a push of a button
Easy and Safe One-Push Switch
large ON/OFF switch which no other water heater brands provide
Japan-designed Control Circuit Board
Circuit board design that is well thought out and does not cut corners
Made in Japan DC Pump Motor
Silent DC Pump which is made in Japan instead of using a local or China-made motor
The Panasonic DH-3NP2MSR Rain Shower Water Heater is an ideal water heater which is safe and reliable for modern bathrooms. It is energy efficient with a consumption of 3.7kW. And its maximum temperature is 55 degree Celsius.
---
2. JOVEN SC33IP
Best  DC Pump Water Heater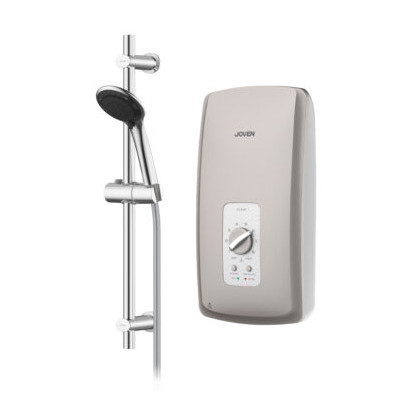 Best deal on Lazada Best deal on Shopee
If the Panasonic N series water heater is too expensive, you can consider the Joven SC33IP water heater. Panasonic and Joven are two of the most reputable water heater brands in Malaysia.
Locally, Joven is synonymous with water heaters. In general, Joven water heaters have a simple design, reliable heating performance, and great build quality.
The Joven SC33 water heater series features a more stylish design than previous models. It comes in dark silver and dark grey colour options.
These models have a double-layer 2K paint finish that is very durable.
A key feature of the Joven water heater is its long-lasting copper heating element. Joven has an amazing track record of producing durable and safe water heaters.
Besides that, it has various built-in safety features such as thermal cut-out technology, IP25 casing, nylon fibre tank, and safety flow sensor technology.
The Joven water heater also comes with a very comfortable shower head with 5 spray modes. There are medium spray, mixed spray, wide spray, combo spray and lastly the jet spray for massaging.
Joven water heater has great water warranties too. Pumps are covered by warranty for 5 years, heating elements for 5 years, tanks for 10 years, and general parts for 1 year.
---
3. Panasonic U Series Water Heater
Safest Water Heater Malaysia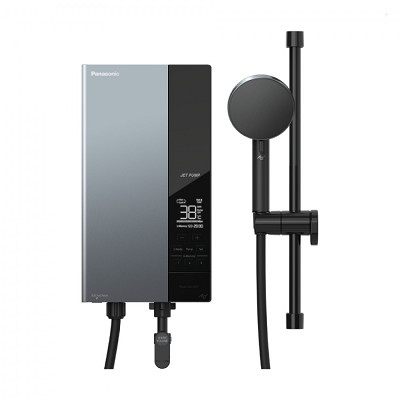 Best deal on Lazada Best deal on Shopee
The Panasonic U series water heater is the safest instant water heater in Malaysia. This new U series water heater is the latest and most stylish model Panasonic has ever released.
The Panasonic U series water heater comes with a unique 9-point safety system.
The casing is rated IP2X which is water-resistant and splashproof
A fully insulated casing protects against electric shock
The casing material is non-flammable
One-push switch to turn the heater on and off
A built-in ELB prevents electric leaks
Water flow sensor to auto cut-off power if water pressure is too low
Power supply automatic cut-off if any parts in the water heater malfunction
Temperature limit to 55 degrees celsius
A durable heating element that prevents overheating and fire
Other than being extra-safe, the Panasonic U series also have comfort features that are not found in any other brand.
These unique features are known as U-memory and U-mode.
U-memory – 3 preset temperature options for quick temperature selection
U-mode – 3 different shower modes: gradually increase temperature, gradually decrease water temperature, and alternate between hot and cold showers.
Lastly, the Panasonic U-series water heater has a showerhead that provides a spa-life shower experience. The water texture is soft and comfortable. In addition, the showerhead itself is made of antibacterial Ag+ crystal material.
---
4. Haier Water Heater With DC Pump EI36MP1
Best Cheap DC Pump Water Heater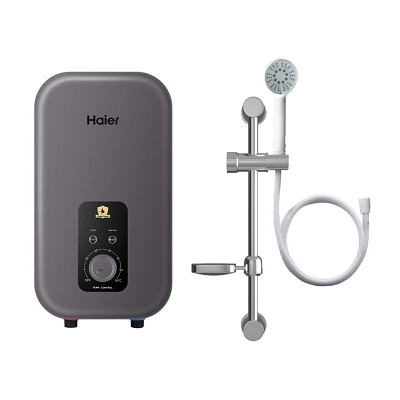 Best deal on Lazada Best deal on Shopee
If you're looking for a cheap DC pump water heater, then you should try out the Haier Water Heater EI36MP1. It is currently selling for only RM300+.
Although Haier is not popular in Malaysia, it is the top water heater brand in China.
The Haier Water Heater uses a circular clean heating system. It is a unique tankless water heating technology. It's better than other instant water heaters that use a small tank.
Due to this, the Haier water heater is 100% shockproof and less prone to scalding problems.
The heating element is completely isolated from water so there's less chance of electric leaks. In addition, there is no tank that would build up scale over time.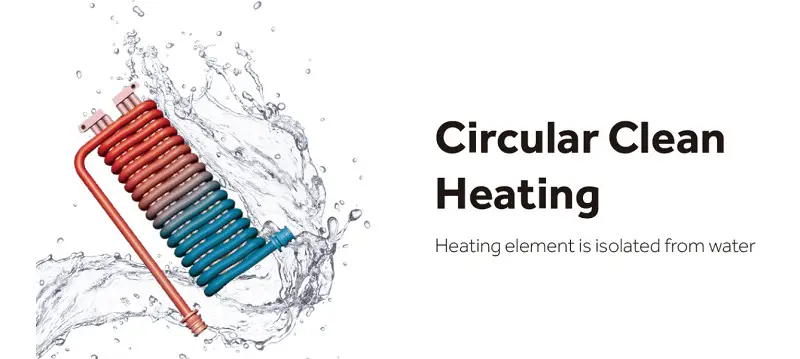 The DC pump is also ultra-silent and very energy-saving.
In terms of comfort features, the shower head has 3 different modes: rain, combo and massage.
I like the Haier Water Heater EI36MP1 for its innovative heating technology. On top of that, it provides an extra long warranty, namely 2 years on internal parts, 5 years on the DC pump and 6 years on the heater. 
---
5. Midea Water Heater Shower MWH-38Q
Best Cheap Water Heater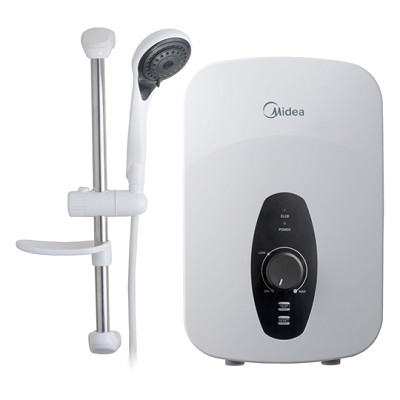 Best deal on Lazada Best deal on Shopee
You only need a normal water heater without a pump if your house already has a water pump. The water heater's pump generates negligible pressure increments compared to the house water pump.
In this case, I would recommend you buy the Midea Water Heater Shower MWH-38Q.
The Midea Water Heater Shower MWH-38Q is one of the best-selling water heaters on Shopee. It has sold thousands of units and received an incredible 4.9-star rating from customers.
Similar to Haier, Midea is another top water heater brand in China. In China, these two brands dominate the market, but overseas, they are less well-known.
Midea Instant Water Heater works well and is easy to use. 
It has built-in ELCB, overheat protection, auto-flow sensor, anti-dry-heating protection, and automatic thermal cut-out.
Overall, the Midea Water Heater Shower MWH-38Q is a cheap and functional water heater. It has a 1 year general warranty and 6 years heating element warranty.
---
Competition
Toshiba DC Pump Water Heater Review
Toshiba DC pump water heater was one of my top recommendations previously. But there are quite many customers who complained that the DC pump helps very little in boosting the water pressure.
Because of this, I don't think it is a good purchase anymore since people buy water heaters with pumps mainly to solve low water pressure problems.
There are complaints about water leakage from the pipe fittings as well.
Although Toshiba offers great value for its designs and features, I no longer recommend buying a Toshiba water heater unless it improves the pump performance.
Alpha Water Heater Review
Among local consumers, Alpha water heaters are popular because they are stylish and can add on rain showers. 
On the internet, you can find mixed reviews about Alpha water heaters. While some claim the device is reliable, others report durability issues and faulty warnings.
Since Alpha water heaters are not much cheaper than Panasonic and Joven, so I would not recommend buying them. Panasonic water heater will be a better choice.
Rubine Water Heater Review
I was a user of Rubine DC pump water heater and own 2 units of them. Both of them become malfunctioned due to circuit board problems. These incidents left a very bad impression on Rubine products.
Personally, I will not buy another Rubine home appliance ever again.
Deka Instant Water Heater Review
Deka DK1 is one of the cheapest AC pump water heaters in Malaysia. There are many satisfied customers.
However, I am concerned about the quality of their products due to the similar design of the Deka N20 and Rubine Water Heater.
If there's any user with hands-on and actual experience with Deka Water Heater, please share with me in the comments below.
---
Instant Water Heater FAQ
Should I use an instant water heater or a storage water heater?
Instant water heaters are smaller in size and provide hot water as needed. Shower heads and accessories are usually included. Meanwhile, storage water heaters store hot water in an insulated tank, providing hot water to multiple water outlets including showers, basins, baths, and more. Overall, an instant water heater is more convenient.
How to select the right instant water heater?
There are two types of instant water heaters: with a pump and without a pump. Buying a normal water heater if you already have a house water pump installed. And preferably go for reputable brands like Panasonic and Joven.
DC pump or an AC pump heater is better?
In general, DC pumps are quieter, and more efficient, but generate slightly lower water pressure. Water pressure is slightly higher with AC pumps, but they are louder and less efficient. Under normal circumstances, the DC pump water heater is usually better.
Which water heater brand is the best?
We recommend Panasonic for its good build quality and expertise in home appliances. Among local Malaysia brands, we recommend Joven because of its reputation and expertise in manufacturing water heaters.