E-sports and live-stream gaming are booming exponentially in recent years. No doubt gaming is fun. However, gaming professionally is in a totally different league. 
Professional gaming can take a significant amount of time and toll on your health. Some gamers suffer from back pain, neck & spine problems due to sitting for long hours.
It is important to get a comfortable gaming chair that can help to support your neck and lumbar.
Best gaming chairs in Malaysia:
Secretlab Omega Gaming Chair
Foreword
To be honest, the terms "gaming chairs" are much hyped up by the chair manufacturer and seller. Personally, I don't think a gaming chair is necessary to look like a racing car bucket seat. A good gaming chair should be designed ergonomically to support your body and ease the discomfort of sitting for long hours.
Gaming chairs vs office chairs
If you want the gamer aesthetics of a racing seat gaming chair, don't think twice, go for the gaming chairs.
If you want an ergonomic chair that last, then office chairs are worth to be considered. I will do office chair review in another blog post.
Here are the common key differences between gaming chairs and office chairs:
| | | |
| --- | --- | --- |
| Feature | Gaming Chair | Office Chair |
| Aesthetic  | Gamer-ish (Vibrant colour scheme) | Plain black/grey |
| Headrest | Fixed | Adjustable or no headrest |
| Backrest | Winged | Wingless |
| Seat | Bucket Seat | Flat |
| Lumbar support | Pillows | Fixed/Adjustable lumbar |
| Arm rest | 3-dimensional adjustment (up, down, left and right) | 2 dimensional adjustment (up and down) |
In this article, we focus only with gaming chair. So, let's check out the top 5 best gaming chairs selected by us.
1. Anda Seat Dark Wizard Gaming Chair – RM1099
Best value for money gaming chair Malaysia
Anda Seat Dark Wizard is a dark subtle gaming chair without any RGB colour here and there. It packs all the important quality of a comfortable chair and supports up to 150kg weight.
✔ Comfortable design
✔ Heavy duty
✔ Detachable neck & lumbar memory foam support
✔ 6 years warranty
✖ Slightly pricey
Anda Seat dark wizard gaming chair is able to support a maximum weight of 150kg and a maximum height of 200.5cm. And it uses class 4 hydraulic pistons that have SGS certification.
The assembling of this chair is straightforward as long as you follows the guideline provided.
The chair's height can be adjusted from 132cm – 142cm. It is able to recline from 90 – 160 degrees which is almost laying flat! It has adjustable armrests in 3 directions that allow you to adjust to those specific angles to match for your keyboard and mouse position.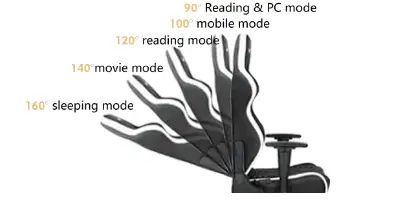 The premium PVC leather cover is soft, smooth to the touch and easily maintained with just a soft damp cloth. The foam padding is of high density and thus is comfortably solid.
The chair base consists of sturdy black aluminium material. Upon seating on it, you can literally feel the strength of the frame. The 7.5cm casters are strong and able to hold up really well when rolling. 
Anda Seat included memory foam pillow for lumbar and neck to provide better support for your body. Especially its neck pillow is generously big and designed to support your neck as well as the upper back body. The lumbar pillow helps to support your lower back so if you have back pain, this helps heaps. But even if you do not have any back problems, this lumbar support will help maintain and care for your spine. 
Some users have claimed that they have sat on this chair consecutively for about 3 hours and still felt like sitting on a cloud.
Unlike other gaming chair brand, Anda Seat is not a gaming chair seller, they are gaming chair manufacturer! This gaming chair comes with a lifetime warranty for the aluminium frame and 6 years warranty on other parts. It really speaks a lot on the high quality that this chair brings.
Anda Seat Dark Wizard gaming chair is a truly money for value choice! If you prefer an upgrade, can consider the Anda Seat Dark Knight.
2. Secretlab Omega Gaming Chair – RM1646
Best premium gaming chair Malaysia – upgrade pick
Secretlab Omega is the best premium gaming chair with superior quality and durability. And that comes with a premium price tag
✔ Beautifully designed and comfortable
✔ Free head and lumbar pillow
✔ 165-degrees tilt angle and 4-directional armrest adjustment
✖ Expensive

Secretlab, the gaming chair brand from Singapore has made its name worldwide with its quality and comfort. It is among the earliest gaming chair brand existed and pioneer the industry.
Secretlab Omega is suitable for anyone shorter than 180cm and weighs less than 110kg. Similarly, it uses a class 4 hydraulics that is TÜV SÜD "LGA tested".
This chair features a multi-tilt mechanism with a maximum of 165 degrees. Its armrest is 4-directional adjustable which is more flexible than Anda Seat Dark Wizard.
For Omega 2020 Series, Secretlab now offers PU leather, soft weave fabric and NAPA leather for users with different preferences. It also comes with heat and lumbar pillows made of memory foam for additional back support. Great for users with back pain. Just one thing, there's not much adjustment can be done for the head pillow position.
The Omega uses cold foam padding that is superior to wear and tear but still comfortable to sit on for long hours. The seat base has a snug fit design which wraps around you. (Note: for those prefer wide and flat seat can go for Titan series.)
Secretlab Omega comes 3+2 years warranty which I think all premium gaming chair brands should follow suit. It boosts users confidence in the quality of the product.
3. Noblechairs EPIC Gaming Chair – RM1,459
Noblechairs EPIC is frequently chosen as the best gaming chair by many mainstream reviewers for its attention to details and quality.
✔ Breathable PU leather with Firm padding
✔ Many flexible adjustments available
✔ Available in genuine leather
✖ Expensive
✖ Short warranty period, 2 years
The EPIC series is Noblechairs' (Berlin-based gaming chair company) original gaming chair. It is one of the luxurious gaming chairs available in the market. Utilizing premium quality materials, this chair is meant for those hard-core gaming fanatics. 
However, it is best suited for those who are between 164 – 189cm and weighs less than 120kg. With a winged seating, it helps to keep your leg movements in check thus ensuring optimum comforts and good sitting posture.
Assembling the chair was pretty fast and easy. The overall PU leather has these tiny perforations which bring about good airflow and thus enhances breathability. There are strips of suede at the sides which gives a subtle classy style to it.
It can recline to 135 degrees and has a maximum 11-degree rocking angle. The 4D armrests can easily be customized to suit your preferences. It is available in PU leather and real leather too.
The PU leather is durable, easy to clean and waterproof. The genuine leather version is much more expensive. It is stronger and highly resistant to damage and moisture.
However, Noblechairs only gives 2 years manufacturer warranty. Premium gaming chair should gives a slightly more generous warranty.
4. Vertagear SL2000 Gaming Chair – RM1299
Vertagear SL2000 is high-end gaming chair from the US, which focus on ergonomic and functionality.
✔ Strong build and padded well
✔ Free neck and lumbar cushion
✔ Many adjustment available
✖ Expensive but short warranty
This Vertagear gaming chair (from the US) blends form and function well together, making this chair great for sitting on for long ends of time. The design mainly focuses on getting the ergonomics right, creating awesome comfort and excellent for daily use. 
The exterior spots premium PVC leather with two tones bright colours scheme. It gives the chair a luxurious and gamer-ish feel at the same time. The foam padding is dense and giving the support required for long seating hours,
The assembling of the chair was effortless and fast. It also includes a neck, back and lumbar support cushions.
The backrest can be lean backwards up to 140 degrees. The armrests are also adjustable and are padded to improve support to the wrists. The wheels glide softly to ensure effortless gliding on the surface.
Vertagear gaming chair only comes with a 2 years local supplier warranty.
5. Sokano OC04 gaming chair – RM260
Cheap gaming chair Malaysia
Sokano OC04 is the best cheap gaming chair you should consider if you have no budget.
✔ Affordable
✔ Headrest and lumbar pillow (massage function)
✔ Recline 155 degrees
✖ No warranty
Honestly, I have no idea what's the real brand name for this gaming chair. It is sold as Sokano gaming chair on Lazada, Odoso gaming chair on Shopee and the chair itself is labelled as CHAHO gaming chair. Regardless, it is a good gaming chair for the price.
The chair is encased by good quality breathable PVC leather. Although it costs less than RM300, it still comes with a separate lumbar and head cushion. The lumbar pillow even has a massage function, just needs to be connected to a USB power source and it will vibrate and knead your body muscles.
This gaming chair and can recline from 90 degrees – 150 degrees so you can rest comfortably with this full-length backrest. I will consider it a good enough feature for its low price. However, the seating area's width is around 38cm and thus is not recommended for larger sized people. The foam padding in the seat does not feel that soft, some may consider this to be somewhat stiff.
There's also no adjustment for armrest available.
The downside of this chair is that it has no warranty at all. But the good news is that it has the least negatives reviews or complaints on defective items as compared to TTracing and GTgamez gaming chairs. These 3 gaming chairs have over 300+ reviews on Lazada Malaysia.
Competitions
TTracing Duo V3 quick review – Not recommended
Budget gaming chair from a local brand, TT Racing. I really want and love to recommend Malaysian product but I can't. This chair is no different from a basic office chair except that it comes with a gamer aesthetic. I feel that it is overpriced because it doesn't give lumbar and neck pillow, no recline function, neither armrest adjustment. Most of the price you pay end up to the brand name and profit only.
GTAgamez gaming chair quick review – Neutral
This is priced similar to TTracing. However, it is a full-featured gaming chair with adjustable armrest, 180 degrees recline, rocking feature, lumbar and neck pillow. The only problem I have for this chair is that it has tons of good review but around 20% of the lazada reviews complains about defects and poor customer support. With that many negative reviews, it ends up depending on luck whether to receive the item in good or bad condition.
Gamdias Zelus gaming chair quick review – Neutral
Well, this chair cost about RM700. It is almost full-featured gaming chair, adjustable 150 degrees recline, adjustable seat height, head and lumbar support cushions included but with fixed armrest. It also has 3 years warranty. The only thing is the price of RM700 only being a few hundred less than Anda Seat where Anda Seat got 6 years warranty and more feature.
Warlord Project Horsemen gaming chair quick review – Not recommended
This chair has 4 directional armrests, 15 degrees tilt, 180 degrees recline, class 4 hydraulic piston and a price tag of RM800. And only 1 year limited warranty. The warranty period is a big turn off for its premium price.
AVF Gaming Freak Naga Throne gaming chair quick review – Recommended
AVF, another homegrown local brand. The Naga Throne gaming chair cost RM600. It feels solid and heavy. It has 165 degrees recline, adjustable armrest, class 4 gas lift, head and lumbar support, and comes with extendable leg rest. This chair is a sweet deal but it has only a 1-year warranty.
TTRacing Swift X 2020 quick review – Not recommended
This chair priced at RM600. Unlike TTRacing Duo 2, it is a full-featured gaming chair that comes with recline feature, head and lumbar support, class 4 piston, and adjustable armrest. There are comments that the built quality is average. This chair has 2 years warranty.
Ikea Markus Office/Gaming Chair – Neutral
I don't think many will expect a gaming chair from Ikea. But this is what categorized under Ikea gaming chair section. First thing first, it does not have any gamer aesthetic. Second, there's no recline feature nor adjustable armrest. It is just an ergonomically designed office chair. Many compliments that it is better than gaming chair and it comes with 10 years guarantees for its structural frame and moving parts.

Conclusion
If you're planning to get a gaming chair online, I recommend you to start from a cheap gaming chair first. If you enjoy using it, then only invest in a premium high-end gaming chair.
A mid-range gaming chair is not so recommended because the difference is only a couple of hundred ringgit which makes it better to get a premium one with more years of warranty.
If you're an avid gamer, don't miss out our reviews on the best gaming smartphones and best gaming laptop.