Tripod is essential for smartphone photography and videography to achieve high-quality shots. 
They are also great for helping you to take awesome selfies and wefies.
The following review will help you find the best tripod for your phone so that you can take better photos and videos.
What are the best tripods for phone in Malaysia?
The best phone tripods should be versatile, sturdy, and strong enough even when fully extended. Using a good tripod will help you capture better pictures and scenes.
It should be able to assist you in every situation possible, whether you're using it for vlogging, live streaming or taking photographs.
Here are the top 10 smartphone tripods in Malaysia, sorted from the cheapest to most expensive model:
---
1. BE80s Mini Bluetooth Selfie Stick
Best Selling Selfie Stick Tripod with Light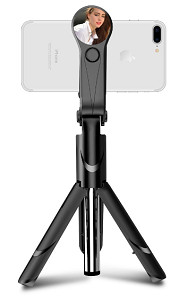 Best deal on Lazada Best deal on Shopee
BE80s is the best selling smartphone tripod on Shopee. It has sold more than 30 thousand units and received a rating of 4.8 stars out of 5.
BE80s Mini Bluetooth Selfie Stick features:
Folded length 185mm
Maximum extended length 680mm
Bluetooth Shutter
Plastic material
Optional accessories: phone holder with mirror, phone holder with LED light
The BE80S basic model is selling for only RM11.90, the rearview mirror model at RM15.90, and the LED light model at RM18.90.
Although it's a budget tripod, it comes with a Bluetooth remote shutter and dedicated slot to store the remote.
However, according to some users, the tripod is a bit wobbly and could trip over if you mount a heavy phone on it. 
Given its very cheap price, I think we can't really put high expectations on the quality of the product.
My personal advice will only buy the BE80s Mini Bluetooth Selfie Stick if you like the LED light phone holder or rearview mirror. So do buy it with the right expectation. Otherwise, it is better to spend slightly more to get the Ulanzi MT-08.
---
2. Weifeng WT-3110A Aluminium Tripod
Best Cheap Full Size Tripod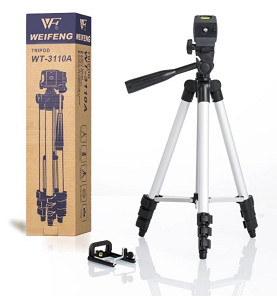 Best deal on Lazada Best deal on Shopee
Weifeng WT-3110A is the best selling full-size tripod that is compatible with cameras and smartphones. It has sold more than 25 thousand units and received almost 17 thousand ratings, averaging 4.9 out of 5 stars.
Weifeng WT-3110A Aluminium Tripod features:
Bubble level indicator
Rubber feet
Folded height: 355mm
Extended height: 1020mm
Tripod weight 350 grams
Can take 2kg of camera equipement/smartphones
4 section extendable legs
Quick release camera mount
Free Nylon carrying case with shoulder strap
Free phone holder
Check out the unboxing video of Weifeng WT-3110A below.
It is a very basic camera tripod for only RM19.75. To mount smartphones on it, the seller provides a free phone holder and an add-on Bluetooth shutter release. Neither of them is remarkable.
And similar to many "super cheap products" on Shopee, the Weifeng WT-3110A receives many complaints on poor product quality. Some also complained that they received a damaged and dented tripod.
These issues are very common. So if you're particular with product quality, it is best to avoid buying a product that seems to be too cheap.
Overall, the Weifeng WT-3110A is still receiving tens of thousands of positive reviews. Tolerance for product quality varies from person to person.
If you plan to use the tripod long-term, I recommend getting the Andoer Q160HA.
---
3. YUNTENG YT-9928
Affordable  Monopod Tripod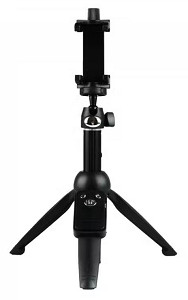 Best deal on Lazada Best deal on Shopee
YUNTENG YT-9928 is another very popular tripod amongst Malaysians. It has sold more than 2500 units and received more than 1500 positive reviews.
And most importantly this tripod scores 5 out of 5 stars, which is very impressive.
YUNTENG YT-9928 features:
Folded height: 205mm
Maximum height: 1,000mm
2-in-1 selfie stick and tripod
Only 200 grams
Ball head design supports 360° rotation
7 sections telescoping stick
Anti-slip rubber feet
Comes with a small mirror for selfie
Compatible with smartphone and action camera
Despite being a budget tripod, many customers found it solid and strong. They also praise that the tripod is sturdy even when fully extended.
This tripod is designed with a ball head so it can handle a wide range of shooting angles. It also has a 1/4 screw connection for mounting an action camera.
According to the customers' reviews, the YUNTENG YT-9928 is really a wonderful tripod for the price. The only downside is the Bluetooth shutter doesn't come with a built-in battery. A CR2032 battery is required.
---
4. Ulanzi MT-11 
Budget Octopus Tripod For Phone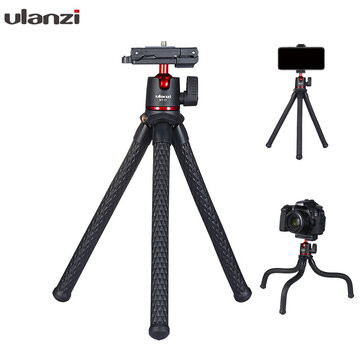 Best deal on Lazada Best deal on Shopee
The Ulanzi MT-11 is a star product that receives 5 out of 5 stars ratings. It has been sold more than 1700 units but receives almost no complaints at all.
Ulanzi MT-11 Flexible Tripods features:
Compatible with smartphones and camera
Multifunction phone holder with cold shoe mount, can install microphone and LED light on it.
1/4 inches universal extension port
Removable ballhead design  360° adjustment
High strength aluminium core, flexible leg
1.2kg load capacity
Built-in bubble spirit level
Check out the comparison video of Ulanzi MT-11 vs. Joby Gorillapod
As you can see from the video above, the Ulanzi MT-11 is very versatile. It is on par, if not better than the more expensive Joby Gorillapod.
Its "octopus" leg is able to grip and wrap around objects better than the Joby Gorillapod.
This phone mount is truly remarkable as it features a ball head design, a 1/4 inches screw port and an additional cold shoe port.
In short, the Ulanzi MT-11 tripod is a handy and reliable mini tripod that can be quickly and easily set up on any surface or material.
---
5. Ulanzi MT-08
Best Mini Tripod For Vlogging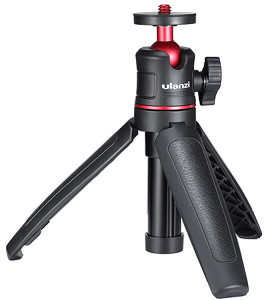 Best deal on Lazada Best deal on Shopee
Another hot-selling and best-rated tripod from Ulanzi is the MT-08. This tripod receives zero negative review and all the feedbacks are positive.
Ulanzi MT-08 features:
Handheld/desktop vlogging tripod
Suitable for smartphones, GoPro, Insta 360, DJI Osmo, and camera
Folded Size: 15cm
Maximum extended size: 27cm
1/4 inches screw interface
Rubber grip handle
Rubber feet
Ballhead design
Here's a video comparing the features of Ulanzi MT-08 vs GoPro Shorty.
Customers claimed that the quality of Ulanzi MT-08 exceed their expectations. It is grippy, sturdy and stable.
However, this tripod does not come with a phone holder. You will need to buy the add-on cold shoes phone clips, ST-07 and fill light, VL49.
A complete Ulanzi MT-08 set should be sufficient for vloggers/YouTubers just starting out.
---
6. Baseus Wireless Selfie Stick
Best Rated Tripod for Selfie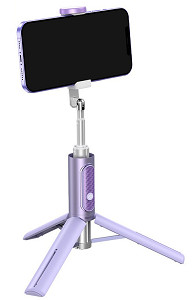 Best deal on Lazada Best deal on Shopee
Baseus OTH-AB202 Wireless Selfie Stick is the best-rated smartphone tripod. It receives a perfect rating of 5 out of 5 stars from hundreds of customers.
The Baseus model has an advantage over Ulanzi MT-08 in that it comes with a dedicated Bluetooth remote shutter that is great for selfies.
Baseus Wireless Selfie Stick features:
Available in 3 colours: white, blue & purple
Made of aluminium and plastic
Folded length 190mm
Maximum height 805mm
Weight 170g
Eight-section telescopic sticks
The Baseus Selfie Stick is a 3-in-1 selfie stick that can be used for taking selfies, desktop phone holders, and live streaming tripods.
This Baseus Selfie Stick is made of high-strength aluminium alloy, which makes it more resistant to wear and pressure. The stick feels premium in the hand.
It also folds into a complete straight rod with no protruding knobs, screws or any accessories. So it is really compact in comparison to the realme selfie tripod and Xiaomi tripod.
For these reasons, I think it is a better value for money choice than the realme and Xiaomi monopod tripod.
---
7. Zomei Q111
Best Selling Professional Phone Tripod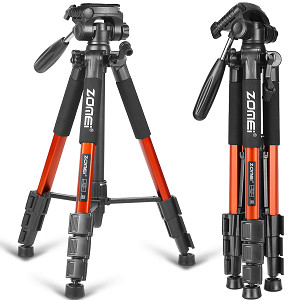 Best deal on Lazada Best deal on Shopee
Zome Q111 is the best selling professional tripod on Shopee. It is a standard camera tripod but you can purchase a phone holder like the Ulanzi ST-07 to mount a smartphone.
Zomei Q111 features:
3-way swivel fluid head with Arca Swiss compatible clamp
Tripod weight 2.75lb only
Free carry bag
Available in black, red, blue, silver, and orange colours
4 section tripod legs
MAde of aluminium alloy
Folded length 50cm
Tripod max height 145cm
Load capacity 5kg
Tripod weight 1.25kg
Most customers are satisfied with the tripod quality which is sturdy and stable. One of the most common complaints about this product is the inferior phone holder. And it cannot be mounted on the tripod screw connection.
So, if you're getting this tripod for a smartphone, make sure to buy a Ulanzi ST-07 phone holder.
One last thing, the warranty of Zomei Q111 is only 7 days, which could be troublesome if the product is damaged. Take this into consideration before placing an order.
---
8. Andoer Q160HA
Best Budget Tripod with Horizontal Mount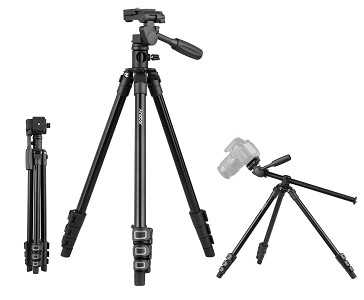 Best deal on Lazada Best deal on Shopee
Andoer Q160HA is the best budget tripod with a horizontal mount. It is selling for only RM115. This type of tripod is best for aspiring Youtuber who wants to do an unboxing video. It makes a great overhead set-up.
Andoer Q160HA tripod features:
Folded length 50cm
Max loading capacity 5kg
Max height 154cm
Made of aluminium
Included carrying bag
Ball head design
Quick release plate with 1/4 inch mounthing screw
Spring loaded hook for additional counter weight to enhance stability
Highly adjustable leg angles
Support inverted shooting
Bubble spirit level
The Andoer Q160HA tripod is a heavy-duty professional camera tripod with a horizontal mount, 3-way pan, and tilt head.
Many difficult shots can be done with it due to its versatility and flexibility. You can use it for an overhead shot, inverted shot, panning shot, panorama shot and more.  
Thus, it is considered suitable even for professional photographers and videographers.
Andoer Q160HA tripod has been praised as a very stable and good value product by many reviewers. It is also said to be a very versatile tripod with limitless adjustment.
---
9. Beike QZSD Q999H
Best Professional Phone Tripod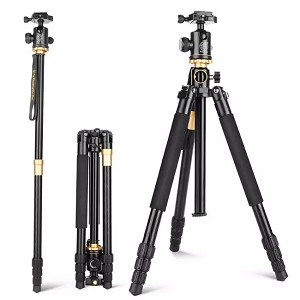 Best deal on Lazada Best deal on Shopee
Beike QZSD Q999H is the best tripod for semi-professional use. For its price, it has the outstanding build quality and is probably the best in its class.
Beike QZSD Q999H tripod specifications:
Tripod weight, 1.27kg
Folded height 43cm
Monopod maximum height 149.5cm
Tripod maximum height 148cm
Tripod folded height 38cm
Load capacity 6kg
360 degree ball head design
Support horizontal mount
Can be turned into monopod
Check out the long term review of the Beike QZSD Q999H tripod:
The tripod has a very sturdy leg which makes it great for flat lay photography. You can use it for any type of professional photo shoot you wish.
Also, the QZSD Q999H can be turned into an inverted tripod for low angle shooting and macro shots.
Lastly, its unique feature is that it can be switched into monopod mode. Monopod mode is more agile and easier for set up and repositioning. It is crucial when you want a stable photoshoot without sacrificing mobility. 
Monopod mode is great to be used in crowded or narrow spaces as it has a much smaller footprint in comparison to a standard tripod.
Beike QZSD Q999H is a great professional tripod for the camera. To use it on your smartphone, you can always get a compatible phone holder mount.
---
Competitions
Ulanzi MT-16 Review
Ulanzi MT-16 is a larger version of Ulanzi MT-08. The Ulanzi MT-16 is a good choice if you need the additional height and don't mind the slightly bigger size and heavier weight.
Realme Selfie Tripod Review (vs Xiaomi Tripod vs Baseus Tripod)
The price of Realme Selfie Tripod is the highest among Realme, Xiaomi and Baseus Tripod. All three tripods are very similar in terms of functionality. 
When folded up, the Realme selfie stick is slightly bigger and the phone holder clip is protruding. The Baseus tripod has the best folded form factor among them.
When there is no promotion, there's no good reason to buy the Realme Selfie Tripod.
Xiaomi Selfie Stick Tripod Review (vs Realme Tripod vs Baseus Tripod)
Xiaomi Selfie Stick Tripod is priced similarly to the Baseus Tripod. However, its folded form factor is a little larger and its extended section is lesser.
So the Baseus Tripod has a slight advantage over it.
Joby Gorillapod 1K Review (vs Ulanzi MT-11)
Joby Gorillapod 1K is famous among the photography community. But it comes with a high price tag too.
Its "octopus" feet have a bigger gap in comparison to Ulanzi MT-11. Hence, a poorer grip strength.
Overall,  Ulanzi MT-11 offers better value for money than Joby Gorillapod 1K.
Manfrotto Tripod Review
Manfrotto tripod is primarily used by photography enthusiasts. To use it with a smartphone is a bit overkill.
The price of its basic tripod model like the Manfrotto Compact Light tripod is already almost RM250. With the same price, you can get the Beike QZSD Q999H tripod instead.
Manfrotto tripod is indeed very high quality and premium. And its accessories are specifically designed for camera photography. 
If you have the budget, you may go for it.
Phone Tripod FAQ
Is a phone tripod worth it?
Yes, the phone tripod is extremely useful for taking stable shots, which in turn leads to better photo and video quality. You can use it for long exposure static shots, selfies, panorama shots, slow panning shot and more.
Which smartphone tripod is the best in Malaysia?
Ulanzi tripod is the best smartphone tripod you can get in Malaysia. The Ulanzi MT-11 is a versatile "octopus" tripod to be used for a tricky shot and the MT-08 is the best tripod for vlogging.
What is the price of a tripod in Malaysia?
You can buy a smartphone Tripod in Malaysia starting from RM15 and up to RM200+. The recommended budget tripod, Ulanzi MT-08 is sold for only RM21.
What is the best tripod for iPhone in Malaysia?
Ulanzi MT-08 and MT-11 are the best tripods for iPhones in Malaysia. Both of them can be used as a selfie stick, camera tripod, and tabletop livestreaming tripod.