Gone are the days when budget smartphones are synonymous to lousy specifications and crappy build quality. All thanks to brands like XiaoMi, Oppo, Vivo and OnePlus who continuously push the boundary to build better and faster phone at a fraction of the price of flagship smartphones.
With so many cheap and affordable smartphone models flooding the market, it can be overwhelming to determine which is the real best budget smartphone for your hard-earned money. I have done an extensive research to help you find out:
How I pick
First, what makes a good budget smartphone? We certainly can't expect all the flagship bells and whistles. But there are some features you should prioritize when selecting a budget smartphone.
Primary criteria
Performance – Hardware like processor and RAM should be adequate and snappy to run most of the essential daily apps.
Storage – Sizable built-in storage is a big plus point and expandable storage is a must. Having to constantly delete or transfer photos, videos and document is not a pleasant experience.
Real world battery life – Battery life is extremely important to ensure normal phone usage for at least 8-10 hours. The battery capacity that supplier stated is one thing and real-world battery performance is another. For users with heavy usage, definitely need to consider to buy a power bank as your daily companion.
Secondary criteria
Acceptable camera – Camera is somewhat important. Blurry photo and video just don't cut it in today's standard. We need to find a balance on our budget with reasonable camera quality.
Acceptable screen– I would like to give one example here. Do you think Samsung Note 2 screen that released 7 years ago is an eye-sore to look in the year 2019? If it still looks fine to you, then the screen resolution is one thing you should care less on a budget phone. Many budget smartphone today has a better screen than a Note 2.
Quick charge – Good feature that every middle tier phone should have.
Non-essential criteria
We should and could compromise on all the premium flagship features including face-unlock capability, fingerprint sensor, waterproofing, ultra-HD display, amazing camera, and bezel-less display.
Best budget smartphone below RM500 – Realme C1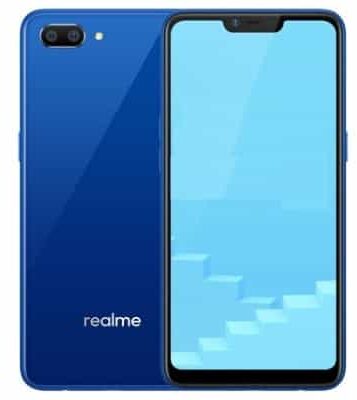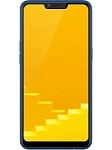 Realme C1 is super affordable yet doesn't feel cheap at all. Reasonable perfomance and acceptable photo quality. It also has a modern thin-bezel screen with notch.

Referring to the comparison table above, it is no doubt that Realme C1 is the best smartphone under RM500 right now. It is a solid example of how even small bucks can bring you a relatively decent device these days. For one thing, this very newcomer under Oppo's sub-brand doesn't look and feel like a low-end budget phone. The specifications on the Realme C1 are pretty decent as well, especially compared to the other rivals in this price range like the Samsung Galaxy J4 Core (which has a lower end processor and less RAM) or even the Xiaomi Redmi 6A (which only packs a Helios P22 and smaller 16GBs of storage).
Realme C1 specifications:
Screen: Notched 6.2″, 720×1520 IPS LCD
Camera: Primary: 13MP; Secondary: 2MP, 1080p@30fps video.
Selfie-Camera: 5MP; 1080p/30fps video recording.
OS: Android 8.1 Oreo (ColorOS)
Processor: Qualcomm Snapdragon 450: octa-core 1.8GHz Cortex-A53 CPU, Adreno 506 GPU.
Memory: 2GB of RAM
Storage: 32GB storage; microSD slot (up to 256GB SD card)
Battery: 4,230mAh Li-Po
Speaker: Single down-firing speaker; 3.5mm jack.
Others: Dual-SIM (Not hybrid); LTE, micro USB; Wi-Fi a/b/g/n; GPS; Bluetooth 4.2
Pros
Bright screen with notch and thin bezel
Long lasting battery life
Good cameras considering the low price
Triple slots SIM – 2 Nano SIM and one micro SD card slots
400-series Snapdragon processor
Android 8.1 Oreo out of the box
Cons
No quick charge
No NFC
Only 2GB of RAM
Single speaker
Realme C1 review
For build quality, Oppo Realme C1 is made out of plastic but still looks sleek. It feels good to hold and doesn't give plastic kind of feel like the old Redmi series. Given its rock bottom price,  this phone still comes with a gorilla glass screen.
In terms of performance, the Snapdragon 450 processor in Realme C1 is definitely no slouch.  Here's a Geekbench score of Realme C1 compared to other phones

That is a respectable score for the Realme C1 considering its price point of less than RM500. The 2GB of RAM does slightly hold back its performance here. It runs smooth on ColorOS that is built on Android 8.1 Oreo and has no problem to play most casual games. But the 2GB RAM can really hit its limit on memory-demanding games like PUBG, drop frame issue will happen.
Realme C1 has a built-in storage space of 32GB which is already more than most of its competitions can offer. However, 32GB just isn't sufficient for most users nowadays. One of the most notable features on this phone is its triple slot SIM tray. You can insert two nano SIM cards and one micro SD cards (up to 256GB) at the same time. So you don't have to sacrifice storage space for another SIM card. It's a rare feature for smartphone sub RM500.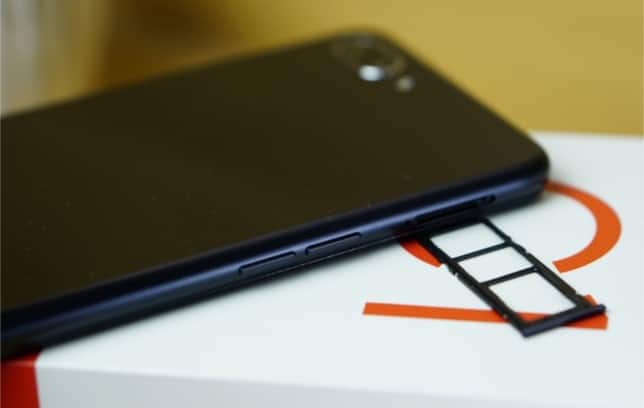 The 4230mAh battery helps it stay alive comfortably throughout the day. Based on GSMAreana benchmark, you can watch video nonstop for a whopping 12 hours! Just one thing to take note, Realme C1 only support up to 5V2A charging which also means that there is no quick charge compatibility. It can take more than 2.5hours to charge the phone to full.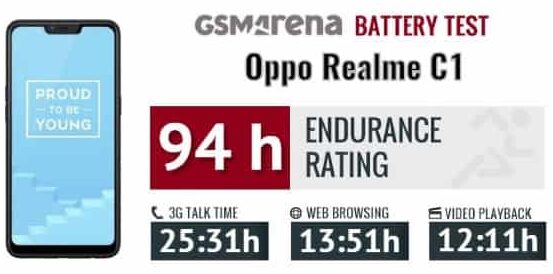 The phone cameras, while not exceptional by any means, is more than enough to be considered "good" at what they do. Plus, the dual rear camera setup is usually something you'd only see on a higher-priced smartphone. So, that's a good bonus right there. As long as it is under proper lighting environment, you can snap decent photographs. Don't expect it to perform well under low-light condition though.
Its 6.2 inches HD+ screen has an impressive 88% screen ratio. It looks edgy and high end with slim bezels and a notch. This screen is no less attractive compared to the pricier mid-range smartphone models. The phone brightness is reasonably clear even under daylight as shown in the photo below.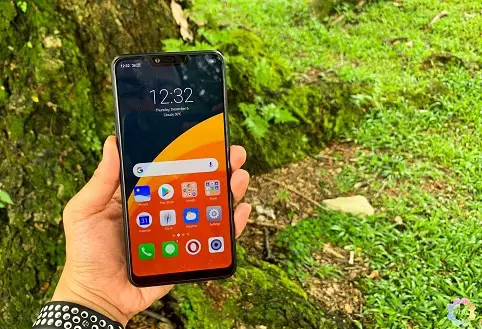 Lastly, speakers and sound on Realme C1 are quite mediocre. It's definitely not the clearest or loudest given its single speaker setup. To be completely honest, this is one of its biggest drawbacks that we have to compromise on this low-end entry-level smartphone.
Conclusion
All in all,  the Realme C1's attractive design, capable hardware and solid build quality mix together into a very attractive package for its price. Thus, it is easy for us to consider Realme C1 the best smartphone under RM500 for the first quarter of 2019.
Best budget smartphone under RM700 – Xiaomi Mi A2 Lite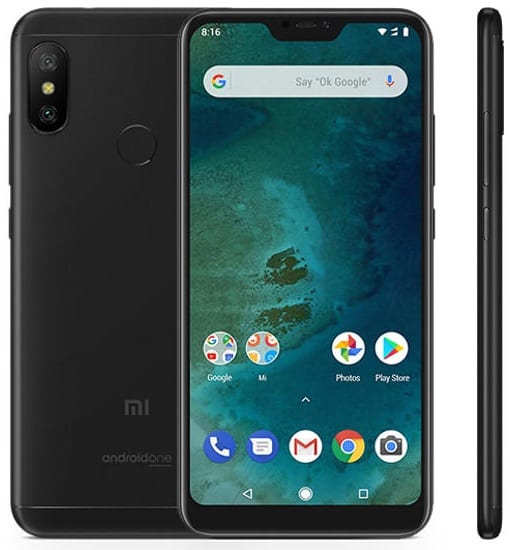 Mi A2 lite is a bit old compared to all the new comers. We still stick to it as the best choice for phone below RM700 for its complete package. You get 64GB internal storage, 4GB RAM and slightly older Snapdragon 625 processor.

It is tough fight for this price range between Xiaomi and Honor. At a glance, Honor 10 lite seems like a better choice because it has a bigger and better screen. It also runs on a newer Android OS and a slightly better processor. However, I would recommend Mi A2 lite over Honor 10 lite because it is a more complete package as the best smartphone under RM700 category. Let us dissect further below.
Xiaomi A10 lite specifications:
Screen: Notched 5.84″, 1080×2280 IPS LCD
Camera: Primary: 12MP; Secondary: 5MP, 1080p@30fps video with EIS (4k with third-party app). Selfie: 5MP, Auto HDR; 1080p/30fps video recording.
OS: Android 8.1 Oreo (Android One / Stock)
Processor: Qualcomm Snapdragon 625: octa-core 2.0GHz Cortex-A53 CPU, Adreno 506 GPU.
Memory: 4GB of RAM;
Storage: 32GB storage; microSD slot.
Battery: 4,000mAh Li-Po
Speaker: Down-firing speaker; 3.5mm jack.
Others: Dual-SIM; LTE, micro USB; Wi-Fi a/b/g/n; GPS; Bluetooth 4.2, IR blaster, rear-mounted fingerprint reader
Pros:
High-resolution screen with notch and thin side bezels
Excellent battery life
Good audio quality
Excellent Cameras and surprisingly fine selfie camera
Android One OS
Triple slot SIM tray
4K camera capability with third-party app
Cons:
Outdated Snapdragon 625 processor (2 years old)
The "chin" of the screen is too thick in comparison to Honor 10 lite
No NFC
Xiaomi Mi A10 lite review
In terms of build quality, Mi A2 lite has an easy to hold aluminium body and feel very sturdy. In comparison, Honor 10 lite is entirely made out of only plastic.
Performance wise, we can't deny that Snapdragon 625 processor is a bit of a letdown when compared to Kirin 710 (Honor 10 lite) and Snapdragon 636 (Zenphone Max M2). But, it is still a very capable processor especially when couple with 4Gb RAM. It has a higher score than Huawei P20 lite in the Geekbench benchmark.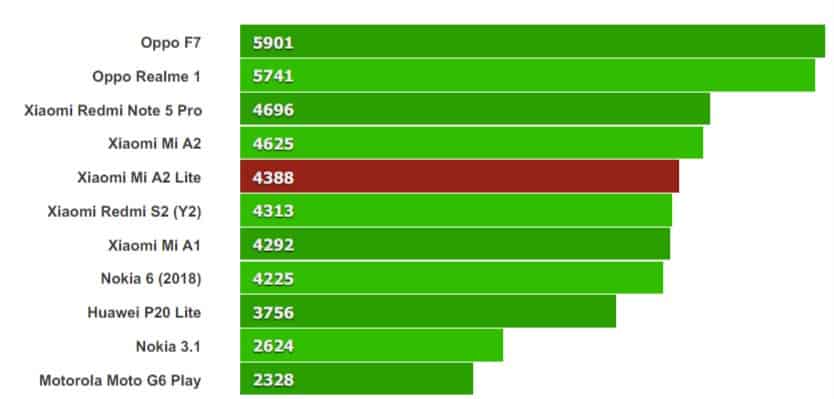 As I have mentioned in my criteria, built-in storage is one of the most crucial features I emphasize on a smartphone. This chosen Mi A2 lite model comes with 64GB built-in storage has a distinct advantage over Honor 10 lite 32GB storage capacity. Do you recall how Apple always charge a premium of over RM200 to RM400 per upgrade for built-in storage? It is a no-brainer for us to pick Mi A2 lite when you pay less than RM700 and get a phone with 64GB capacity
You may argue that there is expandable storage but in reality you can't really store everything in the microSD cards. One good example is WhatsApp related files must be stored in built-in storage for it to work properly. 64GB storage will give you peace of mind and more space for your phone to breadth.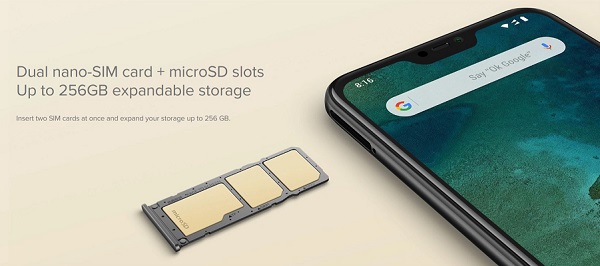 Triple slot SIM tray is the second feature that sets Mi A2 lite apart from Honor 10 lite which only has a hybrid dual sim tray. For Mi A2 lite, you can always pop in a micro SD card without having to worry about sacrificing another SIM card slot.
This phone is only a 5.8″ device yet still packs a big 4000mAH battery. A combination of big battery capacity, stock Android OS, and medium screen size immediately tell you that this smartphone is designed to last. Many also claim that this phone can easily last one whole day of heavy usage.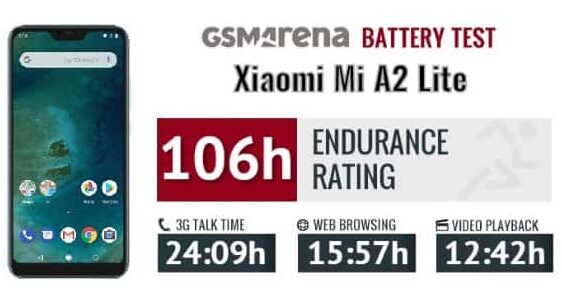 Next, we move on to the camera; the main feature that makes us choose this phone over Honor 10 lite. For a budget smartphone, the Mi A2 Lite takes really good photos and videos. You can see from the above that it has more detail compared to OnePlus 5T. Even the front-facing shooter is no exception and capable of taking very good photos. At a time where the smartphone is synonymous to a camera, it is a solid reason for us to choose this phone as our best pick.
Heck, it even does 4K resolution, 30FPS video shooting if you install the "open camera" app. None of the smartphones in our shortlists except Zenfone Max M2 capable of shooting 4K videos.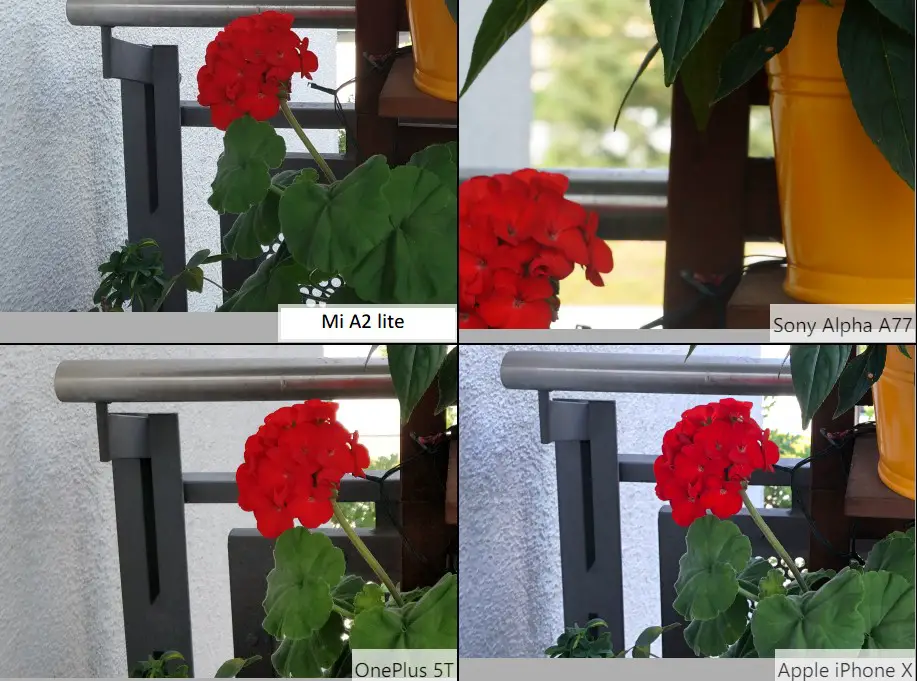 Mi A2 lite is also one of the only two smartphones in shortlist that has an FHD display. This phone has an FHD IPS screen with a maximum brightness of 456 cd/m2, "notch" on top and thick "chin" at below. Other competitions like Zenfone Max M2 and Samsung Galaxy J6 only come with HD+ resolution.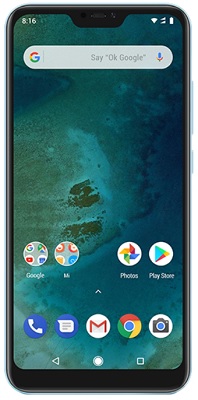 The audio from the earpiece, loudspeaker and 3.5" jack are all reasonably loud on the Mi A2 Lite. It also comes with an IR blaster which is one of the most underrated and underused features on a smartphone. IR blaster can replace your remote control for home appliances but somehow it slowly becoming a relic of the past. Most modern smartphones don't bother to include them anymore due to lack of love from the users.
Conclusion
After considering all the aspects, Mi A2 lite with a 4GB memory, 64GB  storage space, decent camera, and dedicated micro SD card slot is the most wholesome-packaged budget smartphone under RM700.
Best budget smartphone under RM1000 – Realme 2 Pro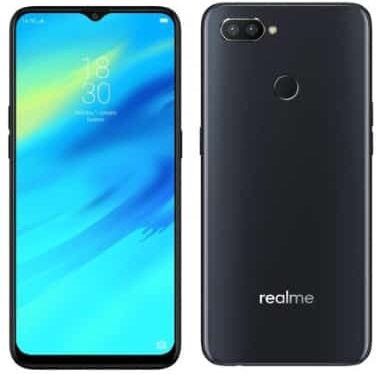 Realme 2 pro is the testament of quality smartphone doesn't come at the cost of an arm or leg. Beautiful 6.3″ FHD screen with waterdrop notch. It packs Snapdragon 660, whopping 128GB internal storage and insane 8GB RAM.

Oppo's Realme brand is getting really aggressive to grab the market share of budget smartphone from Honor and Xiaomi. It is an easy pick for us that Realme 2 Pro is the best smartphone under RM1000 given its incredible specification, sleek design and pretty display. Oppo manages to undercut its more established rivals with competitive pricing. We already have two Realme models recommendation in this single post.
Realme 2 pro specifications:
Screen: WaterdropNotched 6.3-inch 1080×2340 IPS LCD
Camera: Primary Camera: 16MP; Secondary: 2MP, 4k@30fps video (1080p with EIS). Selfie: 16MP, Auto HDR; 1080p@30fps video recording.
OS: Android 8.1 Oreo (ColorOS)
Processor: Qualcomm Snapdragon 660: octa-core 2.0GHz Kryo 260 CPU, Adreno 512 GPU.
Memory: 8GB of RAM;
Storage: 128GB storage; microSD slot.
Battery: 3500mAh Li-Po battery
Speaker: Down-firing speaker; 3.5mm jack.
Others: Rear-mounted fingerprint reader; dual-SIM (NOT hybrid); LTE, microUSB; Wi-Fi a/b/g/n; GPS; Bluetooth 5.
Pros:
"Water-drop" notch and tiny bezels display
Speedy performance
Excellent cameras for day and night
8GB RAM + 128GB storage for below RM1000!
Cons:
Full plastic build
No NFC
No USB-C
No quick charge
Realme 2 pro review
As always though, you can't really have everything on a tight budget. Oppo has to compromise on the build material to bring the cost down. The Realme 2 pro is only made of mostly plastic unlike Zenfone Max M2 pro and Huawei Y9 which made of metal that gives them a more premium feel.
Realme 2 pro makes up for this shortcoming with exceptional performance. The combo of 8GB of RAM and Snapdragon 660 let you run multiple apps effortlessly with no lags and stuttering. We can see this clearly from GSMArena's GeekBench test that it is on par with Vivo V11 which cost at least 50% more at RM1500++.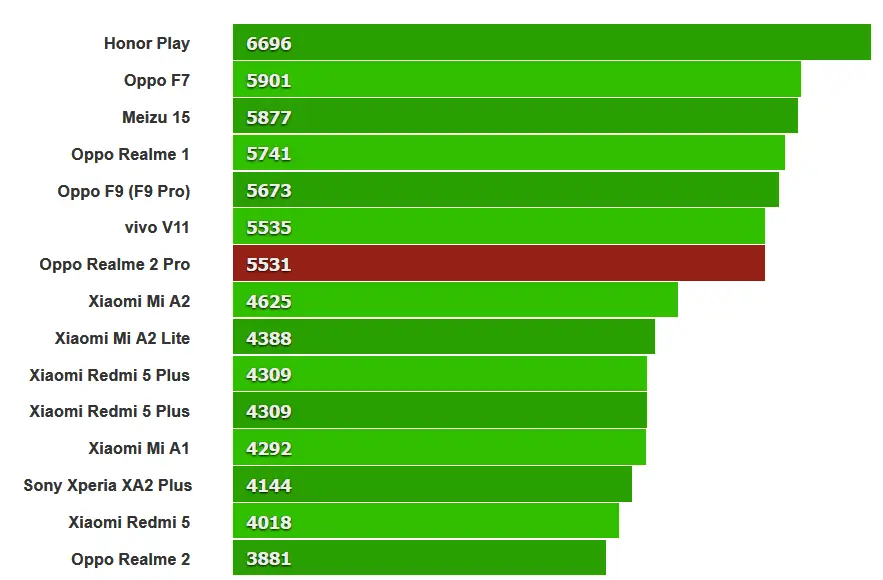 This phone has a very ample 128GB of internal storage which is really rare for a budget smartphone. On top of that, it has a dedicated microSD card slot supports up to 256GB.
In terms of battery life, the Realme 2 Pro continues to be a strong performer. Although it has only 3500mAH capacity on paper, this phone proves to be quite power efficient with its software and hardware in real-world performance. While it doesn't last as long as the Xiaomi A2 Lite, we must also consider the fact that it has a more powerful processor, bigger screen and slightly smaller battery size. This phone still able to last you a whole day on moderate usage. Check out the battery test carried out GSMArena as below.
The cameras are even better than the ones on the Xiaomi, with crisp, clear and well-processed images for both the 16+2MP rear camera and the 16MP selfie camera. It can also capture video up to 4K resolution at 30fps with electronic stabilisation. Below is some photos sample from nasilemaktech.com.
Conclusion
In short, Realme 2 Pro ticks so many boxes of what a great smartphone should have. You get an impressive display, excellent build, smooth performance at a price that doesn't cost you an arm or leg. Plus, where else can get you a phone with 8GB RAM+ 128GB internal storage less than RM1000? We highly recommend Realme 2 Pro over its competition like Honor 8x, Huawei y9 or even Huawei Nova 3i. Other brands will have a hard time to catch up Realme 2 Pro in RM1000 price range.
If you have more budget, you may want to check out our reviews on best gaming smartphones, best Xiaomi phones and best Oppo smartphones.