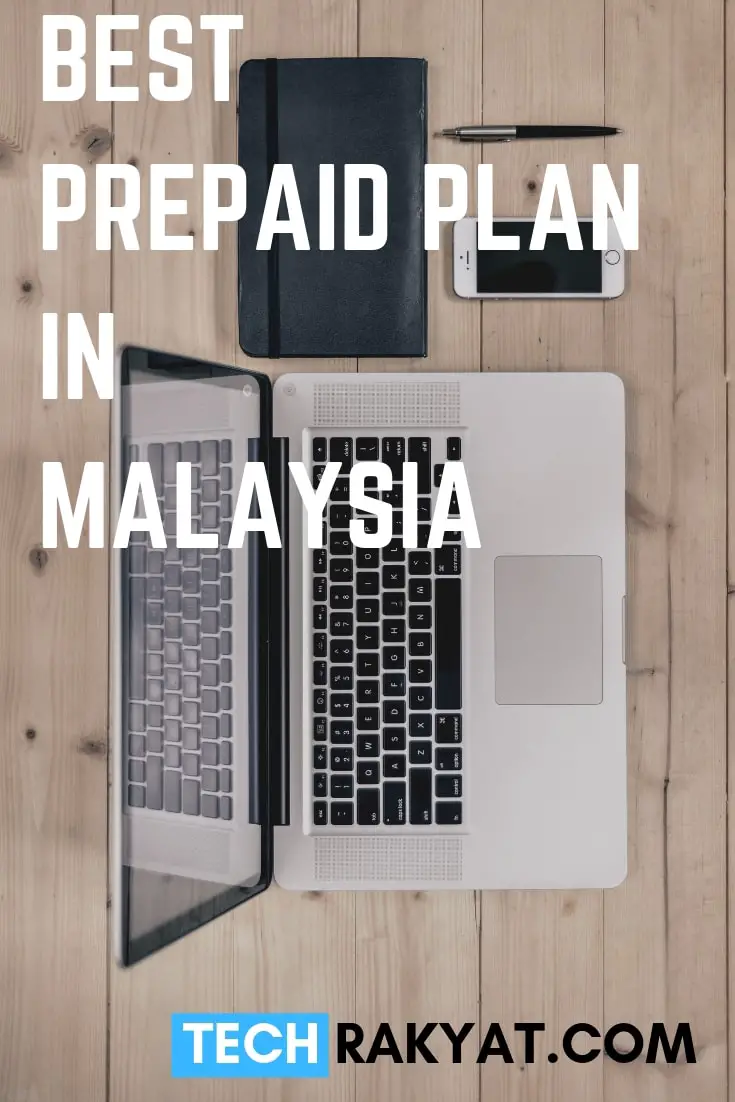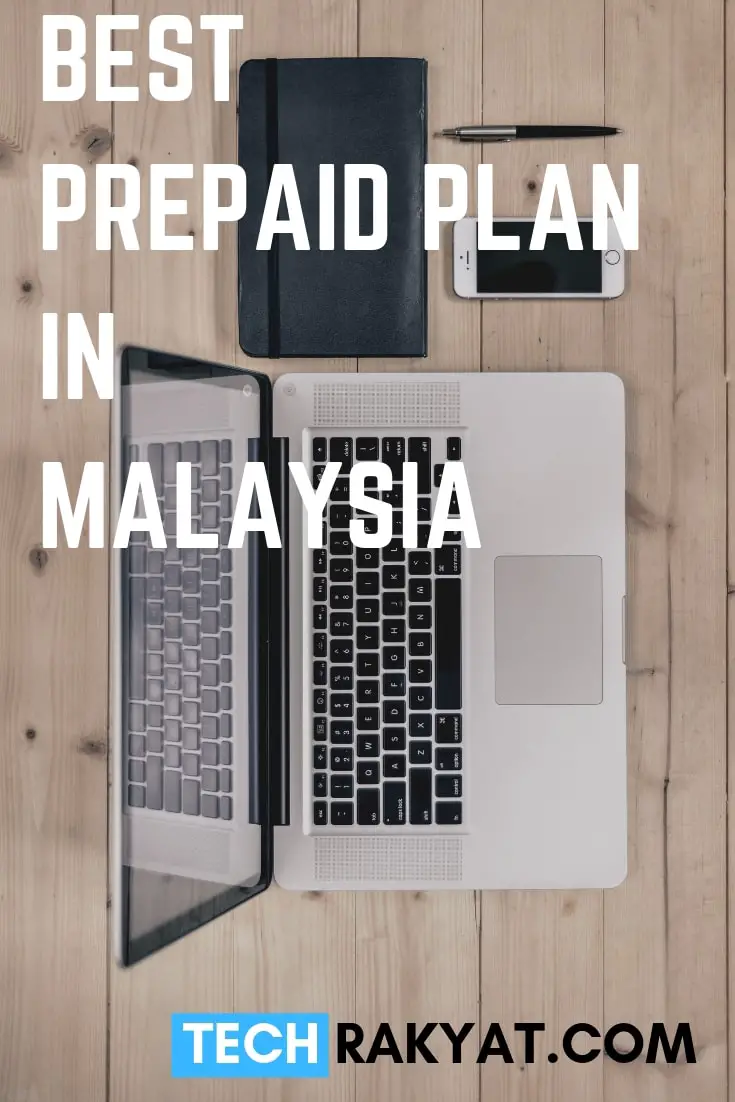 In contrast to the poor home broadband service in Malaysia, I can confidently and proudly claim that Malaysia is one of the few countries in South Eash Asia which offers competitive mobile plans. All thanks to the rapid growth in numbers of the mobile network operators in Malaysia.
Apart from the Big 4 Telcos(Celcom, Maxis, Digi & U Mobile) in Malaysia, you may not aware but there are more than 10 mobile service provides in our country whether they are actual mobile network operator(MNO) or mobile virtual network operator(MVNO). There are also oneXOX, Unifi Mobile, yoodo, ookyo, redONE, TuneTalk, Tron, Tapp, Mcalls, Altel and BuzzMe. More competitions lead to lower prices and drive more benefit to consumers.
After more than 50 hours of research, I conclude that:
TuneTalk Vibe 30 -Best prepaid plan under RM30 for most people(no longer available for new user effective 14 Jans 2019)
Why you should go for prepaid
There are various factors to go for prepaid plans instead of postpaid plans. Among the factors, the two biggest driving factors for using prepaid plans are the flexibility of usage and money saving.
Flexibility of Usage
For prepaid plans, there is no need to commit any fixed term contract whether it is one year or two years. You can enjoy the privilege to change or swap to any new Telco whenever you want.
There is also no fixed monthly commitment. For postpaid plans, you are tied to a fixed amount of commitment but prepaid plans allow you to switch to cheaper or more expensive plan depends on your monthly budget. Or you may stop subscribing a new monthly plan if you are away for long holidays.
Money Saving
Generally, prepaid plans are always cheaper in comparison to postpaid plans because they are meant for consumers with a lower budget. Effective 6th September 2018, prepaid reload services are exempted from 6% Service Tax for Malaysians based on Section 34(3)(a) while the postpaid plans charge an additional 6% service tax (SST). You may check out a very comprehensive table prepared by Digi on explaining which services are charged with SST and which does not.
There are also various reload channels which offer cash back or discounted top up. Both Lazada and Boost app (android)/(ios) offer cashback for mobile reload through their app. You can even use a credit card to do the transaction and earn additional cash back. If you're interested in more money saving tips, can check out my choice of best Malaysia credit cards & cash back strategy guide.
All these little savings and cash backs accumulate a considerable sum of money over time. As the Malay saying goes, 'sedikit-sedikit, lama-lama jadi bukit'.
Why you should trust me
Throughout the years, I have been a user of various mobile plans in Malaysia so I have a knowledge or two on advantages and disadvantages among the local telcos. As long as I can remember, I started off as a Hotlink user during secondary school because Digi's network coverage was so bad in the rural area. (Hints: I am from Pahang). I had to reload from time to time. Sometimes I just could not afford to reload and had to keep track of my phone validity period and reload on the very last day.
Then, I moved to town and convert to Digi because of the cheap price and acceptable network coverage in cities. When I started to work I was given a Celcom SIM card and stuck with them for years. It can be frustrating when you switch between mobile network providers in the old days because you have to give up your current number and lost all your contact.
I understand an average consumer's need because I am standing in the same shoes. Coupling with my thorough research on available information from the service provider and consumer reviews from various online sources including Lowyat forum, I can help you to put an end of your search for the best Malaysia mobile prepaid plan.
Most importantly I review and update my post from time to time based on the latest mobile plan launched in Malaysia in order to keep you updated to the latest information. Subscribe to my email list, Facebook and Twitter for my latest recommendation if you find my review is helpful.
How I picked
Network Coverage
Network coverage is the most crucial factor you should take consider whenever choosing your mobile network provider. Performance of a mobile network can vary depending on location. Some mobile networks perform well in both rural and city area while some are just pure sh*t in the rural area as they do not have the infrastructure to support it. Without good network coverage, everything else including the speed, data, call time and SMS is worthless.
Speed
Data speed is the second most important factor and it is directly related to network coverage. There are 3G, 4G and 4G LTE network. 4G LTE is the fastest of them all, wider 4G network, better internet speed.
Price
Each prepaid plan is packaged and priced differently. It can be quite overwhelming for someone to look at so many different add-ons and passes which currently available. I am looking the best and most practical bargain of them all.
Data, Call Time and SMS
Among these three, I consider data/internet is the most essential. Because text messaging and call app slowly replaces conventional call and message (SMS). So, call time and SMS is less of my priority.
Validity
I will focus specifically on 30 days validity prepaid package. Users with specific needs like extra long validity period can explore other available options which are currently out of my list.
How I research
My research and user experience are largely focusing on Kuala Lumpur and Selangor area.
Then, I salvage the raw information provided by all the different Telcos and digest them for your easier understanding. Online user's review and feedback are also collected as additional references.
If you are from different states and have different opinions, please comment below on which Telco is the best in your area.
Based on a regular user consumption needs, I break down my top picks into two categories as below:
Best Prepaid Plan Under RM30
Best Prepaid Plan Under RM60
Best prepaid plan under RM30 in Malaysia: TuneTalk +Vibe 30
*Update- TuneTalk Vibe+ 30 no longer available for new users effective 14 Jan 2019, only available for old users. Stay tune for updates


TuneTalk Vibe 30
 is the best prepaid plan under RM30 offering 12GB data and 40 minutes free talk time to all networks. I
TuneTalk Vibe 30 operating under Celcom network is the best Malaysia budget prepaid plan for most people because it has one of the best network coverage in Malaysia and complete with plenty of data and minimal talk time as well SMS.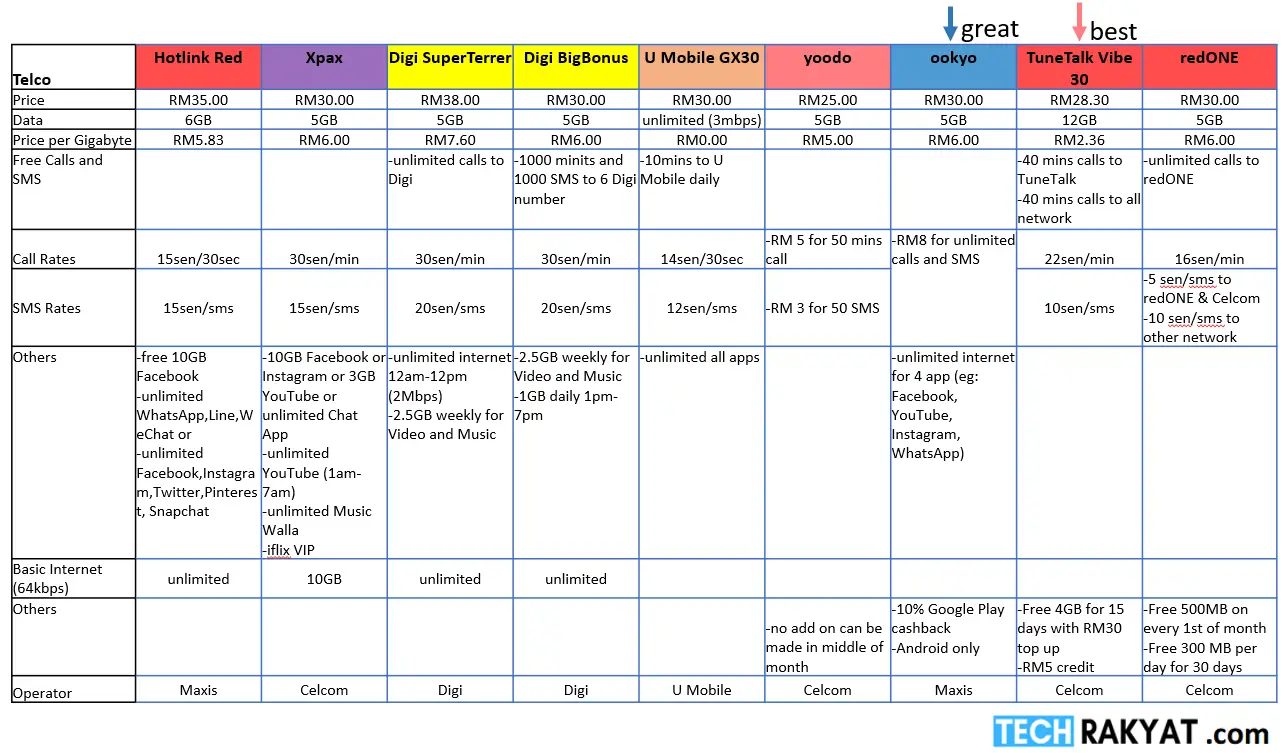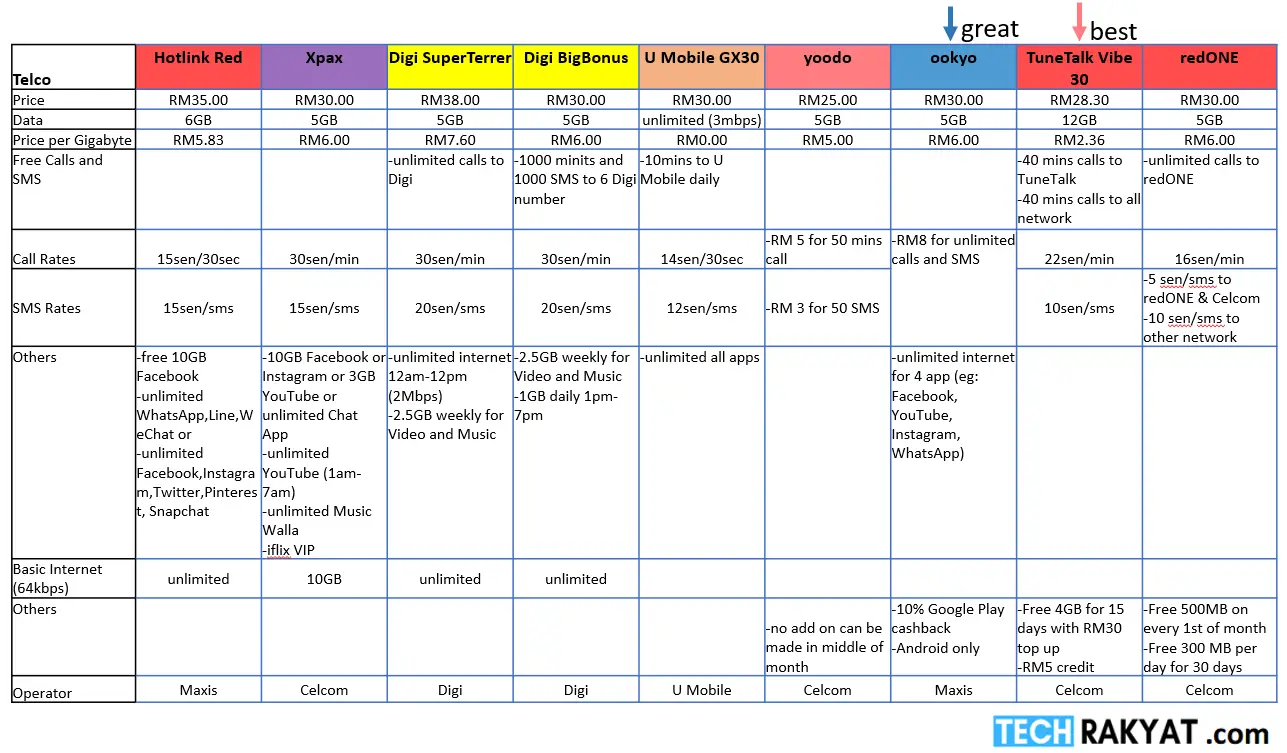 It costs RM28.30 per month operating under Celcom network which has the widest 4G coverage and second fastest overall speed.  Consistent user experience is almost guaranteed no matter where you are in Malaysia. It has the lowest data rate among all the plans above at RM2.36 per gigabyte.
Besides, monthly top up of RM30 grants users another 4GB high-speed internet which valid for 15 days. Basically, users get as much as 16GB per month for RM28.30 because 15 days validity for the extra data is a very long period compared to other competitors.
16GB data per month easily put all other competitors' gimmicky features to shame like night time unlimited data, or selected apps unlimited data.
it also includes 40 minutes call time to TuneTalk and 40 minutes call time to all network which other plans are lacking. Other plans either provide no call time or only free intra-network calls.TuneTalk Vibe 30's 40 minutes call time can last light-weight user for a month with mindful consumption. Any long duration call to be made through internet calls (eg: WhatsApp & Wechat voice call).
This free call times are very handy when you happened to be at an area without any internet connection or the recipient has no internet connection, you can quickly make a quick normal voice call without using your credits.
Taking call rates of 15 sen per 30 seconds, 40 minutes call time to all network essentially save you another RM12.00 compare to other networks which offer no call time at all. Moreover, you get RM 5 credit with each top up of RM30 which you can use for SMS or make calls.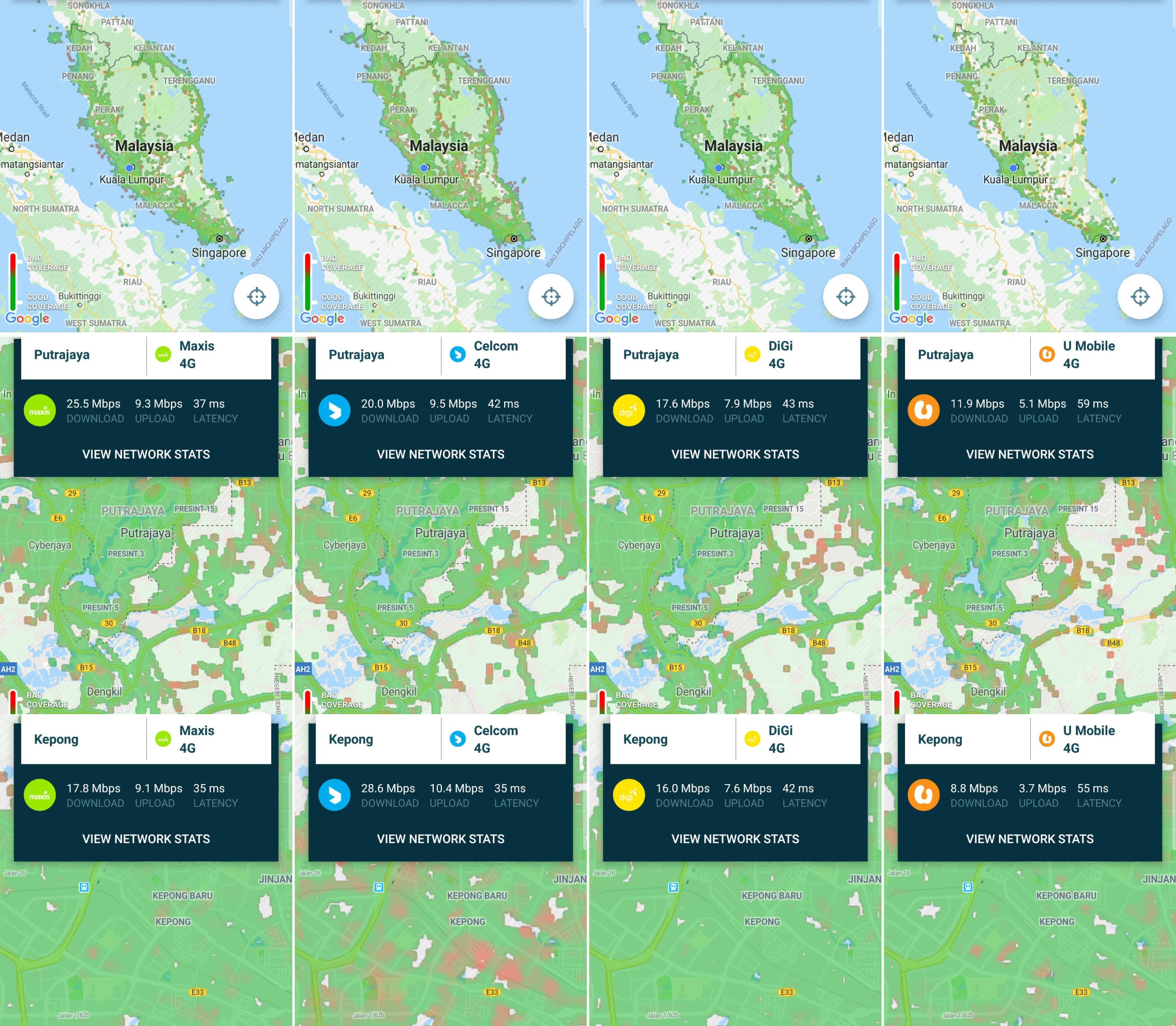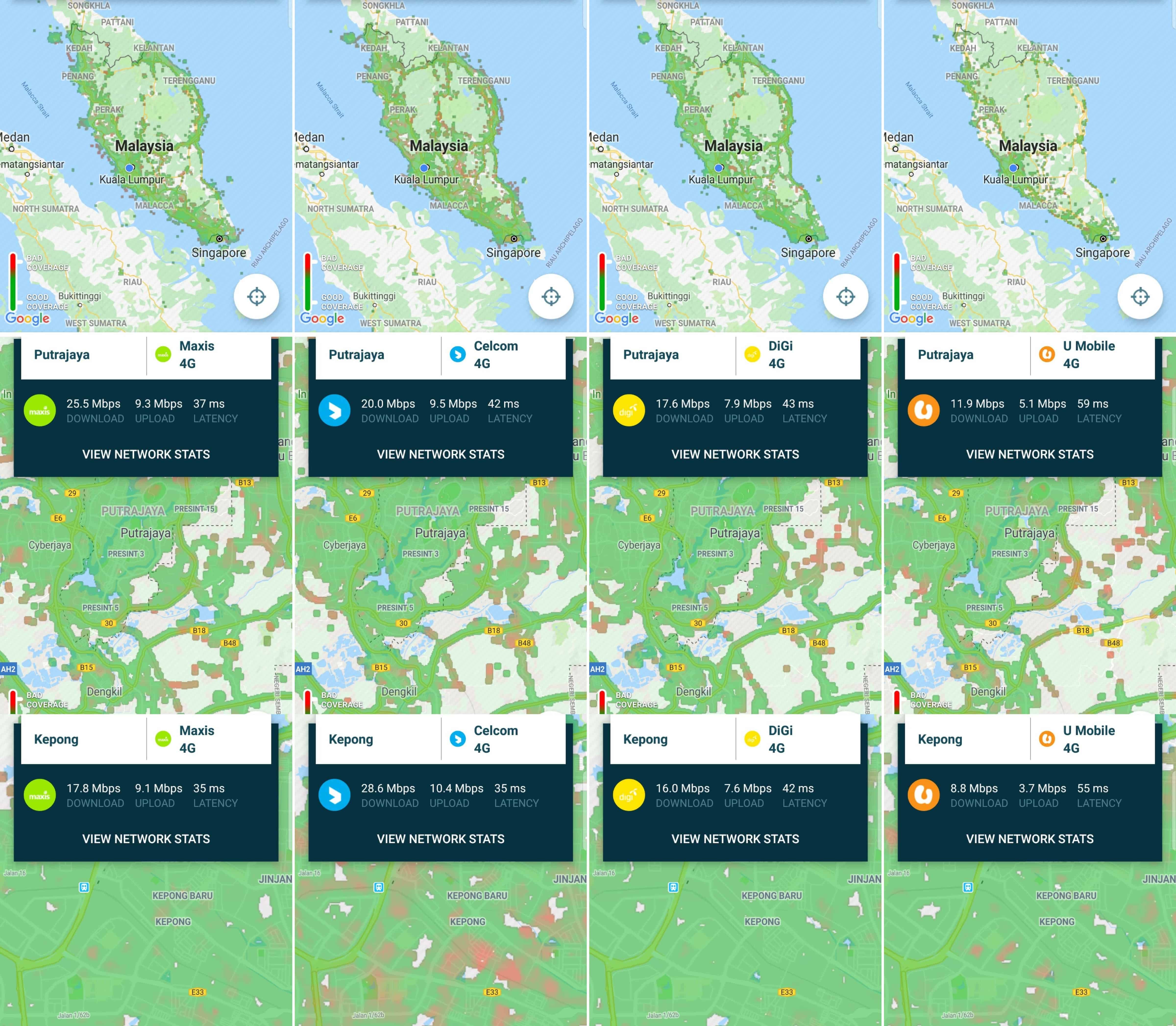 I used OpenSignal app to generate the network coverage mapping and network speed test as shown above. These are the Big 4 Telcos we have in Malaysia: Maxis, Celcom, Digi and U-Mobile. The data and results are crowdsourced from over 250,000 real users data with up to 1.3 million measurements. It is not data which generated through "ideal situation" by any big corporation or telcos themselves. We can safely assume that the data is pretty reliable.
At a glance, you notice Celcom and Maxis have the best overall 4G network coverage in Malaysia whereas Digi followed behind and U-Mobile is definitely lacking in the East Coast and rural area. Then, we dive down deeper to city area and taking Selangor as our benchmark, all 4 Telco fare quite similar in terms of coverage in the city area.
Quick Tips: Download speed(Mbps, Megabytes per second) higher is better, and latency(ms, milliseconds) lower is better.
One obvious thing you can notice is that U-Mobile network speed is lowest and latency is highest in both test area, Kepong and Putrajaya. There are also many other areas in Kuala  Lumpur and Selangor show similar results which indicating a slightly poorer internet experience if you are a U Mobile user.
Again, Celcom and Maxis emerge as the top 2 performers in terms of speed and latency.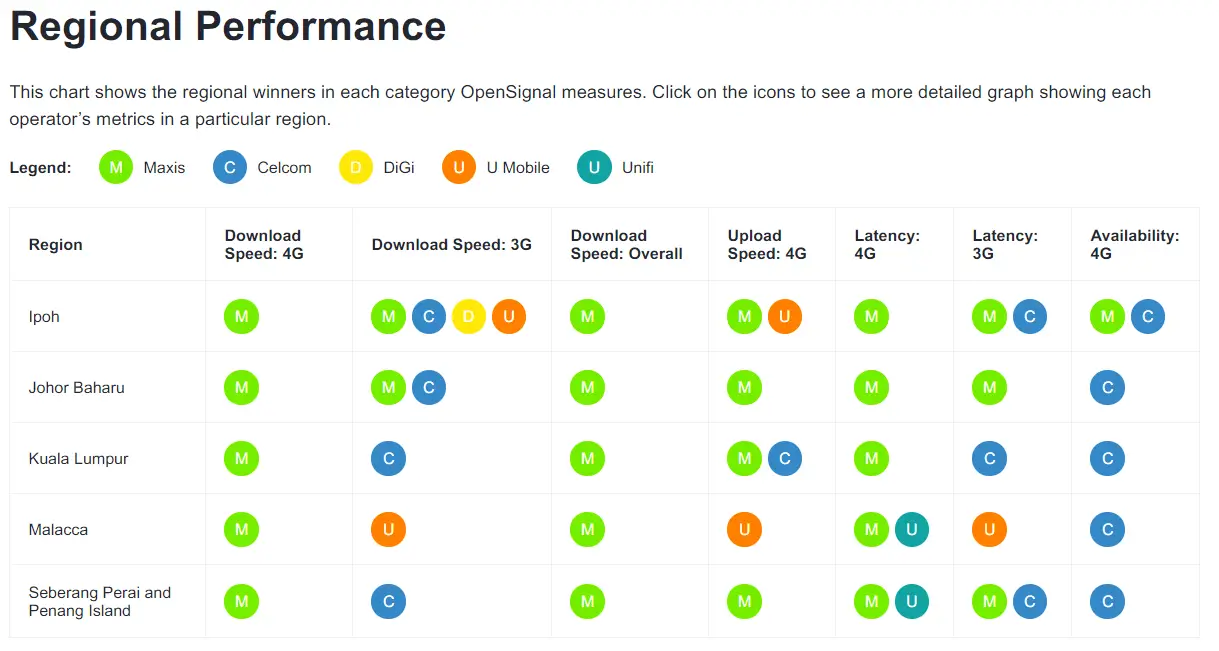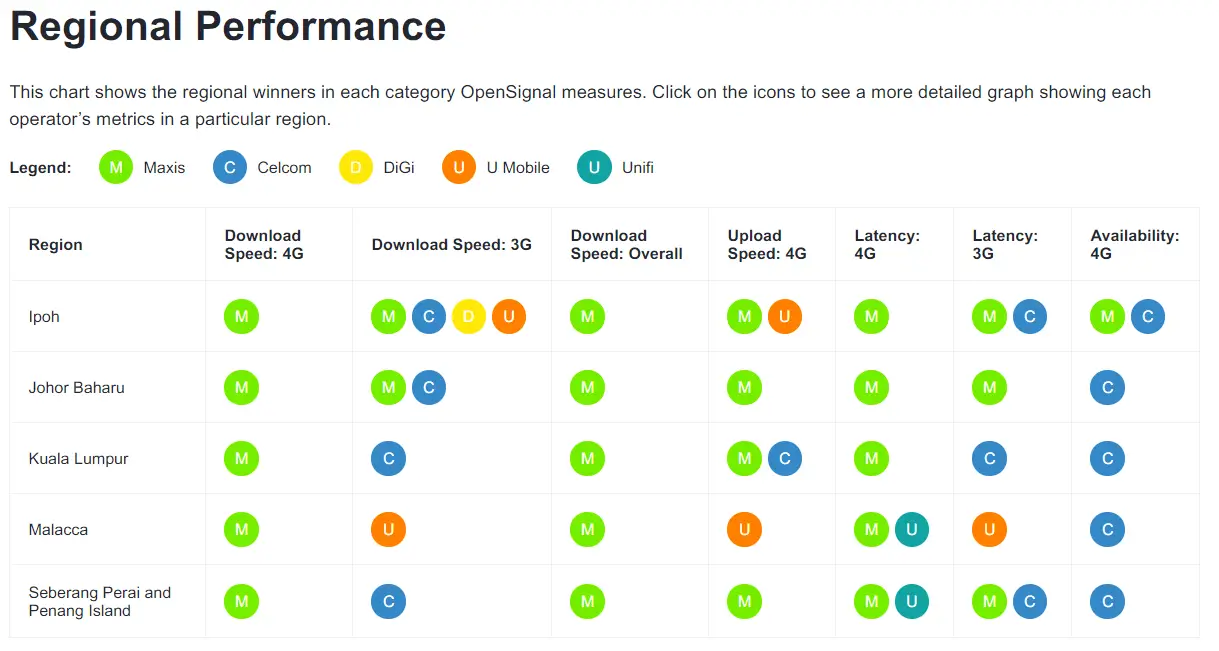 And OpenSignal.com regional performance report agrees with what I have claimed as you can see how GREEN and BLUE the chart is.
With good internet speed and network coverage supported by Celcom, this TuneTalk RM28 plan with 12GB data is your best mobile prepaid plan.
For Android Users – Best Prepaid Plan Under RM30 in Malaysia : ookyo

ookyo operating under Maxis is the almost perfect prepaid plan under RM30 for Android users. It cost only RM38 for 5GB data, 4 apps unlimited data, and unlimited call times & SMS to all networks.
The latest mobile virtual network operator (MVNO) ookyo launched by Maxis last year is a great (almost perfect) deal for Android Users. Ookyo has tweaked the package numerous times in the process offering different combinations of call time, SMS and data. And finally, the package is mature and worth to give a shot.
Currently, Ookyo costs RM30 and gives 5GB mobile data per month. It is nothing new and boring. BUT! The game changer is that they let users decide and pick their own 4 preferable apps for unlimited data usage. The choice is yours, not some useless bundled chat app or social app selected by Telcos. For example, you can choose YouTube, Facebook, WhatsApp and Mobile Legend, the top 4 apps which you use most frequently. It helps to reduce your data consumption significantly.
There is an ongoing promotion from 11 Oct to 31st Dec which gives users a total of  8GB mobile data per month with RM30. After 1st Jan 2019, it will revert back to 5GB per month. However, it is almost guaranteed to last you for a month since your top 4 apps are covered under the unlimited plan.
Another great addon by ookyo is RM8 for unlimited calls and SMS. Slap in additional RM8 per month, you get unlimited calls and SMS to all networks! In contrary to yoodo (operated by Celcom), RM5 only give 50 minutes call time and RM3 gives 50 SMS, making a total of additional RM8 as well. Both cost RM8 but the difference is worlds apart.
On top of all these perks, you get 10% Google Play Store credit upon spending on Ookyo. You are free to spend however you want. This is very much different from the additional credit which force you to spend even more within the mobile carrier ecosystem. You can spend however you want, whether to buy premium paid apps or shop for new skins for your Fortnite or Mobile Legend character.
If you are spending RM38 monthly on ookyo, it gives you an indirect saving of RM3.80 in form of Google Play Store credit. Your actual cost for using Ookyo reduces down to only RM34.20.
I have personally converted from Hotlink to Ookyo to try the service and performance. The conversion from hotlink to ookyo is a breeze. There is no need for SIM card replacement or whatsoever.
Simply register yourself to port into ookyo and make a one-time payment of RM31.80 (RM30+6%SST).
Once the payment is done, verify your email account and you are good to go.
Download Ookyo app from Google Play Store and launch it.
All your credit from Hotlink is fully transferred to ookyo so don't need to scratch your head on how to spend the balance credit. Big thumbs up on Maxis.
Make sure you turn on your mobile data to ensure your unlimited status shows "OK".
If it does not show "OK", switch your phone to aeroplane mode for 10 seconds and switch back.
Walla, enjoy your unlimited apps.
Frankly, Ookyo is not all sunshine and rainbows. There are some downsides comes along with this package.
Strictly Android only. Not for iOS users.
Using VPN has a negative impact on your phone battery life. Ookyo should consume less than 0.5% battery per hour based on my real daily usage.

Three Different Real-Life Battery Usage on with Ookyo app

Above table shows the calculation for Ookyo app battery consumption per hour

VPN causes a minor delay on the unlimited apps. I personally experience longer loading time roughly 4-5 seconds for refreshing Facebook and YouTube homepage.
Unlimited YouTube streaming is capped at 480p according to their official statement. The resolution should be sufficient for smartphone users but not for tablet users.
VPN connection may go wrong and inactive. Always double check your VPN status before fire up your YouTube marathon. According to Ookyo, some devices (eg: Huawei, XiaoMi, Oppo) have built-in optimization features like 'Battery Saver', 'Data Saver', and 'Task Manager' which automatically closes/shuts down apps will interrupt ookyo VPN.
Personally, I can bear with these minor shortcomings given the competitive price and unlimited calls & apps usage.
For those who are heavy on data usage and if your area is well covered under U Mobile network coverage, can try out the U Mobile GX30 unlimited data plan. Please check your network coverage using OpenSignal app. If it shows network coverage or connection speed is slow at your area, please avoid U Mobile because it is infamous for its poor speed and network coverage.
Best Prepaid Plan under RM60 in Malaysia: Digi Super Terrer 58


Digi Super Terrer 58 has unlimited calls to all networks, 8GB of data and daily free internet from 12am to 12pm can comfortably cover all your needs.
My comparison table shows the most popular prepaid plans under RM60 in Malaysia. Mobile networks excel in under RM30 plans not necessarily provide a good deal under RM60.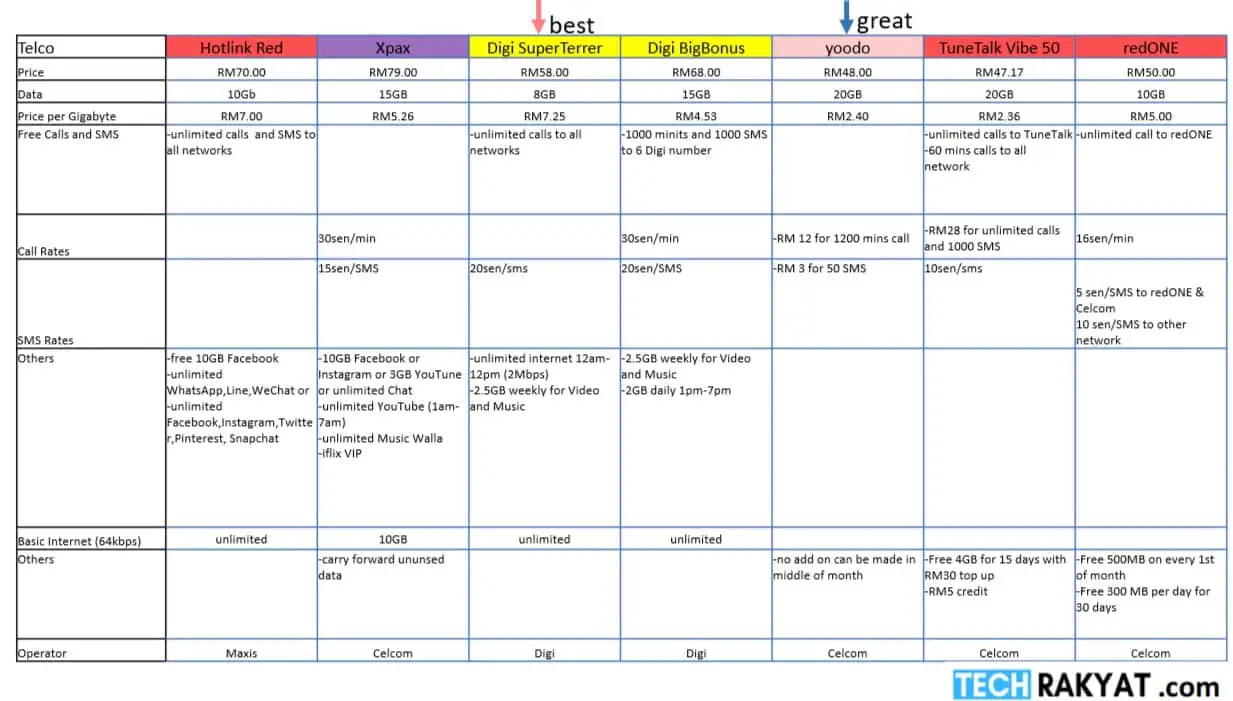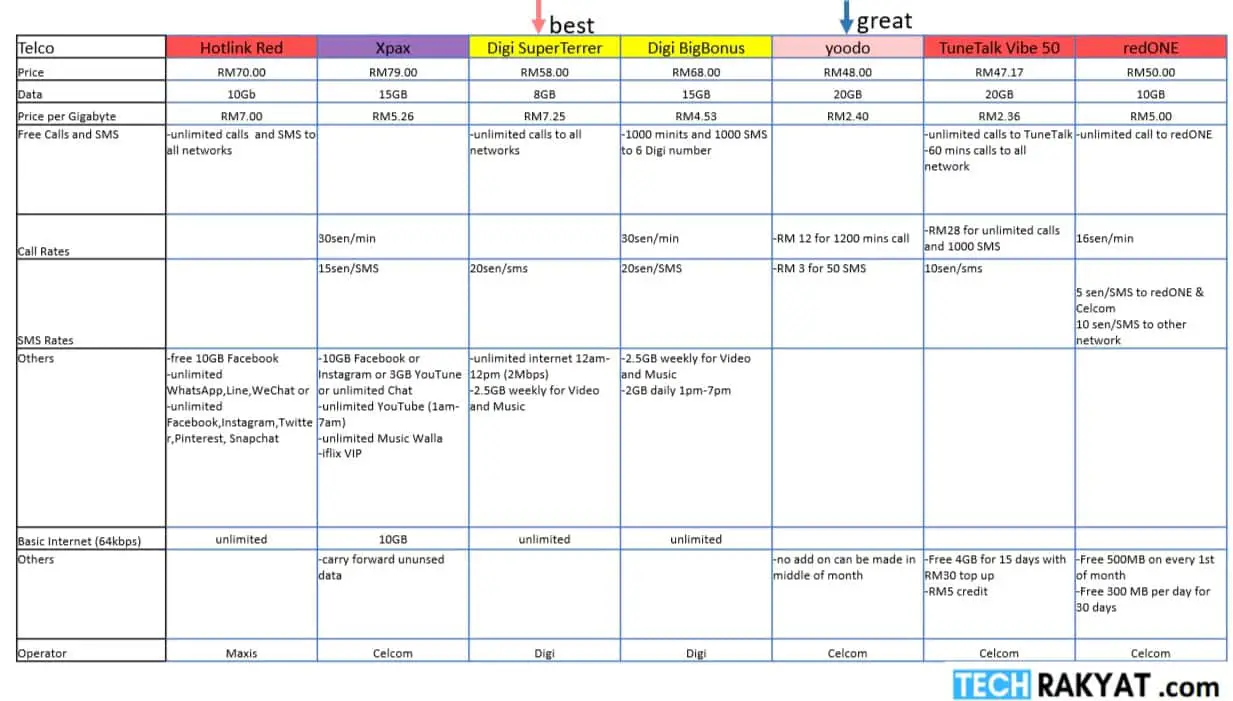 For prepaid plans in this price range, I expect not only plenty of mobile data at my disposal but also comfortable free call times and SMS. Digi SuperTerrer RM58 fulfil all these requirements providing unlimited calls to all networks to all network and 8GB mobile data
You easily cut down your data consumption by half with the unlimited 2Mbps internet from 12am-12pm. And there is also 2.5GB high-speed internet weekly for you to enjoy video and audio apps usage, including YouTube, Spotify, Twitch, iflix, Astro Go and many more.
Even though Digi has only moderate network coverage and data speed-ranked 3rd among the competition, nowadays its network coverage has gradually improved and considered acceptable in most areas especially in cities like Kuala Lumpur, Pulau Pinang and Johor.
Also great – Yoodo RM63 package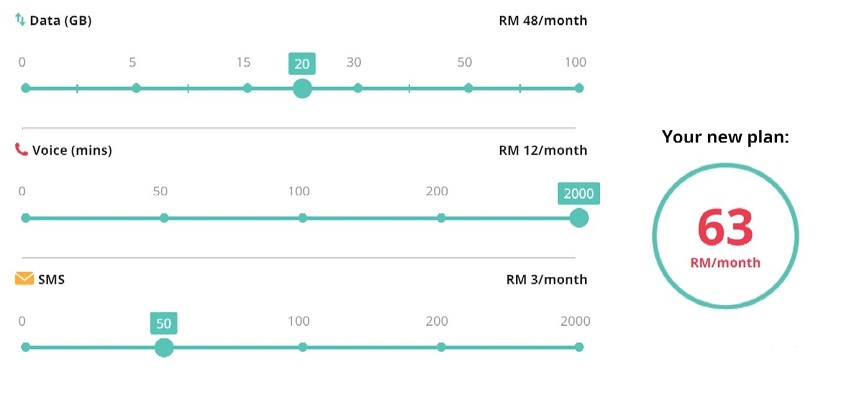 If network coverage and internet speed are your priorities, Yoodo RM63 package is your second best choice. It runs on Celcom network so you do not need to worry about the network coverage issue. Yoodo are worth to try out if you are willing to spend more to purchase the data or call time because it encourages users to spend.
Their package offer is based on the idea of "the more you spend, the more you save."
It cost RM5 per GB if you purchase only 5GB data. But, when you purchase up to 20GB per month, it costs only RM48 which is equivalent to RM2.40 per GB. The cost saving is up to 50%.
Spending extra RM12 for 1200 mins call time and RM 3 for SMS. A package of RM63 ensures a very pleasant call and internet browsing experience.
If you have depleted your data or call time, you may purchase "booster" in middle of the billing cycle to add more data or talk time. *Thanks to reader Azam for pointing it out*
However, there is one huge disadvantage of Yoodo. It does not allow data/call time/SMS add-on in middle of the month which can be risky when you over utilized your call time or mobile data. You do not have any means to top up additional call time or mobile data.
Upgrade Pick – TuneTalk Vibe 50
The most expensive and well-rounded choice in this category would be TuneTalk Vibe 50 which cost RM47.17 per month for 20GB combining with RM 28 for unlimited calls and 1000 SMS.
This RM75.17 package could give you peace of mind without worrying you will overspend your data or call time.
Similar to TuneTalk Vibe 30, you get additional 4GB high-speed internet upon monthly RM30 top up. Practically, you get a beefy 24GB mobile data for any kind of usage including tethering/hot spot.
However, when you are paying close to RM 80 per month. This opens up more choices for you. There are plenty of postpaid plans offer similar or even better package at this price range.
Conclusion
Malaysians are lucky to have a competitive and lively mobile network ecosystem. We can choose from many mobile service providers, spend some time to explore the options available in the market and there is surely one plan which suits you best.
There is no "one size fits all" condition when it comes to mobile plan choice. Everyone has different needs and consumption behaviour. Nevertheless, I believe all my recommended picks are best for the average consumers in Malaysia with a smaller budget in mind.