*Post updated 5th June 2020*
The original was published on October 2018. Since then many mobile virtual network operators(MVNO) like ookyo, Tron & Buzzme have ceased their service. Only Yoodo is still surviving and kicking. But, I have categorized Yoodoo under postpaid plan now.
Celcom, Hotlink, Digi,U Mobile and TuneTalk also have revised their prepaid plan. The most significant changes are that Digi Super Terrer and TuneTalk Vibe is no longer available. It's about the time for us to re-evaluate and re-select the best prepaid plans in Malaysia.
After some thorough research, I have found out:
Why you should go for prepaid
There are various factors to go for prepaid plans instead of postpaid plans. Among the factors, the two biggest driving factors for using prepaid plans are the flexibility of usage and money-saving.
Flexibility of Usage
For prepaid plans, there is no need to commit any fixed term contract whether it is one year or two years. You can enjoy the privilege to change or swap to any new Telco whenever you want.
There is also no fixed monthly commitment. For postpaid plans, you are tied to a fixed amount of commitment but prepaid plans allow you to switch to cheaper or more expensive plan depends on your monthly budget. Or you may stop subscribing a new monthly plan if you are away for long holidays.
Money-Saving
Generally, prepaid plans are always cheaper in comparison to postpaid plans because they are meant for consumers with a lower budget. Effective 6th September 2018, prepaid reload services are exempted from 6% Service Tax for Malaysians based on Section 34(3)(a) while the postpaid plans charge an additional 6% service tax (SST). You may check out a very comprehensive table prepared by Digi on explaining which services are charged with SST and which does not.
There are also various reload channels which offer cashback or discounted top-up. Both Lazada and Boost app (android)/(ios) offer cashback for mobile reload through their app. You can even use a credit card to do the transaction and earn additional cashback. If you're interested in more money-saving tips, can check out my choice of best Malaysia credit cards & cashback strategy guide.
All these little savings and cash backs accumulate a considerable sum of money over time. As the Malay saying goes, 'sedikit-sedikit, lama-lama jadi bukit'.
Why you should trust me
Throughout the years, I have been a user of various mobile plans in Malaysia so I have a knowledge or two on advantages and disadvantages among the local telcos. As long as I can remember, I started off as a Hotlink user during secondary school because Digi's network coverage was so bad in the rural area. (Hints: I am from Pahang). I had to reload from time to time. Sometimes I just could not afford to reload and had to keep track of my phone validity period and reload on the very last day.
Then, I moved to town and convert to Digi because of the cheap price and acceptable network coverage in cities. When I started to work I was given a Celcom SIM card and stuck with them for years. It can be frustrating when you switch between mobile network providers in the old days because you have to give up your current number and lost all your contact.
I understand an average consumer's need because I am standing in the same shoes. Coupling with my thorough research on available information from the service provider and consumer reviews from various online sources including Lowyat forum, I can help you to put an end of your search for the best Malaysia mobile prepaid plan.
Most importantly I review and update my post from time to time based on the latest mobile plan launched in Malaysia in order to keep you updated to the latest information. Subscribe to my email list, Facebook and Twitter for my latest recommendation if you find my review is helpful.
How I picked the best prepaid plan
Network Coverage
Network coverage is the most crucial factor you should consider whenever choosing your mobile network provider. Performance of a mobile network can vary depending on location. Some mobile networks perform well in both rural and city area while some are just pure sh*t in the rural area as they do not have the infrastructure to support it. Without good network coverage, everything else including the speed, data, call time and SMS is worthless.
Speed
Data speed is the second most important factor and it is directly related to network coverage. There are 3G, 4G and 4G LTE network. 4G LTE is the fastest of them all, wider 4G network, better internet speed.
Price
Each prepaid plan is packaged and priced differently. It can be quite overwhelming for someone to look at so many different add-ons and passes which currently available. I am looking the best and most practical bargain of them all.
Data, Call Time and SMS
Among these three, I consider data/internet is the most essential. Because text messaging and call app slowly replaces conventional call and message (SMS). So, call time and SMS is less of my priority.
Validity
I will focus specifically on 30-days validity prepaid package. Users with specific needs like extra-long validity period can explore other available options which are currently out of my list.
How I research
My research and user experience are largely focusing on Kuala Lumpur and Selangor area.
Then, I salvage the raw information provided by all the different Telcos and digest them for your easier understanding. Online user's review and feedback are also collected as additional references.
If you are from different states and have different opinions, please comment below on which Telco is the best in your area.
Celcom, Maxis/Hotlink, Digi, U Mobile Performance Assessment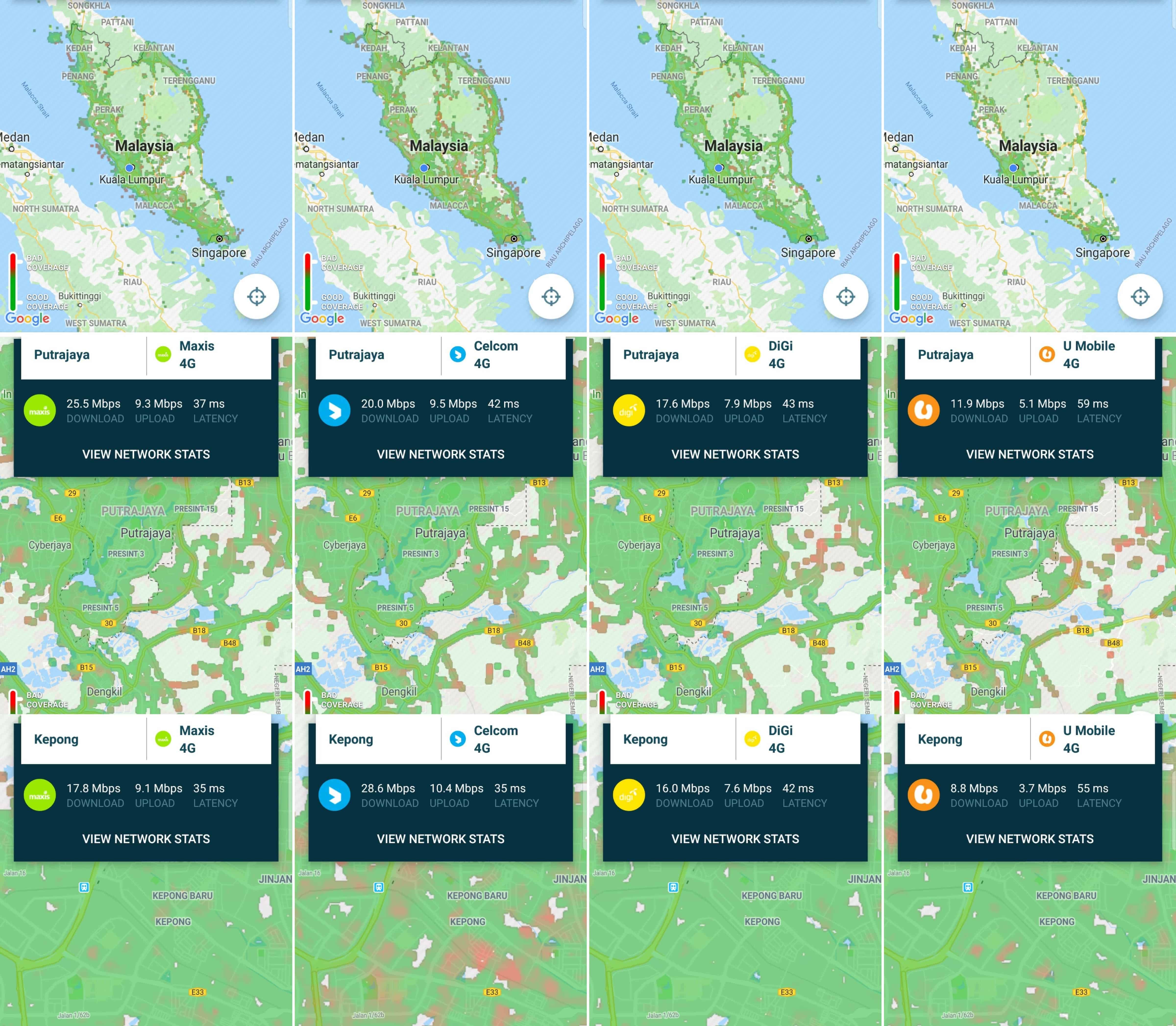 I used OpenSignal app to generate the network coverage mapping and network speed test as shown above. These are the Big 4 Telcos we have in Malaysia: Maxis, Celcom, Digi and U-Mobile. The data and results are crowdsourced from over 250,000 real users data with up to 1.3 million measurements. It is not data generated through "ideal situation" by any big corporation or telcos themselves. We can safely assume that the data is pretty reliable.
At a glance, you notice Celcom and Maxis have the best overall 4G network coverage in Malaysia whereas Digi followed behind and U-Mobile is definitely lacking in the East Coast and rural area. Then, we dive down deeper to city area and taking Selangor as our benchmark, all 4 Telco fare quite similar in terms of coverage in the city area.
Quick Tips: Download speed(Mbps, Megabytes per second) higher is better, and latency(ms, milliseconds) lower is better.
One obvious thing you can notice is that U-Mobile network speed is lowest and latency is highest in both test area, Kepong and Putrajaya. There are also many other areas in Kuala  Lumpur and Selangor show similar results which indicating a slightly poorer internet experience if you are a U Mobile user.
Again, Celcom and Maxis emerge as the top 2 performers in terms of speed and latency.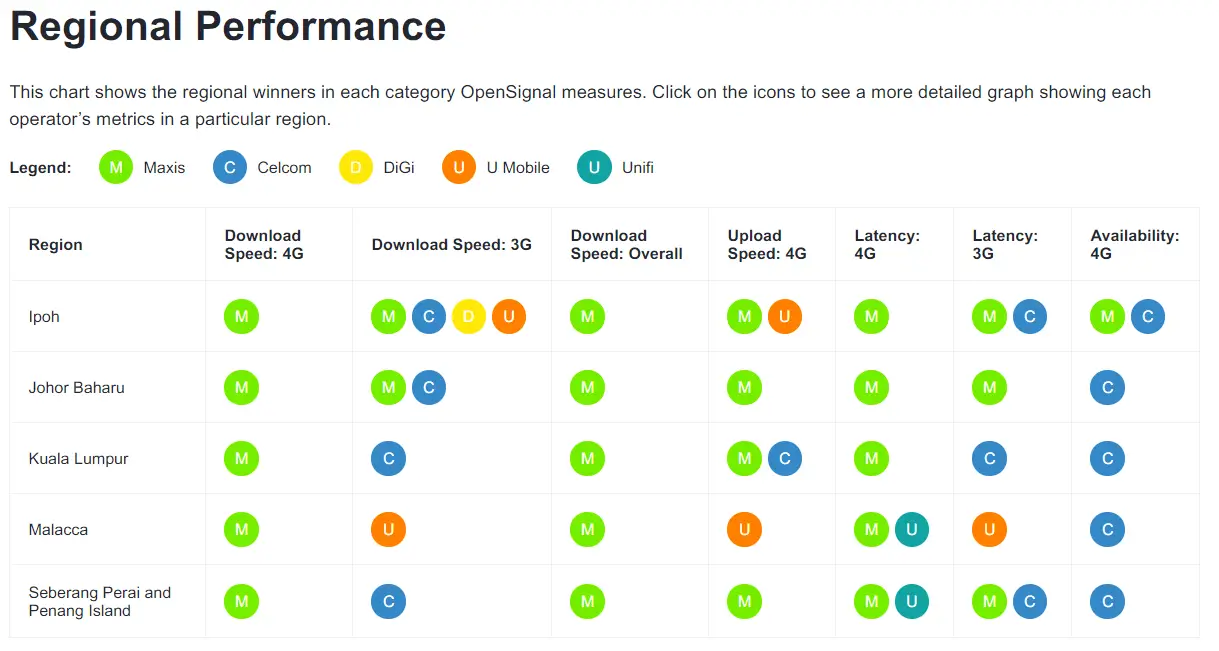 And OpenSignal.com regional performance report agrees with what I have claimed as you can see how GREEN and BLUE the chart is.
Hence, Celcom and Maxis is preferred in my selection if everything given are equal.
Comparison of Cheap Prepaid plans in Malaysia
| Telco | Hotlink Red | Xpax | Digi BigBonus | U Mobile GX30 | Tunetalk CUN | redONE |
| --- | --- | --- | --- | --- | --- | --- |
| Price | RM35.00 | RM38.00 | RM35.00 | RM30.00 | RM28.00 | RM30.00 |
| Data | 6GB | 48GB(3mbps) | 8G | unlimited (3mbps) | 6GB | 5GB |
| Price per Gigabyte | RM5.83 | RM0.79 | RM4.38 | RM0.00 | RM4.68 | RM6.00 |
| Free Calls and SMS | | | Addon RM10 for unlimited call all networks | -10mins to U Mobile daily | -unlimited tunetalk call | -unlimited calls to redONE |
| Call Rates | 15sen/30sec | 30sen/min | | 14sen/30sec | 22sen/min | 16sen/min |
| SMS Rates | 15sen/sms | 15sen/sms | 20sen/sms | 12sen/sms | 10sen/sms | -5 sen/sms to redONE & Celcom -10 sen/sms to other network |
| Additional Data | -free 10GB Facebook | - | -2Gb everyday 1pm-7pm | -unlimited all apps | -unlimited social | |
| | -free 10GB YouTube | | -Free 10GB Video & Music | | -unlimited chat | |
| | -choose 1 unlimited app(chat/social/video) | | | | -6GB Youtube/Netflix | |
| Others | | 3GB HotspotLimited time offer | | 3GB Hotspot | RM10 10GB Booster add-on | -Free 500MB on every 1st of month -Free 300 MB per day for 30 days. 9GB in total |
| Operator | Maxis | Celcom | Digi | U Mobile | Celcom | Celcom |
Table above compares every popular budget prepaid plans including Celcom, Digi, Hotlink, TuneTalk, U Mobile and redONE. Price per gigabyte lower is better.
1. TuneTalk CUN 28
Best Prepaid Data Plan for Most Malaysians

TuneTalk CUN 28 is the best prepaid plan under RM30 offering 6GB data, unlimited social and chat app.
And earn free AirAsia big points for every reload.
Free delivery right now.
 Get New TuneTalk SIM  Port-in to Tunetalk
TuneTalk CUN RM28 is the best cheap data prepaid plan. It is great for its unlimited social and chat app. It has 6GB monthly mobile data and additional 6GB free data for Youtube/Netflix.
TuneTalk prepaid plans are thoughtfully packaged for youngster and millennial who spent most of their time on social media. This prepaid plan costs only RM28 (less than RM1 per day) which very attractive for teenagers.
It also has unlimited call among TuneTalk numbers. So, you can get your family members and close friend to use this prepaid plan to enjoy its unlimited call.
Last but not least, It has RM10 booster addon for additional 10GB all days. In case you use extra data in any month, just top up RM10 to enjoy the additional mobile data. It is the cheapest data addon package among all prepaid plans. Let me know in comments if you know there's cheaper data addon.
I still rank this plan as the best prepaid plan for most Malaysians even after hotlink prepaid unlimited is released. Because I think that no matter how it is, most will encounter that hey need a hotspot. You may add-on the hotspot pass here and there and the bill can quickly build up.
2. Hotlink prepaid unlimited – RM35
Best unlimited data and call prepaid plan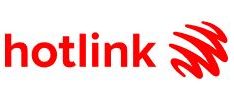 Hotlink prepaid unlimited
is definitely disrupting the RM30+ market with this offer. Unlimited call and unlimited data just put Celcom Xpax unlimited and Umobile unlimited out of the water.
Frankly, I don't see this coming from Hotlink(Maxis) because they always position themselves as the premium telco. Well, good competitions are always welcomed as they are beneficial for the market and consumers.
If you're certain that you will not be using hotspot or mobile data tethering, I highly recommend you to get hotlink prepaid unlimited RM35. I have not personally used or tested its data speed but I have seen multiple good user reviews on hotlink prepaid unlimited plan.
Users had praised its speed is truly up to 3Mbps and 6Mbps. Light internet browsing is reported to be buttery smooth as well.
And hotlink is generous enough to throw in the unlimited call, which makes it icing on the cake.
The competitions
U Mobile giler unlimited package indeed offers lots of value on paper but its network coverage is where it fell short. Just check out U Mobile Facebook page and you find a lot of complaints. If you would like to try U Mobile, it's best to check out the network coverage of your area using OpenSignal app. Situation like the photo below is the biggest reason I can't recommend U Mobile prepaid plan.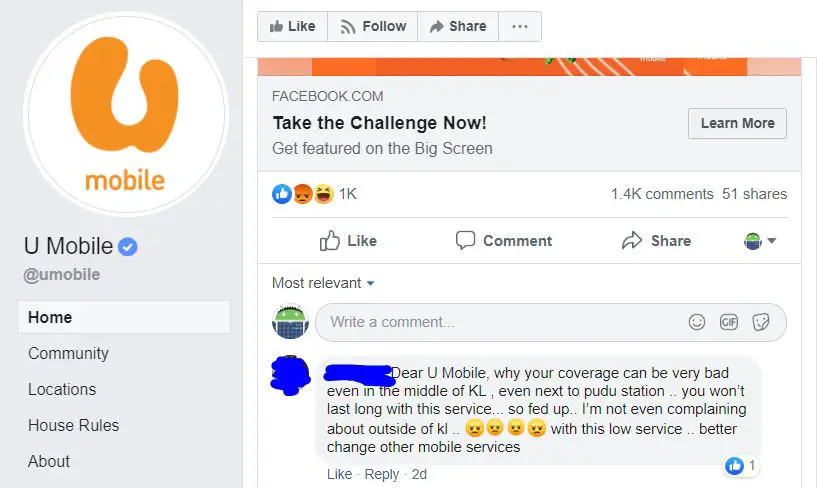 3. Digi BigBonus RM28
Cheapest Prepaid Plan with Unlimited Call

DigiBigBonus RM28
is the cheapest prepaid plan with unlimited call with only 3GB mobile data
Digi BigBonus RM28 is the cheapest prepaid plan with unlimited call to all networks currently. It has only 3GB which is certainly not impressive. Digi compensated it by giving 1GB free internet daily 1pm-7pm and also free 2.5Gb weekly (total 10GB per month) for video and music.
The main thing I like this plan is it being almost twice as cheap as other unlimited call prepaid plan. The low mobile data cap is not a problem for those who have broadband installed at home. Half of your day time 1pm-7pm is well covered by the daily 1GB free mobile data. On the other hand, data-heavy activity like video and music also will be covered by the weekly extra 2.5GB free data.
Do keep in mind that network coverage is one of the weak point of Digi prepaid plan. Be sure to check your area network using the OpenSignal app as I recommended before.
Digi BigBonus RM28 is not the most ideal plan for many but it is certainly the cheapest and most cost-efficient prepaid plan at the moment. It is good for a person who can discipline themselves and model their daily mobile data consumption behaviour according to the package.
4. Celcom Xpax 48GB
Best Prepaid Plan with Unlimited Data(Limited speed) –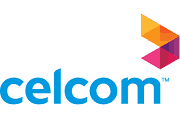 Celcom Xpax 48GB internet pass
cost only RM38. But there's  catch which it has a 3Mbps speed limit and also 3GB hotspot limit.
Celcom Xpax 48GB @RM38 is the best prepaid plan with almost unlimited data for average users.
Let's admit the fact that there won't be any "true unlimited data" for any plan less than RM100 in the near future. In fact, currently U mobile GX30 also has a threshold of 50GB, and throttle to 500Kbps from 8pm to 1am when you exceed it.
The biggest downside? It has a speed limit of 3mbps and 3GB cap for the hotspot. Compared to DigiBigBonus RM28, it has no unlimited call to all networks.
Comparison of Prepaid Plans below RM60 in Malaysia
| Telco | Hotlink Red | Xpax | Digi BigBonus | TuneTalk CUN | redONE | U Mobile GX12 x4 |
| --- | --- | --- | --- | --- | --- | --- |
| Price | RM70.00 | RM79.00 | RM70.00 | RM48.00+RM20 | RM50.00 | RM48.00 |
| Data | 10Gb | 15GB | 14GB | 10GB+20GB | 10GB | unlimited (3mbps) |
| Price per Gigabyte | RM7.00 | RM5.27 | RM5.00 | RM2.27 | RM5.00 | RM0.00 |
| Free Calls and SMS | -unlimited calls and SMS to all networks | - | -unlimited calls to all networks | -unlimited calls to all networks | -unlimited call to redONE | -unlimited calls to all networks |
| Call Rates | -unlimited calls and SMS to all networks | 30sen/min | - | - | 16sen/min | |
| SMS Rates | - | 15sen/sms | 20sen/sms | 10sen/sms | 5 sen/sms to redONE & Celcom 10 sen/sms to other network | 12sen/sms |
| Additional Data | -free 10GB Facebook-free 10GB YouTube-choose 1 unlimited app(chat/social/video) | -Free unlimited late night Youtube-Free 15GB Video Walla | -3Gb everyday 1pm-7pm-Free 10GB Video & Music | -unlimited social-unlimited chat-unlimited music-40GB Youtube/Netflix | | -unlimited all apps |
| Others | | -carry forward ununsed data-ifliex VIP access | | RM10 10GB Booster add-on | -Free 500MB on every 1st of month -Free 300 MB per day for 30 days | 1GB x 4 Hotspot |
| Operator | Maxis | Celcom | Digi | Celcom | Celcom | U Mobile |
| Techrakyat's ranking | 4 | 5 | 2 | 1 | 3 | 6 |
For those who can stretch your budget to more than RM30-RM60 per month, there are more options for you to choose.
5. TuneTalk CUN 48
Best Prepaid Plan below RM60 in Malaysia

TuneTalk CUN 48 is the best prepaid plan under RM60 offering 10GB high speed data, unlimited social and chat app, and 60GB Youtube/Netflix.(2GB per day). Unlimited call to all networks.
And earn free AirAsia big points for every reload.
Free delivery right now!
 Get New TuneTalk SIM  Port-in to Tunetalk
Based on above prepaid plan comparison table, TuneTalk CUN 48 is the easy winner here.
The package comes with 10GB monthly data, unlimited calls to all networks, unlimited social app and chat app, and a whopping 60GB Youtube & Netflix. All of these awesome features but cost only RM48 per month. Well play~TuneTalk~
The one killer feature of TuneTalk CUN that I have repeatedly mentioned is its 10GB booster add-on that cost only RM10. So, its only RM1 for 1GB of data. That's a freaking steal when you see most other plans monthly data cost as much as RM5 to RM 7price per gigabytes.
Personally, I am using TuneTalk CUN 48 right now with occasional 10GB Booster addon. I find it to suit me very well. I can browse internet freely, download small to medium file over the phone without worrying my data will be depleted. And i watch a tons of Youtube Video.
Check out my personal usage record below.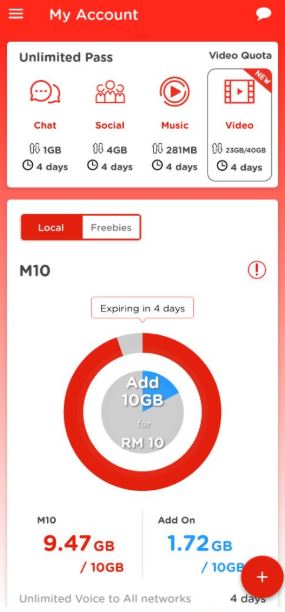 Clarification: My video quota shown is different from CUN48 because I am still using the value pack which better suits my usage pattern. CUN48 is 2GB for video which refreshes daily.
Again, TuneTalk is operating under Celcom network. So there's little to worry on its network coverage issue. I have not encountered any issue so far.
The competitions:
DigiBigBonus RM70 has 14GB monthly data, unlimited call, free 3GB daily from 1pm-7pm. It is not a bad prepaid plan but cost too much when you compare it to TuneTalk Cun48. With RM70, TuneTalk CUN 48 can buy 2 times data booster which is equivalent to 30GB mobile data that you're free to use however you want.
redONE RM50 has no unlimited call to all networks is a big turn down. It is no different from redONE RM30 but only extra 5GB monthly data quota.
Hotlink Red RM70 is just too expensive with only 10GB monthly data. However, it is the only prepaid plan comes with unlimited SMS. If you need to SMS frequently, then go for this prepaid plan.
Celcom Xpax RM79 is a big let down. No unlimited call at such a high price point and the extra perk is not much beneficial.
U Mobile GX12 weekly only cost RM48 per month. It is a very interesting package. But, I just can't recommend it because of its poor network coverage.
Conclusion
Malaysians are lucky to have a competitive and lively mobile network ecosystem. We can choose from many mobile service providers, spend some time to explore the options available in the market and there is surely one plan which suits you best.
There is no "one size fits all" condition when it comes to mobile plan choice. Everyone has different needs and consumption behaviour. Nevertheless, I believe all my recommended picks are best for the average consumers in Malaysia with a smaller budget in mind.
And finally, if you like this article and wish to see more similar content. Remember to support me by clicking any of the lazada/shopee link listed on the site before you make any purchase. And like our facebook page too.