The new Ministry of Communications and Multimedia had urged all broadband service providers to lower down their existing pricing and make high-speed internet available for ALL. The big three players in Malaysia, namely Unifi, Maxis Fibre and Time Fibre, responded by pushing out higher internet speed for existing subscribers and launching cheaper subscription tiers.
The ever-stagnant broadband market is now shaken up. Suddenly, you get news of turbo speed upgrade and new plans from service providers every now and then. At the same time, it also caught my attention to examine which one really offers the best broadband plan in Malaysia right now.
How I pick
It's never been easier to choose a broadband service than it is now. Why?
1. IPTV should not be in your consideration.
For info, Unifi still bundles their rebranded PlayTV (formerly HyppTV) together with the broadband services. But Maxis Fibre no longer forced-bundle Astro IPTV. The basic bundled IPTV package usually provides very poor value, they only bundle it to encourage you to upgrade and spend more. There are so many options out there now like DimSum, iflix, Netflix, Viu, Tonton or even YouTube?
2. Fixed line call should not be in your consideration.
I no longer encounter anyone using the fixed line to make calls nowadays except for the elderly. Mobile phones are so common and almost everyone has one now.
When we strip down all the noise and craps, the core service for home broadband is only and always the internet access. In that case, we left with only three factors that come into play.
Price per download speed ratio – How much Ringgit you spend per Mbps of internet speed. The lower the better.
Quota – In Malaysia, you know everyone's end goal is to have unlimited internet. You know something is wrong when you see a limited quota for home broadband.
Stability & latency – This is a very subjective factor that I can't really comment much. The internet services performance vary across different location and there is really no one consistent winner. 

Your best bet? Ask your neighbour's experience with the internet service they are currently using.
To be honest, both Unifi and Maxis deliver the same performance and experience where I live. I have tried them both and they are really equivalently good.
In most cases when you have a poor internet connection, it is most likely you're connecting through Wifi and the limitation is from the Wifi router's coverage. The root cause might not be internet service itself.
The analysis: Unifi vs. Maxis Fibre vs. Time Fibre
Let's compare all the broadband packages we have now including the new plans and the old turbo-ed plans.

Let me further elaborate on the table above and go through each of the services. We will only focus on download speed and quota. Free fixed-line call time and IPTV are just icing on the cake which is nice to have but not a necessity. I will put aside these 2 factors from my evaluation. Those who lazy to read all the details. Can click here to help you choose the best broadband plan.
Time 1Gbps – This package has the cheapest price per download speed ratio. But it is just overkill for a normal household. Why pay extra when 95% of the time you don't really fully utilize the available download speed.

Not recommended for an average household

, only for suitable those with multiple heavy users and equipped with a top of line Wifi router to support the 1Gbps speed.
Time 500Mbps – This is the best RM139 package where you get a sweet 500Mbps download speed. The RM139 Unifi turbo-ed only get you 300Mbps and the new Unifi and Maxis RM125 package only gives a mere 100Mbps.

Recommended for those who know they need more than 100Mbps

. Router upgrade is necessary to achieve 500Mbps wifi speed.
Unifi Pro (Turbo-ed) 800Mbps – This package is overpriced before the turbo and still overpriced after the turbo-ed.

Not recommended for any sane person

. There is a better use of your money. If I am on this plan, I will cancel it right away and subscribe to the new Unifi 100Mbps to save RM100+ per month. Don't forget that you began with only 100Mbps anyways. 100 Mbps should serve you well.
 Unifi Advanced Plus (Turbo-ed) 500Mbps – Another overpriced package. Not recommended

,

and should subscribe to the new 100Mbps Unifi Plan.
Unifi Advanced (Turbo-ed) 300Mbps– You hit the jackpot for Unifi subscription plan. Even if you have not been turbo-ed. I will advise you to wait a little bit for the turbo speed to implement for your area. Given the current 100Mbps Unifi plan already cost RM129, you know it is impossible that Unifi going to offer 300Mbps at RM139 in the future.

Strongly recommend anyone who has this old Unifi Advanced 30Mbps plan (300Mbps after turbo) to stick around with it while it lasts

.
Time 100Mbps – The cheapest 100Mbps home broadband in the market right now. If Time Fibre is available at your area, subscribe to this package instead of Unifi or Maxis. Save the RM30 or use it to subscribe for better video streaming services, Netflix or anything.

Highly recommended

.
Unifi 100Mbps – This is your second best choice for 100 Mbps package. Maxis 100Mbps offer at similar price, download & upload speed and unlimited quota but without the free IPTV. In this case, Unifi's free IPTV plus 600 minutes call outvalue Maxis's unlimited call feature.

Recommended for those who not able to get Time Fibre

.
Maxis One Home 100Mbps –

Not recommended due to reasons as mentioned above.

Unifi Basic 30Mbps – Considering the pricing history of Unifi services, RM79 for 30Mbps is really very budget and mindful for users. BUT, 60GB quota limitation is a deal-breaker for me. We already have all kinds of quota and limitation on our mobile plans. We certainly don't need another restriction at home. Thanks but no thanks on this one.

Obviously not recommended

.
Maxis One Home 30Mbps – RM89 for 30Mbps with unlimited quota. You have no other choice but this is the cheapest broadband plan in the market that gives you unlimited quota.

Highly recommended for the budget conscious users.
How to choose the best broadband plan in Malaysia
Based on the above analysis, I have developed this simple flow chart to help new subscribers to quickly match with their ideal broadband service.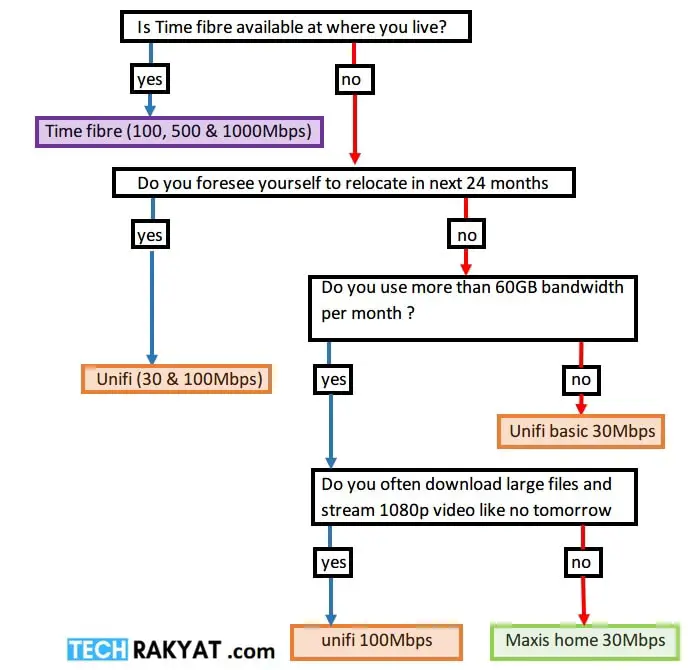 Apart from the download speed and quota, one of the main consideration is whether you will be relocating in the next 24 months, because:
Still cannot settle on which is the best broadband plan for yourself? Here's a couple of additional information for your knowledge.
 HD video (720p) requires minimum 2.5Mbps and full HD (1080p) required 4.0Mbps
4K video streaming requires minimum 15Mbps and 25Mbps is recommended. 30Mbps is only good for single streaming of 4K video.
If you often stream 4K video and other users in the house who also need the internet for browsing or gaming, it is better to get 100Mbps to ensure a smooth experience.
My broadband selection guide here is meant for general consumers in Malaysia. There are always different people with different needs like Youtubers who need high upload speed to upload video, Twitch streamers who live stream at full HD quality, or some who hates p2p throttling.
So, don't take my word for it and do your own research if you have a specific kind of requirement.
Quick guide for a wifi router upgrade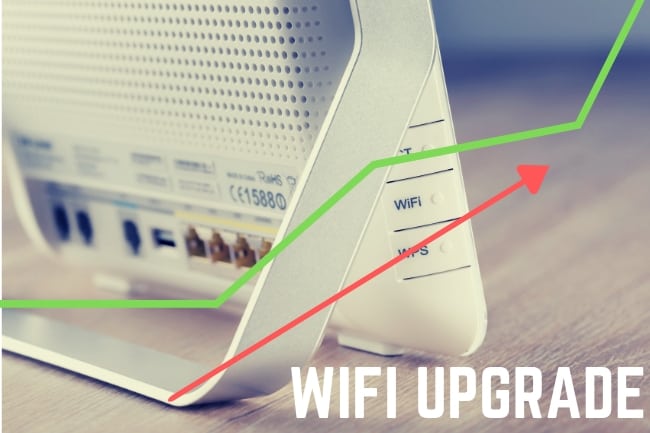 This is the part where many people miss it but it is too important to ignore. So, I wanna touch a little bit on before we end this article.
The free wifi router that comes with your broadband plan is only good for anything below 300Mbps. If you have decided to subscribe to plans which exceed 300Mbps, router upgrade is a must. The LAN connection may still able to give you full speed but they will get bottleneck on the wifi connection.
Even if you're using below 300Mbps plan, the stock router might have limited wifi coverage that less desirable to your need. So, it is always recommended to upgrade your wifi router or add an additional router/mesh to optimize your wifi network performance.
I highly recommend you to visit blacktubi.com, one of our local blogger who focuses on router and networking gear reviews to learn more. Besides that, I have personally compiled a list of best Wi-Fi router for Unifi, Maxis & Time Broadband.
Conclusion
If you want the cheapest unlimited quota broadband plan, go for Maxis 30Mbps @ RM89. If you want a very comfortable high-speed internet at home, go for Time 100Mbps @ RM99 or go for Unifi 100Mbps @ RM129.
Just another reminder to those with the old Unifi Advanced RM139 plan, you're the lucky few who enjoy the best value of money Unifi broadband plan so please stick with it. *Update 10 Dec 2019: Those with Unifi Advanced RM139 plan take note that this deal is only as good as your promotion contract period last. I received information that Unifi will revert to RM199 per month once the promo contract period ends.*
If you like what you read here, subscribe to my Facebook Page or follow me on Twitter. Drop me a comment if you have any inquiries.