After MCO/PKP, work from home or home office inevitably becomes a new norm in Malaysia. Owning a printer at home becomes more important than ever. Not only that adult needs printer, children who are still studying need to print out their homework/reference material for online classes too.
Hence, it is no longer a choice but a necessity to own a printer at home. Well, one may quickly jump to grab the cheapest printer available on Lazada or Shopee to solve this problem. But cheap printers are not necessarily the best value for your money.
Best printers for home office Malaysia
These printers are ranked from best choice to the least favourable, shown as below:
Inkjet printer vs Laser printer
Wondering what are the differences between inkjet and laser printers? Check out the table below comparing their key differences for a clearer idea.
| | | |
| --- | --- | --- |
| Feature | Inkjet printer | Laser printer |
| Technology | Print head "dye" on paper with liquid ink | Toner is "melted" onto paper by hot rollers |
| Refill | Liquid ink | Powder Toner |
| Initial cost to purchase | Lower | Higher |
| Operating cost (refill cost) | High | Low |
| Speed of printing | Slow | Fast |
| Durability  | Moderate | Good |
| Printing water-resistivity | Low | High |
| Best for- | Photo | Document (sharper text) |
For most Malaysians, we recommended getting the inkjet colour printers for home use. Because it is suitable to print both document and photo, and inkjet colour printer is so much cheaper than colour laser printer. 
For shopee/lazada sellers, we recommend getting the laser printer because it prints fast and less failure.
How we pick the best printer
Critical factors of choosing a printer
1. Refill cost– is the most important criteria similar to a water filter, where the maintenance cost matters more than the machine/product itself. Refill should be easily available either online or offline. And the price should be affordable. Thus, we recommend getting only printers with a built-in ink tank.

Most of the time customers are only low on a particular colour and printer will not print. Ink tank printer allows users to refill individual colour instead of buying a new tri-colour cartridge. It helps a lot to reduce unnecessary wastage and more environmental-friendly.
2. Ease of use and WiFi– WiFi/wireless printing is a must-have in our humble opinion. Each household easily has multiple phones, pc, or laptops. Wireless printing makes lives much easier.
3. Printing speed– Higher PPM/IPM (pages/images per minutes)  is better. Some users may disagree but we think printing speed is kind of important. Because fast printing equals to less idling and less interruption of workflow.
4. Print quality– Higher DPI (dots per inch) is better. However, print quality is the least significant factor for home users. Honestly, any new printer available in the market can print quite good for below A4 size. And home users do not need professional-grade high-quality printing anyways.
Non-critical factors of choosing a printer
For home users, features like fax, scanner, duplex printing, auto document feeder (ADF) most likely will be underutilized. So, just forget about them. These features are good to have but totally unnecessary, especially fax which is almost non-existent in today's modern office.
Quick overview
| | | | | | |
| --- | --- | --- | --- | --- | --- |
| Model | Canon G3010 | Brothers T510W | Epson L3150 | Canon G1010 | Brothers HL-1210W |
| Refill cost | <RM35 | <RM45 | <RM40 | <RM35 | <RM100 |
| Print yield | 7000 | 6500 | 4500 | 7000 | 1000 |
| Print speed (black)  | 8.8 ipm | 12 ipm | 10 ipm | 8.8ipm | 20 ppm |
| Print Resolution | 1200×4800 dpi | 1200×6000 dpi | 1440×5760 dpi | 1200×4800 dpi | 600×600 dpi |
| Wireless | Yes | Yes | Yes | No | Yes |
| Price | Check price | Check price | Check price | Check price | Check price |
1. Canon Pixma G3010 Ink Tank Printer
 Best all in one printer for home office in Malaysia
Canon Pixma G3010 is the best home office printer in Malaysia. Canon is the most well-known consumer printer brand in Malaysia. It prints great photo and document. Most importantly, its refill ink is widely available across Malaysia.
✔ Good and sturdy build
✔ Support wireless connectivity and printing
✔ iOS and Android App for easy printing
✔ Very cheap genuine refill
✖ Lack of support for Mac OS
Canon G3010 is a multi-functional printer that can copy, print, scan, and connecting to multiple devices via Wi-Fi. This printer supports direct wireless connection without connection to a router. 
The Canon Print Inkjet/SELPHY mobile app makes mobile printing to be seamless and easy for iOS and Android devices. For Android devices, there is a Canon Print Service app that allows users directly print from menus of application, eg: you can print directly in your phone photo gallery without the need of opening up the SELPHY app.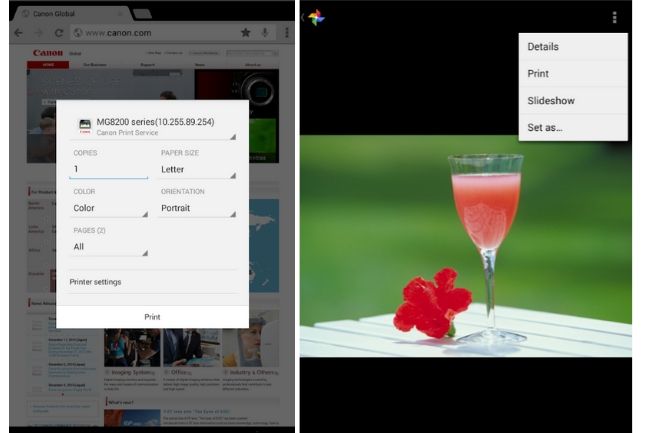 This printer has a good and sturdy build. It is equipped with a 1.2" LCD display, which is helpful to monitor tasks and error codes. Its ink tanks are integrated into the printer itself. Each tank has a visual ink level indicator. Different from other brands ink tank printer, Canon has its black ink at one side and the CMY colour ink at another side.
This printer has a print resolution of 1200 x 4800 dpi. It has a monochrome print speed of 8.8 ipm and colour print speed of 5.0 ipm. It is not spectacular but sufficient for most users. It also has a print yield of up to 7000 pages per tank. However, do expect the number to be lower in real-world performance.
Besides printing the usual documents, this printer's performance in delivering high-quality 4R photos within 60 seconds. It also can print on laminated and matte paper. 
Most importantly, Canon Pixma G3010's original refill ink only cost RM28-30 per bottle. It means that printing cost per page cost actually less than 5 cents.
This printer comes with 2 years local manufacturer.
2. Brother DCP-T510W Ink Tank Printer
Best ink tank printer with fast printing speed
Brother DCP-T510W is another great ink tank printer. Some may have not heard of this Japanese brand printer. But they are known for their reliable and affordable printing solution
✔ Windows and Mac OS officially supported
✔ Slightly faster print speed
✔ Wireless connectivity
✔ Supports up to 220 GSM paper
✖ Refill is slightly more expensive
Brother DCP-T510W printer has a built-in refill tank system. It is a compact-sized printer and has a user-friendly design targeted to reduce chances of colour leakages.
It has a 1-line LCD screen and a control panel, which is sufficient to allow easy navigation and also display useful informative messages. This is a wired and wireless printer, which means you can share your printer in a workgroup and also access it from anywhere, anytime. Yes, the printer supports AirPrint and Cloud Print as well for wireless printing. 
This printer has a print resolution of 1200-by-6000 dpi. With Fast mode, this printer has speeds up to 27ppm for monochrome prints and 10 ppm in colour. In the Best quality mode, it still can prints at 12 ipm in monochrome and 6 ipm in colour prints. The colours looked great and the text was clear in the printouts. 
Being a multi-functional printer, you can also scan and copy with it too. Scanning resolution is up to 1200-by-2400 dpi. This printer has an exceptional 6500-page yield with black ink and a 5000-page with coloured ink. 
The original refill ink costs between RM38 to RM42 which is slightly more expensive than Canon's. But still considered as very cheap to normal inkjet printer.
Brother printers are given a generous 3 years local warranty. With its high-speed print capability & high dpi print, Brother DCP-T510W printer is worth to consider if you value the speed of printing.
3. Epson EcoTank L3150
Best affordable inkjet printer with high resolution printing
Epson EcoTank L3150 has the highest resolution of printing of 1440×5760 dpi at the price range. It is also using pigment ink instead of a dye ink.
✔ High yield colour printing
✔ Error-free refilling bottle
✔ Wireless printing
✔ Automated print head cleaning
✖ Limited Support for Apple Products
Epson's EcoTank L3150 Ink Tank Printer uses a semi-permanent micro-piezo print head printer that provides reliable service time of at least 3 – 5 years. For your knowledge, Canon and HP printers are using thermal print heads. Advantage of piezo print head is more precise and compatible with all kinds of inks, including solvent, UV type, pigment or even dye ink.
This printer comes with an automatic cleaning option so that there will be fewer worries on clogged ink head. Those who dislike automatic cleaning and think that it is wasting the ink can easily turn off this feature. The refill mechanism is designed to be fool-proof and error free.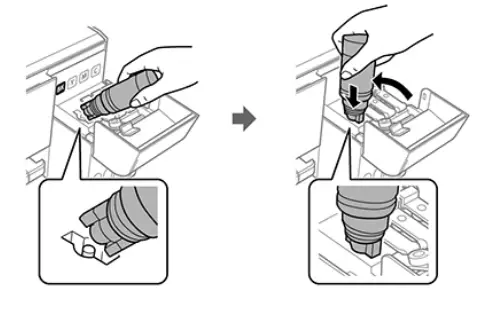 Epson L3150 is a multifunction printer that can scan, print and copy. It supports both wired and wireless printing. Its WiFi-Direct supports up to 8 concurrent connected devices. Do note that it does not have ADF (Automatic Document Feeder) nor duplex printing options. 
It is quite compact and comes with a top-loading sheet feeder. It is able to print high-resolution images of 5760 x 1440 dots per inch (dpi). It is the highest among printers of similar price range. 
Epson L3150 draft printing speed for black and white is as fast as 33 ppm and colour printing is 15 ppm. However, it's standard quality printing speed is only 10 ipm for B&W and 5 ipm for colours. 
Although there is no display on this printer here, the LED indicators are informative enough for most situation. This printer yield 4500 pages for B/W and 7500 pages colour printing.
All Epson printers come with 2 years local warranty.
4. Canon Pixma G1010
Best cheap ink tank printer
Canon Pixma G1010 is the best budget ink tank printer in Malaysia. It is similar to G3010 but without the scan, photocopy, and wireless function
✔ Good printing speed for its price
✔ Decent build quality
✔ Cheaper than other recommended printer models
✖ No WiFi or wireless connection
✖ Lack of Mac OS support
All of us would agree that MCO/PKP is bad for the economy. It hurts everyone's financial stability directly or indirectly. You are really cash-tight and just want to get a cheap printer. We recommend getting the Canon Pixma G1010, the best cheap printer for home use in Malaysia market.
First and foremost, Canon G1010 does not support wireless connectivity and is not a multi-functional all in one printer because it does not have scan and photocopy features. This is a straight up, conventional printer that needs wired connection to operate. 
Its design is basic but just as solidly built as other more expensive Canon printer series. The thing is, you can connect the printer to your router's USB port and use the printer for wireless printing only if your router supports this.
Canon G1010 prints reasonably well. It prints at a speed of 8.8 ppm for black and 5 ppm for colour prints. It also supports manual duplex printing (both sides printing). This printer has a printing resolution of 1200×4800 dpi, considered good at this affordable price. 
The ink refill system is similar to G2010 and G3010 and is placed in such a way that you can easily refill them. It uses the same refill ink as G3010 too. It has the same estimated 7000 pages yield per full tank of ink.
5. Brother HL-1210W
Best cheap laser printer
Brother HL-1210W is the best budget laser printer. It priced below RM300 and its refill toner is widely available in the online store or offline retail.
✔ Affordable laser printer
✔ Good printing speed
✔ Wireless printing
✔ Easy to buy refill toner
✖ No high yield toner
For online sellers or merchants, we recommend getting the laser printer instead of an inkjet printer. Because the main purpose of printing is to print the airway bill (AWB) of parcels. With a laserjet printer, it is guaranteed that the printed text is crisp and clear. And there is less worry of exposure to rain or water because the printing will not be easily smudged.
Another important thing is that a laser printer drum tends to be more reliable and less failure problem compared to the inkjet print head. Furthermore, there is also no problem with clogged print heads due to low usage of printers. Laser printers also do not dry up over time like those cheap inkjet cartridges.
Online merchants should spend time to focus on making more money instead of dealing with a problematic print head.
Brother HL-1210W Monochrome Laser Printer has a very small footprint. You can easily get this printer for less than RM300 on Lazada. 
We recommend Brother HL-1210W over Brother HL-1110 for its wireless connection. Both printers are actually similar. They can only serve for printing b/w documents. There is no scanner, photocopy, or colour printing. And it only can print up to A4 size.
HL-1210W has a print speed of 20 ppm with a maximum 600×600 dpi resolution. Its original toner can be purchased fromRM99 and yield 1000 pages.
Just be reminded that buying an laser printer is for its stable performance. Brother HL-1210W comes with 3-years local warranty.
Competition
HP 415 ink tank wireless all-in-one inkjet printer. This printer is actually pretty neat. It supports both Windows and Mac OS. It has printing speed up to 8 ppm black/white 5 ppm colour. It is claimed that print up to a whopping 8000 colour and 6000 B/W pages. Its biggest downside is its one year short warranty period and the lack of original ink seller.
Pantum P2506W laser printer is cheap and prints higher resolution than Brother HL-1210W. It has the same 3 years warranty. But we don't recommend it for its lack of service centre. And its refill toner only sold by few suppliers on Lazada.
Ricoh SP150SUW 3 in 1 WiFi laser printer looks sleek and stylish. It can scan, photocopy and print. Its prints speed is up to 22 ppm. Its regular cartridge yield only up to 700 pages. However, it is more expensive than HL-1210W. And scan and photocopy features could be really very underutilized for most people. It original refill toner is hard to get by too.
Conclusion
In short, we recommend getting ink tank inkjet printer instead of the conventional inkjet printer. If you're online sellers who print frequently in big volume, go for laser printer.
The decision to choose the best printer that suits you can be quite overwhelming. Prioritize your needs, whether its the refill cost, print quality or the printing speed. If you're Mac users, go for Brother or HP printer for peace of mind.
And one thing we do not touch in this article is the aftermarket refill or known as compatible refill by third party manufacturer. Because non-original refill can damage the print head and we do not encourage users to do so.