Looking for recommendations of the best WordPress hosting in Malaysia? Your search ends here. We are here to give you unbiased hosting reviews. And handpicked the suitable ones from thousands of web hosting companies in the market.
Today, we focus on finding out which is the best web host for WordPress sites that mainly serve Malaysians audience.
Jump to:
Forewords
I want to be brutally honest upfront. All of the hosting reviews you read online somewhere are going to be biased. Each of those reviews has its own agenda which is to earn a referral fee for every successful signup of web hosting account.
So, most of them would not dare to actually talk about the bad side of their paymaster. We are no exception but we strive to give a more wholesome view of the web hosting scene.
The few big names you will usually encounter are Bluehost, Sitegrounds and GoDaddy.
Bluehost from EIG receive much bad reputation among WordPress hosting community and WordPress enthusiasts. GoDaddy gets a similar treatment too. To be honest, I have used both of them before they're actually okay and convenient for average users. Just don't expect exceptional site performance from them.
And does Siteground deserves all the rave? I bet not. Siteground was used to be the underdog and upcoming star. In terms of raw performance, it does outperform EIG hosting. But they have their downsides and limitation which I will discuss later.
How we pick the best WordPress hosting for Malaysia websites
Speed
A good WordPress website consists of two parts, a good web host and a properly-optimized WordPress setup. Then, there is frontend speed and backend speed. The frontend is what users see and backend is the WordPress admin panel. i don't think this is
The speed of the server comes down to only two factors, server specifications and server location. Bandwidth speed is not much of a problem normally in today's world.
Customer support
This is very important for beginners and even advanced users. You will encounter lots of different problems when you're starting out. Customer support and support documentation must be very good.
Price
Things are difficult when you're starting out. We understand it and thus we have separated our WordPress hosting recommendation into different budget categories.
Uptime
Most capable web hosting companies have 99.0-99.99% uptimes guarantees. For a beginner site, 99.0 or 99.99% doesn't make much difference since your website doesn't receive many visits. Once your site gain traction, 99.99% uptime is a must.
Everyone web host can self claim how good they are. But we always have to counter check their claim with independent testing carried out by users.
Other features like firewall, server security, backups are plus points for managed WordPress hosting.
Best cheap wordpress hosting Malaysia
1. Fastcomet
Fastcomet is our top recommended cheap wordpress hosting for Malaysia websites. It's fast and affordable.
✔ Very cheap entry cost
✔ Excellent uptime and speed
✔ Generous storage for the basic plan
✔ 45 Days money-back guarantee
✖ Price hike after first year
Starts from RM149/year
Fastcomet is our top pick for cheap WordPress hosting in Malaysia. It uses Linode data centres that have multiple servers around the world. And one of the servers is in Singapore which is ideal for Malaysia websites. You can expect very low latency and great speed.
Speed
Linode servers are well known for their powerful specification at affordable price. All FastComet server utilize SSD storage instead of the standard HDD drives. So, it is going to be faster than your average HDD shared hosting (e.g. Godaddy).
Customer support
FastComet has 24/7 support through live chat as well as email. The live chat supports are lightning-fast in few of the test I have done. Definitely one of the best support in the market. Beginners will totally love it.
Price

It is one of the cheapest SSD hosting in the market which costs less than 3 USD per month for the first year.
The cheapest plan, FastCloud comes with 15GB SSD storage and 30GB bandwidth are also more than what most other web hosts are providing. Don't trust web hosts which claim everything to be unlimited. Instead, you should be worried because there are usually hidden limitations. If you hit the limitation, they will force or persuade you to upgrade your plans.
Transparent limitation is good and fair to both customers and hosting companies.
Uptime
Fastcomet has incredible uptimes performance regardless of which parties are testing it. HostAdvice, HostScore, BitCatcha all rated FastComet to have 99.99% and 100% uptime.
Other notable features
On top of that, Fastcomet provides free Let's Encrypt SSL installation., Free website migration regardless of which plan you're buying. And you also enjoy free domain transfer. Free daily backup is available for all plans too.
FastComet is still using cPanel which is the most common control panel. This is great for someone who comes from another web host that uses cPanel as there is no new learning curve. And there is a lot of support documentation for cPanel available on the internet.
If you want the cheapest WordPress hosting in Malaysia, look no further. Visit Fastcomet now.
Best mid-tier wordpress hosting Malaysia
2. Chemicloud
Chemicloud is new in the hosting space but it is definitely one of the fastest rising stars. We recommend WordPress Turbo.
✔ Free domain for life
✔ Prompt customer support 24/7
✔ Very speedy and 99.99% uptime
✔ Cloudflare Railgun included
✔ 45 Days money-back guarantee
✖ Price hike after first year
Starts from RM458/year
Chemicloud WebHosting Turbo is the best mid-tier hosting choice for Malaysia websites. Although it is new, it has garnered lots of fanfare and many praises its great support, affordable pricing and superb performance.
Frankly, advanced users would not even consider it as a mid-tier hosting for price of less than 10USD (RM40) per month. But I think this is already more than sufficient for most WordPress beginners.
Speed
Chemicloud uses DigitalOcean data centre and has multiple servers worldwide. The nearest server location to us is the Singapore server. Unlike the traditional web host which uses Apache web server technology, Chemicloud uses LiteSpeed technology which is proven to offer the best speed and stability.
On top of that, it has Memcached, OPcache and Cloudfare Railgun built-in which makes things even faster. For info, caching is crucial in reducing stress on the server and increasing speed for delivery of content to users.
Chemicloud basically provides you the most optimized environment for WordPress.
Customer support
Quoted review from a user named Valeria Amerisu, "Chemicloud customer is superb, fast, very understanding and polite". Customer support is a strong point of Chemicloud. And I would say this is partly because they are smaller right now so they can be more focus, agile and attentive to customers' problems.
Price

Let's use Siteground as a direct comparison. Chemicloud 9 USD (1-year price) WordPress Turbo Package specification is equivalent to Siteground US14.99 per month server. And for Chemicloud you actually get a cheaper price if you opt for a longer lock-in period, the price is down to 7 USD per month for 3 years.
On the other hand, Siteground promotion price only allows for 1-year lock-in period. Also, note that Siteground doesn't give a promotional price for a longer lock-in period. If customers want to buy a 3-years plan, there will be no discount pricing which is the opposite of Chemicloud.
For Chemicloud, I don't recommend users to take the starter plan because it has a minimum of 2 years lock-in period. I don't encourage users to sign up web hosting for longer than one year because things moving fast on the internet. The hosting company can go out of business, service quality can deteriorate, your website outgrows the hosting company, or you simply don't want to go down this internet rabbit hole anymore.
Hence, we think Fastcomet is a better choice as a cheap WordPress beginner hosting. And Chemicloud is better as a quality mid-tier server.
Besides, you get free domain as long as you stay with Chemicloud. It saves you another 10 USD domain cost per year. You also get CloudFlare railgun option only available for cloudflaure business users at 200 USD per month!
Chemicloud Turbo Plan is one hell of a bargain.
Uptime
Chemicloud has near to ZERO downtime according to testing sitse like HostAdvice, HostScore, BitCatcha.
Other notable features
Chemicloud provides free installation of Let's Encrypt SSL, free website migration and free domain transfer. They provide free daily backup and 1-click restore too.
Chemicloud is also using the most common control panel, cPanel. All the servers come with Imunify 360 Malware protection.
Last but not least, it has 1-Click WordPress staging.
If your budgets allow, we highly recommend to get Chemicloud WordPress Turbo. Visit Chemicloud now.
Best premium WordPress hosting Malaysia
3. Kinsta
Kinsta is our choice of best premium hosting for Malaysia websites. These guys know their things, speed. and performance. The price is not beginner-friendly though.
✔ Google servers
✔ Free CDN included
✔ Blazing fast support
✔ Cloudflare Railgun included
✔ 30 Days money-back guarantee
✖ Expensive
✖ No email hosting
Starts from RM1265/year

Kinsta is the best WordPress hosting for advanced users who already able to generate income from their websites.
Although Kinsta price seems ridiculously high, there are actually more expensive web hosts out there. But we would advise not to go beyond this price tier. Those ultra-premium hosting solution just aren't meant for personal blogger.
Kinsta is always compared to WPEngine as they are in the same price tier. WPEngine is bigger than Kinsta but their server performance and customer support are not as good as Kinsta.
Speed
Kinsta uses Google Cloud Platform and you should be aware that Google has the best cloud infrastructure in the market. Coupled with state-of-the-art technology deployed by Kinsta, WordPress speed on Kinsta is top-notch.
On top of this, every Kinsta hosting package comes with an integrated CDN service (partner with KeyCDN). CDN stands for content delivery network. It is a highly distributed network to minimize delay in loading website. Your websites will load blazing fast no only for Malaysians visitors but also visitors from all around the world.
Besides, all customers get to use the free inhouse Kinsta cache plugin which is powerful and sufficient for most use cases. So. you don't have to spend money to premium cache plugin like WP-Rocket.
Big names like Tripadvisor and Ubisoft are hosting their websites with Kinsta. That speaks alot on its server performance and reliability.
Customer support
Kinsta offers 24/7 live chat support. The supoort's respond is fast and knowledgeable in WordPress related issue.
They are using intercom as their live chat tool. The live chat is easily accessible at in the user control panel. And more importantly, it always stores chat transcript for easy follow up in the future.
Its customer support is truly second to none.
Price
The expensive hosting fee is Kinsta biggest downside. Kinsta hosting plan starts at 30 USD and can go as high as 1500 USD per month. 30 USD is equivalent to about RM120 per month. Given the current weak Malaysia Ringgit, it is going to be a bitter pill to swallow for most Malaysian WordPress users.
Uptime
Kinsta has the best overall uptime among all the recommended hosting providers in this article. It scores 100% uptimes in multiple long term monitoring tests done by multiple parties.
Moreover, Kinsta has an inhouse uptime monitoring tools that monitor your website uptime in 5 minutes internal. So anything goes wrong will alert Kinsta support team.
Other notable features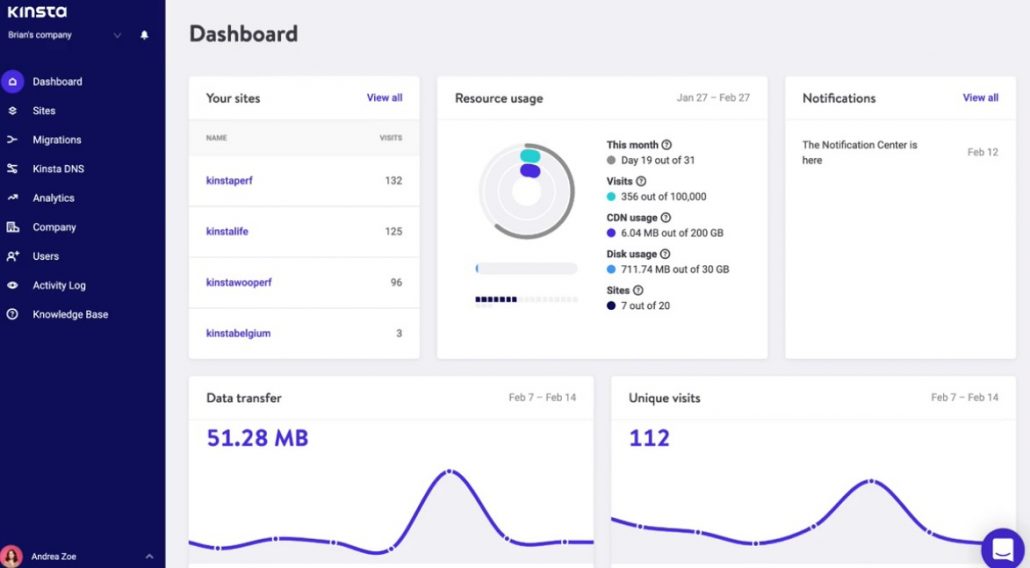 Kinsta has one of the prettiest, most unique and easiest custom-built dashboards for WordPress hosting. They also provide the standard free Let's Encrypt SSL, free website migration, free domain transfer, daily backup and staging environment.
There are two things you should note that Kinsta has no domain registration and no email hosting. So, you have to fork out extra money to buy email hosting on your own.
Kinsta is suitable for Malaysia blog owners who are already making money and ready to take their hosting to the next level. Visit Kinsta now.
Best VPS hosting for Malaysia WordPress websites
4. Cloudways
Cloudways is the most beginner-friendly VPS hosting solutions. However, it is by no means for beginners.
✔ Best price for performance
✔ Prompt customer support 24/7
✔ Impressive speed and uptime
✔ No payment free trial
✔ Free daily backup and on-demand backup
✖ No in-depth support for WordPress issue
✖ No email hosting
✖ Not beginner-friendly
Starts from RM506/year
Cloudways is a little different from all the other hosting providers in this article. In fact, it is one of its kind and pioneer in the market right now. I consider them as a VPS hosting "solution provider".
Let me explain the difference between a VPS and a normal shared hosting.
A shared hosting plan is a server shared by multiple customers. Usually, web hosts will try to accommodate as much customer as the server can take. And an obvious disadvantage of shared hosting is very little resources are allocated for each customer thus performance problem. And if there is any website on the same server face security issue or crashes, it will affect other website hosted on the same server
A VPS is known as a virtual private server. It uses virtualization method to split one server into multiple smaller dedicated virtual server. Hence, each customer enjoys dedicated resources which won't be affected by its neighbour websites. But VPS hosting is not beginner-friendly. It is like a blank computer without windows or Microsoft office, customers will need to set up everything from the ground up, installing the OS and software.
This is where Cloudways comes into play as the middle-man or as I said, a solution provided. Basically users will buy the VPS from VPS providers like Google Cloud Platform, Amazon Web Services, Digital Ocean, Vultr, and Linode. Then, Cloudways will help you to set up everything correctly and also install WordPress in the VPS. So that even a non-techie can enjoy the power and advantage of VPS hosting.
For advanced users who want to further save cost, they can either set up the server themselves or just use a server control panel like our very own Malaysia RunCloud.com. But I strictly don't recommend for beginners to go down this DIY route. You will waste a lot of time to set it up properly and may face maintenance issue in the future.
Normal users should focus their time and energy on matters which can bring them revenue or value, like content production instead of server management.
Speed
You can expect WordPress speed on Cloudways is going to be much faster than your average shared hosting. They are using Apache with Nginx as reverse proxy and MariaDB. Their built-in cache mechanism includes Varnish, Memcached and Redis.
In short, the servers are set up for the best WordPress performance. Plus, you have dedicated processor power and RAM memory which is going to be a huge performance boost.
You don't have to worry about any limitation or restriction like shared hosting. In most situation. Cloudways is expected to be at least 2 to 3 times more powerful than shared hosting of similar price point.
Customer support
Cloudways have 24/7 customer support and live chat. Their support is actually good and responsive. However, there are also complaints about the support are not helpful enough. Hence, we don't recommend beginners to start with Cloudways. It can get too technical at times.
Price

Cloudways pricing structure is somewhat unique as well. They basically charge double of the VPS hosting cost. Says the VPS hosting cost 5 USD for 1GB &1 Core, Cloudways will charge 10 USD per month. For this pricing model, users are at huge disadvantage when the VPS hosting cost is high.
See the example below for comparison:
10 USD plan – 5 USD server cost and 5 USD Cloudways management cost
42 USD plan – 20 USD server cst and 22 USD Cloudways management cost.
Based on the comparison above, you are paying an extra premium of 17 USD management fees when you upgrade your servers. And this management cost can get even higher.
BUT! The good news is 10 USD plan is more than sufficient for WordPress websites. It can cope with a few hundred-thousands of visitors per month. By the time you receive 500K- 1 Million visitors, server cost usually won't be a big concern for you anymore.
Uptime

Cloudways hostings are as reliable as the chosen VPS partner. If you chose Google Cloud, then your downtime should be close to 100%. For other VPS vendors, it should be 99.99% as well too. In short, there's little to worry about websites uptime.
Other notable features
The most notable feature of Cloudways is how it makes VPS hosting so easy for non-techies to set up a WordPress website with just a few clicks.
Cloudways offer free Let's Encrypt SSL and free website migration. Free daily backup and on-demand backup.
The best of all, Cloudways offers free trial without credit card or any sort of payment. The standard practice for other web hosts is to let users buy any hosting plans first but with 30 days money-back guarantee. It is practically risk-free to try out Cloudways.
With Cloudways, you are guaranteed to get the best value of money for hosting performance. However, there's a disadvantage that you have no email hosting. It can get a bit tricky for beginners to setup up their own email hosting. But, advanced or seasoned users know that separating email hosting from web hosting is the smarter choice.
We highly recommend Cloudways for Malaysia bloggers who wants the ultimate perfomance at a budget. Visit Cloudways now.
Best local Malaysia web host
5. Serverfreak aka web-hosting.net.my
Serverfreak is a Malaysia web host founded by local and server primarily for the local. They are known for their wonderful customer support and problem-free hosting solution.
✔ Server in Malaysia, Cyberjaya
✔ Value-for-money Malaysia hosting plan
✔ Free lifetime domain
✔ Optimized for WordPress
✔ 30 Days money-back guarantee
✖ Website migration free with conditions

Starts from RM238/year
ServerFreak is a small hosting company in Malaysia which operated since the year 2003. Sam Lee is the boss of ServerFreak, who often lurk around in WordPress Chinese Malaysia Facebook Group. He is always friendly and helpful.
Speed
Of all the hosting plans recommended in this article, ServerFreak is the only one with an actual server located within Malaysia. This geographical advantage gives your WordPress website an upper hand on TTFB (Time to First Byte).
Furthermore, ServerFreak is using Litespeed technology with Litespeed cache plugin integrated. As mentioned, Litespeed is one of the most advanced server systems in the market. Besides, Cloudflare Railgun is available with all WordPress hosting plans even the cheapest plan!
If your target audience is only Malaysians, ServerFreak WordPress hosting plan is a good choice.
Customer support

This is where ServerFreak shines. Being a smaller player in the hosting space, customer support can be more attentive to the customer's problem. And Sam (ServerFreak Boss), is very friendly and approachable. You can even easily reach out to him personally if there's anything urgent or major.
AND only local web host like Serverfreak has customer supports which can speak to you in Malay, English, or Manglish, not a problem at all!
Price
ServerFreak WordPress hosting plan starts at RM239 per year. At a glance, it looks like an expensive deal compared to FastComet. But we would like to praise ServerFreak for its honest pricing structure. They don't hook you in with heavily discounted price then bump up the renewal fee to 2-3 times on the second year.
Based on the server specs and feature, you are actually paying a very affordable and reasonable price.
And they will even give you 1 free lifetime domain as long as you hosts with them which saves you another RM40 per year. They also have 30 days money back guarantee policy.
Uptime
Serverfreak promise all hosted web site uptime of 99.9% above. Honestly, this official statement is slightly pale in comparison to other web hosts that promise 99.99% of uptime.
Well, it could be they don't want to overpromise and underdeliver their hosting services. Actually based on uptime monitoring done by Bitcatha, their overall uptime is well above 99.99%.
Other notable features
Serverfreak provides free Let's Encrypt SSL, unlimited email accounts hosting, and uses BitNinja server security.
If you want a friendly hosting experience and wish to support local entrepreneurs. Serverfreak is the way to go. Visit Serverfreak now.
Competitions
Comparison of budget hosting for Malaysia websites
Bluehost vs Fastcomet
Bluehost is a very popular web host. It is one of the most recommended, if not most recommended hosting company by bloggers in the U.S market. On the flip side, their parent company EIG is always touted as the worst hosting company existed and should be avoided at all costs.
Personally, I don't think they are that bad for average usage. But given that they don't have any server in Singapore or Malaysia and mediocre server performance. I don't recommend Malaysia bloggers to use Bluehost.
Bluehost – not recommended.
GoDaddy vs FastComet
Godaddy server performance is average at best. It also has visitor limit for each of its hosting plans while it is not a hard limit. You may face downtime unexpectedly when you exceed the resources limit.
Furthermore, their cheapest WordPress plan starts at RM26 per month (1 year lock-in period) which is not cheap at all. Hence, we don't recommend GoDaddy.
Godaddy – not recommended
Hostinger vs Fastcomet
Hostinger is ridiculously cheap to start a WordPress website, from RM8.05 per month. That's even cheaper than RM12 of FastComet. However, there's no free daily backup with Hostinger.
And there's no livechat support available on the website. Users will need to use the support ticket system.
Hostinger – no recommended
Comparison of mid tiered hosting for Malaysia websites
Siteground vs Chemicloud
Siteground is a big name in web hosting space. Let's compare the two most important factor, price and performance.
In terms of pricing, Chemicloud is a clear winner because Chemicloud is always 50% cheaper than Siteground whether in first year pricing or renewal pricing.
In terms of performance, Siteground uses Google Cloud which is more powerful. And many users reported immediate improvement of site speed after migrated to Siteground. So Siteground does has an upper hand in performance.
However, Siteground has one big pain point. They have a CPU seconds limit for each of its hosting plan which is some kind of computational resources limit. Many beginners have no idea how to bring down the CPU seconds and could hit the limit unexpectedly.
Chemicalcloud has no such limitation which gives users peace of mind.
In short, Chemicloud has a better package overall as they are cheaper and less limitation.
Siteground – neutral
Inmotion Hosting vs Chemicloud
Quoted from a well-known WordPress enthusiast. "Inmotiong hosting is slow and bad. It runs on outdated software."
Plus, they only have server in the U.S. and no server located near Malaysia or Singapore. Honestly, I didn't to take much effort to review it because it doesn't fit our needs as Malaysia WordPress hosting.
Inmotion hosting- not recommended
A2 Hosting vs Chemicloud
A2 hosting is often being compared to Siteground. A2 hosting is by no means cheap. Their cheapest package starts at 6.99 USD per month for 12 months lock in period which makes them more expensive than Siteground and Chemicloud.
And the server back up solution cost additional 2 USD per month.
A2 hosting server performance is great and comparable to Siteground and Chemicloud. Their customer support are great too.
A2 hosting's high price is the reason I can't recommend it over Chemicloud. And many features which included in Chemicloud are treated as a paid upgrade in A2 hosting. Those features including automated backup, server restore and website builder.
A2 hosting – not recommeded
Comparison of premium hosting for Malaysia websites
WPEngine vs Kinsta
WPEngine is the most popular premium WordPress hosting choice in the market. However, its performance is always poorer than Kinsta according to several different test done by individual blogger.
Further, WPEngine doesnt offer free website migration.
WPEngine – not recommended
WPX Hosting vs Kinsta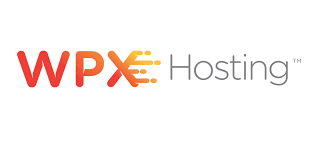 WPX hosting has no Asia server. And their targeted market is North America and U.K. Hence, not recommended for Malaysia WordPress sites.
WPX Hosting – not recommended
FlyWheel vs Kinsta
Flywheel is another big name in the premium space. They claims to be better than WPEngine.
However, their performance is not as good as Kinsta. Moreover, Kinsta offers free uptime monitoring and additional back up at no extra cost. And last but not least, Flywheel has no Asia server.
The good thing is FlyWheel starts at 14 USD instead of 30 USD like Kinsta and WPEngine.
FlyWheel – not recommended
Comparison of Malaysia Web Host Companies
Exabytes vs ServerFreak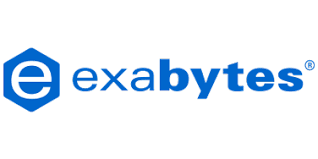 Exabytes should be the most well-known Malaysia Web Host. They are not particularly bad. Although there are many bad reviews circulated around the web on Exabytes. This is most likely because they have the biggest customer base.
Both Exabytes and Serverfreak have local servers. With a 12-months lock-in period, Exabytes WordPress hosting plan is generally more expensive than Serverfreak given equivalent spec.
Frankly, you may encounter many recommend Exabytes as the best Malaysia web host. It is largely driven by their higher commission payout.
If you're after value for money, better server performance, then Serverfreak would be a better choice. Because Serverfreak uses the Litespeed web server and included Cloudflare railgun free of charge.
Exabytes – Neutral. If you still wan to go with Exabytes. Use my link here.
Shinjiru vs Serverfreak
Shinjiru's WordPress hosting price is almost similar to Serverfreak before discount. Generally, the storage space and bandwidth allocated by Shinjiru is much more generous compared to Serverfreak.
It uses Litespeed technology like Serverfreak. But there's no Cloudflare railgun integration.
Shinjiru offers Skype customer support but does not offer live chat support on the website. Personally, I think website live chat system is more convenient.
Shinjiru – Neutral
Conclusion
Fastcomet is for those who want a cheap and fast server to "test the water". Chemicloud is for those who are serious in the internet business. Kinsta is for the "bangsawan". Cloudways is for those who want the best bang for buck WordPress performance. And Serverfreak is for the "Anak Malaysia".
Fellow bloggers leave a comment below. And let me know your opinion.