In the post-pandemic era, most of us spend more time indoors than outdoors. Yoga is one of the best home workouts you can do at home to improve your health.
Learning yoga has practically zero entry barrier. However, having a good yoga mat can help you immensely in practising yoga. 
What are the best yoga mats in Malaysia?
Yoga practitioners at different stages prefer different types of yoga mats. Generally, the best yoga mat should be grippy (wet or dry), durable, have good cushioning, and give sufficient support for stability.
There are many types of yoga mat material available today, including PVC, TPE, NBR, natural rubber, cork, cotton, jute, and cotton. Each of these yoga mat materials has its own pros and cons.
Here are the top 7 yoga mats in Malaysia:
---
1. Fitty Witty Natural Rubber Yoga Mat
Best Overall Yoga Mat
Best deal on Lazada Best deal on Shopee
For beginner and advanced yogis, I highly recommend natural rubber yoga mats like the Fitty Witty natural rubber yoga mat.
The dimensions of this yoga mat are 183cm in length and 68cm in width. It is slightly wider than the standard yoga mat size of 61cm which makes it great for beginners. It also features alignment lines to guide you fine-tune the right posture. 
It is 5mm thick, providing comfortable back support during core exercises, inversions, and other yoga postures. Despite it being thinner than TPE or NBR yoga mat, the rubber mat has the best cushioning characteristics.
And 4-5mm thickness is optimal for beginners to maintain good contact with the hard floor for more stability.
This mat is also coated with polyurethane for maximum water resistance and good grips even if you have sweaty hands.
But the rubber yoga mat does come with a few disadvantages, namely:
Not suitable if you're allergic to latex
More heavy than TPE and NBR, not suitable for travel
Bad rubber smell when it is new
Not great for outdoor
As long as you're mostly doing yoga at home, I think Fitty Witty Natural Yoga is the best anti-slip yoga mat and you can disregard its disadvantage of being heavy.
---
2. Decathlon Domyos Yoga Mat
Cheap TPE Yoga Mat for Beginners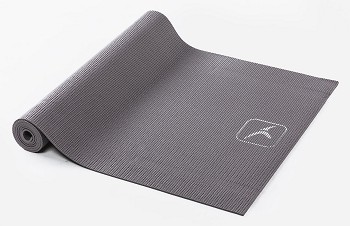 Best deal on Lazada Best deal on Shopee
Alright, you're just getting into yoga and don't feel like spending more than RM50 on a yoga mat You can consider buying the Decathlon Domyos 4mm Yoga Mat for only RM20+.
This Decathlon Domyos 4mm Yoga Mat is designed for Beginners who want to start doing Yoga. It is suitable for Hatha, Nidra, traditional, restorative, prenatal, or static poses.
The dimension of this yoga mat is 172 x 58 cm and 4mm thick. It is made of foamed PVC which gives a rubber-like feeling. Do note the size is slightly smaller, if you're taller than 6ft, then this yoga may not be a good fit.
Decathlon Domyos Yoga Mat's positive review:
Domyos Yoga Mat. Tebal tapi lembut.Sedap guna untuk bersenam
PVC yoga mats are cheap, long-lasting, easy to clean and fairly lightweight. 
Hence, the Decathlon 4mm Yoga Mat is a great choice if you frequently go to yoga classes at your local gym. You will prefer to bring such a light yoga mat rather than a heavy natural rubber yoga mat.
But PVC yoga mat will lose grip when wet. And its cushioning is not as good as a rubber yoga mat.
Overall, Decathlon Domyos 4mm Yoga Mat is a great affordable choice for beginners. But personally, I am biased towards natural rubber yoga mats like the Fitty Witty if you're only using it at home. As yo should know, PVC material is bad for the environment.
---
3. Manduka eKO Lite
Best Eco-Friendly Yoga Mat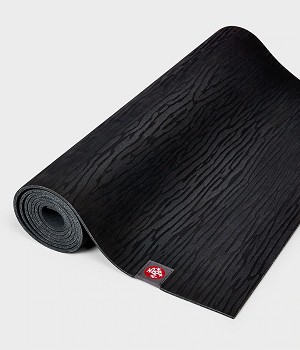 Best deal on Lazada Best deal on Shopee
The Manduka eKO Lite is the best eco-friendly yoga mat. It is made from biodegradable, natural tree rubber with non-toxic foaming agents and non-AZO dyes. 
There's zero PVC or any harmful plasticizers in this yoga mat.
This Manduka eKO Lite yoga mat measures 180 x 66 cm and has a 4mm thickness. It weighs about 2.3kg.
Manduka eKO Lite is 1mm thinner than Manduka eKO yoga mat. It is designed to be more portable so that it is easy to carry around.
As with other natural rubber yoga mats, the Manduka eKO Lite has great grip and cushioning. It is sufficient to protect your knee, joints and elbow. And your hand and feet will not slip when doing the Downward Dog posture.
But these advantages come at the cost of a strong rubber smell. And you don't get the lifetime guarantee like the Manduka Pro series yoga mat.
Other than the few disadvantages mentioned above, the Manduka eKO Lite yoga mat is a good choice for eco-conscious people who value high-quality products.
---
4. Manduka PRO Travel
Best Yoga Mat for Travel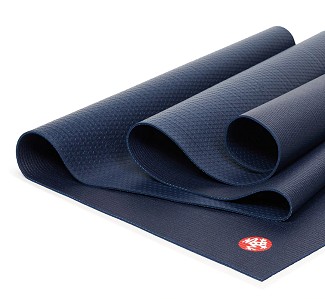 Best deal on Lazada Best deal on Shopee
Manduka PRO Travel yoga mat is the best yoga mat for travelling due to its extreme thinness and lightweight. 
The dimensions of this yoga mat are 180 x 61 cm.
It weighs only about 1kg and is only 2.5mm thick. It can be rolled up really compactly and you can carry it without feeling much burden.
The Manduka PRO Travel yoga mat is made from PVC that has been certified STANDARD 100 by OEKO-TEX. It is 100% latex-free too.
They are probably the most durable yoga mat in the market. Manduka even provides a lifetime warranty for their Pro series product. 
To properly use it for yoga, users will be required to break in the Manduka PRO Travel yoga mat. Break-in is a simple salt bath onto the yoga mat to make the surface more grippy. Otherwise, its surface will be quite slippery when it is new.
---
5. Thinkrider Yoga Mat 
Best Yoga Mat for HIIT Workouts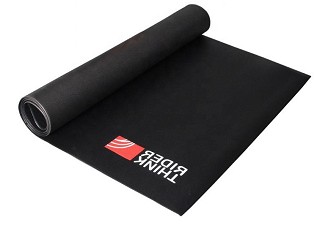 Best deal on Lazada Best deal on Shopee
The Thinkrider Yoga Rubber Mat is the best yoga mat for those who want to use one mat for both yoga and exercise.
To be precise, this is not a yoga mat but an exercise bike floor mat. It is made of high-quality PVC which is tear-resistant, heat resistant and very elastic.
Due to its original purpose for exercise bikes, this yoga mat is really huge. It has a size of 198 x 91 cm, with a thickness of 6mm. It could even fit for a treadmill machine.
Many customers use Thinkrider Yoga Rubber Mat for yoga, jump rope, and HIIT workouts with no problems at all.
---
6. Fitme Jute Yoga Mate
Best Jute Yoga Mat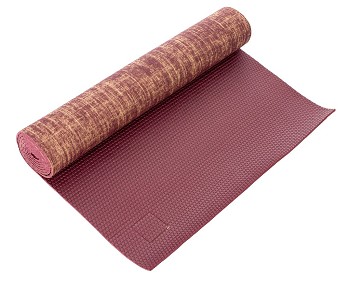 Best deal on Lazada Best deal on Shopee
Yoga mats made of jute are not for everyone, but they are gaining popularity these days. Fitme Jute Yoga Mat is the best jute yoga mat you can buy in Malaysia.
First thing first, the Jute Yoga Mat surface is rather abrasive. Many yoga beginners will feel discomfort or even pain when doing yoga on it. If you're doing planks and balances, the texture of jute could dig into your skin.
However, this doesn't stop it from receiving love from other yogis.
Furthermore, the Fitme Jute Yoga Mat is fully reversible where one side is made from Jute and the other is Eco PVC. You can use both sides for different type of workout.
It is recommended to use the Jute side up for intensive Yoga practices like Bikram Yoga, Ashtanga, Power and Vinyasa and the ECO PVC side for restorative, yin, and meditation practices.
It has a size of 183 x 61 cm and 5mm thickness. It is only 1kg, similar to the Manduka PRO Travel yoga mat.  So, you don't have to worry about its weight.
Unlike rubber yoga mats, the jute yoga mat is odour free and anti-microbial. 
And the best part is it is very easy to clean and maintain. You can wash the jute yoga mat with a non-oil based soap with a soft brush and dry it under the sun.
It is worth giving Fitme Jute Yoga Mat a shot if you are curious about yoga mats made of natural materials. Jute may take a little while to get used to, but it becomes softer with use.
---
7. Yolife Cork Yoga Mat
Best Yoga Mat for Hot Yoga

Best deal on Lazada Best deal on Shopee
The Yolife cork yoga mat is made of cork as the surface and TPE as the base. Cork is generally regarded as an eco-friendly material since it is renewable, biodegradable, as well as antibacterial naturally.
Yolife cork yoga mat has a size of 183 x 61 cm and a thickness of 6mm. Many yogis like the cork material because it gives good cushion and traction. Some even claim that it is best for hot yoga because it becomes grippier when it gets wet.
The other big reason to use a cork yoga mat is the cork aesthetic. Cork is the only yoga mat material that offers a timber-like texture that is pleasant to touch and see.
The cork yoga mat is great for the outdoors too. You can bring it to the yard, park, and any places you wish to.
The Yolife Cork Yoga Mat is best suited to intense forms of yoga such as hot yoga and power yoga. It is also excellent for people suffering from sensitive joints or joint pain as cork is great in absorbing impact.
---
Competitions
Lululemon Yoga Mat Review
Lululemon is wildly popular in United State but it is not that common in Malaysia. And there is no official Lululemon online store that sells its yoga mat. So, it is safer to not purchase a lululemon yoga mat on Shopee or Lazada as it could be a counterfeit product.
Liforme Yoga Mat Review
The Liforme brand is another very popular yoga mat brand in the U.S. It has the same issue as Lululemon where it has no official online store on Shopee or Lazada. So, I would not recommend buying it.
Reebok, Nike, Adidas Yoga Mat Review
Yoga mats sold by brands like Reebok, Nike, Adidas and any other sports brand are mostly made of TPE, thermoplastic elastomer. 
They are easy to clean, repel sweat, durable, suitable for both indoor and outdoor. But they are not environmental-friendly and it loses grip when wet.
For information, a "no-brand" TPE yoga mat usually only costs RM30 to RM50. But branded TPE yoga mats could easily set you back RM100 to RM200, which is why I don't encourage buying from these sports brands.
---
Yoga Mats FAQ
Which yoga mat is best in Malaysia?
The best yoga mat is Manduka eKO Lite which is made of natural rubber. If you're short of budget, can consider buying Fitty Witty natural rubber yoga mat.
What is the best thickness for a yoga mat?
As a rule of thumb, the ideal yoga mat thickness is around 4 to 5 mm. A thicker yoga mat is not always better. 
If you want a yoga mat that is easy to travel then the thickness should be around 2mm. 
If you suffer from joint pain, you can get a yoga mat of 6 to 8mm thickness.