We believe home gyms will only get more popular than ever after the Covid-19 pandemic. During MCO, we learnt that we can actually run a full marathon at home with nothing but only a smartwatch (for tracking running distance).

However, getting the right sports equipment like a good treadmill at home is very convenient because it makes your routine workout more efficient. It is definitely worth investing some money on it if you can afford it.
Check out the best treadmills to buy in Malaysia:
Types of treadmills
There are two main types of treadmills, namely motorized and non-motorized types. What are their differences? 
Non-motorized treadmills or manual treadmills are moved in accordance with your movements and pace. The faster you run; the belt will follow suit and move faster as well. However, the action in getting the belt to move could cause strain on the anchor and extra energy needed for keeping the belt moving. Users tend to tired more easily resulting in poorer experience and workout.

Motorized treadmills let you control the treadmill to a preset speed which motivates you to run to keep up to it. It usually comes with more programs and feature that make the workout more efficient and enjoyable. 
How to pick the best treadmills
There are some important factors you'll need to take into consideration when choosing a treadmill. What is your daily exercising regime? Would you walk, jog or run more?
Size – Space available in your house. Treadmills should have a dedicated space. If you always need to fold and unfold it for each workout session. It will kill your desire to use the treadmills. Always check the treadmill size before purchasing one.
Motors – DC motor is quiet and AC motor is noisier but longer lasting. 2.0HP is good for walkers and joggers; while 3.0HP is recommended for runners.
Belt size – If the belt width is too narrow, it can be very uncomfortable to run on it. Track size varies from 16 inches to 22 inches. 18 inches are comfortable for jogging, and 20 inches or above are ideal for running.
Incline feature – A treadmill incline helps you to train more efficiently because user can train for different muscle groups and build endurance.
1. NordicTrack T7 Treadmill
Best overall treadmill Malaysia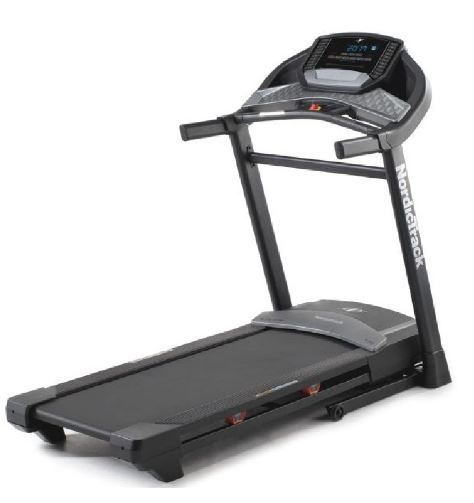 NordicTrack T7 is the best treadmill overall in Malaysia. It comes with one of the best drive motors in the market. Lots of built-in programs and can be set to incline.
✔ 2.75 HP motor
✔ Can be set to 10% incline
✔ iFit feature
✔ Great cushioning system
✖ No lifetime warranty in local
✖ No chest-strap heart monitor
NordicTrack is the top-rated fitness equipment manufacturers headquartered in the U.S. For years they produced durable and comfortable treadmill and often chosen as the best treadmill by many reviewers.
We chose picked the NordicTrack T7 Treadmill as the best treadmill in terms of performance and pricing. At dimensions of 70.0" x 34.6"x 55.5", it boasts of a running surface of 18" x 55" which you'll get to run comfortably with a peace of mind. You do not have to worry where you should place your feet at all times! This machine is able to support a user with a maximum weight of 130KG. 
It has a 2.75HP motor which promises great durability, even with heavy usage on a daily basis. With such a powerful motor, the treadmill can go up to 20kmph even at a 10% incline. The panel is a one-touch control panel, that gives you the flexibility to switch quickly between speeds and at various inclinations as fast as within seconds, so that you can focus purely on running. 
There are also a pair of Bluetooth capable speakers to connect with your mobile device, so you can opt to exercise along with your favourite music.
Aside from this, it is built-in with 24 programs, from which you can choose the one best suited for you.  It comes with a coaching feature called iFit which requires a subscription (free for the first year). It makes the workout more enjoyable with Google Map workouts, video workouts as well as different set of challenges.

This machine utilizes FlexSelect cushioning system that provides you with a double cushioning effect, so much so this helps to ease the stress on the crucial weaker points in your body, namely ankles, waist, hips and knees. Or you can choose a firm and stable surface like you're running on the road, to challenge yourself further.
And like most treadmills, this one also comes with a heart rate monitoring system via the dual CardioGrip sensors on both handlebars. Unfortunately, it does not come with a chest strap heart rate monitor though. Considering the amount that is paid, we were surprised that this was not included. Well, it's bad but not a deal-breaker!
After you're completed exercising, you can just lift it up and fold the deck up through its innovative EasyLift Assist system. It is made to be easy and convenient for users to store it. However, we still recommend users to dedicate a space for the treadmill.
Nordictrack T7 comes with a 5 years warranty with our local vendor. A side note: Nordictrack actually gives a lifetime warranty on its frame and motor in the U.S. It simply shows how much they are confident with their own product.
2. NordicTrack T10 Treadmill
Best treadmill for runners Malaysia
NordicTrack T10 is the best high-end treadmill for home users. It is suitable for both the casual jogger as well as serious runners.
✔ 3.0 HP quiet and durable motor
✔ Can be set to 12% incline
✔ iFit feature
✔ Great cushioning system
✔ 20″x60″ running track
✖ No lifetime warranty in local
✖ Expensive
Well if you have the budget for a slightly more powerful and advanced machine. We recommend buying the NordicTrack T10 Treadmill. This machine is hard to beat especially when you see the package it offers. Standing at 79.5" x 35.8" x 63.4", slightly bigger than the T7 treadmill. It also has a bigger running surface of 20" x 60" with a maximum weight of 130KG. 
It is powered by 3.0 CHP DurX Commercial Plus motor, this machine is able to reach top speeds of 22 kmph. And users can choose to incline up to 12% , which is also a small upgrade from 10% of T7.
The controls are user-friendly with one-touch controls so that you can focus more on your exercising, without worrying on which buttons to push. And of course, it does come with a heart rate monitoring system via the dual EKG CardioGrip pulse sensors on both handlebars And you can opt to buy the included iFit Bluetooth Smart Chest Strap as an add-on.
With the integrated table holder, you are able to enjoy your favourite movies or browse through the news while you work out. Furthermore, this machine is equipped with a Bluetooth sound system and built-in fan on the dashboard to make your workout as comfortable as possible.
Similar to the T7 treadmills, Nordictrack T10 comes with iFit coach feature, Flexselect cushioning system, Easylift Assist system.
Nordictrack T10 has a one-year local warranty and 7-year warranty on the drive motor. With this treadmill, you'll be getting the top of the line machine, that is sturdy and is long-lasting.
3. Horizon T101 Treadmill
Best budget treadmill Malaysia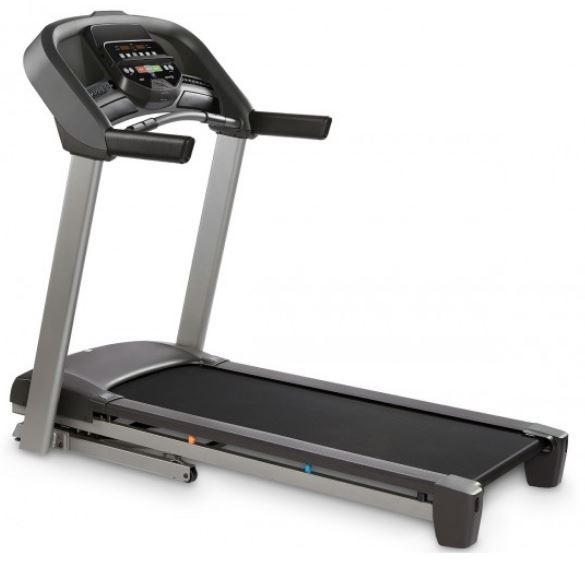 Horizon T101 is the budget treadmill you should consider. It is slightly cheaper than NordicTrack but packs a ton of similarly good feature too.
✔ 2.5 HP motor
✔ Can be set to 10% incline
✔ 20″x55″ running belt
✔ 10 years motor warranty
✖ No chest-strap heart monitor
A treadmill is indeed a huge sports equipment that we felt that if you're not willing to sink in a couple of thousand ringgit, the machine may not be able to make it worthwhile for you.  
So, in a more relative sense, the Horizon T101 is our best pick in the budget category. Standing at the size of 55" x 34" x 70", this treadmill is great for joggers and runners.
With a decent running belt surface of 20"x 55", you'll be able to get in comfortable strides as you walk or jog.  You won't need to focus too much on where your feet should be. And it can support the maximum weight of a user of 125KG.
Being compact in size and quiet, this machine has Horizon's proprietary 3-zone cushioning to protect your joints and body. The 'Variable Response Cushioning' is where the cushioning is more and thus softer nearer the top to help absorb the initial impact, yet firmer nearer the back to allow a good push off with the feet. So, the joints in your body are protected.
It is a 2.5 continuous duty CHP (continuous horsepower) motor which is best suited for walking and jogging. This powerful motor is able to get you up to an excellent 18 kmph. It also comes with a power-assisted incline up to 10%.
Besides, it also has 30 pre-programmed workouts and compared with others of the similar price range, this is probably the best and the most you'll get. You can also manually set your workouts regime, should you wish to do so.
And to make your exercising more enjoyable, Horizon has included a magazine/book rack and affixed MP3 capability as well, which means you'll be able to connect your own mp3 device and have your favourite music blast out through the speakers on the panel. It also comes with a built-in fan that helps keep you cool during workouts. 
There is a downside to this machine though – heart rate monitoring can only be achieved via pulse grips and no chest-strap heart monitoring available.
Horizon T101 treadmill gives a 10 years warranty on the motor and 2 years general warranty.
4. SnowFit Windrunner Treadmill
Best manual treadmill Malaysia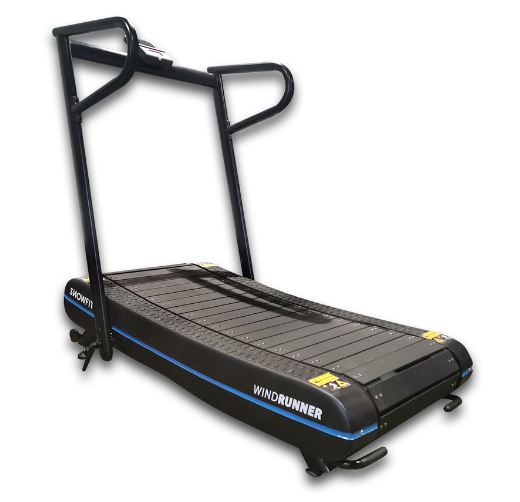 SnowFit Windrunner is a manual treadmill which best suited for athletic runners.
✔ No max speed, naturally curved.
✔ No electricity required
✔ Minimal to no maintenance required.
✖ Not suitable for beginner
SnowFit is the most well-known and best selling manual treadmill brand in Malaysia. Hence, you have actually very little choice when it comes to buying a motorless treadmill in the local market.
Curved motorless treadmills are getting more and more popular because they are environmental-friendly and rewards runners with good running form. But don't mistake them as an cheap alternative treadmill, they actually can cost more than a motorised treadmill.
Here, we would like to remind again that manual treadmill is best suited for runners with good discipline and well-trained. Because it is totally on your own when it comes to work out. There is no motor to assist and pushes you to run, neither any running programme that can help you to pace the work. Everything is down to the users sheer determination.
Snowfit treadmill is simple and compact. It is slightly curved to help runners to propel the belt backwards and kick into motion. Thus, users can get a more natural feel for each of their landed steps. Technically, it has no max speed because the speed limit is depending on the user's capabilities. It can support up to 150KG and has a running surface of 40 x 120mm.
A manual curved treadmill is designed to reward running with correct form and posture and would punish those with bad form. So it is good some anyone wanted to correct their running form. It is also great for HIIT. (high intensity interval training).
And another small upside is that they should have better resale value since they don't have motor. Motors tends to have reduced performance over time.
SnowFit Windrunner comes with 5 years local warranty.
Competitions:
Xiaomi WalkingPad Treadmill quick review – Not recommended
-I love how Xiaomi makes household products to become smart devices and modern. But the walking pad is definitely not recommended with its steep price tag in Malaysia. For the price you're paying, you only get to walk on a treadmill which literally brings little to no benefit to your health. It is better to get a smartwatch and do a few quick runs in your living room.
Johnson Fitness Tempo T81 Treadmill quick review – Neutral
-Tempo T81 may seem like a great treadmill deal on first sight. But its 1.75HP motor is a little bit underwhelming and 16.5″ wide running belt also a bit narrower compared to the models I have picked above. It also has a slightly inferior warranty period compared to others. Overall, it is still not a bad deal.
Let us know which treadmills you going to buy
Treadmills is a great home work out equipment and the cheaper options usually are not that great. You may be interested to read our reviews on best badminton racquet in Malaysia.