In Malaysia, DDPai and 70mai are the two most popular dashcam brands. Both brands come from China and produce high-quality car cameras which is affordable and reliable.
Customers are often split between buying DDPai and 70mai's dash cam because both brands have similar pricing and received many positive reviews.
Let's find out more about these two companies and the differences in their car cameras.
---
Company Background

DDPai was founded in 2013 with a mission to enrich road travel and lifestyles with innovative technology. Their global user base exceeds 5 million. And it is known that they help big motor brands like Geely, Volvo, Xpeng, and Shouqi to improve car travelling experience.

The 70mai company was founded in 2016 and focuses on smart car accessories to make travelling more convenient and safer. Xiaomi has invested in 70mai since its inception and it is a strategic partner of the company. 
70mai has a wider range of products which include jump starter power bank, air compressor, car vacuum, tyre pressure sensor and more.
---
Hardware Comparison
There are a lot of similarities between the materials and build quality of both brands as well. Dash cams from both manufacturers use Sony IMX sensor cameras to achieve high-quality video recording.
Check out the available dash cam model from both brands.
| | | | |
| --- | --- | --- | --- |
| DDPai | Price | 70mai | Price |
| DDPai Mini 1060P | RM139 | 70mai Dash Cam 1S | RM155 |
| Mola N3 1600P | RM219 | 70mai M300 | RM175 |
| | | 70mai A400 | RM235 |
| Z40 1944P | RM249 | Dash Cam Lite 2 | RM239 |
| DDPai Mini 5 2160P | RM599 | A500S 2160P | RM349 |
| Dash Cam X2S Pro | RM899 | M500 | RM419 |
| DDPai X5 Pro | RM1n799 | A800S | RM484 |
Software Comparison
In terms of smartphone apps and ease of connection, the 70mai app is slightly better than DDPai. DDPai has an average rating of 2.3 stars, while 70mai has an average rating of 3.1 stars.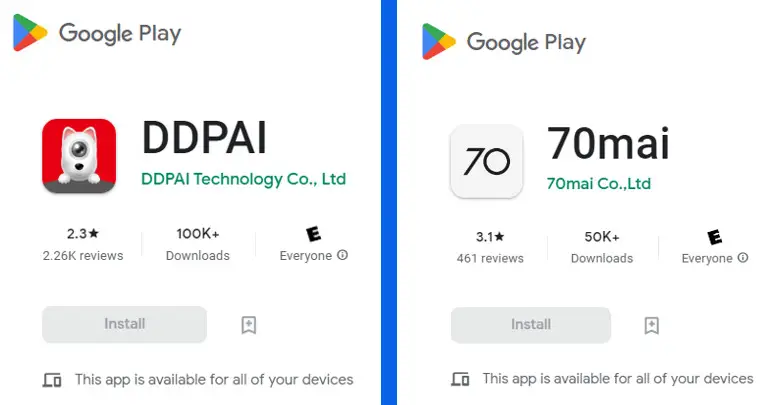 The 70mai app interface is better because it is more simple and cleaner. And users claim that it is fairly easy to connect a smartphone to the dash cam using the app.
---
Difference between DDPai vs 70mai dash cam
The main difference between DDPai vs 70mai dash cams is that DDPai uses supercapacitors for power, while 70mai uses lithium-ion batteries.
Pros and cons of battery vs supercapacitor
| | | |
| --- | --- | --- |
| | Battery dashcam | Supercapacitor dashcam |
| Charge holding capacity | 200 to 500mAh | – |
| Discharge | Short recording after engine stop | Stop recording almost immediately after engine stop |
| Temperature sensitivity | Poor | Very Good |
| Lifespan | Short | Long |
| Cost | Average | Slightly higher |
| | | |
---
DDPai Z40 vs 70mai A500s

The DDPai Z40 and the 70mai A500S can both capture video in 1944p during the day as well as at night. 
These dash cams are dual-channel car cameras that can capture both front and rear views of your car at all times. There is no doubt that they can meet the needs of average users.
Of these two,70mai A500s is the cheaper option because it is selling at only RM369 complete with a rear camera and GPS module built-in.
DDPai Z40 with rear camera non-GPS version is selling at RM329. And the GPS version is selling at RM469. This makes the DDPai Z40 RM100 more expensive than 70mai A500s.
However, DDPai is powered by supercapacitors, which are more durable and last longer, especially in hot climates like Malaysia. The 70mai A500s, on the other hand, is powered by lithium batteries that can overheat and expand under high temperatures.
And Time Lapse parking mode of DDPai Z40 is great for capturing non-impact incidents too.
So both dash cams have their respective pros and con. You will have to judge which feature is your priority. 
Based on my personal experience, GPS and ADAS features on car cameras are not critical. The ADAS accuracy is also a bit lacking, so they're not really that helpful.
Comparing DDPai Z40 vs 70mai A500s
| | | |
| --- | --- | --- |
| Feature | DDPai Z40 | 70mai A500s |
| Video resolution | 2592×1944 | 2592×1944 |
| Field of view | 140 degree | 140 degree |
| Display screen | 2.0 inch | 2.0 inch |
| Image sensor | Sony IMX335 | Sony IMX335 |
| Aperture | F1.8 | F1.8 |
| Battery | Supercapacitor | Li-ion, 500mAh |
| Dual channel recording | Yes | Yes |
| Built-in GPS | Separate GPS module | Yes |
| ADAS | Yes | Yes |
| Parking mode | Time Lapse | Upon Impact |
| APP control | Yes | Yes |
---
DDPai Z40 vs 70mai A800s

Compared to the DDPai Z40, the 70mai A800s has better overall hardware. It is more expensive too, selling at RM544.
But the higher price point is well worth the money if you're looking for a dash cam with the best recording quality. The 70mai A800s can record in true 4K resolution, 3840×2160p.
Furthermore, the 70mai A800s is equipped with a more powerful image sensor, the Sony IMX415.
But there's one catch with 70mai A800s. It has been reported that the 70mai A800s has problem reading microSD cards, and this also occurs with good microSD cards like the Samsung EVO Plus.
Comparing DDPai Z40 vs 70mai A800s
| | | |
| --- | --- | --- |
| Feature | DDPai Z40 | 70mai A500s |
| Video resolution | 2592×1944 | 3840×2160 |
| Field of view | 140 degree | 140 degree |
| Display screen | 2.0 inch | 3.0 inch |
| Image sensor | Sony IMX335 | Sony IMX415 |
| Aperture | F1.8 | F1.8 |
| Battery | Supercapacitor | Li-ion, 500mAh |
| Dual channel recording | Yes | Yes |
| Built-in GPS | Separate GPS module | Yes |
| ADAS | Yes | Yes |
| Parking mode | Time Lapse | Upon Impact |
| APP control | Yes | Yes |
Buy DDPai Z40, 70mai A500S, 70mai A800S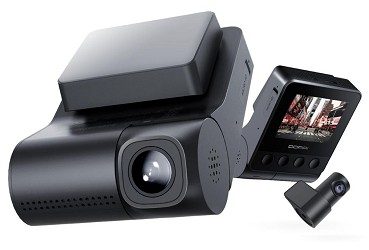 Buy DDPai Z40 on Lazada Buy DDPai Z40 on Shopee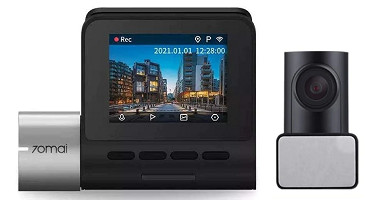 Buy 70mai A500s on Lazada Buy 70mai A500s on Shopee