What is Finory? Finory is a free smartphone app that helps users to manage credit card effortlessly.
Finory is one impressive app that actually delivers the results in helping me to organize my credit cards more efficiently. It is easily one of my top 10 most useful app in my smartphone now as it saves me so much time and troubles.
And I am eager to share with you all.
Jump to:
Credit card summary
Payment reminder
Credit card transaction detail report
Spending categorization (coming soon)
Basic setup (manual update)
Pro setup (fully automated credit card statement update)
Finory features
Credit cards summary
With Finory, you can have a bird's eye view for all your credit cards outstanding payment and payment due date.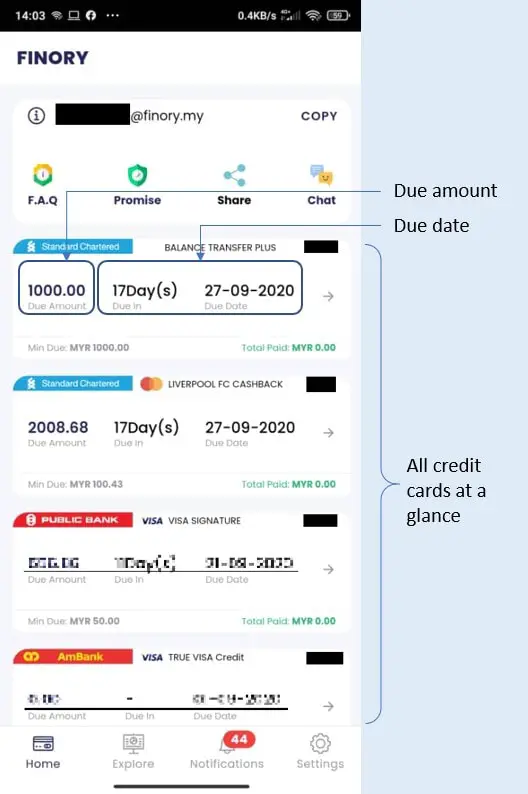 As you can see above, the app interface is squeaky clean and minimalistic. All credit cards information is displayed accordingly in a stylish way. It doesn't feel like it is developed by a small team of Malaysians indie developers (only 4 members to be exact).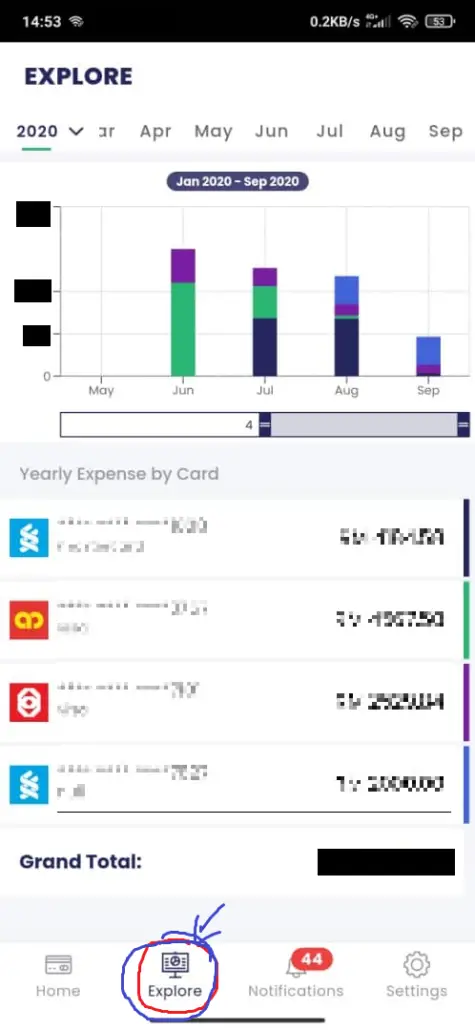 In the "Explore" tab, users can quickly
Trace back the monthly expenses
Get an overall view of cumulative spending for each card individually.
Payment reminder
If you have read my cashback credit card guide before, you should know that I used multiple credit card in combination of BigPay card to maximize my cashback.
I used to set a payment reminder on the Calendar app on my smartphone. It works to remind me to pay the bill.
However, digging out the credit card statement to check how much I actually need to pay for each credit card (6-7 credit cards) can be quite frustrating sometimes.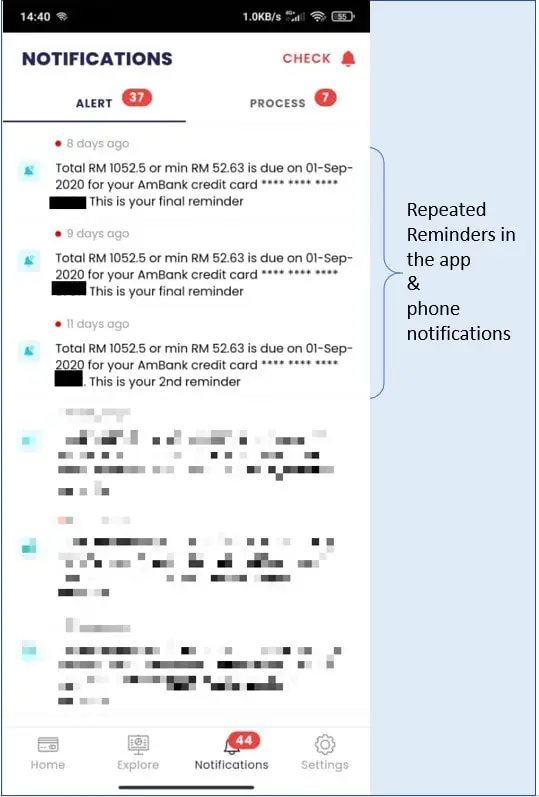 With Finory app, it automatically reminds me when to pay it and indicates actual due amount is super helpful in streamlining my card payment process.
For those who are forgetful, it actually reminds the users before payment due date as much as three times. It is almost impossible to miss another credit card payment. (except that you don't have the money to pay for it, haha. )
Credit card transaction detail reports
Can I check my monthly credit card statement with detail transcation breakdown? No problem at all.
With just a single tap on each card, you can check your detail transaction reports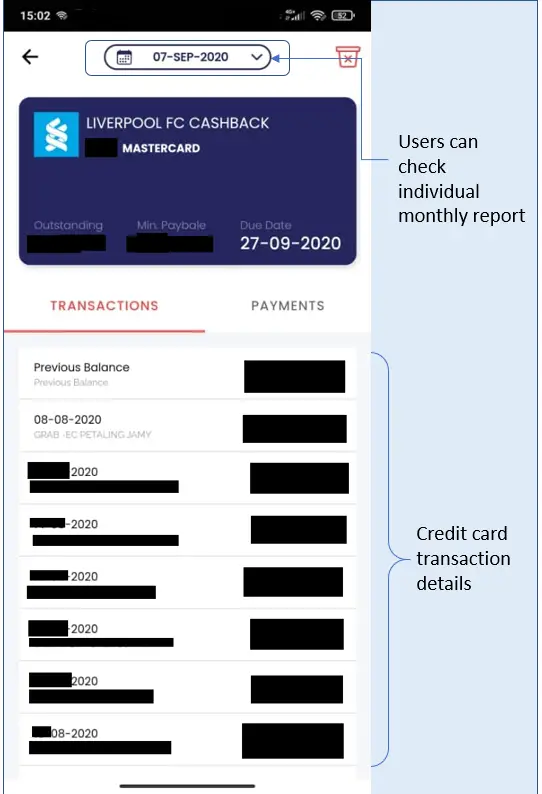 You can finally say goodbye to your good old Excel spreadsheet that has to manually update again and again. This is such a huge time saver!
It would be superb if Finory team add an Excel report download in the future.
Spending categorization (coming soon)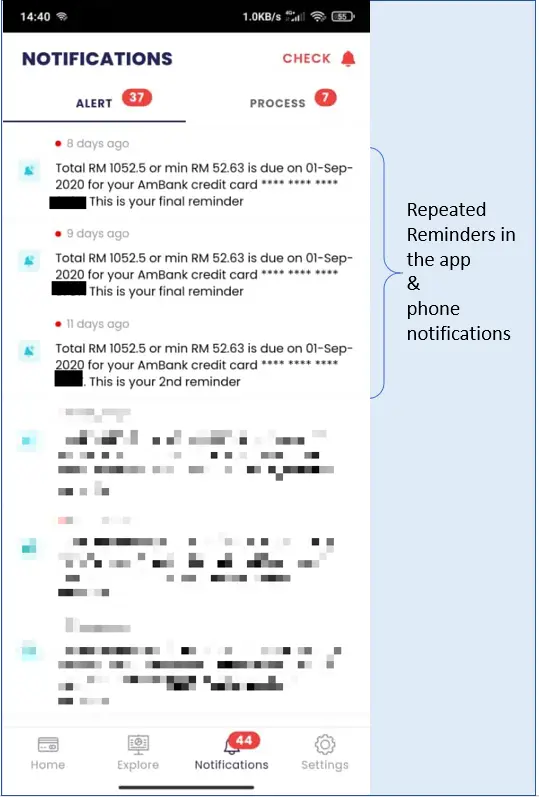 Finory app developer is working on transaction categorization. The app will sort your spending according to each expense category so users can have a better idea on their spending behaviour.
On top of that, Finory has a continuous development plan down the road. They plan to add annual fee date reminder, cashback points record, bank promotion and more.
How to use Finory
So, you wonder how can you start using this awesome app?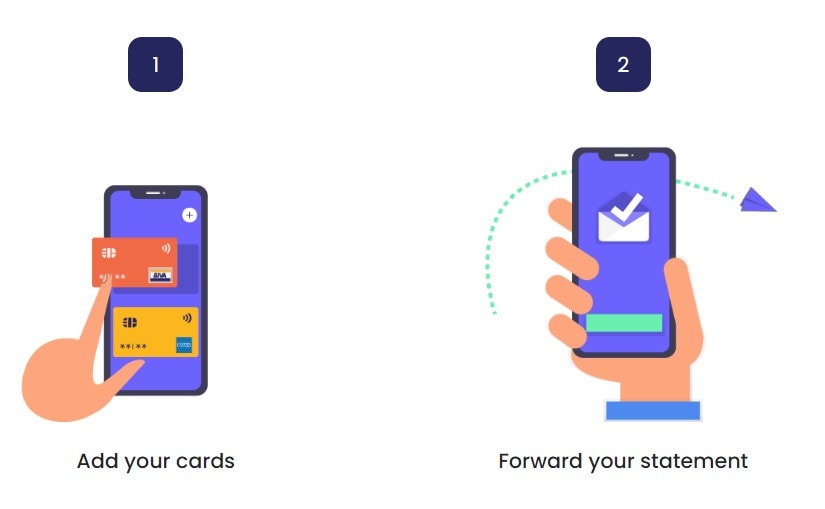 Download the app in Google Playstore and Apple Appstore. And don't skip my guides below.
Basic setup
Ok, you have the app now. The setup is really simple. You can do it without reading my guidelines =).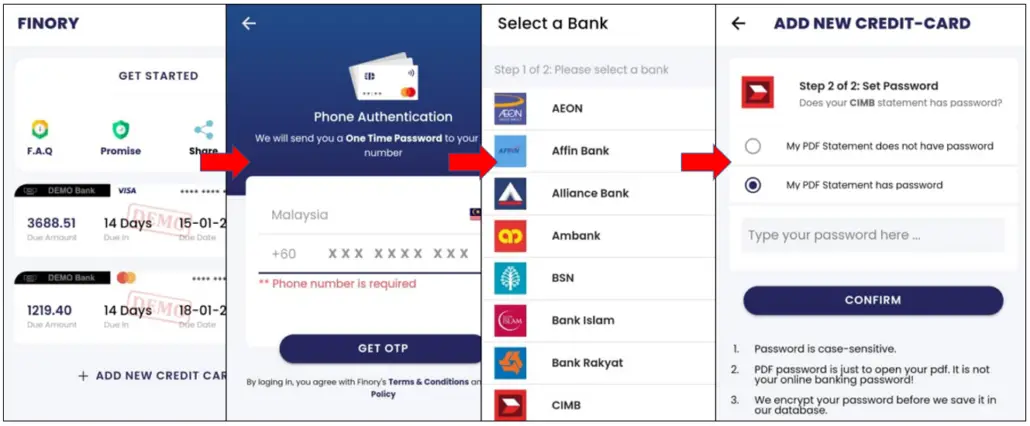 Step 1 – Tap on "ADD NEW CREDIT CARD"
Step 2 – Key in your phone number
Step 3 – Select a bank
Step 4 – Put in your statement password (if it has one)
Step 5 – Forward your credit card statement to "01XXXXXXXX@finory.my" (a dedicated email created for users to send the statement)
Step 6 – Wait for the magical moment that your credit card information appears on Finory
It is that simple and easy with Finory.
Pro setup (fully automated credit card statement update)
Here's the thing. The basic setup is great but it is only semi-automated because you still need to manually send all the credit card statement manually.
It's 2020. There must be way to get these things done fully automated. And I have found the most simple way to do it for free!
1. Create a new Microsoft Outlook Email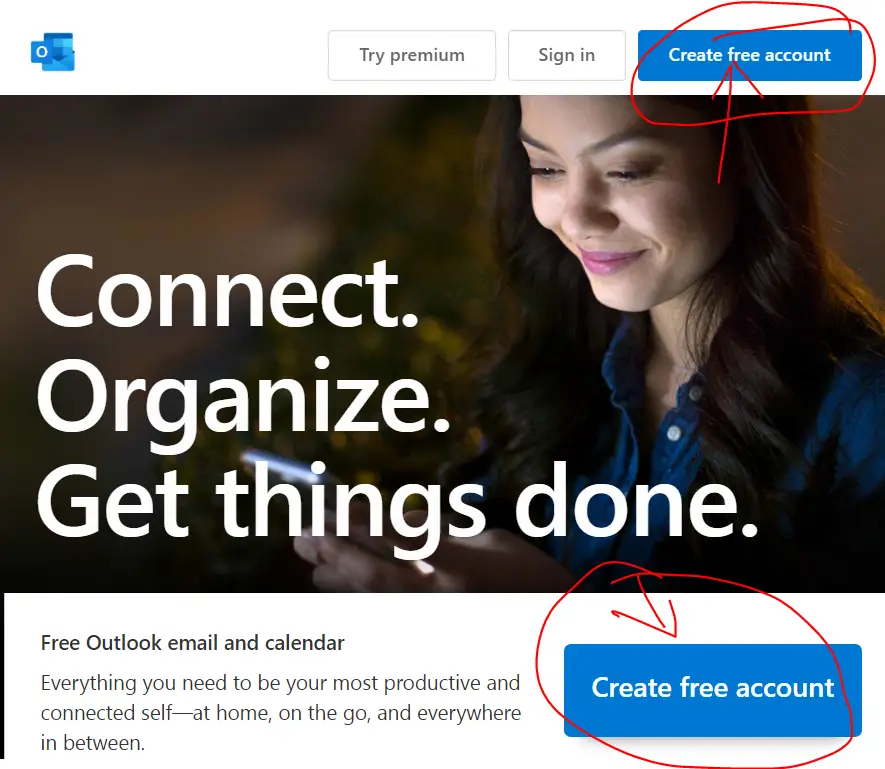 You need a create a brand new Microsoft Outlook email account to get this thing to work. The purpose of having Microsoft Outlook email is that it is the only Email I found that can do email forwarding without confirmation from the recipient email address.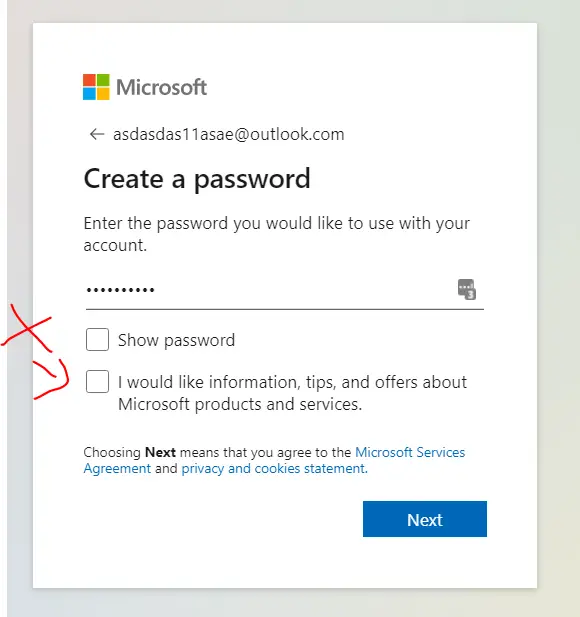 Important!! Remember to untick the box for "information, tips and offers about Microsoft products and services".
After created your Outlook email, jump back to your gmail to do further settings.
2. Set up auto forwarding from Gmail to Outlook Email.

In this case, I assume that your Gmail account is the one which going to receive pdf statement from banks.
Click on the setting icon > then click on see all settings
Select "Forwarding and POP/IMAP"
Click add a forwarding address > Key in the Outlook Email address that you have just registered.
Then, a confirmation email will be sent to your Outlook Email
Go back to the Outlook Email account and click on the confirmation link.
3. Disable forwarding in Gmail
Just now you have set up Email forwarding. Now Gmail will forward every single incoming Email to the new Outlook Email even if you have set up filter.
We don't want it to forward every single email. So, We need to disable it.

In your Gmail accounts, go to settings, inside the "forwarding and POP/IMAP" tab, click on disable forwarding.
4. Set up filters in Gmail
Now you need to set up filter so that Gmail only forward credit card statement to the Outlook Email account.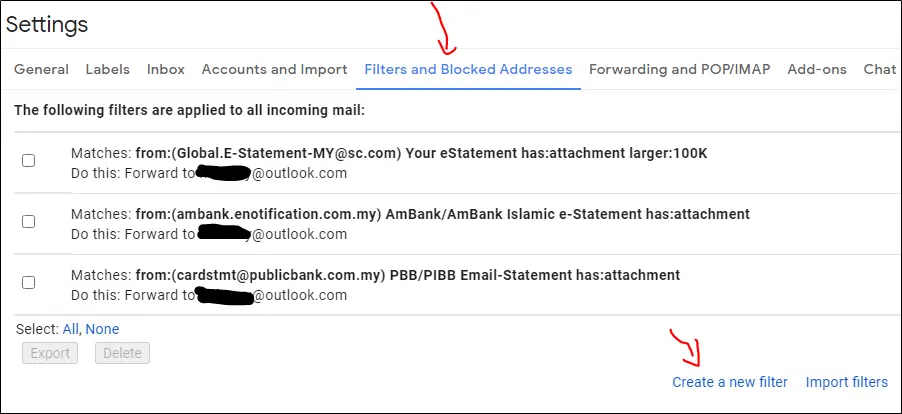 Go to settings, click the "Filters and and Blocked Addresses" tab, click create a new filter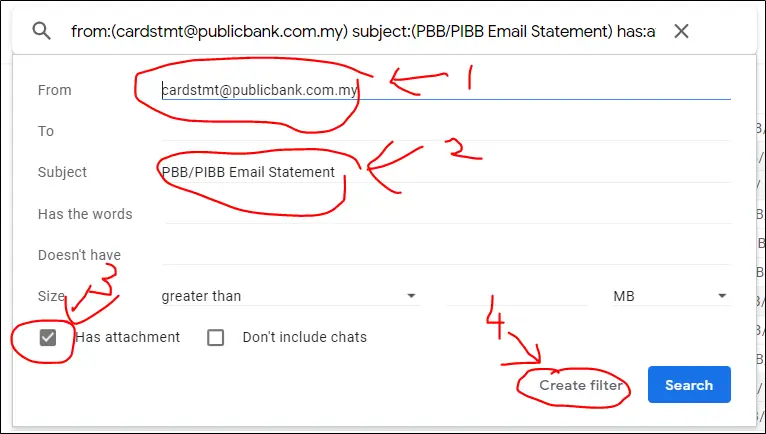 In this example, I will use Public bank credit card statement to demonstrate how I setup the filter.
Put in the Public bank email which sends you the statement
Key in keywords that must appear in the subject line
Tick "Has attachment"
Click "Create filter"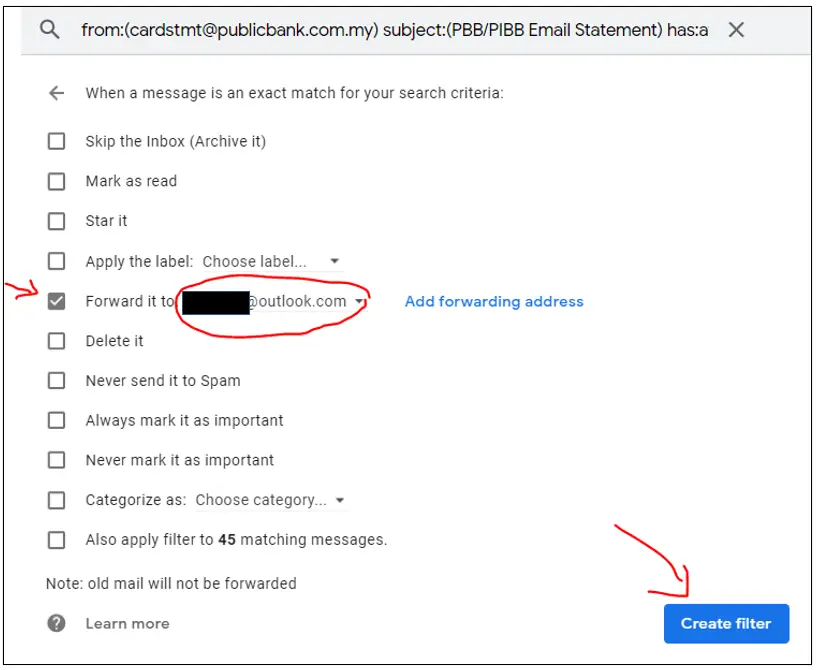 After you click creat filter, Gmail will show the filter results for you to check whether the results match with what you need.
Then tick the box on "Forward it to:", select your Outlook email account and click "Create filter".
5. Setup auto-forwarding from Outlook Email to @finory.my email account
If you have done all the steps above, you're only one step away from full handsfree credit card management automation mode.

Jump right in to your Outlook Email account.
Go to the upper right corner of your outlook email, click on the setting icon,
Type "forwarding" in the search box and press Enter.
Then tick the enable forwarding box
Key in your @finory.my email address
6. Sit back and relax
After you complete all the steps, the Outlook Email should forward every incoming email to @finory.my automatically. Since this is a brand new Outlook account, there shouldn't be any promotional or junk mail that comes into it.
Make sure you don't sign up any email newsletter in order to keep the Outlook account fully dedicated to Finory.
One Last Thing: Privacy Concern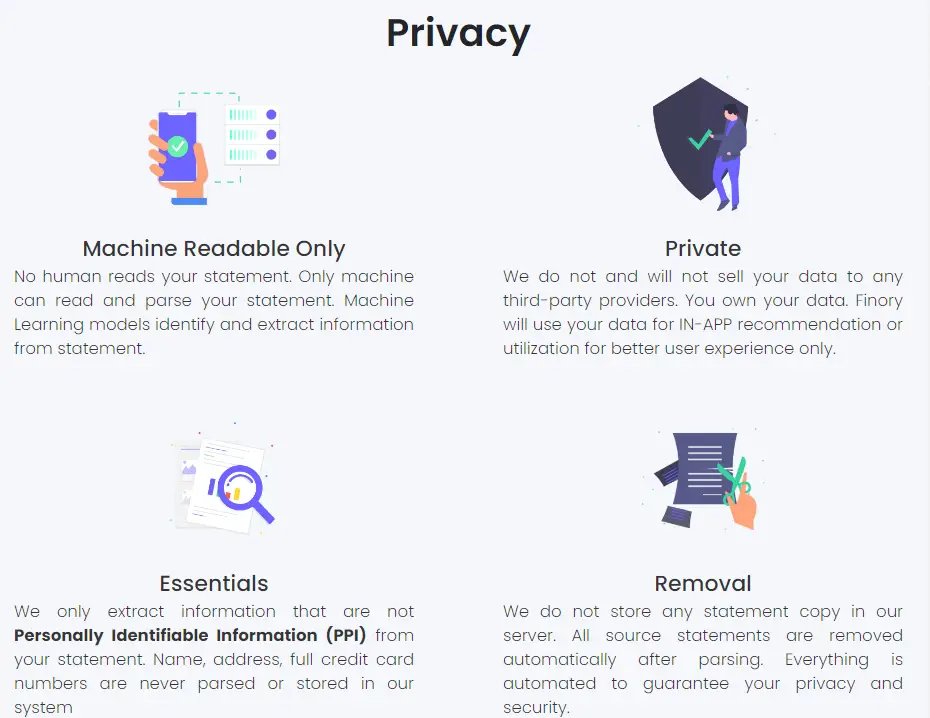 These are the four promises from Finory team which the statement sent are only read by machine and removed instantaneously upon retrieval of the information. And all data is private and no personally identifiable information will be extracted.
To be honest, I was sceptical at first too. But I don't have any dodgy or hideous information to hide too. And I also wish to support local indie developer too.
Congratulation!
You have ascended to become a smart reader of TechRakyat! So remember to follow our Facebook page and website for meaningful product reviews, tips and lifehacks.
And here's a shout out to any Malaysia indie developer. If you have any interesting app that would like me to review, let's connect. There's no guarantee that I would do a full write-up unless it is interesting or truly useful.