A washing machine is a home appliance that makes our lives easier. But, there are times when washing your clothes does not make them clean enough.
You can consider using a front load washing machine if you're currently using a top load washing machine.
The tumbling motion of front-loading washing machines allows them to wash clothes more effectively. They are also more energy and water-efficient.
What are the best front load washing machines in Malaysia?
The best front load washing machine is LG FV1450S4W because it has a 10.5kg washing capacity, Direct Drive Inverter, Steam Wash and also built-in WiFi.
It is the most versatile and feature-rich front load washing machine you can buy in Malaysia now. 
Here, we have handpicked the top 6 best front load washing machines in Malaysia as below:
---
1. LG FV1450S4W
Best Front Load Washing Machine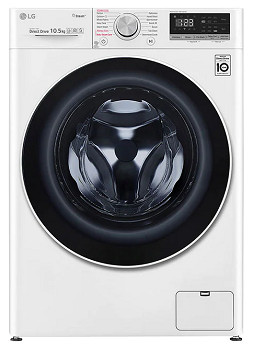 Best deal on Lazada Best deal on Shopee
The LG FV1450S4W is my top choice among front load washers, as it can wash all types of fabrics. You can also control it remotely via its built-in WiFi.
LG FV1450S4W washing machines specifications:
Inverter Direct Drive
Built-in WiFi
Steam wash function
Variable temperature wash
10.5kg max wash capacity
The LG FV1450S4W uses an AI Direct-Drive motor, which is the most energy-efficient and quiet. It can detect the weight and softness of fabric automatically to wash it with the optimal washing motion.
This LG washing machine is great for removing tough stains on clothes. For stubborn oily stains, you can use its 40, 60, and 95 degrees Celsius hot washing cycle.
There is also a Steam Wash feature that removes any allergens from clothing, bedding, and baby wear.
The LG FV1450S4W has a stainless steel tub with a stainless steel lifter, which makes it more hygienic than the usual stainless steel tub with a plastic lifter.
---
2. Panasonic NA-V10FX2LMY
Best Energy Savings Front Load Washer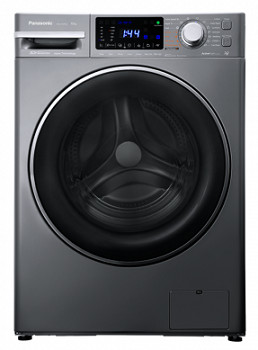 Best deal on Lazada Best deal on Shopee
Panasonic NA-V10FX2LMY is one of the most energy-efficient front load inverter washing machines. With its Blue AG+ technology, it can eliminate bacteria in the laundry using only the cold water washing cycle.
Panasonic NA-V10FX2LMY specifications:
Blue AG+ eliminate bacteria
3Di Inverter
Fast Washing in 38 minutes
Active Foam System
10kg capacity
1400rpm
14 washing cycles
The Panasonic Blue Ag+ technology removes 99.99% of bacteria during a wash cycle by using combinations of UV light and Ag ions. It is certified by Japan Food Research Laboratories.
If you're not convinced, you can use the StainMaster+ washing cycle, it uses hot water up to 90 ºC to wash away stubborn stains, bacteria, allergens and dust mites.
The Panasonic NA-V10FX2LMY is equipped with a 3Di inverter. It has smart sensors that detect laundry conditions and adjust the washing patterns accordingly.
Thus, your laundry can be done faster, more efficiently, and with less water and energy.
There are a total of 14 washing cycles including Normal, Daily Wash, Synthetics, Delicates, Bedding, Cotton, Tub Clean, Active Speed 38, Rapid 15, Soak and StainMaster+.
With such a wide variety of washing cycles, you just have to choose the right washing cycles to avoid unnecessary damage to your clothes.
This Panasonic NA-V10FX2LMY front load washing machine is sleek, dark silver and worth its price. The only downside is it doesn't come with WiFi.
---
3. Toshiba BH85S2M 
Best Budget Front Load Washing Machine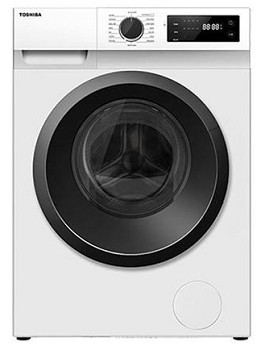 Best deal on Lazada Best deal on Shopee
Toshiba BH85S2M is one of the most affordable budget inverter front load washing machines in Malaysia. The unit scores a 5-star energy rating and a 3-star water efficiency rating, which can save you plenty in utility fees over time.
Toshiba BH85S2M washing machine specifications:
Inverter motor
5-star energy saving, 3-star water efficiency
15 minutes quick wash
7.5kg max wash capacity
The Toshiba BH85S2M is powered by an inverter motor which is silent, durable and power efficient.
With Toshiba's "Greatwaves" technology, your laundry will come out fresh and clean.
It offers as many as 16 different washing cycles for different washing needs. After washing, your clothes will be fairly dry due to the maximum spin speed of 1200 RPM.
Overall, the Toshiba BH85S2M washing machine is a solid performer for less than RM1000.
---
4. Electrolux EWF7524D3WB
Compact Front Load Washing Machine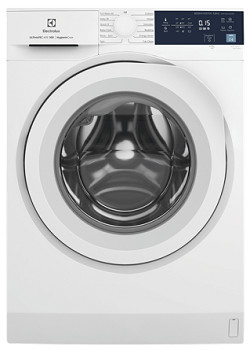 Best deal on Lazada Best deal on Shopee
The Electrolux EWF7524D3WB is a compact washing machine that is ideal for smaller homes. It is only 600m wide and comes with a 7.5kg washing capacity.
Electrolux EWF7524D3WB washing machine specifications:
HygienicCare removes 99.9% of allergens and germs
Variable temperature wash
AddClothes function
Woolmark certified
EcoInverter
7.5kg washing capacity
This Electrolux Ultimate Care 300 front load washing machine has an all-white minimalist design.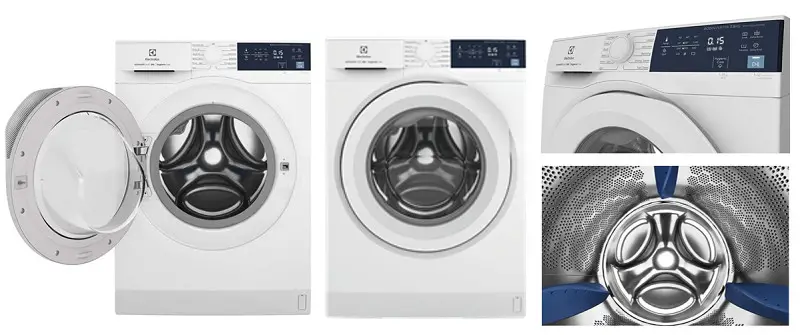 It is equipped with an EcoInverter motor which is 50% more efficient than the traditional model. And this motor is guaranteed for 10 years.
The Electrolux EWF7524D3WB has a few unique features, most notably the Woolmark certification. You can wash delicate garments with it, even if the label says hand wash only.
Other useful features include the easy AddClothes function where users can pause the wash to add forgotten items within the first 15 minutes of wash cycles.
There are 12 washing cycles on this Electrolux washing machine: Full Wash, Daily 39, Quick 15, Baby Care, Rinse + Spin, Spin, Cotton, Mixed, Delicates, Bedding, Energy Saver, and Tub Clean.
The best part? It has 6 temperature settings so all your clothes are washed with the right care. This is a great feature for an Electrolux EWF7524D3WB washing machine that costs less than RM2000.
For those who need higher washing capacity, you can check out the Electrolux EWF8024D3WB.
---
5. Haier HWM100-FD10829
Best Front Load Washing Machine Under RM1500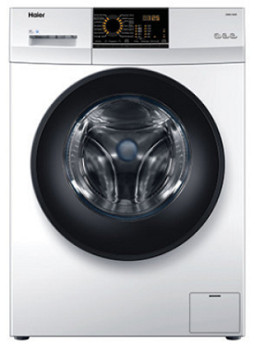 Best deal on Lazada Best deal on Shopee
If large capacity high-end washing machines are too expensive for you, the Haier HWM100-FD10829 will most likely fit your needs. It has a 10kg washing capacity and is powered by a BLDC Inverter Motor.
Haier HWM100-FD10829 washing machine specifications:
Super Inverter motor
Hijab Mode
LED flat panel
Anti-bacterial treatment
High-Temperature Wash
12 years motor warranty
10kg wash capacity
You can find all the bells and whistles of a premium washing machine in this big Haier washing machine.
It has an LED control panel, high-temperature wash, anti-bacterial treatment, and a Hijab Mode that is specifically designed for Malaysians.
The Haier HWM100-FD10829 has 14 washing cycles including Duvet, Disinfection, Bedding and Hygiene. The Hygiene Wash Cycle uses hot water of 90 degrees Celsius to clean and disinfect clothes.
Besides, Haier washing machines come with a very generous warranty. It has 2 years general warranty, 3 years for PCB and 12 years for motor.
---
6. Midea MF100D85B
Cheap Inverter Front Load Washer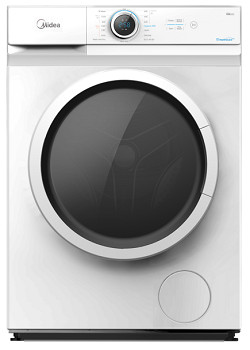 Best deal on Lazada Best deal on Shopee
The Midea MF100D85B is the best budget 2-in-1 washing machine. It is an 8.5/5kg washer dryer. 
Midea MF100D85B washing machine specifications:
Inverter Quattro Motor
Combo wash and dry
Midea Health Guard
Auto Clean cycle
Steam Clean
Lunar Dial Knobs
The Midea MF100D85B is a 2-in-1 washer dryer whereas the Midea MF100W85B is an inverter front load washing machine. The Midea 2-in-1 washer dryer is a better deal because it is only slightly more expensive but comes with dryer functions.
Midea MF100D85B is selling for less than RM2,000 while most combo washer-dryers in Malaysia cost more than RM3,000.
It is powered by a Midea Inverter Quattro motor, which is 70% more energy-efficient and 10% quieter than a non-inverter motor model.
The display screen is embedded in the dial knob called Lunar Dial. The washing machines have a sleek, futuristic design. 
The Steam Clean feature is an additional feature on Midea MF100D85B that is not available on MF100W85B. It uses steam to sterilize clothing.
This Midea washer dryer's biggest downside is its very small drying capacity of 5 kg. 
Midea MF100D85B washing machine comes with 2 years full warranty, 3 years control panel and 10 years motor warranty.
---
Competitions
LG WD-MD8000WM Review
LG WD-MD8000WM is a budget inverter washing machine. It uses Inverter Direct Drive Technology and LG 6 motion washing pattern. There are 10 different washing cycles including Baby Care, Wool and Quick 30.
This is an affordable LG inverter washing machine for those who don't need features like Steam and Hot Wash.
BOSCH WAJ20180SG Review
Bosch Series 4 Washing Machines are powered by EcoSilence Inverter Motor. It has an 8kg washing capacity and 1000 maximum RPM. 
This Bosch washing machine has pressure and water pressure sensors that measure the washing to automatically adjust the water intake level to save water.
Customers commended that it is a solid and powerful washing machine that operates silently.
Hisense WFQY1114VJMT Review
Hisense WFQY1114VJMT is slightly more expensive than HWM100-FD10829. But the Hisense washing has a larger capacity and a sleeker Titanium Grey Design.
HiSense Pure Jet Series Washing Machines use high-pressure water jets to thoroughly remove tough stains.
And it has an Allergy Steam wash cycle that can kill 99.9% of bacteria in the laundry.
The Hisense WFQY1114VJMT is recommended for its affordable price, versatile wash cycle and long motor warranty period,
Toshiba TW-BH95M4M Review
The Toshiba TW-BH95M4M is a front load washing machine with 1200 maximum RPM. Different from the budget inverter model, this washing machine has temperature settings for different washing cycles.
This washing machine is eligible for an RM200 SPAN Jimat Air 1.0 voucher, making it a very good deal.
---
Front Load Washing Machine FAQ
Is the front load washing machine better than the top load washing machine?
Front load washing machines are better than top load washing machines in terms of washing performance and efficiency. They use less electricity and water for similar washing capacity.
You also can stack the dryer machine on top of the front load washing machine, so it is better for small houses.
However, they are more susceptible to mildew issues around the door gasket.
What to look for when buying a front load washing machine?
Factors to consider when buying front load washing in Malaysia are the capacity, inverter motor, wash cycles, and smart features.
Is the front load washing machine difficult to maintain?
Yes, front load washing is more difficult to maintain compared to front load washing machines. Regular cleaning is recommended for front-load washers to keep them smelling fresh and prevent mold growth.
Do front load washers clean well?
Yes, front load washers have tumbling motions that wash better and at the same time can be gentler on the laundry. It is proven to be less wear on fabrics by washing with front load washers.
Do front load washing machines leak?
No, a good front load washing machine with a proper rubber seal will not have leaking. Most modern front load washers are designed to avoid these leaks.