ILIFE A11 is the latest version of the best-selling robot vacuum ILIFE A10. This upgrade includes an improved navigation system, a better mapping feature, and a more effective mopping.
It has been two weeks since I have been using the ILIFE A11 Robot Vacuum and I would like to share both its pros and cons with you in this review.
---
Overview ILIFE A11 Robot Vacuum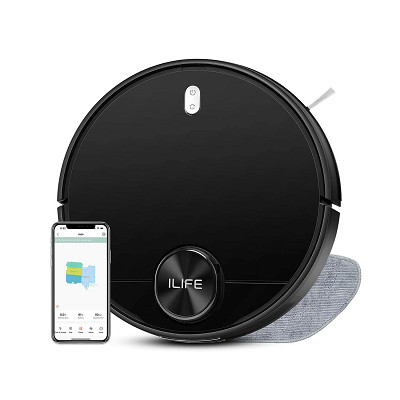 The ILIFE  A11 is a smart 2-in-1 robot vacuum with mopping function. It is equipped with LDS Lidar Navigation and an advanced mapping system.
The A11 is going for only RM1299 in upcoming 9.9 sales. And furthermore, you can enjoy coin cashback and many other benefits during the promotion.
Pros:
Lidar Sensor
Good and reliable navigation
Multi-floor mapping
Quiet with Eco Mode
Powerful suction
Remote control
Cons:
No carpet detection
Lack of mop lifting feature
Apps can be improved
Best deal on Lazada Best deal on Shopee
---
What's in the box?
ILIFE A11 LiDAR robot vacuum
Remote control
Mop attachment (that holds the mopping cloth)
Extra mopping cloth
Charging dock
Power adapter
Cleaning tool/blade
2-in-one dustbin and water tank 
Dustbin
2 side brushes
Rubber roller
---
Design
The ILIFE A11 comes in a sleek black colour that never goes out of style. It is a round-shaped robot vacuum, similar to 90% of robot vacuums on the market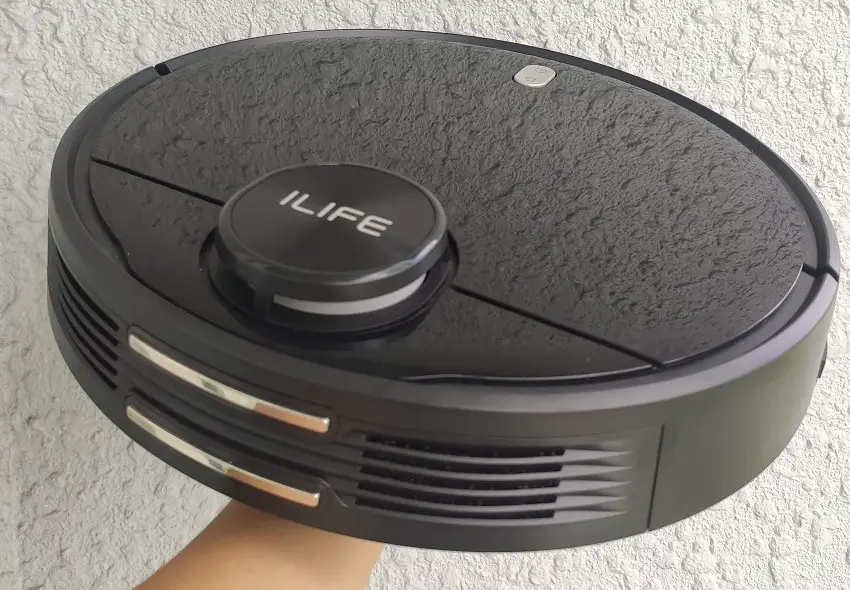 There are only two physical control buttons on the ILIFE A11: Power and Home Button. 
Flipping up the reflective black lid, you can see a handy cleaning blade attached to the top of the robot. And you can also see the vacuum box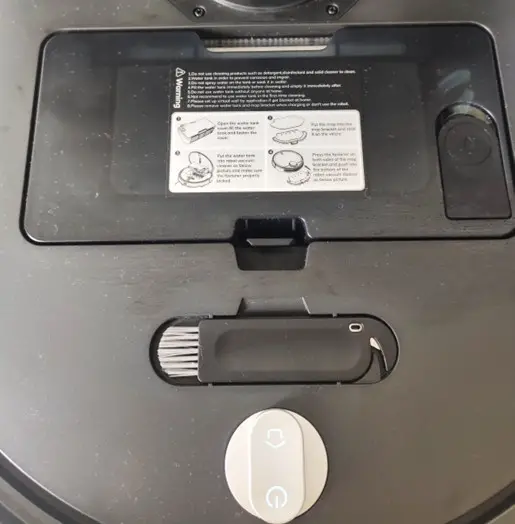 Checking out the bottom of ILIFE A11, you will notice that it uses only one side brush instead of two. It has two big rubberized wheels that allow it to climb up thick rug without any issues.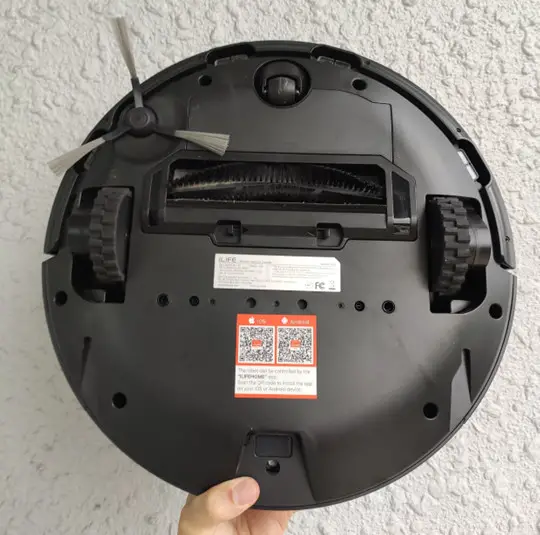 By default, it is installed with a brush roll with both rubber fins and bristles. It is the best type of brush roller for hard rollers. In the package, it has prepared a full rubber roller to be used on a full carpet floor.
Performance 
My current house has both hardwood and tile floors. Unfortunately, I don't have carpets or rugs at home. So, I don't have the means to try out the ILIFE A11's vacuum performance on the carpet.
Luckily, most Malaysian homes should be the same as mine whereas most parts of our home are hard floors. So, my experience should be applicable to many.
ILIFE A11 delivers highly satisfactory cleaning performance, especially when using the "scrubbing mode". With ILIFE A11's 'scrubbing' mode, it will vacuum and mop simultaneously.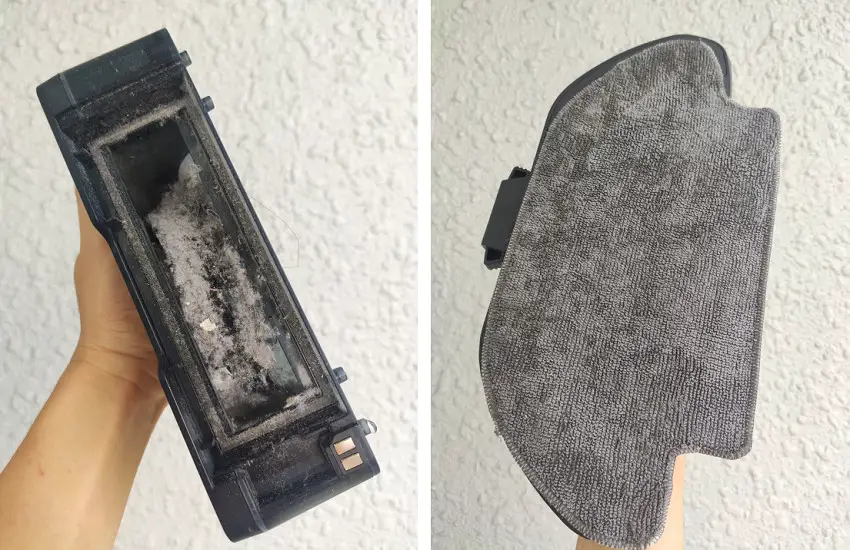 Scrubbing mode uses a Y-shaped mopping path to remove stains, which is more effective due to the robot's back-and-forth motion.
The mopping attachment is very basic and there are no ultrasonic vibrations like the Roborock S7, but it is good enough to pick up fine dust and leave the floor looking shiny.
Its only drawback is that it cannot lift up the mop like its competitors at a higher price. 
So, if you have a large area of rug or carpet, you will need to block out the carpet area as a go zone. 
Or you will need to stick to the vacuum-only mode which defeats the purpose of using a 2-in-1 robot vacuum.
The ILIFE A11 does a wonderful job of removing hair from the floor. But, similar to any robot vacuums, there will be hair tangled around the brush roller.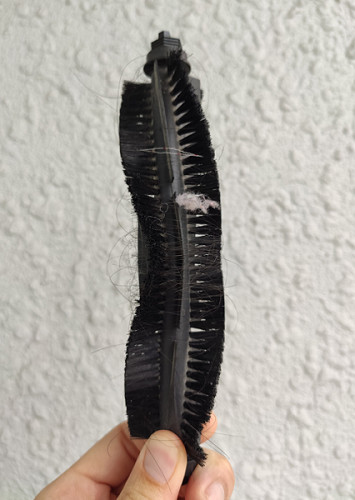 You can easily remove them with the cleaning tool that comes along with the robot. You can easily remove hair by slotting in the part with the hook and blade tip and scouring along the roller.
App, Navigation and Mapping
As mentioned in our previous robot vacuum review, Smart navigation and mapping is the heart of a robot vacuum. It is pointless to have the strongest robot vacuum in the room if it runs mindlessly and cannot effectively clean.
App
In order to set up the ILIFE A11 properly, we will need a WiFi connection as well as a smartphone. 
Scan the QR code on the robot and install the ILIFEHOME app. The app is available for both iOS and Android devices. 
Then, just follow the steps in the app to set up the robot vacuum accordingly. It's fairly easy for me to connect the robot to my home WiFi.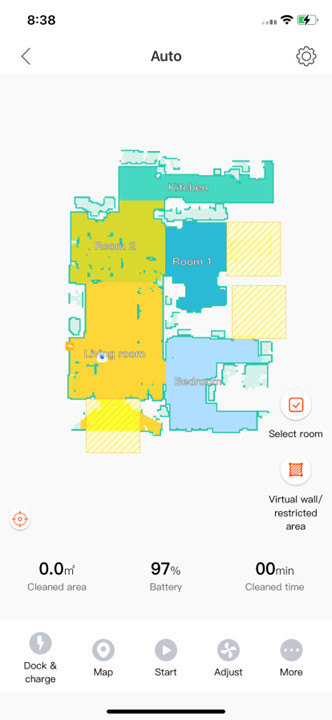 After connecting the ILIFE A11 to WiFi, we can control it through the smartphone.
Navigation
In order to produce the first map, the ILIFE A11 must run around the entire house as well as perform one vacuuming session. 
The robot covered an area of 84.7 square meters in approximately 108 minutes. After that, the regular vacuum session will be much faster.
Whenever you start the robot vacuum, it first goes around the edge of the room to determine if there are any new obstacles there. Then, it will start cleaning in a systemic pattern to clean up the room.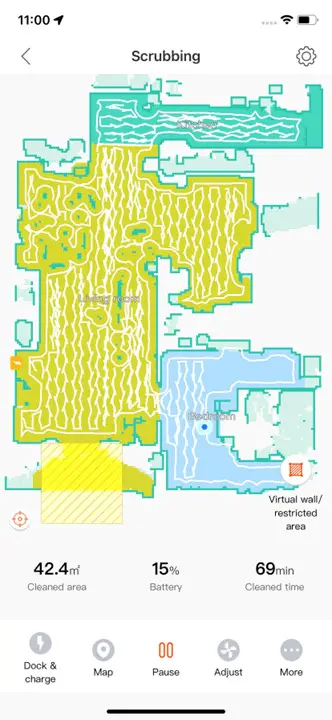 Unfortunately, the ILIFE A11 does not support object recognition. This is a feature on models like the iRobot Roomba j7+ that can prevent pet waste, cable on the floor, and so on.
In fairness, ILIFE A11 is only selling for RM1299 during the promotion period like 9.9, whereas iRobot Roomba j7+ sells for RM5,400.
To ensure that ILIFE A11 can clean the floor without any hiccups, it is best to keep the floor free of small items and cables. The A11 could end up stuck or tripped by these small items.
Mapping
Even though the user interface of the ILIFEHOME app isn't the best, you can use it to control all the features on the ILIFE A11.
To explore and learn what the various buttons do, there is a bit of a learning curve. After you get the hang of it, you can do things like split and merge rooms, set no-go zones, rename areas, etc.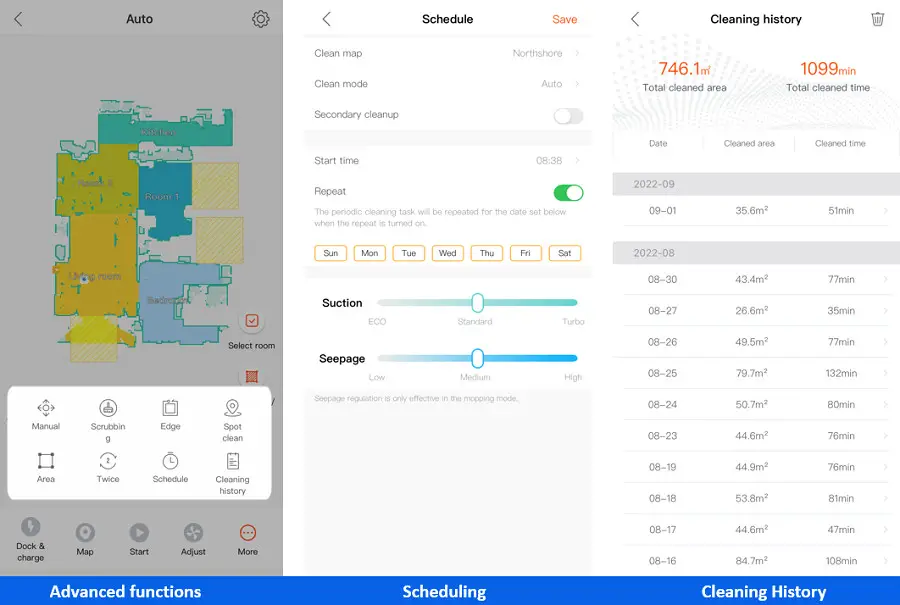 The scheduling features are pretty neat. Users can schedule exactly what time each room should be cleaned and determine its desired cleaning mode.
ILIFE claims that A11 can store multiple levels of maps, but I'm not able to try it out since I'm staying in a condominium right now.
Pro tips:
You should define/split each area properly, especially if you have an open floor plan so that the robot can clean more effectively.
Noise
I love the fact that I can use the Eco Mode when I use this vacuum on hard floors. This mode uses the lowest suction power, yet still leaves the floors clean. 
And most importantly, Eco mode has a very low noise level. There will be less distraction, especially if you're having a conversation with someone else and you won't be interrupted.
Based on personal experience, the noise produced during Eco Mode and Standard Mode is acceptable. However, using Turbo mode will make the noise a bit more disturbing.
As measured by moderncastle.com, it is reported that the noise is as low as 45 dB from about 3' away. For Turbo Mode, it is 53 dB, a huge 8 dB difference. (The sound energy doubles with a 3dB increase)
---
Verdict
For those with all hard floors in their home, the ILIFE A11 makes an excellent robot vacuum because it cleans exceptionally well. A big battery and good eco mode performance allow the robot vacuum to easily clean 2000+ square feet.
Due to the current fierce competition in the robot vacuum market, there are many options at this price point. To decide which model is best for you, you will need to consider your personal preferences.
Overall, the A11 is undoubtedly the best ILIFE robot vacuum among its many models in Malaysia now.  For those with a budget below RM1,000, you can check out the iLIFE A10S which only sells for RM799, exclusively on Lazada during 9.9, which is a great value buy.