Podcasting and live streaming are becoming more popular than ever in Asia, including Malaysia. Regardless of whether you are planning to stream games, shoutcast e-sport events, or sell on Facebook Live, it is important to start with the right set-up.
Investing in the right audio tools is essential to set you apart from other streamers/podcasters.
Maonocaster Lite S1 is a low-cost solution for recording podcasts, live streaming, Zoom and Clubhouse session, and more.
---
Overview of Maonocaster Lite AM200-S1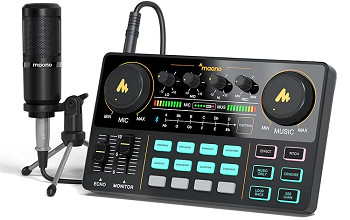 The Maonocaster Lite AU-AM200-S1 bundle is a great all-in-one podcasting kit for beginners. It is compatible with all types of operating systems: Windows, macOS, iOS, and Android.
The best part of this system is that it streamlines the complicated process of setting up XLR microphones, which can be intimidating to beginners.
Best deal on Lazada (MY) Best deal on Shopee (MY)
Best deal on Lazada (SG) Best deal on Shopee (SG)
---
What's in the box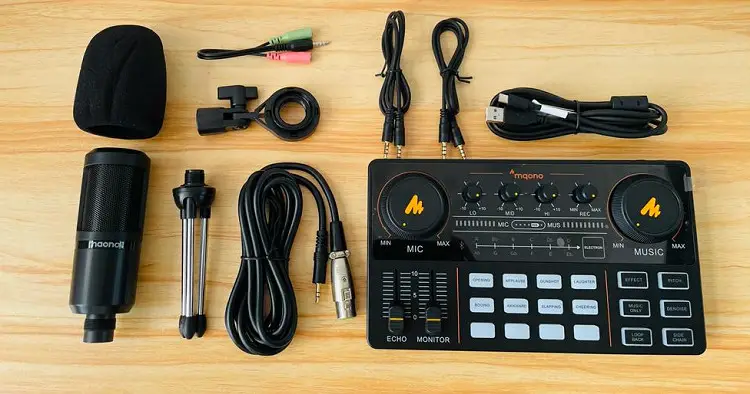 Two of the main devices included in the box are the AM200 audio interface (aka. Maonocaster Lite) and the PM360TR Cardioid XLR Microphone. It has also included one basic earphone.
The AM200 Maonocaster is an all-in-one console that functions as an audio interface, mixing station, as well as a mini recording studio.
In the box you will find accessories below:
USB-A to USB-C cable
USB-C converter cable
Basic microphone tripod
Muffle (Windscreen for condenser mic)
Headphone jack splitter
XLR to 3.5mm cable
two 3.5mm TRRS cables
---
Maonocaster Lite AU-AM200S1 Specs
Data transmission: USB-C
Frequency Response: 20Hz – 20kHz
Headset Output Power: 35MW, 32 ohms
Sample Rate: 48kHz/16bit
Battery: 1,200mAh 
Connectivity: USB-C for power, 3x Podcast output, 1x normal output, 1x music input, and 1x headset 3.5mm port, 2x microphone input, Bluetooth 5.0
Dimensions: 240 x 140 x 42 mm
Price: 350 MYR/155 SGD* 
*Price as of the date of time of publishing
---
Features and performance
Maonocaster Lite
I'm a total beginner when it comes to podcast equipment audio setup. However, you can be assured that Maonocaster Lite is very easy to set up as long as you follow the instructions. 
How to use Maonocaster Lite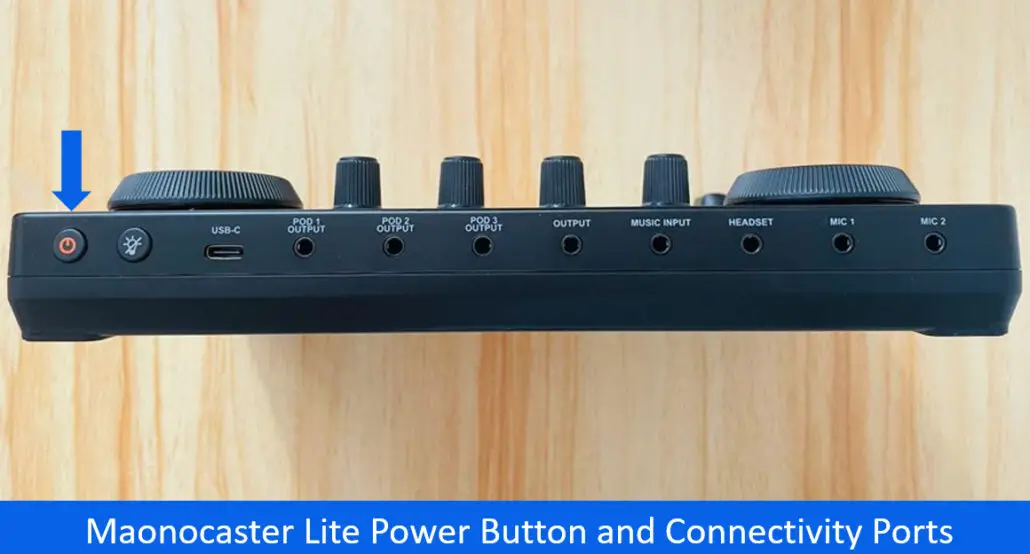 On Maonocaster Lite, press and hold the power button at the upper right corner until the console light up.
Connect the Maonocaster Lite to your laptop using the USB-A to USB-C cable. 
Connect the PM360TR XLR microphone (or any XLR microphone which does not require phantom power) to the microphone jack on Maonocaster Lite.  
After that, you should plug in a monitoring headset.
Remember to turn up your microphone volume, music volume, and monitoring volume. (Note: This is important as the default volume could be too low to hear anything at all) 
Ta-da, you're ready to record your first podcast.
Typically, to set up a podcast, you'll need everything from an audio interface, mixer, booster/gainer, and more. Gathering all the matching devices can be very challenging and expensive as well.
Maonocaster's main function is to help users get started with podcasting in the simplest way possible. Maono"caster" is named for this reason. 
Maonocaster Lite offers all of these features in a compact module that gives beginners the opportunity to dive right in and start podcasting. 
Best of all, it doesn't burn a hole in your wallet!
Let us dive deeper into the full features of Maonocaster Lite.
It has two 3.5mm microphone jack so you can conveniently set up an in-person interview podcast where you and the interviewee can use a separate microphone.
It has one port for monitoring headphones, one music input, one audio output and three POD outputs. 
All three POD outputs can be connected to different smartphones, tablets, or any smart devices at the same time. That way, you can live stream simultaneously to multiple platforms.
Also, it has a keypad LED brightness adjustment button that provides 6 brightness levels.
Maonocaster Lite also incorporates analog mixer features such as low, mid, and high-frequency range knobs. 
There are also slider controls (crossfaders) for the Echo effect and headphone monitoring.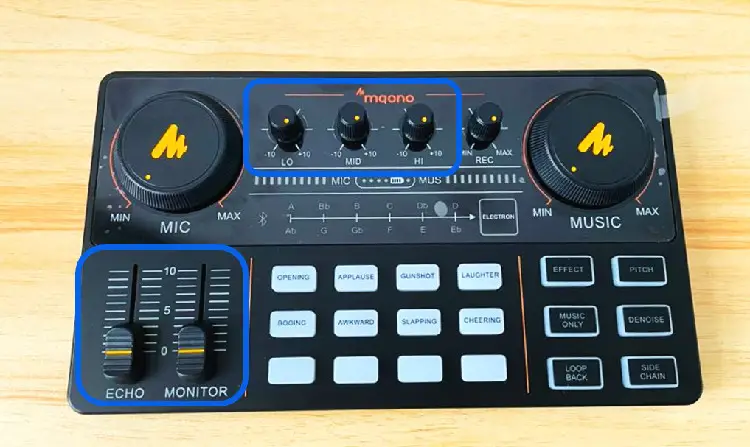 Other than that, you get the 8 most common sound effects frequently used in podcasts or Livestream, including applause, laughter, booing, cheering, awkward, slapping cheering, opening, gunshots.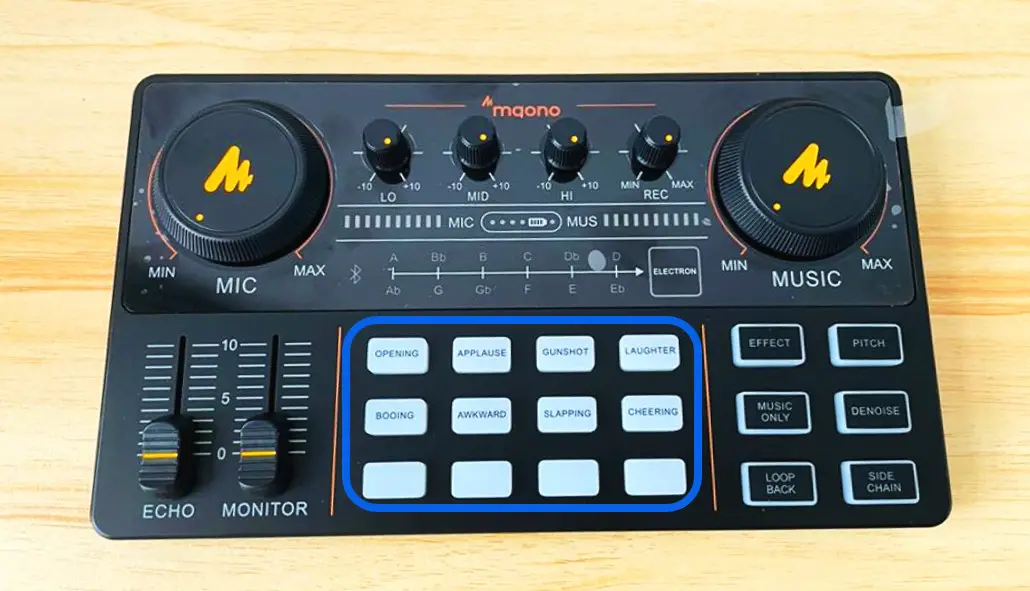 In addition, there are four blank sound effect buttons so you can create your own custom sound effect. 
You can use them for your podcast intro music, pre-recorded advertisement session, and many more.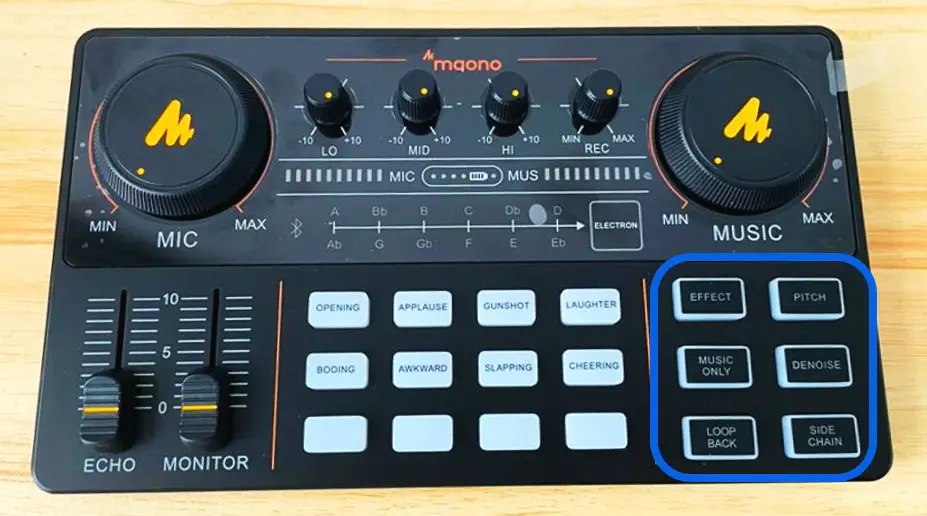 The most notable feature of Maonocaster Lite is its Vocal Effects function. There are six different built-in vocal effects, which includes: 
Effect – 4 different modes corresponding to different light colours: original mode (pink), professional mode (red), pop mode (blue), and yelling mode (green)
Pitch – 4 dfferents modes including male to female, female to male, girlish voice and robotic voice.
Music Only – it removes human voice in the background music.
Denoise – suppress ambient sound from the microphone input. Although other reviewers have negative feedback about this feature, I find it quite effective at denoising.
Loop Back – user can control whether the background music be route to the live stream 
Side chain – the podcast console automatically lowers the volume of background music and highlights the voice of the human from the microphone input.
My favourite functions are the "loop back" and "side chain".
"Loop back" lets you route background music from your computer or any connected device to the live stream.
Beginners often have trouble figuring out how to do a "loop back" on Twitch streaming, where this is especially useful
The "side chain" feature will automatically lower the volume of background music and highlight the voice of users.
It provides a seamless transition if you need to talk while playing music to your audience.
In my opinion, these two features alone make purchasing the Maonocaster Lite worth your money.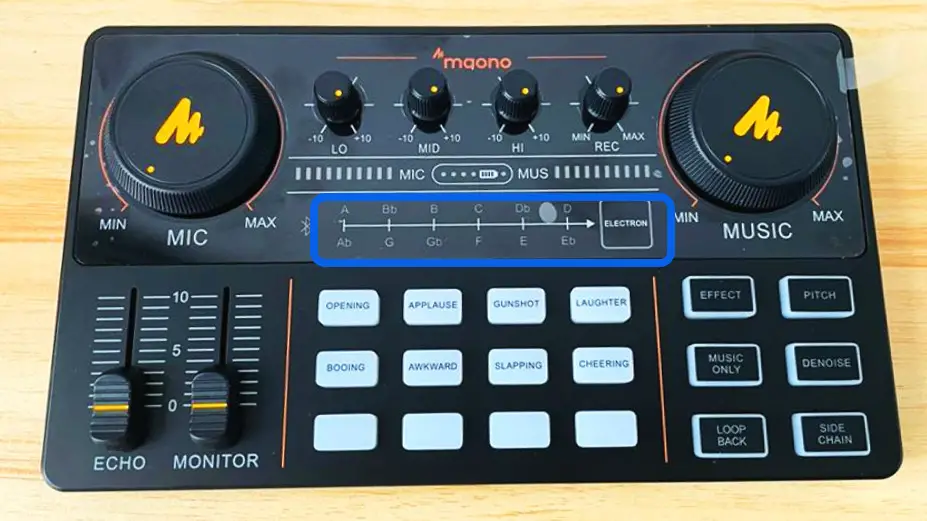 The Maonocaster Lite also has an "electron" feature. In simpler terms, this is an autotune button.
It can autotune your voice automatically based on your preferred keynotes. It may not be really practical for average podcaster/streamers. But this feature is definitely fun to have.
Battery
Maonocaster Lite AM200 comes with a built-in battery of 1200mAh. It means that Maonocaster Lite can work independently without a PC/laptop.
Bluetooth Connectivity
Maonocaster Lite comes with a Bluetooth feature too. It allows you to stream music from any smart device without having to use a wired connection.
---
Microphone
PM360TR XLR microphone is an entry-level XLR cardioid microphone. This microphone looks pretty well-made but it is very light. 
The mic stand that comes with it isn't very sturdy.  While it holds the microphone up, it can easily be moved or disrupted. I strongly recommend using a boom mic arm with it.
First of all, bear in mind that the microphone included in the AU-AM200-S1 is a basic starter podcast microphone. 
If the user speaks from a distance from the microphone, the microphone may not be able to capture the sound as clearly and loudly.
When you put on the windscreen(muffle) for the microphone, its volume gain will need to be further adjusted to match the desired volume.
Check out the audio samples comparisons below that show the audio quality difference between different devices as being compared to PM360TR XLR.
Audio sample – PM360TR. 100% Mic Volume, With Windscreen, No Post-Processing
Audio sample – Xiaomi Notebook laptop, No Post-Processing
As you can hear that the audio recorded by the PM360TR microphone is clear but the volume is slightly lower. The microphone windscreen certainly adds to this reduction.
As far as I can tell, the denoise feature is working marvelously in my case. It effectively suppresses lots of ambient noise and even eliminates "hissing" noise.
In contrast, you can hear that the audio sample from the built-in microphone on my laptop is louder, but it comes with a lot of background noise and echoes.
If you desire a more professional microphone, Maono offers an upgraded bundle, the AM200-S4 which comes with better and more powerful XLR microphones,
Alternatively, you can buy from any other branded XLR microphone which does not require phantom power.
(Note: Maonocaster Lite AM200 does not support phantom power. Only Maonocaster AU-AM100 support phantom power.)
If you are an advanced user, you can also do post-processing on the recorded audio to make it louder.
---
Conclusion
For less than RM350/SGD155, the Maonocaster Lite AU-AM200 is a very solid audio console for beginner podcasters. It saves you much trouble to kickstart your podcast and live streaming journey. You can also check out a detailed Maonocaster Lite video review on YouTube.
Although the PM360TR microphone bundled with S1 is only a starter mic, the recorded quality is still miles ahead of the built-in microphone on any laptop or gaming headphones.
Excellent audio quality makes a significant difference in making your video stand out.