If you wish to become a successful streamer or vlogger, investing in the right microphone is probably the best decision you can make. 
Video recording quality is usually not a big issue now thanks to the smartphone camera which rivals the DSLR camera. However, there is still a large gap in terms of sound recording quality by smartphones compared to a dedicated microphone.
For a microphone, you can spend as little as RM50 or as much as RM1,500. In this article, I will focus mostly on affordable microphones priced below RM300, as they should be sufficient for basic to advanced recording needs. And it is also suited better for Malaysians' average spending power.
Here's my list of the 11 best microphones for streaming, vlog, Youtube and podcasting.
Top 11 best microphones in Malaysia
| Model | Type | Polar Pattern | Connection | Frequency |
| --- | --- | --- | --- | --- |
| Blue Yeti | Condenser | 4 Patterns | USB | 20Hz-20KHz |
| Maono PM422 | Condenser | Cardioid | USB | 20Hz-20KHz |
| FIFINE K678 | Condenser | Cardioid | USB | 40Hz-20kHz |
| Razer Seiren Mini | Condenser | Super-Cardioid | USB | 20Hz-20kHz |
| Samson Q2U | Dynamic | Cardioid | USB,XLR | 50Hz-15kHz |
| Rode Wireless Go 2 | Condenser | Omnidirectional | USB-C,TRS | 50Hz-20kHz |
| BOYA BY-WM4 Pro K2 | Condenser | Omnidirectional | TRS, TRRS | 35Hz-14kHz |
| FIFINE K037B | Condenser | Cardioid | TS | 50Hz-16kHz |
| Boya BY-M1 | Condenser | Omnidirectional | TRRS | 65Hz-18kHz |
| Rode VideoMicro | Condenser | Cardioid | TRS | 100Hz-20kHz |
| Boya BY-MM1 | Condenser | Cardioid | TRS, TRRS | 35Hz-18kHz |
---
Best Microphone for YouTube
Blue Yeti

Best deal on Lazada Best deal on Shopee
Blue Yeti Features:
4 recording patterns
Instant mute and microphone gain control
Flexible stand
Zero-latency headphone jack
USB output
Frequency response: 20Hz-20KHz
Max SPL: 120dB
Blue Yeti's Positive Review:
I'm Speechless. How perfect everything is about this mic and really has a very good sound quality. I already tested this mic and, it is sooooooo tingly and crisp
Blue Yeti's Negative Review:
-Nil-
Some would say Blue Yeti is overrated. But you can't deny that it is the industry benchmark for the highest quality microphone in its price range. Almost every tech review site and YouTuber endorses its quality, including MKBHD, LinusTechTips, Wired.com, PopularMechanics.com, thenextweb and more.
The Blue Yeti is the best USB microphone for most people because it records smooth, crisp and clear vocals without any complicated setup. If you want to get better quality than what Blue Yeti offers, you would need to deal with a more complicated setup and work with an additional audio interface. 
Other than that, the Blue Yeti comes with a tri-capsule array for recording in almost any situation. It can be changed to cardioid mode, stereo mode, omnidirectional mode, bidirectional mode. Such versatility and simplicity make it the favourite amongst professional streamers and Youtubers.
Check out the detailed review of Blue Yeti.
Other than that, Blue Yeti offers plenty of convenience with its useful onboard buttons on the mic. It has an instant-mute button, a volume control dial and a mode switching button. 
The built-in mic stand props up the microphone to a suitable height from the desk to record your voice clearly. And it can be easily pivoted to any angle you wish that gives you the best recording result.
Blue Yeti is the best microphone under RM1000 which is perfect for vocals, podcasts, interviews, gaming, youtube, video conference, ASMR and more. There are other variations for Blue Yeti which you might want to check out too. There are the Blue Yeti X, Blue Yeti Nano, and Blue Yeti Pro for different recording situations.
---
Best Overall Microphone
Maono PM422 USB Consdenser Microphone
Best deal on Lazada MY Best deal on Lazada SG
The Maono PM422 is the best overall USB cardioid microphone in Malaysia & Singapore, and also my personal favourite on the list. 
For only RM300 or SGD100, you get a complete setup to start your podcasting or live streaming right away, you get a USB condenser microphone, shock mount, microphone boom arm, pop filter and a windscreen!
This is simply a rare deal that you would find nowhere else.
Maono PM422 features:
Professional sound chipset 192kHz/24 bit
Easy one-touch mute button
Built-in volume gain control knob
Plug and play USB connection
Included sturdy microphone boom arm
Included pop filter and windscreen
Included shock mount
Direct headphone jack for zero latency monitoring
Frequency response: 20Hz-20kHz
Maono PM422 positive reviews:
Good quality product for the price. Fast delivery. My voice sounds way better now than using a regular headset mic. Recommended for budget sound and voice recording, gaming, streaming.
Overall quality was good. capai expectation. better than i m using my rode camera mic to be pc mic
Maono PM422 negative review:
-None-
Check out a detailed video review on Maono PM422 below:
The Maono PM422 is a USB microphone that you can directly connect to your PC/laptop and start recording right away. It is plug and plays and there's no need for an XLR cable or audio interface.
First, the Maono PM422 comes in a full metal casing that feels solid and premium on hand. It has a very convenient mic gain button on it, as well as a quick mute button that is even more handy than the control on Blue Yeti.

The LED indicator is a nice touch that gives you a clear idea of the microphone's status.
In terms of recording audio quality, Maono PM422 audio is top-notch, clear and crisp, without much post-editing or tuning required. The volume gain is very good too.
There are good reasons that some customers claim it is better than the likes of Rode mic, Blue Snowball
Furthermore, it has a headphone jack port, so you plug in monitoring headphones directly to monitor your recording with zero latency.
In addition to the microphone itself, Maono included a shock mount, mic boom arm, windscreen and pop filter inside the box. I would say it is an absolute steal.
Overall, the Maono PM422 is easily the best USB microphone for money available on Shopee Malaysia and Singapore. This microphone is suitable for beginners, amateurs, and even professionals. There isn't a single close competitor who offers this much value at the same price.
---
Best Value Microphone For Streaming
FIFINE K678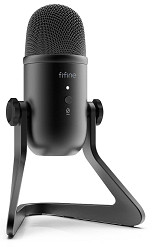 Best deal on Lazada Best deal on Shopee
FIFINE K678 Features:
Control knobs for both microphone and headset volumes.
3.5mm stereo headphone output
USB output
Cardioid condenser mic
Durable metal construction
Frequency response: 40Hz-20kHz
FIFINE K678's Positive Review:
Good value for money, really good material, item work perfectly fine…easy to use, comes with a manual
The mic quality is really good for its price! Clear and crisp sounds. I love it! 
FIFINE K678's Negative Review:
-Nil
If you want to save some money but still wanna achieve a similar recording quality of Blue Yeti, FIFINE K678 is a great alternative. It is also a USB condenser microphone like the Blue Yeti.
The biggest difference between this FIFINE mic and Blue Yeti is that it only supports cardioid mode recording. The cardioid mode is also known as a unidirectional pattern which only records sound that is directly in front of the microphone.

You can check the sound quality comparison for FIFINE K678 vs Blue Yeti in the video below.
The FIFINE K678 has all the important control on the mic itself. It has a dedicated dial for microphone and headphone level control. There is a quick mute button with an LED indicator which green indicates it is turned on and red for muted.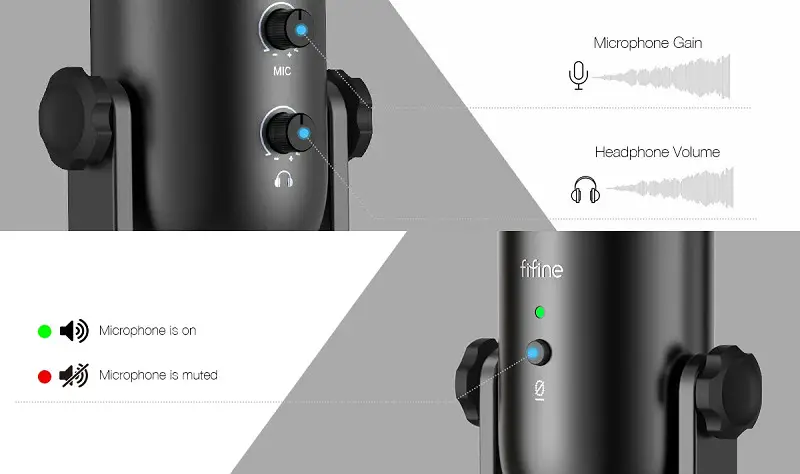 It also has a headphone jack port at the bottom of the mic so you can listen to the audio directly without any latency.
FIFINE K678 is great for streaming, podcasting and voice over. And most importantly, it costs less than half of the price of Blue Yeti. Throw in one of our webcam top picks, the Ausdom AW651 should set your game streaming career on the right path.
---
Best Budget Mini Microphone For Streaming 
Razer Seiren Mini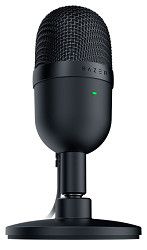 Best deal on Lazada Best deal on Shopee
Razer Seiren Mini Features:
Supercardioid pickup pattern
14mm condenser capsule
Heavy Duty Tiling stand
Built-in shock mount
Razer Seiren Mini's Positive Review:
barang semua berfungsi dengan baik. sound mic mmg sedap. berbaloi beli . cuma kalau nk pakai mic stand agak sedih sebab kena beli adapter male and female adapter untuk pakai mic seiren mini dekat mic stand. yang lain tak ada masalah.
Razer Seiren Mini's Negative Review:
-Nil-
Razer Seiren Mini is another microphone that is very popular among YouTubers and Twitch streamers. 
Seiren Mini is a Supercardioid condenser microphone. It means that the pickup angle is narrower and focuses more on your voice. It will have less ambient noise and background sounds. You will hear fewer keyboard typing and mouse clicks with the Seiren Mini.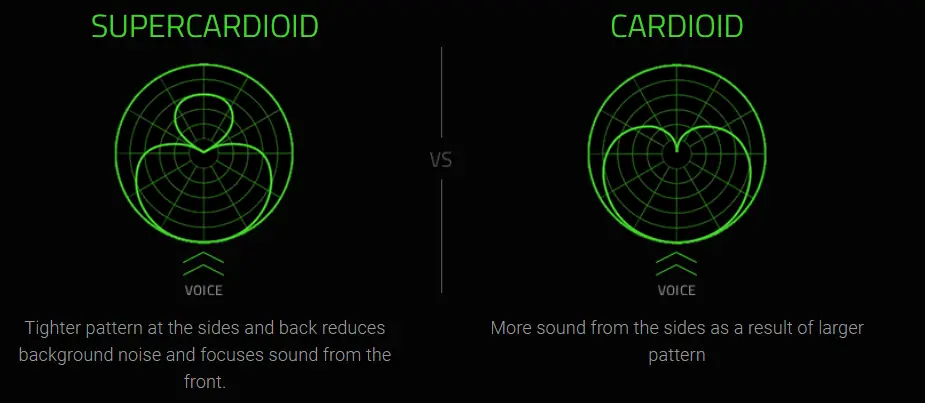 Photo via Razer.com
The Razer Seiren Mini is very compact, small and short. If you put it on the desk, it actually doesn't perform that well in picking up your voice as it is too far away. It is best to use it along with a budget boom arm.
As you bring the microphone closer to the source, it captures awesome sound with deep lows and crisp highs.
The video below compares the Seiren Mini to Seiren X and FIFINE K678.
The Seiren Mini sounds great, but it is far too basic for me.
You get no volume control dial, no mute button, nor a headphone jack. The cable connects permanently to the microphone, making it hard to replace if the connection cable is damaged.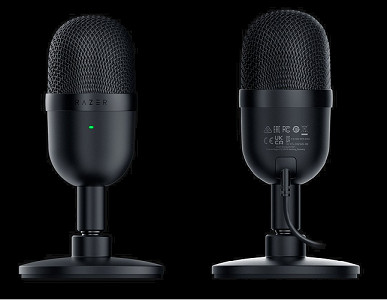 Buy the Razer Seiren Mini if you want a precise and good quality microphone that costs under RM200. If you're willing to spend a bit more and don't mind getting a less popular brand, then FIFINE K678 is a better option.
---
Best Dynamic Microphone For Podcast
Samson Q2U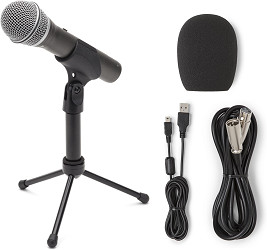 Best deal on Lazada Best deal on Shopee
Samson Q2U Features:
USB/XLR handheld dynamic microphone
1/8″ stereo headphone output
Polar pattern: cardioid
Include foam windscreen, mic tripod, USB cable, XLR cable
Samson Q2U's Positive Review:
Very nice quality. Heavier than expected. All beginner content creators should consider this it's better and third the price of the blue yeti. Addon with a neewer arm should be good enough 
I am so so so happy with this product. I ordered a Rode micro video mic and Samson at the same time. received the Rode 1st – tried it and was so disappointed with the audio quality. Severe humming sound in the background. Then I received Samson – that was god send. Amazing device. Perfecto
Samson Q2U's Negative Review:
-Nil-
Samson Q2U is a dynamic cardioid microphone. It looks like the normal microphone you often see on stage. It is suitable to be used at home, studio, mobile recording and even stage performance.
The Samson Q2U features USB and XLR outputs, which is why it is very versatile. With the USB output, you can plug and play on any computer with the Q2U microphone. An XLR output is used for analogue audio, which can be connected to an audio interface or mixer.
Q2U is very generous in that it provides all the necessary accessories for you to start recording right away. There are a foam windscreen, tripod, mic clip, USB cable, and XLR cable in the package.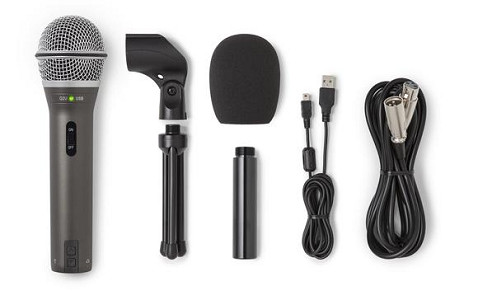 The Q2U's cardioid polar pattern is great for podcasting. The mic records sound that is directly in front of it, while rejecting sound from its sides and rear. As a result, your recordings contain fewer ambient noises.
Samson Q2U is the best microphone for podcast beginners. It gives great audio quality at a low price point in comparison to a condenser microphone. And it doesn't need a studio environment or properly acoustic treated room to sound great, which is a huge advantage for beginners.
---
Best Wireless Microphone For Vlog
Rode Wireless Go 2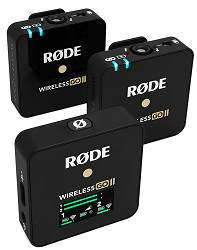 Best deal on Lazada Best deal on Shopee
Rode Wireless Go 2 Features:
Dual channel wireless microphone system
3.5mm TRS analog output, USB-C and iOS digital output
On-board internal memory for 40 hours recording
7 hours battery life
Rode Wireless Go 2's Positive Review:
Premium function and quality for a prosumer level (is it?) wireless microphone. Independent recording function for both transmitters is a winner.
Tested product, works flawlessly! Perfect for interviews, vlogging, and all kinds of content creation
Rode Wireless Go 2's Negative Review:
-Nil-
The Rode Wireless Go 2 is one of the most popular wireless microphones that you often see in TikTok videos. The Wireless Go series quickly became a favourite for many video content creators because of its discreet size and awesome sound quality.
The Rode Wireless Go 2 is the world's smallest true wireless microphone. Many vloggers simply clip it on the collar and take their video, without using a lavalier mic.
It might seem outrageous at first glance that Wireless Go 2 costs more than RM1,200 per set. But this wireless microphone packs a ton of goodies in it. 
First, It has two transmitters and one receiver. The wireless connectivity can support up to 200m line-of-sight range, which is insane! It also has onboard storage that can store up to 40 hours of video content.
Not only that, its built-in rechargeable battery can last for a good 7 hours of runtime.
For videographers and vloggers who often do outdoor recording, Rode Wireless Go II is a simple yet high-quality solution for recording two sound sources at once.
---
Best Budget Wireless Microphone
BOYA BY-WM4 Pro K2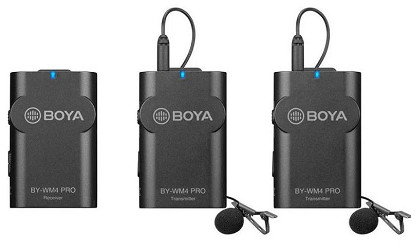 Best deal on Lazada Best deal on Shopee
BOYA BY-WM4 Pro K2 Features:
2 x transmitter and a dual channel receiver
2 x omnidirectional lavalier microphone
Foam windscreen
60 meters range
Digital 2.4 GHz Frequency Band
No built-in battery
The Boya BY-WM4 Pro K2 is a great, affordable entry-level wireless microphone. There are multiple versions of Boya BY-WM4 available: K1, K2, K3, K4, K5 and K6. Each version has different numbers of transmitter and type receiver. So, make sure you buy the correct version.
Personally, I recommend getting the Boya BY-WM4 Pro K2 as it is the most versatile version. You can see the detailed review below.
Unlike Rode Wireless Go which can work standalone, the Boya BY-WM4 Pro K2 needs to connect with its lavalier microphone to record audio. The sounds recorded are clear and crisp.
Another thing to take note of is that BY-WM4 Pro doesn't have a built-in battery. You have to prepare your own AAA battery to power up the transmitters and receivers. 
Its wireless range of 60 meters is quite good too. It should be sufficient under normal circumstances.
Although the Boya BY-WM4 Pro K2 may not be as powerful as the Wireless Go 2, the sound recording quality is definitely impressive. It is a very affordable Wireless Go 2 alternative for mobile journalists and vloggers. 
---
Best Cheap Wireless Lavalier Microphone
FIFINE K037B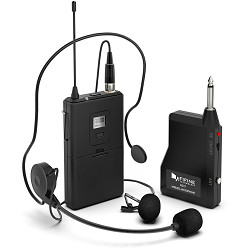 Best deal on Lazada Best deal on Shopee
FIFINE K037B Features:
Lavalier mic
Head-worn mic for stage performer, fitness trainer
Easy-to-read LCD
18 meters wireless range
1/4″ TS connector output
20 UHF frequencies available
FIFINE K037B's Positive Review:
item working fine..but the mic need to be close w your mouth for better sound output..did not test the distance yet
Good sound quality. Very suitable for a fitness instructor! 
FIFINE K037B's Negative Review:
-Nil-
If your budget is limited, the FIFINE K037B is the best wireless microphone under RM200. This set comes with a lavalier microphone and headset microphone. So, it is great for teachers, speakers and instructors.
Given the price, the FIFINE K037B is considered quite good. It does have quite a bit of ambient noise which you can later tune down with software.
The FIFINE K037b is not as portable as Boya's and Rode's wireless microphones. The size is quite big and bulky. If you're using it with a DSLR camera, there's no proper way to mount the receiver. You have to hold it in your hands or it will be left dangling in the air, which can be uncomfortable.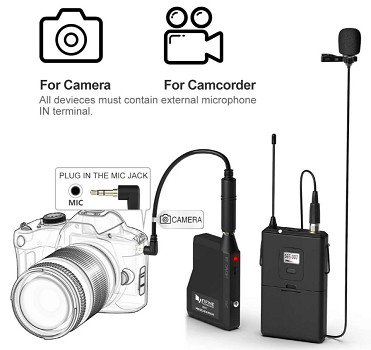 The transmitter requires three AA batteries and the receiver requires two AAA batteries to power. This can be quite frustrating as you always need to prepare both AA and AAA size batteries instead of only a single type of battery size. And it can only last for about 4 hours of recordings.
The FIFINE K037B is great overall but not impressive. But there are not many choices for wireless microphones in this price range. 
---
Best Budget Lavalier Microphone (Wired)
Boya BY-M1
Best deal on Lazada Best deal on Shopee
Boya BY-M1 Features:
Clip-On Mic for Smartphones
Superb sound
Low ambient noise
Omni-directional
Foam windscreen
Requires LR44 battery
Boya BY-M1's Positive Review:
Barang terbaik, high gain mic. Cuma kurang bass sikit ja
Bila recording macam tak berfungsi. Lepas tengok youtube, solve problem! Utk fon android yg tak boleh record, saya suggest download apa² apps camera baru mic berfungsi. I suggest apps open camera. 
Boya BY-M1's Negative Review:
the thing doesn't work with my note 10 plus. it's not supported even with a USB-C port.
The Boya BY-M1 is a super low-cost lavalier microphone that costs less than RM50. It is the best-selling microphone on Shopee and is currently out of stock for most sellers.
The Boya BY-M1 sounds pretty good when recording in a quiet room. However, you can't move around much as it will pick up plenty of noise if you do so.
The LR44 battery is a small nuisance with the Boya BY-M1. Plus, some users reported that this Boya mic doesn't work with the default camera app on their Android smartphones. 
Otherwise, Boya BY-M1 is a small, portable, and cheap omnidirectional lavalier microphone that is perfectly fine for a Youtube beginner.
And lastly, don't mix up this with the Boya BY-MM1 microphone which is a cardioid shotgun microphone.
---
Best On-Camera Shotgun Microphone
Rode VideoMicro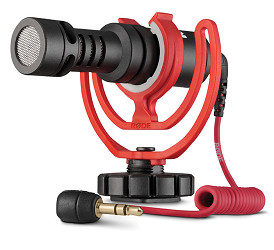 Best deal on Lazada Best deal on Shopee
Rode VideoMicro Features:
Compact 80mm
Lightweight 42g
No battery required
Deluxe furry windshield i
3.5mm mini-jack output
If you're a perfectionist who doesn't want a microphone to appear in your video, then you should get a shotgun cardioid microphone. I recommend getting the Rode VideoMicro as it is perfect for beginners.
The Rode VideoMicro's sound quality is almost similar to its bigger brother, Rode VideoMic Go. And VideoMicro actually picks up less ambient noise and sounds better outdoors.
There are also user feedbacks that WiFi would cause buzzing noise on the Rode VideoMic Go which makes VideoMicro a distinctly better choice.
Check out the video reviews on Rode Video Micro vs Rode VideoMic Go below.
The Rode VideoMicro is a super portable microphone with a size of only 80mm long and weighs only 42 grams.
It can be used with digital cameras, smartphones and action cameras. You won't feel exhausted even holding it for long hours.
The Rode VideoMicro costs less than RM200, delivers an awesome audio recording quality overall. Once you have really made progress, you can invest in more professional gear like the VideoMic Pro or VideoMic NTG series.
---
Best Budget On-Camera Shotgun Microphone
Boya BY-MM1 Shotgun Microphone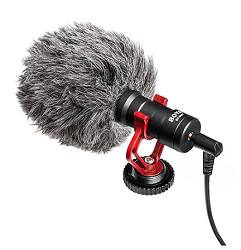 Best deal on Lazada Best deal on Shopee
Boya BY-MM1 Features:
Compact on-camera microphone
Professional furry windshield included
Cardioid polar pattern
No battery required
Boya BY-MM1's Positive Review:
I use it as my laptop microphone, later use it for my video presentation. You might want to study what are TRS and TRRS. I should buy another longer cable so i can have it near me
Boya BY-MM1's Negative Review:
At first ok, after a day I start noticing some static noise or like gradual signal sound from this mic which is i don't like n will definitely destroy my vlog audio.
The Boya BY-MM1 is the best on-camera microphone under RM100. It costs only RM63.90, sold by a verified Shopee Mall seller. It is recommended to only buy from Shopee Mall because many sellers sell counterfeit products
Despite Boya being three times cheaper than Rode Video Micro, their audio quality is pretty similar in most situations.
From the comparison video, we can see that Boya BY-MM1 is more sensitive to wind noise. The Boya mic is also more sensitive to movement. The sound may crackle due to excessive movement. Overall, the sound is still very solid and full especially recording indoor.
Although this is a cheap and affordable shotgun microphone, Boya provides a professional furry windshield aka "deadcat" in the box. The fur, however, falls off quite easily, according to some users.
Overall, there's nothing much to complain about the Boya BY-MM1 microphone. It is small, cheap and sounds great. Just make sure you don't buy the counterfeit or so-called OEM ones.
---
Microphone FAQ
What is TRS cable?
TRS stand for Tip, Ring, and Sleeve. For microphones, it usually used for connecting a stereo output to a stereo input
What is TRRS cable
TRRS stands Tip, Ring, Ring and Sleeve. It has three contact regions on the barrel. For the microphone, it is used to carry both the microphone input and the headphone output on a single cable
Dynamic vs Condenser Mic, which is better?
Dynamic Mic is usually cheaper and less sensitive to high-frequency sound or ambient noise. Condenser Mic is very sensitive, accurate but requires a proper studio or quiet environment to perform well.
USB vs XLR microphone?
For beginners, a USB microphone is the best choice because it can be plugged into any computer or laptop and work instantly. It has less customization because it doesn't go through a mixer.u003cbru003eu003cbru003eFor audiophiles, XLR microphone is preferred because it can connect to a mixer which gives more control and customization.