Buying a new ceiling fan? There is a good chance you have come across Rezo ceiling fans. 
The last 2 years have seen a surge in popularity for Rezo ceiling fans.
The reason for this is that Rezo ceiling fans are very competitively priced, and they offer a stylish design that appeals to young consumers.
---
Introduction

Rezo is a local Malaysian ceiling fan brand. The company was founded in 2019 as a manufacturer of ceiling fans.
The company's motto is to produce high-quality, reliable ceiling fans. It is claimed that Rezo ceiling fans are extremely powerful, energy-efficient, and silent.
---
What are the advantages of Rezo Ceiling Fans?
In comparison to conventional ceiling fan suppliers like Panasonic and KDK, Rezo Ceiling Fans come with more design options and sizes.
At a quick glance, you can find that there are more than 31+ ceiling fan designs for customers to choose from. And there are also wall fans available.
Below are different series and models of REZO ceiling fans:
ASTER42
ASTER56
AURA
AXIS46
AXIS56
COSTA
HILTON
KAZE
MAXIM
MAXIM LED
MEYER
MICA
OPPA
VENUS
VENZO46
VENZO56
VIVO
ZETTA42
ZETTA56
AX 42
AX 56
FITO565
IMPRESS565
K16
S106
S306
TERA565
VZ46
VZ56
ZERON PLUS 56
VENTUS MY56
---
Pros of Rezo Ceiling Fans
Let's find out the good sides of Rezo ceiling fans.
Price is very competitive, cheaper than Panasonic/KDK
A wide range of ceiling fan sizes are available for different-sized rooms
Rezo ceiling fans available in both classic and modern designs to suit the different interior design aesthetic
Rezo ceiling fan models usually available in both white and dark colour
Responsive technical teams that support installation and return issue
5 stars energy saving rating (even for AC motor model)
3 years motor warranty for AC ceiling fans and 5 years motor warranty for DC ceiling fans
Cons of Rezo Ceiling Fans
Let's find out the bad sides of using Rezo ceiling fans.
Less reputable and track records compared to established ceiling fan brands like Panasonic and KDK
Higher chances of receiving defect unit
No warranty for Sabah and Sarawak customers
Rezo is a relatively new brand, so its durability is unknown. Its cheap price and helpful technical team should compensate for these shortcomings.
---
Rezo Ventus Ceiling Fan Review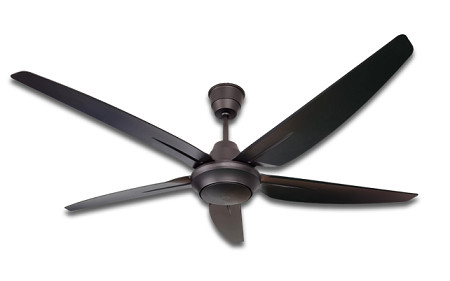 Best deal on Lazada Best deal on Shopee
Rezo Ventus MY56 is the most popular Rezo ceiling fan model. Almost 30,000 units have been sold on Shopee alone.
It has an incredible average five-star rating. There are more than 10,000+ 5-star reviews, 300+ 4-star reviews, 60+ 3-star reviews, 10+ 2-star reviews, and 10+ 1-star reviews.
Based on this, there are more satisfied customers than disappointed customers for Rezo Ventus Ceiling Fan.
Rezo Ventus is a 56 inches 5-speed ceiling fan. The blade is made of ABS material. At low speed, it runs at 101 RPM and at high speed, it runs at 260 RPM. The average air delivery is 240 CFM.
This Rezo ceiling fan comes with remote control. On the remote, there is a timer control that lets users set automatic shut-off at 2,4,5 or 8 hours.
In addition, Rezo has also prepared video instructions for the installation of Rezo Ventus MY56. Users should be able to install themselves without hiring electricians.
Check out some of the positive customer reviews for Rezo Ventus MY56:
Damn good!!!! I am so gifted I found this seller! Godsent to me! I had some issues with the installation. The caller himself called n explained to me. It was actually my mistake. Now the fan is blowing wind like a twister. No joke! SERIOUSLY! I will def return to the same seller forever
Easy to fix and install off line. Screw tightening are smooth and match. Suggest to have a user guide for non experience users. Good value for money.
Fan was very light and super fast, strong wind even speed 2, if 5 can fly
Hebat dan sangat terbaik servis yang diberikan. Mudah dan senang berurusan dengan seller. The best in the world. Cepat, pantas dan mudah berbisnes dengan seller. Good product quality. Good value for money. 
I decided to try this new brand REZO Ventus costing me rm134. So far 3 months it been fantastic, wind is strong, fan is silent. It comes with 3 years warranty, hence I decided to try it and its cheap
At the same time, let's see some of the negative customer reviews for Rezo Ventus MY-56:
Kali ke-5 beli kipas ni dr seller.Nasib kurang baik dpt kipas ni bunyi knocking, besi gesel.Starting kipas ade bunyi dengung & mcm berat
Need to improve a lot, kipas laju semua ok tapi 1 hari je pakai board hijau rosak… Tapi ok lah dlm 2-3 technician dtng tukar kat rumah.
Baru satu hari pasang dah rosak
The second one I bought had some issue with the pcb board. Hence, didn't function after fix but the technician and Rezo made the repair in 1 business day.
Beli 6 unit. 4 unit ok. 2 lagi ada masalah. Tengah tunggu technician datang tgk. So kita review low star dulu.
Get mine with faulty PCB, and need to wait For the Technician support 11 days to repair mine. 
angin x kembang bwah kipas saje berangin
---
Rezo Fan Problem
The most common Rezo Fan Problem is a faulty PCB board. 
Customers who have ceiling fans under warranty can contact the seller or manufacturer to arrange a visit on-site to replace the board and fix the fan.
---
Rezo Fan Warranty
Rezo ceiling fans come with a one-year general warranty. There are also 3 years warranty for AC motors and 5 years warranty for DC motors.
Rezo Fan FAQ
Which country is Rezo from?
Rezo ceiling fan is a Malaysian brand.
Is Rezo Fan Good?
We can conclude that Rezo ceiling fans have good quality and performance based on thousands of good customer reviews that can be found online.
Source:
https://www.rezo.com.my/about/
https://forum.lowyat.net/topic/5067993/+40
https://shope.ee/6f70FUljkY