A ceiling fan is a must-have appliance for every home in Malaysia. One may not install air-cond in their house but every house will install a ceiling fan in order to beat the heat, right? But, how to choose your ceiling fan? 3 blades, 4 blades, 5 blades, 52 inches, 56 inches or 60 inches blade, with light or without light? Which one is best for you?
In my humble opinion, these are the best ceilings fans you can get right now:
How I Picked
I only zoom down to the two most reputable ceiling fan brands in Malaysia which are Panasonic and KDK. In my opinion, Deka, Alpha, Rubine, and other local players in Malaysia are still not capable of manufacture high-quality product. I have bad experiences with DEKA fan being noisy and Rubine water heater malfunction after using it for 1 year.
Local brands may be slightly cheaper than international brands but it is worth investing a bit more money for quality products in the long run. When you have to deal with breakdown, warranty claim, replacement, re-installation, you lost both time and money as well as your energy to make those necessary arrangements.
In contrast, KDK and Panasonic have served my grandparents, my parents and my family well for more than a decade. The performance does slowly decrease over time but it is perfectly acceptable and the same goes to all other electronic appliances. At least to date, these fans have never failed me, yet.
Just another quick fact for you, KDK actually is part of Panasonic Corporation. You can see their motor performance are actually the same since they are being manufactured by the same factory. In my opinion, Panasonic ceiling fans have better design while KDK being a bit dated and dull.
How I Research
There aren't many online reviews on ceiling fans topic which make data collection on user experience and feedback difficult. I have to rely heavily on the technical specification of the products and also customer feedback from online marketplaces to compare the pros and cons.
Then, I compare their blade size, blade count, airflow CFM (cubic feet per minute), power consumption, efficiency, warranty period, reputation and most importantly, the price.
Our fellow Malaysia friend from christopherteh.com has done a great job in explaining the science behind ceiling fan design.
He has summed up that:
Longer fan blade, generate more and wider air flow
The optimum number of fan blades is 4
Compared to metal and plastic fan blade, wood fan blades generated the least airflow yet consumed highest energy
Fan airflow is measured in CFM, and power consumption in watt, W. High CFM and low wattage, W are the desirable criteria we are looking for.
The Best Ceiling Fan for Most Users: Panasonic Bayu 4-Blade Ceiling Fan
First and foremost, ceiling fan without a remote control function is totally unacceptable for me in this cordless, wireless era. I strongly concur that spending an extra RM100 per item to buy you convenience over the lifespan of a ceiling fan is a fair decision. Referring to the table below, my personal best ceiling fan would be Panasonic Bayu 4-Blade ceiling fan.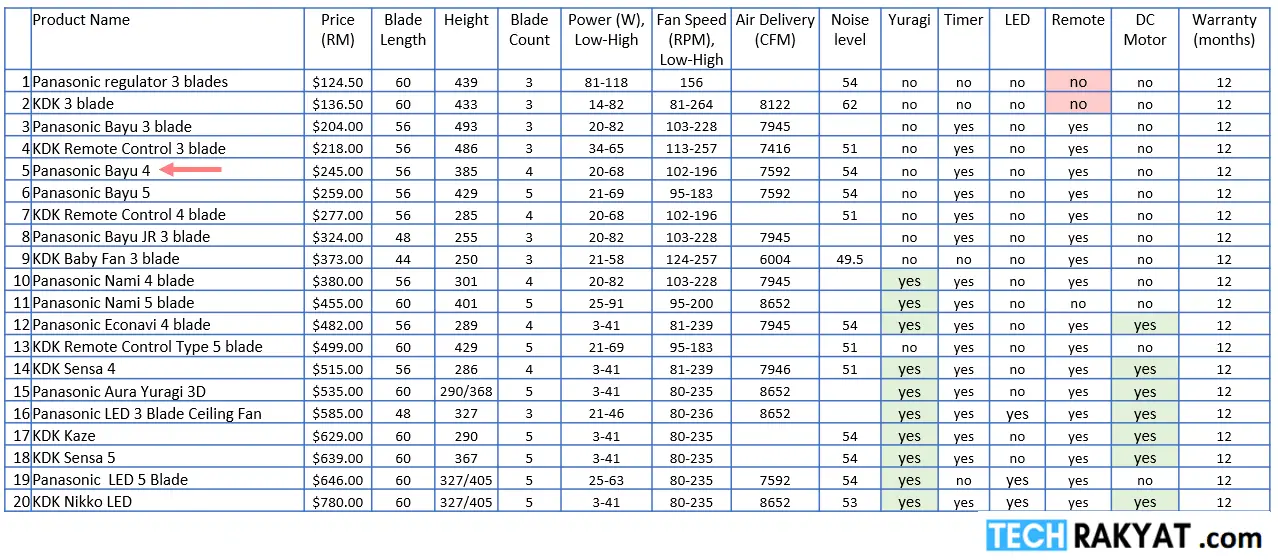 Bayu 4 design is modern and sleek with choice of white and dark grey colour. It can fit in any design themes for your house. It is only slightly more expensive than the entry-level remote control 3-blade fan but it offers a lot more benefit.
Bayu 4-Blade ceiling fan is affordable, energy efficient and generates plenty of air flow. 3-speed selection, timer and sleep mode available. Best value for money.
It has 56 inches fan blade and measures only 385 mm from ceiling to your bottom most point of your fan unit which gives you more ceiling height clearance. This is a very important feature you should take note if your house already has a low ceiling height.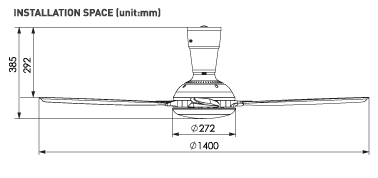 It also complete with a cover that conceals its downrod and gives it a unibody appearance.
Bayu 4-Blade ceiling fan has a minimum output of 20W and maximum 68W which is very efficient for an AC motor ceiling fan. You do not have to spend extra for the upgrade to Bayu 5 as they actually have very little difference in performance.
One may argue DC motor ceiling fan is more efficient than AC motor ceiling fan as it consumes up to 70% less power, more silent and lighter in weight.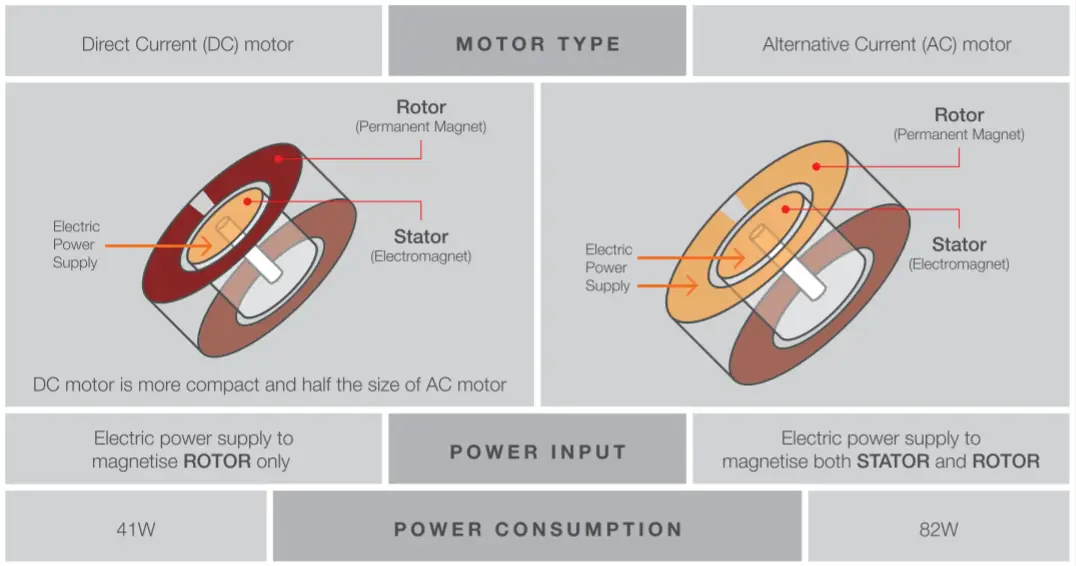 But why don't I recommend the DC motor one for most people? Because the initial cost is for DC motor ceiling fan is way too expensive compared to the AC motor ceiling fan.
Let's work out a simple math to calculate the saving per year based on the latest TNB Tariff:
Power consumption saving of DC motor(41W) to AC motor(68W) is 27W per hour.
Taking average rate (TNB Tariff for 200-300kWh), 33.40 sen/kWh
Saving per hour for 20W is 0.027kW x 33.40 sen = RM0.009 per hour
10 Hours of usage per day = RM0.09 per day
Saving per year, 365 days = RM32.85 per year
By comparing AC motor Bayu 4 to DC motor Panasonic Econavi 4 blades ceiling fan, the price difference of RM240 or 100% more expensive per fan. Based on the calculation above, it will require roughly 8 years for you to recoup the initial investment. DC motor fan is not recommended for anyone with tight budget simply you can easily get two AC motor fan with the price of DC motor one.
I am against the idea of spending more than RM500 because ceiling fan is merely a simple one function tool to increase the air movement through the rapid spinning motion of fan blades to cool you down. At the end of the day, high-end series will not miraculously outperform mid-range product by a huge margin or offer any advanced ninja technology.
Any spending more than RM500 would only be advisable only if you are dying for a designer's fan to complement your decors.
Upgrade Pick – The Best DC Motor Ceiling Fan: Panasonic Econavi 4 Blades Ceiling Fan
The best DC motor ceiling fan is Panasonic Econavi 4 blades ceiling fan. It is a steal that you can get this feature-packed ceiling fan at below RM500.
Panasonic Econavi 4 blades ceiling fan  is extremely energy efficient, utilize DC motor which consume power as low as 3W. Its Econavi feature varies the air flow through smart sensing of room temperature. It helps to save energy and also improve condition whereby the room will not be "too cold" or "too hot".
Pros:
Cheapest DC motor ceiling fan in our list
Only 286 mm height which is perfect for rooms with a low ceiling height
Very efficient DC motor using as low as 3W power and maximum of 41W.
Comes with Yuragi, timer and sleep mode function. Yuragi is a function which the fan varies in spinning speed to generate a natural and gentle breeze
Econavi technology – intelligent temperature sensor, auto adjust air velocity according to room temperature
Cons:
More expensive than AC motor ceiling fan,
Only one colour option available -platinum silver.
If the Econavi 4 blades ceiling fan colour is too bright for your liking, you may opt for KDK Sensa 4 which basically is the exact same model but with a darker tone.
KDK Sensa 4 also has intelligent temperature sensing feature except they could not use the "Econavi" term which is exclusive for Panasonic product.
The Best Ceiling Fan with LED Lighting: Panasonic LED 5 Blades Ceiling Fan
In normal circumstances, I do not recommend anyone to purchase ceiling fan with lighting unless you are facing certain constraints. Normal rooms should have dedicated lighting to illuminate the space which obviously will do a better job than a ceiling fan's light. You also have more control over the lighting mood you desired.
One may have an issue that there is only one electrical point available in a room but wish to have both lighting and ceiling fan. Or you have shadow casting issue where ceiling fan blade is intersecting with the lighting nearby creating a flickering shadow which can make people feel dizzy and uncomfortable. Then, we have no choice but to install a ceiling fan with lighting.
Unfortunately, there is only a handful of models to choose from both Panasonic and KDK. Panasonic LED 5 blades ceiling fan is the only model which qualifies. Panasonic LED 3 blades ceiling fan is not suitable for large room due to its small blade length of 48 inches. Although shorter fan blade able to create similar CFM,  the airflow is more concentrated and less preferred.
Panasonic LED 5 blades ceiling fan is recommended for those who lacking of electrical points or facing shadow casting issue. Both DC motor and LED light make this fan very energy efficient.
Pros:
Very efficient DC motor using as low as 3W power and maximum of 41W.
LED light which is 85% more efficient than an incandescent bulb and long lifespan.
Cool daylight LED with adjustable brightness, 3 modes: weak, moderate and strong light coverage
Comes with Yuragi, timer and sleep mode function. Yuragi is a function which the fan varies in spinning speed to generate a natural and gentle breeze
Cons:
Very expensive
Only one colour option available -platinum silver.
The above top picks should cover the needs for average consumers like myself who priortize function over form. If you have any better recommendation or prefer to have designer ceiling fan, please post your comment below.
Conclusion
If you have a small budget, go for Panasonic Bayu 4-Blade ceiling fan. And get Panasonic Econavi 4 blades ceiling fan if you wish to be slightly more luxurious. Panasonic LED 5 blades ceiling fan is a great choice if you have a small room and wanna prevent light flickering
Given the hot weather in Malaysia, you may also wanna out our recommendation of the best air conditioner, best portable air conditioner and air coolers.