In Malaysia, ceiling fans are a must-have appliance for every home. 
Some homes do not have air conditioning, but virtually every house has a ceiling fan to beat the heat, right? 
But, how to choose your ceiling fan? 3 blades, 4 blades, 5 blades, 52 inches, 56 inches or 60 inches blade, with light or without light? Which one is best for you?
What are the best ceiling fans in Malaysia?
Ideally, the best ceiling fan will generate substantial airflow that can efficiently cool down a room while being reasonably quiet.
And it should be durable and energy-efficient. You don't want to install a fan that needs to be serviced or replaced every couple of years.
As a general rule, it is best to stick with brands with good reputations, like Panasonic and KDK. There are many budget brands like Rezo, Deka, Alpha, Elmark, Rubine that are cheaper but we do not have their track records.
Here are the best ceilings fans in Malaysia you can get right now:
---
1. REZO VENTUS MY56
Best Selling Ceiling Fan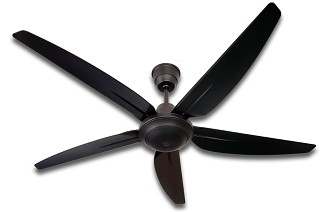 Best deal on Lazada Best deal on Shopee
Rezo Ventus is the best selling and best-rated ceiling fan on Shopee Malaysia. It has sold for close to 19,000 units.
Rezo Ventus MY56" ceiling fan features:
56 inches diameter
5 speeds control
Remote control
AC motor
80W
Lowest RPM 101, highest RPM 260
Air delivery 240 CMM
3 years warranty
Rezo is an upcoming ceiling fan brand in Malaysia. It quickly becomes popular due to its affordable pricing, stylish design and responsive technical support team.
There are more than 7,000+ positive reviews on the Rezo Ventus. Many commended on its good product quality and great fan speed. Even a customer claimed that the fan is blowing like a tornado.
However, there are a small group of customers who encountered issues like damaged products and non-working fans. These issues are usually caused by poor handling by the delivery company.
Luckily, many are satisfied with the sellers and technicians quick response to issues.
Rezo Ventus comes with 3 years warranty which gives you peace of mind.
---
2. KDK K14YZ 56″ Ceiling Fan
Best Ceiling Fan (AC Motor)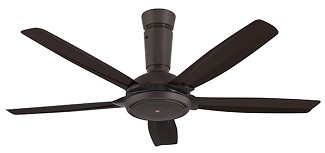 Best deal on Lazada Best deal on Shopee
For those who prefer reputable ceiling fan brands, the KDK K14YZ is one of the best AC motor ceiling fans.
KDK K14YZ 56″ Ceiling Fan features:
5 blade design
Remote control with 3 speed and 3 timer settings
RPM: Low 102, High 196
Wattage: 21 to 61W
AC Motor
CFM: 7593
Noise level 51dB
12 months warranty
As a quick fact, KDK actually belongs to Panasonic Corporation. And their motor performance is identical since they are produced by the same factory in China.
KDK and Panasonic ceiling fans are considerably more expensive than other brands. But, they are highly reliable and last for decades.
KDK K14YZ may not have the best design, but it simply works. It only comes with a 1-year warranty though.
---
3. Panasonic Econavi 5-Blade Ceiling Fan
Best Quiet Ceiling Fan (DC Motor)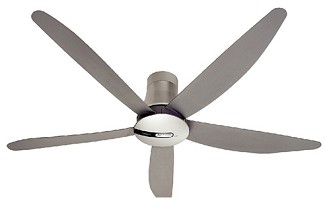 Best deal on Lazada Best deal on Shopee
Panasonic Econavi 5 blades ceiling fan is the best quiet ceiling fan. It is extremely energy efficient, utilize a DC motor which consumes power as low as 3W. 
Panasonic Econavi 5 Ceiling Fan features:
60 inches blade length
Power consumption: Low 3W, High 41W
Fan speed: Low 80 RPM, High 235 RPM
Econavi feature
Yuragi function
DC motor technology
LCD remote control
9-sequential speed slection
PPG material blades
1 to 8 hours off timer
2 to 8 hours of sleep timer
Noise level: 54dB
Econavi intelligently adjusts the airflow based on the temperature of the room. As a result, energy can be saved and the room can remain comfortable without being 'too cold' or 'too hot'.
Also, it comes in a short pipe design that is only 290mm from your ceiling soffit to give your room a better height clearance.

Panasonic Econavi 5 Blade Ceiling fan comes with a 1-year warranty.
---
4. REZO ZETTA 56″
Budget DC Ceiling Fan
Best deal on Lazada Best deal on Shopee
Rezo Zetta 56" is the best budget DC motor ceiling fan. Since it is a cheaper ceiling fan, it does not have all the premium features of Panasonic Econavi 5, and its design is relatively basic, with the rod still visible.
REZO ZETTA 56″ ceiling fan specification:
Available in 42" and 56"
5 blades design
RPM: low – 100, high – 220
Wattage: low – 6.5W, high – 38W
Colour option: matte white, matte black, dark wood
Noise: 50dB
Powered by DC motor
ABS blade
Silent operation
Reversible fan
6 speeds ( forwards and reverse)
Remote control
Warranty: 1 year general, 5 years motor
The Rezo Zetta 56 comes with a stylish design and is available in 3 colour options. The white colour would fit in a minimalist living room. The matte black and dark wood models look great in a cozy bedroom.
Perhaps the most interesting feature for the Rezo Zetta ceiling fan is it can spin in a normal direction as well as reverse direction. 
Reverse ceiling fan can draw the air upwards. Cold rooms can benefit from it as it improves air flow without creating disturbing downdraft winds.
---
5. ALPHA VANNUS VC2 52″ 
Stylish DC Motor Ceiling Fan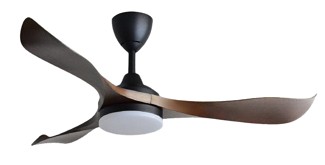 Best deal on Lazada Best deal on Shopee
If you're looking for a ceiling fan for a small living room, check out the Alpha ALPHA VANNUS VC2 52″. 
The ceiling fan has a unique-looking blade and a built-in LED light.  That will make a statement in your living room.
Alpha Vannus VC2 specifications:
52 inches
3 blades design
Forward and reverse function
Natural wind feature
Remote control with timer
6-speed speed control
Low noise
With or without LED
Motor RPM 90-225
CFM: 6358
Wattage: 5W – 40W
ABS housing and fan blade
I normally would not recommend Alpha ceiling fans. But I do understand that in certain circumstances, for some people, the aesthetics of a fan can outweigh its reliability and function.
The Alpha Vannus VC2 has 1 year warranty on the receiver and 5 years warranty on the motor.
---
6. Elmark 52″ ABS Ceiling Fan TP102
Budget Ceiling Fan with Light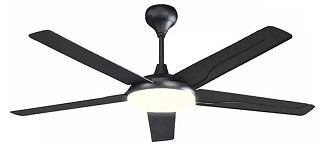 Best deal on Lazada Best deal on Shopee
The Elmark 52" ceiling fan TP102 is one of the most affordable ceiling fans with LED light. 
Elmark TP102 ceiling fan specifications:
5 blades design
Available in pine white, matte black, titanium grey, midnight caramel
3-speed remote control
52" blade
Powered by AC motor
1,3,5 hours timer
Max power 72W
With LED or without LED light
1-year general warranty, 3-year motor warranty
It is perfect for living rooms with limited lighting /fan points since it can be used as a ceiling fan as well as light.
This Elmark ceiling fan is powered by an AC motor, which explains the cheaper price tag. Therefore, it will not be as power-efficient, and the operation will be a bit louder. 
This model has a 1-year general warranty and 3 years motor warranty.
---
7. REZO Venzo 56″
Strong DC Ceiling Fan with Light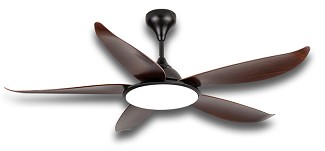 Best deal on Lazada Best deal on Shopee
REZO Venzo ceiling fans offer all the premium features without breaking the bank. It has a DC inverter motor, built-in LED light, stylish aerodynamic fan blade and reverse direction blowing.
REZO Venzo 56″ ceiling fan specifications:
Powered by DC inverter motor (heavy-duty)
Wattage 6W to 55W
Silent motor
6-speed remote control with reverse function
Max RPM 210 with CFM 10500
ABS fan blade 
3 colour LED light: daylight, warm white and cool white
Extra bright LED, 33W
The REZO Venzo series is among the few ceiling fans that meet all the needs at a price of less than RM500.
For a more comfortable atmosphere, you can check out REZO Aster Series with a dimmer 24W LED light.
---
8. REZO AX42
Cheap Small Ceiling Fan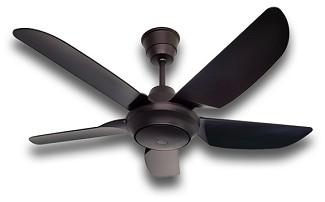 Best deal on Lazada Best deal on Shopee
Rezo AX42 is the best selling 42" baby ceiling fan. It has been sold for more than 530 units and has received 4.9 out of 5 stars.
Rezo AX42 specification:
Available in matte black and matte white
ABS blade design
5 blade design
70 watt AC motor
RPM: Low – 163, High – 283
CFM 6475
The Rezo AX42 ceiling fan sells for RM189. It is among the cheapest baby fan with 5 blades design.
With a shorter blade span, this ceiling fan is suitable for use in a narrow bedroom.
---
9. REZO Venus LED 3B 20″
Best Mini DC Ceiling Fan with LED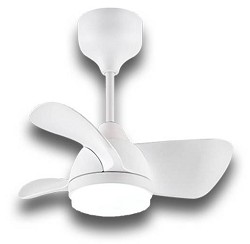 Best deal on Lazada Best deal on Shopee
The Rezo Venus Ceiling Fan is the smallest DC ceiling fan available in Malaysia that comes with LED light.
Rezo Venus LED 3B specifications:
20 inches fan blade span
DC motor technology
3 colour options LED light
6 speeds control with reverse function
As a rule of thumb, it is always recommended to get a fan that is 42″ or above in order to have a better cooling effect. 
The size of the fan blade greatly influences the amount of cooling or airflow generated by a ceiling fan.
The Rezo Venus ceiling fan is only recommended for very small and narrow rooms. If you want to avoid light refraction, then this ceiling fan could be useful too.
If there's really no suitable spot for the installation of a ceiling fan, you may want to consider a portable air cooler or stand fan as alternatives to cool down your room.
---
10. Panasonic 60″ WIFAN
Best Smart Ceiling Fan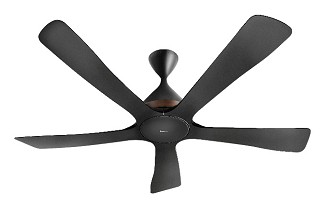 Best deal on Lazada Best deal on Shopee
Panasonic 60" WIFAN is the only smart ceiling fan on the list. You can control it with a dedicated Ceiling Fan app, available for both Android and iOS. 
Panasonic 60″ WIFAN specifications:
60 inches fan blade width
ABS-GF blade material
Air velocity 160 m/min
Air delivery 300 m³/min
Noise level 59 dB
Advanced DC motor technology
Silent operation
WiFi 2.4g connection
Can be controlled with mobile app
Built-in LED lighting with dimmable feature
Adjustable colour temperature: warm, warm white and daylight
Yuragi feature
Reverse function
Innovative blade design for wider air delivery
Comes with remote control
Power consumption 4W to 54W
RPM 80 to 245
12 months warranty
The Panasonic WIFAN can be programmed and scheduled according to your needs based on different time frames throughout the day.
Other than that, it packs tons of innovative features like the reverse function, yuragi, new energy-saving DC motor, new blade design and Intelligent Motor Drive System (IMDS)
IMDS is an enhanced safety feature which can deter motor abnormality and faulty blade detection. It will stop the fan from rotating if it detects any unsafe condition.
The Panasonic WIFAN comes with 12 months warranty,
---
11. Panasonic Mondo 80″ 8-Blade Ceiling Fan Canopy Type
Best Large Ceiling Fan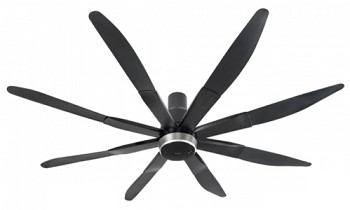 Best deal on Lazada Best deal on Shopee
Panasonic Mondo ceiling fan boasts an impressive 80-inch width and 8 fan blades, making it the best large ceiling fan on the market.
Panasonic Mondo Ceiling Fan specifications:
Fan size 80 inches
Power consumption 3W to 60W
Fan speed 50 to 150 RPM
Minimum air velocity 170 m/min
Air delivery 360 m³/min
Twic DC motor technology
Motion sensor
Yuragi feature
Durable PPG blade with aluminium blade extension
Timer feature
LCD remote with 9 speed control
With a twin DC motor and its large fan blade, the Panasonic Mondo can provide higher air delivery compared to 56" and 60" models.
Due to its large size, this ceiling fan is only suitable for large living rooms, commercial places, or public amenities. 
If your room barely fits it, then it is not suitable for you. The ceiling fan blade may form a flickering shadow when it intersects with nearby lighting, making people feel dizzy and uncomfortable
So make sure your space is large enough where the Panasonic Mondo ceiling fan is far apart from your lighting.
The Panasonic Mondo ceiling fan comes with a motion sensor which can detect motion within a range of 4 metres from the height of 3 metres. It will automatically reduce its speed if no movement is detected. And further, reduce to the lowest speed or turn off if there's zero movement in twenty minutes.
Overall, the Panasonic Mondo ceiling fan produces a comfortable air flow, which is perfect for a large living room.
---
12. UMS Auto Fan 16″ 
Budget Ceiling Orbit Fan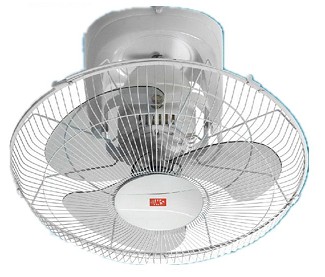 Best deal on Lazada Best deal on Shopee
When a ceiling fan is not an option for you, you should get your hand on a ceiling orbit fan or auto fan. This type of fan is only 16" in size and occupies very little ceiling space. It can virtually fit in any kind of room and space.
UMS auto fan features:
50 watts
Plastic blade
RPM: 900 (low)/ 1310 (high)
Air delivery: 67 m³/min
3 speed
360 degree oscillation
A ceiling orbit fan is great for blowing concentrated cool air, but it is not as good at improving air flow within a room. 
The 360 degree oscillation helps to ensure the fan reaches every corner of a room.
In my opinion, the biggest downside is that you can only control it using a fan regulator as there's no remote control.
Otherwise, the UMS Auto Fan is quite a good solution for people living in a small room. Plus, it receives a 5-star energy rating from SuruhanJaya Tenaga.
---
Previous Pick
Bayu 4-Blade Ceiling Fan Review
The Bayu 4-Blade Ceiling Fan is one of the most energy efficient AC motor ceiling fans. Its power usage is rated 20W to 68W, which is much lower than its competitors. 
As of now, the Rezo ceiling fans offer better value for your money.
Panasonic Econavi 4 Blades Ceiling Fan
You can no longer find any Panasonic Econavi 4 Blades Ceiling Fan for less than RM500. Hence, I recommend getting the Panasonic Econavi 5 Blades instead which is bigger and comes with 1 extra blade.
---
Ceiling Fan FAQ
Which ceiling fan brand is the best in Malaysia?
Panasonic and KDK ceiling fans are the best in Malaysia. They are reliable and last for decades.
Are KDK and Panasonic fans the same?
Yes, KDK and Panasonic ceiling fans are produced in the same factory and using the same motor. KDK is officially owned by Panasonic.
3 blade vs. 5 blade ceiling fan, which is better?
The main difference between a 3 blade and 5 blade ceiling fan is its look and noise. It is quieter to have a 5 blade ceiling fan because more blades tend to create a natural balance within the fan.
As for air delivery performance, both 3 blades and 5 blades ceilings are comparable in real-world performance and there isn't much difference between them, you shouldn't put too much concern on blade numbers affecting the cooling performance of a ceiling fan.
How to choose a good ceiling fan?
The most important factor to pick a ceiling fan is brand. In Malaysia, KDK and Panasonic are two of the best ceiling brands with long term track records.
Local brands like Deka, Rubine, Alpha and even Rezo have relatively short histories.
When you look at the cost of installation, maintenance, and replacement of ceiling fans, you don't want to pick a cheaper brand for the sake of saving RM50-100. You may end up replacing it after two-three years which costs you more.