These days, wireless earbuds are getting more popular than ever. TWS or true wireless stereo earbuds are awesome because you do not have to be bothered with a cord dangling around your neck. 
Both wireless earbuds and smartwatches have even become the must-have gadgets for modern-day fitness geeks.
However, it is difficult to pick the right wireless earbuds when their price varies greatly, from $20 to $400. Also, it is hard to verify the quality of earbuds solely based on the sellers descriptions.
So, here I have handpicked the 8 best wireless earbuds for Singaporeans (budget and premium):
Comparing the top wireless earbuds in Singapore
| Model | Type | ANC | Wireless Charging Case | Battery life (Single Charge) | IP Rating | Bluetooth |
| --- | --- | --- | --- | --- | --- | --- |
| Sony WF-1000XM4 | In-Ear | Yes | Yes | 10+ | IPX4 | 5.2 |
| Jabra Elite 85T | In-Ear | Yes | Yes | 7 | IPX4 | 5.1 |
| Galaxy Buds Plus | In-Ear | No | Yes | 11+ | IPX2 | 5 |
| Aukey EP-N5 | In-Ear | Yes | No | 6+ | IPX5 | 5 |
| Soundpeats Air3 | Half In-Ear | No | No | 5+ | IPX5 | 5.2 |
| Fiil T1 Lite | In-Ear | No | No | 6+ | IPX7 | 5.2 |
| Mpow Flame Lite | In-Ear | No | No | 7 | IPX7 | 5 |
| Haylou GT3 | In-Ear | No | No | 4+ | IPX4 | 5 |
---
---
Important notes: 
I believe that AirPods and AirPods Pro offer the best overall user experience for iOS users who own an Apple iPhone and are not concerned with the price.
Also, AirPods Pro is the best wireless earbuds for iPhones.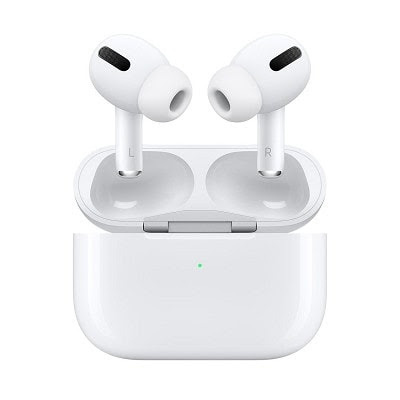 Check price on Lazada Check price on Shopee
---
---
Best Sound Quality Earbuds
Sony WF-1000XM4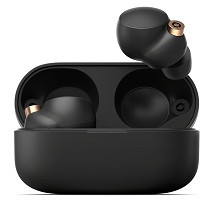 Best deal on Lazada Best deal on Shopee
Sony WF-1000XM4 Features Highlight:
Well-balanced sound profile
Battery Life: Up To 10 + 20 Hours (Playtime + Charging Case)
Impressive Active Noise Cancelling feature
Quick Attention function
Wireless Charging Case
IPX4 rated
Sony WF-1000XM4 's Positive Review:
Great noise canceling earphones! Packed with great features that I can't find in other brands.
Sony WF-1000XM4 's Negative Review:
-Nil-
Sony means business when it comes to headphones and earphones. Sony WF-1000XM4 is no exception which an audiophile should not miss.
The Sony brand is synonymous with high quality and well-made products. In terms of audio quality, the Sony WF-1000XM4 has been regarded as one of the best in the market.
Using a powerful 6mm driver, they deliver high-quality audio that is rich and captivating. The sounds delivered are of the quality of high-resolution audio. It supports AAC, SBC and LDAC, which is the best-performing Bluetooth codec currently available
It uses Edge-AI and DSEE Extreme sound enhancement technology which upscales compressed digital music files in real-time, delivering a richer and better listening experience.
The ergonomic fit of the earbuds gives great comfort wearing and also helps isolate background noise at bay. It blocks out plenty of surrounding noise passively without having to turn on active noise cancellation.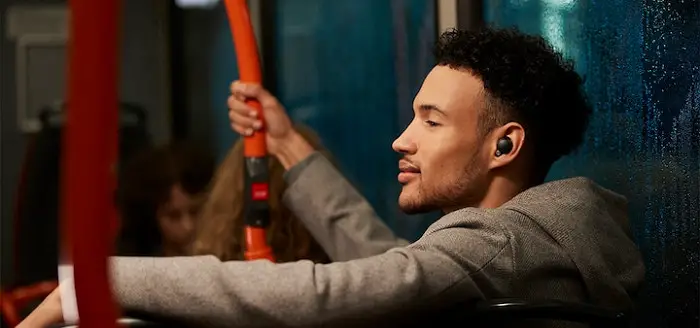 The latest WF-1000XM4 is rated as IPX4. It's okay to use it while working out or even under the rain. 
On top of that, Sony WF-1000XM4 has one of the best-in-class wireless noise-cancelling performances. Combined with the Headphone Connect app, it has a very sophisticated yet handy adaptive sound control feature.
While you're walking in a busy street, you can turn on its "ambient" mode so that you can listen to music but still be aware of what is happening around you. When you need to focus, you can turn on "noise cancelling" mode so you only hear the music.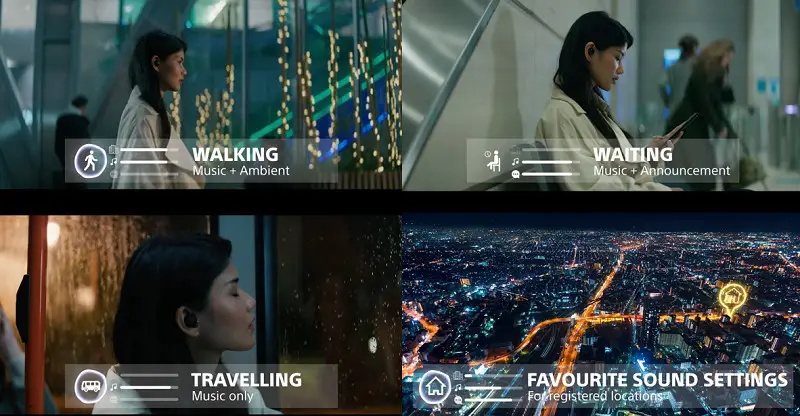 The Sony earbuds also feature a "quick attention" mode. Long tap the earbuds and it will volume of human voices so you can chat with others without pausing the music.
Call quality on Sony WF-1000XM4 is great in a quiet room. But the quality drops significantly in a crowded place, your voices will sound a bit thin and muffled. Your callers may have difficulty hearing you.
Sony claims that the WF-1000XM4 has an 8-hour continuous battery life. Rtings.com's lab test shows that they in fact last for more than 10.5 hours, which is very very impressive. And the wireless charging case can hold 2 charges, which make up for more than 24 hours of total playtime. 
Sony WF-1000XM4 is a pair of very well-built true wireless earbuds that offer a well-balanced sound profile and fit comfortably in the ear. There are no other wireless earbuds that provide such a level of sound control.
---
Best Overall TWS Earbuds
Jabra Elite 85T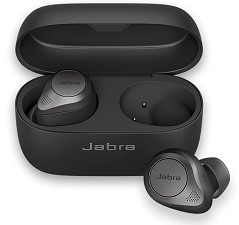 Best deal on Lazada Best deal on Shopee
Jabra Elite 85T Features Highlight:
Lightweight and premium-built
IPX4
Adjustable ANC and HearThrough mode
Good equalizer customization in Jabra Sound+ app
7 Hours continuous play time ( 5.5hours with ANC on)
Wireless charging case
Native Alexa support, works with Siri and Google Assistant
2-year extended warranty
Jabra Elite 85T's Positive Review:
Love its active noise cancellation. Music play is very very personalized. Great buy!
Very happy with the sound quality and stable Bluetooth connection. Fits comfortably in ear.
Jabra Elite 85T's Negative Review:
Hp set to max volume is still very soft… Noise reduction not as good as huawei earbuds
The Jabra Elite 85T is one of the best alternatives to Apple's AirPods Pro. This is an improved and upgraded version of the popular Jabra Elite 75T model.
It is the only non-Apple earbuds that support multipoint connectivity. It can be paired with two devices at one time. For example, you can pair it to a laptop and smartphone. You can listen to music on your laptop and answer a call on your phone without having to switch earbuds manually.
First of all, powered by 12mm speakers, it offers an excellent sound quality as you might expect. The sound is both rich and well balanced, and the bass is incredible for a pair of earphones that are so compact.
The microphone works well for phone calls too. However, it does pick up a fair bit of background noise just like any other wireless earbuds. All wireless earbuds suffer from a similar problem.
The Jabra Elite 85T has a good fit with rubber-like grips and is extremely comfortable to wear. The earbuds feel well-made and durable. It is rated IPX4 and designed to be sweatproof and splash-proof, suitable for running and gym workouts.
This earbud's battery is now able to last up to 7 hours. With the charging case, you've got 31 hours of battery life.
Apart from that, the Jabra Elite 85T has improved its ANC features. There are now 11 levels of ANC sound control. You can choose from full ANC to full HearThrough, with 3db apart for each increment of level.
Jabra also offers a great personalised sound experience. It has a Sound+ smartphone app that comes with MySound and MyControls features.
Inside the Sound+ app, there's a graphical music equalizer for users to adjust the bass, treble and mid-range level. 
And the MySound app lets you configure your sound profile through a hearing test. After completing the hearing test, the app will calibrate the sound profile that best suits your hearing profile.
One downside to the earbuds is the slightly short battery life of 5.5 hours if ANC is enabled. 
Whether you use it in the office, on the go, or at the gym, the Jabra Elite 85T is perfect for all types of usage and environments.
If you don't need the most advanced ANC on Jabra Elite 85T, you can buy the Jabra Elite 75T for only $140, which is almost 50% cheaper than Jabra Elite 85T.
---
Best Value Samsung Earbuds
Galaxy Buds Plus
Best deal on Lazada Best deal on Shopee
Galaxy Buds Plus Features Highlight:
Balanced and neutral sound profile
Battery Life: Up To 11+11 Hours (Earbuds+Charging Case)
Water splash-proof
Qi Wireless Charging
Spotify integration
Galaxy Buds Plus's Positive Review:
The product is good for its price point. The pocketable size and type-c port are definitely the plus point of this product. Suitable for people who prefer to travel light
Galaxy Buds Plus's Negative Review:
Sound quality is just ok. phone call quality sucks.DO NOT use this for phone calls. No one can hear me from the other side.
The Samsung Galaxy Buds Plus are an upgraded version over the original Galaxy Bud. It is one of the most versatile wireless earbuds for Android users. 
This is simply the best all-around earbuds, though it doesn't have active noise cancellation.
Equipped with the new dual-driver system (tuned by AKG), each of the Samsung earbuds contains a dedicated woofer and tweeter, thus producing an impressive, consumer-friendly sound with minimal distortion.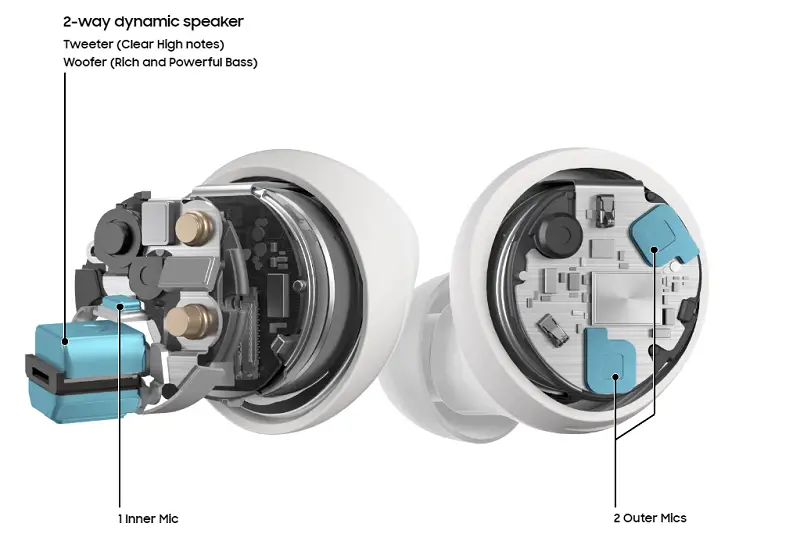 The sound quality is excellent with clear and crisp details. They offer a neutral sound profile that can be adapted to different genres of songs and content.
Samsung Galaxy Buds Plus features a three-microphone array, including two outer and one inner microphone, for better sound quality during phone calls. 
These earbuds are 6.3 g each and 39.6 g for the charging case. They are rated IPX2 for splash resistance. Within the box, there are 3 sizes of ear tips & wingtips.
Compared to other wireless earbuds which last 6-8 hours, the Samsung Galaxy Buds Plus battery life is amazing because it lasts around 11 hours and 44 minutes.
However, its charging case only provides one additional charge cycle, which isn't very helpful. The tradeoff we make is getting a very compact charging case. 
The charging case is Qi-certified which can be charged through a wired or wireless charging pad.
A highlighted feature is that all Samsung Galaxy Buds support one-touch Spotify playback with Android smartphones.
For Samsung smartphone owners, there's a gaming mode in the Galaxy Wearables App that is supposed to reduce latency or sound lag while playing games.
Within the app, there are a bunch of customizations that can be done for the Samsung earbuds too.
Galaxy Buds Plus is the best wireless earbuds for most people for its versatility and pricing. One thing to note is that the device does not have active noise cancellation.
Due to a large number of counterfeit earbuds on the market, it is recommended to only buy wireless earbuds from LazMall or ShopeeMall.
---
Best Budget ANC Wireless Earbuds
Aukey EP-N5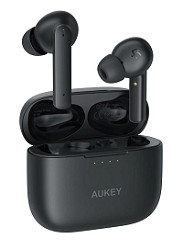 Best deal on Lazada Best deal on Shopee
Aukey EP-N5 Features Highlight:
10mm dynamic drivers
IPX5, splash-proof
Good phone calls quality
Active noise cancellation
6+ hours battery life (3+ hours with ANC on)
Aukey EP-N5's Positive Review:
Product as good as it looks. 
Sound quality is great. Comfortable to wear. Easy to use. Battery life is awesome. 
Aukey EP-N5's Negative Review:
The ANC is lackluster. Bluetooth connection is lacking sometimes.
If you have a tight budget but insist on ANC features, I recommend buying the Aukey EP-N5. It is the cheapest wireless earbuds that come with ANC.
Although it has an ANC function, the ANC performance is not that great. We really can't expect much at this price point. It is almost on par with Mpow X3 and Tronsmart Apollo. 
It can reduce the volume of darker tones like car noises, engine noise will be noticeably softer. However, it doesn't reduce human noise very well, as people chatting can still be heard.
The sound quality of Aukey EP-N5 is great for its price. It sounds very clear and has a deep bass. The sound doesn't crack even at high volume. The soundstage is very decent too, which makes it enjoyable for movie sessions.
There is a noticeable delay in sound effects when playing games. So, it may not suit gamers.
The phone call quality is great thanks to its stem. Your voice can be heard loud and clear, regardless of whether you're calling in a quiet room or noisy street.
The Aukey EP-N5 can last for more than 6 hours with a full charge. The charging case can charge the earpieces 4 times. The bad news is a full charge can only last 3+ hours if you turn on the ANC feature.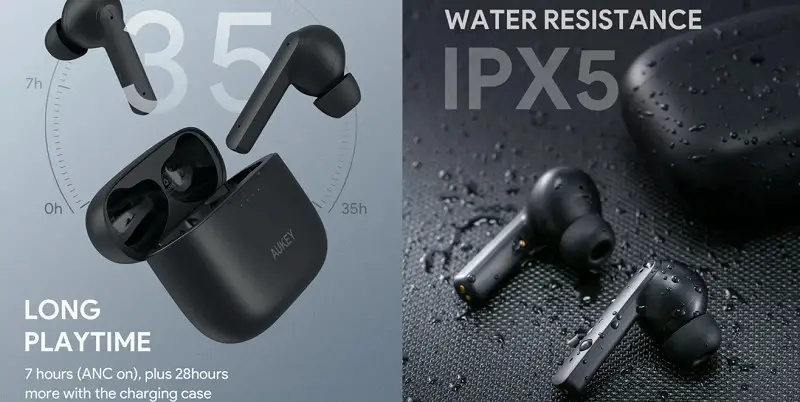 This can get very annoying if you have to take off your earbuds so frequently throughout the day.
To overcome this issue, you should only turn on ANC on Aukey EP-N5 when you feel it is necessary. Otherwise, you will need to invest in a better pair like Jabra Elite 85T or the older Elite 75T.
Aukey EP-N5 is a pair of very balanced wireless earbuds in terms of sound quality, call quality, comfort and design. Consider the ANC a small bonus, so that your expectations won't be set too high.
---
Best Budget Half In-Ear Wireless Earbuds
SoundPeats Air3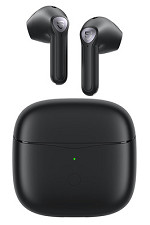 Best deal on Lazada Best deal on Shopee
SoundPeats Air3 Features Highlight:
14.2mm driver
QCC3040 chips
Bluetooth 5.2
Support AAC, SBC, APTX, APTX-adaptive
5 hours play time (charging case hold 2 charges)
IPX5 rating
Great phone calls quality
The SoundPeats Air3 is the successor to the well-received SoundPeats Trueair 2. It is often touted as the best Airpods alternative, due to its half in-ear design (also known as semi in-ear design)
The majority of earbuds are of in-ear designs in which they are placed directly inside the ear canal. By doing so, in-ear earbuds usually get a deeper bass, some passive noise reduction, and sound louder too. 
But, not everyone prefers the in-ear design, as it may cause discomfort if you wear it all day long.
In terms of sound quality, Soundpeats Air3 is no doubt the best sounding semi in-ear earbuds in this price range. The sound is clear, full and detailed despite being only semi in-ear and without any ear tips. The bass is very good too but not as much as any in-ear earbuds.
Its phone call quality is also very good. These earbuds come with a microphone stem, which makes them better and clearer. Regardless of the environment, your voice can be clearly heard.
With QCC3040 chips and Bluetooth 5.2, Soundpeats Air3 are very responsive and have excellent connectivity. You won't experience any audio drop-offs or interruptions.
The latency on gaming mode is claimed to be as low as 60ms!
Most importantly, it supports AptX and AptX Adaptive which is a missing feature on most budget wireless earbuds.
AptX gives you significantly better sound quality and better latency with AptX-compatible smartphones. For example, the Samsung Galaxy S20, Galaxy S21, Note 10 and Note 20, support AptX.
If you like semi-in-ear earbuds, you will love the Soundpeats Air3. I would rank it as the best budget all-rounders on the list.
---
Best Wireless Earbuds Under $50
Fiil T1 Lite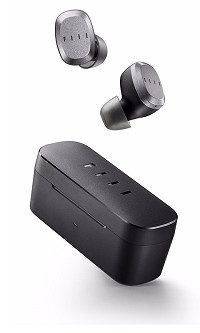 Best deal on Lazada Best deal on Shopee
Fiil T1 Lite Features Highlight:
6.1mm custom composite diaphragm
IPX7 (heavy rain, shower resistant)
Bluetooth 5.2 with AAC codec
7 hours battery life (total 32 hours with casing)
Only 4 grams each
Comes with 4 ear tips sizes
Fiil T1 Lite's Positive Review:
Sound is good, definitely worth it for this price.
Comfortable to wear, I didn't feel any fatigue after wearing it for a couple of hours.
Case is light, and pretty cool that the earbuds will connect upon opening the case.
Fiil T1 Lite's Negative Review:
The audio quality is excellent but I was expecting the mic to be much better. The mic is as bad as any of the cheapo brands. Disappointed
The Fiil T1 Lite is probably the best wireless earbuds for under $50. The awesome sound quality is its biggest selling point.
Many reviewers praised its phenomenal sound quality. And some even said that it is too good for its price.
The Fiil T1 Lite packs a strong, extended and deep bass. It has lots of details in the mid-tones. It has clear upper highs and forwards vocals too. It has a wide soundstage, and you can clearly hear different directions of sound, from left or right.
Another strength of these Fiil TWS earbuds is the IPX7 rating. This is not common amongst TWS earbuds as most of the affordable earbuds only have IPX2 or no IP rating at all. Even the more premium models like Sony WF-1000XM4 and Jabra Elite 85T only have IPX4.
On a full charge, the Fiil T1 Lite can last for about 6 to 7 hours. Its charging cases hold more than 3 charges, which is more than 24 hours of battery life. So, in total, you get around 32 hours of battery life.
These wireless earbuds also use Bluetooth 5.2 which is the latest Bluetooth protocol to ensure a stable connection.
Phone calls or microphone quality is particularly poor in Fiil T1 Lite. It picks up plenty of background noise, wind noise and makes your voice hard to be heard by others. So, it's not for anyone who needs to do lots of phone calls on earbuds
The Fiil T1 Lite is a great budget choice for those who primarily use wireless earbuds for music and movies.
---
Best Cheap Wireless Earbuds For Running
Mpow Flame Lite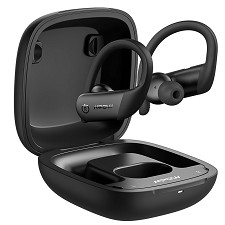 Best deal on Lazada Best deal on Shopee
Mpow Flame Lite Features Highlight:
12.4 mm dynamic driver
Bluetooth 5.0
IPX7 water resistance
5 hours of listening time
Charging case can charge 4 times
Mpow Flame Lite's Positive Review:
Very loud which is good for the outdoors. Sound is ok for the price but not so comfortable on my ears. There is a reset button on the back of the charging case. Quality is better than those $10+ earphones. Still worth buying for the price
Mpow Flame Lite's Negative Review:
Delivery was prompt but the right earpiece stopped working after like a month of light usage. The quality was quite good up till then, when it basically stopped charging/working. No reply from the seller to my chats. 
For only $22(promotion period), the Mpow Flame Lite is a no brainer for runners and workout junkies.
The Mpow Flame Lite comes with an ear hook that resembles the Apple Powerbeats. Even when the earbuds are moved or vibrated a lot, the ear hook holds them in place.
It also has an IPX7 rating. So, you can wear it for any outdoor sports like running, cycling, basketball, and more.
In terms of sound quality, the Mpow Flame Lite is very balanced in the bass. It is suitable for both sports and daily listening. 
There is more emphasis on the high-frequency range on these earbuds. It is great to be able to hear vocals clearly even while exercising.
On the Mpow Flame Lite, the microphone quality is rather poor. Even though you can still make calls with it, the sound quality isn't clear. The voice sounds dull and picks up ambient noises
For such a cheap price, you got nothing to lose to get a pair of Mpow Flame Lite as your backup wireless earbuds (or as dedicated sports earbuds). 
---
Best Cheap Wireless Earbuds Under $20
Haylou GT3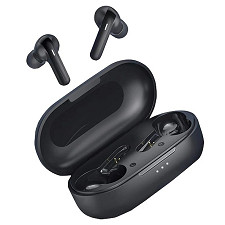 Best deal on Lazada Best deal on Shopee
Haylou GT3 Features Highlight:
7.2mm drivers
IPX4 rating
Bluetooth 5.0
4 hours continuous music play time
Charging cases hold 4 charges
Comes with 3 sizes ear tips
Haylou GT3's Positive Review:
I used plenty of wireless earphones with mic on. And, Finally this the 1 my GF says it is clear in calling. It resolved the frustration and argument issue between me and my GF. With this price range, it is truly very worth buying. Thank you Haylou for this great product! 
Haylou GT3's Negative Review:
Poor connection.. It is worse than my older Haylou GT2. Keeps getting interrupted while playing music and walking with my phone in my pocket.
The Haylou brand may not be popular in Singapore. It is a sub-brand of QCY, which is famous for their budget earbuds. They also OEM the original Xiaomi AirDots. So, sometimes you can see many refer to it as "Xiaomi Haylou"
These wireless earbuds have an average build quality and aren't worth praising or critiquing. The main selling point is that they are so cheap yet they are actually comfortable to wear for hours and sound pretty good.
The sound quality of the Haylou GT3 is where it shines. It packs a solid amount of bass and delivers strong mid-bass and sub-bass.
The call quality is surprisingly good on the Haylou GT3. Your voice is loud and clear even in a noisy environment.
With such a low price, it comes with several weaknesses. 
First, it doesn't have volume control on the earbuds. You have to control the volume through your smartphone or PC.
Second, the sound will be distorted if you crank up to a high volume.
And the battery life is the shortest among all the earbuds on the list. It has only continuous playtimes of 3 to 4 hours.
All in all, the Haylou GT3 is the best wireless earbuds for under $20. This is the lowest price point you should go for a pair of wireless earbuds.
My advice is not to buy earbuds that sell for less than $10, especially those from unknown brands; they often come with trash chips and drivers.
---
Competitions
Bose QuietComfort Earbuds Review
Highly recommended. Bose QuietComfort series always has the best ANC performance amongst all headphones and earbuds. The QuietComfort Earbuds are no exception. 
In terms of sound quality, Sony WF-1000XM4 is better and more balanced than QuietComfort Earbuds. But QuietComfort Earbuds are not far behind. 
It has slightly better ANC performance compared to Sony's earbuds.
And it also has significantly better call quality than Sony WF-1000XM4 in a noisy environment. 
The only disadvantage is the earpiece and charging case are both quite bulky compared to other TWS earbuds.
Ugreen Hitune Review
Neutral. With a 7-hour playtime, Ugreen Hitune beats its competitors like Xiaomi. The sound of the Ugreen HiTune is pleasant, but it doesn't really stand out much. Recommended only if playtime is a concern.
QCY Earbuds Review
Recommended. QCT, the ever famous audio gear brand with a super affordable price, yet with superior audio quality. QCY earbuds are really good value for money. My only complaint is the lack of local warranty support.
Miscellaneous No-Name Brand Review
Not Recommended. Tens or hundreds of different TWS earbuds brands appear every now and then. Always remember that you get what you pay for. As a general rule, the good stuff is not cheap. 
If you can, consider getting wireless earbuds from reputable brands mentioned in the article.
---
TWS Wireless Earbuds FAQ
What are the best wireless earbuds in Singapore 2021?
Jabra Elite 85T is the best value wireless earbuds in Singapore. It excels in both sound and microphone quality. And it comes with adjustable ANC features. On top of that, it fits very well on most ears, you can wear it for sports or at home.
What are the best wireless earbuds for money?
Xiaomi Haylou GT3  is the best wireless earbuds for the money. It cost only $19.99 yet it sounds very good with plenty of bass. And its microphone quality is clear and loud.
What are the best semi in-ear earbuds in Singapore?
Apart from Apple Airpods, Soundpeats Air3 is the best semi in-ear earbuds for Android users.
---
References: