Today, many are turning to wireless headphones or earbuds. After all, who wants to have wires dangling all over while you're walking, typing, exercising or even cooking. 
If this is your first time buying a headphone, it's best to try out at a physical retail shop to check whether you prefer over-the-ear or on-ear headphone.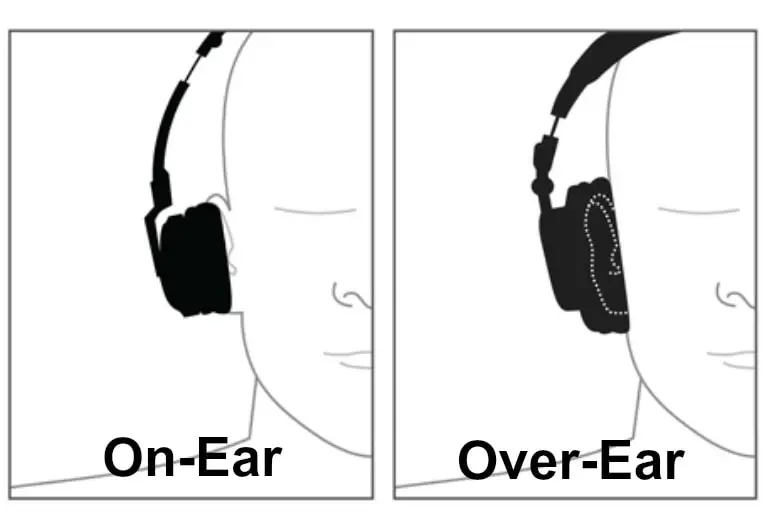 While on-ear ones are smaller and easier to carry around, the over-the-ear headphones are generally better at blocking out background noise, bigger and more comfortable to wear.
We've curated a list of headphones, taking into consideration factors like comfort, audio quality, battery life and noise cancellation.
Here are the selected 6 best wireless headphones for most Malaysians:
---
Important notes:-
Similar to wireless earbuds, counterfeit wireless headphones are very common on both Lazada and Shopee because it is such a lucrative business for immoral merchants.
So, it is always advisable to only purchase from Lazada or Shopee Mall.
---
1. Sony WH-1000XM4 Wireless Noice Cancelling Headphones
Best overall wireless headphones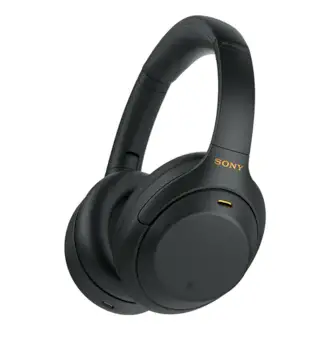 Sony WH-1000XM4 is our best overall wireless Bluetooth headphones, it has more accurate sound and better active noise cancellation (ANC) compared to its predecessor, Sony WH-1000XM3.
Best deal on Lazada Best deal on Shopee
---
Sony WH-1000XM4 Features Highlight:
Over-ear type
Excellent noise isolation performance
Has built-in microphone

Long battery life (37.7 hours)

Multipoint pairing
DSEE Extreme upscaling
Conversational awareness and auto-play/pause
WH-1000XM4 Positive Review:
sound quality is MAGNIFICENT. The noise cancelling is also as good. supports 360 audio. I subscribed to Tidal just to fully utilize this to its full potential. expected it to be this good at this price point. delivery was super fast. packaging was also very neat. 10/10 recommend this.
WH-1000XM4 Negative Review:
XM4 – Meh! Note: It's my product review. I know it's not as bad, just giving 1* to highlight some facts.

#GENUINE: Yes. I had it verified at Sony service center. 2 main indicators: 1) Sony Malaysia sticker, 2) The serial number checks out: S01-xxxxxxx-K

#EXPERIENCE/PROBLEMS: I've had the XM4 for about 2 weeks, and it hasn't been a pleasant experience at all. Won't go into the sound quality, typical Sony signature.

The 2 reasons I picked the XM4 were:
1) Industry-leading noise cancellation – BUT: Yes, I can hear the difference when ANC is ON, but I could still hear my keys, pen drop from table, music from my phone playing at 30% volume, kitchen sound at mamak, cars at a distance. > See, while most frequencies are cancelled, some (annoying 1s) seem amplified.

2) Multi device connectivity – BUT: The 'headset' mode not interfacing well with my Win 10 laptop. Causes sound driver to hangs often, mic stops working halfway in Skype (S4B) call, EVERY TIME. > This was the deal breaker 🙁
WH-1000XM4 is lightweight and sits comfortably over your ears. This makes it perfect for commute and travel.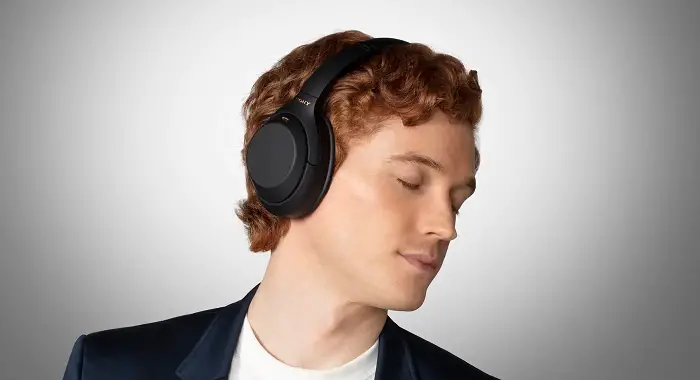 Also, their ANC feature is spot on and blocks out bass-heavy sounds like engines, as well as sharper sounds like chatter voices, so you can enjoy your music thoroughly.
Additionally, the Sony WH-1000XM4 is suited for office use too, you can use it all day long at the office without the need to recharge often. Unfortunately, they do leak a bit of noise when you turn on to high volumes, so might have to keep the volume low if you work in a quiet office.
In terms of the sound quality, it is rather fair for neutral sound although it has a bass-heavy sound profile.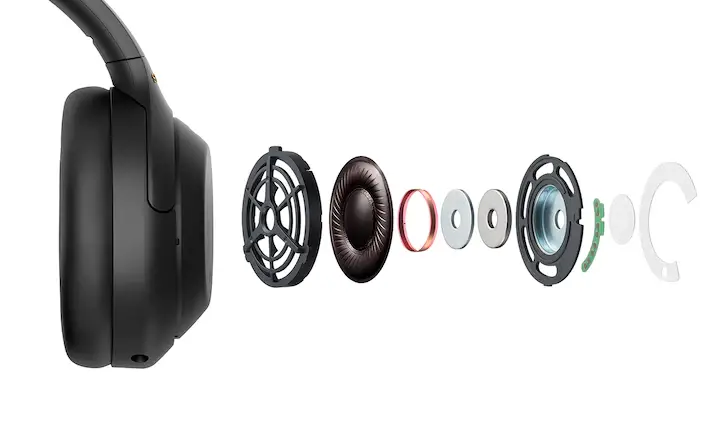 If you're not a fan of this, you can easily customize the sound via the graphic EQ and presets on the Sony/Headphones Connect app.
Something to note is that it has an inconsistent treble delivery, so it depends on where and how you position the headphone on your ear.
There are added features such as multipoint pairing, DSEE Extreme upscaling, conversational awareness and auto-play/pause via a built-in sensor that pushes WH-1000XM4 several notches above the rest. 
And there's a built-in microphone too. Having said this, the integrated microphone has a sub-par recording quality, so your voice may sound thin and muffled.
In terms of comfort level, this headphone stays snug fit on your head for regular usage, they may go out of place if you're having an intense workout session. 
On top of that, this headphone has a sweivel foldable design that makes it easy to keep. The carry case is durable and comes with designated space for storing cable.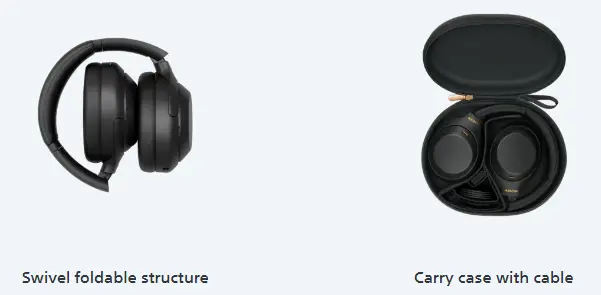 In short, the Sony WH-1000XM4 is a great and solid choice if you're looking for wireless Bluetooth headphones with versatile performance and outstanding noise isolation performance. 
Sony WH-1000XM4 comes with a 1-year local manufacturer warranty.
---
2. Bose QC 35 II (QuietComfort 35 II)
Best cheaper alternatives to Sony WH-1000XM4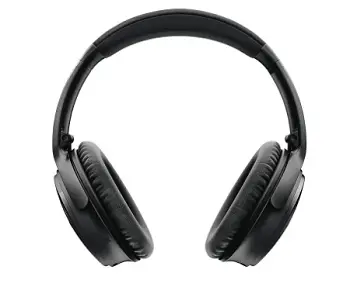 Bose QC35 II is a cheaper alternative to the Sony listed above. Designed with comfort in mind, this wireless headphone is lightweight, easy on the ear, sounds great, and easily controlled through physical buttons.
Best deal on Lazada Best deal on Shopee
---
Bose QuietComfort 35 II / QC 35 II Features Highlight:
Over-ear type
Good noise isolation performance
Has built-in microphone
Dynamic transducer
Decent battery life at 20 hours
Well-balanced sound profile
Good physical control button
QC 35 II Positive Review:
Unbelievably happy with this product. I cannot live without out my Bose QC 35 II's (even considering a second one to keep at work). It is empowering to put these on and all the noise pollution just goes away.

I bought them for home and hadn't planned on taking them to my large open floor office. I put them on and suddenly realized there was a very low and loud humm coming from the ceiling (air blowers I assume). Now gone. I sit there in my cubicle and feel sorry for everyone else because they don't have a pair of these.

I tried other brands, but they were simply not properly engineered. Once you get the pairing "dialed in" it is seamless. I have a Mac and iPhone but bought the new model (with Google voice button). I use the button's alternate function of turning on/off noise cancellation — just for fun to remind me how great this product works. But remember.. this technology is not going to isolate voices – it is designed to remove motor noises (plane, furnace blower, road, engine, etc).
QC 35 II Negative Review:
I will make myself simple here. Three problems:

1. Ear hurts with noise cancellation.

Literally, noise cancellation annoyingly hurts ears – like you're in airplane. Not just feeling muffled, but pressure cause pain. This gets a bit alleviated when music plays, but eventually so much fatigue to your ear. No no no.

2. Ear pads / housing doesn't rotate 90 degrees.

Depends on which direction. When I want to remove the headphone from my ears and just put around my neck, I want the ear pads to turn 90 degrees so that they touch my chest 100%, because the ear pads are too bulky – feels like a huge muffler around your neck. But it just rotates about 80 degrees or so. It does rotate 90 degrees the other way, e.g. ear pad facing outwards from your chest. But then the caps gets scratched by zippers or other metal parts on my jacket.

3. Awful phone call quality

Noise cancellation on mic just cancels background noise, not the voice frequency components. Otherwise, my voice will be cancelled as well. But that eventually ends up other vocal noise from nearby ppl, etc. are well heard by the other party. This is terrible for conference calls or phone calls.
It has a shorter battery life at 20-hours but long enough for a decent trip nearby.
Although it weighs only 235g, the design is rather bulky and so may not be that portable.
In terms of active noise cancellation, the Bose QuietComfort 35 II/QC35 II is not as effective as compared to Sony WH-1000XM4, but is sufficient to block out the sound of vehicles and chatter from others.
The Bose QuietComfort 35 II is good for office use too. It can block out the typical office background noise. However, they leak a bit of sound, which can annoy those around you. 
It has a neutral and balanced sound profile, especially in the mid-range, suitable for listening to lots of different types of audio content. Although there's a slight overemphasis across the bass range, it's not over the top.
Sadly, Bose's Connect app doesn't offer any in-depth sound customization features, like EQ or preset modes.
The Bose QuietComfort 35 II is not suitable to be worn during workouts as it cannot stay tight if the movement is too big.
However, Bose QC35 II is known that great for gaming when connected through wired. Because it has very low latency over a wired connection, this makes the gaming experience seamless. But it is still advisable to get a dedicated gaming headset if you are mainly using the headphone for gaming. Because gaming headphone is fined tuned for in-game surround sound and low latency.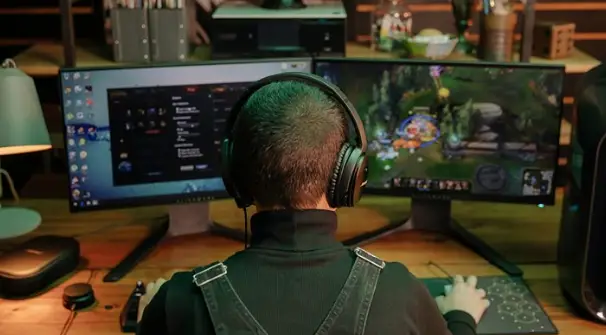 You can connect the Quietcomfort II to your Xbox One or PS5 controller but you can only receive audio and not able to chat on it.
Similar to Sony WH-1000XM4, this Bose headphone doesn't have the best microphone.
The physical control scheme on the Bose is just easier and better than Sony's touch-sensitive interface.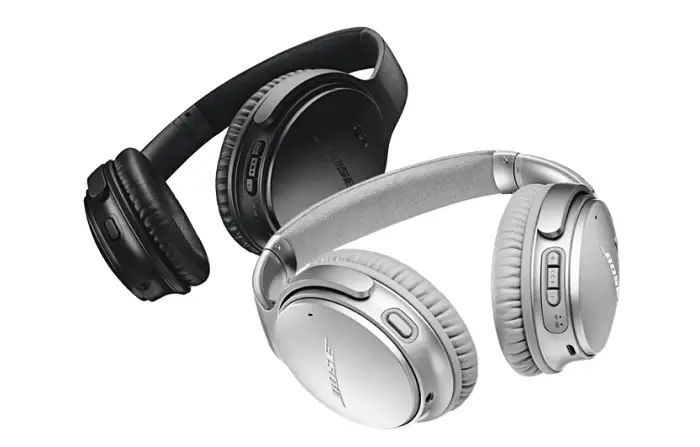 Overall, QC 35 II seriously a good choice with a well-balanced sound profile. For those who want the best of the best Bose headphones, you may check out their latest Bose Headphones 700.
Bose QC35 II comes with a 1-year international seller warranty.
---
3. Apple AirPods Max
Best premium headphones for iOS users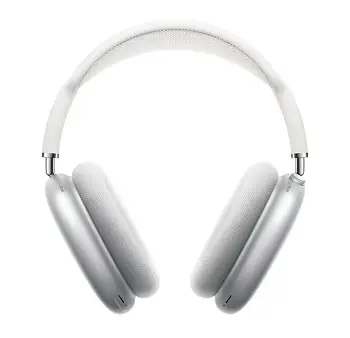 Apple AirPods Max is the best premium wireless headphone for those with a deep wallet. It has such a distinctive design and excellent build quality. But they're quite heavy so can be uncomfortable over a long period of listening session. 
Best deal on Lazada Best deal on Shopee
---
Apple AirPods Max Features Highlight:
Over-ear type
Signature Apple-ish stylish design
Digital crown control for volume, skip tracks and phone call
Great noise filtering function
Spatial audio with dynamic head tracking
Built-in microphone
Dynamic Transducer
Decent battery life at 21 hours
Warm sound profile with balanced mid-range
5 colours options available.
Airpod Max Positive Review:
I just received these headphones and am extremely pleased with them. I use them on my phone and connected to my laptop via Bluetooth for virtual meetings.

Personal use: I am very happy with the sound they produced from Spotify and from music that have been downloaded to my phone. They have great sound and really good bass. Compared to my AirPods Pro, both sound quality are good but the Max sounds better. I have yet to test them with a phone call or with HiFi apps/music.

Windows Work Laptop Use: I connected them via Bluetooth to use for a webex and Skype meeting. Everyone's voices were extremely clear. Even for people that were speaking quietly. Most couldn't hear them but I could hear them clearly. I asked a colleague about my voice quality to which they stated they could hear me well and appeared to have a lot less background noise.

Overall: I am very happy with my purchase. I have not had any issue with them. As many have echoed, price is a bit high but worth it for how I use them. They may not be the best investment if you only plan to use them for music on your phone.
Airpod Max Negative Review:
The condensation issue is real. Google AirPods Max condensation to learn more. There is significant amount of condensation built up inside the ear cup and directly on the drivers. This is not sweat. This is likely due to the aluminum ear ups acting as a heat dissipation device to keep the AirPods Max cool enough to condense water vapors that keep getting drawn into the warmer air near the ear inside the ear cups through the porous mesh and memory foam material used in the ear pads.

This is a major design issue that is likely to cause significant damage to the internal electronics and battery through corrosion by liquids. There is likely to be a full scale recall of those AirPods Max by Apple.
Apple AirPods Max 21-hours battery life is good enough for the usual trip nearby. Equipped with the active noise cancelling (ANC) feature, this helps in reducing external noise significantly from vehicles and chatter around you. 
There's not much sound leak from headphones.
Since it is made of a stainless steel frame that is solid and heavy, it weighs about 384 grams. Some people may find wearing this headphone rather fatiguing for several hours. Experience may vary for each person.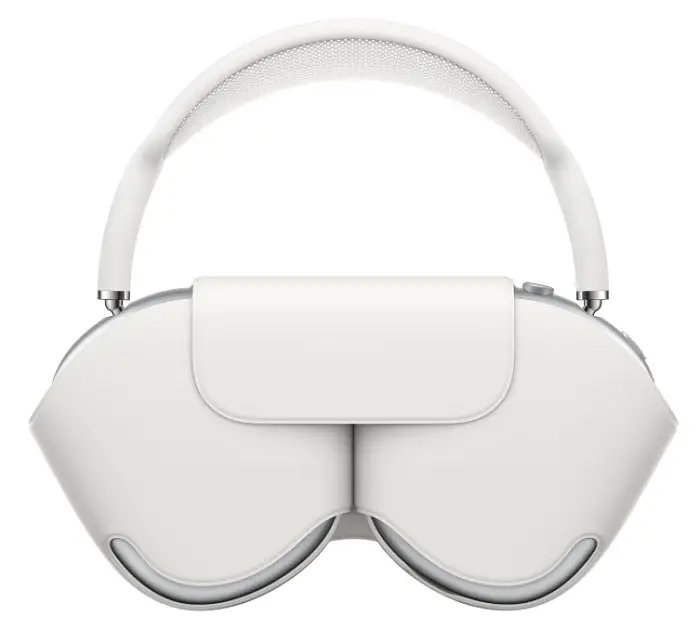 Also, you'll notice that the carrying case doesn't protect the headphones much as it only covers the ear cups, leaving the headband exposed which is totally different from other headphone brands.
In terms of sound quality, the Apple AirPods Max is pretty decent for mixed-use. It has a slightly warm sound profile with an underemphasized treble range, which may not be that desirable for a neutral sound.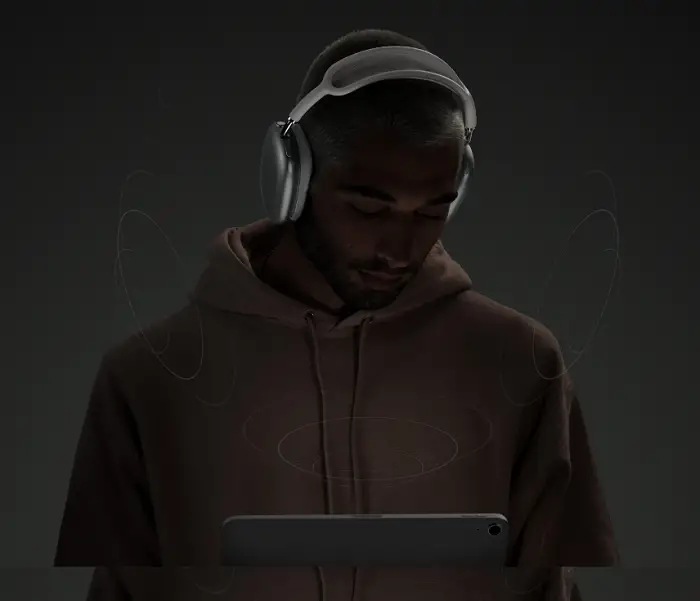 Having said this, the overall warm sound profile and balanced mid-range are well-suited for a variety of audio content.
Unsurprisingly, you need an iPhone or iPad in order to get the most out of the AirPods Max.
Although it works with non-Apple products via standard Bluetooth 5.0, you'll miss out on many of their amazing features, such as spatial audio and Siri voice control. 
The spatial audio tracks user's head position and direction dynamically to give a theatre-like experience as if you're being at the actual scene.
Unfortunately, this headphone is not for exercising at all as the band was found to move around on the head while working out. Also, since it has high latency on PCs, they aren't suitable for gaming either. 
Apart from the insanely high price tag of Airpod Max, the biggest flaw with this stylish headphone is the condensation issue as reported and encountered by many users.
Although condensation is nothing new with headphones, you should take into consideration this issue before purchasing this Apple headphone when so many users complain about it.
For those who can wait, probably just wait for the next upgraded version of Airpod Max.
For the Apple Fanboys/Enthusiasts, just grab this headphones now because the design and tech in this headphone easily make it a must-have Apple gadget.
Apple Airpod Max comes with a 1-year local manufacturer warranty.
---
4. Jabra Elite 45H Wireless Headphones
Best cheap on-ear wireless headphones Malaysia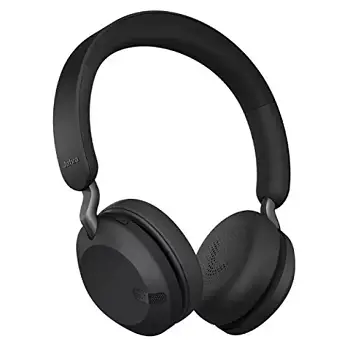 Jabra Elite 45H is picked as the best budget wireless headphone under RM300 in Malaysia. It is a fashionable pair of headphones with awesome sound quality.
Best deal on Lazada Best deal on Shopee
---
Jabra Elite 45H Features Highlight:
On-ear type
Passive Noise Cancelling
Handy foldable design
Soft memory foam cushion

Extremely long battery life 50 hours

Feather lightweight at 160g
Impressively accurate frequency response with clear audio
Connect up to 2 devices
Jabra Elite 45H Positive Review:
Pros:

Very comfortable. I've worn them for hours with no ear pressure discomfort at all. They weight less than 6 oz, and have a padded headrest.

Longest battery life. After two days of use, I'm down to 88% power.

Allows connection to two devices.

Bluetooth 5.0, allowing them to function all over my house.

40 mm drivers.

They work while plugged into USB-C power, the only model that I've found that allows this since my old Logitech WP-350.

Great sound, made even better by a really cool feature unique among the tested units: There's a phone app that allows you to tweak the sound and features. It even has a hearing test that independently tests each of your ears (you know…press the button if you hear the tone), and tailors the headphones to your hearing profile. On top of this is a five band equalizer, the ability to adjust how long they stay on (including indefinitely), and other features. While these features are only available via smart phone, your settings remain in the headphones while using them with a computer.

Cons:

No jack for wired connection. They only work by Bluetooth.

No active noise suppression. For me, not an issue because I need to be able to hear outside sounds, which is why I only looked at on-ear models.
Jabra Elite 45H Negative Review:
Nice weight. Terrible controls for less nimble hands. These seem to want to pair to a phone rather than TV bluetooth and always ask to go to the phone to check instructions. They don't pair with my TV sending device very well and take a lot of fiddling to get paired. for the price not a bargain. sound is good, although my Mpow set at $35 are much better.

For the cost, this unit is not worth it…Poor controls and terrible synching1. The speaker somehow stops during conference calls (Team or Skype). And it does so occasionally in other settings (e.g., listening to Youtube with a computer)

2. The background noise is loud – I can't use it to work at home when I have screaming kids around.

I tried hard to like this headset, but I give up. I am returning it.
They're featherweight at 160grams and available in 5 different colours (black, blue, biege, black/grey, black/copper)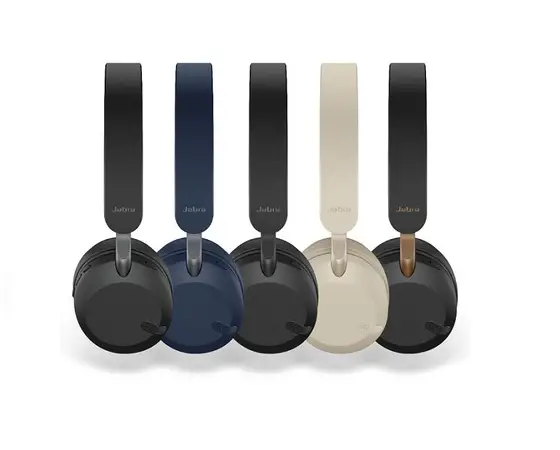 The Jabra 45H comes with a folding hinge and has a very compact design. Hence, it is great for travel.
Take note that there is only passive noise isolation and no active noise cancellation. So, if you're particular about active noise cancellation, you should skip this one.
This Jabra headphones can last forever with a 50 hours battery life. It easily last few days without needing to recharge.
The earcups have physical buttons for the all the features you will ever need. That includes a volume button, an on-off switch, a multi-function button and voice button.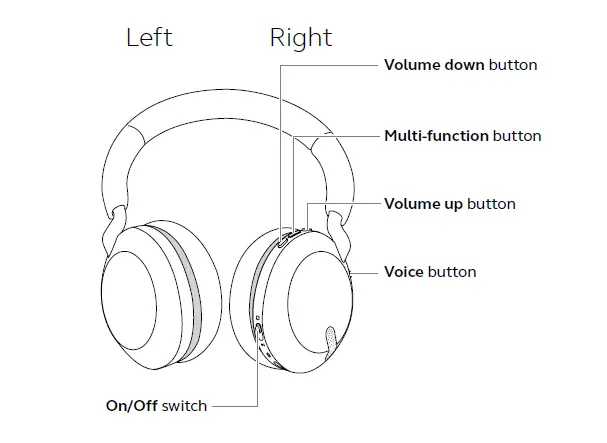 In terms of sound quality, the Jabra Elite 45H houses a 40mm driver. It reproduces vocals louder than some bass notes. The bass is not heavy and it has a more neutral sound signature.
Surprisingly, Jabra Elite 45H has an above average microphone quality. The phone call audio is clear and cut off lots of background noise.
Overall, this pair of on-ear headphone is a great bargain for the casual listener and remote workers that often do video conference. It has an accurate base & sub-base reproduction and clear audio.
Jabra Elite 45H comes with a generous 2 years local manufacturer warranty.
---
5. Plantronics BackBeat Go 810 Wireless Headphones
Best cheap over-the-ear wireless headphones Malaysia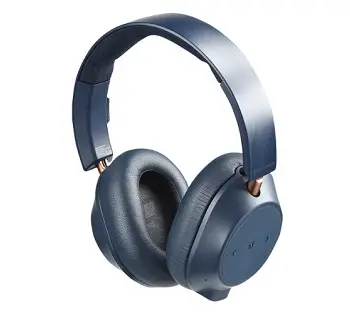 Plantronics BackBeat Go 810 Wireless Headphone is the best cheap over-the-ear wireless Bluetooth headphone.
It has powerful audio performance with a sufficient amount of bass.
Best deal on Lazada Best deal on Shopee
---
Plantronics BackBeat Go 810 Wireless Features Highlight:
Over-ear type
Built-in microphone
Average Noise Cancelling
40mm drivers
Powerful audio performance with intense bass depth
Good battery life at 24 hours
3 hours of playback for 10 minutes charging
 Multi-device pairing
Limited EQ modes
BackBeat Go 810 Positive Review:
These are very soft around the ears. Very good sound for this level of product. I am very happy I bought these. I tried them out on a plane and wow, it makes a huge difference when watching a show or movie on the iPad.

With the noise cancelling turned off you hear the hum of the plane. With the noise cancelling on, it dramatically cuts it down. I liked them so much that I bought a pair for my brother and nephew for Christmas.
BackBeat Go 810 Negative Review:
The headband on the headphones snapped through within two months of regular usage. I mainly use these at home or while walking around the neighborhood, so they have by no means been abused, and yet the headband has snapped after just over one month.

My head is larger than average I guess, but it is by no means gigantic. Maybe it wouldn't be an issue if your head is smaller than average – but I couldn't say. All I know is that my pair has broken.
For the price, this has a decent overall build quality and is a pretty comfortable over-ear headphone. For those of you who have wider heads, there are user reviews that it is too tight for them.
The good continuous battery life of over 24 hours is where it shines. Sadly, the ANC feature isn't impressive so this isn't that great for commuting, but is passable if you play your music at higher volumes as it has low audio leakage.
This is also pretty decent for office usage as the battery can last you long enough without annoying those around you.
In terms of sound quality, it has great audio reproduction that is versatile for all music types. It is exceptionally great for neutral listening with excellent, extended, and consistent bass performance.
The mid-range is flat and virtually flawless with an awesome treble. You may find that at times, the bass is light and the treble is slightly uneven but you also can adjust the EQ settings if you want to boost higher frequencies.
Unfortunately, this isn't great for watching TV and gaming because of the high latency.
The physical control scheme on plantronics is ery handy too.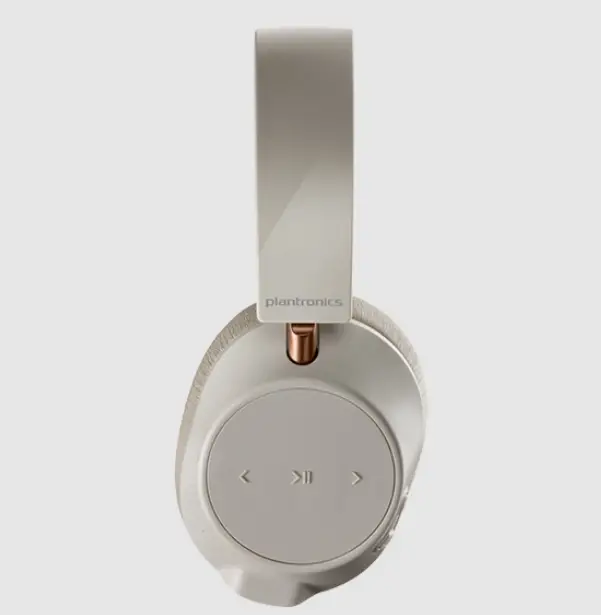 The Plantronics BackBeat Go 810 Wireless Headphone supports multi-device pairing, so you can switch your audio source between your phone and your laptop without much hassle.
It provides 3 hours of playback for just 10 minutes of charging, which is very useful. 
Plantronics BackBeat Go 810 Wireless Headphone comes with 2 years local manufacturer warranty.
---
6. Anker Soundcore Life Q30 Wireless
Best cheap wireless headphones with active noise cancellation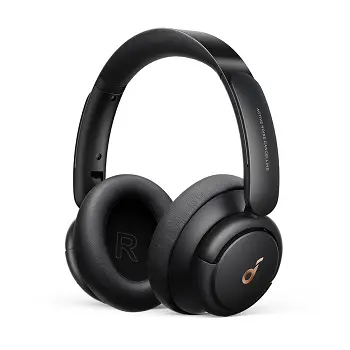 Anker Soundcore Life Q30 is the best budget wireless headphones with good noise cancelling feature under RM500.
Best deal on Lazada Best deal on Shopee
---
Anker Soundcore Life Q30 Wireless Features Highlight:
Over-ear type
Outstanding Noise Cancelling feature
Comes with integrated microphone
Very long battery life at 44 hours
Great V-shaped sound profile with intense thump and bright vocals
Customizable EQ with Soundcore App
40mm drivers
Soundcore Life Q30 Positive Review:
I purchased these headphones based on a product recommendation from a YouTuber.

To start with, they are packaged very well. The carrying case is a hard shell wrapped in cloth. Inside you'll find the headphones, an aux-to-aux cable for direct audio connection, a USB-C to USB-A charging cable (USB-C goes into the headphones), a quick start guide, product documentation, and a review card.

The headphones are super light and very comfortable. I'm coming from a pair of PowerBeats Pro which are great but I wanted something that didn't sit inside my ear canal. The memory foam padding is very springy and cover my whole ears.

Sound quality is great. There's a substantial base without compromising the treble notes even on basic EQ settings. For more adventurous audiophiles, the free app always for some detailed customization in the EQ settings.

Active noise canceling is a godsend for working in an office or at home next to a busy street. My wife says to mention that the headphones, when ANC is on, are wife-conversation proof. And they do significantly limit the volume of conversations around. Transparency mode is also nice and easily activated by laying a palm on the right ear cup for two seconds.

Battery capacity appears to be excellent so far, but I've not fully depleted them.

The button configuration, primarily on the right ear cup, takes a little getting used to and isn't super intuitive, but it's easy to learn with a day of practice.
Soundcore Life Q30 Negative Review:
Expected a great experience from Anker but sadly they are still light years behind Sony and Bose. Little things just don't work like changing the source or the microphones do not pickup voice sounds clearly. Also they are either too tight on your head or simply fall off when you lean back. The ear pads are also not very comfortable and make a very hot sweaty fit.
It features plush memory foam padding with an overall sturdy plastic material build. 
It boasts of an awesome 44 hours continuous battery life which is great. Equipped with an outstanding noise cancelling feature which helps reduce the external sounds from vehicles around you, this is excellent for commute and travel. 
However, they're a bit bulky, which can make them not so convenient when you're on-the-go, and this is not that suitable when exercising.
They have three types of ANC modes, which are meant to cut down different kinds of noises, a powerful active noise cancelling feature indeed. There are transport mode, indoor mode and outdoor mode.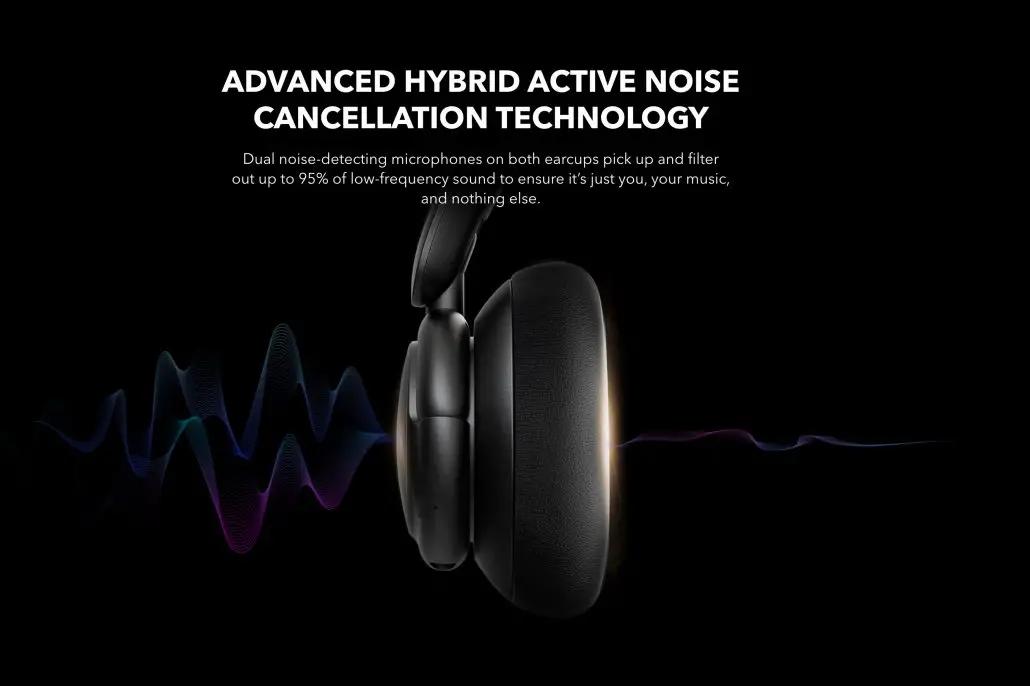 The Anker Life Q30 is decent for office use, lasting throughout multiple workdays without needing to be recharged. Having said this, it leaks audio, so if you're listening to music at high volumes, others around you can hear it.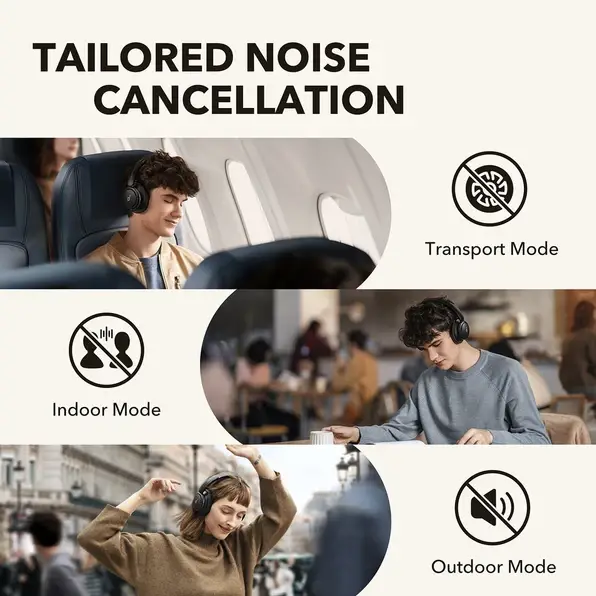 In terms of sound quality, it delivers an exciting V-shaped sound profile with intense thumps and bright vocals meant more for pop music. Thus, it is mediocre for neutral sounds.
The offered soundstage is a bit narrow and the treble delivery varies too. The good thing is it comes with a companion app that offers a graphic EQ and presets so that you can adjust it to your liking.
The Anker Q30 does not support a connection to Xbox One or PS5. While it can be used with Bluetooth-enabled PCs, it is not suitable for gaming as the latency is likely too high. 
On the official Anker site, many users have claimed that it is comparable to Bose 700 and Sony WH-1000XM4. But, this headphones only cost one third or only half as much as its counterparts.
It is abit disappointed that official Anker store on Lazada and Shopee only have Q20 model but not Q30. So, do your due diligence before purchasing with any seller.
Anker Soundcore Life Q30 only comes with 6 months local supplier warranty.
---
Competitions
Jabra Elite 85H review – Recommended
Jabra Elite 85H sound quality is almost equivalent to similarly priced competitors. However, it has the longest 36 hours battery life among them.
The active noise cancellation performs slightly poorer though.
Marshall Mid ANC review – Recommended
If you're Marshall fans, this pair Marshall Mid ANC is a fine alternative to Sony and Bose. It looks great, easy to operate and has bass-forward sound.
The ANC is only average.
Microsoft Surface Headphones 2 review- Recommended
The Microsoft Surface Headphones 2 are rather bulky. The clarity of sound is superb with well-defined low, mid and high. The ANC performance is quite good too.
However, the price tag in Malaysia is extremely high and its battery life is a bit poor with only 16 hours.
---
Wireless Headphones FAQ
What are the best wireless headphones in Malaysia?
Sony WH-1000XM4 is the best overall wireless headphones for its outstanding audio quality, ANC performance, and highly customizable graphic EQ.
What are the best cheap wireless headphones with active noise cancellation?
Anker Soundcore Life Q30 is the best value wireless headphones with active noise cancellation.
Sony vs. Bose wireless headphones, which is better?
Overall, Sony WH-1000XM4 is comparable to Bose QC 35 II.
Sony WH-1000XM4 has better noise isolation and more customization features.
Bose is less customizable and the sound profile is heavier on bass. It depends on personal preference.
---
References:
https://www.soundguys.com/best-wireless-headphones-2595/
https://www.rtings.com/headphones/reviews/best/by-feature/wireless-bluetooth