This is a must-read guide for students or parents who plan to buy a new laptop in preparation for university/college.
Many do not realize that there are many great laptop deals for undergraduates in Malaysia. Everyone who is eligible should take advantage of these student discounts to save money.
These discounts are usually open to all students, teachers, and educators in Malaysia, unlike the "Bantuan Laptop B40", which is only intended for the B40 group.
So, please share it with your friends and families so they are aware of such discounts.
Check out the table below for the best laptop deals for students in Malaysia.
The Best Laptop Deals in Malaysia
1. Apple
Apple has the best laptop deal for students and it is the most generous one. Not only does it offer discounts of up to 10% on Mac and iPad, but it also gives away free AirPods, which is a truly amazing deal.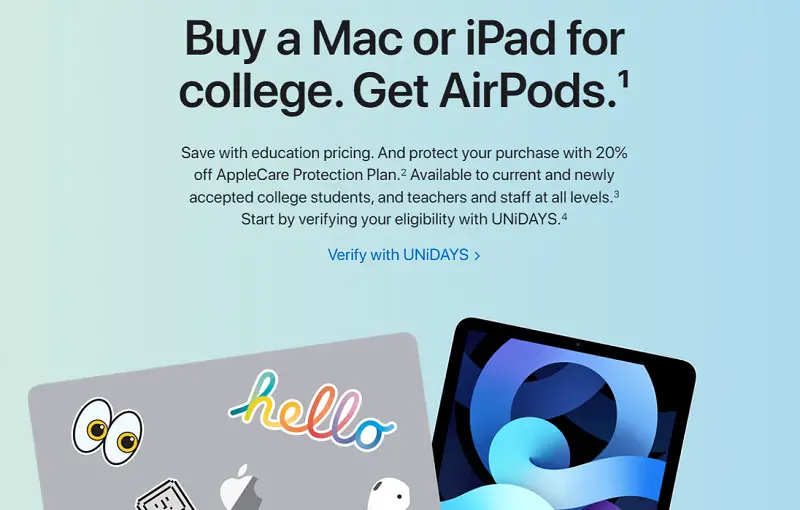 It also has no limitation on the device or model. You can choose from Mac Mini, iMac, Macbook, iPad, iPad Mini and iPad Pro.
The Apple Macbook Air M1 is my top pick for best student laptop because the new M1 processor is faster than Intel/AMD processor, yet more power saving.
Compare price on Lazada Comparel price on Shopee
2. Lenovo
Lenovo is my top choice for finding good deals on Windows laptops. It offers 5% student discounts site-wide.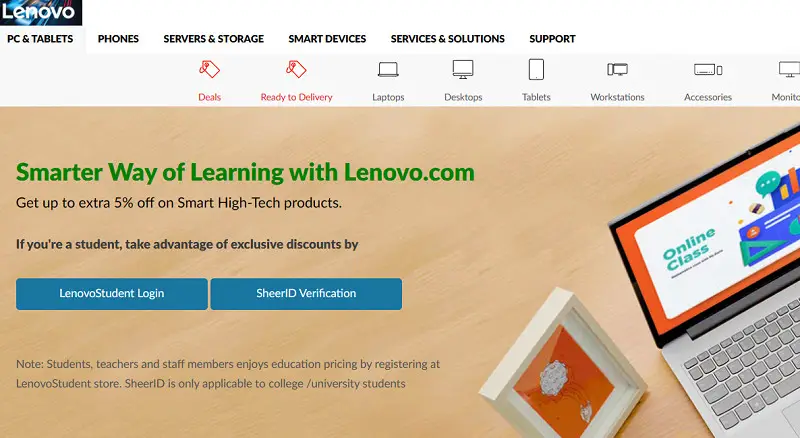 Additionally, any existing promotion item can be used in conjunction with the student discounts, making the already affordable prices even lower.
Lenovo IdeaPad and Legion lineups are great for students. And Lenovo Thinkpad and Pro are great for businesses.
Compare price on Lazada Comparel price on Shopee
3. Dell
Dell offers a student purchase program on Dell Malaysia official website. However, to get a quote for a student price is not that straight forward with Dell.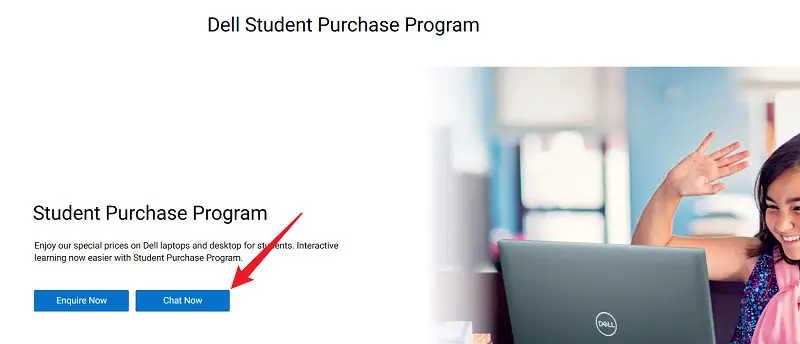 You will have to email or chat with customer support and tell them which model you would like to purchase from a list of 11 laptop models (as of now).
The laptop options include Dell Inspiron, Vostro and XPS series.
Do check them out to see whether you can snatch a good deal from Dell.
Compare price on Lazada Comparel price on Shopee
4. HP
HP also has an education store on its official website. The promotions given are slightly different from other laptop brands.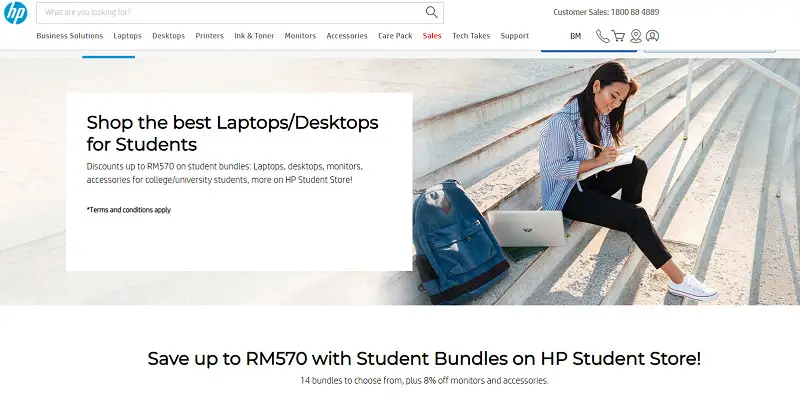 I do think it is a great initiative from HP but it will be better if it doesn't force consumers to get bundles. It is much better for us to buy what we need and desire.
Compare price on Lazada Comparel price on Shopee
5. Acer
Acer Malaysia offers students a purchase program-MOHE. You can choose from just one laptop model, the Acer Aspire 3 A315, which costs RM1,699.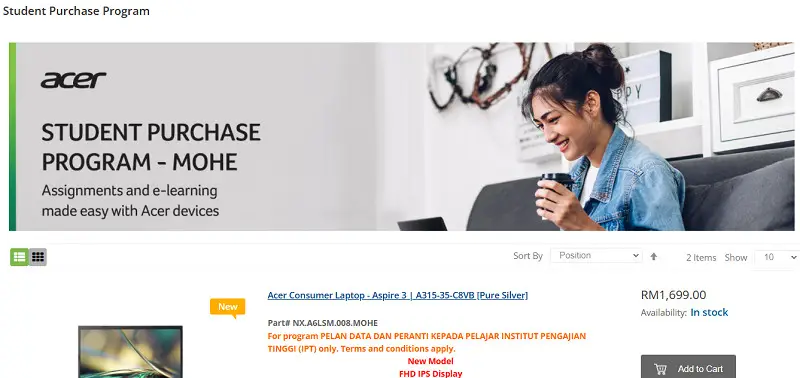 I don't think you can really benefit much from this student discount program. And the Acer Aspire 3 A315 is a very basic entry-level laptop. You can check out my review for laptops under RM1500 if you are interested in cheap laptops.
Compare price on Lazada Comparel price on Shopee
6. Asus
Asus Malaysia doesn't offer any student discount at all, which is a bit disappointing. Because Asus Singapore has an education store with special discounts for teachers and students.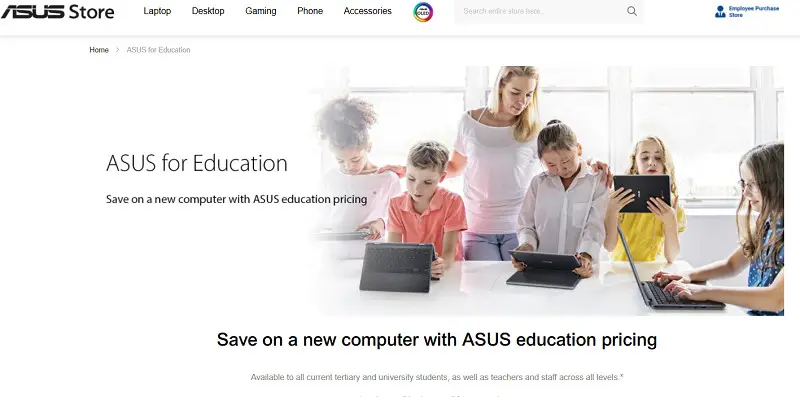 I really hope that Asus will be offering student discounts for Malaysian students in the future.
Compare price on Lazada Comparel price on Shopee
7. Razer
Similar to Asus, Razer offers student discounts in other countries but not in Malaysia. Its education program is limited to the United States, Canada, United Kingdom, Austria, Belgium, Denmark, Finland, Ireland, Luxembourg, Netherlands, Poland, Norway, Portugal, Sweden, Germany, France, Singapore, Hong Kong & Australia.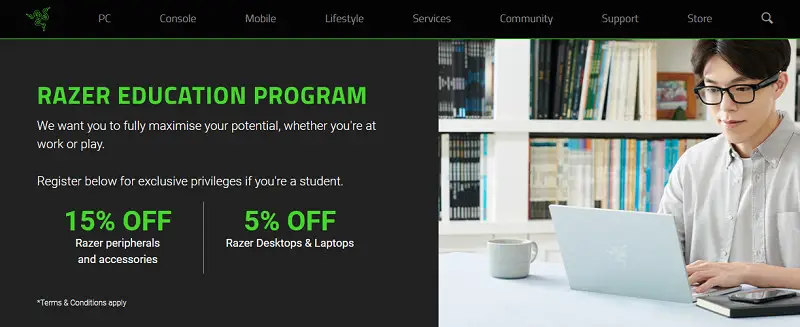 It would be great if Razer offered its education program in Malaysia since I believe many Malaysian students would be interested in getting Razer Blade for themselves.