Nowadays, many of us are already partially working from home. It is also very common that students use Zoom or Google Meet to take online classes.
The laptop is becoming more important for both office work and school work. Therefore, many people want to buy cheap laptops at good prices.
Here, I have reviewed a few budget laptops that are good for students and light work.
5 Best Laptop Under RM1500 in Malaysia
It is in fact very difficult to recommend a cheap laptop under RM1500 because laptops of this price range are usually very slow and hard to use.
Shopee and Lazada have many sellers offering refurbished laptops for under RM1,000. I don't recommend buying from them since it's completely a game of luck on what you will receive. And the warranty period is usually only 1 to 3 months.
My personal advice is to buy a new China brand laptop instead of buying a refurbished laptop or Chromebook. If you're only using it for video calls, then you can consider buying a tablet too.
Here are there top 5 laptops under RM1500 in Malaysia:
---
1. Chuwi GemiBook 13
Best Laptop Under RM1500
4.9 out of 5.0 stars | 127 ratings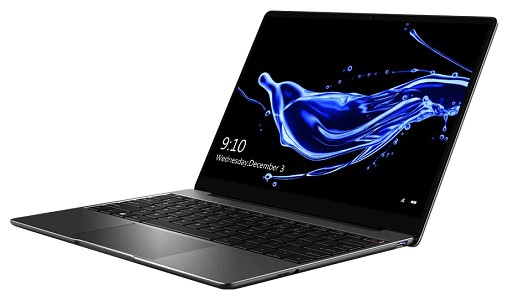 Best deal on Lazada Best deal on Shopee
There is no better student laptop under RM1500 on the market than the Chuwi GemiBook. This is a compact, light, thin ultrabook that is easy to carry around.
Chuwi GemiBook Specifications:
Display: 13 inch (2160 x 1440 UHD)
CPU: Intel Celeron J4125 2.0GHz-2.8GHz 
GPU: Intel HD Graphics 600
RAM: 8GB DDR4
Storage: 256GB NVMe SSD
Webcam: 1.0MP
Weight: 1.28kg
Chuwi is a rising star budget laptop brand. Although Chuwi laptops are very affordable, they don't compromise on the quality at all. 
The Chuwi GemiBook has a premium magnesium alloy body finished in space grey. It weighs only 1.28 kilograms.
The screen size is 13 inches with an aspect ratio of 3:2, which means you have longer vertical screen space. And it has a 1440p resolution.
These make it easier to work with long documents on this laptop.
Considering the low price of the GemiBook laptop, its only flaw is its Intel Celeron J4125 CPU. 
That said, this laptop has tons of awesome features, such as 8GB DDR4 RAM, 256GB NVMe SSD, WiFi support for 2.4GHz and 5.GHz, Bluetooth 5.1 support, 1.0MP webcam, and a backlit keyboard.
And lastly, it is powered by a USB-C cable. You don't have to carry around bulky charging cables anymore. Thanks to the low power Celeron processor, it can run on battery for up to 7 hours.
And the best part of the Chuwi Gemibook is its warranty is covered by local sellers!
---
2. KUU Yobook M
Best Value Budget Laptop
5.0 out of 5.0 stars | 16 ratings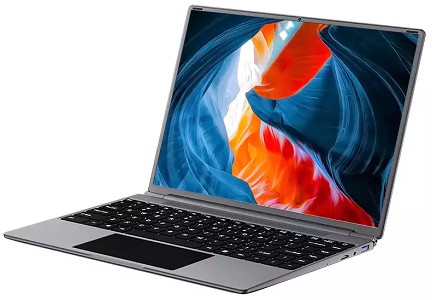 Best deal on Lazada Best deal on Shopee
The KUU laptop brand is relatively new in comparison to Chuwi. The KUU Yobook M is a great value for money 13.5" laptop for basic usage.
KUU Yobook M Specifications:
Display: 13.5 inch (3000 x 2000 FHD with ultra narrow bezel)
CPU: Intel Celeron J4020, 1.1GHz to 2.8GHz 
GPU: Intel UHD Graphics 600
RAM: 6GB DDR4
Storage: 128GB SATA SSD
Webcam: 1.0MP
Weight: 1.5kg
The KUU Yobook M is a slightly bigger laptop than Chuwi Gemibook. It has a size of 30.2 x 21.7 x 1.6 cm and weighs only 1.5kg. 
It is claimed that it uses a 3000 x 2000 resolution IPS screen. While I have doubts about this claim, I can say that the screen is definitely better than the normal 1080P FHD screen. The screen also has an ultra-narrow bezel.
You should take note of the few disadvantages of KUU YoBook M. This laptop only can connect 2.4GHz WiFi and doesn't support a 5Ghz WiFi connection. So make sure your WiFi router supports dual WiFi mode.
There is also no backlight on the keyboard. And it uses a China plug which is can be a bit inconvenient to always have to carry a China plug adaptor.
And lastly, it is using an Intel Celeron processor which is much weaker than the usual Core i3/i5 processor. This means you can't do much multi-tasking with this laptop.
Overall, the KUU Yobook is a great portable laptop for school. It is lightweight, not too bulky and able to get basic document work done.
---
3. Jumper EZbook S5
Best Laptop Under RM1000
4.8 out of 5.0 stars | 80 ratings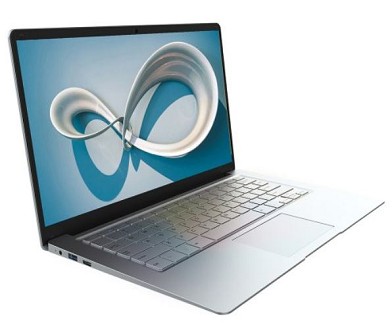 Best deal on Lazada Best deal on Shopee
So, you really cannot afford to spend more than RM1,000 on a laptop. Not to worry, you can check out the Jumper EZbook S5.
Jumper EZbook S5 Specifications:
Display: 14 inch (1920 x 1080 FHD)
CPU: Intel Z8350 1.44GHz to 1.92GHz
GPU: Intel HD Graphics 505
RAM: 4GB DDR4
Storage: 64GB emmc
Webcam: 1.0MP
Weight: 1.24kg
The jumper EZbook comes in a few variations: 4GB RAM, 6GB RAM and 12GB RAM model. The 4GB RAM model is the only one that is priced below RM1,000.
This model has few disadvantages compared to the 6GB and 12GB RAM models. First, it has a weaker Intel Z8350 processor and its storage space is not expandable. These are the two major sacrifices you have to make in order to keep the budget below RM1,000.
The other weakness of the 4GB model is its eMMc storage, which is slower than SSD storage.
For basic school work and watching movies, the basic 4GB model can handle them without much problem. But don't expect to use it for heavy programs like Adobe Photoshop or AutoCAD. This laptop will not be able to run them.
A big pro of the Jumper EZbook S5 is its large 14″ screen size but lightweight design. It is also very thin. So, this laptop is very portable.
The keycap size is 22mm, which is perfect for typing comfortably for long periods of time.
If you are looking for a budget laptop with a large screen, the Jumper EZbook S5 is a good option for you.
---
4. Jumper EZBook X3
Best Laptop Under RM800
4.8 out of 5.0 stars | 13 ratings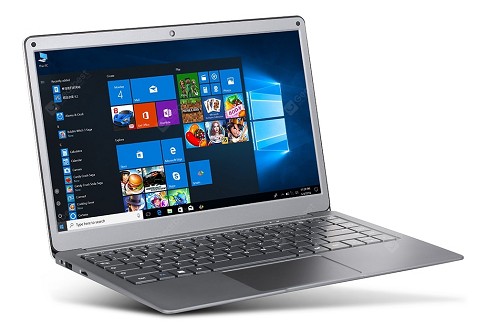 Best deal on Lazada Best deal on Shopee
The EZBook X3 is yet another cheap, affordable laptop from Jumper. This is a 13.3" laptop equipped with an old intel Celeron N3350 processor, hence the cheaper price.
Jumper EZBook X3 Specifications:
Display: 13.3 inch (1920 x 1080 FHD)
CPU: Intel Celeron N3350 1.1 – 2.5 GHz
GPU: Intel HD Graphics 500
RAM: 4GB DDR3
Storage: 64GB eMMC
Webcam: 1.0MP
Weight: 1.35kg
The size of the EZBook X3 is 315 x 208 x 18.2mm. It is slightly thicker and more heavy than the EZbook S5.
It is using a 13.3" display with 1920 x 1080 FHD resolution. This screen isn't particularly spectacular, but it is sufficient for productivity work.
With a 1MP webcam, you can use it for video calls. The very old Intel N3350 processor means it can't handle demanding programs. Nonetheless, you can use it for basic things like web browsing, email, social media, watching movies, online classes etc.
If you're looking for a brand new laptop under RM800, then the Jumper EZBook X3 might be the only choice worth buying right now.
---
5. Microsoft Surface 3 (Refurbished)
Best Refurbished 2-in1 Laptop
5.0 out of 5.0 stars | 134 ratings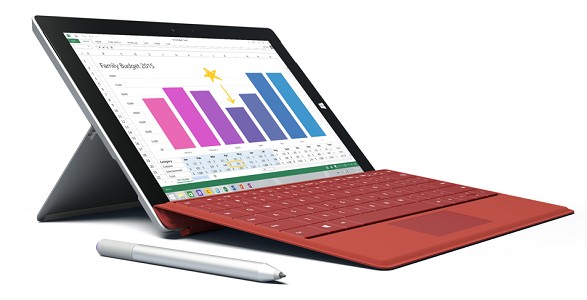 Best deal on Lazada Best deal on Shopee
As I mentioned earlier, I don't recommend buying a refurbished laptop because it is as if we are buying a lottery ticket and hope to win a good prize.
But this particular seller who sells refurbished Microsoft Surface has received no negative reviews after selling more than 200 units.
Hence, this is the one and only refurbished laptop I would recommend buying on Shopee.
Microsoft Surface 3 Specifications:
Display: 10.8 inch touch screen(1920 x 1080 FHD)
CPU: Intel Atom x7-Z8700
GPU: Intel GMA HD 4000
RAM: 4GB
Storage: 128GB
Webcam: 3.5MP
Weight: 0.62kg
You should keep in mind that this is a second-hand used product, so the condition may not be perfect and the battery might not be as good as it should be.
The Microsoft Surface 3 was launched in 2015, which is already more than 7 years old.
The good thing is, with the given keyboard, this tablet can turn into a mini laptop.
The primary reason for buying a Surface is that it's so lightweight and runs on Windows. So you will get fewer software compatibility issues. 
If you don't really need to use Microsoft Office or other Windows programs, you can just buy the Huawei MatePad which costs only RM1099 and comes with a free keyboard. It is only RM200 more expensive but comes with better chips and a sharper display.
This refurbished Microsoft Surface 3 is only great for those who are always on the go. Remember that it might not be right for everyone as it is an old model and only has a 10.8″ screen.
A proper laptop will always be a better choice if you're buying it for children who will mostly be using it at home. A laptop keyboard is easier to use than a Surface keyboard. Laptop screens are also larger than Surface screens.
The Surface 3 is still a great tablet (despite being old) that can do a lot. Just the outdated hardware will certainly feel a bit sluggish.
---
Competitions
Toshiba Satellite Dynabook i3 (Refurbished) Review
Toshiba Satellite Dynabook is one of the best-selling refurbished laptops on Shopee. It costs around RM590 but the basic model uses only a normal HDD and doesn't come with a webcam. 
Without a webcam, I can't really recommend this laptop to anyone as a webcam is really important. Buying an additional webcam will cost another RM50 to RM150.
And you have a high chance of receiving a faulty laptop.
Acer Chromebook C740/C720 (Refurbished) Review
I strictly forbid anyone to buy the Acer Chromebook C720 and C740. 
First, you must understand what a Chromebook is. ChromeOS, unlike Windows, is very unfriendly for productivity work and school work.
And the specification on this Acer C720/C740 makes it almost impossible to do any work properly. You can only use it for web browsing, checking email, and some really lightweight activities
HP Probook/Elitebook (Refurbished) Review
HP Probook/Elitebook is another hot-selling refurbished laptop model on Shopee. There are mixed reviews on it. The good thing about this refurbished laptop is you can get an old Intel i5 and i3 laptop for less than RM700. 
But, still, you have a risk of getting a non-functional laptop, problem keypad, and short battery life laptop.
Lenovo X250 ULTRABOOK (Refurbished) Review
Lenovo X250 Ultrabook is one of best refurbished laptops on Shopee. This laptop has zero negative reviews to date. We can assume the seller did a good job with its quality checking before shipping to the customer.
You may want to consider this model if you want a slightly faster i3 (5th generation) processor.
But this laptop cost as much as RM799. The Jumper EZbook S5 which is a brand new laptop only sells for RM899.
Hence, I still don't think it is worth getting the refurbished Lenovo X250.
---
Budget Laptop FAQ
How to choose a good budget laptop?
For a budget laptop under RM1500 and RM1000, you will have very limited choice in terms of hardware.
The most important tip is to avoid buying a second hand, used or refurbished laptop. The laptop could be good for a few months, but ultimately it is very prone to failure.
Just stick with a new laptop with an Intel Celeron processor, 128 to 256GB SSD, 4GB to 8GB RAM, and comes with a webcam. That should be sufficient to handle most school work and document work.
Laptop or tablet is better for students?
In most cases, laptops are better for students because Windows and Microsoft Office are important for school work. The screen and keyboard of laptops are better than tablets too when it comes to document work.
Tablets are more convenient and portable. But you will have to buy a wireless keyboard and wireless mouse to use it as a laptop.