Choosing the right air conditioner size is very important to maximise cooling efficiency and save energy.
When the air conditioner capacity and the room size do not match, it will cost more to operate. In the worst-case scenario, an undersized air conditioner may fail sooner than expected.
A bigger air conditioner doesn't always mean better either. The best air conditioner should have the correct capacity that our room needs.
In Malaysia, the capacity of an air conditioner is normally measured in Horsepower, HP. But, this isn't the most accurate way to measure the capacity of the air conditioner.
BTU, or British Thermal Unit, is the correct unit of measurement for air conditioner cooling capacity.
There are two ways to examine the horsepower of the air conditioner required for your room:
Using an air conditioner horsepower calculator.
Estimate manually based on room size. 
---
How to Determine the Right Air Conditioner Size
1. Air Conditioner Horsepower Calculator.
Calculating the accurate cooling capacity needed is not an easy task. It involves room volume, heat factor, number of heat-generating appliances, number of people in the room, etc.
Below is a formula for the calculation of air conditioner capacity published by UMP Malaysia: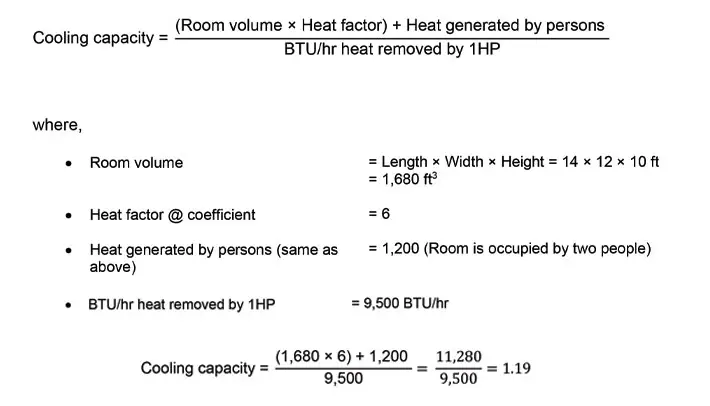 These days, there are various air conditioner calculators available on the internet. Here are two of the recommended air conditioner calculator to be used in Malaysia:
By using the calculators above, they will inform how much horsepower or BTU is required for your house and room.
2. Estimate manually based on room size
There's a quick and easy way to estimate the BTU required for your room. You can simply multiply the room area (in square feet) by 20.
For example, a 450 sq ft room multiplied by 20 equals 9000BTU. From there we know that we only required 1HP air conditioners.
For easy reference, below is a BTU chart based on room size.
| | | |
| --- | --- | --- |
| Room size, sqft | Capacity, BTU | Horsepower |
| 0 to 450 | 8,000 to 9,500 | 1HP |
| 450 to 550 | 11,500 to 12,500 | 1.5HP |
| 550 to 1,000 | 12,000 to 18,500 | 2.0HP |
| 1,000 to 1,500 | 20,500 to 22,500 | 2.5HP |
You can see that the cooling capacity of the 2.5HP air conditioner is able to cover as much as 1,500 sqft of room area. 
The airflow generated by a single air conditioner is still very limited to a specific area, so it might not be the best solution. 
Depending on the layout, sometimes, it will make more sense to use two smaller air conditioners than one large one.
Having two air conditioners allows the room to be cooled uniformly in all areas.
---
Choosing the Best Air Conditioner
Now you should have a good idea of how much horsepower you need for your aircond. But, there are more considerations when it comes to choosing an aircond.
Make sure to read the best air conditioners in Malaysia review as well as the air conditioner buying guide.